This hearty mushroom marinara sauce makes for a flavorful pasta dinner that is easy, pure comfort food that is ready in 30 minutes!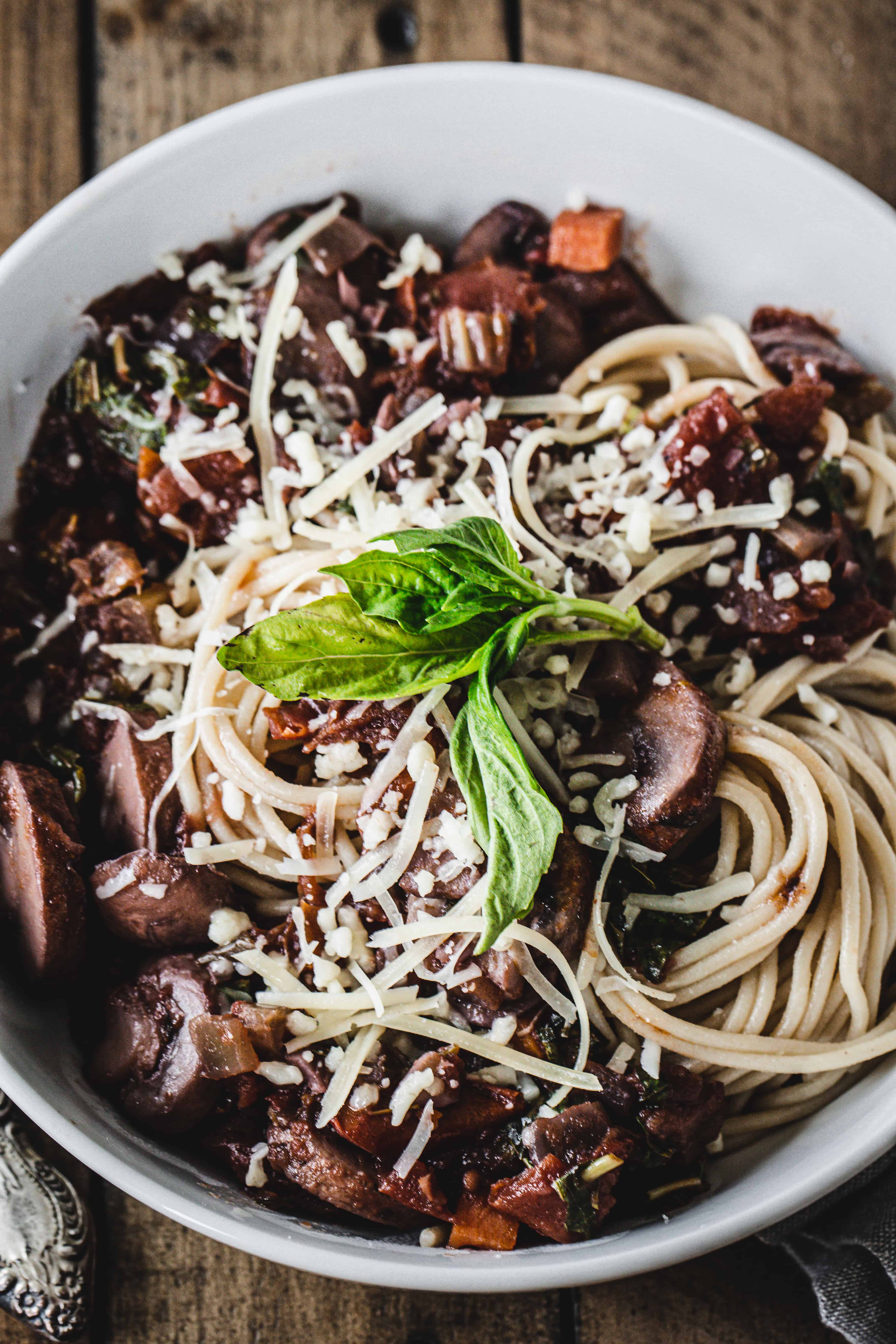 It's hard to imagine a dish that embodies comfort food more purely than pasta. For me, nothing equates with the feeling of lapping those noodles around your fork, catching every errant grain of Parmesan cheese, and mopping up every drop of sauce. When life is just a bit hard, when failure comes too easily, when dinner is a challenge, that's when I turn to pasta.
And this mushroom marinara sauce is one of my absolute favorites. It's a versatile and flavorful pasta sauce that makes me feel like I'm making a smart life choice rather than just serving my kids with a plateful of carbs.
What starts as a hearty tomato sauce becomes packed with mushrooms, making an excellent option for those seeking a delicious meat-free alternative. The star ingredient, mushrooms, adds a satisfying texture, while garlic, onions, and various herbs enhance the sauce's depth and aroma.
Preparing this vegetarian sauce requires sautéing mushrooms, onions, and garlic, followed by adding both fresh and canned crushed tomatoes. The sauce is then seasoned with herbs like basil, thyme, and parsley to achieve a balanced taste profile. Once cooked to perfection, this delectable vegan mushroom marinara sauce makes pasta night even more delightful.
Why You're Going To Love This Recipe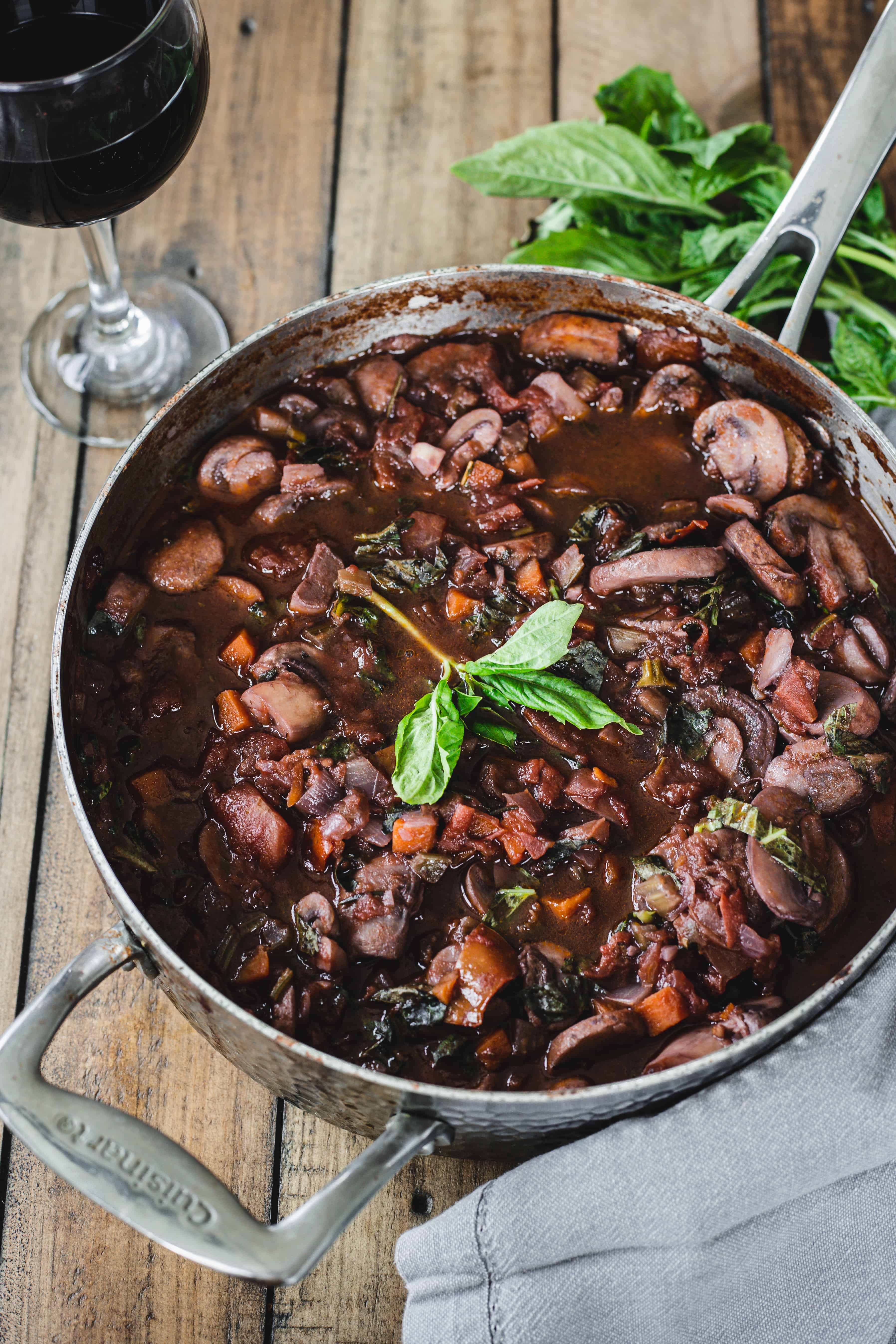 Mushroom spaghetti sauce offers a delightful combination of rich, savory flavors. You're going to love this sauce because it's:
Flavorful: Mushroom spaghetti sauce gets depth from garlic, red wine, and fresh herbs.
Filling: With the use of mushrooms and two kinds of tomatoes, this easy mushroom tomato sauce has a thick, delicious texture.
Versatile: Suitable for vegans, vegetarians; can be made gluten-free. Can be made meaty, too!
Nourishing: Offers comforting, fast and easy flavors with simple ingredients.
Household Favorite and Kid-friendly: Will quickly become a loved option. My kids love this sauce!
What Wine Goes Best In This Recipe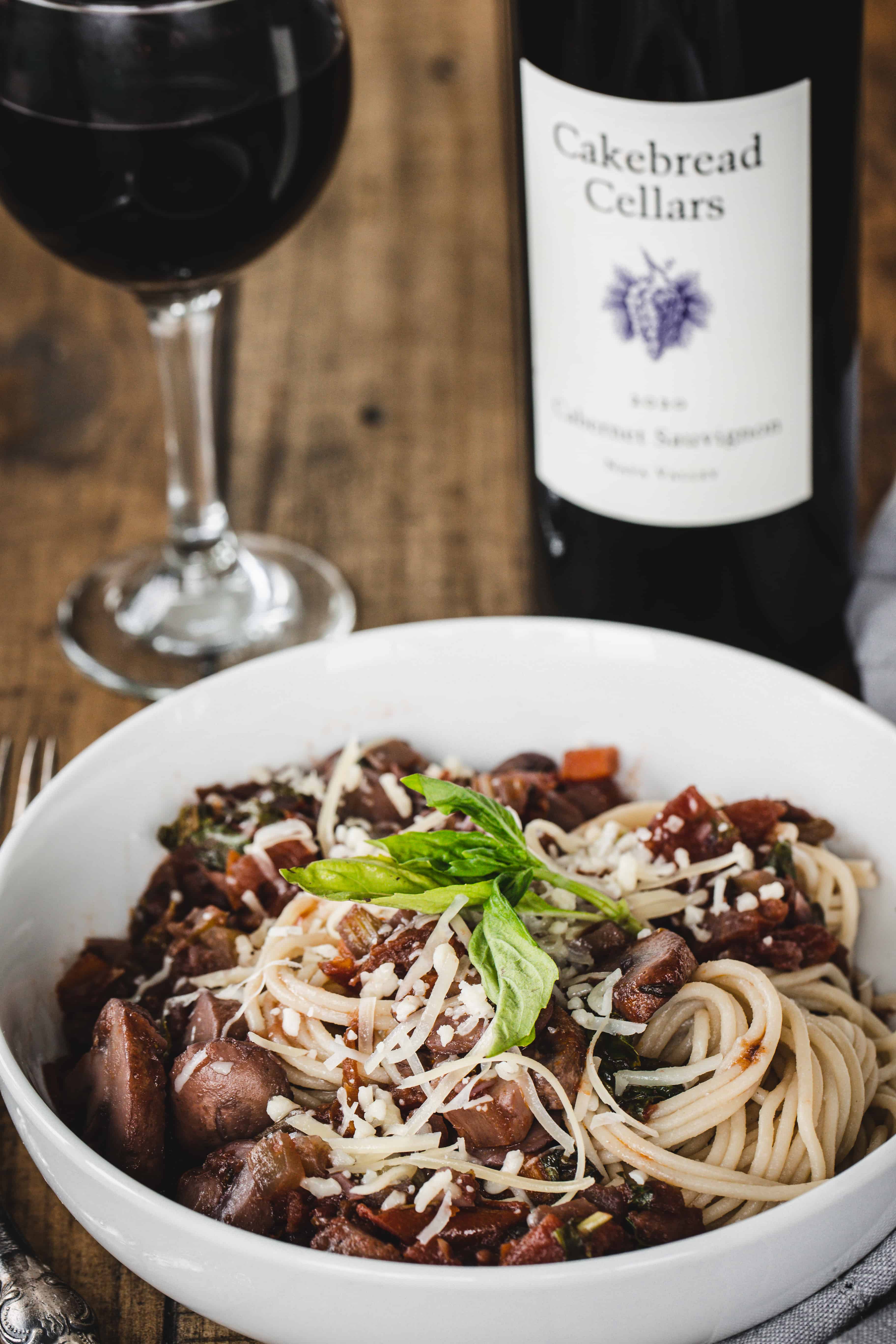 When making homemade mushroom pasta sauce, using the right wine can enhance the flavors and enrich the dish. Red wine is a popular choice for marinara sauce, and Cabernet Sauvignon is an excellent option. Its bold taste complements the rich flavors of tomatoes and mushrooms.
If you prefer white wine, options like Pinot Grigio or Sauvignon Blanc can also work well, as they bring a balance of acidity and brightness to the sauce. Remember to choose a wine that you personally enjoy, as it will also likely pair well with your meal.
Ingredients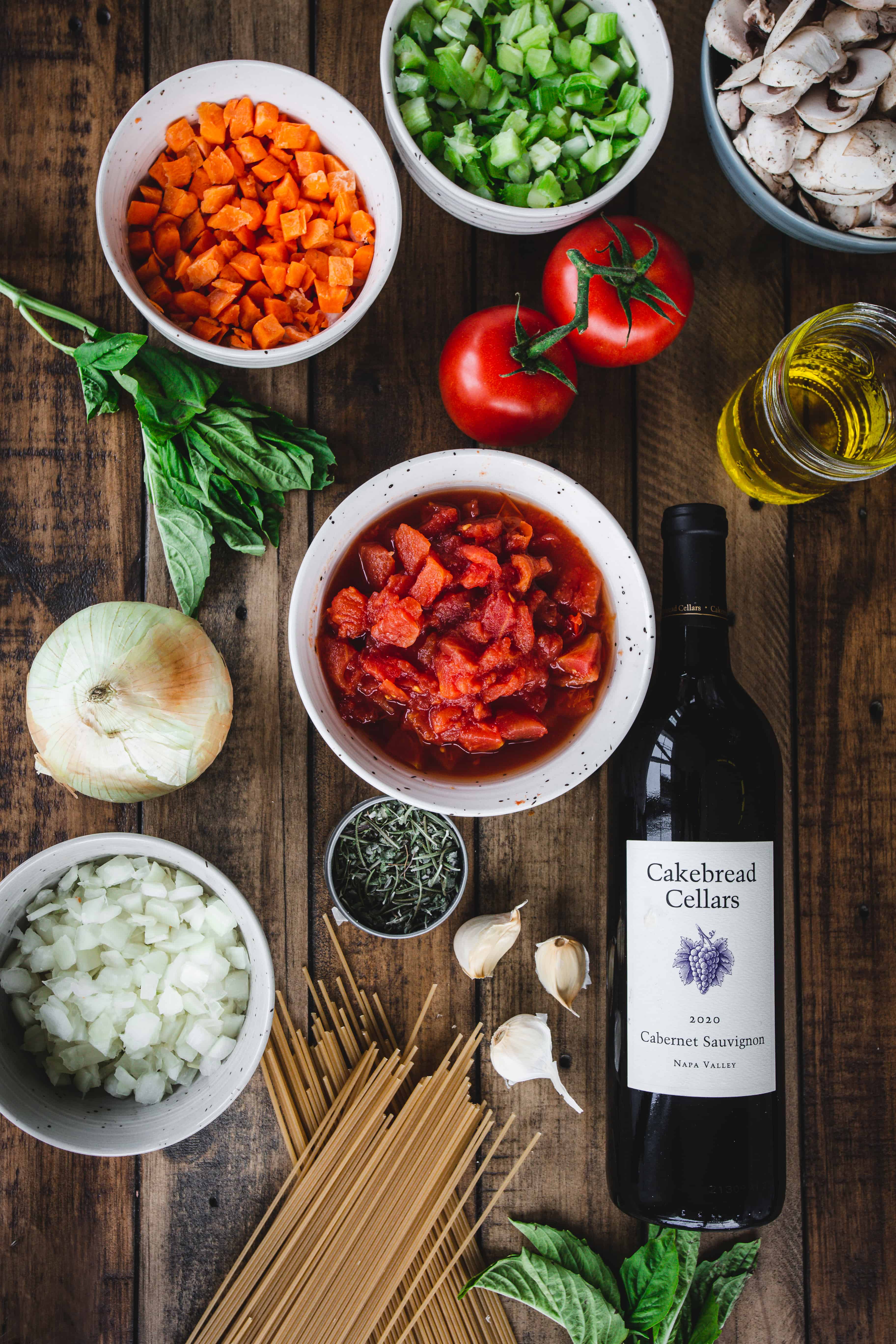 To create a delicious mushroom marinara sauce, you will need the following ingredients:
Extra Virgin Olive Oil: Used for cooking and adding flavor. Can substitute with vegetable oil or any cooking oil.
Yellow Onion: Adds sweetness and depth to the sauce. White onions can be used instead.
Celery: Adds a mild, earthy flavor. Can omit if not available.
Carrot: Adds natural sweetness and color. Optional if desired.
Garlic: Enhances flavor. You can use garlic powder as a substitute.
Tomatoes (Fresh and Canned): Provide the base of the sauce. Roma tomatoes make for the best fresh option. You can use all canned tomatoes in winter.
Cakebread Cellars Cabernet Sauvignon Wine: Adds richness and depth to the sauce. Any red wine can be used.
Dried Oregano or Italian Seasoning Mix: Provides herbal notes. You can use dried basil or thyme as alternatives.
Salt: Enhances overall flavor.
Black Pepper: Adds a bit of heat.
Mushrooms: Bring an earthy taste and texture. Any type of mushrooms can work.
Fresh Basil: Adds a fresh and aromatic touch. Dried basil can be substituted.
Spaghetti: The main dish base. I use gluten free spaghetti, but you can choose any pasta you like.
See recipe card for exact quantities.
Directions
Cook the base
Begin by heating 2 tablespoons of olive oil in a Dutch oven or heavy-bottomed pot over medium heat. Sauté onions, celery, carrots, and garlic for about 7 minutes until softened. Next, add chopped tomatoes and crushed or diced canned tomatoes with their juice to the pot. Allow the mixture to boil uncovered on medium-high heat for 15 minutes, stirring occasionally.
Simmer the sauce
Stir in Cabernet Sauvignon, dried herbs, salt, and black pepper. Add fresh sliced mushrooms and let the sauce simmer uncovered for another 20-25 minutes, until the mushrooms are fully sautéed and the sauce has thickened. Before the sauce is finished, add diced basil in the final 5 minutes of cooking.
Cook the Spaghetti
While the sauce is simmering, cook pasta according to the package instructions. Once cooked, drain the pasta and set it aside.
Serve Spaghetti with Mushroom Marinara Pasta Sauce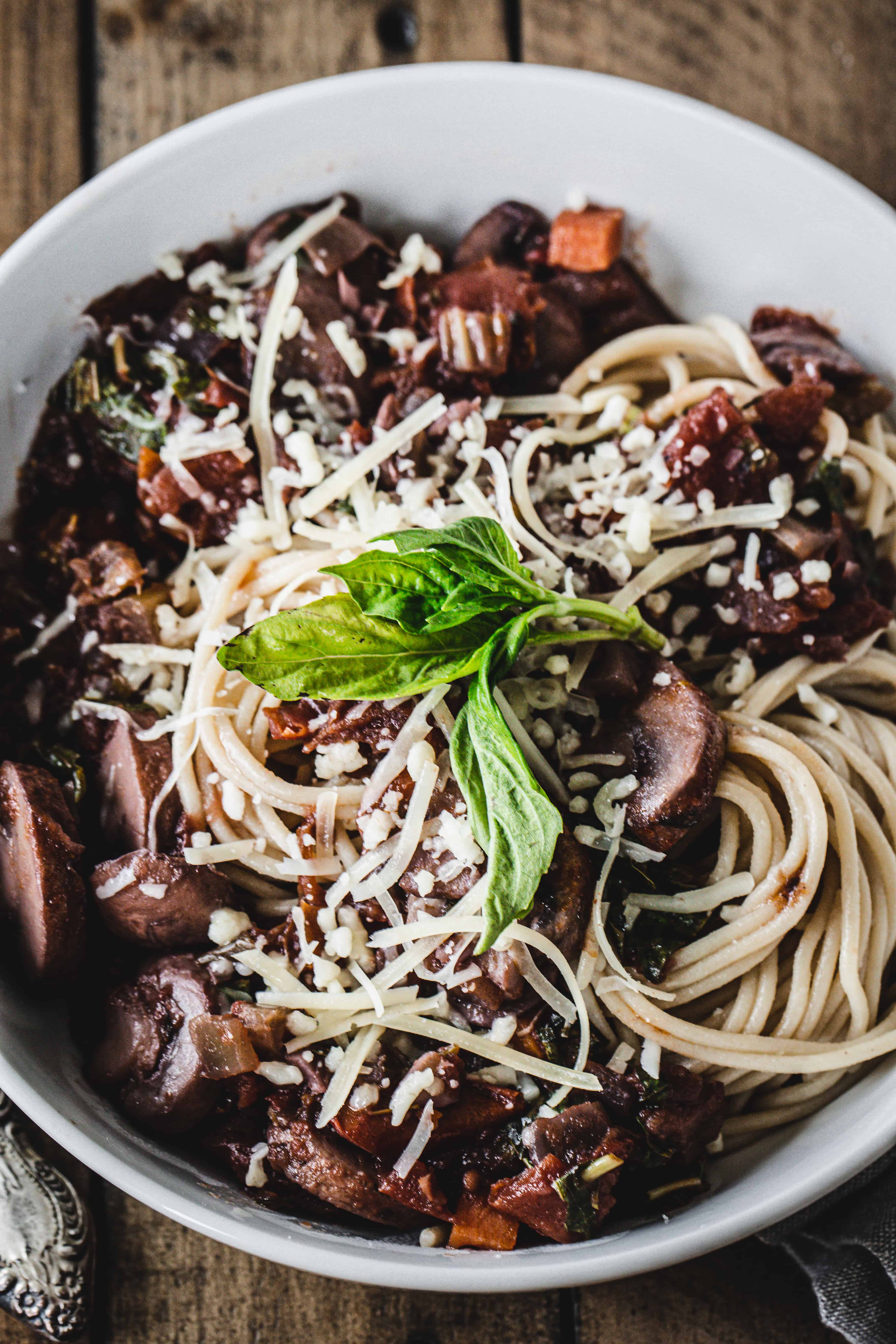 To serve, spoon the mushroom marinara sauce over the pasta and garnish with fresh basil and black pepper. Enjoy the meal immediately, and store any leftovers in an airtight container in the refrigerator for up to 3-4 days.
Storage
Mushroom marinara sauce can be easily stored for future use. To ensure its freshness and flavor, it is best to store the sauce in airtight containers. Keep the containers in the refrigerator for up to a week.
If you wish to preserve the sauce for a longer period, consider freezing it. To do this, let the sauce cool completely before transferring it into freezer-safe containers or bags. Make sure to leave some space at the top of the container to account for expansion during freezing. Frozen mushroom marinara sauce can be stored for several months. To use the sauce, simply thaw it in the refrigerator overnight before reheating and serving.
Equipment Highlight: What's Going To Help You Make This Recipe Better
A quality sauté pan is essential for cooking the mushrooms and other ingredients evenly. Look for one with a heavy base and a non-stick surface, which will help prevent burning and sticking. I love my large, heavy-bottom Cuisinart pan!
A sharp knife will make slicing the mushrooms and other vegetables a breeze, ensuring even cooking and a tasty result.
Top Tips
When making mushroom marinara sauce, follow these simple strategies for the best result. Begin by sautéing garlic, onions, and mushrooms together until they are tender and cooked down.
Use a combination of fresh and canned tomatoes for a balance of texture and flavor.
Don't forget to add a mixture of fresh and dried herbs, such as basil, oregano, and parsley, as well as salt and pepper to taste.
Keep in mind the importance of simmering the sauce. This process allows the flavors to meld and the sauce to thicken, producing a rich, robust taste. Consider letting it simmer for at least 20 minutes before serving.
Variations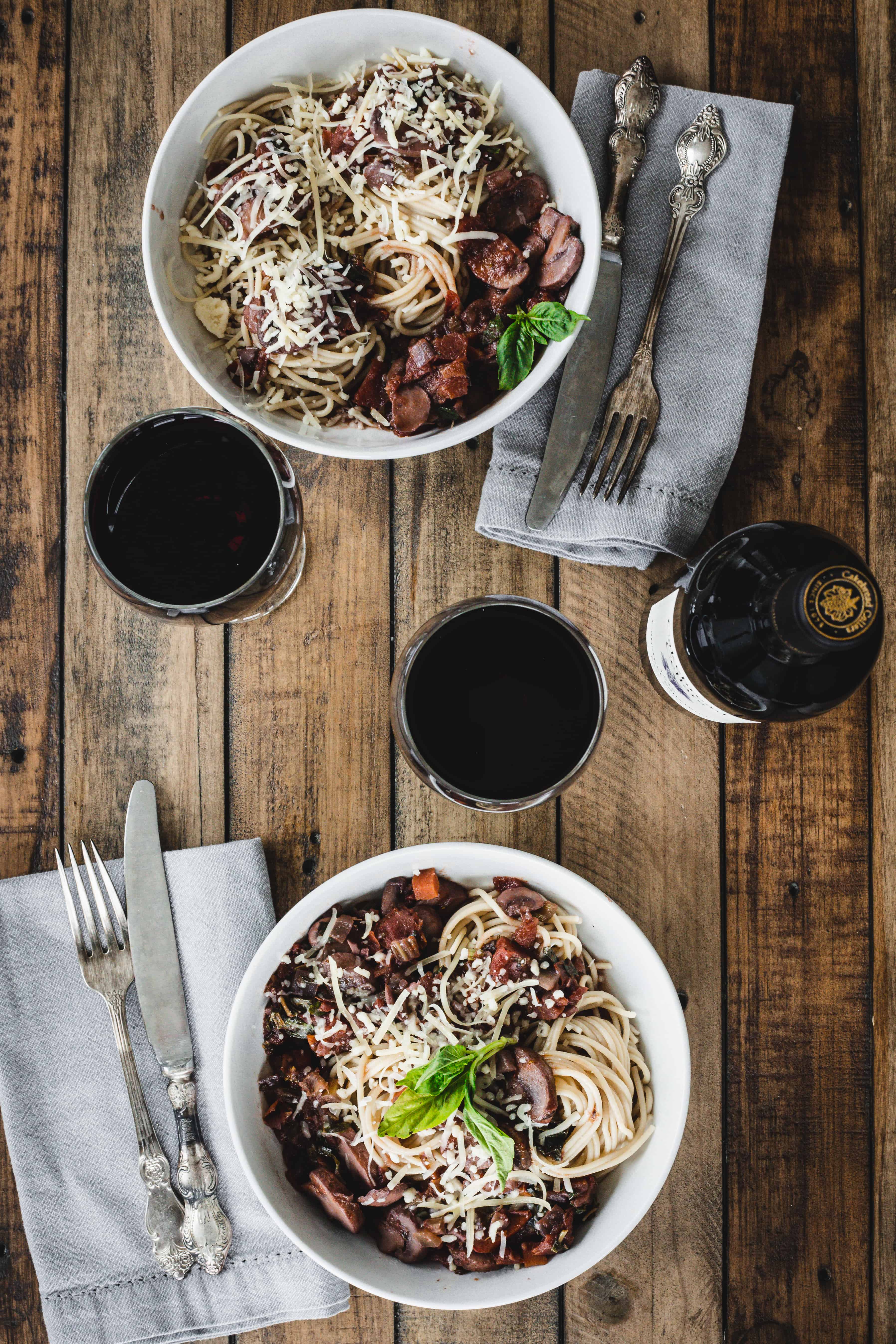 Mushroom marinara sauce is a versatile dish that can be easily adapted to suit various tastes. One popular variation is adding vegetables such as bell peppers, zucchini, or spinach. This not only adds color and flavor but also increases the nutritional value of the sauce.
Another option is experimenting with different types of mushrooms like shiitake, portobello, or cremini. These mushrooms offer unique flavors and textures that enhance the overall taste of the sauce.
For those who enjoy a little heat, try incorporating spices like red pepper flakes or smoked paprika. This adds depth and a subtle kick to the sauce, appealing to heat-seekers.
Lastly, if keeping this sauce meatless or vegan isn't a priority, try adding proteins such as ground beef, Italian sausage, or even lentils to transform mushroom marinara sauce into a heartier, more filling meal. Balancing the flavors and textures of the sauce with protein ensures a satisfying, delicious dish.
Accompanying Dishes
This mushrooms and tomatoes sauce can be paired with various dishes to create a tasty and satisfying meal. One popular option is to serve the sauce over vegetable noodles or cauliflower rice, for a low carb option (I've used this over zucchini pasta several times, and it's a great way to make a healthier dinner!).
Another delicious combination is using the homemade pasta sauce as a topping for pizza. Spread the mushroom marinara over a homemade crust, add some cheese and vegetables, and you'll have a unique and tasty pizza.
For a lighter option, try spooning the sauce over grilled or steamed vegetables like zucchini, eggplant, or bell peppers. This adds a burst of flavor to the vegetables and keeps the dish healthy and nutritious.
Mushroom marinara sauce can also be used to create a scrumptious stuffed bell pepper dish. Simply fill the pepper with a mixture of rice, vegetables, and this sauce, then bake until tender.
These are just a few examples of dishes that pair well with this easy homemade sauce, adding a rich and robust flavor to any meal.
When to Serve
Mushroom marinara sauce is a versatile and delicious addition to various dishes. It can be served as a main course accompanying pasta or as a topping for portobello mushrooms, offering a delightful vegetarian option.
The earthy flavors of the sauce also complement classic Italian dishes like eggplant or chicken Parmigiana. This delicious concoction is perfect for dinner parties and family gatherings due to its universally appealing taste. Serve the mushroom marinara sauce in a variety of settings, keeping it warm in a slow cooker or chafing dish for the best experience.
Tried and loved this recipe? Please leave a 5-star review below! Your reviews mean a lot to me, so if you've got any questions, please let me know in a comment.
Frequently Asked Questions
How do I make portobello mushroom tomato pasta sauce?
To make a portobello mushroom tomato pasta sauce, first sauté garlic, onion, and mushrooms until they have cooked down. Then, add tomatoes, both whole and fresh diced, as well as fresh and dried herbs, salt, and pepper. Let the sauce simmer for 45 minutes until it thickens, stirring often.
Can you make this recipe with Manischewitz wine?
For a more Jewish spin on this dish, try substituting Manischewitz wine in a mushroom marinara sauce recipe. It makes for a sweeter pasta sauce with a lot of depth. Use 1 cup of Manischewitz wine in place of the suggested red wine to achieve the desired flavor.
Can I use tomato and mushroom sauce for steak?
Tomato and mushroom sauce can be used as a topping for steaks. Its rich and hearty flavors complement the meat, adding extra depth and texture to the dish.
How can I make marinara sauce more flavorful?
To make marinara sauce more flavorful, consider using a combination of fresh and canned tomatoes, adding a variety of herbs, and letting the sauce simmer for an extended period of time. Experiment with different types of red wine, or add a touch of red pepper flakes for some heat.
Recipe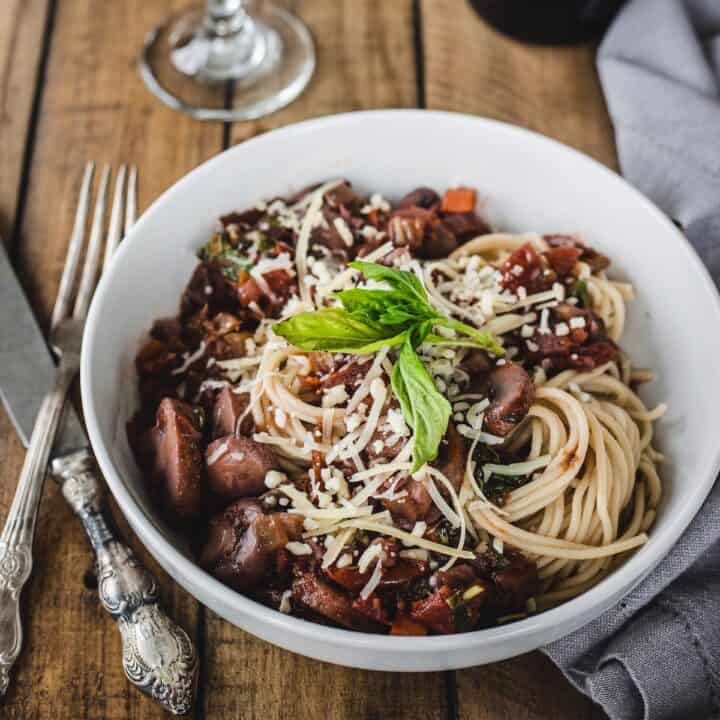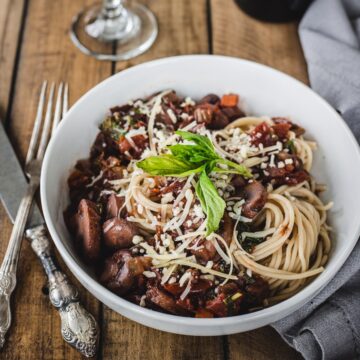 Spaghetti with Mushroom Marinara Sauce
This hearty mushroom marinara sauce makes for a flavorful pasta dinner that is easy, pure comfort food that is ready in 30 minutes!
Ingredients
2

tablespoon

extra virgin olive oil

1

large yellow onions

(about 1 ½ cups) finely chopped

1

celery rib

finely diced

1

carrot

finely diced

6

medium garlic cloves

minced

6

medium tomatoes

diced

1 28

oz

can diced tomatoes

can also use canned whole tomatoes or crushed tomatoes

1

cup

Cakebread Cellars Cabernet Sauvignon wine

2

teaspoon

dried oregano or Italian Seasoning mix

1

teaspoon

salt

½

teaspoon

black pepper

1

lb

fresh mushrooms

sliced

1

cup

fresh basil

chopped

1

package spaghetti or other pasta of your choice
Instructions
Heat 2 tablespoons olive oil in a pot. Add onions, celery, carrots, and garlic. Cook for 7 mins, until onions change color.

Chop tomatoes, and add to the pot with 2 cans of diced tomatoes. Boil for 15 mins, stirring sometimes.

Stir in 1 cup red wine, oregano or Italian Seasoning, salt, and black pepper.

Add sliced mushrooms, simmer 20-25 mins until mushrooms are cooked and sauce thickens. Add basil in the last 5 mins.

Cook pasta as directed. Drain.

Pour mushroom sauce over pasta. Top with basil and black pepper. Serve now. Leftovers in fridge for 3-4 days.
Nutrition
Serving:
1
g
Calories:
157
kcal
Carbohydrates:
18
g
Protein:
5
g
Fat:
5
g
Saturated Fat:
1
g
Polyunsaturated Fat:
1
g
Monounsaturated Fat:
3
g
Sodium:
604
mg
Potassium:
936
mg
Fiber:
5
g
Sugar:
10
g
Vitamin A:
3111
IU
Vitamin C:
35
mg
Calcium:
92
mg
Iron:
3
mg
Tried this recipe?
Comment + Rate Below!
Connect on Instagram!
Find us @immigrantstable