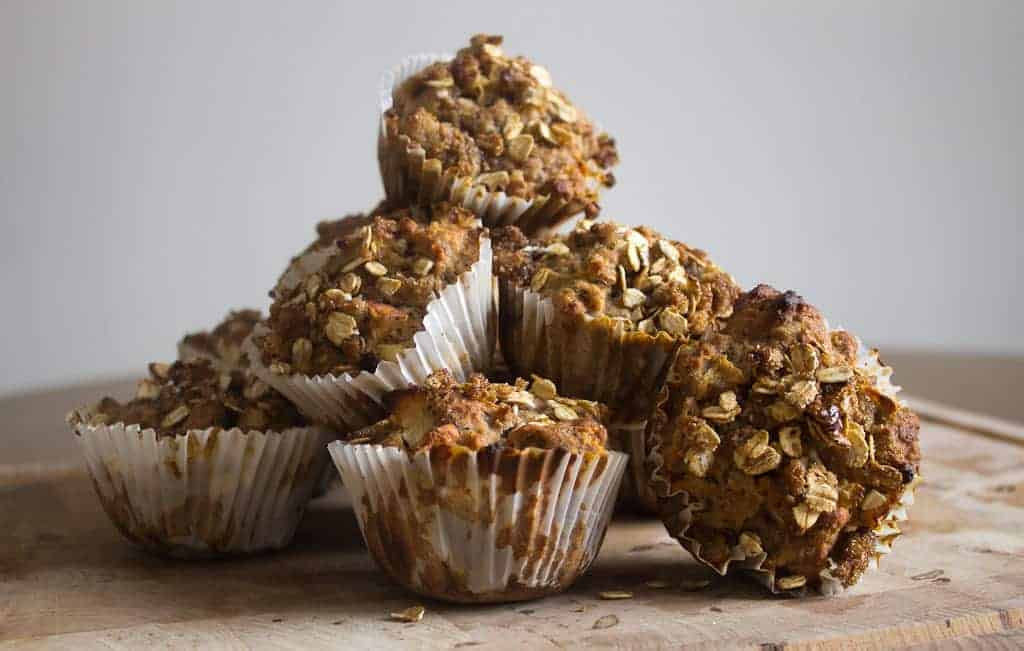 In the last year before I moved to Canada, I managed to save over 10,000 shekels. This was achieved through long hours spent at two jobs, the frantic saving of every penny given to me for my birthday, a holiday, or any special occasion, and just pure ol' pinching pennies. I recorded every cent I earned and spent (well, agora, really), dutifully tallying the total every week, month, and quarter. I requested that only money be given to me as gifts, and I was grateful for every 20 shekel bill that was presented to me. I felt proud, accomplished, and ready to take on the real world after I move away.
After I spent nearly half that money on a flight, I still wasn't too concerned. After all, I expected as much, and figured I still had enough to get me by until I found an on-campus job (my student visa prevented me from working off-campus in the first year). And then I got to Canada, spent $300 on textbooks, and realized that university wasn't going to be cheap.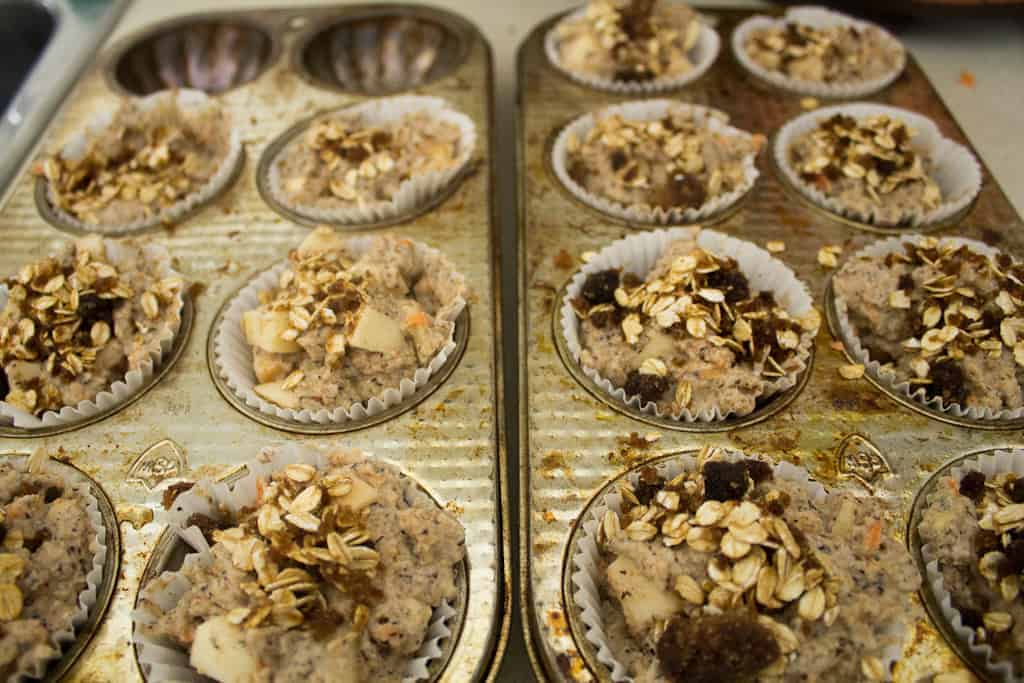 I continued skimping on every basic necessity, but, unsurprisingly, life had other plans. That job I was expecting to find on-campus never materialized; I applied for everything that seemed available and appealing, but nothing panned out. My partner wasn't getting as many shifts as he'd like, and things were tight at home. We had loud roommates who drank, smoked and partied more than I liked. I was taking five classes, spaced out over all days of the week, and I was always tired, stressed out and hungry. I spent long days away from home, and by the time I got back, most of the cooking, cleaning and meal planning fell on my shoulders. And on top of it all, I was also on a crazy, carb-cutting diet.
In order to keep myself alert on days away from home, I started looking towards the school cafeteria for nourishment. But I didn't realize how pitiful the options would be. "Healthy foods" cost a pretty penny; the salads I had grown to crave back home were priced between $8 to $10 each, and I simply couldn't allow myself that kind of spending with just $1,000 in my bank account, meant to last me through the year. And furthermore, when I splurged, the food tasted anemic, the vegetables devoid of colour and flavour, the dressing lacking punch. Sandwiches were mostly meat-based, and also expensive. The only affordable things on offer were muffins and pastries. And so, I tried to make the best choice possible, reaching out for a carrot and bran muffin and a cup of cheap, but strong, Red Rose tea. It would satiate my appetite and keep me full until dinner at home, which was the next time I saw food.
Looking back, there was something romantic about those sad mornings. Sometimes, I would sit with some people I was trying to be friends with, watching them eat yogurt, gigantic wraps, or chips, and pick at my muffin. I would try to make small talk, sharing bits of myself with a table of eyes and mouths, expecting laughter, derision, dismissal. Some times, I got that. But most of the time, people were accommodating, nice, friendly... Canadian. I rarely got real invitations for parties or actual hang-outs, but at least they stopped me from feeling like such a loser. And other days, that's exactly how I felt, curled up with a textbook on a couch in a hidden geography room at the library, mindlessly eating crumbs of my tasteless muffin, and slurping on lukewarm, strong, sugarless, cheap tea. The days passed, my account dwindled, and then one day I noticed I even started gaining weight.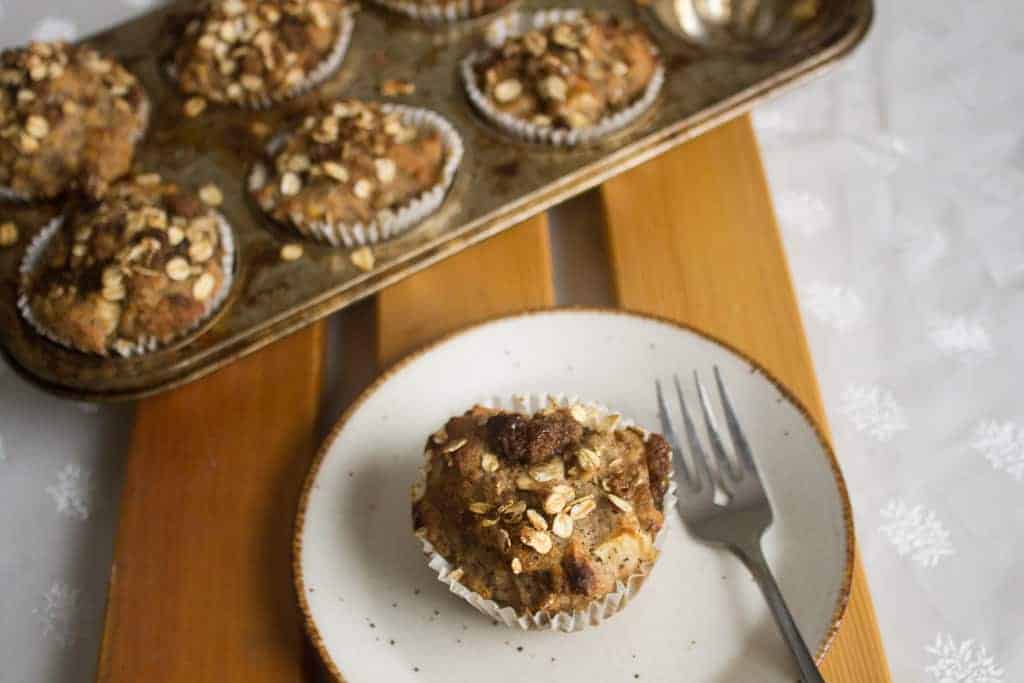 I realized something had to change. I stopped buying those muffins, and proceeded to pack healthy lunches: diet lactose-free yogurts, homemade salads, the occasional granola bar. My partner bought the groceries, and as his shifts increased, we were able to buy better produce and even some of the more expensive "diet" products. The weight gain didn't necessarily stop, but it was under control, and I felt better. And after a few years, I even started baking my own, healthier muffins. Different takes on morning glory muffins, with nuts, apples, and oatmeal, became my favourite.
To this day, eating muffins makes me feel a little bit bad. I never reach out for them at the store or in a cafeteria, having learned since that what I thought of as a "healthier" choice is basically a bunch of sugar, processed white flour, and weird preservatives wrapped in plastic. But when I make these morning glory muffins at home, I try to overcompensate, stuffing them with all the goodness at hand: whole grains, interesting flours, local honey, wholesome fruit, unsweetened applesauce, toothsome nuts, and crunchy oatmeal. The result is a filling muffin that will leave you feeling good and wholesome. This recipe is adapted from Cucina Nicolina's brilliant vegan strawberry muffins, but you can incorporate these flavours into any recipe you'd like.
ED: This post was added to Easy to Cook Meals blog. Please join us in Cunning Ladies' Friday Party.
Tried and loved this recipe? Please leave a 5-star review below! Your reviews mean a lot to me, so if you've got any questions, please let me know in a comment.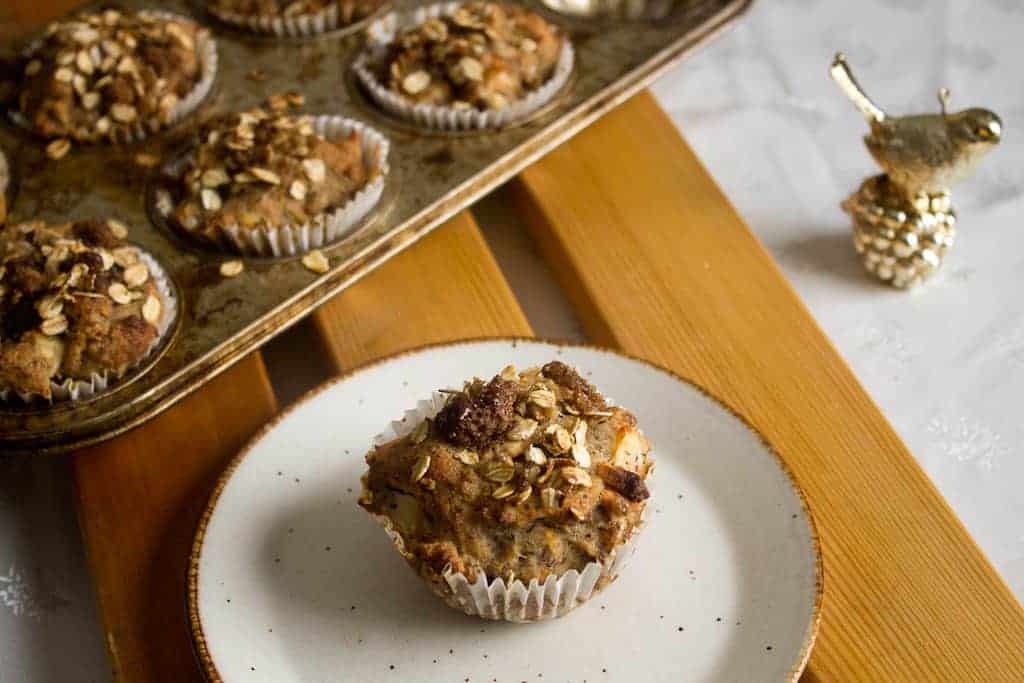 Recipe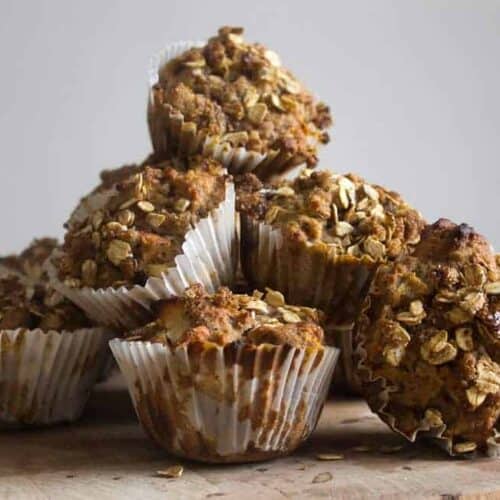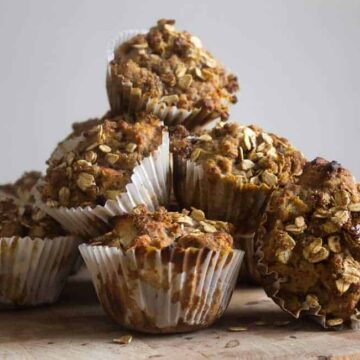 Morning glory muffins, or how I gained my freshman five
These healthy, filling-but-light muffins are packed with whole grains, local honey, wholesome fruit, unsweetened applesauce, toothsome nuts and crunchy oatmeal. They make a satisfying breakfast, but are also good as an afternoon treat with a cup of strong, sugarless tea.
Ingredients
¾

cup

water

or your choice of unsweetened almond milk

¾

cup

unsweetened apple sauce

¼

cup

vegetable oil

1

teaspoon

apple cider vinegar

¼

cup

honey

or maple syrup

1

cup

wholewheat flour

½

cup

buckwheat or spelt flour

1

cup

all-purpose flour

1

teaspoon

baking powder

½

teaspoon

baking soda

½

teaspoon

ground cinnamon

a pinch of allspice or nutmeg

zest from ¼ of an orange

½

teaspoon

salt

4

apples

chopped into small cubes

1

large grated carrot

¼

cup

sliced almonds or chopped walnuts

Oat crumble topping:

3

tablespoons

rolled oats

3

tablespoons

brown sugar
Instructions
Preheat oven to 400F. Grease a muffin tin or line it with cupcake liners.

In a medium bowl, whisk together the water (or almond milk), apple sauce, oil, vinegar, and honey until well combined.

In a large bowl, whisk together the flours, baking powder, baking soda, cinnamon, allspice or nutmeg, salt and orange zest. Mix in the apples and grated carrot.

Pour the wet ingredients into the dry and stir gently until just combined. Fold in the nuts.

Distribute the batter evenly into the muffin tins and sprinkle each muffin with oats and brown sugar. Place in the oven and bake for 20-25 minutes, until a tester comes out clean. Remove tin from oven and let muffins cool in the pan for about 10 minutes, then turn the muffins out onto a wire rack to cool completely.

Serve these with a cup of good, strong sugarless tea, and take comfort in nourishing your body and soul.
Tried this recipe?
Comment + Rate Below!
Connect on Instagram!
Find us @immigrantstable