My shoes got so dirty, I had to soak them in water for a day before we could even begin to scrub the dirt off. My jeans were drenched and covered in mud up to my thighs. The pocket of my coat was torn, and a I ripped a hole in my sleeve. My hair was matted, strands going in all direction, dancing like a wild crown of thorns around my head. I was so tired I could barely walk. And yet, I was looking forward to the next time I would go back into the forest, guided by my grandfather's keen sense and strong eyes, looking around tree trunks to find the next elusive cluster of edible mushrooms.
Until we moved to the middle of the Negev desert in Israel, my family spent many years (decades, really) going foraging for mushrooms. My grandfather, a trained forestry expert, made it a part of his life's mission to teach others how to find good mushrooms in a forest thick with trees and wood ticks, muddy and barely traversable, yet smelling so fresh and lovely after the rain. He could tell a chanterelle (lisichka) from a milky cap (ryjik), and could spot a toadstool (muhomor) mushroom from a 100 metres away. He loved sharing his passion and knowledge with others, and was elated to take anyone who asked for, or even mentioned an interest in, foraging excursions.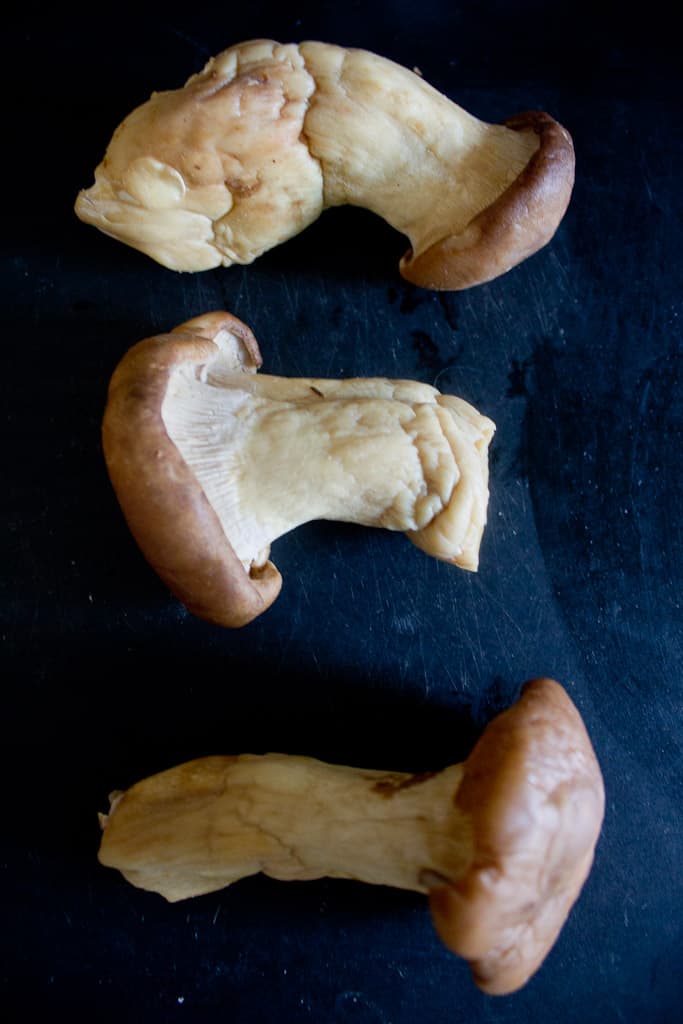 My mother began going on these mushroom hunting trips when she was very little. By the time she reached high school, these were several-day trips, full of bruises and bug bites and camping skills few kids her age could even dream of. While my grandfather went on and on about mushrooms and foliage, filling enormous buckets with all kinds of edible treasures, she would dream about piano, nail polish and boys. I think she couldn't wait to get out of there and get back into the city.
I was a different story. Even though (or maybe because?) these excursions were few and far between, I looked forward to every annual mushroom gathering trip like Canadian kids look towards Christmas. The moment the first rain fell in my area in Israel, a regional holiday in itself, I would start dreaming about our upcoming mushroom gathering trip. I would bug my mom, asking when there would be enough rain to justify going. On the odd chance that it rained for a few days leading up to the weekend, and that both my parents had some time off, we would gather ourselves and head into the small, sparse, Israeli forest, which was so different from the majestic kingdoms of my youth, keeping quiet in order to steal mushrooms away from other prying eyes and fingers.
The thing is, only Russian families went foraging for mushrooms in Israel. Correction: only poor Russian families went foraging for mushrooms in Israel. It took a special kind of person, one who wasn't turned off by wet clothes, muddy paths, slippery ground, long hours spent bent and crouching low, and canopies still holding a bucket of rainwater, ready to drop on the next person who would dare to move a branch. It took a Russian with severe home-sickness and with a keen sense for edible treasures. And in our family, with my grandfather still living in Russia, my mother became that reluctant forager.
She was still not excited about these trips. The hours spent looking around the base of trees, the constant dampness, and the stinging branches were far from being her favourite. But my father and I loved it with a childish passion, and she, who has been trained at the art of foraging since her early childhood but had no grown-up love for this pursuit, became our grumpy guide. And when we piled back into our beat-up old Ford fiesta, our minds full of dreams and our laps full of mushrooms, I like to think that she at least found some happiness in the thought that tomorrow's meal was mostly taken care of.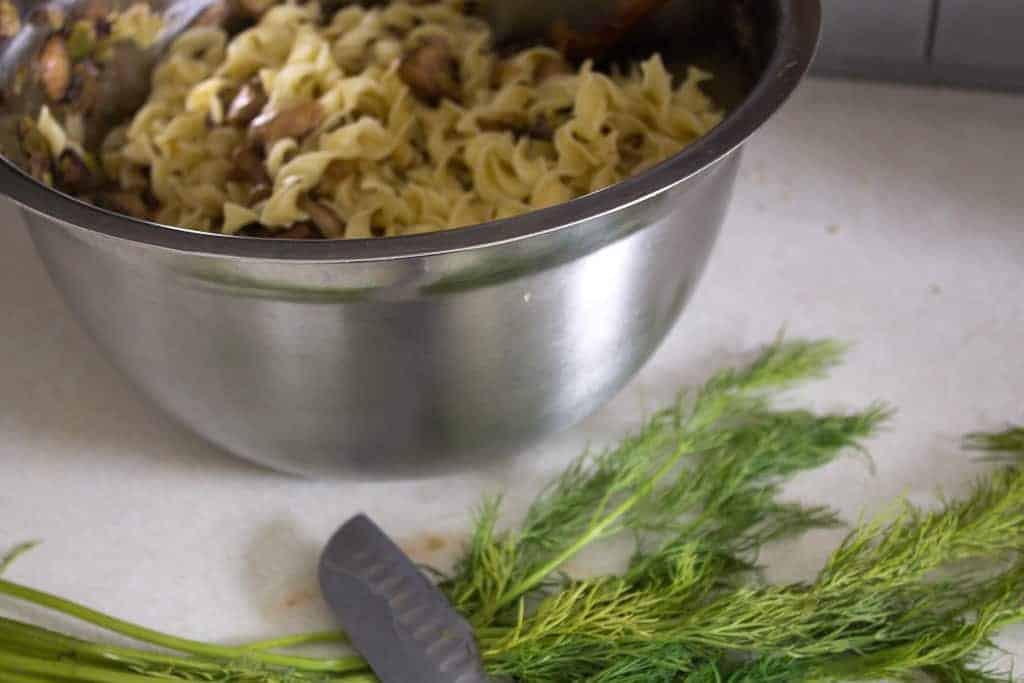 Though the foraging trips became even fewer and further between as we got older, until they stopped completely, I still recall those hours spent in the forest as some of my happiest memories. I would love to go mushroom foraging now, and I invite any expert from the Manitoba area to get in touch with me if they're looking for a willing set of hands and eyes. But even in the absence of hand-picked, gathered mushrooms, I still know that one of the best way to treat fungi is to smother it with cream and eggs.
In my take on a kugel, silken tofu is pureed into submission, and, with the help of almond milk and eggs, is wrapped around slinky egg noodles like a warm, comforting blanket. Rich mushrooms are sauteed with garlic and leeks, spreading the smell of fall all around the house. The whole dish is folded together gently into a casserole dish, sprinkling with bright, fragrant dill, and placed in a warm oven to bake. The end result is a creamy, earthy dish, a perfect marriage of spongy mushrooms, pungent leeks, and sharp, bright dill.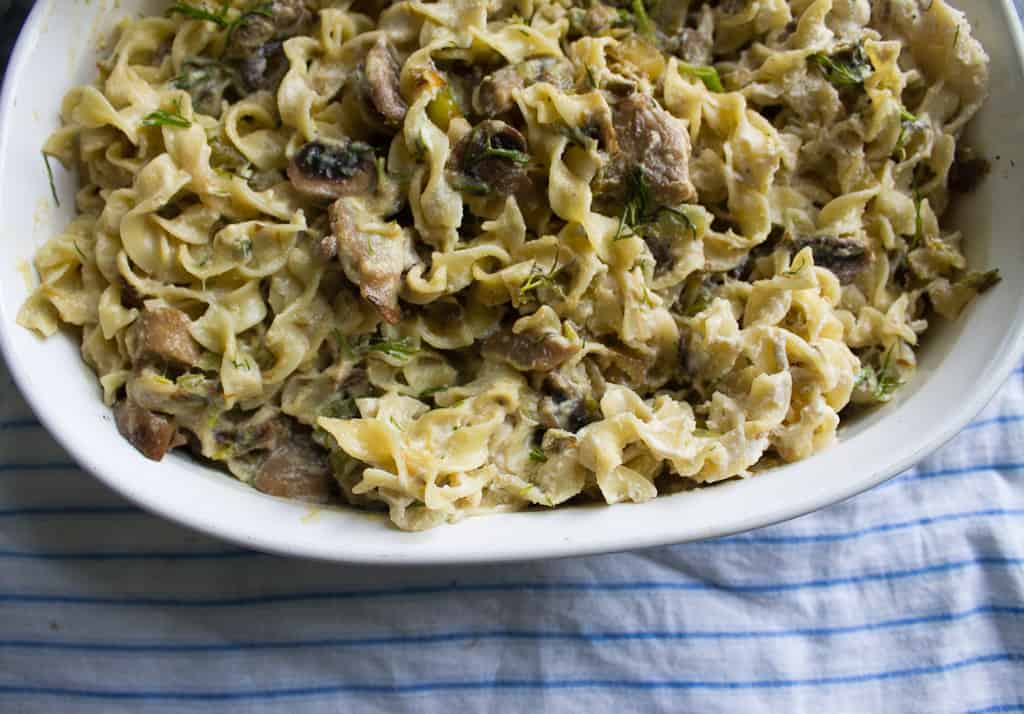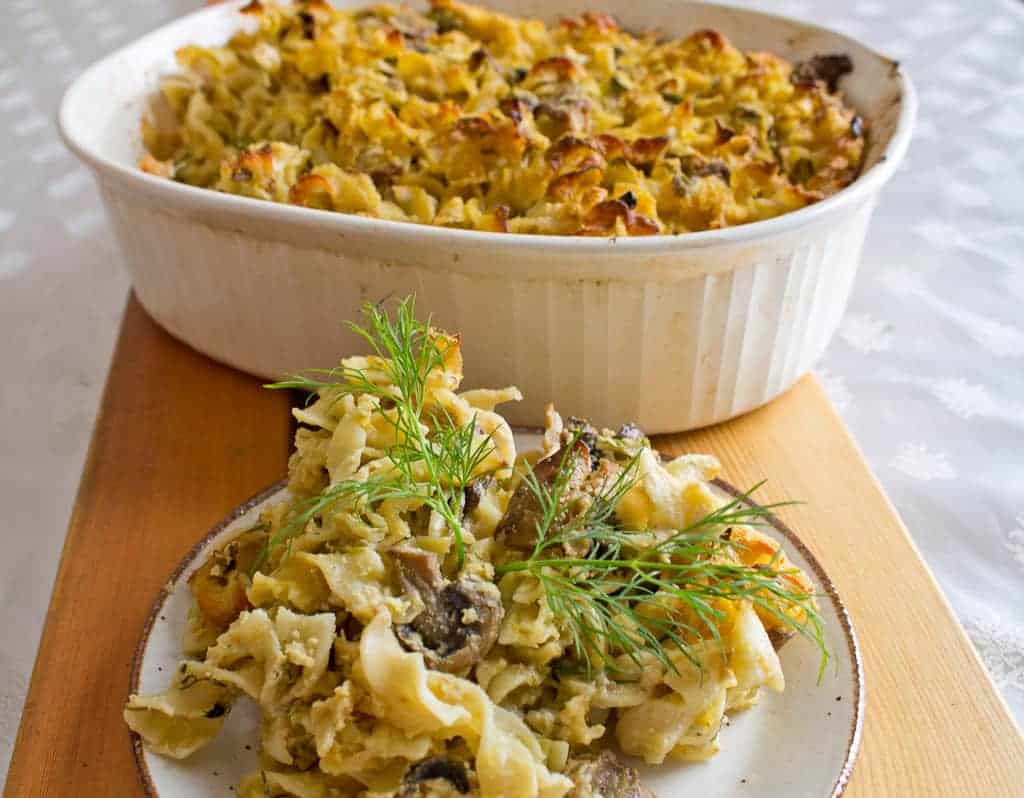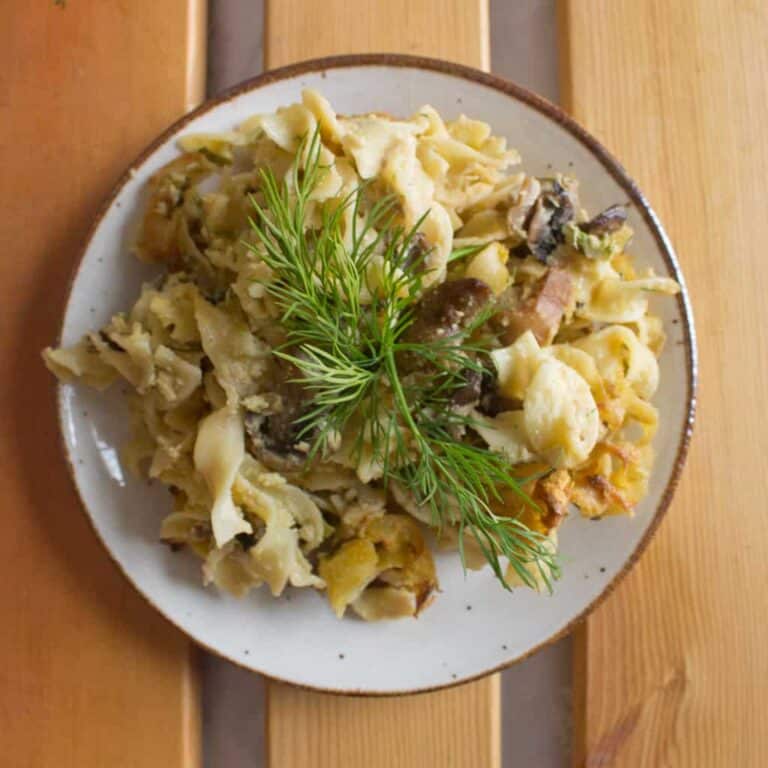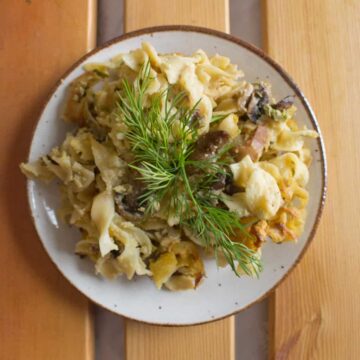 Mushroom leek kugel, or what awaits us in the woods
This mushroom leek kugel is a creamy, earthy dish, a perfect marriage of spongy mushrooms, pungent leeks, and sharp, bright, fragrant dill.
Print
Pin
Rate
Ingredients
1

bunch of leeks

3 thin ones or 2 big ones

500

grams

of mushrooms

mixed kinds, here I used king and white, because that's what I had at the time

2

Tbs

margarine or butter

4

cloves

garlic

1

package egg noodles

preferably broad

4

eggs

1

package of silken tofu

or sour cream

½

cup

of almond milk

if using tofu

The juice of half a lemon

Dill weed

chopped, to taste (optional)

Nutritional yeast

optional, to taste
Instructions
Trim leeks, cutting off most of the green tail. Slice the stalk in half and wash carefully, ensuring no debris remains trapped between the layers. Slice thinly.

Clean mushrooms with a wet paper towel, and slice them.

Heat margarine (or butter) in a pan. Add a splash of olive oil to keep it from burning. Add leeks and sauté in med heat for 5 mins.

Add sliced mushrooms and sauté on medium heat until caramelized, about 7-10 minutes. Chop garlic and add to pan. Reduce heat and continue sautéing for another 3-5 minutes.

Prepare noodles: bring large pot of salted water to a boil, add noodles, but only cook for 6 minutes. Drain, and transfer to a big bowl. Add sautéed mushroom mixture.

Process tofu with almond milk, lemon juice and a pinch of salt in food processor (or blender, though a processor works better). Add tofu mixture to noodles. Beat eggs lightly in a small bowl and add to pasta bowl. Add salt and pepper, and more dill, to taste. Mix everything gently.

Lightly butter (or oil) the insides of a casserole dish. Spoon noodle mixture into prepared casserole dish. If desired, sprinkle with nutritional yeast. Bake 45 minutes, until top is golden own and filling is set.