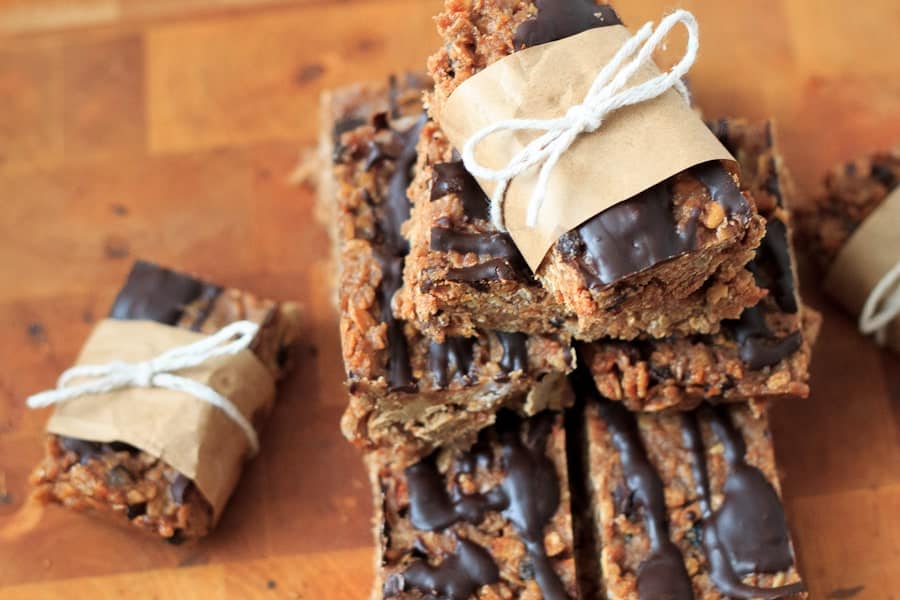 Despite having been a vegetarian and a cook for most of my life, I am ashamed to say I have never made granola bars. The most basic of baking tasks has actually eluded me for the longest time, perhaps because the most basic is often the hardest to get precisely right. But with these pear chocolate granola bars, friends, I am happy to say I've come a step closer to being a fully fledged cook.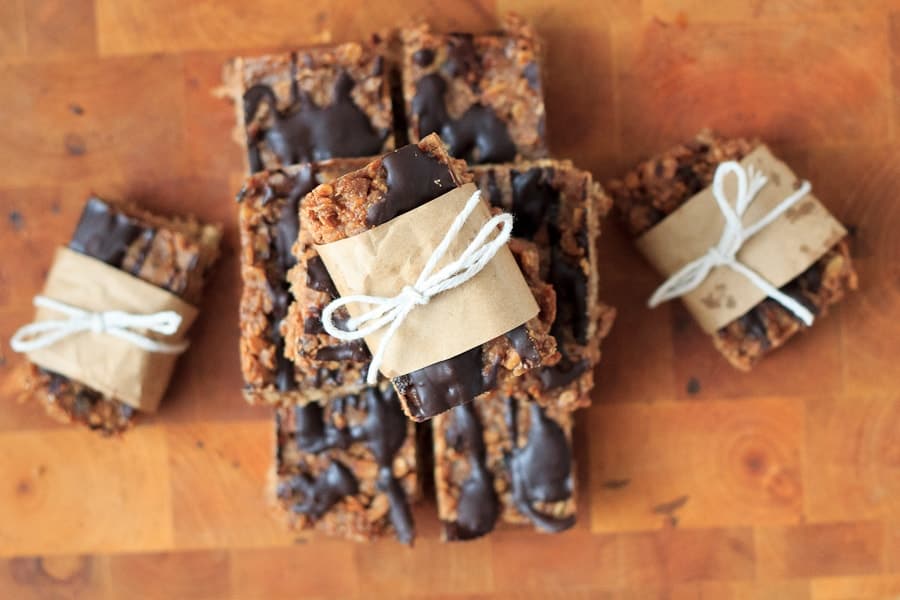 When I first picked up the package of organic Multi Nature granola from NaturSource, I knew right away I wanted to remedy my cooking deficiency and make granola bars, the most hippie of homemade baked goods. I had all these ideas about what to put in my granola bars. Visions of pistachios and dried cranberries came to me, though blackberry-sage-white chocolate was also strangely appealing. The fall's pumpkin purees and ginger shavings seemed interesting. There were so many possibilities!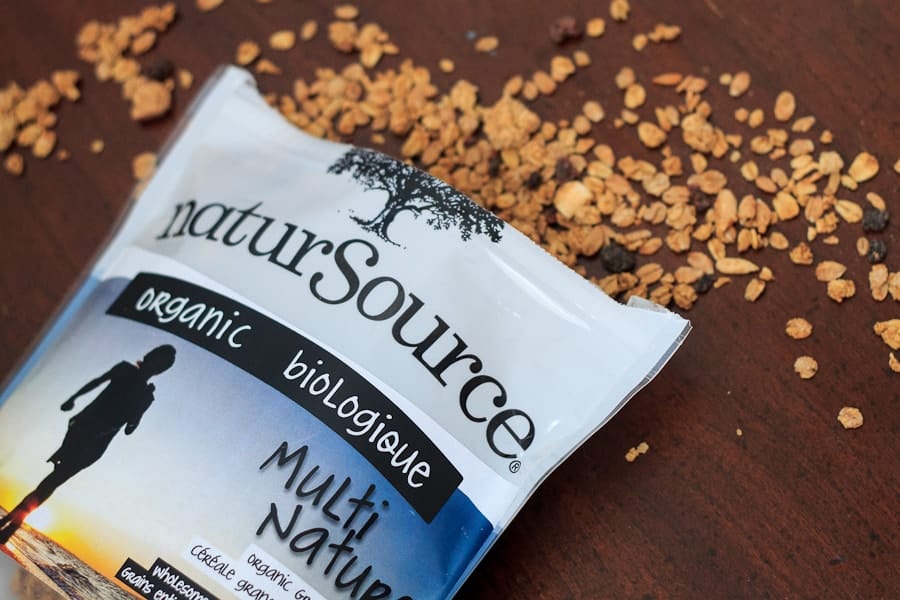 But then, I tasted the granola clusters themselves. Natursouce's organic Multi Nature granola blend is so delicate, so precise, that it actually felt like it would be a crime to obfuscate it with strange combinations. So I had to rethink the whole thing... And while doing so, I ate nearly the entire bag.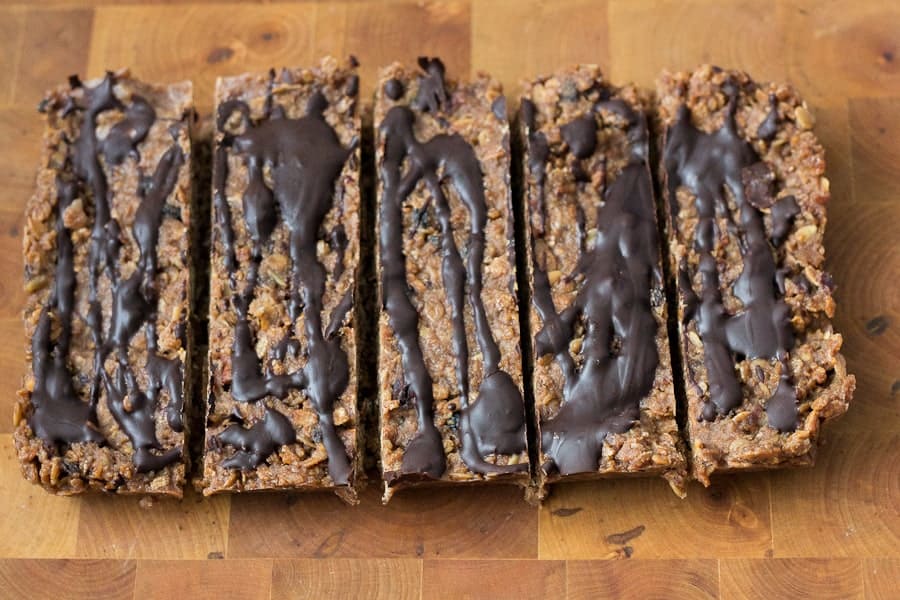 And then it was Thursday night, and I was severely running out of time to put this recipe together. As my eyes swept across my kitchen, I glanced some beautiful local pears, leftover from last week's experiments for another publication (wait until you see what I made with them!). My mind went back to the chocolate-pear strudel I made for this space what feels like aeons ago, and I realized that I had to have that flavour combination once more.
For inspiration on how to put my first granola bars together, I turned to my ol' trusty [amazon text=Oh She Glows cookbook&asin=0143187228]. Amidst its pages of healthy, delicious vegan goodness I found Angela Liddon's recipe for her glo bars. Simple, wholesome, and without any cooking involved (at least in the version I was going for), these seemed like the perfect fit. But alas, my pantry was sadly devoid of brown rice syrup, or even almond butter. It seemed like I was destined to be denied delicious granola bars.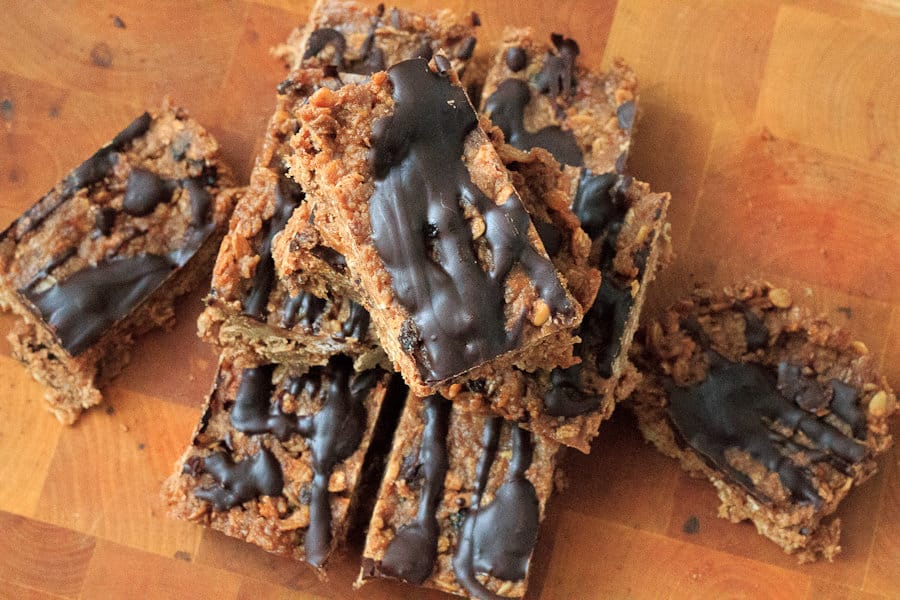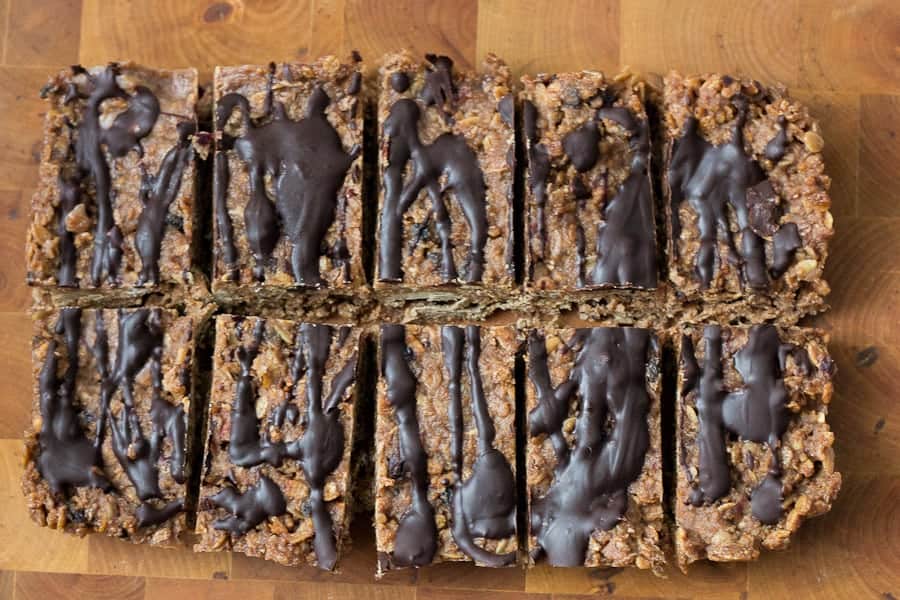 No matter! I was not going to let the lack of ingredients bring me down. Some experimentation later, I was happily gnawing away on protein-rich, sweet, chewy pear chocolate granola bars with a dark drizzle on top. If you have some brown rice syrup, that would be great in place of the honey - and would then make these bars wholly vegan. And though I will not dare to claim these are strictly healthy, I will honestly tell you - they are seriously delicious, and would make an only slightly-guilty breakfast.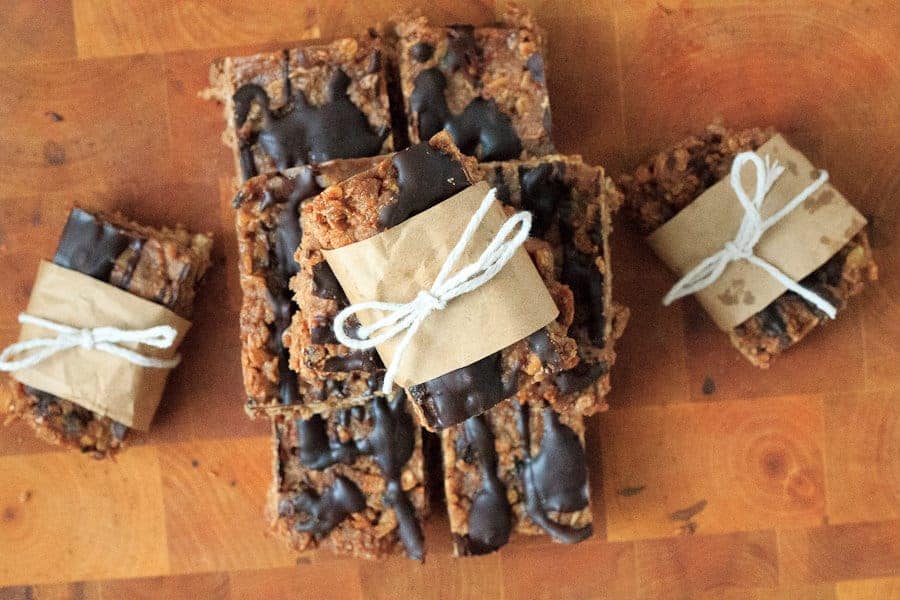 And now, onto the Friday links!
Though I do not live in America, and therefore will not be celebrating Thanksgiving, for some reason I've been obsessing about gluten-free and vegan pies.
Speaking of pies, as much as I love my shortening-pie crust (LINK), I've been trying to move away from having to buy an ingredient I never use otherwise. These tips for an all-butter pie crust are a step in the right direction.
Reading this really moved me, and I genuinely think the tune is excellent. I couldn't compose that at age 28, let alone as a child.
Being lactose-intolerant, I've never made horchata. But thanks to Vampire Weekend, I've been obsessed with tasting this sweet, milky concotion for years. This vegan version brings me a step closer to achieving my nirvana.
This is one of the more stunning blogs I've come across lately, food-related or not.
I'm enamoured with this real-life, sustainable hobbit lair - but why don't they live there anymore?...
Reading [amazon text=One Souffle at a Time&asin=0312642172] while trying to put together a Jewish cooking school project is not advisable (though it is also encouraging at times, and hey - her school worked!).
Have a great weekend!
P.S. - This is a sponsored post, but all opinions expressed here are my own. I am proud to support a local, family-owned business whose product I truly appreciate, and I thank you for supporting my sponsors.
P.S. – This is a sponsored post, but all opinions expressed here are my own. I am proud to support a local, family-owned business whose product I truly appreciate, and I thank you for supporting my sponsors.
Liked this post? Share it with your friends! For more At the Immigrant's Table, follow me on Facebook, Instagram, Pinterest, Bloglovin', or Twitter, subscribe to my mailing list, or contact me about advertising and becoming a sponsor. If you make one of my recipes, don't forget to tag it #immigrantstable @immigrantstable!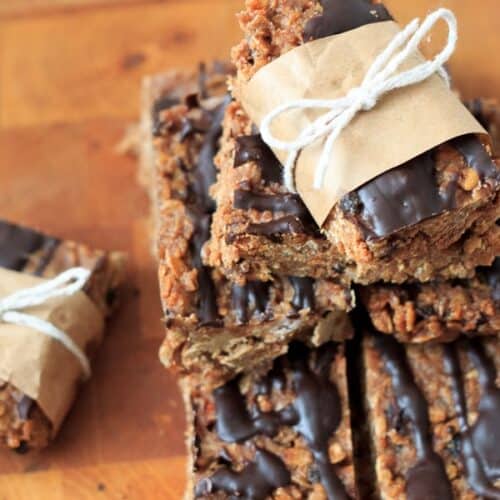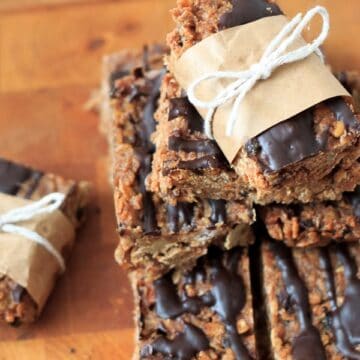 Pear chocolate granola bars
These pear chocolate granola bars are not too sweet, not too nutty, and just gooey and chewy enough. Made with plenty of tahini, they are a healthy(ish) protein snack for when you're short on time - and they're easily veganized.
Print
Pin
Rate
Ingredients
3

cups

granola

½

cup

raw whole-grain tahini

regular raw tahini will do just fine

¼

cup

honey

if you are vegan, or you have brown rice syrup, use that instead

2

TBs

coconut oil

2

pears

chopped

½

ounce

vegan dark chocolate

1

teaspoon

coconut oil

for melting the chocolate
Instructions
Line a 9x9 inch square pan with parchment paper, cutting the sides to allow it to fold neatly into the square (or just use two pieces of parchment paper, one going each way - this will make it easier to slide the bars out). Oil pan well.

In a small saucepan, stir together tahini, coconut oil and honey (or brown rice syrup). Cook over medium heat just until the mixture softens and bubbles a bit, enough to stir it into a cohesive syrup.

Chop pears into small pieces (no need to peel).

In a large bowl, mix together the granola and pears. Pour the syrup over the oat mixture and stir well to combine, taking care not to bruise the pears too much. Try to form patties - you want to make sure the mixture sticks together.

In microwave or using the double broiler method, melt ½ an ounce of chocolate with 1 teaspoon coconut oil. Mix well to combine.

Pour the granola mixture into the pan, using lightly wet hands and a spatula to pat it down into place evenly. Drizzle chocolate mixture over it, creating a loose zig-zag shape.

Place the pan in the freezer for 10-20 minutes, just until firm (if you forget about it and leave it overnight, nothing will happen).

With the help of the parchment paper, lift the hardened granola square out of the pan. Slice the square into bars.

To keep, wrap the bars individually in plastic wrap or foil and store in an airtight container in the fridge. They will keep beautifully in the fridge for a couple of weeks, or about a month in the freezer.