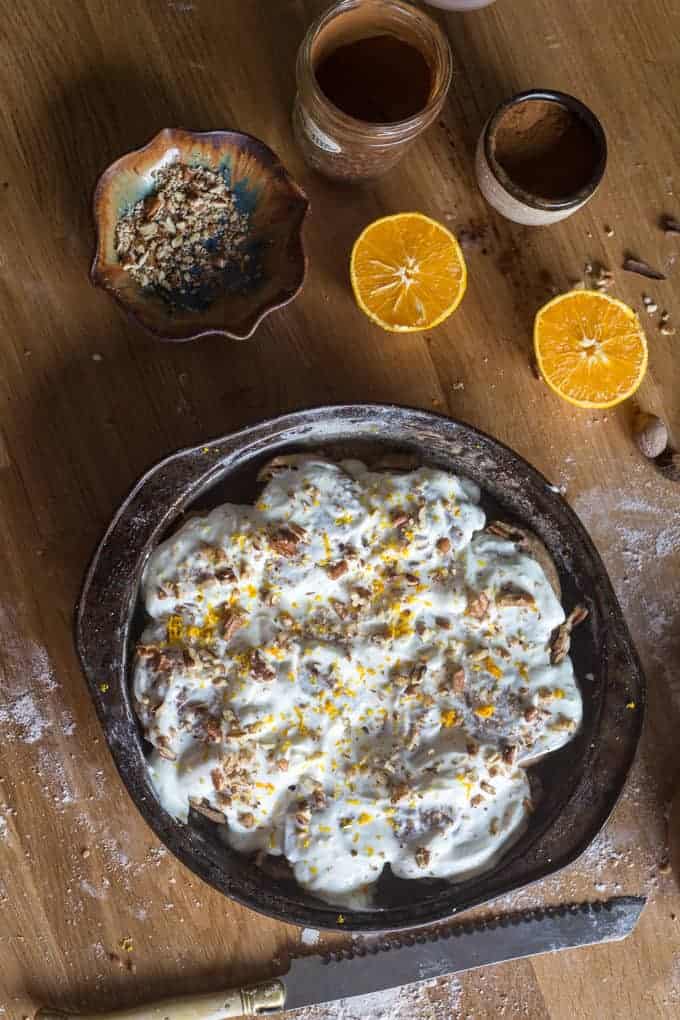 After a lengthy absence dedicated to doing the things in life that matter (moving, travelling, dancing, learning Spanish, convincing myself I can love again), your favourite Russian Israeli is back with another paean to fatherhood, this time in the form of spelt orange pecan sugar-free cinnamon buns. I hope you like these as much as my co-workers did.
These stevia-sweetened healthy spelt orange pecan sugar-free cinnamon buns are a special treat that will make you forget about those mall court Cinnabuns.
"Dad, there is more nutella on that piece of bread than actual bread!"
"Dad, do you really need all that juice?"
"No dad, you really shouldn't have another bun."
My dad always had a sweet tooth. In fact, you could say my dad has a tooth for everything – salty, spicy, savoury and sweet. From stinky cheeses to dark chocolate with fleur de sel, he is a man who appreciates a good gourmet meal, followed by a tall glass of exquisite red wine.
But he is also the kind of man who cannot pass up a cinnamon bun from a market stand in Germany, the smell of its sticky sweet icing wafting to pull him in by the nose like a siren's plaintive call.
The trouble is, consequently to his sweeth-tooth, my dad has also always had weight management issues.
It's a tricky balance. Every year come Father's Day or his birthday, my family would struggle to come up with a way to treat him to a great meal without compromising his health. My mother would pack picnics and bake sugarless streusels that sometimes tasted more like kraft paper than a dessert. I would prep carbless sandwiches wrapped in lettuce leaves, their countenance as sad as their taste. And at the end of the day, we could always count on finding my father sneaking in some dark chocolate when no one was looking.
So this year come Father's Day, I decided to take a different approach.
With the help of flavored liquid stevia drops, I was able to prepare a yeasted spelt dough that was as healthy as it was a delicious. All-natural stevia powder sweetener helped me mimic the flavor and texture of sugar in a hearty mix with cinnamon and pecans. A few drops of orange stevia Flavorall sweetener made it possible to give my cream cheese icing just the zing it needed. After a few tweaks and creative additions, a cross between hearty Irish hot cross buns and the white-flour, empty-sugar, calorie-laden cinnamon buns we all know and secretly love.
And at the end of the day, I looked at sugar-free, healthy spelt orange pecan sugar-free cinnamon buns that would be able to tempt my dad just as much as any German baked goods stand.
But also at the end of the day, my father is approximately 8,856 kilometres away. With his love of sweets and good wine, his critical mind and yet undying ability to wish and hope for more. With his dedication to his patients and his family and his friends, some of which at times come at the expense of others. With his million hobbies and interests, all of which he seems to be just good enough at. With all of the qualities I inherited from him, including his temper and kindness and terrible, terrible sense of humour.
So when I looked at my sugar-free, healthy spelt orange pecan sugar-free cinnamon buns, I knew I baked them for my father in mind only. And I took them to work on the Monday following Father's Day, in order to bring some joy to a few other fathers (and mothers).
Because sometimes, just baking something for someone you love is enough - even if they don't get to taste it.
Full disclosure: I received monetary compensation from Greeniche in exchange for this post. As such, this posts contains affiliate links to the products that help make keepign a blog possible. I am proud to only work with those companies and brands whose products I truly love. And as always, all opinions expressed here are my own; you can always expect me to be honest with you guys!