Maple-sweetened stewed strawberry rhubarb compote sits on top of chia coconut pudding for a breakfast that is sweet, tart and balanced.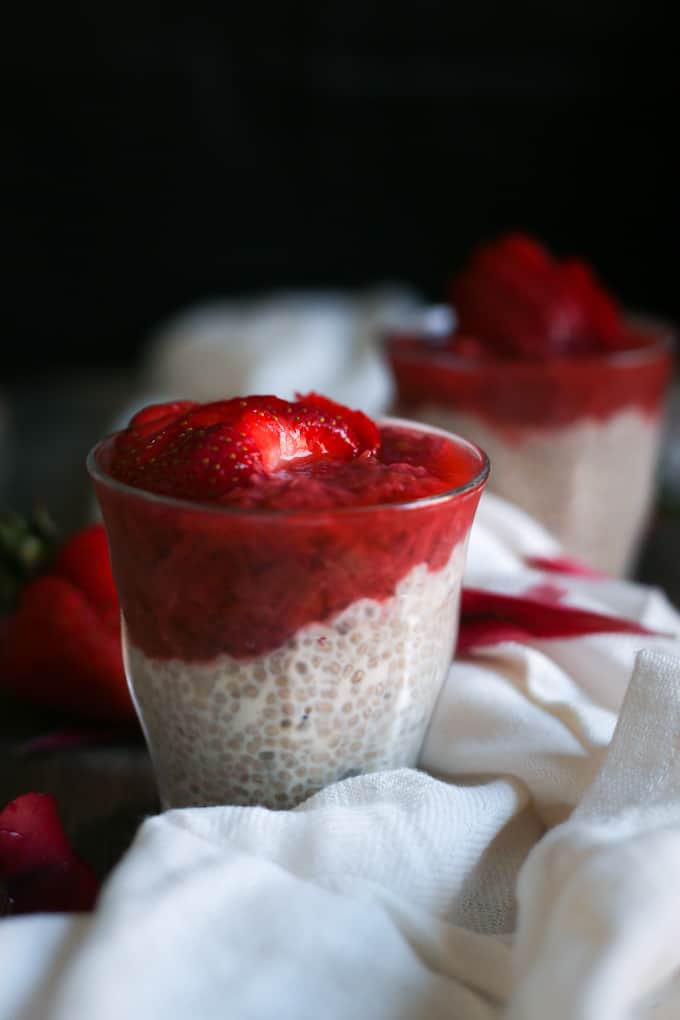 There hasn't been much writing going on here lately. There hasn't been much cooking, either. There is still photography, but it takes the shape of capturing people, moments, little views in new cities. There's a whole lot of running around, exploring, experiencing. And to fuel that, there's stewed strawberry rhubarb compote with chia coconut pudding.
The days have gotten unbearably hot in late spring in Montreal. And two days away from the summer solstice, I know it's because summer is right around the corner... And I simply can't wait.
In the summer, we eat simple meals around here. A lot of small plates, quick salads made up of whatever is in the fridge (which, in this season, is always lovely), and a lot meals that are actually an excuse for a party. To me, breakfast has always been the most important meal of the day, and the one that shouldn't be skipped - but when there's so much to do, how do you ensure you eat well?
This spring has been filled with exploring, and friends. Sometimes, I ventured elsewhere: NYC, Israel, or even just the Montreal West Island.
Other times, people came here: I played tourist guide for two groups of friends in the past month, and have two more coming before the month is done. It's an exhausting and exhilarating way to experience your own place, to remember all the good things about it and to discover new secrets. I've loved every minute of it, and wouldn't have traded it for a weekend somewhere else for the world.
There's still much ahead. Winnipeg and Calgary, a drive through the Rockies, the ocean-stradding Vancouver and finally, a cruise to Alaska... All of it is enough to make my head spin.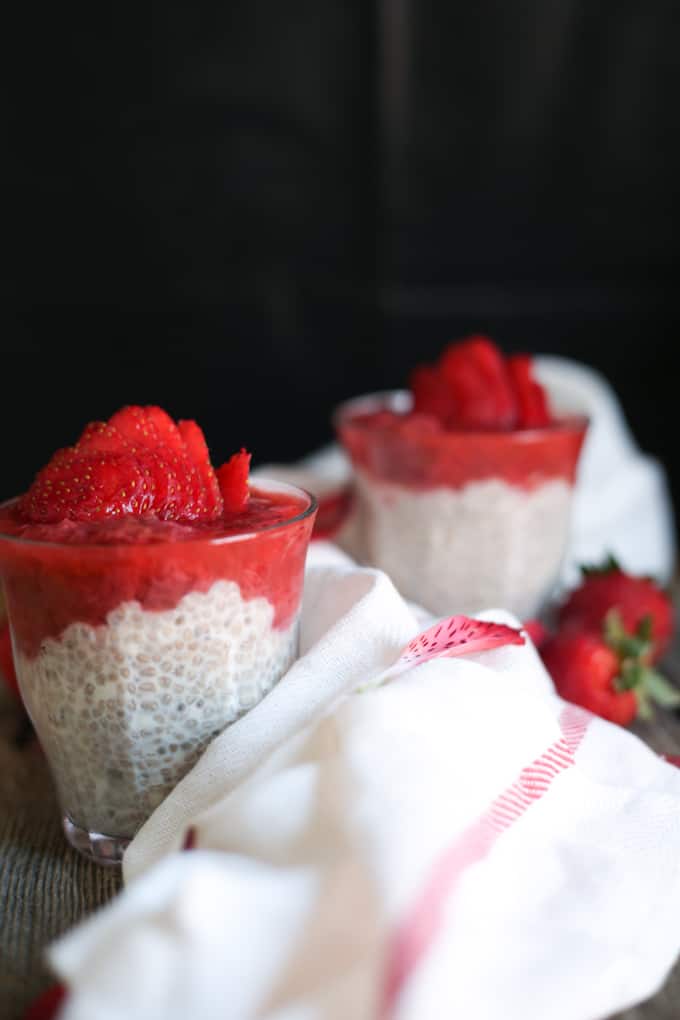 So to keep my feet firmly planted on the ground, I start each morning by dolloping out some stewed strawberry rhubarb compote with chia coconut pudding. And I immediately feel better.
I have tried many chia pudding recipes until I ended up on this chia coconut one from Dietitian Debbie Dishes. It's firmer consistency and slight tropical sweetness from the coconut flakes make it a pleasant breakfast on its own, with just a touch of honey. But as I can never leave well enough alone, I eat it with maple-sweetened stewed strawberry rhubarb compote, and my world expands exponentially: the tart-sweet balance here is so perfect, so delicate that it immediately makes me smile.
And when a breakfast can make you smile immediately, the day ahead has just to be good.
So if I disappear on an off the grid in the upcoming week, my apologies. I promise you that I am living life well and to the fullest... And I try to keep you guys posted. Follow At the Immigrant's Table on Facebook, Instagram, Pinterest, Bloglovin', or Twitter, subscribe to my mailing list, or contact me about advertising and becoming a sponsor. If you make one of my recipes, don't forget to tag it #immigrantstable @immigrantstable!
Tried and loved this recipe? Please leave a 5-star review below! Your reviews mean a lot to me, so if you've got any questions, please let me know in a comment.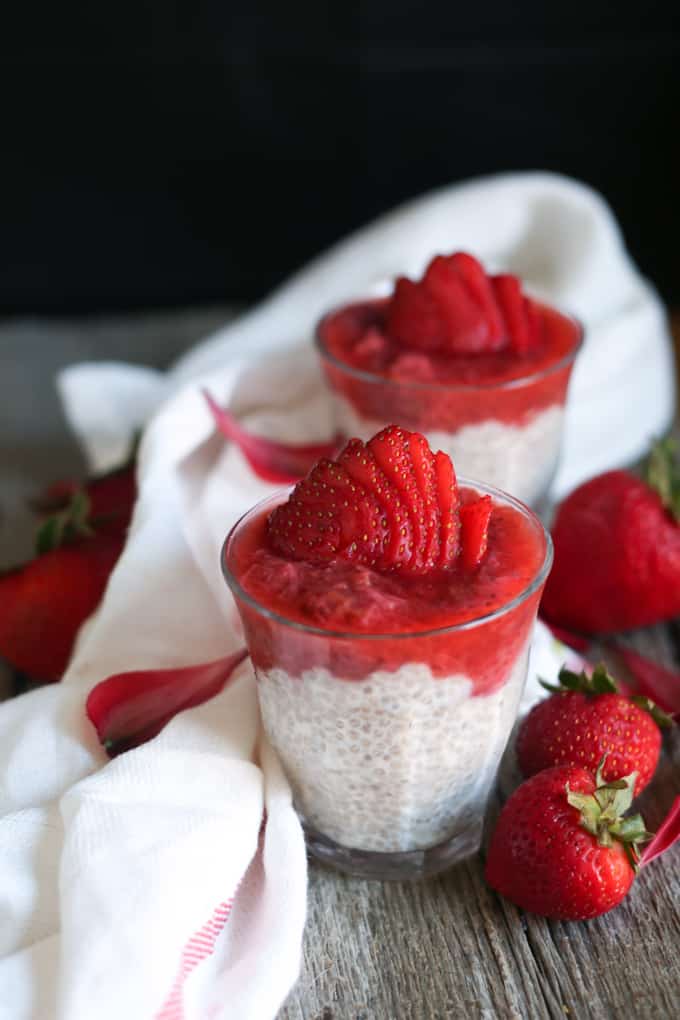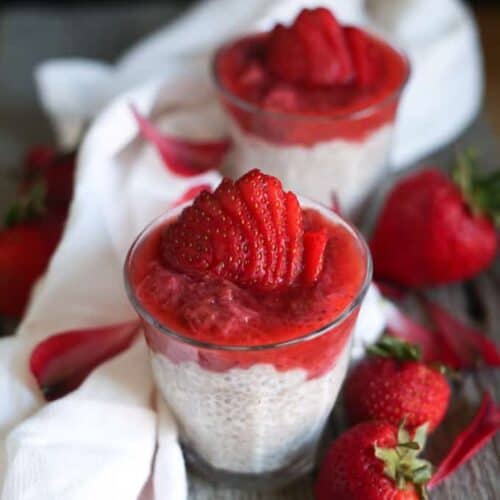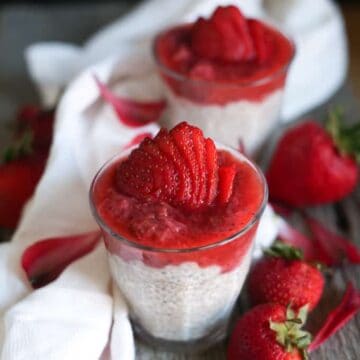 Stewed strawberry rhubarb compote with chia coconut pudding
Maple-sweetened stewed strawberry rhubarb compote sits on top of chia coconut pudding for a breakfast that is sweet, tart and balanced.
Ingredients
2

cups

rhubarb stalks

⅓ inch slices

2

cups

quartered strawberries

¼

cup

water

2

tablespoons

maple syrup

1½

cup

almond milk

¼

cup

chia seeds

¼

cup

shredded unsweetened coconut flakes

1

teaspoon

vanilla
Instructions
In a medium saucepan, combine rhubarb, water, and maple syrup. Bring to a simmer, stirring occasionally. As soon as the rhubarb starts to soften, add the strawberries and continue to simmer. Cook about 5-7 minutes until strawberries and rhubarb have softened and a thick sauce forms. Set aside to cool.

To make the chia pudding, combine milk, chia, coconut, and vanilla in a bowl. Stir well and let set in the fridge for at least 1 hour to overnight.

To serve, divide half of the chia pudding into 2 separate bowls and top with strawberry rhubarb compote.
Tried this recipe?
Comment + Rate Below!
Connect on Instagram!
Find us @immigrantstable