An incredibly moist and fragrant vegan spiced apple butter cake with the scent, taste, and feel of autumn. Make it for a weekend or Thanksgiving.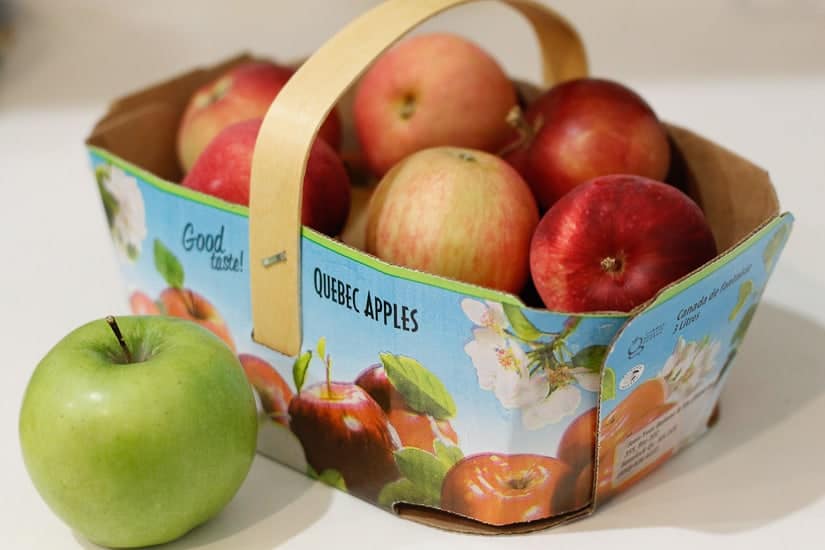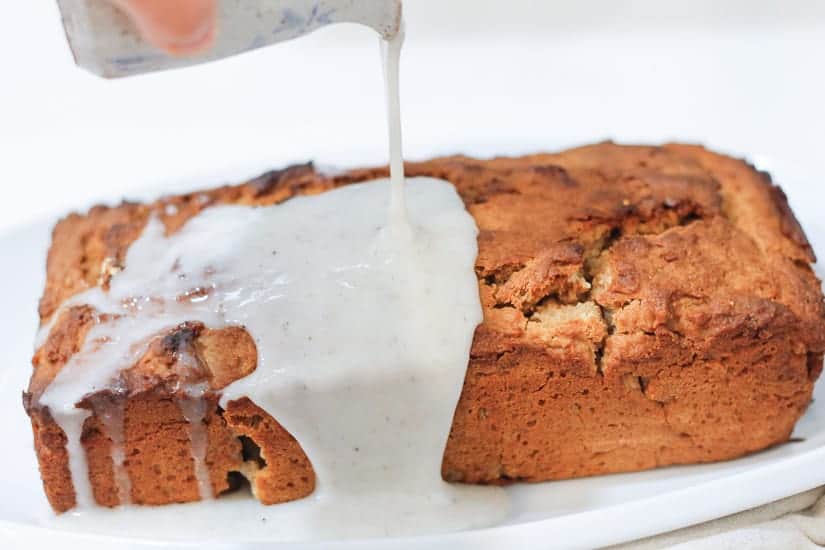 Reader, as I browse through all of your pictures on Instagram and the blogosphere, I wish I could tell you I had a lovely labour day weekend. But instead, I passed most of the weekend in bed under a large blanket, holding onto a warm cup of tea and trying to pour out my own body weight in sweat (to those who are worried, spoiler alert: I'm better now!).
It sure started off nicely. First, I got some encouraging news on Friday that took some pressure off the pursestrings. Then, we had friends staying over, a cuddly cat, beautiful weather, and big plans to make an even bigger pot of mushroom stew. On Saturday night, after a day in which we fought off some pesky sniffles and I had my first volunteer shift in the great city of Montreal (more on that in the future!), we all prepared to set out for a night on the town. A play, some drinks, and late-night poutine were on the menu, and it all couldn't have turned out better. The promised rain held itself back while the sky remained clear and the air humid, albeit cold. The show was intriguing, a commentary on film noir, femme fatales, and violence against women. The poutine creamy and delicious, a bed of fries covered with vegetarian gravy and a mound of cheese. And as I sat in the pub that night, enjoying the refreshing evening breeze, the faintly glimmering stars, and the company, I was starting to think me and Montreal, we really have a good thing going here.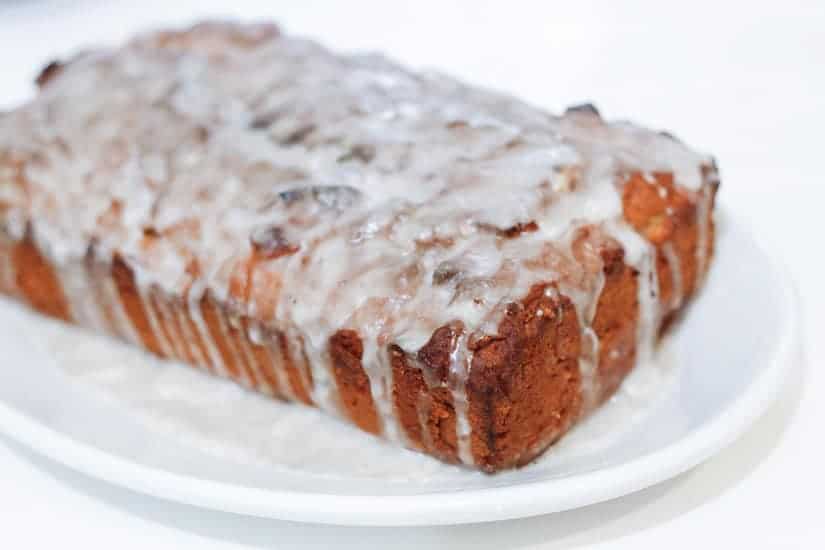 And then, I woke up the next morning with a plugged nose and a Kilimanjaro-sized headache. The pain increased throughout the day, my fever rose, and I realized I had a full-blown flu on my hands. As the day progressed, a diet of carefully-curated pharmaceuticals and lots of hot fluids (including a vegan adaptation of this soup - highly recommended for anyone looking for a simple, comforting veggie soup!) has enabled me to get out of bed, but I wasn't feeling one-hundred per cent up until I went to bed. The next morning, as I stood at my volunteer shift, my brow dripping with sweat and my lungs feeling like they were on fire, I realized that perhaps leaving my bed wasn't such a hot idea (pun intended). When I returned home, my fever spiked again, and another day in bed ensued.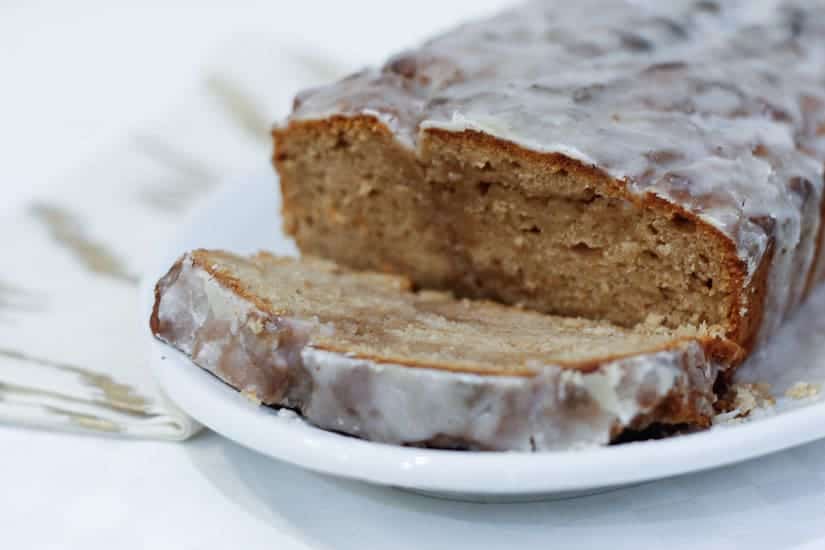 But a couple of days in bed don't mean that I'm not cooking. Though the mushroom stew has been placed on hold, I did cobble together enough gusto to process a basket of beautiful local apples that have been sitting on my shelf for a couple of days, looking at me accusingly. I carefully followed the recipe of Angela from Oh She Glows (I was in no mood for experimentation, given the sea of phlegm I am forced to contend with), and four hours later, three beautiful jars of gently-spiced apple butter sat on my counter. I immediately used some of this bounty to make a vegan version of this gorgeous spiced apple butter cake from The View from the Great Island. As my house began to smell more and more of warm spices, apples, and fall, I started to feel a bit better about myself, and this whole being-sick-on-the-last-weekend-of-summer thing. I also felt a lot more ready to say goodbye to summer, and welcome in the next season.
Now, I type this from the comfort of my living room couch, to which I was able to drag myself only thanks to an overly-active guilt mechanism (I promised you two posts a week, didn't I?). The house is full of earthly smells, and a piece of warm, spiced apple butter cake is sitting in front of me on the ornate coffee table. The washing machine is rumbling in the background, my cat is purring on the couch, and I'm filled with the certainty that fall in Montreal is actually going to be great. As soon as I can stop coughing, that is.
Recipe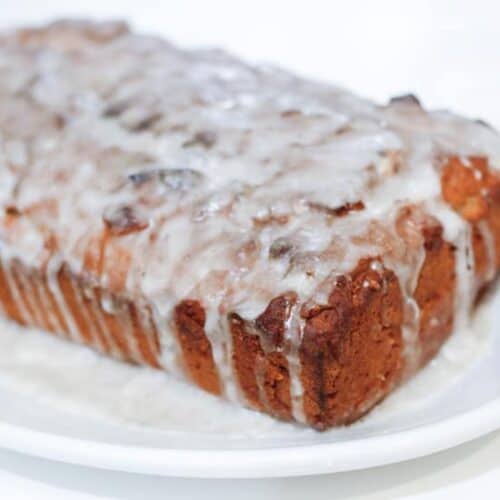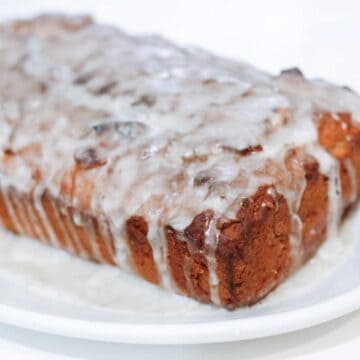 Vegan spiced apple butter cake
An incredibly moist and fragrant vegan spiced apple butter cake with the scent, taste, and feel of autumn. Cake recipe by The View From Great Island, at http://theviewfromgreatisland.com/2014/07/spiced-apple-cake.html. Make your own apple butter using your favourite recipe (I use Oh She Glows' naked apple butter recipe: http://ohsheglows.com/2012/09/26/slow-cooker-naked-apple-butter/), or use store-bought - this cake will be incredible either way.
Ingredients
2

cups

all-purpose flour

use up to 1 cup whole-grain to feel good about yourself

1

teaspoon

baking soda

½

teaspoon

salt

½

teaspoon

ground nutmeg

½

teaspoon

ground cinnamon

½

teaspoon

ground cloves

½

cup

white sugar

¼

cup

brown sugar

½

cup

unsalted vegan margarine

at room temperature

1

tablespoon

white vinegar

1

tablespoon

water

1

teaspoon

baking powder

1

cup

apple butter

½

cup

vegan yogurt

For nutmeg glaze:

1 ½

cups

confectioner's sugar

2-3

tablespoons

soy or almond milk

for thinning

1

teaspoon

fresh grated nutmeg
Instructions
Preheat oven to 350F. Grease a square loaf baking pan.

In a medium-sized bowl, whisk together flour, baking soda, salt, nutmeg, cinnamon and cloves, and set aside.

With an electric mixer, starting at a low speed and increasing it, cream the vegan margarine and the sugar in a large bowl, until well combined.

In a separate, small bowl, mix one tablespoon each of white vinegar and water in a glass. To this, add one teaspoon of baking powder and stir well until the mixture froths and blends well. Add this mixture to the creamed sugar and margarine. Add in apple butter.

Add the dry ingredients to the wet ingredients alternately with the vegan yogurt, beginning and ending with the dry. Mix just until combined, but take care not to over beat.

Spoon batter into well-greased loaf pan, and bake for about 55 minutes, or until a toothpick inserted in the centre comes out clean. Take cake out slowly (I broke mine a bit while doing this), and let cool on a rack while you make the glaze.

To make the glaze, mix the confectioner's sugar with 2-3 Tbs of soy or almond milk, until it forms a thick, spreadable glaze (the less milk, the thicker your glaze will be. Mine was pourable, because I overdid the milk. It was yummy nonetheless). Stir in the nutmeg to taste.

While cake is still warm, place it on a large platter, and spread the glaze on top. If glaze drips down and pools in the platter, let it cool, pick it up with a spoon and ladle onto the cake again.
Tried this recipe?
Comment + Rate Below!
Connect on Instagram!
Find us @immigrantstable
P.S. - This recipe was shared through the Busy Monday link exchange on A Pinch of Joy; the Much Ado About Monday exchange on Huckleberry Love; What Did You Do This Weekend by Tumbleweed Contessa; and Mix it Up Monday on Flour Me With Love.
Tried and loved this recipe? Please leave a 5-star review below! Your reviews mean a lot to me, so if you've got any questions, please let me know in a comment.