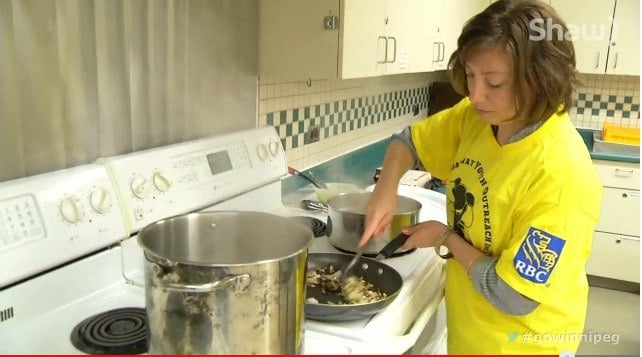 That Wednesday night, the wind was blowing strong, rattling the last remaining leaves off the trees. Winnipeg was caught in a blizzard, the first of the year, the snowflakes were blinding my eyes and wetting my hair, and I remember thinking how much I didn't want to do this anymore. I didn't want to run from place to place, cook when all I want to do is sleep, explain and be patient when all I want is to be silent. And I definitely didn't want to smile, or be caught on camera.
But I did all those things. I also stirred, and chopped, and bandaged cut fingers, and complimented some mad knife skills. And above all, I laughed. Because there is nothing quite as exhilarating as watching children learn how to cook. When they act like a trick you teach them is the coolest thing since the invention of Wonder Bread. Or when they begrudgingly try a dish they swear they're "just not going to like," and then discover it tastes great. And above all, when they laugh.
West Broadway Youth Outreach does many great things. And on Wednesday nights, it gives kids the unique opportunity to acquire healthy eating habits, learn the basics of cooking and simply spend an evening in the company of their friends. It's quite a sight to see. So if you're from the WInnipeg area and you feel like dropping by, or making a donation, I'm sure they won't mind a shout.
We borrow recipes from others, but sometimes we make our own. That night we made vegetarian lasagna, adapted by Kelsey Dewis from a recipe by Joanne and Adam Gallagher at Inspired Taste. This week, it was vegetarian quiches with a caramelized walnut and feta salad. Another Wednesday, we put together an entire Thanksgiving dinner in two hours. I don't know how those little hands do it.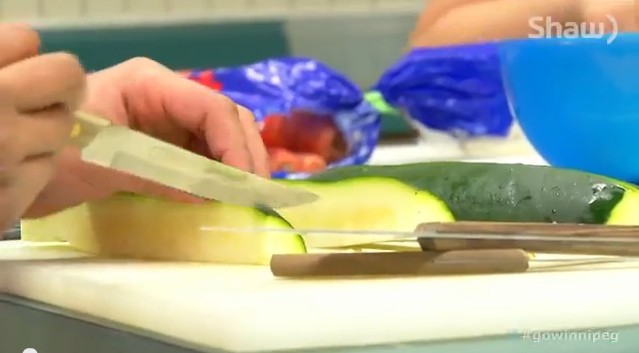 And thanks, Shaw TV Winnipeg, for featuring this great program on your show. All photos in this post are by Shaw TV Winnipeg.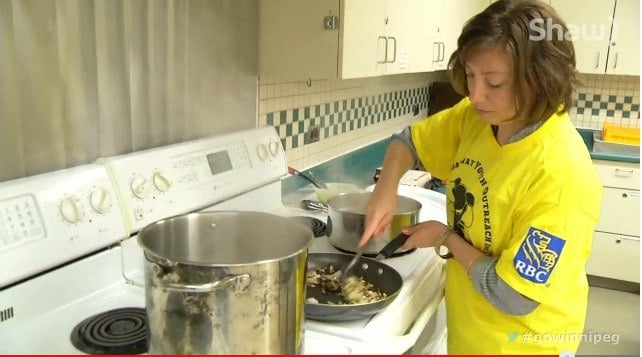 Fresh vegetable lasagna
The whole of this lasagna is so much better than the sum of its parts. Simple enough that a group of six-to-twelve year olds could put it together, and delicious enough that they kept coming back for more.
Print
Pin
Rate
Ingredients
14

lasagna noodles

2 extras for filling in holes

2

tablespoons

of extra-virgin olive oil

1

cup

of chopped onion

½ large onion

3

garlic cloves

minced

A few shakes of crushed red pepper flakes

if desired

8

cups

of chopped vegetables- carrots

broccoli, bell peppers, zucchini, squash, etc.

1 ½

cups

of crushed tomatoes

Generous handful fresh basil leaves

chopped

One 15-ounce

425 grams container of whole-milk ricotta cheese (can substitute same amount of cottage cheese instead )

2

large eggs

1

cup

of parmesan cheese

grated

8

ounces

227 grams low-moisture whole-milk mozzarella cheese , shredded

Salt and freshly ground black pepper to taste

13

inch

by 9 inch baking dish.

Large knife for chopping

Large frying pan

Large bowl

Measuring cups and spoons

Aluminum foil
Instructions
Heat oven to 350 degrees F (177 degrees C). Lightly oil or spray 13-inch by 9-inch baking dish with non-stick cooking spray.

(If you're using ready-to-bake lasagna noodles, skip this part) Cook noodles by bringing a large pot of salted water to the boil, then cooking lasagna noodles according to package directions. (Tip: You can add a couple teaspoons of olive oil to the water so the noodles do not stick together). Drain then lay flat on a sheet of aluminum foil.

While the noodles are cooking, heat olive oil in a large frying pan with sides over medium heat. Add onion and cook, stirring occasionally until translucent; 3 to 5 minutes. Add garlic, red pepper flakes, the additional vegetables you have chosen and a pinch of salt then cook, stirring occasionally until softened but still with some crunch and edges just start to brown; 5 to 8 minutes.

Prepare cheese filling by add ricotta cheese (or cottage cheese), eggs and a ½ teaspoon of salt to a medium bowl then stir until well combined.

Assemble the lasagna by spooning just enough vegetable mixture into the baking dish to lightly cover bottom (about 1 cup). Arrange four noodles lengthwise and side by side to cover the bottom. (If the noodles are short on one end, you may need to cut an extra noodle and place into dish to cover where the other noodles have not).

Spread about half of the ricotta cheese (or cottage cheese ) mixture over the noodles. Sprinkle with a third of the parmesan cheese and a third of the mozzarella cheese. Then, top with about a third of the vegetable mixture. Add another layer of four noodles then repeat with remaining cheese and vegetables. Finish with a final layer of noodles, vegetables, parmesan cheese and mozzarella cheese.

Cover loosely with aluminum foil and bake 20 minutes, uncover then bake 15 minutes until cheese is crusty around the edges. To make cheese golden brown on top, slide under the broiler for 1 to 2 minutes. Let cool for 15 minutes before eating, then enjoy!