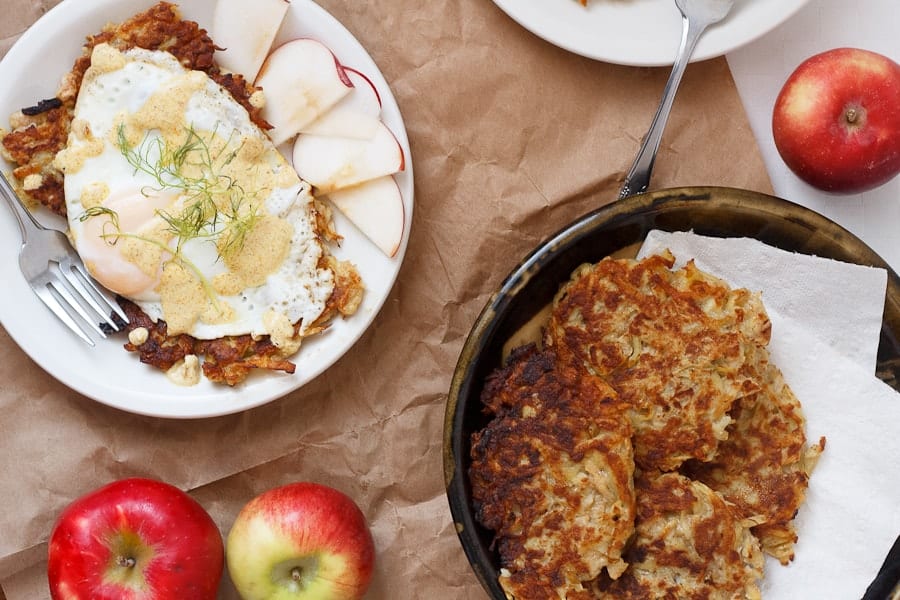 Happy holidays! Whether you celebrated Christmas this weekend or are still celebrating Chanukah, I've got the perfect recipe for your holiday brunch needs. Gluten-free apple potato latkes are the perfect combination of sweet and salty, crispy and luscious, a fried food from the Gods.
On the morning of this Christmas Eve, I was standing in front of a rickety stove in a cabin somewhere up in the Laurentians, a majestic region of mountains, lakes and valleys that begins an hour north of Montreal. Somewhere in the background, vintage Christmas music was playing, Frank Sinatra crooning about his wishes for something or other. And yet my hands were buried deep in the batter for latkes, mixing eggs and starch and strands of potatoes. I could have used a wooden spoon, and probably should have... But I wanted to feel the batter with my own hands. To know when it was getting too watery, or too lumpy, or too salty (yes, you can tell that from the cuts on your hands).
There's a lot you can tell about food just by touching it.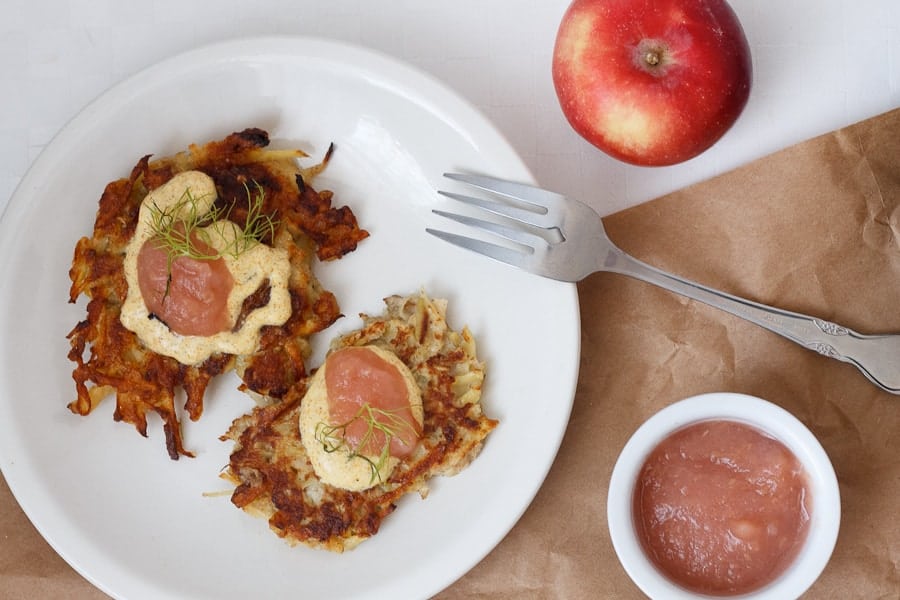 Once the batter came together to my liking, the frying began. Somewhere in the background my friends were competing with Frank Sinatra, chatting about their wishes for something or other. And yet my hands were buried deep in the batter for latkes, taking out handfuls and laying them on a pan sizzling with oil. I would gently flatten them, taking minor care to avoid the splashes of angry oil coming up in volcanoes all around me. And then I would stand there and watch as the hot oil took hold of the strands of potato and apple and crisped them up, turning one side of my apple potato latkes to a perfect fried sphere. I would then turn them over, and watch the whole thing happen again on the other side.
There's a lot you can tell about food just by watching it.
****
Eventually, the talking and singing somewhere in the background turned into clamouring - for sustenance, for comfort, for apple potato latkes. And as my hands were no longer buried deep in the batter, nor were they hovering dangerously about pools of oil, I began removing hot latkes and piling them on a plate. When the mound of latkes grew tall enough, out it went - to bring some joy to my friends.
For you see, these people were worth all the trouble - the hands buried deep in batter, the work to find the perfect ratio between potato starch and egg, the danger of first-degree burns from the hot oil. These people deserved the perfect latkes, and more. For these were the same people who held my hands so often over the last few months as I sat there crying. These were the same people who high fived me over the last few months as I made inappropriate jokes. These were the same people who hugged me over the last few months as I started to find joy in my surroundings. These were the same people who, just the night before, held my head above the tepid water of the hot tub as I was having a reaction to gluten, to too much alcohol, to not enough food, to the hardest year of my life.
These were the people for whom I was making apple potato latkes by hand, at 9am on a Saturday, hungover and crabby. I just had so much to say, and food was the only way I knew how to express myself.
There's a lot you can tell people just by feeding them latkes you lovingly made for them.
This recipe originally appeared on The Main Mtl as part of a partnership with Lufa Farms.
I hope that your Chrismukkah (Christmas/ Chanukah) was as filled with light, love and laughter as mine was (though hopefully, fewer gluten reactions!). Give these apple potato latkes a try for your next brunch or breakfast get-together - they'll be a surprising alternative to the usual French toast and fritatas.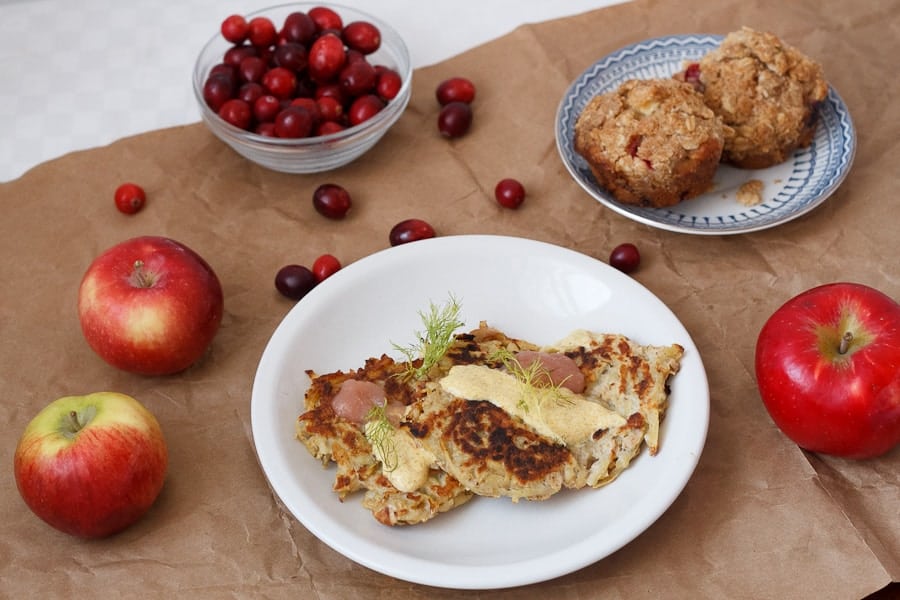 Ingredients
Apple-potato latkes:
1

lb

Cortland apples

about 4-5 small-sized organic Cortland apples, should produce 1.5 cups when grated and squeezed dry

4

medium-sized yellow flesh potatoes or Russet potatoes

should produce 2 cups when grated and squeezed dry

⅛ - ¼

cup

potato starch

start with less and add more as needed

1

teaspoon

gluten-free baking powder

½

teaspoon

salt

pepper

just a couple of grinds

2

eggs
Curried yogurt:
½

cup

yogurt

1

TB

curry powder

a squeeze of lemon juice

a pinch of salt
Instructions
Preheat a non-stick pan on med-high heat.

Whisk egg separately and fold into apples and potatoes. Add potato starch, baking powder and salt, and stir quickly to combine.

Add 3 TBs of vegetable oil to pan.

Form mixture into flat patties and drop into pan. Let cook on med-high heat on one side for 2 minutes, then turn over and let cook on medium heat for another 2 minutes.

Remove onto a plate covered with a paper towel and let sit for 5 minutes.

Tip: add a TB of oil each time you put in a new batch of latkes.

To prepare curried yogurt, combine all ingredients in a small bowl and mix with a fork.

Serve apple potato latkes with curried yogurt and applesauce.