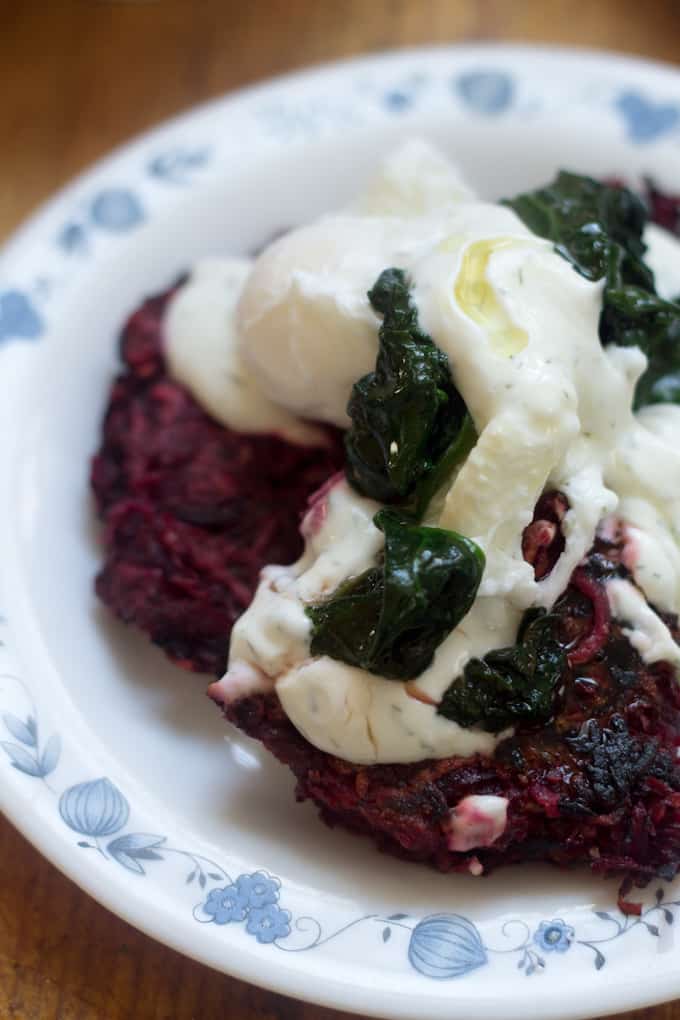 This post contains affiliate links – thank you for supporting the brands that help make this blog possible. Whether you love the food of Winnipeg or just want to discover a new delicious modern Eastern-European recipe, these gluten-free beet latkes with poached egg and creme fraiche are a brunch dream come true. Taken from the stunning Winnipeg Cooks.
I remember the first time I walked into the Osborne Village Cafe. The room around me was green, and it was hard to tell whether it was the colour of the chairs or the abundance of potted vegetation all around. The maple brown wooden-veneer future and leather banquettes had a distinctly 70s vibe, and the soft rock music playing from the speakers made the whole place feel like a mirage from a Hawaiian disco refugee (8 O'clock at the Oasis, anyone?). And then the beet latkes with dill creme fraiche that I ordered arrived at the table. I took one waft of the smell of fresh herbs and milky white cream, dug my fork into the poached egg and let the yolk run onto my plate, and immediately I fell in love. Hard.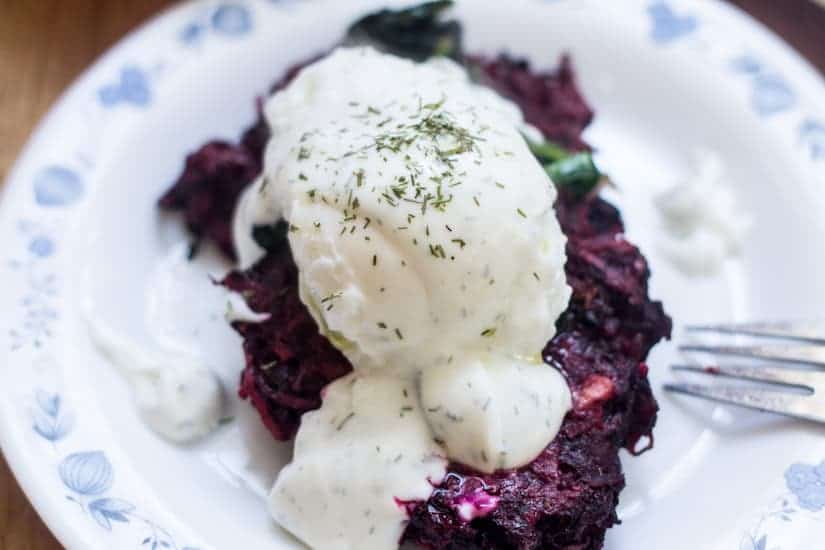 I came to the Osborne Village Cafe in search of the chef, Leighton Fontaine. For a few long months, Leighton was the chef at my workplace, the Manitoba Legislative Assembly; he was responsible for such gems like the Wolseley breakfast sandwich, an English muffin topped with a perfectly cooked egg, avocado, alfalfa sprouts and Sriracha.
Leighton knew how I liked my omelette (overcooked), and he would make little substitutions in the daily specials for me, ensuring I could eat the usually cheese-covered quesadilla or omitting the chicken from a particularly appealing. I loved Leighton dearly, and was a little bit heart-broken when he left our kitchen to oversee the revival of the Osborne Village Cafe.
Over the next two years, I followed as Leighton turned this outdated little Winnipeg restaurant from a hole-in-the-wall frequented by bleary-eyed guests and drunk customers to a real gem and foodie destination. The Osborne Village Cafe was always full of people, the breakfast crowd ordering the beet latkes while the lunch eaters fought over his hash browns and chicken sandwiches. The coffee was strong, the beer selection was excellent, and the eggs were always cooked to perfection. There was every reason for the Osborne Village Cafe and Leighton to become local legends.
So I was not surprised when I saw the Osborne VIllage Cafe on the index of Winnipeg Cooks, the definitive guide to the city's top restaurants and chefs. Winnipeg Cooks is a full-colour photographic ode to prairie cuisine, to risk-taking, adventures spirits and to small, local producers. It's also a love letter to Winnipeg's tastiest recipes, and a cookbook revealing the secrets behind local gems like bison pierogies, pickerel a la meuniere, tourtiere and sugar pie.
What definitely surprised me was that a few months after placing my order for Winnipeg Cooks, I discovered that the Osborne Village Cafe was closing its doors. The hotel that was its home, the Osborne Village Motor Inn, was bought out, being torn down and turned into condos.
No more would Leighton be slinging his beet latkes from the back kitchen of the Osborne Village Cafe, with loud heavy metal blaring in the background. No more would I get to enjoy the green walls and shrubbery, or the tacky 1970s design. No more strong coffee, or excellent beers. No more cold beers.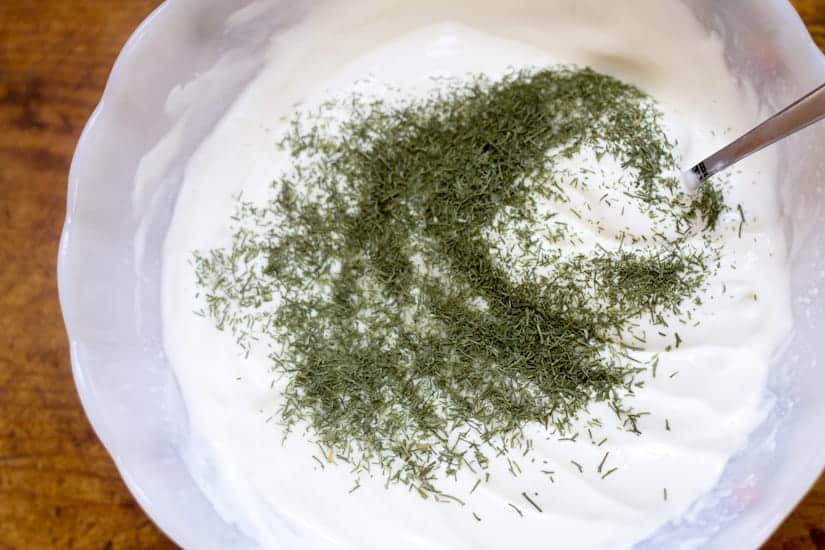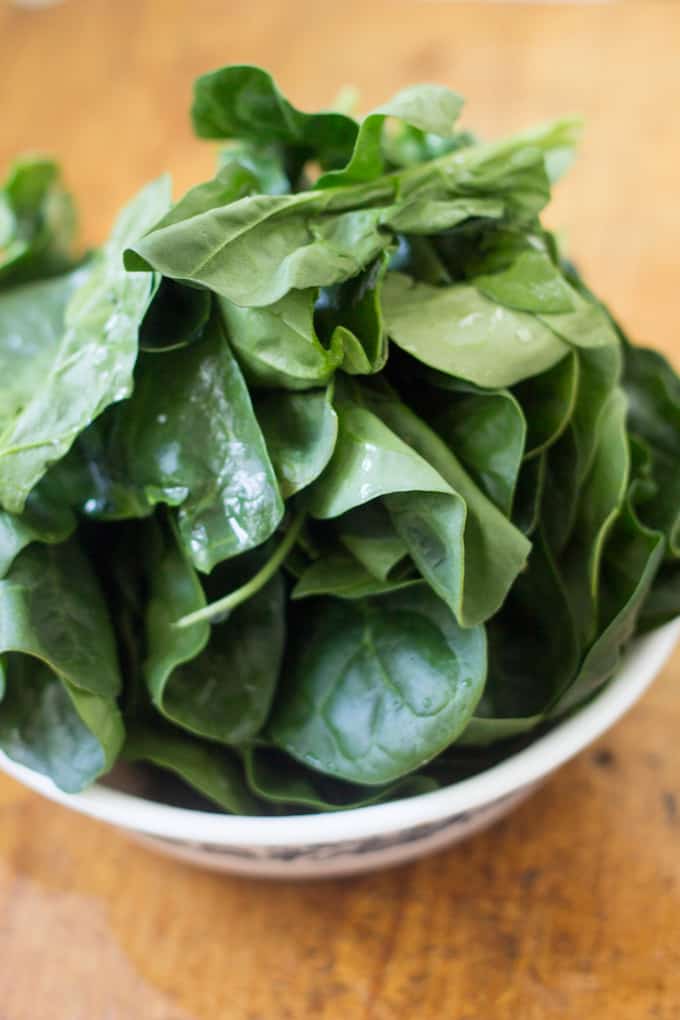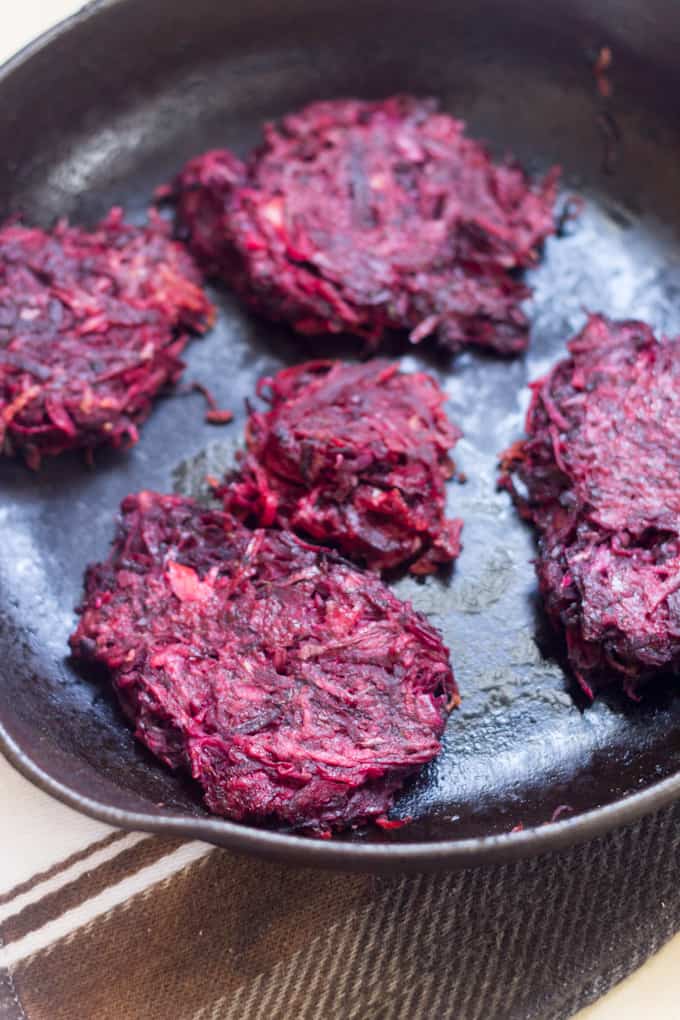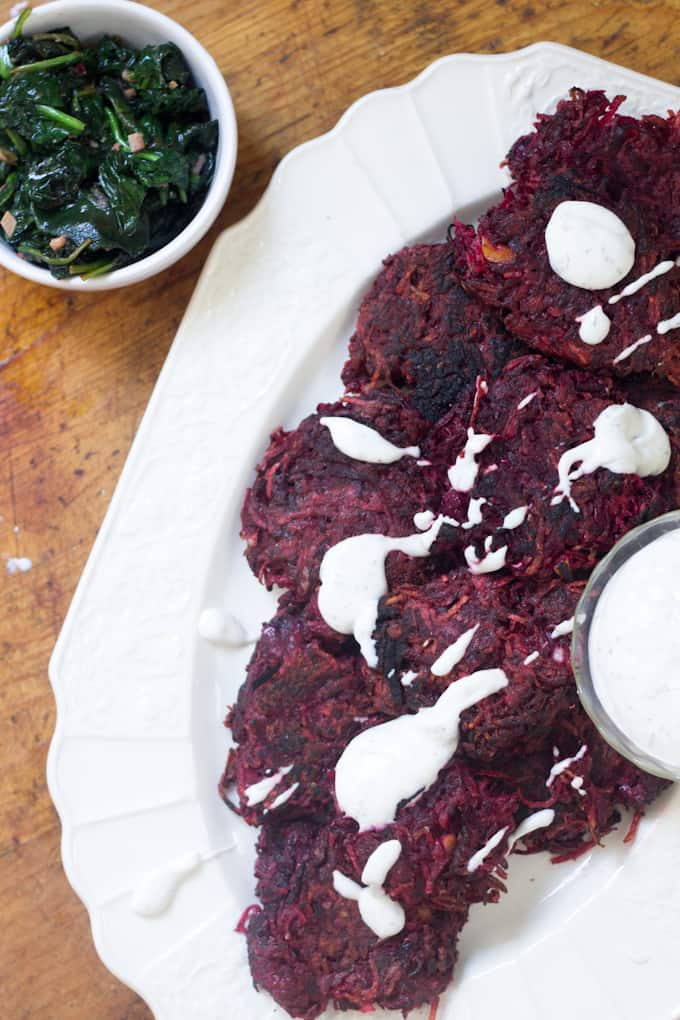 But at least I still had Winnipeg Cooks, and Leighton's recipe for beet latkes with dill creme fraiche. And with any luck, I'd be able to replicate those magical breakfasts in my very own kitchen.
Whether you love the food of Winnipeg or the prairies, or just have a soft spot for inventive recipes that showcase incredible young talent, I strongly recommend checking out Winnipeg Cooks. To help you get the recipe for Winnipeg classics like Leighton's beet latkes and Baked Expectations' Banana Layer Cake, I am offering a copy of the Winnipeg Cooks cookbook to ONE lucky reader. Enter below for your chance to win!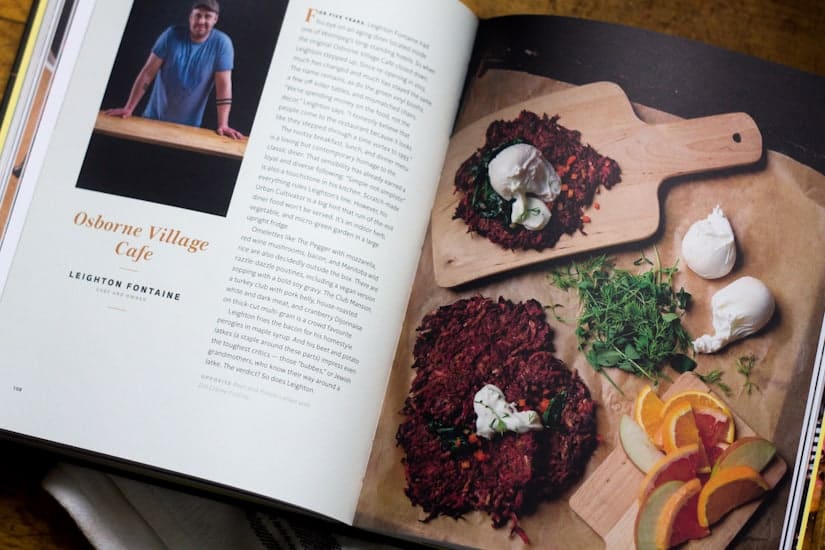 While eating my beet latkes with dill creme fraiche one morning, I learned that Leighton Fontaine is now spearheading the Nicolett Café in St Boniface. He continues to offer beet latkes and excellent eggs. You are all invited to swing by for a visit.
I am able to offer one lucky reader a copy of this beautiful book thanks to the generosity of Raincoast Books. Giveaway only open to residents of Canada and the U.S., sorry! Though the copy was provided to me for free, you can bet that all opinions expressed here are my own, and that this cookbook is really worth your time.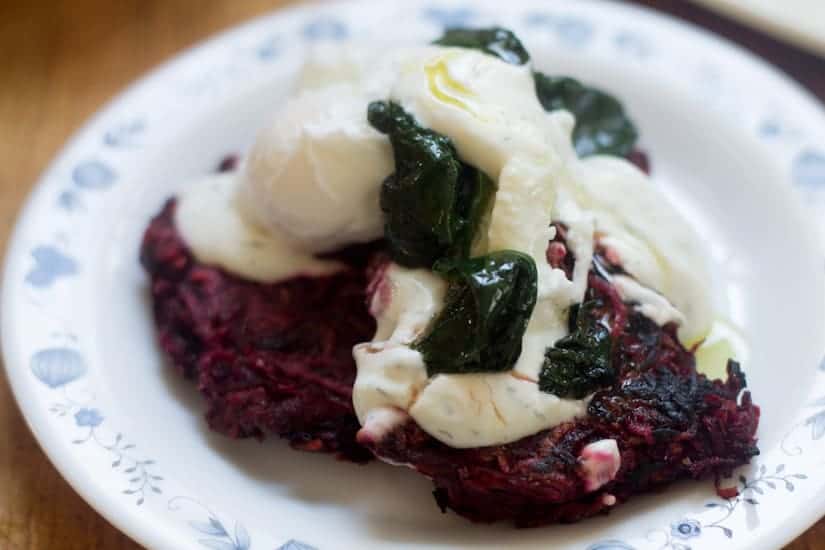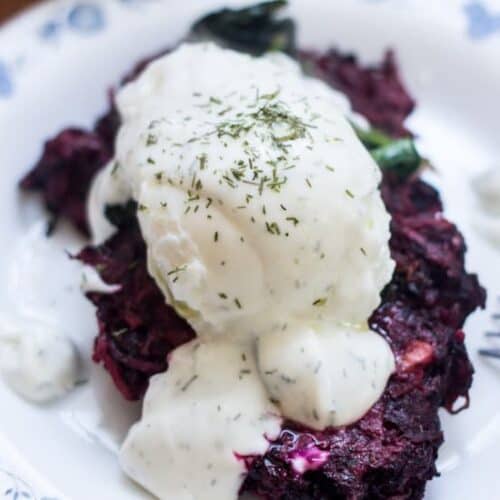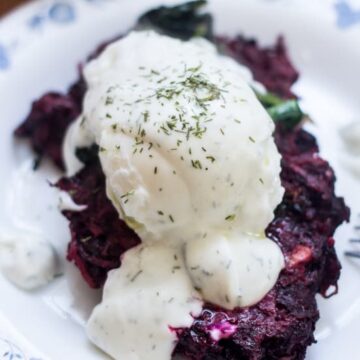 Beet latkes with dill creme fraiche, poached eggs and spinach (Gluten-free)
Whether you love the food of Winnipeg or the prairies, or just want a delicious modern inventive take on a traditional Eastern-European recipes, these GF beet latkes are for you. Taken with permission from publisher from the Winnipeg Cooks cookbook.
Print
Pin
Rate
Ingredients
Latkes:
3

large beets

peeled

½

yellow onion

3

yellow-flesh potatoes

½

cup

GF flour blend

or brown-rice flour

2

eggs

¼

chopped fresh dill

3

garlic cloves

chopped

Pinch

of salt and freshly ground pepper

Canola oil
Creme fraiche:
2

cups

full-fat sour cream

1

TB

chopped fresh dill

Pinch

of kosher salt
Eggs and spinach:
Splash of white vinegar

8

eggs

Canola oil

1

clove

garlic

minced

2

cups

lightly packed spinach leaves

Splash of dry white wine

Pinch

of kosher salt
To serve:
¼

cup

finely diced bell pepper

Fresh fruit

as desired
Instructions
Latkes:
Shred beets and onion using a box grater. Squeeze out the juice using the bag of a spoon, or gloved hands (discard juice).

Using the same box grater, shred potatoes, transferring them to a bowl of cold water as you work. Drain well.

In a large bowl, combine shredded beets, onion, potatoes, flour, eggs, dill, garlic and salt and pepper. Stir well to combine.

Preheat a large skillet over medium-high heat. Add a splash of oil.

Drop palm-sized handfuls of the latke mixture into the hot pan and, using a spatula, flatten (patties should be 4-5 inches in diameter and no thicker than a ¼ inch). Cook until browned, about 4-5 minutes on each side.
Creme fraiche:
In a small bowl, combine all creme fraiche ingredients. Cover and refrigerate until ready to use.
Eggs and spinach:
Fill a pot with water, add a splash of vinegar and bring to a boil. Reduce heat to medium and poach a few eggs at a time (5 minutes for soft and runny yolks, or longer as desired). Transfer poached eggs to a plate lined with paper towels and set aside until ready to use.

Meanwhile, in a skillet over medium heat, add a splash of oil. Saute garlic for 2 minutes. Add spinach and cook until just wilted, about 1 minute. Add wine and salt and cook, stirring occasionally, for 2-3 minutes. Remove from heat.
To serve:
Divide latkes among serving plate. Top with a mound of spinach, and then a poached egg. Dollop each egg with creme fraiche and garnish with bell peppers. Serve with fresh fruit alongside.