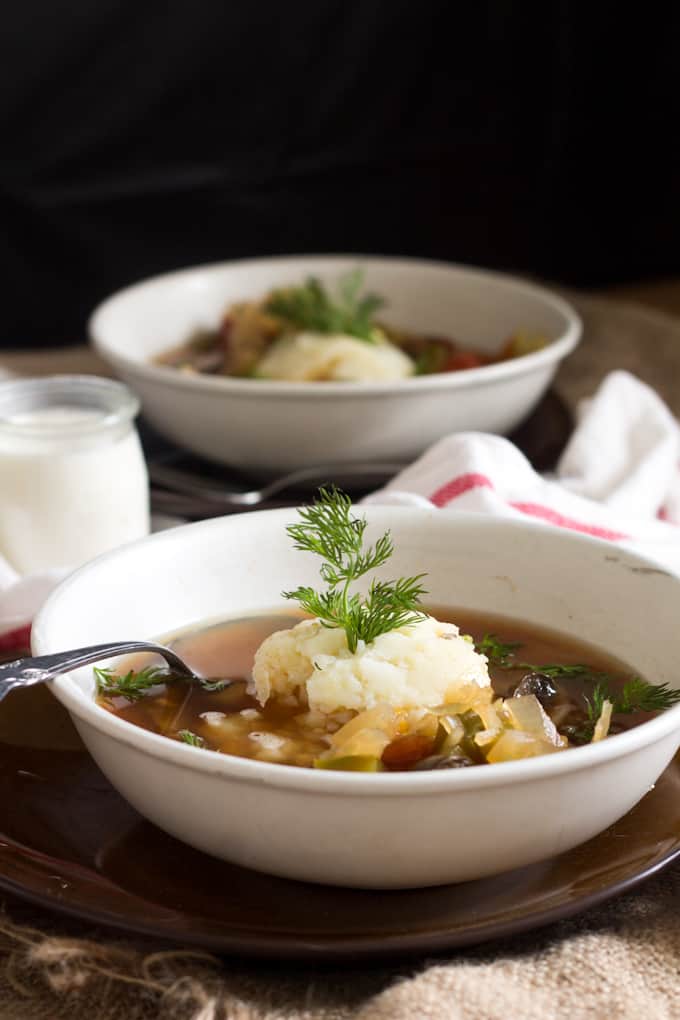 This post contains affiliate links, but all opinions expressed here are my own. Thank you for supporting the brands that help make this blog possible.
This Slovakian sauerkraut soup from the gorgeous and detailed food bible Bar Tartine: Techniques & Recipes is tangy and rich in flavour, full of plump mushrooms and juicy strands of cabbage. A full winter meal!
My search for a sauerkraut soup began with an email from a friend and a former co-worker in Winnipeg, Jude. An avid and knowledgeable foodie long before the word became fashionable, Jude is always on the lookout for the strange and unique in the world of food. She clips Georgian recipes with walnut sauce for fish, is an expert in Indian cooking, and was the first to introduce me to upma (which I have yet to cook, Jude - I'm sorry!). So when Jude writes to me in search of a recipe, I know it's worth my time to look for it.
Jude's requirements for Sauerkraut soup were simple - it must have a respectable amount of fermented cabbage, and it must not be cooked too long for all the juices and flavour to seep out. Armed with that knowledge, I turned to the internet. I unearthed treasures like Bess Feigenbaum's cabbage soup, this leek and peas sauerkraut soup and finally, this Russian schi and sauerkraut soup, but none of them fit exactly what I had in mind.
I was on a mission, and that mission was sauerkraut soup.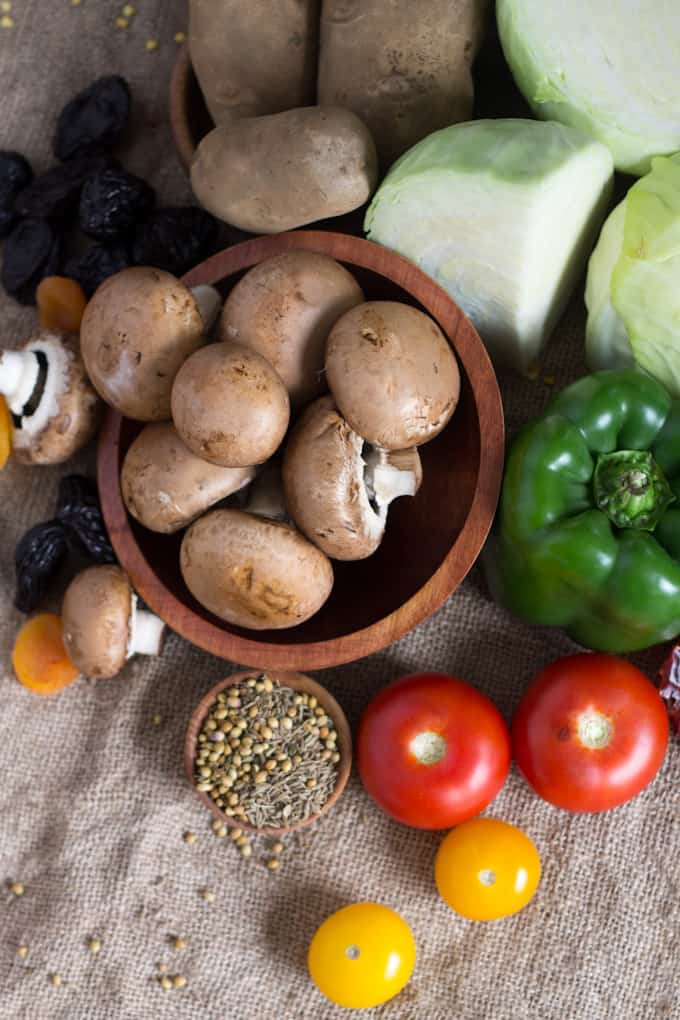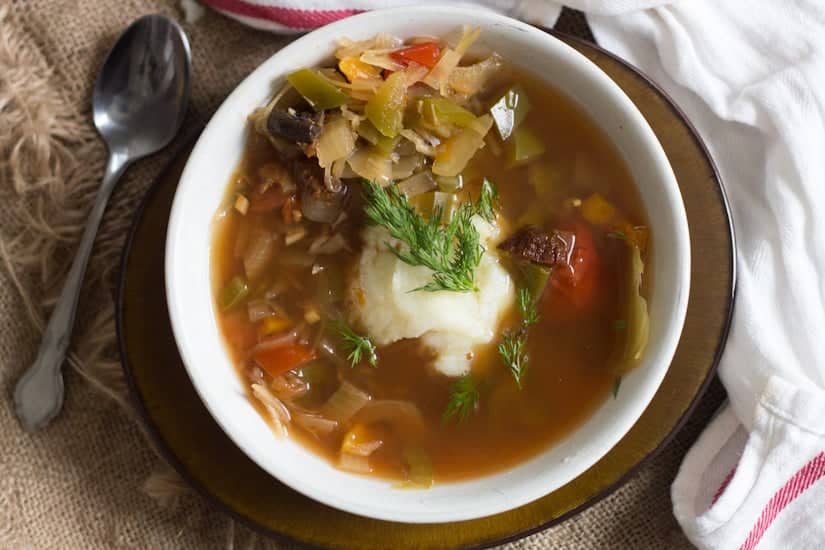 So when I came home, I turned to my cookbooks. I have yet to share this with Jude, but her request inspired an hour-long search, from flipping through tomes I haven't opened in years, to looking through the familiar index of cookbooks that are so stained and dog-eared, it's practically a health risk to still have them in the kitchen. But nothing came up.
Then, I turned to an unexpected place. Nicolaus Balla and Cortney Burns' Bar Tartine: Techniques and Recipes cookbook has been on my shelf for about six months. You know those cookbooks so pretty that you avoid cooking from them, instead treating them like an objet d'art? Always in fear that an errant sauce drop will fall and stain the pages, turning what was once a pristine masterpiece to a flawed house object, you relegate them to the back shelf, preferring to look and not touch.
Well, that's what Bar Tartine was like to me.
I have flipped through it many times, drawing inspiration from its inventive recipes and detailed instructions for every homesteading and DIY trick and recipe ever known to man. From beet kvass to kefir cheese, this crazy-beautiful cookbook sounded more like the Ukrainian Farmer's Almanac... and I just wasn't ready for it.
Until the need arose for sauerkraut soup.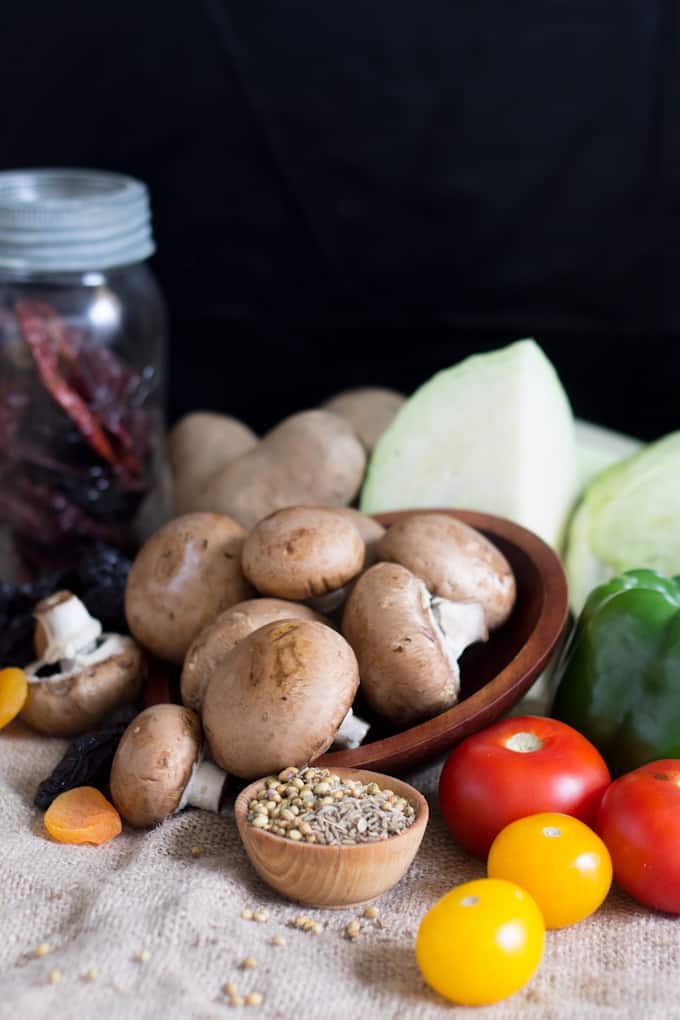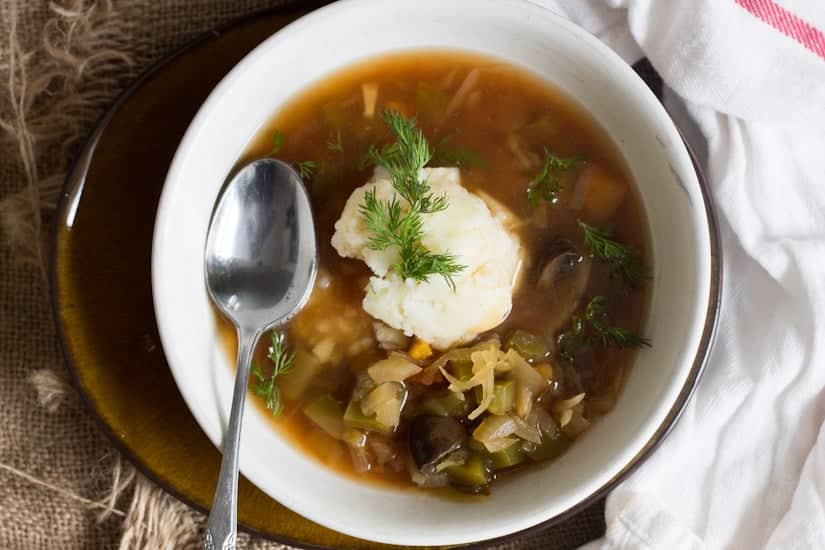 And there, amidst the pages of this gorgeous San Francisco ode to slow food, was a simple recipe for Slovakian sauerkraut soup. Its ingredients were all simple, and mostly all present in my fridge and pantry. The instructions were detailed and clear, a perfect blueprint for an inexperienced home cook and an expert Master Chef alike. You could delve deeply into the recipe, making each item like the sauerkraut or dried apricots yourself, or buy them from the store as I did. You could make it vegetarian by omitting the sausage and bacon, or you could the recipe and stick to tradition.
Whatever you did, you could rest assured that Bar Tartine's sauerkraut soup would be exactly what the doctor ordered in the midst of winter.
So I made this sauerkraut soup. And I read the Bar Tartine: Techniques and Recipes cookbook some more. And before I noticed, the sun had set and the light from my candles flickered, and G came in smelling like winter and frost and roads and said, "This is the best soup I've ever had in my life."
And I knew that once again, Jude had set me on the right path.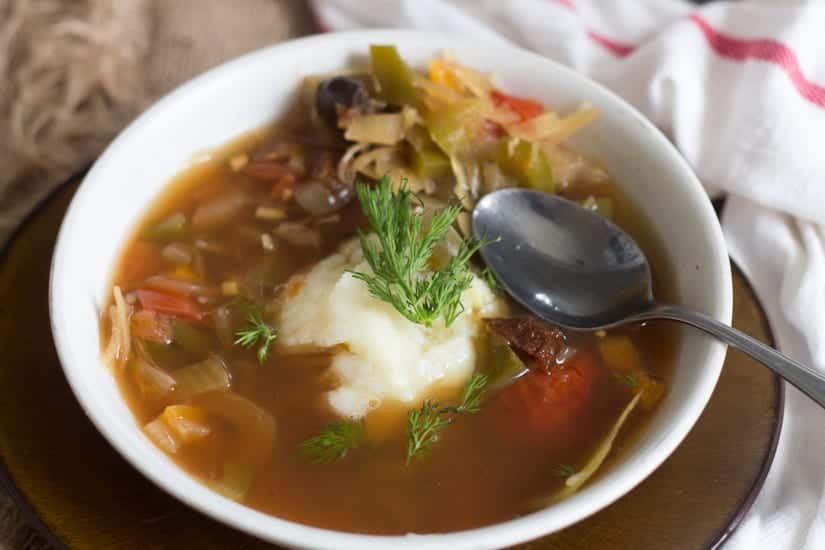 To win your copy of Bar Tartine: Techniques and Recipes, go to my feed on Instagram. Repost any of my pictures, tagging them #immigrantstablebartartine and @immigrantstable in the process. And that's it! The competition will close at midnight on Sunday, January 31, when I will choose a winner at random. Only entries from Canada and the U.S. are accepted.
I am able to offer one lucky reader a copy of this beautiful book thanks to the generosity of Raincoast Books. Though the copy was provided to me for free, you can bet that all opinions expressed here are my own, and that this cookbook is really worth your time.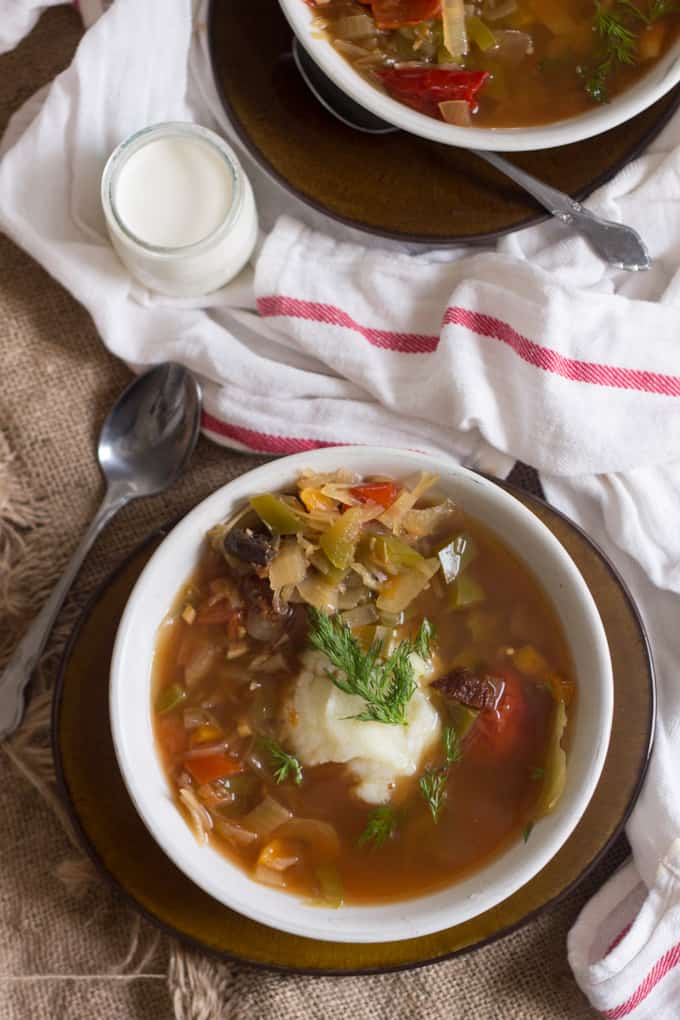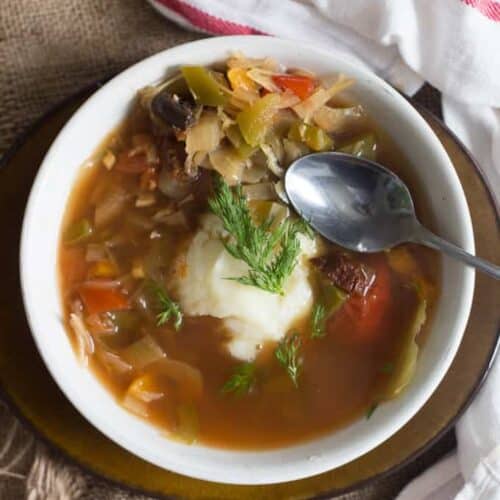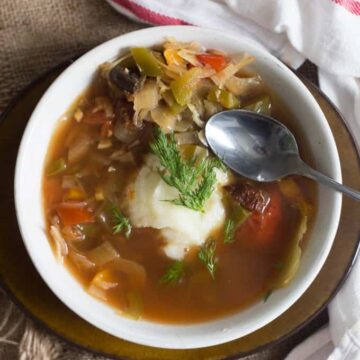 Bar Tartine's Sauerkraut Soup (vegetarian)
This Slovakian sauerkraut soup is a traditional part of the Christmas meal at Bar Tartine's Nicolaus Balla's household, and it will now become a favourite in ours. This sauerkraut soup is tangy and rich in flavour, full of plump mushrooms and juicy strands of cabbage. Serve it on top of a mound of mashed potatoes for full effect.
Print
Pin
Ingredients
2

L

vegetable broth

3

cups

415 g drained sauerkraut (you can make your own following my grandfather's recipe, or use store-bought)

1

cup

240 ml sauerkraut brine

8

oz/ 230 g button mushroom

4

green serrano chiles

stemmed and thinls sliced

2

green bell peppers

stemmed, seeded and diced

2

sweet white onions

cut into large dice

2

oz

60 g apple wedges, pitted prunes, dried apricots or dried cherries, cut into bite-size pieces

8

oz

225 g russet potato, peeled and diced OR cooked and mashed into a puree and set aside

2

large tomatoes

cored and diced, juice reserved

12

garlic cloves

chopped

5

tablespoon

hot paprika

10

dried chipotle or arbol chiles

1

tablespoon

caraway seeds

toasted

2

bay leaves

2

tablespoon

kosher salt

sour cream

for garnish - optional

Freshly group black pepper
Instructions
If you have chosen to serve the soup atop mashed potatoes, then cook and puree your potatoes using your favourite method. Otherwise, keep going with the recipe.

In a large saucepan over medium high heat, combine broth, sauerkraut and brine, mushrooms, serranos, bell peppers, onions, fruit and potato and bring to a simmer. Cover and turn heat to med-low. Maintain a gentle simmer and cook gentle until potatoes are tender but firm, about 30 minutes.

Add the tomatoes, garlic, paprika, chipotles (if using), caraway seeds, bay leaves and salt and continue to simmer, uncovered, until the potatoes are just about to fall apart, about 20 minutes longer. Remove and discard the bay leaves.

Ladle soup into individual bowls and garnish each bowl with pepper (and sour cream, if using).

Leftover soup will keep in the fridge for up to 1 week.