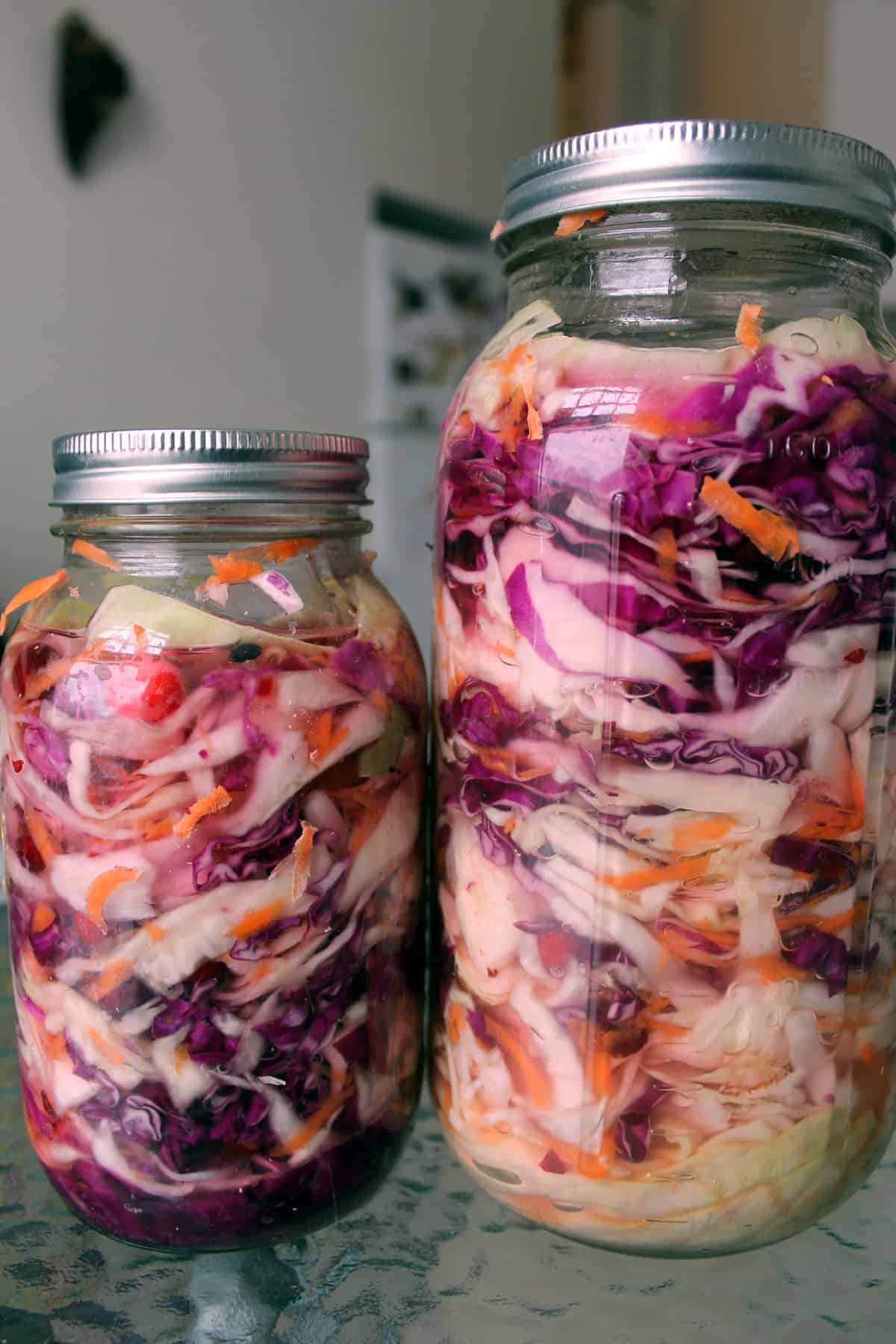 Snapshot: My grandma Inna is standing in the kitchen, smearing margarine on thickly-cut slices of bread. No, she is scurrying, frantically switching between smearing margarine, cutting tomatoes and cheese, and moving the enamel teapot off the stove top. The oven is on, something is baking inside of it. A pan is preheating on another element. There is a large pot wrapped in several layers of blankets on top of it, the fraying ends of the fabric touching the hot element. They are starting to smoke. My grandmother is asking me questions, I answer disinterestedly. I am 15, going through an awkward phase of rebellion. She puts cheese on top of the bread slices, and then crowns each slice with tomato. She toasts them on the pan. The cheese melts, thin strands fall onto the pan, crisping in the heat. The smell of burning cheese spreads across the room. There is chaos and love all around.
My grandmother hates throwing things out. Sadly, she is not the best at keeping things organized. And I hope she will forgive me for saying it, but cooking is not something that comes naturally to her, either. Like my mother, she does not get excited at the thought of baking a cake, or thinking up a new dish for the holidays. She can be a picky eater. But as consolation, and not coincidentally, she is an amazing pickler. Her kitchen is a veritable lab, with pots and jars full of pickling experiments in different stages of fermentation. Not unlike my own, her refrigerator is bursting at the seams with dishes and condiments (literally. For a while, my grandfather had to tie a rope around it to keep the door from opening. The rope was made out of old linens). There is always something new to taste at her place.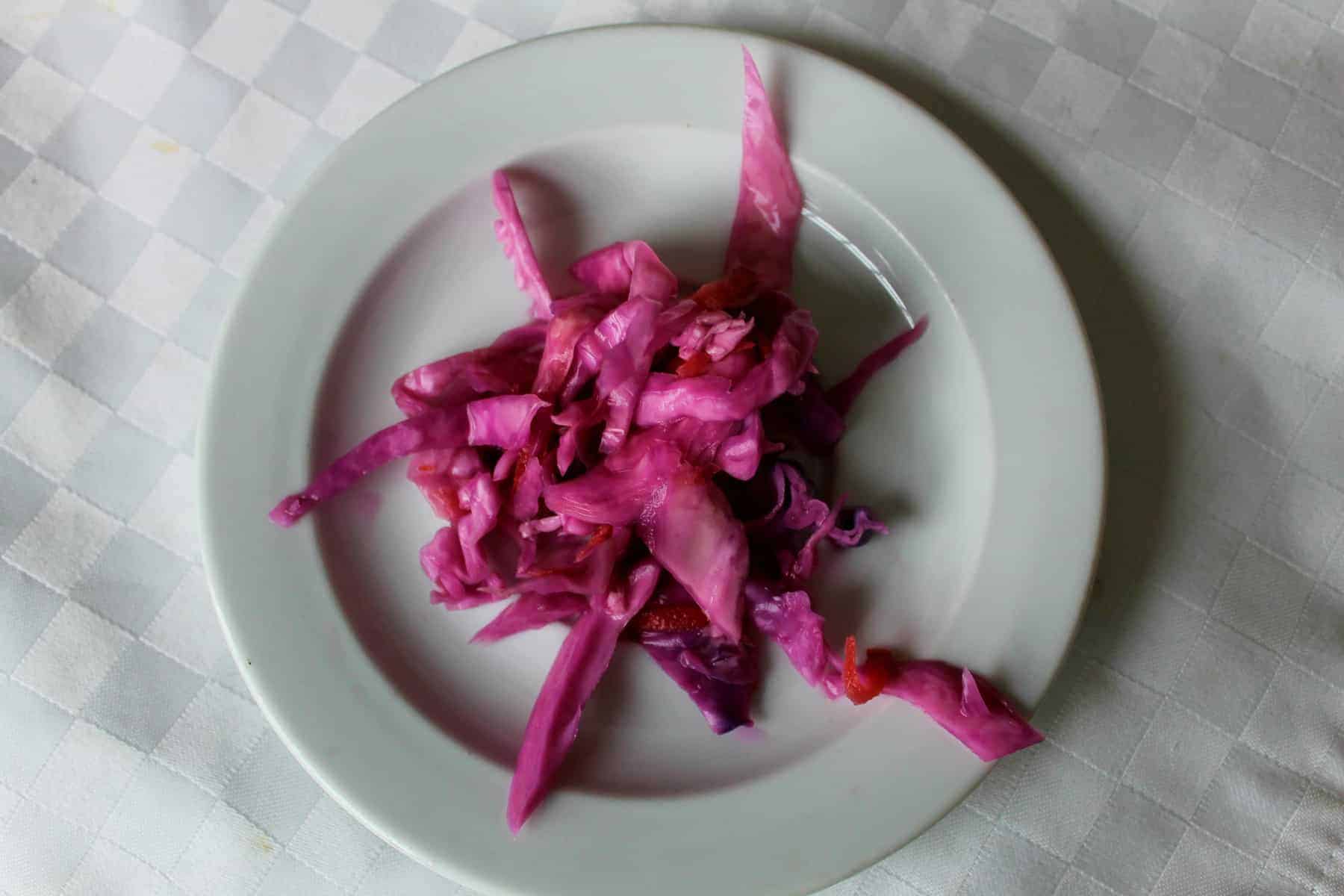 Snapshot: My grandfather Abram is animating an old wooden toy. He is holding it by the strings, a puppet master making an ostrich dance and speak. His booming voice is exciting, his face locked in a permanent smile. I am laughing. I am wearing a yellow crochet dress that his mother, my great-grandmother Fruma, has knitted. I am five, going through an awkward phase of self-discovery. He makes up stories, telling me of explorers, kings and exotic animals. The ostrich puppet is just about the most exotic thing I have ever seen. I think he is the coolest, most impressive man in the world. There is comfort and love all around.
My grandfather is a tinkerer. Never comfortable letting sleeping dogs lie, he makes adjustments, builds new shelves, invents new mechanisms. His living room and study are full of books, layered two or three rows deep. His interests range from nature, to photography, to esoteric mysticism and conspiracy theories. He is a large man, a voracious reader, with an even-bigger appetite for food. He has invented, or perhaps perfected, a way of chopping a head of cabbage down to thin strands within minutes: you halve the cabbage, remove the core, and hold the half-head down with one hand, keeping your knife steady in place and instead moving the cabbage around the blade, letting the knife shave off different sides each time.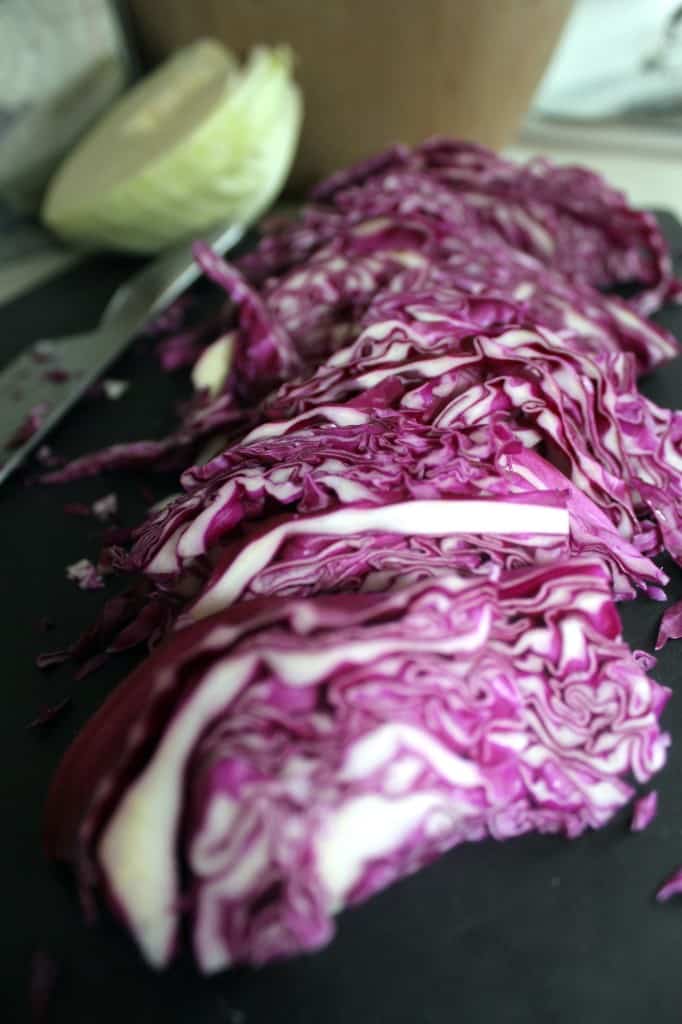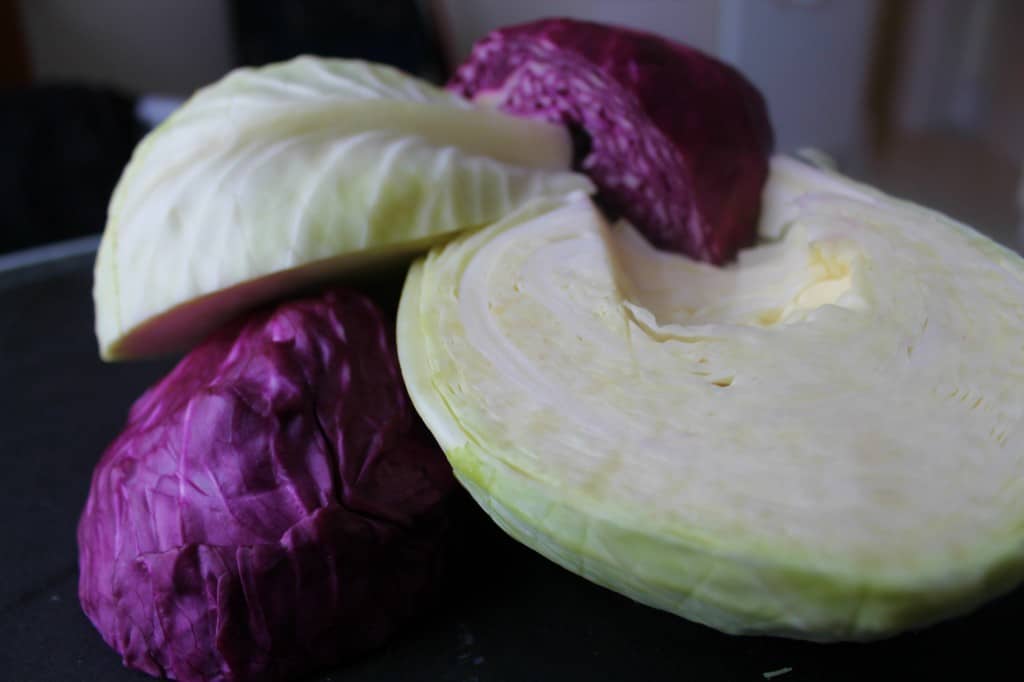 Together, they have developed and perfected many pickle recipes, but their quick-pickled sauerkraut is the most famous one. My grandfather claims it has miraculous healing qualities; for all I know, it probably does. It certainly is delicious, a tangy and stringy melange that starts off perky and alert, and two days later, transforms into a bright, lip-puckering pickle, ready to brighten up a sandwich, star on its own as a salad, or be added to other root vegetables for the Russian winter salad, vinaigrette.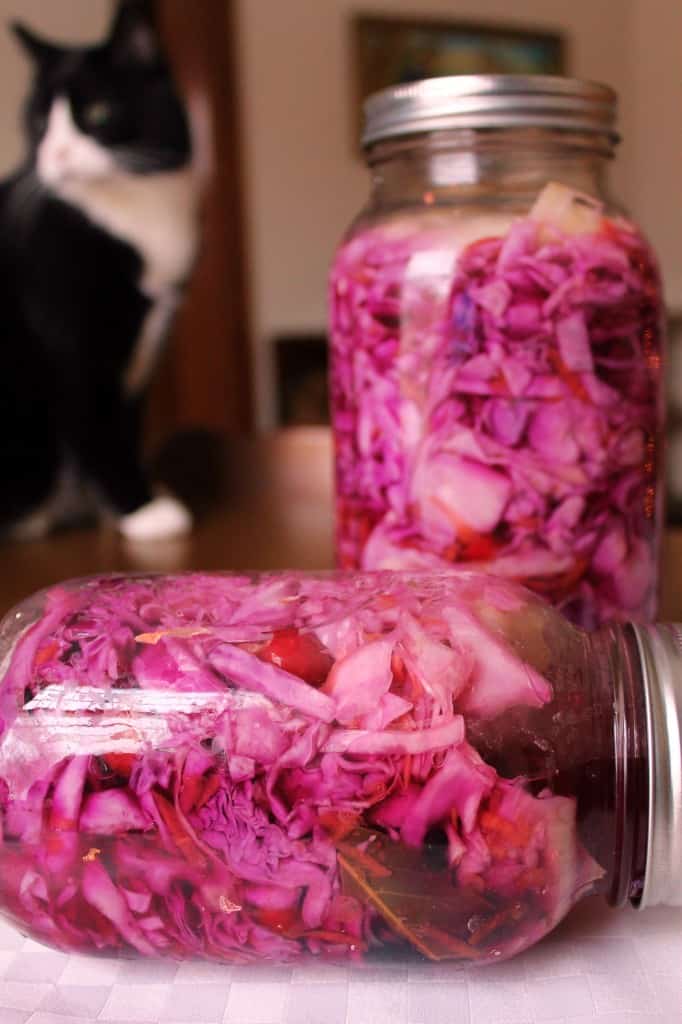 I have taken their recipe and tweaked it a bit, adding more vinegar for acidity. I like my quick-pickled sauerkraut bright and punchy, strong enough to cut through the ennui of winter. The process of preparation causes a mess, a kitchen full of scales, jars and pots. I make this quick-pickled sauerkraut in big batches, layering it through different dishes all winter long. Sometimes, I look around me and feel like I am back at my grandparents' house, smelling burning cheese and looking at my grandfather tinkering with wood. I think of a few of my favourite things, and then I don't feel so bad.
For more recipes using sauerkraut or pickled cabbage:
Tried and loved this recipe? Please leave a 5-star review below! Your reviews mean a lot to me, so if you've got any questions, please let me know in a comment.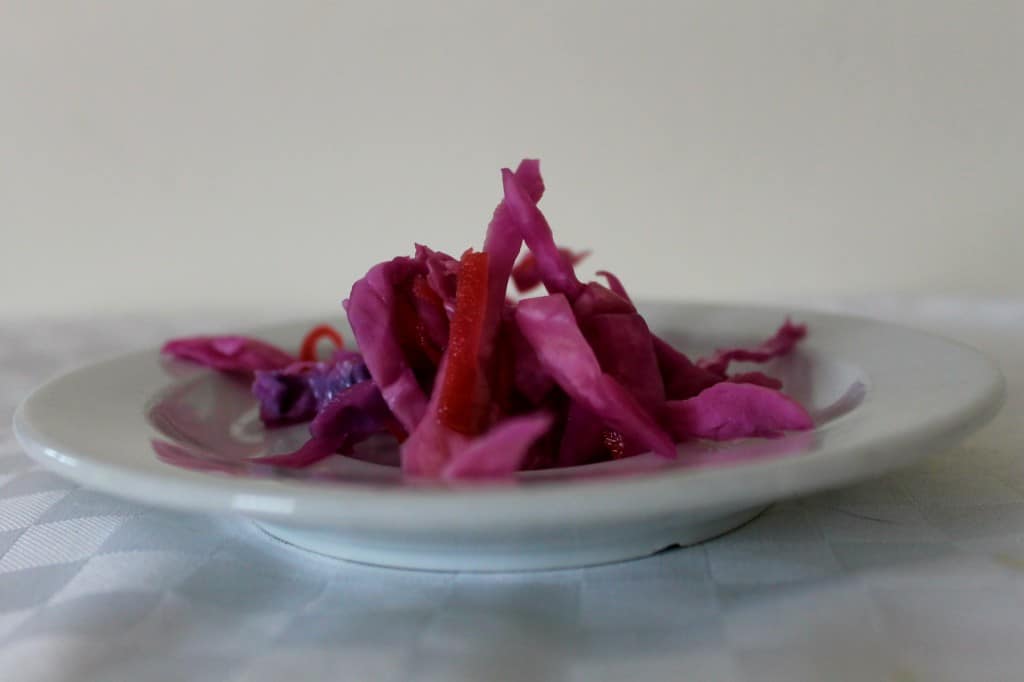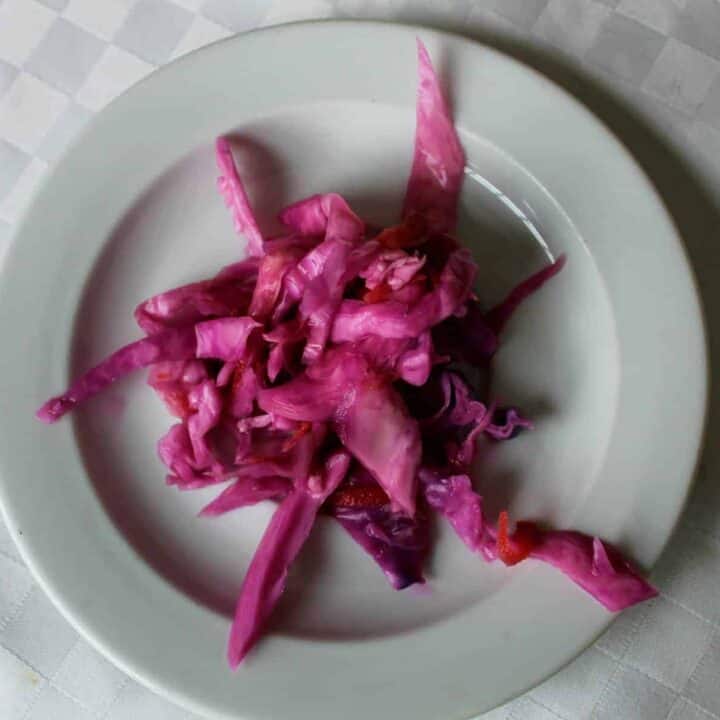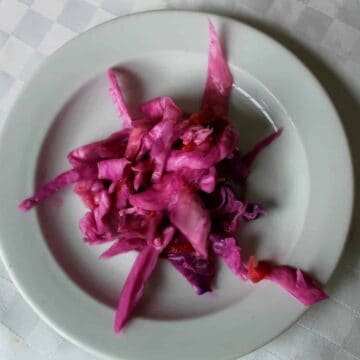 Quick-pickled Russian sauerkraut
A delicious, a tangy and stringy melange of cabbage, cranberries and carrots that starts off perky and alert, and two days later, transforms into a bright, lip-puckering pickle, ready to brighten up a sandwich, star on its own, or be added to other vegetables for a winter salad. I like my kraut to pack a punch, so I tend to have a heavy hand with the vinegar; if you, like my grandparents, prefer a more salty brine, go easy on it, or substitute lemon for a portion of it. Pickle cabbage in jars, enameled buckets, pots, clay pots , etc. This sauerkraut is rumoured to have magical healing qualities, or in any case, just provide you with a lot of vitamins. It has been eaten by my family for generations.
Ingredients
1

kilogram

of cabbage - use a dense

late season, medium- or large-sized head. My grandparents use only white cabbage, but I sometimes use a mix of white and purple.

Up to 30 grams of salt

preferably pickling or canning salt, about 1.5-2 tablespoons

1

teaspoon

sugar

1

cup

or 200 grams, of 5% vinegar, lemon juice, or a combination thereof

1

cup

of carrot

grated

50

grams

½ cup of cranberries , or lingonberries (if you've somehow magically got 'em)

A teaspoon each of black peppercorns

whole allspice, whole cloves, and 2-3 bay leaves (or more, to taste)

800

ml

of water

A 2-litre jar

a large crock, clay pot, or enameled pot with a cover
Instructions
Prepare utensils for pickling: rinse your jar, crock, or enamel pot thoroughly with very hot, then cold water. Let dry.

Wash cabbage in cold running water. Chop cabbage into narrow strips (julienne), or cut into small pieces of similar shapes. Set aside 2-4 whole cabbage leaves. Carrots also need to be washed, cleaned thoroughly and grated.

In a deep bowl, mix chopped cabbage with ½ tablespoon of salt and massage well, so the cabbage lets out a little juice.

Take ¼ cup of the carrot and cranberries and blend for a a few seconds in a blender, so that some of the berries break open and let out some liquid.

Add carrots and cranberries to bowl with cabbage. Add your whole spices, and mix well. Let rest for a few minutes.

At the bottom of your clean jar, crock, or enameled bucket, put 1-2 washed and scalded cabbage leaves, coating the entire bottom of the jar. Fill the prepared dish with chopped cabbage, carrot and cranberries mixture, patting it down tightly with a wooden spoon each time, to ensure the cabbage continues to let out liquid. Ensure that the jar is almost full of cabbage, leaving about 2 inches of room at the top.

Prepare brine: Boil 800 ml of water and 200 ml of vinegar (or vinegar-lemon combination). Add one tablespoon of salt (non-iodized) and sugar to water, and stir until completely dissolved.

Pour boiling brine into cabbage-filled jar. Cabbage should be completely covered with brine. Top with 1-2 whole cabbage leaves, washed in scalding hot water. close jar or crock tightly with lid.

Place jar or crock in a deep dish (a pot, bowl or casserole dish will all do just fine), as some brine may seep out of the container as the cabbage lets out more water, and place in a dark and warm corner of the house. Leave at room temperature for 1 to 3 days, depending on your temperature (no more than one day on a hot summer day).

After 1-3 days, store sauerkraut in a glass jar with a lid in the refrigerator. Enjoy in sandwiches, on its own, or as a side with potatoes and some marinated and grilled tofu, or braised meat.
Tried this recipe?
Comment + Rate Below!
Connect on Instagram!
Find us @immigrantstable