As I walked around the aisles of the latest North American foodie trade show, my eyes were pulled at a 1,000 different directions. There were colourful banners for soup stocks here, and crunchy salad toppers there. Busty women were spritzing the air with blueberry water, while attractive men were juggling pre-packaged bowls of kale salad. Everything was loud, proud and beautiful. And then my eyes fell on the older man in a white chef's uniform, quietly ladling out scoops of Belgian endive soup.

The moment I tasted Claude's (*not his real name) Belgian endive soup, I felt like little angels should pop from the sky and start singing Hallelujah. As cliche as that moment must seem to you, dear reader, it really was a revelation: amidst the crowd of bigger-than-life celebrities and food that seems to be produced more for the sake of convenience rather than nourishment, this humble, simple white soup stood out like a golden corn amongst the hay stacks.
Claude and I got to talking. While manning the Belgian agricultural producers booth, Claude himself was a Francophone from rural Quebec. He trained in Europe and has family of French-Belgian descent, but that about summed up his connection to the tradition.
Yet none of it mattered when you tasted his Belgian endive soup and other endive creations (I also got the idea for my other endive dish, these stuffed endive spears with celery root remoulade, from Claude).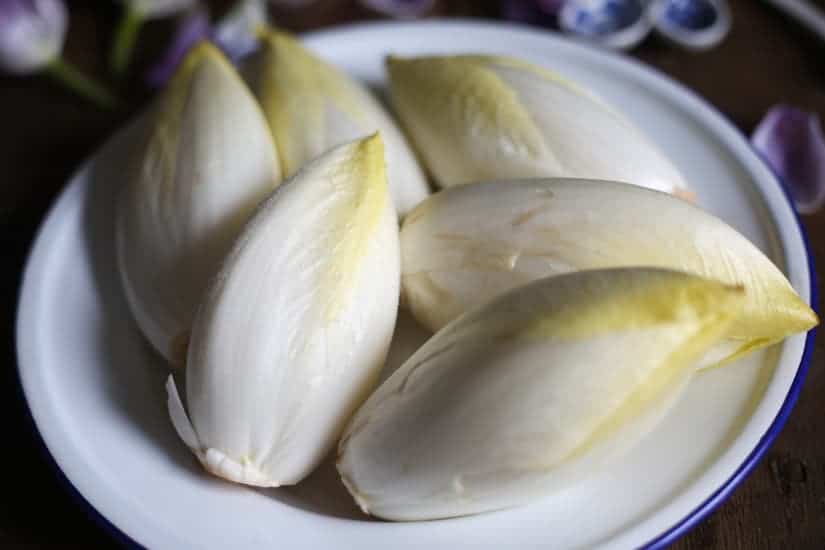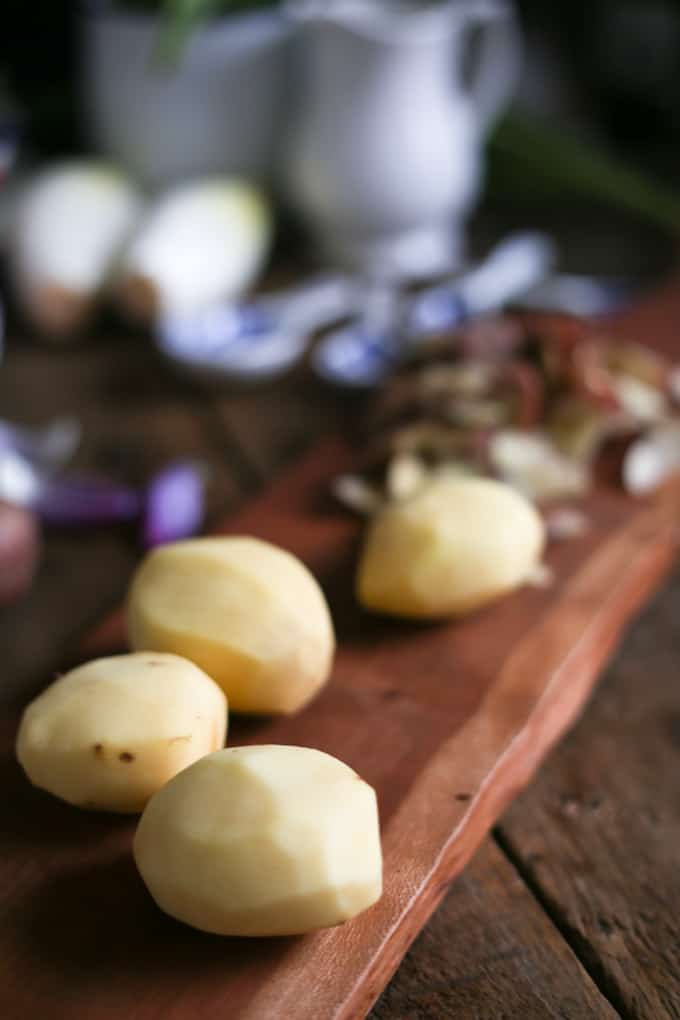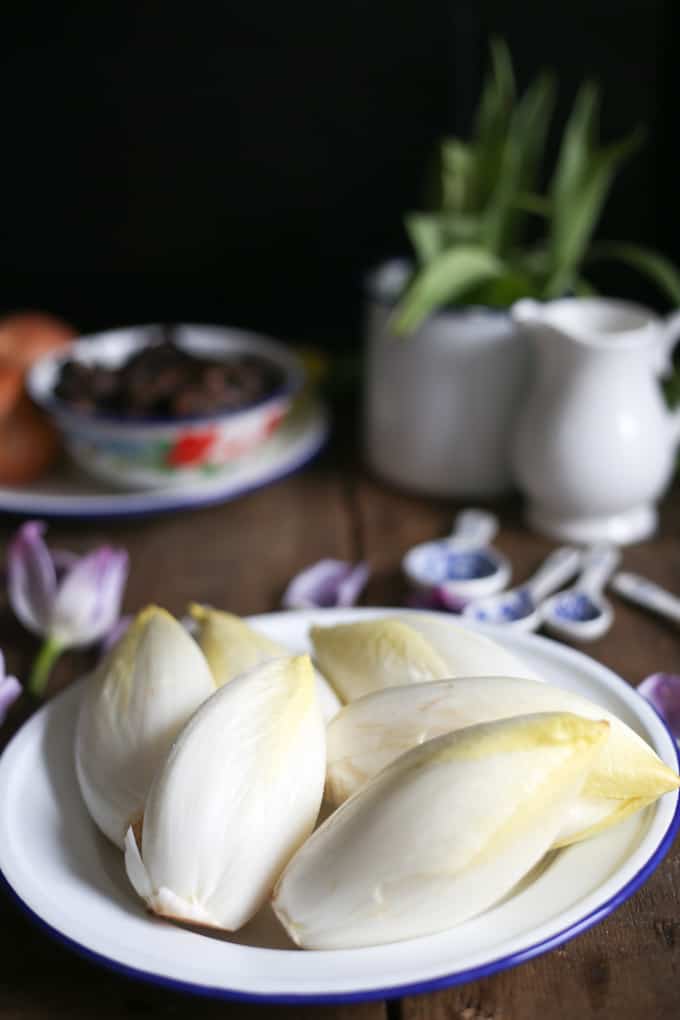 I went home from that trade show with a bag of endive spears, and a head full of dreams for creamy, vegan Belgian endive soup. And this is the result - I hope you'll love it as much as I do!
P.S. - If you've been wondering what's happened to the regular updates of this blog, worry not. Things have gotten a bit crazy lately, but I am not finding my groove with a more regular, enjoyable schedule. This blog will be updated weekly on TUESDAYS - so see you next week!
Liked this post? Share it with your friends! For more At the Immigrant's Table, follow me on Facebook, Instagram, Pinterest, Bloglovin', or Twitter, subscribe to my mailing list, or contact me about advertising and becoming a sponsor. If you make one of my recipes, don't forget to tag it #immigrantstable @immigrantstable!
Tried and loved this recipe? Please leave a 5-star review below! Your reviews mean a lot to me, so if you've got any questions, please let me know in a comment.
Recipe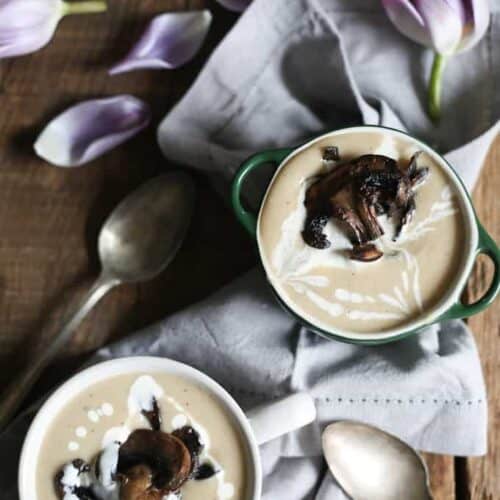 Belgian endive soup with caramelized mushrooms (V, GF)
When I tasted Belgian endive soup I felt like little angels should pop from the sky and start singing Hallelujah. This humble, simple vegan and gluten-free soup is a revelation.
Ingredients
Garnish:
2

TBs

Earth Balance or butter

1

lb

mushrooms

sliced

½

teaspoon

brown sugar

Salt & pepper

to taste
Soup:
2

TBs

Earth Balance or butter

2

sweet white onions

diced

2

lb

of endive

900g, or 6-8 heads

2

white-flesh potatoes

Idaho or Yukon Gold

1

liter

vegetable broth or water

1

cup

soy cream

Salt and pepper

to taste

Pinch

of nutmeg

2

stalks fresh tarragon

diced finely (optional)
Instructions
Preheat large pan to medium heat. Add Earth Balance. Add half the mushrooms and sautée on medium-low heat until start to wilt, 5 minus. Add remaining mushrooms. Sautée an additional 7-10 mins, until mushrooms haze browned around the edges. Add brown sugar, and let cool an additional 3 minutes to achieve perfect caramelization. Salt and pepper as desired. Set aside.

Melt butter in a large pot over medium heat. Add onions. Stirring from time to time, cook five minutes until onion turns golden.

Cut endives in half lengthwise. Thinly slice crosswise. Peel potatoes, and dice into ½-inch pieces. Add endives and potatoes to pot, and let cook until vegetables begin to soften, 10 mins.

Add stock and bring to a simmer. Cook, simmering, for , until vegetables have fully softened - about 40 minutes.

Process in blender until smooth. Add cream, nutmeg, and salt and pepper to taste.

Ladle into bowls, and top each bowl with a scoop of sautéed mushrooms and a sprinkling of chopped tarragon.
Tried this recipe?
Comment + Rate Below!
Connect on Instagram!
Find us @immigrantstable