On Easter / Passover weekend, we took a quick trip down to Quebec City for a bit of quiet time, a lot of meandering down cobblestone streets, and the best food the Quebec capital has to offer. These were our favourite finds, in my Quebec City Foodie Guide.
You can see other Foodie Travel Guides similar to my Quebec City Foodie Guide here, here and here. My entire travel section can be found here.
Day I: Quebec City
Our Quebec City Foodie Guide and roadtrip to Quebec City start with the best way possible: treats from my favourite Montreal gluten-free, vegan bakery, Audacieuse Vanille.
After that little pick-me-up, our first stop was at Trois Rivieres. The second oldest settlement in New France, the city went through a huge fire in 1908 that wiped out most of its original buildings (remnants of the original French architecture can be found at the Ursuline Monastery and the De Tonnancour Manor).
In Trois Rivieres, we stopped for a quick and dirty comfort-food lunch at Bureau Du Poste Trois Rivieres, where I stuffed myself with gluten-free chicken fingers before Passover starts. In hindsight, this meal was a bit heavy for my stomach, but if you're looking for a filling meal at an unbeatable price (each dish here is $5.95), this is a good place to stop.

Another two hours later, we were in Québec City - and officially ready to start our Quebec City Foodie Guide!! Beautiful and impressive as always, the impenetrable city met us with gloomy streets and drizzling skies... but none of that deterred from our enjoyment.
As this was not our first time in QC, we didn't spend too much time doing the usual touristy haunts (the Plains of Abraham, The Citadel, the Sainte-Anne-de-Beaupre shrine, Chateau Frontenac are among the top). Despite this, we went down to the Boardwalk and got caught in the drizzle.
We walked the cobblestones of Old Quebec and feasted our eyes on beautiful architecture. We traipsed in mud through the Citadelle grounds, making a convoluted path down to the city.
But above all, we dreamed of when we get to come home and curl up at the lovely Hotel Le Clos St. Louis, our home for the next two nights.
The Accommodations
Let me tell you about the Clos St. Louis. We found this charming little hotel on Groupon, when looking for affordable accommodations in the city. We compared it with Booking.com, my fave Airbnb, and Air Canada vacations. NOTHING came close in charm nor price, at least upon face value online. We booked our stay, and were cautiously optimistic. For a hotel located in the heart of Quebec City, how bad good it be?
Well, turns out it wasn't bad AT ALL. The location on rue St. Louis was superb, about 5 minute walk from the Chateau and the boardwalk. There was an all-day underground parking for $22/day no more than 3 minutes away. The little hotel, which has 18 rooms, is made up of two joined and converted family homes.
Everywhere you look there are antiques and portraits that make you feel as though you are among the descendants of that grand family, information about whom you can find in a booklet in the main lobby (we read it all. Nerds, I know).
Our room was cozy and sweet, and the newly renovated bathroom actually felt luxurious. The tall bed was so comfortable that I never wanted to leave it in the mornings, which made for some later starts to our day. And they even served a freshly made little breakfast, which had gluten-free options to boot.
All in all, I'd highly recommend Hotel Le Clos St. Louis for anyone coming to stay in Quebec City.
But now, let me tell you about my favourite part of our stay: the food (as you would expect from a Quebec City Foodie Guide).
The Food
We began our afternoon in Quebec City with a stop for tea at Maison Smith. A local coffee chain with outposts in L'Isle D'Orleans and Quebec City, they roast their own beans and serve Camellia Sinensis tea. The drinks were great and though the baked goods weren't spectacular, there were gluten-free options as well.
We got our treat a bit later, when we went down for dinner at the Saint Roche neighbourhood in Quebec City. An up-and-coming area that still retains a lot of its original charming grittiness, this neighbourhood is home to some of the best coffee and food in the city of Quebec. Dinner on both nights was here, and with time to kill on our hands, we naturally gravitated to a little bakery before our dinner reservation became available.
Little did we know, La Croquembouche is considered one of the top bakeries in the whole city. The only gluten-free treat they had left was one lone Black Forest Cake, and this confection of six layers of three kinds of chocolate and cherry cream was so divine, we nearly inhaled it.
The Dinners
Then, came dinner. And at one of our most awaited stops, it didn't disappoint one bit. Eating at L'affaire est ketchup was like listening to a modern, experimental symphony: surprising, ad-hoc, familiar but also falling flat at times - but overall, spectacularly comforting.
Entering the space feels like visiting your slightly nutty grandmother. The art is out-there, the books haphazardly filling the defunct fireplace space are in dire need of a dusting, but a pleasant aura of familiarity reins over it all like a warm shawl.
The waiters, who also double as kitchen staff during service, talk to you like an old friend. The chalk-scribbled menu is read and explained out-loud to the whole room in two languages in a slightly-louder-than-necessary voice, which, considering the fact there are only ten tables in the room, is really not that loud.
The wine is poured liberally. Champagne corks pop like you're at a 50-cent concert. Cocktails are expertly mixed upon requests, and local options for beers and cider and non-alcoholic sodas abound.
Everyone is focused on giving you a good time, just like when you come for a dinner party at a good friend's.
But of course, the real raison d'être here is the food. And with a HYPER, hyper-local menu (even the shrimp here was from Quebec) focused on comfort food favourites executed with a Quebecois flair and at a haute cuisine level, the food really is just exceptional.
We had the Nordic shrimp cold salad (with fresh bread and butter for F), and the sautéed wild mushrooms in a mountain of butter. Both were excellent. The shrimp were refreshing and delicious, speckled with fennel and thinly sliced cucumber, and melting in your mouth.
F raves about the shrooms, though I admit it's hard to wow a Russian with sautéed mushrooms (sorry, we make them better). Yet there were times when we looked at each other and thought - this is great, but is this it?
And then came our main: pan-fried trout, its skin perfectly fried to a crispy shell, its flesh falling apart at the merest prick of a fork. It rested on a bed of Puy lentils, cooked with little slivers of sautéed peppers and local tubers and came with a little pool of herbed cream that was simply... WOW. I'm not ashamed to admit - my palette loved every moment.
And then I got it, though of course I knew it before. Good food doesn't have to come on starched linens, or be entirely shocking and surprising. It can be just comforting, a homage to good local ingredients, and cooked on a home stove by two amazing chefs and served to you by a waiter who also likes to act as the town crier. And at L'Affaire est Ketchup, that's just enough.
This concluded our first day in Quebec City, and we made our way back to our lovely little hotel for a long, restful sleep.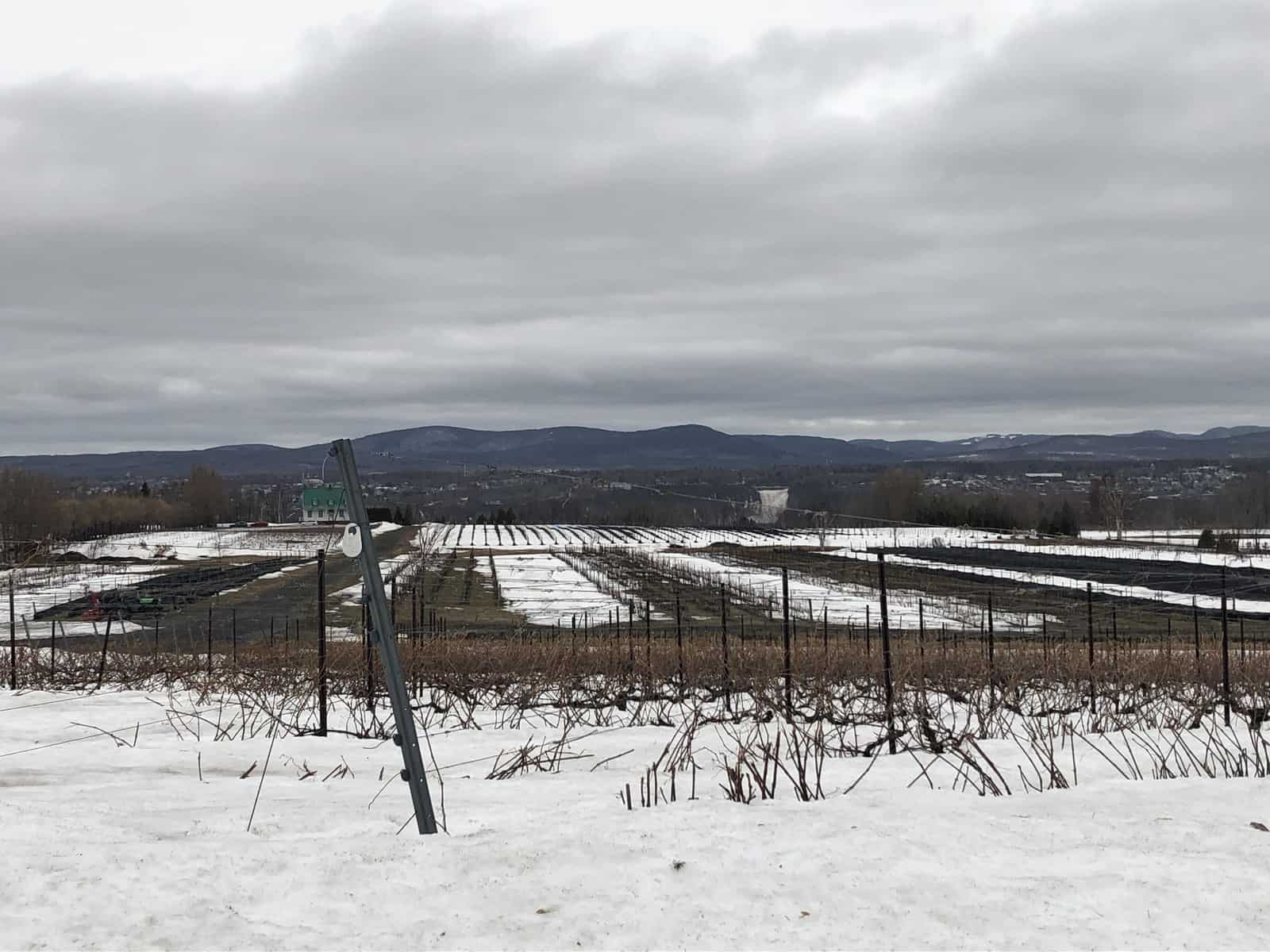 Day II: Isle D'Orleans
The second day of our Quebec City Foodie Guide consisted of only my favourite things: great food, the great outdoors, and the company of my favourite person.
The Tourist Attraction
To start off, we headed towards one of Quebec's top natural wonders, the Montmorency Falls. A combination of early 20th century development and promising natural resources made this area a tourist hub, with falls taller than Niagara Falls. I have always wanted to visit them, and in the midst of Quebec's dreary early spring and early flooding, it was the perfect time to see the Falls in all their glory.
We visited the Falls and Montmorency Manor, learned some local history and marvelled at the miracle of nature and human ingenuity that created this magnificent display.
The Wineries
We spent the rest of our late morning and early driving around Isle D'Orleans, a lush island off the St. Lawrence river overlooking Chutes De Montmorency. We visited farms, wineries and cidreries (Cassis Monna & Filles , Vignoble Sainte-Pétronille and Cidrerie Verger Bilodeau).
I ate my body weight in confitures, while F tried ALL the ciders. We had a simple lunch at Resto Pub L'O2 L'Ille, which was a decent enough meal, though nothing to write a blog post about.
(If you're looking for other lunch recommendations, we were hoping to eat lunch at the Restaurant at Cassis Monna & Filles, but it was closed for the season; another highly recommended restaurant, La Goeliche, served only a prix fixe Easter lunch, which was a bit heavier than we were looking for at the time - though everything sounded good and I would recommend checking it out in the future).
Though this fabled agricultural paradise is definitely more abundant in the summer, we enjoyed everything that early spring had to offer - despite the mounds of snow still covering the ground.
Day II Dinner
Then came the best part of the day: dinner. For this night we went on a voyage to the far east, tasting the flavours of Thailand and Cambodia at Bati Bassac . We ordered the Table d'hote menu for one, and split it between the two of us (we weren't very hungry).
Between the Thai soup, fragrant spring rolls, The Bassac main (chicken and shrimp tin a sweet pineapple sauce) and the incredible dessert of sticky rice, passion fruit syrup and fresh fruit, we were swept on a journey of flavours.
We came out incredibly full and satisfied, and I highly recommend a visit to this place.
Day III: Drummondville
On our last morning, we celebrated Easter with lemon and pistachio macaroons and a vegan almond milk hot chocolate at Baguette et Chocolat. It felt like the perfect Easter weekend treat! We then went for one last walk in beautiful Old Quebec, our way to say goodbye to this historic city.
The Surprise Stop
On the drive back, we stopped for a meal of local flavours and ingredients at L'Odika Restaurant , a surprisingly cute little bistro in Drummondville. Tucked in a stripmall in this largely nondescript Quebec town, L'Odika was the perfect way to cap off our Quebec City Foodie Guide.
The restaurant relied heavily on local ingredients and products and most dishes were available in vegan and or gluten-free form (including a raclette! If you don't know what this is, you haven't lived).
With a juicy Beyond Meat burger on a gluten-free bun, a tempeh poke bowl and a luscious raspberry chocolate brownie for dessert, it was a perfect ending to my Quebec City Foodie Guide.

Then we came back to Montreal and were greeted with +20C temperatures. What could be better in life?!
Have you ever been to Quebec City? What were your favourite finds? What's missing from my Quebec City Foodie Guide? And how was your Easter/ Passover weekend?
Tell me all about it in the comments, drop me a line on Facebook, Instagram or Twitter, or follow me on Pinterest to see what I'm craving and eating these days.