Halloween, the day everyone seems to love but I just don't, is finally here. Sound the trumpets?... I'm pretty sure G's plans for tonight are to study. My plans are slightly more adventurous, consisting of a Buffy the Vampire Slayer Marathon, a tray of nachos, and margaritas. Oh yeah, and these black bean tacos with sweet pepper salsa, because they're so good that I've eaten them three times this week already, and it's only Friday.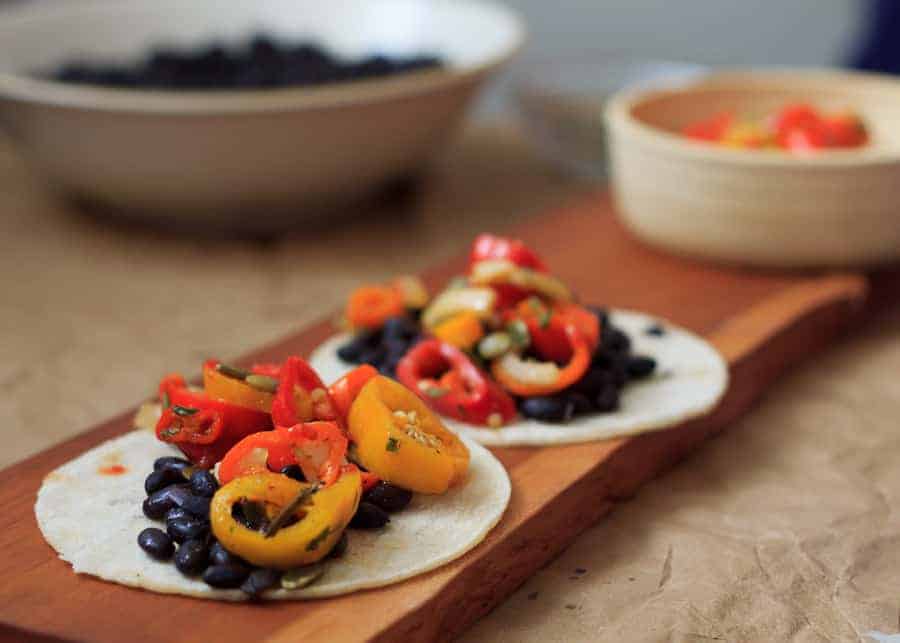 Their preparation is as easy as making a big batch of salsa, opening a can of beans, smearing a spread, and toasting some corn tortillas, and all that takes less than 30 minutes. The salsa is very slightly adapted from this zesty mini bell-pepper salad from Natasha's Kitchen, in that I substituted some herbs for others and upped the tanginess ante just a bit. You can feel free to use a melange of regular, colourful bell peppers for this, and add or omit tomatoes if you have them on hand. I used some home-cooked, formerly dry beans for this, but only because I had them in the fridge. I've made these with both hummus and pumpkin puree, and both were delicious, though I preferred the neutrality of the hummus.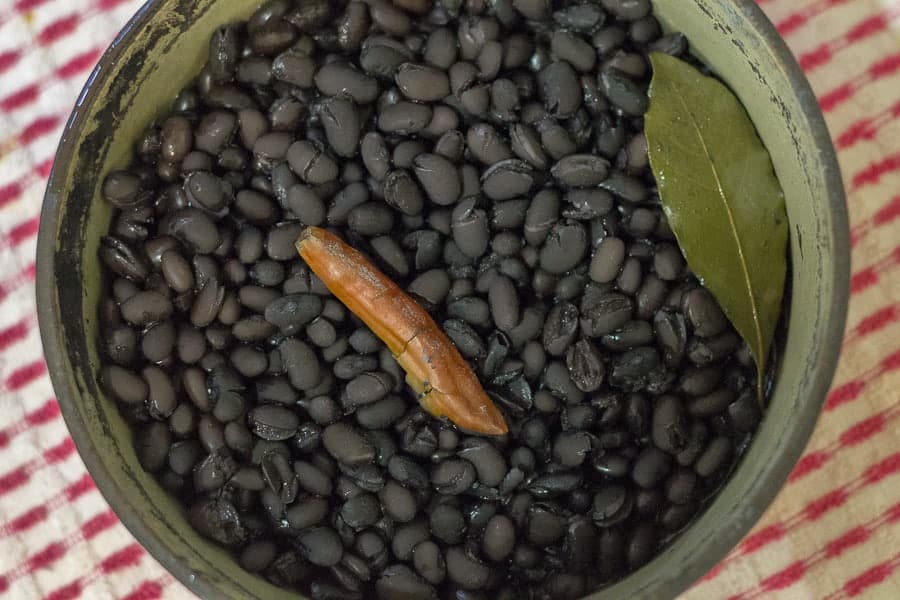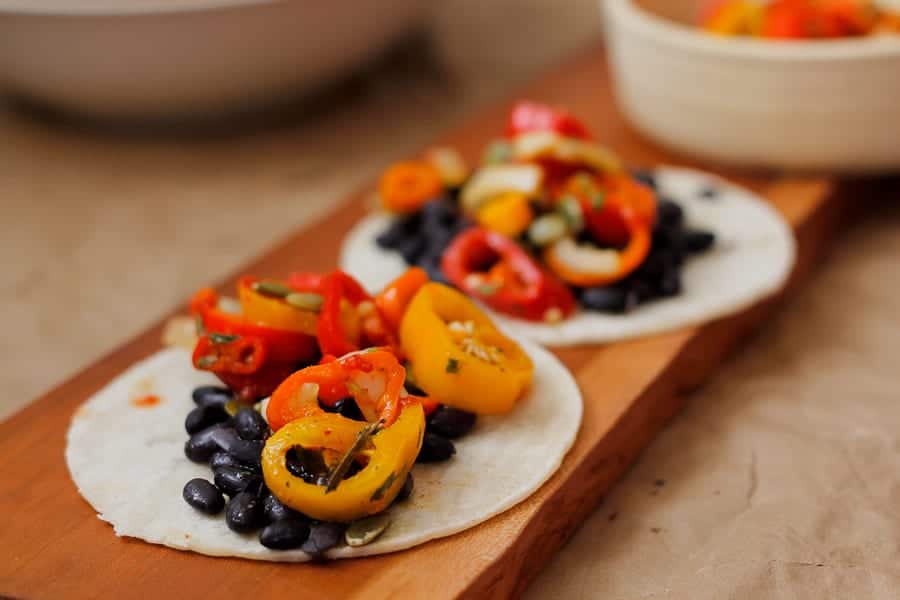 These Black bean tacos with sweet pepper salsa are a bright, sweet and earthy combination, and not at all spicy. If you're looking for something more piquant, serve them with your favourite hot sauce, or add some jalapenos to the bell pepper salsa. But honestly, they're perfect just the way they are.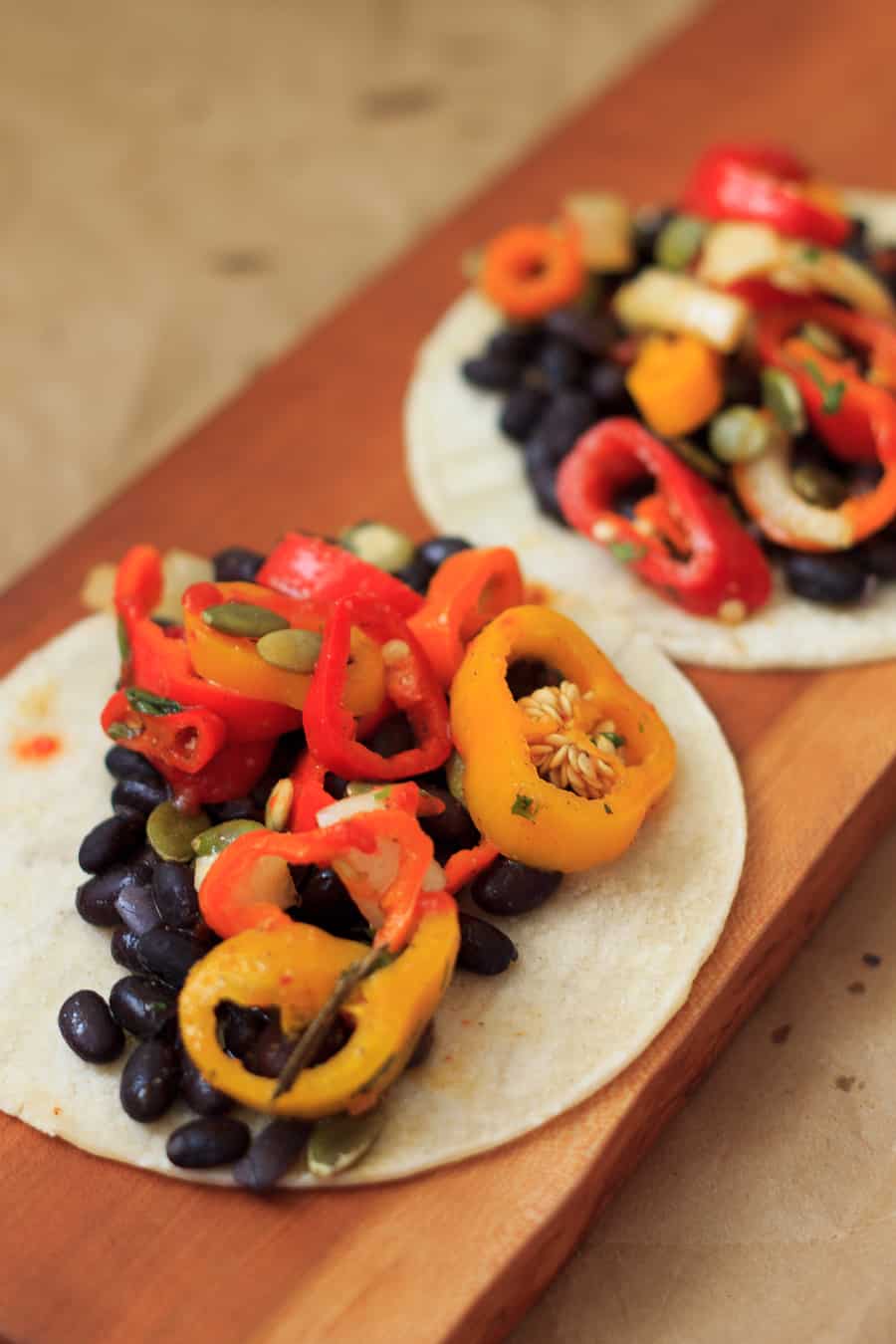 And now, to the Friday links. Whether you're putting on a costume, taking some kids around, or having your own Buffy the Vampire Slayer Marathon, have a great Halloween!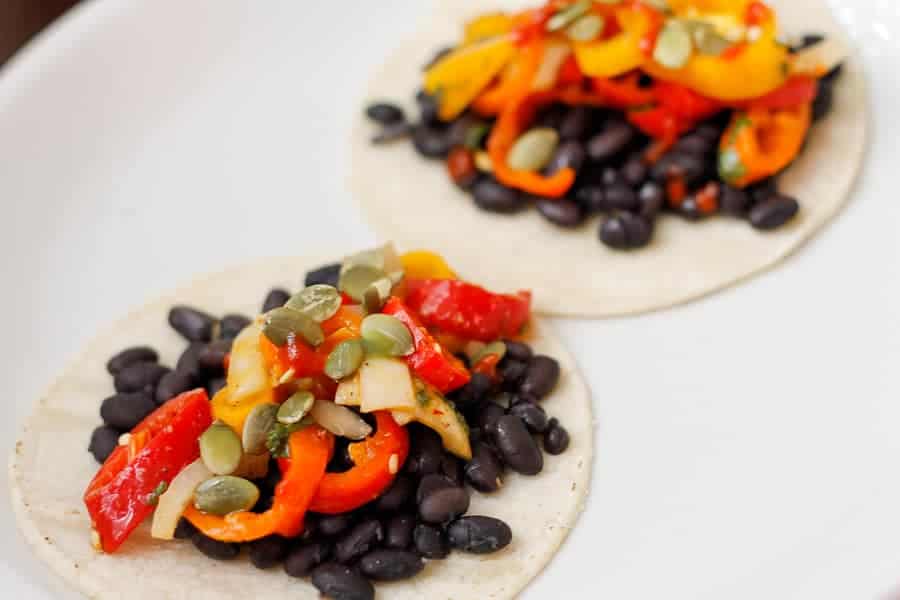 I go through a lot of cabbage in the winter, and these Ottolenghi cabbage recipes are inspiring (as I've mentioned before, I have a hard crush for Ottolenghi's books, and have [amazon text=this latest one&asin=044901634X] on every Chanukah wish list).
Speaking of cookbooks, I'm currently on a self-imposed buying ban, but I'm really craving a copy of [amazon text=Green Kitchen Travels&asin=1742707688].
For some unknown reason, the little grocery store next to my old house in Winnipeg carried quinces around this time last year. I'm on a mission to find some at the market this weekend, and make a batch of my quince jam, as well as this beautiful quince cake from The Bojon Gourmet (mine probably won't look half as pretty).
As part of my work as a food and drink editor for a local Montreal publication, I get to discover some really cool places in this adopted home of mine. Reunion Island cuisine and Persian pastries are some of my latest discoveries (true story: If you read the first piece, you'll see I really liked the chef at Marmite S'ul Feu. Well, about a week after the publication of the Reunion Island piece, I ran into him on the bus on my way home... He was so effervescent and polite, I was really reminded that some people in the food industry are some of the most genuine folks you'll ever meet).
And then, some of them are not very nice. I'm reading the sequel to Anthony Bourdain's [amazon text=Kitchen Confidential&asin=0747553556], [amazon text=Medium Raw&asin=0061718955], and the pettiness of some of these kitchen feuds really astounds me.
I've long wanted to ferment my own cider.... I love how clear this guide from Phickle Ferments is.
David Lebovitz discusses how involved writing a blog actually is, and offers a fantastic seed and rye bread.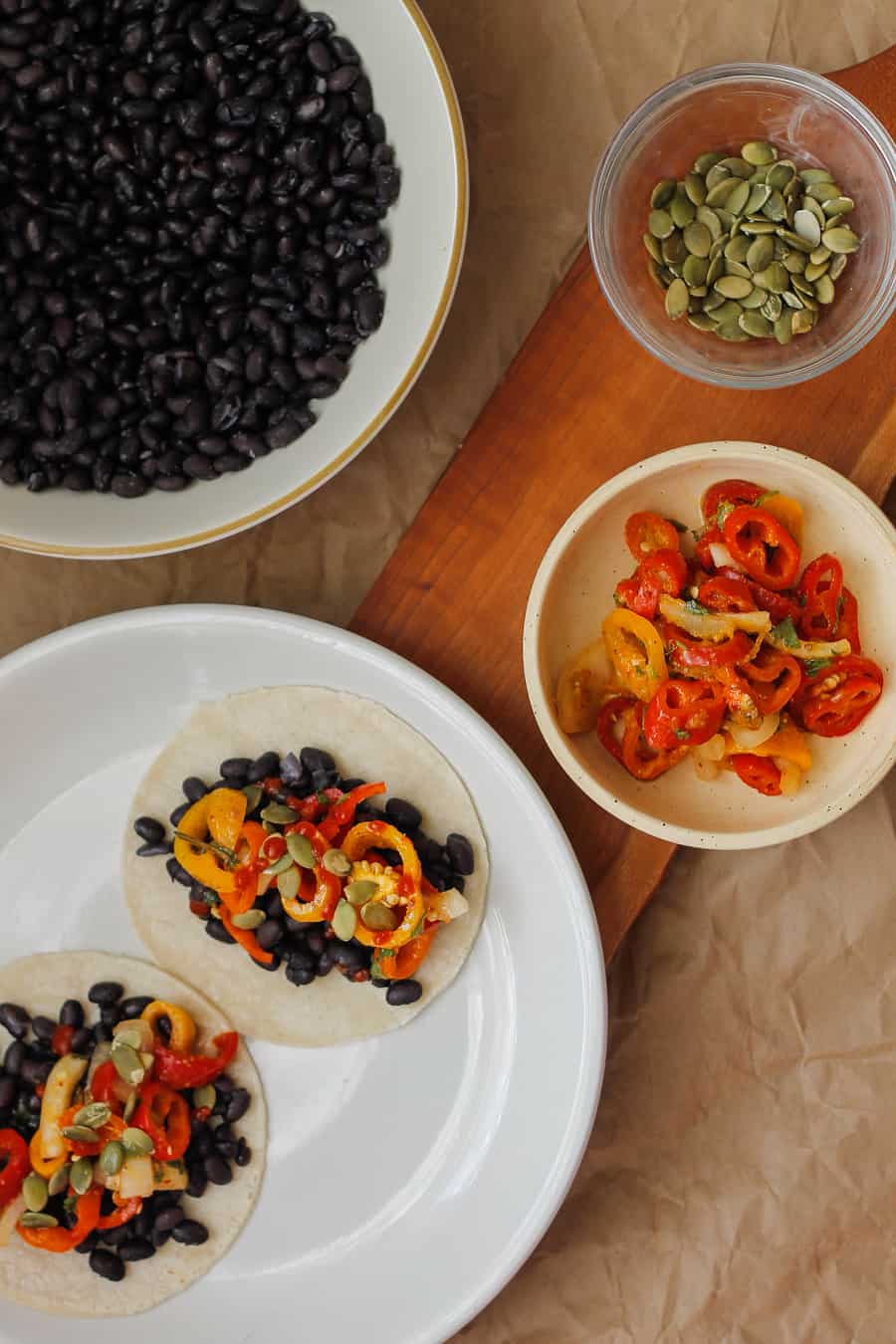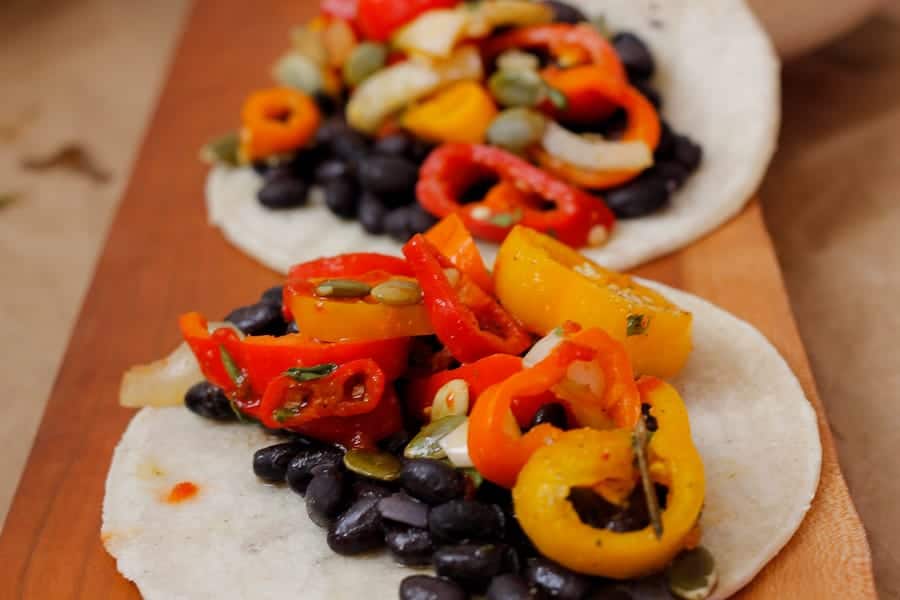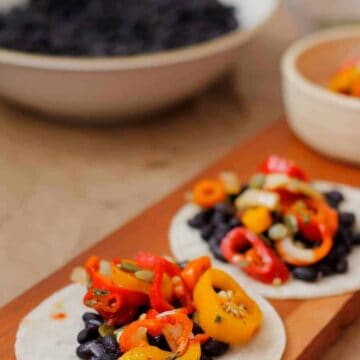 Black bean tacos with sweet pepper salsa
These Black bean tacos with sweet pepper salsa are a bright, sweet and earthy combination, and not at all spicy. You can serve them with your favourite hot sauce or add jalapenos into the salsa mix, but honestly, they're perfect just the way they are.
Print
Pin
Rate
Ingredients
1

lb

sweet multi-colored mini bell peppers

or regular-sized bell peppers, thinly sliced

½

of an onion

thinly sliced

¼

cup

fresh cilantro

chopped

4

tablespoon

white wine vinegar

3

tablespoon

extra virgin olive oil

2

garlic cloves

chopped

½

teaspoon

of salt

or more, to taste

Pinch

of black pepper

a can of black beans

drained and rinsed

Hummus or pumpkin puree

corn tortillas

toasted
Instructions
Combine peppers, onion, cilantro, vinegar, olive oil and garlic cloves in a medium-sized bowl. Season with salt and pepper, and let rest for at least 30 minutes or up to a few days for flavours to meld (this step can be done ahead and kept in the fridge for up to a week).

When serving, toast some corn tortillas. Smear a thin layer of hummus on each tortilla (if using pumpkin puree, season your puree with salt, pepper, paprika and the juice of ¼ of a lemon). Top with black beans and sweet pepper salsa. If desired, sprinkle some queso fresco (I didn't) and pumpkin seeds. Serve immediately with your favourite hot sauce.