Since I was about 14 years old, after my grandmother moved out, my family began getting together for Friday night dinner. Unlike the Jewish families of my classmates, we did not do so around the pretence of a Shabbat dinner; there were no lit candles on the table, no fancy tablecloth, and no prayers read. In fact, we did not even wait until the first star appeared, instead sitting down to dinner the moment my father stepped through the door.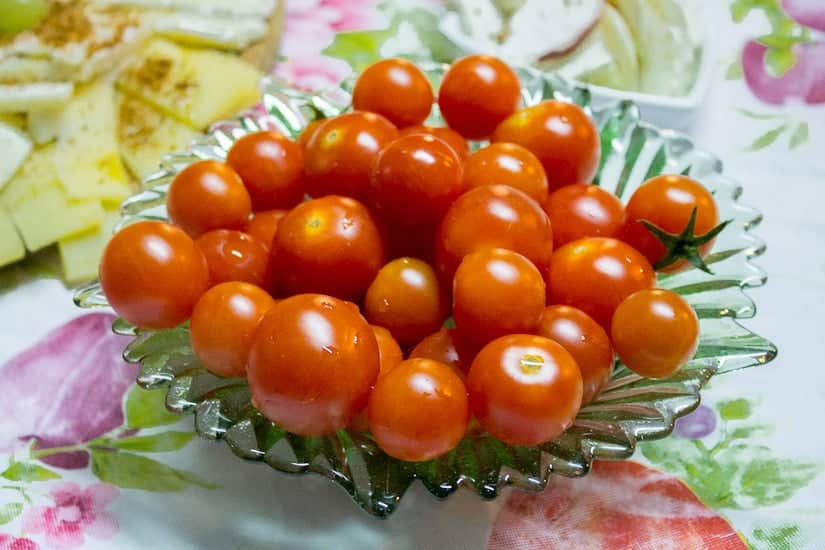 By his arrival, the table was already set. A simple white tabelcloth was draped over the wood, protected from errant spills of sauce and grubby hands by plastic placemats with depictions of corals and fish on them. Our plates were simple and mismatched, chipped and stained from use. My place was always set with a particular fork that my mother knew I preferred, a sole remnant from an old set of dishes that were otherwise mostly lost in moves (I actually had a different fork when I was younger, a slender, smaller piece, but by my teenage years I had decided it was time to progress to more "mature" cutlery). The glasses were of varying sizes and shapes, filled with a choice of water or 'freshly made' lemonade from those frozen cans. As my father opened the door and dropped his briefcase on the couch, we all shuffled towards the dining room, led by our noses, knowing it was time to eat. He was ravenous, and we wouldn't have dared to keep him away from his plate for longer than it was necessary.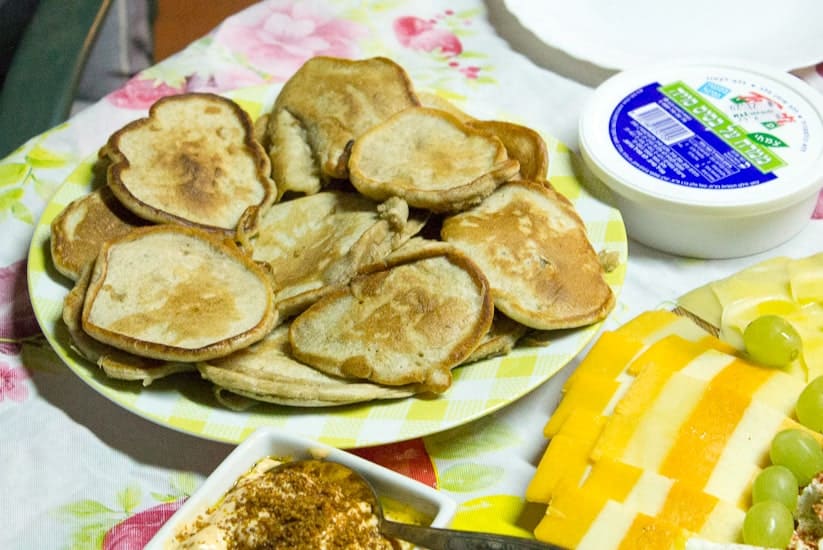 Despite my father's role as the agitator of the meal, the star of special meals with our family has always been the cheese platter. It began as a simple plate, a collection of three sliced cheeses of unknown providence that were eaten nearly as quickly as they were placed at the table. As my parents began to travel and money became more abundant, the cheese on offer grew to include more varieties, more exotic flavours, more mold and rind and spices. It was still picked clean. Then, dinners began to focus on the beauty of fermented dairy, and we were subjected to a parade of smells and shapes that most would find off-putting at best, and nauseating at worst; in our family, they were eaten with smears of butter thicker than the piece of bread it rested on. The cheese reigned supreme at our table.
As the years progressed, the decor of the table itself improved. The placemats with corals were replaced with ones decorated with cheese, wine and fruit. The tablecloths also changed as they stained with age and juices. The dining room table remained, but as my parents moved to the big house they had always dreamed of, it was often abandoned in favour of an al-fresco dining experience under our canopy. Friday night dinners were abandoned after a few of years, as my mother decried my grandparents' constant bickering and differing palates, chucked in favour of special meals held on the holidays, birthdays. With time, a casual Saturday lunch was added in place of those fussy Friday dinners, and everyone was the marrier for it. But the cheese remained.
Shavuot, which I have already told you about earlier, took place this week. As the celebration of milk, honey, and the fruit of the earth, this is the time that Israeli grocery stores transform into mad cheese mongers, alchemists bent on fusing the flavours of the Far East with the dairy of the west and sell it to you, in tonnes, for discounted prices. For Shavuot, stores are filled with cheeses of all kinds, on sale and on offer for all pockets. As none of us are actually in Israel at the moment, my parents used the last week of our visit as an excuse to gorge on cheeses, holding more breakfasts, cheese nights and family dinners than any self-respecting Persian sultan. Unable to resist, G and I partook in the debauchery, sampling more flavoured Gouda and Turkish cheese than any reasonable person would allow. And believe me, my lactose-intolerance made me pay for it.
According to my mom (and many other noted experts), there's an art to assembling a cheese platter. The types of cheese on offer, their slicing, and their arrangement are all guided by a loose code, a delicate touch, and a sharp eye for detail. Ours is by no way a complete, or expert approach. But it's how my family does it, and for the sake of documenting, I figured I would try to draw out the loose guidelines we follow when assembling the majestic cheese platters that rule our table. Do let me know if you, or your family, have any other approaches and ideas.
Note: several of the images in this post were taken by G, and all credit goes to him for them.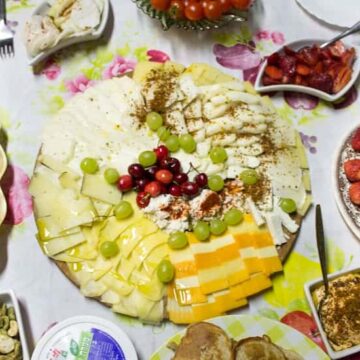 How to assemble a cheese platter
Ours is by no way a complete, or expert approach. But it's how my family does it, and we seem to pull together a pretty good platter on most occasions. These guidelines are meant to match most pockets, for as you can imagine, my mother's budget to buy cheese far surpasses my own.
Print
Pin
Rate
Ingredients
Go for a variety of textures. Always try to include a soft

hard, and semi-ripened cheese.

As in most things in life

don't go for quantity. Putting together a cheese platter when you're short on cash need not necessitate a bank robbery - go with two or three good cheeses you like, instead of burning your entire budget on that imported Brie.

Balance the tried and true with the adventurous. Unless you're buying cheeses abroad

where the variety can be mesmerizing, limit yourself to one new and untested cheese in a platter. The others should be known (and preferably, appealing) to you - guests are not your experiment subjects.

Try drizzling some of your soft or semi-ripened cheeses with olive oil. Edam

Havarti, certain types of chèvre, Haloumi and of course, Labaneh, all love a good fruity oil. Brie, not so much.

If you have an overly large log of soft goat cheese that you're getting tired of

cut it into a few parts the day before. Keep one as is, wrapped in plastic wrap. Roll another in a mixture of finely chopped herbs like chives, parsley (or cilantro), tarragon and basil. The last one can be rolled in finely chopped walnuts, pistachios, or almonds. Wrap them individually in plastic wrap and let cool in the fridge, at least for a few hours and preferably for a day.

Everyone knows fresh herbs go well with cheese

but spices also make a good pairing. In Israel, we sprinkle za'atar on almost everything, but some other spice and nut mixtures will do as well (dry onion, pumpkin seeds and a bit of cumin is a good combination; experiment and find others you like).

Don't overburden your cheeses with bread. Offer some crackers or dark rye bread

but don't put out so much of it that it'll stuff everyone up.

Instead

always offer nuts with your cheeses. They're a great palette cleanser, and they bring out the best in creamy, fatty ones like Gouda, Edam, and Roquefort. Walnuts, pecans, and cashews are all good choices.

Fruit also make a good pairing. Apples

pears and grapes are known to get along with cheese, but semi-ripe peaches, nectarines, and unripe mangoes will also surprise you.

Crisp vegetables like kohlrabi and radishes are great replacements for bread.

Always serve cherry tomatoes with your cheese. My family's favourite treat is wrapping a slice of sharp cheese like cheddar or Gouda around a cherry tomato

or cutting the cherry tomato in half and spooning some cream cheese or feta in there. Yumm.

My mother always slices her cheeses for ease of eating. In Canada

I serve blocks, letting guests cut off their own pieces, but I have to say that my mother's approach seems to work better. The cheese disappears more quickly, and it's so much easier to grab when everyone is around the same table. However, if you're serving it for a long party, stick to the blocks - keeping cheese in a block helps it retain moisture and not dry out in sweat.

Always remove cheeses from the fridge about 30 minutes before serving. This will allow them to come to room temperature

elicit more of their flavours, and make them more sliceable. If you're serving Brie or Camembert, give them an hour and a half.
Instructions
Serve, slice, pair, eat and enjoy!