Middle Eastern mint limonana is a popular Israeli version of frozen mint lemonade. Lemon and mint go in the blender for this easy limonana recipe!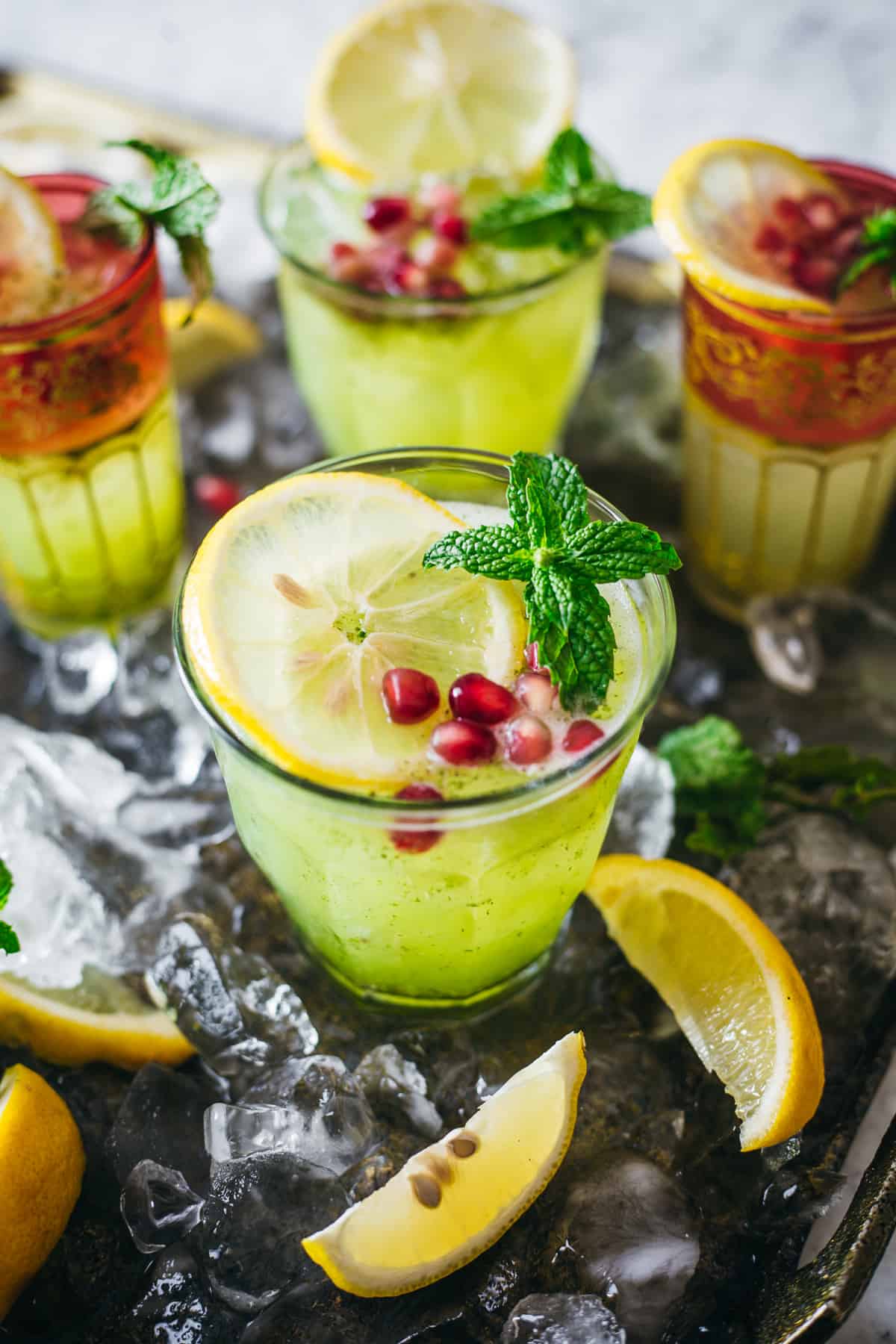 I still remember the first time I had my first frozen limonana cup.
As a child of 7, I was finally allowed to stop by the neighbourhood corner store on my way back from school. On a scorcher of a June afternoon in Israel, all my friends immediately ran to the slushy machine, called "barad" in Hebrew.
In rapid-fire fashion, they began calling out slushy flavors to the salesperson. "Raspberry!," "Grape!," and "Limonana," is all I heard. When it came my turn, I whispered in hesitation, "Limo... nana?".
Two minutes later, my little hands were wrapped a frosted plastic glass with a shiny green straw.
One sip was all it took for me to fall for the refreshing, zesty, and herbal flavor of this cool mint lemonade slushie. And luckily for you, it's easy to make this drink at home on a warm summer's day!
What is Limonana?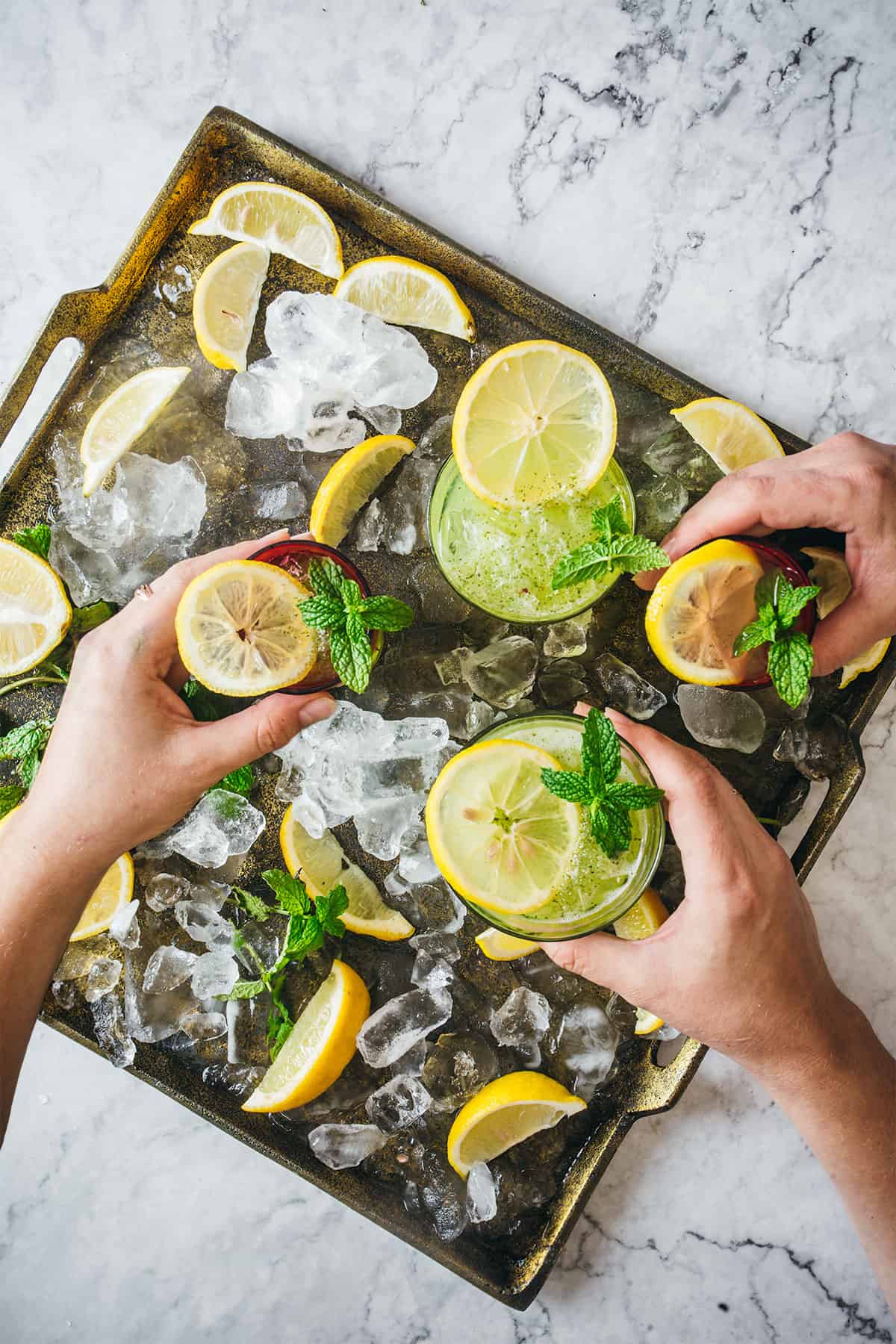 Limonana is a refreshing drink from the Middle Eastern region that combines the zesty flavors of fresh lemon juice and mint.
This slushy concoction is the perfect beverage to beat the heat on a hot day. Known as the Middle Eastern frozen mint lemonade, limonana is made by blending fresh lemon juice, sugar, and water with a handful of fresh mint leaves.
The mixture is then poured over ice and blended to create a deliciously tangy and revitalizing slushy.
Combining citrusy lemon and the cooling sensation of mint creates a harmonious balance of satisfying and thirst-quenching flavors necessary for braving the heat in a hot country.
Whether you are enjoying it on a scorching summer day in the Middle East or simply looking for a refreshing non-alcoholic mocktail to sip on your balcony, limonana is the perfect drink.
What are the origins of limonana?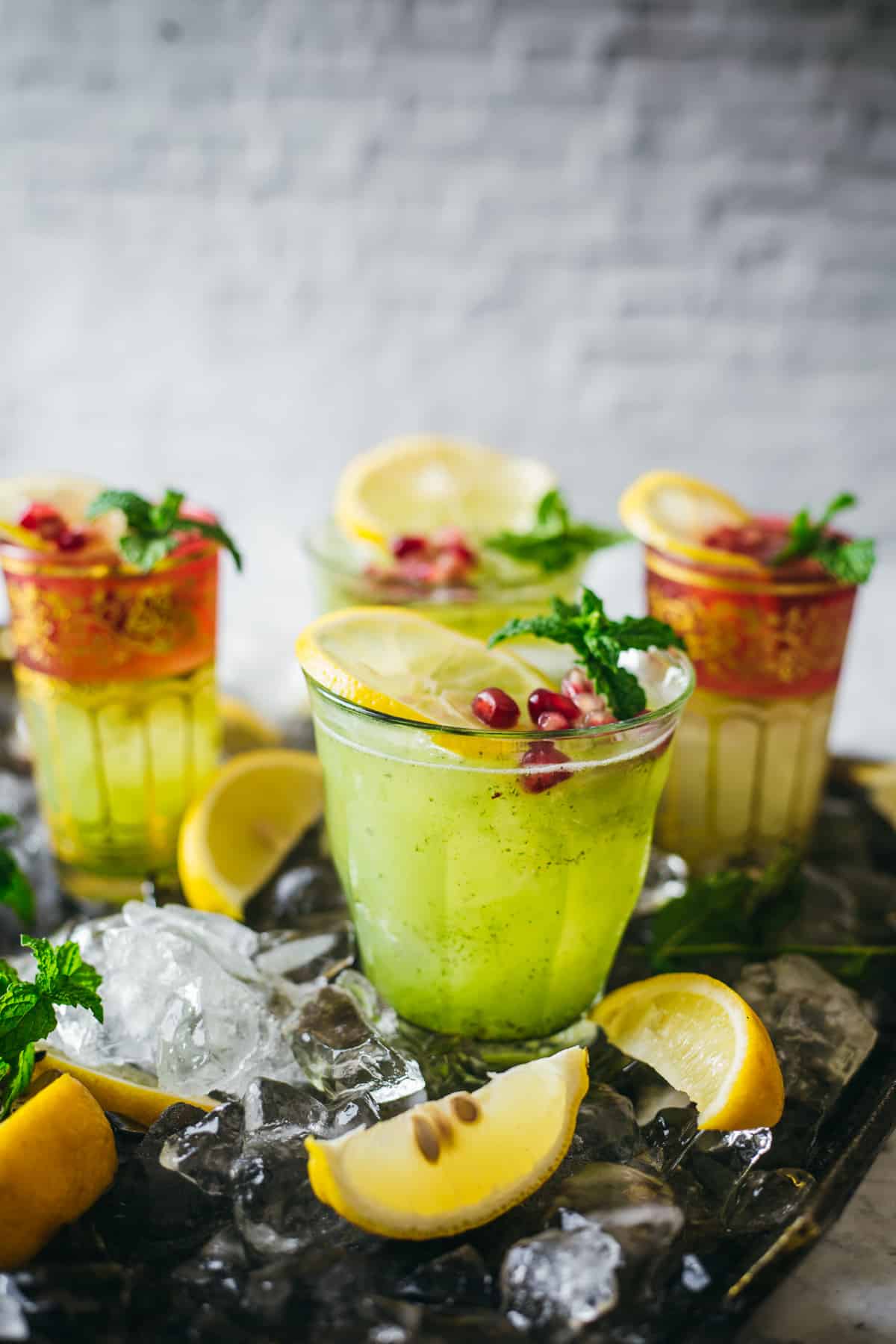 Limonana, a refreshing and zesty drink, originated in the Middle East—specifically Israel. The drink's name combines "limon" and "nana," the Arabic and Hebrew words for lemon and mint, respectively.
The origins of limonana can be traced back to Israel, where it gained popularity in the 1990s. Its creation is often attributed to a local restaurant that wanted to offer a cooling beverage to combat the region's hot climate. Today, limonana is enjoyed throughout the Middle East, and many people know it as Lebanese mint lemonade.
Limonana is made by blending freshly squeezed lemons with a generous amount of mint leaves and sugar, resulting in a vibrant and citrusy concoction.
To add an extra touch to the drink, it is often garnished with a mint sprig or a lemon slice.
Over the years, limonana has become a beloved beverage in the Middle East and worldwide, as its refreshing flavor and cooling properties make it a perfect choice for hot summer days.
What ingredients are in this mint lemonade?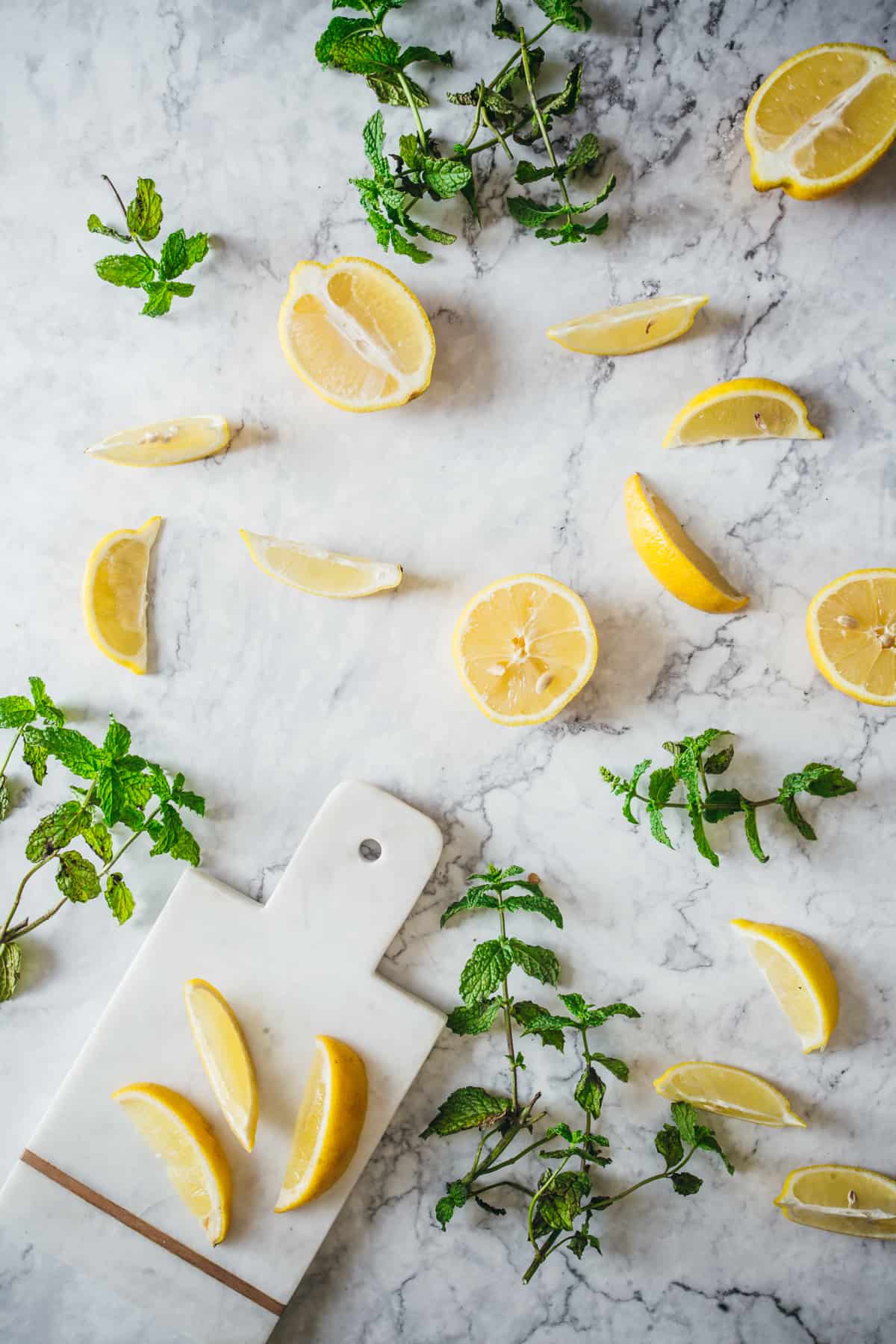 This mint lemonade is made with a refreshing combination of lemon and fresh mint. The main ingredients for this drink are:
Lemon - peeled for zesty citrus notes.
Fresh mint - for a vibrant and refreshing herbal twist
Cold water - for dilution
Ice - the cool and frosty element that makes Limonana an ideal companion on hot summer days
How to Make Limonana Mint Lemonade
Peel the lemons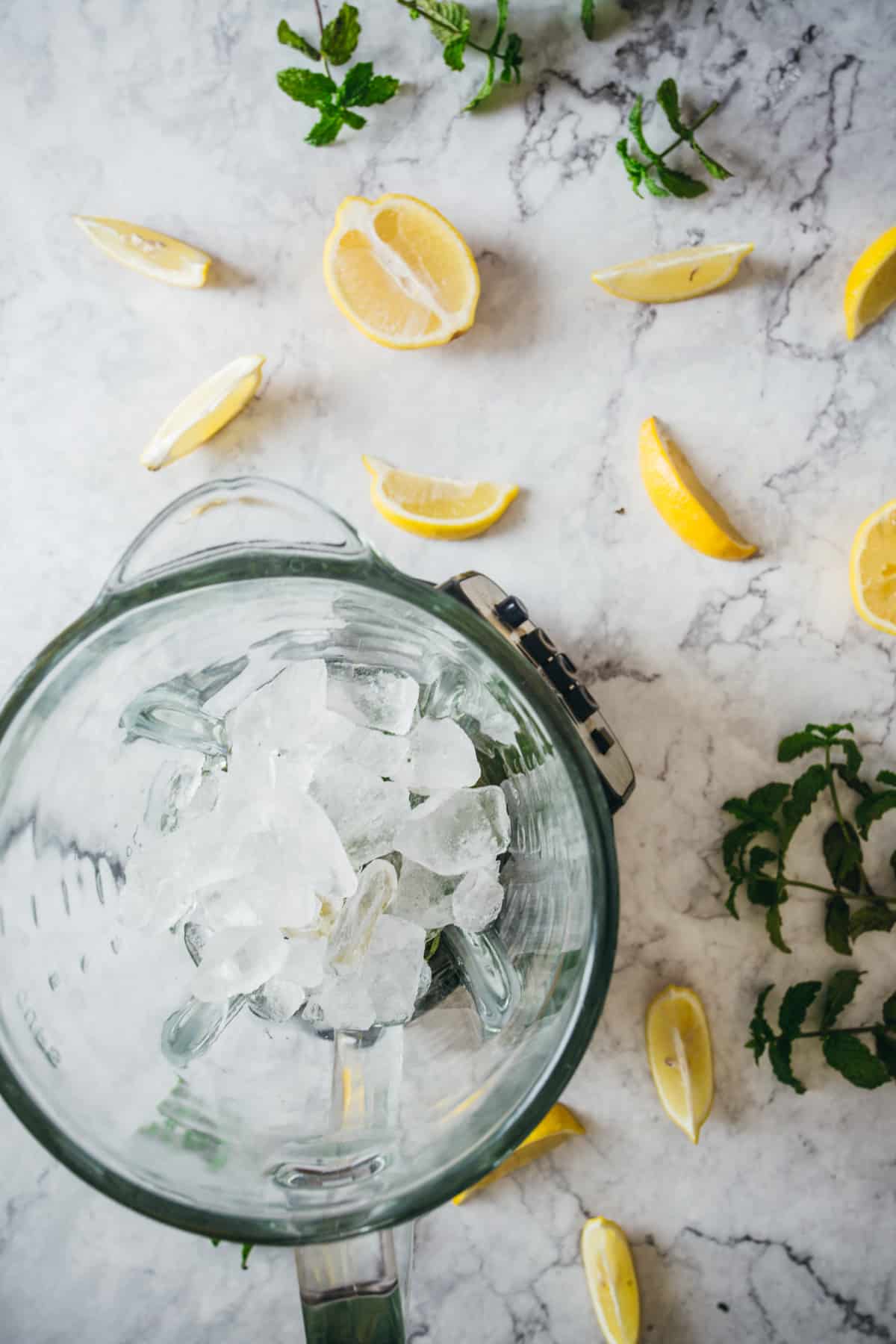 No need to juice the lemons - you can just peel the outer layers and all the pitch (white parts) to avoid any bitter notes.
Combine ingredients in a blender
Next, blend peeled lemons, a handful of fresh mint leaves, and sugar. Pulse a few times with a little bit of water in a blender until the mint is finely chopped and the sugar dissolves. You can add more water as needed to perfectly blend the drink and ensure the mint leaves are well chopped.
Taste the flavors. If you like it sweeter, add sugar and blend until everything is well combined and the drink has a slushy texture.
Strain the mixture
Then, strain the blended mint mixture into the pitcher with the lemon juice to remove any mint leaves' solids.
Serve limonana over ice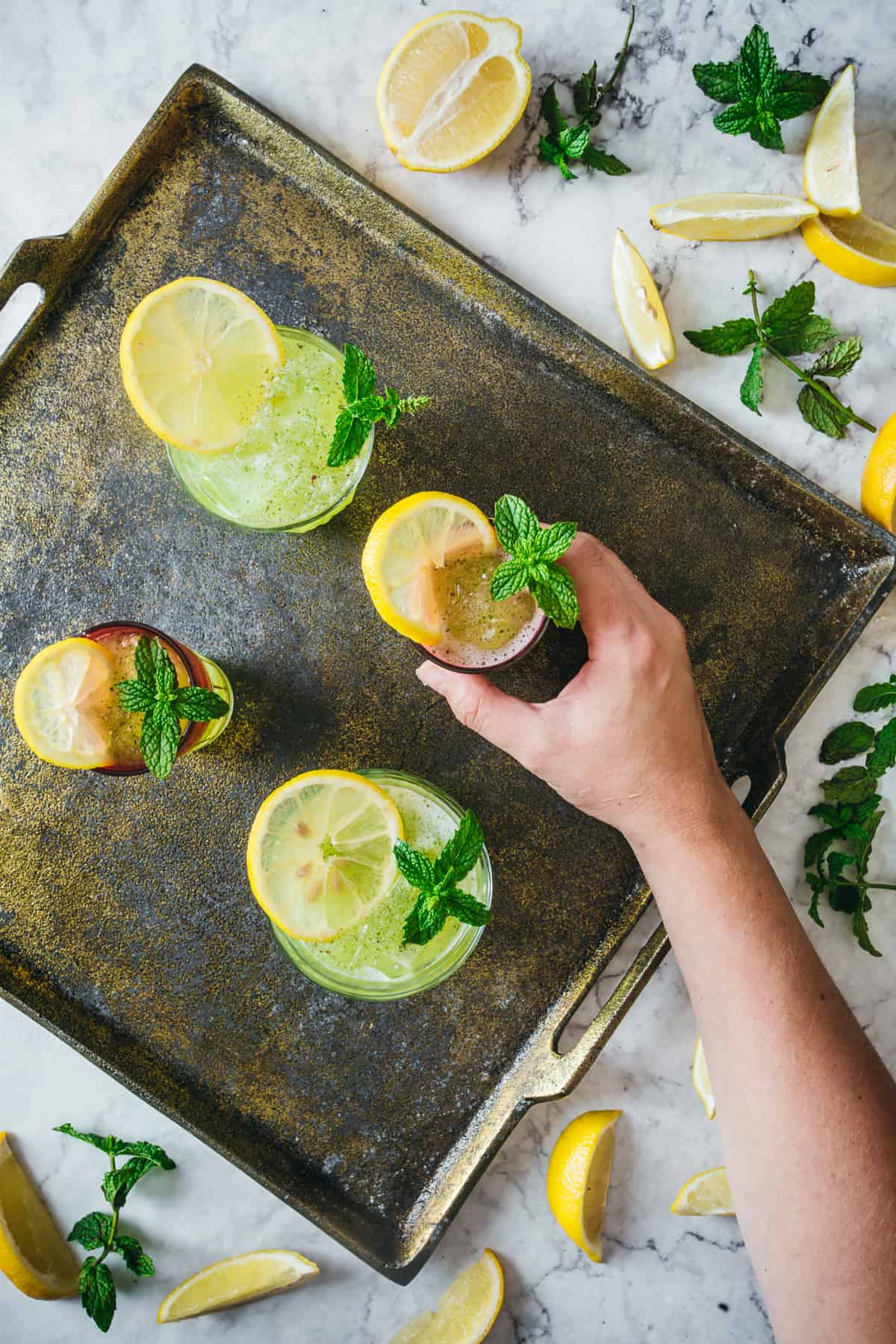 Finally, add plenty of ice to the glasses or pitcher. Top with limonana and mix well.
Serve the limonana with a garnish of mint leaves and lemon slices for an extra touch of flavor and aesthetics.
Limonana variations
Tropical limonana - add a splash of pineapple or passionfruit juice to the traditional Limonana recipe.
Orange limonana - For a zesty kick, try blending in some freshly squeezed orange juice or adding a few slices of grapefruit or blood orange. Add a teaspoon of orange blossom water for a floral touch.
Creamy limonana - To create a creamy and indulgent version, replace some of the water with coconut milk or yogurt, creating a delightful fusion of flavors.
Additionally, experimenting with different herbs can elevate the taste. Swap the mint with fresh basil or cilantro for an aromatic twist.
If you don't have fresh lemon on hand, you can also use a lemonade concentrate as the based for this refreshing drink with lemon and mint.
What to serve with limonana
Limonana is a delicious and refreshing drink that combines the tanginess of lemon with the sweetness of fresh mint. To complement the vibrant flavors of limonana, a variety of foods can be served.
For a light and healthy option, a fruit salad made with citrus fruits such as oranges, grapefruits, and tangerines would be a perfect choice.
The acidity of the fruits would harmonize with the lemony taste of the limonana, creating a refreshing balance.
Alternatively, a plate of assorted Mediterranean mezze can be a great accompaniment. Dishes such as hummus, tabbouleh, and stuffed grape leaves go well with the citrusy notes and add a savory element to the overall meal.
To satisfy the taste buds, a serving of lemon bars or lemon shortbread cookies can be an indulgent treat. The buttery and tangy flavors of these desserts would complement the limonana, providing a delightful finish to the meal.
No matter the choice, serving something light, citrusy, and refreshing with limonana will make for a delightful and well-rounded culinary experience that is perfect for a hot day.
Tried and loved this recipe? Please leave a 5-star review below! Your reviews mean a lot to me, so if you've got any questions, please let me know in a comment.
Recipe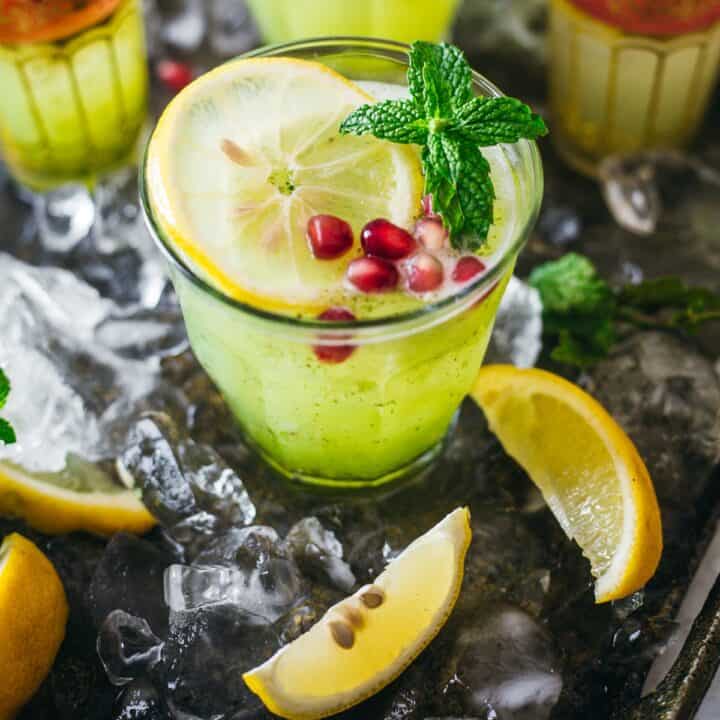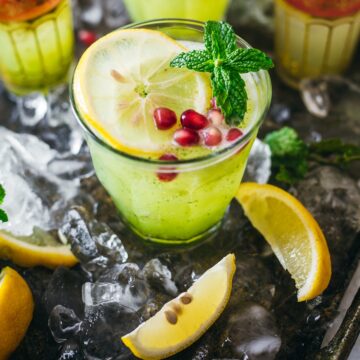 Limonana (Lemon mint lemonade)
Middle Eastern mint limonana is a popular Israeli version of frozen mint lemonade. Lemon and mint go in the blender for this easy limonana recipe!
Ingredients
1

Lemon

peeled

2

tablespoons

White sugar

1

Small bunch of fresh mint

about ½ cup

½

cup

Water

2

cups

Ice

plus more for serving
Instructions
Add 2 cups of ice, lemon, mint and sugar to a high powered blender. Add water in batches as needed for blender to work, and process lemon mint lemonade mixture until the desired texture is obtained.

Pour into glasses and serve.
Nutrition
Serving:
1
g
Calories:
62
kcal
Carbohydrates:
17
g
Protein:
1
g
Fat:
0.2
g
Saturated Fat:
0.02
g
Polyunsaturated Fat:
0.1
g
Monounsaturated Fat:
0.01
g
Sodium:
16
mg
Potassium:
78
mg
Fiber:
2
g
Sugar:
13
g
Vitamin A:
33
IU
Vitamin C:
29
mg
Calcium:
24
mg
Iron:
0.4
mg
Tried this recipe?
Comment + Rate Below!
Connect on Instagram!
Find us @immigrantstable