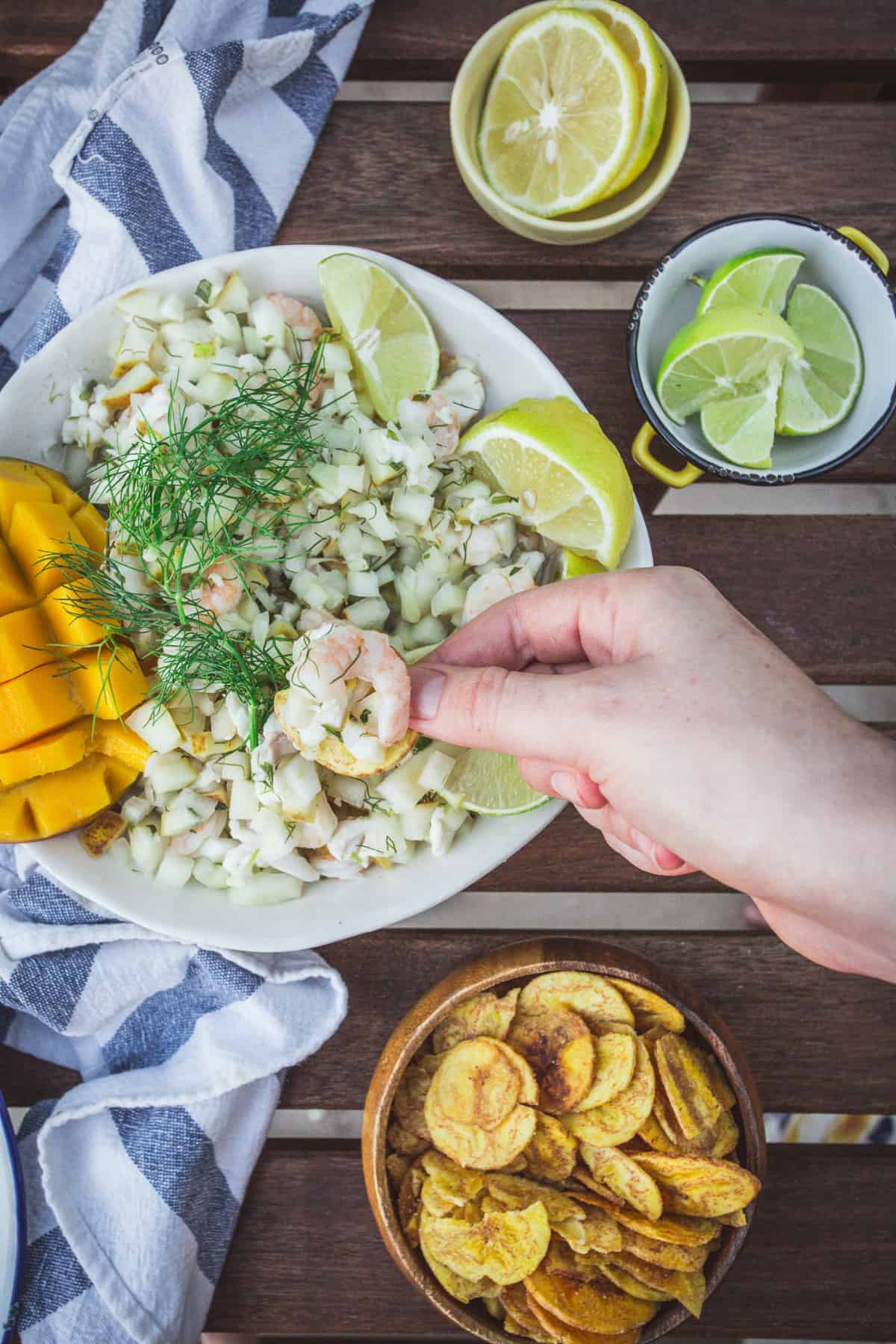 Colombian ceviche with pear, fennel and mango has the faint scent of licorice, the gentle sweetness of pears and mango, and the surprising taste of Aguardiente. Take a trip to this wonderful locale with a taste of the unexpected.
This post is sponsored by California Pears, and I was compensated monetarily for my work. You can always count on me to only work with companies and products I love!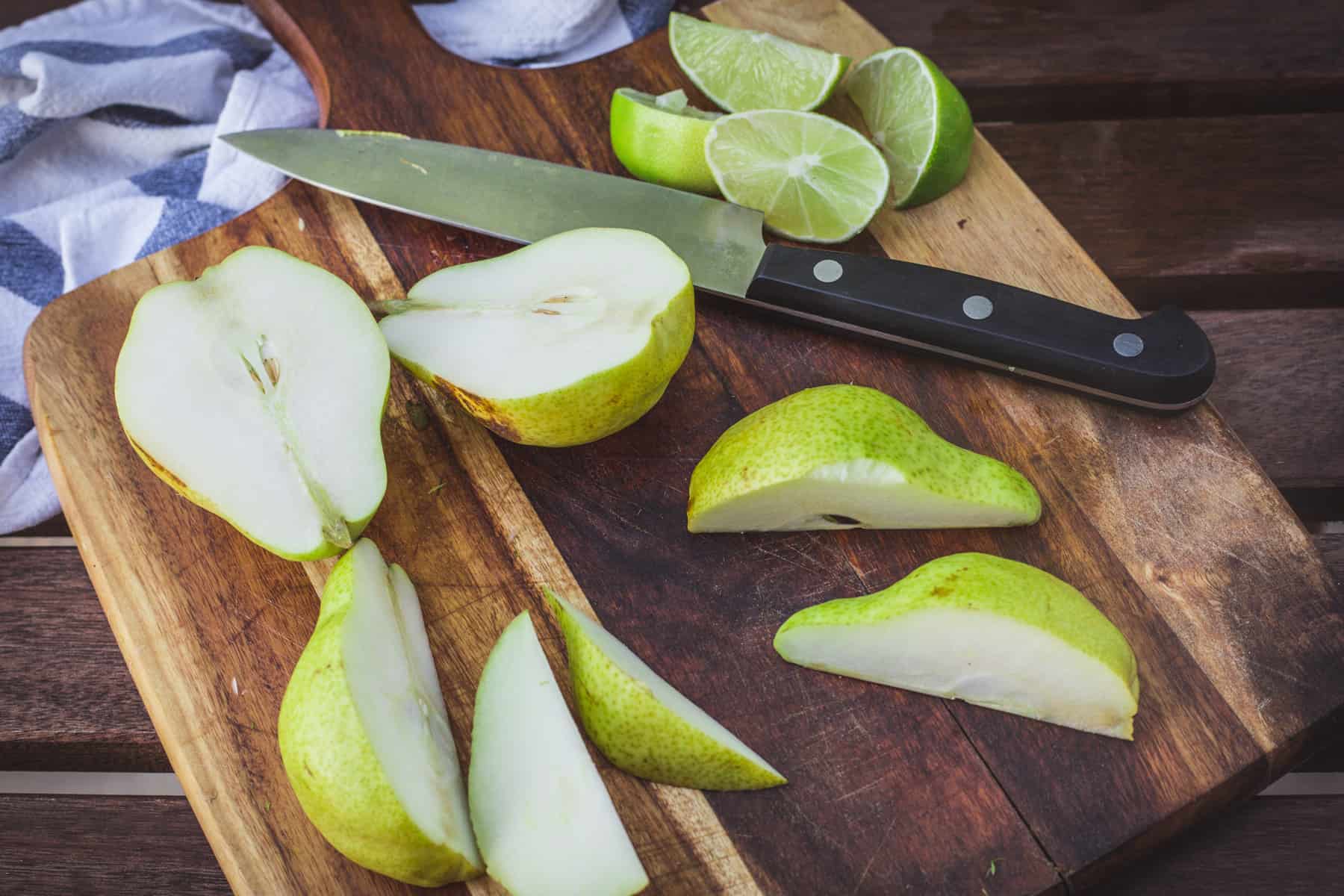 The Colours of Summer
Summer. You'd think that just the word alone would conjure up the same feelings for everyone, no? And if not feelings, then at least images? Or foods? We're bound to agree on some things, no?
And yet the colours of summer are completely different in every country I have lived.
Summer in Russia is the deep, dark green of a canopy of leaves rustling above your head. The burgundy of cherries, bought from a street vendor and served to you in a rolled up black-and-white newspaper. The white of poplar blossoms, falling from the trees and decorating everything in a woolen blanket of snow-like beauty.
Summer in Israel is the blue of the sea, stretching as far as the eye can see, inviting and mysterious at the same time. The yellow of sand, crunching under your toes. The orange of apricots, bursting with sweetness at the lightest touch.
Summer in Canada is the red of berries, picked that morning at the farmer's market and eaten straight from the carton. The yellow of corn, tall and proud and older than any building in sight. And the green and yellow of pears, ripening in a fruit bowl on my counter.
The colours of summer are all so different in all these countries, and yet so beautiful.
With today's recipe for Colombian ceviche with pear, fennel and mango, I want to tackle the colours of Colombian summer: the orange and yellow of mango, the green and white of fennel and pears, the pink of prawns.
Memories of Colombia
When I visited Colombia (read more about it here and here and here and here), I was struck by the uniformity of the weather in Bogota, day in and day out. And yet within each day, there was much fluctuation in temperatures: the morning would be cool, mid-day blazingly hot, and the afternoon mild and temperate. Tropical rain showers would catch you unexpectedly, drenching you from head to toe only to disappear and make way for a searing sun within less than an hour.
I wanted to pay homage to this beautiful country with a recipe, but I wanted to try something less predictable than tropical fruit and prawns. And though this recipe has both of those ingredients, it pairs them up with something intrinsically Colombian: aguardiente.
This anise-flavoured, high-proof alcohol is the national drink of Colombia, similarly to Pisco in Peru or Becherovka in the Czech Republic. It's often served in a spiked hot chocolate or in a warm Canelazo, a citrusy concoction my husband makes in the winter (I'll be sure to share that recipe with you in the coming months!). While aguardiente can be a bit jarring on its own, it's a wonderful flavor agent when mixed with other supporting actors.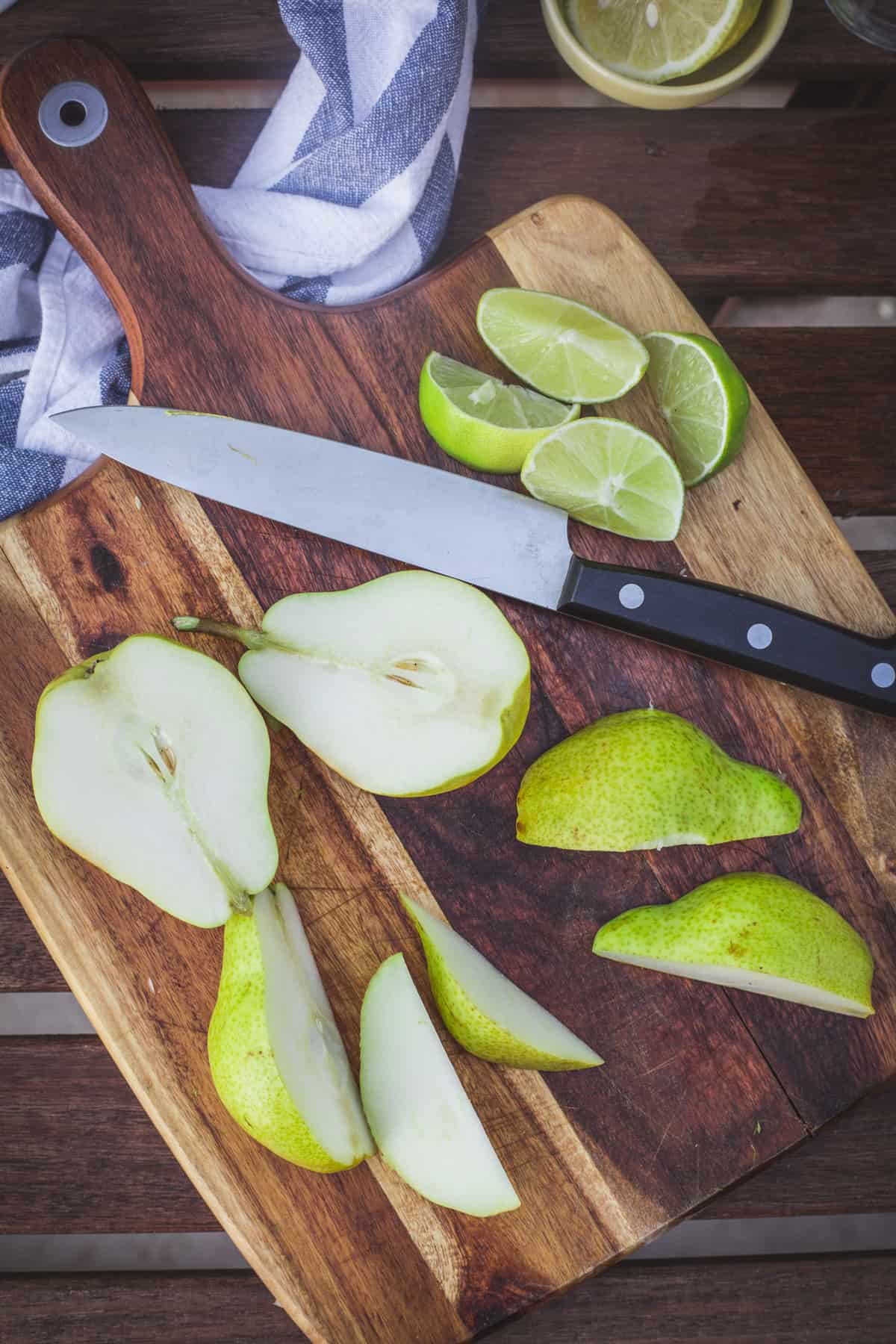 Discovering California Bartlett Pears
Though not immediately identified as Colombian, pears are the other inseparably part of this ceviche. To me, where there's anise, there are pears. Anise, fennel and pears come together to create a harmonious, balanced note of flavor that is both surprising and familiar – enough to entice your taste buds for more while remaining elegant and demure.
Joined here by mango and tarragon, Bartlett Pears and fennel are the building blocks of an excellent Colombian ceviche.
And that's coming from a person who eats A LOT of pears.
My father developed an allergy to apples at a late age, and pears became his go-to fruit. He eats 1-2 pears every day, and so my parents always have pears in the fruit bowl. They mostly eat them raw, and the more underripe, the better. To deal with overripe pairs, we have come up with a couple of baking recipes - strudel and muffins being the two main ones.
Then in my own house, we became a Pear Family when my little boy started eating solids. California Bartlett Pears are his favourite snack, and I love them for a few factors:
they are durable and don't become spoiled too quickly;
they grate and purée easily, not requiring any cooking;
California Bartlett Pears contain antioxidants and are a good source of fibre, Vitamin C, potassium and folic acid; and
they taste great when hard or even when very ripe, which accentuates their sweetness.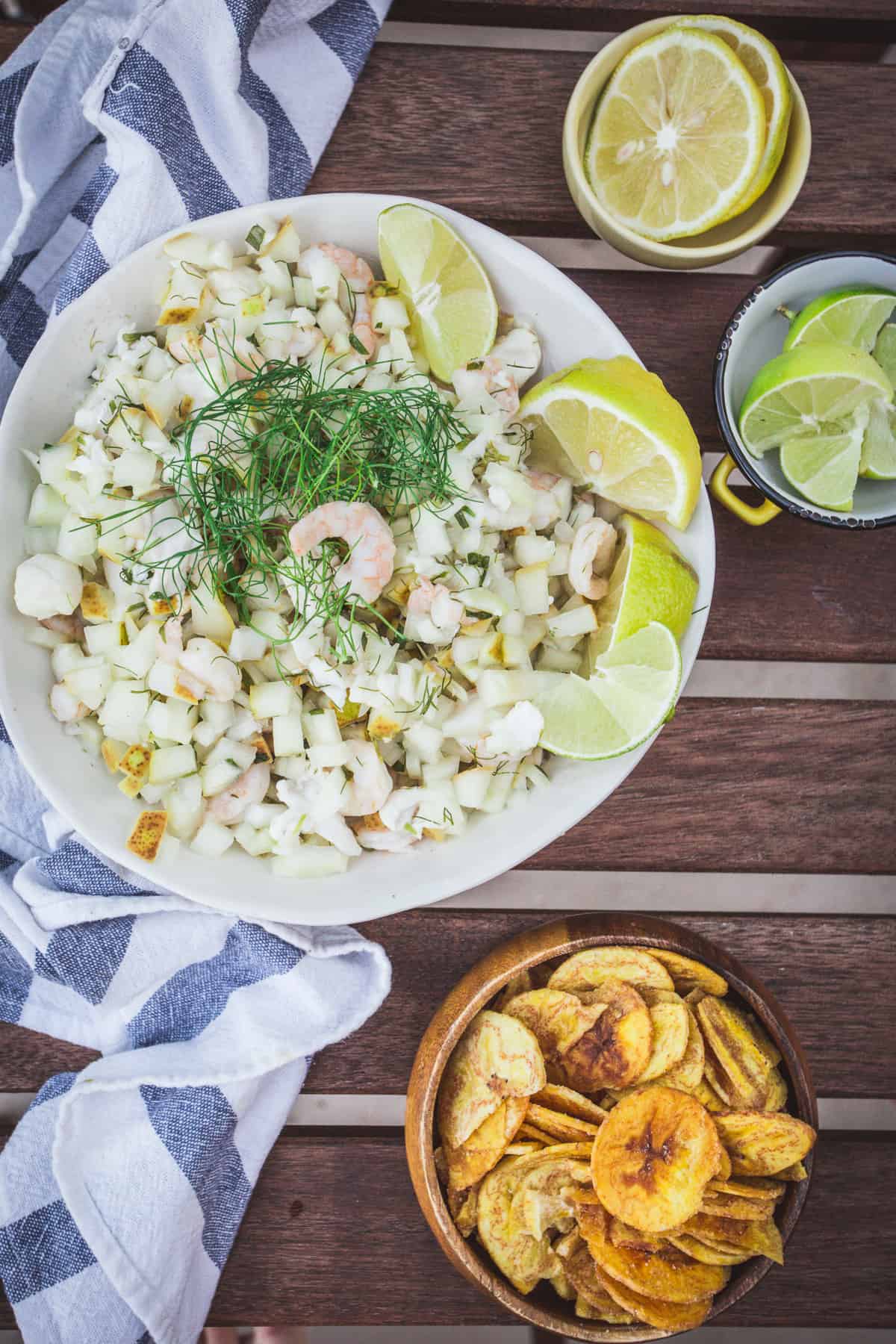 We tried different varieties and my son loves California Bartlett Pears the most. And with pears always in the fruit bowl, we all became accustomed to reaching for a crispy, juicy Bartlett. California Bartletts are the ideal, healthy summer snack, coming in season from late July to mid August.
(Spoiler alert: I'll be sharing a video of my son's 4 favourite pear-based baby foods. Stay tuned!).
Give California Bartlett Pears and aguardiente a try in this Colombian ceviche with pear, fennel and mango. I think you'll appreciate the balance of flavours, the refreshing sweetness, and the light texture of the cured fish and seafood.
Shopping Tips: To enjoy the ripeness you prefer, I recommend buying green California Bartlett Pearss and letting them ripen at home. They'll become more sweet and juicy as they ripen, turning a golden yellow colour.
For more information and recipes featuring California Bartlett Pears, visit www.calpear.com
Serving Suggestions
I recommend serving this ceviche inside a tortilla bowl for extra special presentation. I use this guide for how to make tortilla bowls out of gluten free corn tortillas.
Tried and loved this recipe? Please leave a 5-star review below! Your reviews mean a lot to me, so if you've got any questions, please let me know in a comment.
Recipe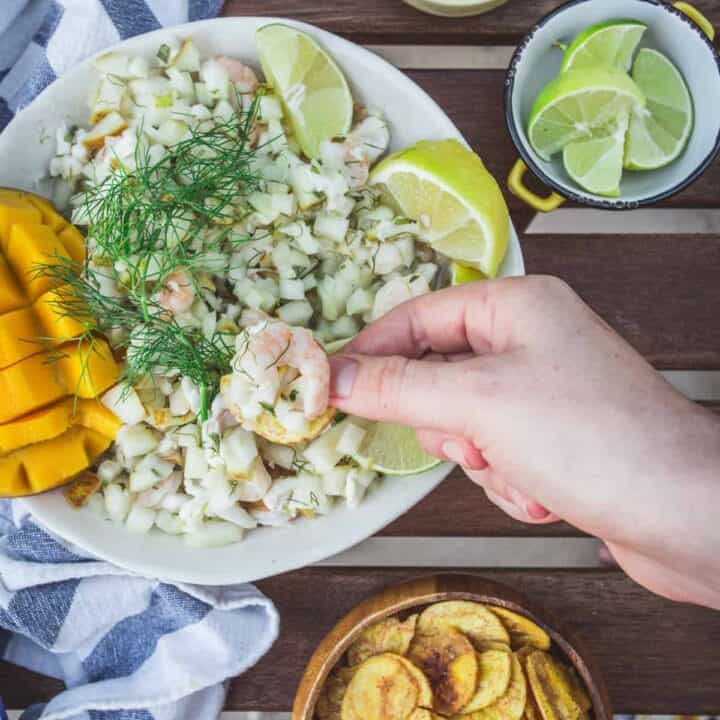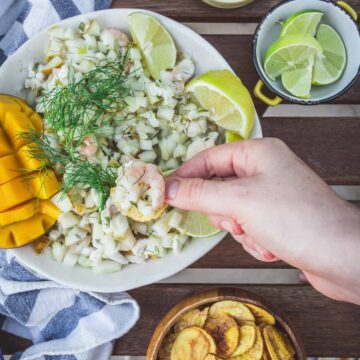 Colombian Ceviche with pear, fennel and mango
Colombian ceviche with pear, fennel and mango has the faint scent of licorice, the gentle sweetness of pears and mango, and the surprising taste of Aguardiente. Take a trip to this wonderful locale with a taste of the unexpected.
Ingredients
100

g

haddock or other firm white fish

raw

150

g

small scallops

raw, or chopped large scallops

150

g

shrimp

raw, deveined and shelled

2

California Bartlett pears

½

fennel bulb + fronds

1

large mango

1

onion

3

lemons

juice of

3

limes

juice of

¾

cup

aguardiente

½

bunch tarragon

finely minced

2

tsps

salt
Instructions
Cut fish into 1-inch sized pieces.

Rinse and dry scallops and shrimp. Combine with fish in a large bowl.

Finely chop pears, fennel, onion and mango into small, bite-sized cubes. Add to fish and seafood.

In a jar, combine lemon and lime juice and aguardiente. Add to ceviche.

Top with fennel fronds, tarragon and salt. Stir gently with a spatula to combine well. Ensure fish and fruit is covered with citrus-aguardiente liquid.

Let rest in fridge, covered, until fish has cured and flavours have melded, for at least 8 hours. Serve with plantain chips and tortilla chips.

Best if eaten within two days.
Tried this recipe?
Comment + Rate Below!
Connect on Instagram!
Find us @immigrantstable