It is a cold Montreal evening in February. You are bundled up in layers, and your breath visibly fogs up around you. But when you arrive at Tu B'Shevat Under the Trees, all that fades away. Your eyes take in the yard around you: it's a magical wonderland, with a long table overladen with candles, fir branches and dried fruit. People are milling about, heated by the warmth of portable space heaters and blankets. Fairy lights twinkle overhead, and soft music wafts through the background. You smell sage and rosemary and thyme, and you know: this is going to be a good night.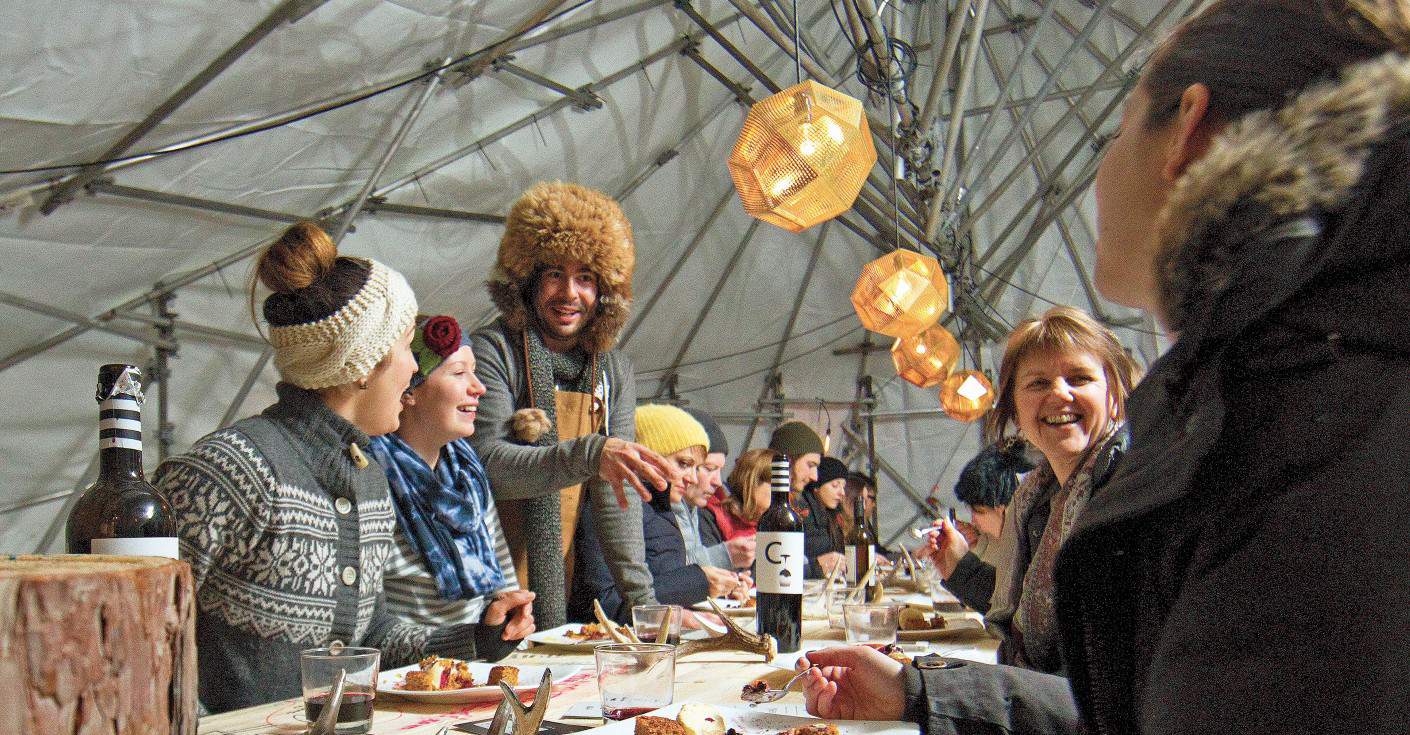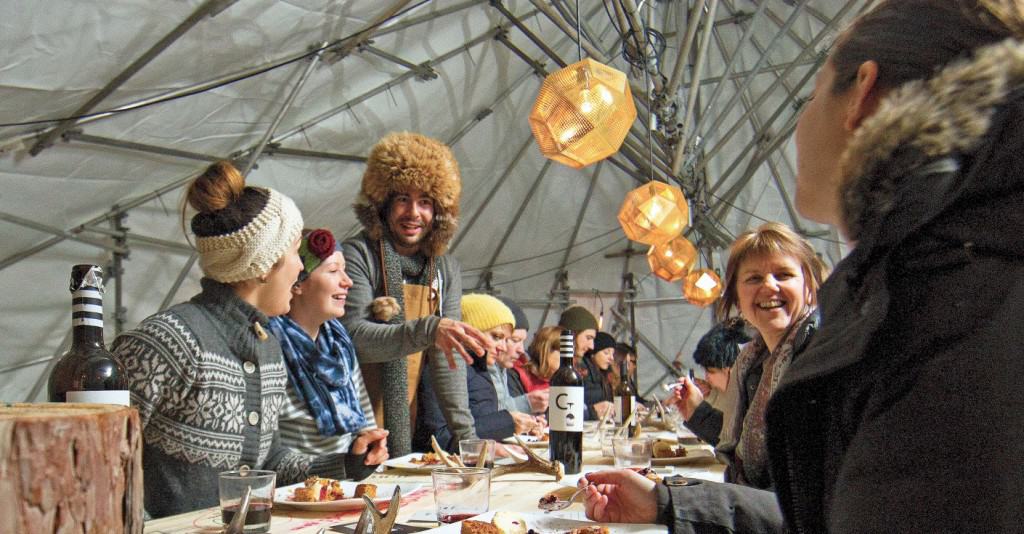 Photo by Marianne Helm
Sunday, February 7, I am going to be hosting my first large-scale dinner in Montreal. It will be a family-style, pescetarian five-course meal with a signature cocktail... all served outdoors, under the light of a bright moon, dozens of bright fairy lights, and the gentle flow of candles. There will space heaters and blankets, warm compote and the company of your neighbours to keep you warm, and I promise - no one is going to be left hungry that night.
Some of you may be thinking I'm crazy, planning an event outdoors in early February. But I see it all so perfectly: an unforgettable night under the stars, a chance to recapture the magic of the season in this Jewish celebration of nature with good food, good music and a showcase of local Jewish makers. This will be a celebration of bounty: of nature, good food, and of local talent, and outdoors is exactly the right place to hold it.
And the best part is, I'm not alone in this endeavour. For this special Tu B'Shevat under the stars, I am partnering with Allison Sklar, the classically trained baker and pastry chef behind The Bacon Eating Jewish Vegetarian Blog & Recipes and Savoury Sweets Bakery. A seasonal craft cocktail will be developed by two other Montreal foodie superstars, The Wandering Chew. The work of two local artisans will also be showcased at the event: paint and clay, a perfect union of natural elements.
The Tu B'Shevat Under the Stars menu will showcase the 7 Minim, and include:
Starter:
Grape galettes + za'atar + thyme + labaneh
Tu B'shevat minim used:wheat, grapes.
Soup:
Celery root + leeks + dehydrated vine leaves + paprika oil + parsley chermoula + citrus chips
Tu B'shevat minim used: Grapes
Main:
Whole grilled fish + olives + lemons + rosemary
Served with a spicy pepper + preserved lemons + olives + dates
salsa
Tu B'shevat minim used: Olives, dates.
Pilaf:
Rice pilaf + figs + candied pistachios + parsley + pomegranate seeds + caramelized onions + puffed barley
Tu B'Shvat minim used: barley, figs, pomegranates.
Dessert:
Persimmons + meringue daquoise, cardamom + rose water custard cream, roasted nuts + figs + rose petals topping
Tu B'Shvat minim: Figs, date honey
Ticket cost is $45, and includes the meal and a craft cocktail. A limited number of tickets will be available on Early Bird special ($35) by January 31.
And in true At the Immigrant's Table form, we will respect dietary restrictions (gluten-free, vegan). If you suffer from any food intolerances, please let me know in advance of your needs, and we will do our best to accommodate them.
This event was made possible by a #MakeItHappen Micro Grant from the Charles and Lynn Schusterman Family Foundation.
Tried and loved this recipe? Please leave a 5-star review below! Your reviews mean a lot to me, so if you've got any questions, please let me know in a comment.