This lip-smacking tamarind cocktail will transport you to a paradise of tropical flavors. Discover the perfect blend of tangy tamarind, citrusy lime, and premium rums.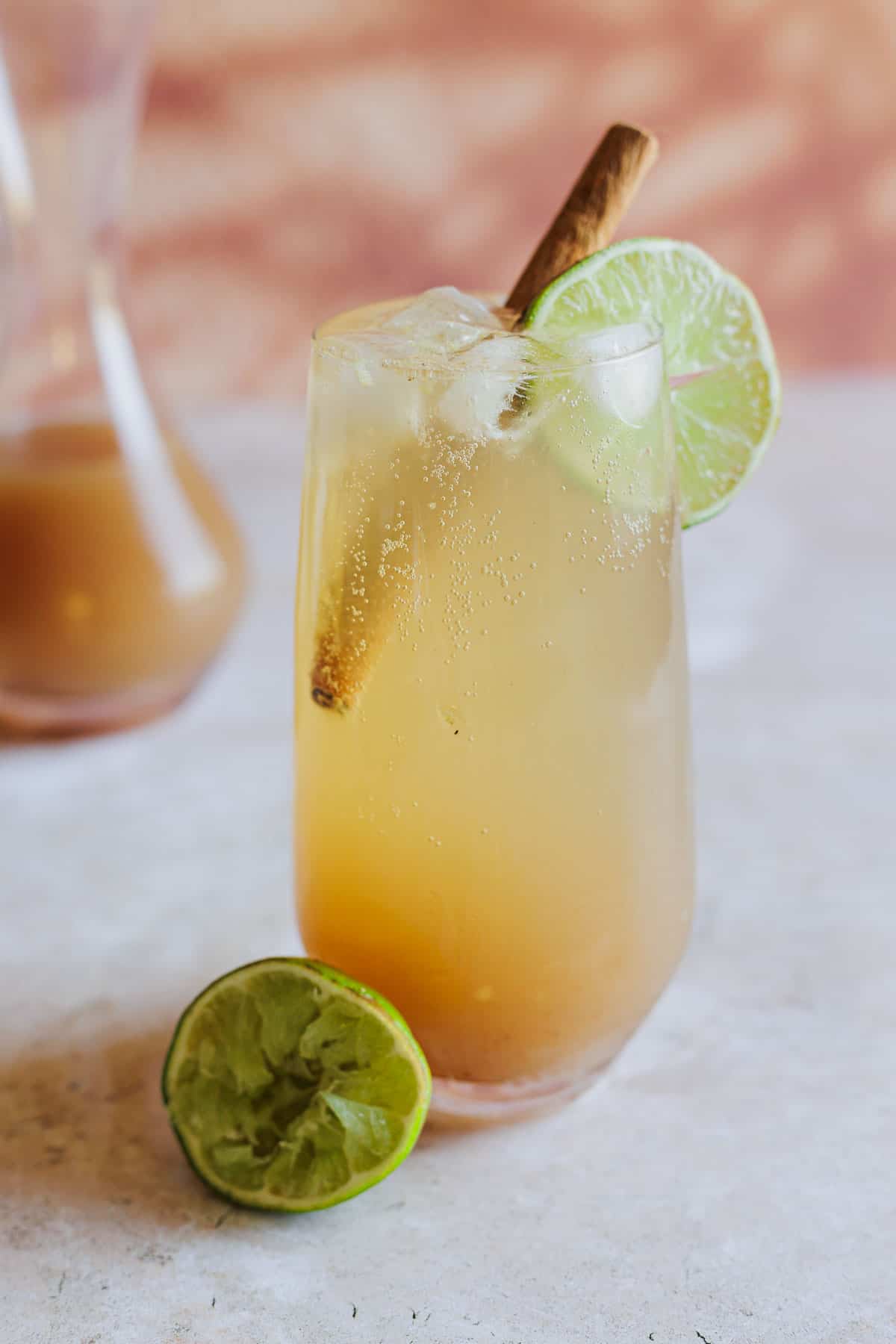 If you're looking for a unique and flavorful cocktail to spice up your evening, look no further than this rum tamarind cocktail recipe. This tantalizing drink combines the tangy goodness of tamarind juice with the sweetness of sugar, a splash of lime, the warmth of ginger and cinnamon, and the rich notes of white and spiced rum.
I first tasted tamarind cocktails when I went to Colombia. There, in an upscale bar on one of the highest rooftops of Bogota, my then-boyfriend and I sipped back elevated cocktails made with typical Colombian ingredients—and I fell in love with the tangy, sweet, and surprising flavor of the tamarind fruit.
Now, I'd love to share my favorite way to mix tamarind juice in a cocktail recipe with you guys! This article will explore the vibrant ingredients that make up this cocktail, provide step-by-step directions to create it, suggest variations to customize your drink, and answer frequently asked questions.
What is tamarind?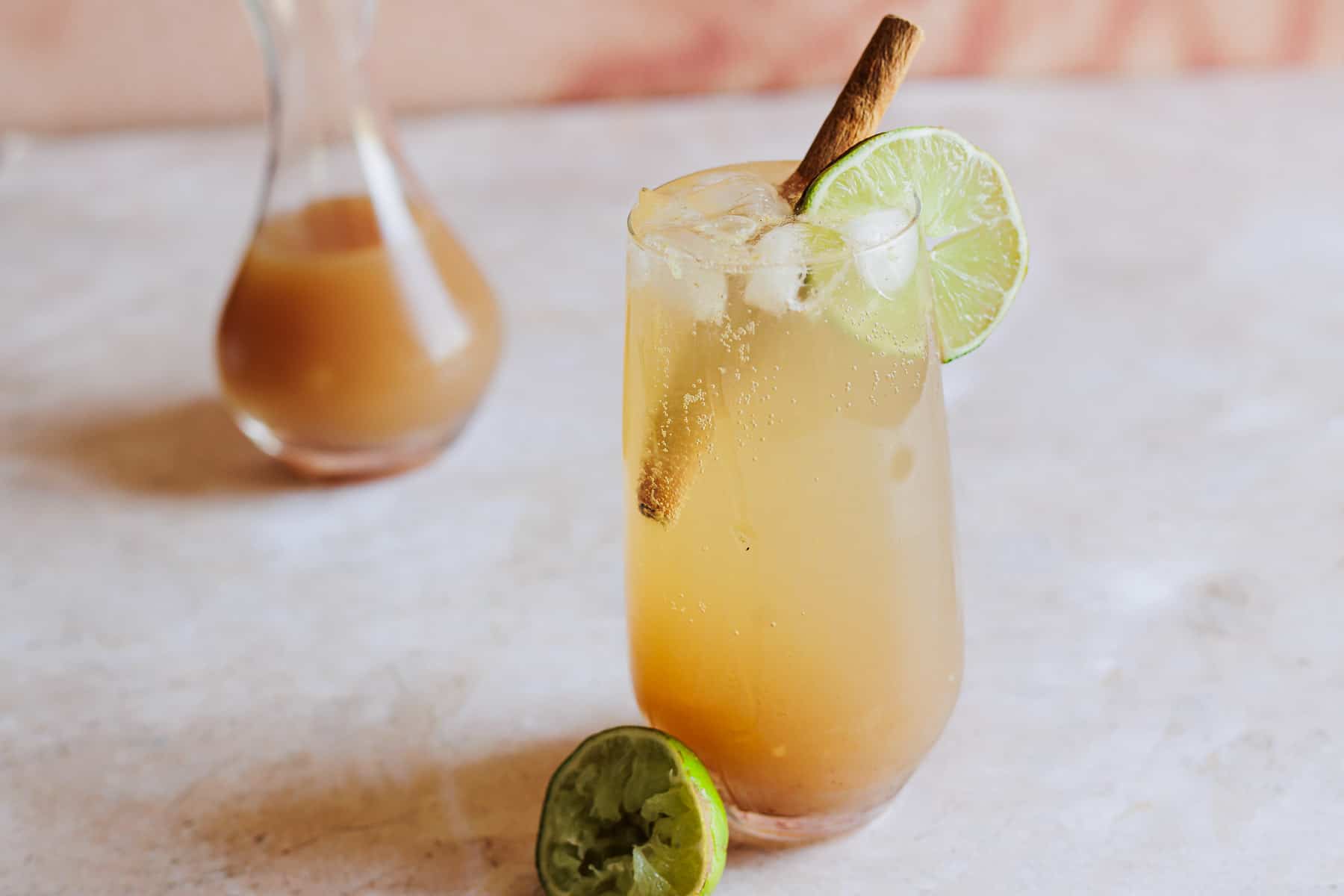 Tamarind is a tropical fruit that comes from the tamarind tree, scientifically known as Tamarindus indica. It is widely grown in many regions worldwide, particularly in South Asia, Africa, and parts of the Americas.
The tamarind fruit is pod-shaped and has a hard brown shell. Inside, it contains a sticky, pulp-like substance that is brown or reddish-brown in color.
Tamarind is known for its unique combination of sweet and tangy flavors, which makes it a popular ingredient in various cuisines. It is commonly used in beverages, candies, chutneys, sauces, and even as a seasoning for savory dishes.
Is tamarind healthy?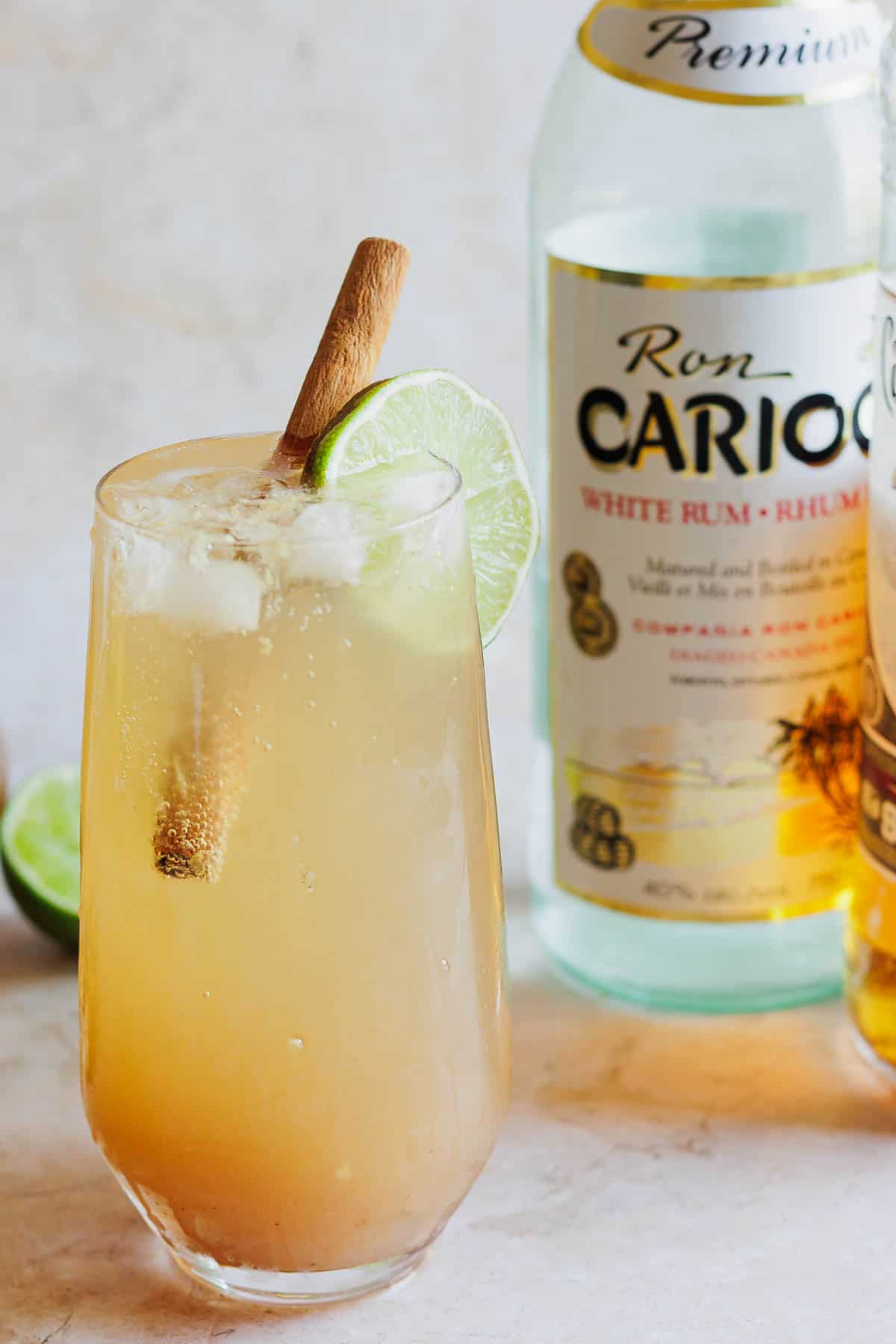 Tamarind is very good for you. Tamarind is rich in vitamins, minerals, and antioxidants, making it a nutritious addition to one's diet.
Apart from its culinary uses, tamarind also has various health benefits. It has been traditionally used to aid digestion, improve heart health, boost the immune system, and alleviate symptoms of various ailments.
Overall, tamarind fruit is a versatile and nutritious ingredient that adds a distinct flavor to dishes while offering numerous health benefits.
Ingredients
Tamarind juice: A tangy and flavorful base that adds a delightful twist to the cocktail.
Sugar: Adds sweetness to balance the tartness of tamarind juice.
Lime: Provides a citrusy freshness to the cocktail.
Ginger: Infuses a warm and spicy kick.
Cinnamon sticks: Imparts a fragrant and aromatic note.
White rum: A light and smooth spirit that adds depth to the drink.
Spiced rum: Adds complexity and a hint of spice to the cocktail.
Soda water (optional): Gives the drink body and makes it extra refreshing.
How to make a refreshing tamarind cocktail
Combine the ingredients
To make this Rum Tamarind Cocktail recipe, assemble a cocktail shaker and gather tamarind juice, sugar, lime juice, and grated ginger. Measure out the desired amount of each ingredient and pour them into the shaker.
Tamarind juice brings tangy goodness, sugar adds necessary sweetness, lime juice adds a refreshing citrus note, and grated ginger brings a warm and spicy kick.
Add the Spirits
to give the cocktail its distinct character, pour white rum and spiced rum into the shaker, measuring out the desired amounts. White rum provides a light and smooth base, while spiced rum adds complexity and a hint of spice to the mix.
The combination of these two spirits creates a well-rounded and flavorful profile for the tamarind rum cocktail.
Shake, Chill, and Infuse.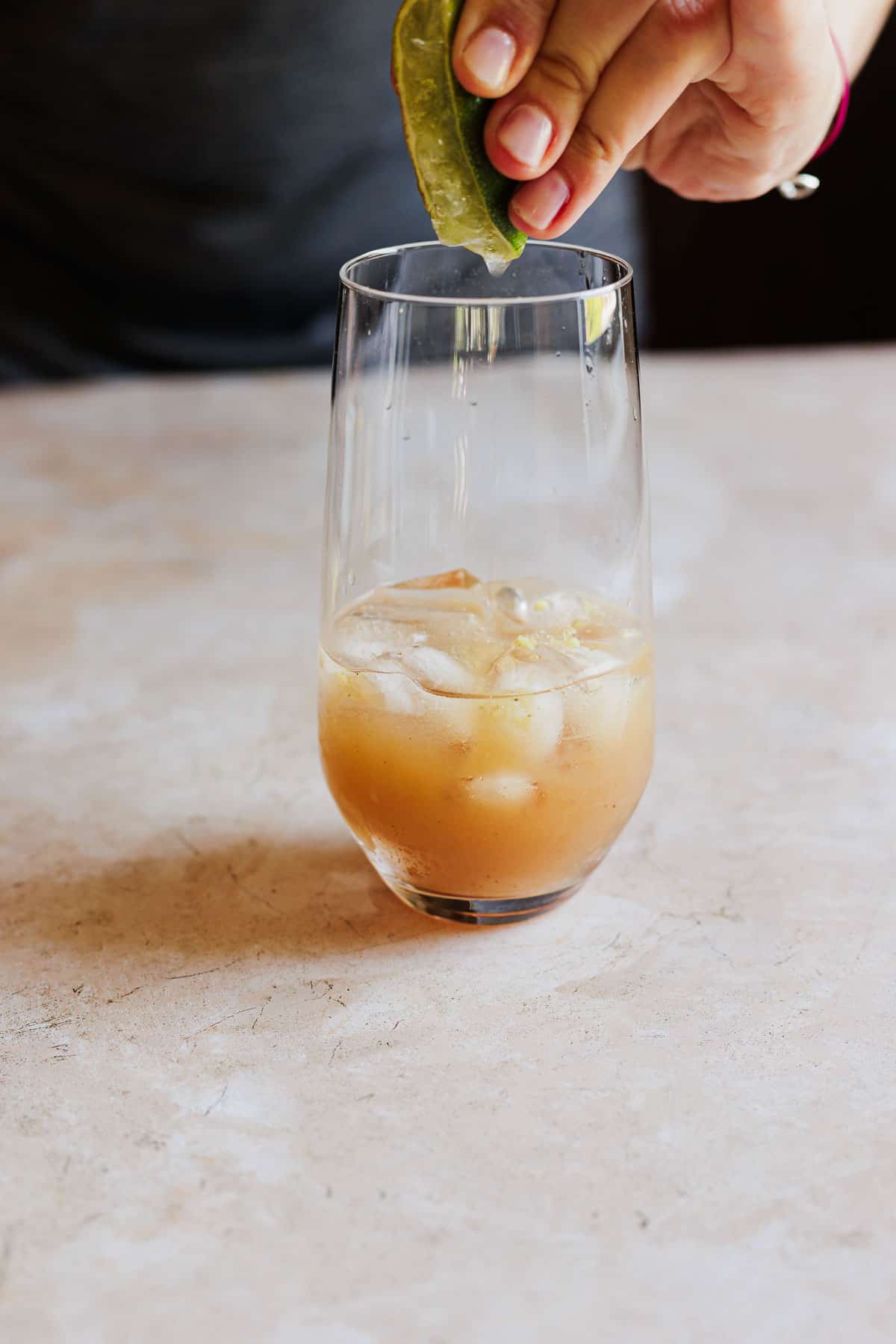 Fill the shaker with a generous amount of ice cubes to chill the cocktail and allow the flavors to meld together. Shake vigorously for approximately 15-20 seconds. The shaking chills the cocktail, creating a refreshing and invigorating experience. It also helps infuse the flavors, ensuring every sip is bursting with tamarind, ginger, and cinnamon notes.
Strain, Garnish, and Serve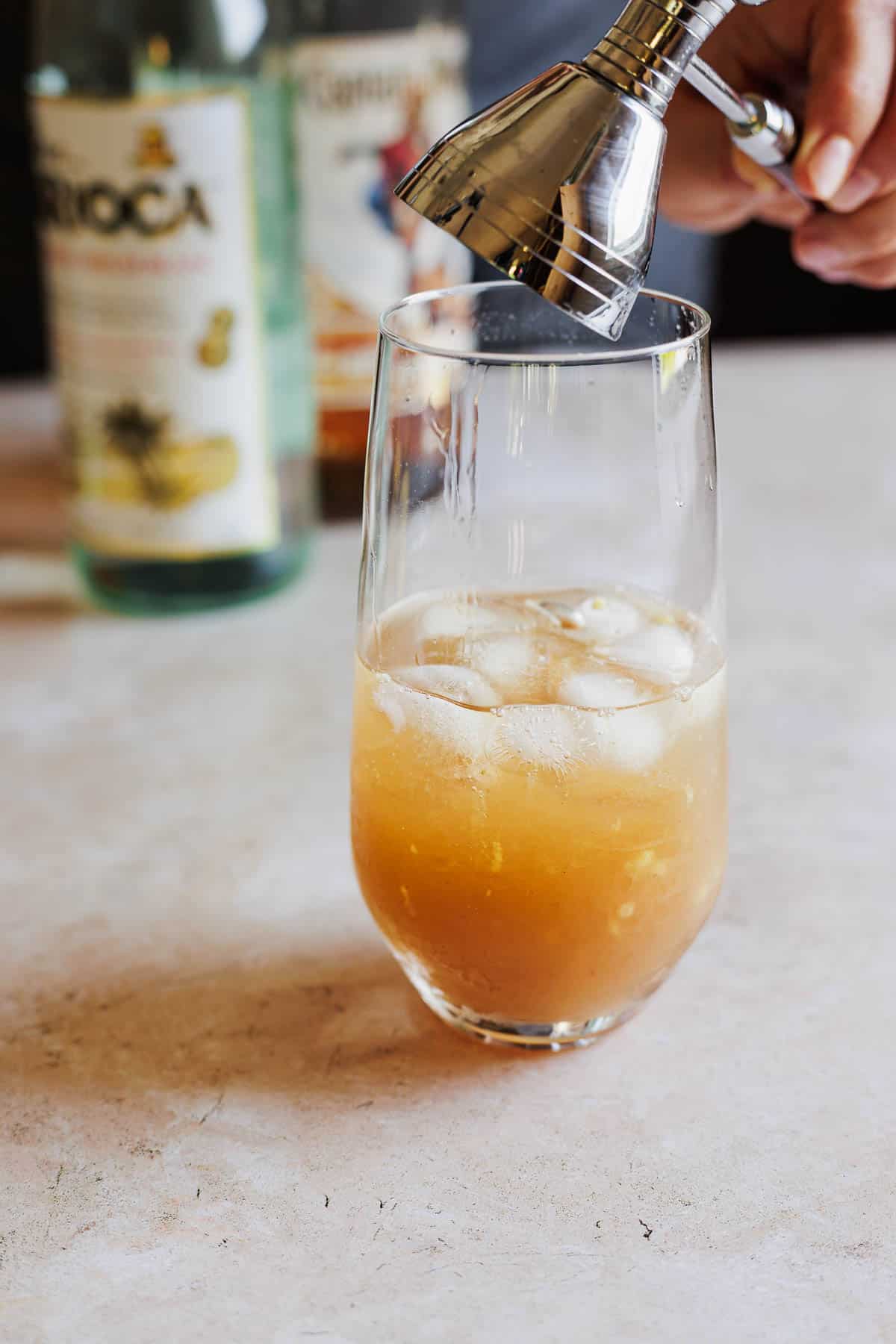 Strain the cocktail into a glass filled with ice, using a fine-mesh strainer to remove any ice chips or pulp, ensuring a smooth and refined texture.
For an extra refreshing drink with a mellow sweet and sour flavor, top the drink with soda water.
For an extra touch of presentation, garnish the cocktail with a slice of lime or cinnamon stick. Serve the Tamarind Rum Cocktail to yourself or your guests and enjoy it responsibly, savoring each sip of this enticing and refreshing beverage.
Variations
Tamarind Margarita: Replace the rum with tequila for a tangy twist on the classic margarita.
Tamarind Mojito: Muddle fresh mint leaves in the shaker before adding the ingredients for a refreshing take on the mojito.
Tamarind Punch: Scale up the recipe, omit the alcohol, and add pineapple juice or orange juice for a crowd-pleasing punch suitable for all ages.
Accompanying Dishes
The Tamarind Rum Cocktail pairs well with a variety of dishes, enhancing the overall dining experience. Here are a few ideas:
Tried and loved this recipe? Please leave a 5-star review below! Your reviews mean a lot to me, so if you've got any questions, please let me know in a comment.
FAQs
Q: Where can I find tamarind juice?
A: Tamarind juice can be found in most grocery stores or Asian markets, especially those that carry international or tropical ingredients. Look for it in the juice aisle or the section dedicated to Asian or Latin American products. Alternatively, you can prepare your own tamarind juice by soaking tamarind pulp in water and straining it.
Q: Can I use dark rum instead of spiced rum?
A: Yes, you can use dark rum as a substitute for spiced rum. However, keep in mind that it may slightly alter the flavor profile of the cocktail.
Q: Can I make a non-alcoholic version of the Tamarind Cocktail recipe?
A: Absolutely! Simply omit the white rum and spiced rum from the recipe, and you'll have a delightful non-alcoholic tamarind mocktail.
Q: Can I prepare the cocktail in advance for a party?
A: While it's best to enjoy the Rum Tamarind Cocktail freshly prepared, you can make a larger batch of the mixture (without ice) in advance and refrigerate it. When ready to serve, pour the mixture into a shaker, add ice, shake, and strain into individual glasses.
Recipe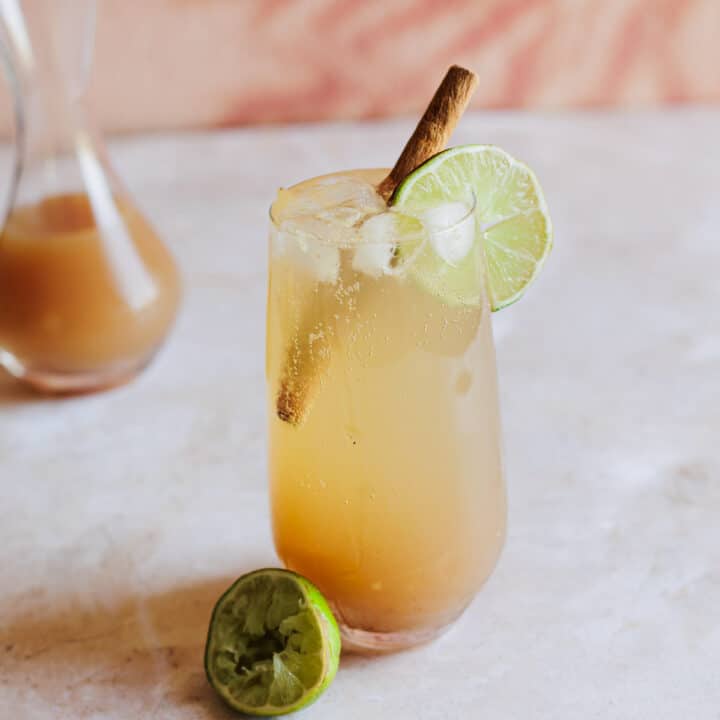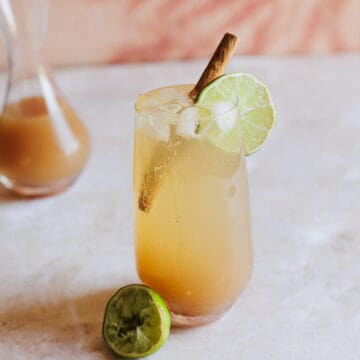 Spicy and Tangy Tamarind Cocktail Recipe
The Tamarind Cocktail perfectly blends tangy, sweet, and spicy flavors, offering a unique twist on traditional cocktails. With tamarind juice, lime, ginger, cinnamon, and white and spiced rum, this libation will surely transport you to a Caribbean beach. You can create a memorable cocktail experience at home by following the straightforward directions provided. So, gather your ingredients, shake up the Tamarind Cocktail, and savor the bold and invigorating flavors in every sip!
Ingredients
Ice

1

ounce

white rum

1

ounce

spiced rum

1

ounce

fresh lime juice

2

oz

tamarind juice

½

ounce

sugar or simple syrup

optional

1-

inch

piece of ginger

soda water

optional

1

lime slice
Instructions
In a cocktail shaker, combine tamarind juice, sugar, freshly squeezed lime juice and grated ginger.

Add white rum and spiced rum to the shaker.

Fill the shaker with ice cubes and tightly seal it.

Shake vigorously for about 15-20 seconds to chill the cocktail and infuse the flavors.

Strain the mixture into a cocktail glass filled with ice cubes. Top with soda water, if desired.

Garnish with a slice of lime and a cinnamon stick, if desired. Serve and enjoy responsibly.
Nutrition
Serving:
1
g
Calories:
225
kcal
Carbohydrates:
26
g
Protein:
0.5
g
Fat:
0.2
g
Saturated Fat:
0.02
g
Polyunsaturated Fat:
0.02
g
Monounsaturated Fat:
0.02
g
Sodium:
15
mg
Potassium:
110
mg
Fiber:
3
g
Sugar:
18
g
Vitamin A:
28
IU
Vitamin C:
15
mg
Calcium:
50
mg
Iron:
1
mg
Tried this recipe?
Comment + Rate Below!
Connect on Instagram!
Find us @immigrantstable