Borlotti beans in tomato sauce with eggs are one of those simple, easy dishes that you can't stop eating until you finish the whole pot.
A couple of weeks back, I started talking to you guys about those meals you make on auto-pilot at the end of a busy workday. What I didn't mention is that in our house, those auto-pilot meals often become frequent flyers. Like unwanted guests, they stay well past their welcome, using up all of your eggs and leaving dirty stains and bowls all over your mosaic-inlaid table. You want to get rid of them, to ask them to leave politely; but each time you try, you find yourself strangely realizing that you kind of like having them around. After all, they save you the hassle of making plans for Friday night.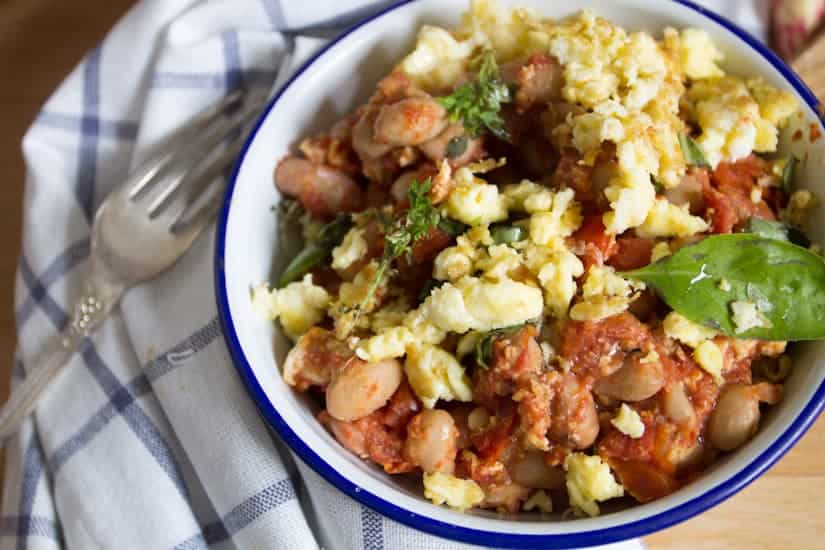 Just like these guests, the repeat dishes in our house make cameos at a frequency that, really, would be embarrassing for any aspiring chef. Once I make a dish we like, I often myself unable to think of anything other than the need to taste it again. I go through periods of binging on delicata squash salads, or almond cakes, or banana bread. In Hanukkah, I usually come up with one variation on latkes, and then proceed to eat it every. single. day for a week. Like I said - it's embarrassing.
And in the true tradition of regurgitating a dish to death, we made these borlotti beans in tomato sauce four different times. In the span of two weeks. And the only reason we stopped was because I went away for a month.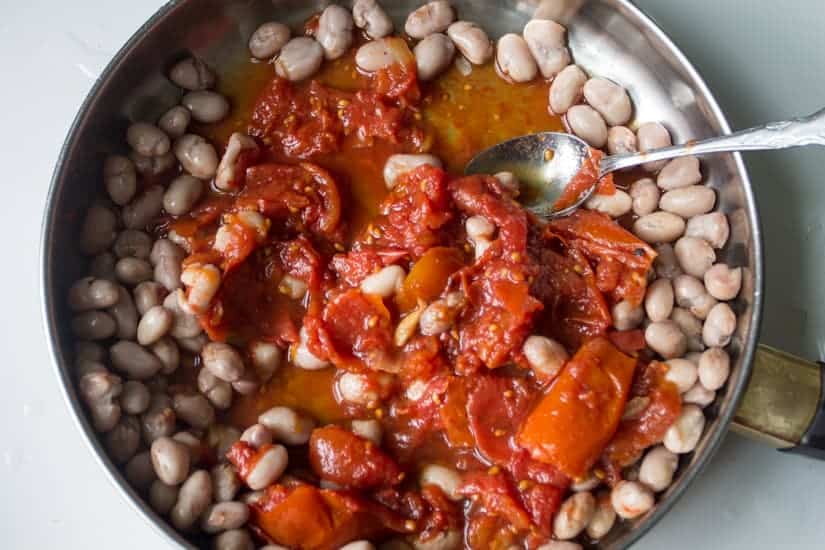 But what was so good about these borlotti beans in tomato sauce, you ask? In truth, nothing special. I adapted them slightly from a recipe by the above-mentioned Rachel Roddy of the blog Rachel Eats (and now, the book My Kitchen In Rome), whose writing I read with the religious zeal usually displayed by Buddhist monks.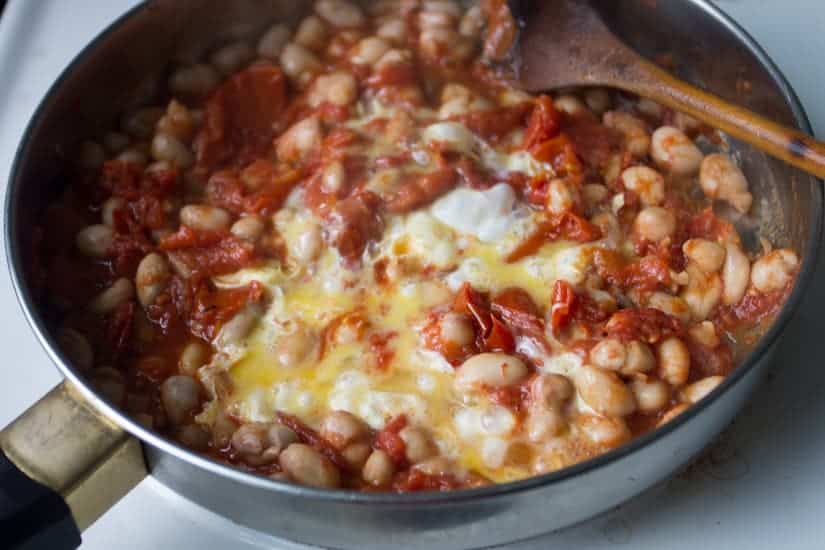 My Kitchen in Rome: the Writing of Rachel Roddy
Rachel's kitchen looks the way I always wanted mine to be: a dark, stained wooden counter, covered with heavy white ceramics with blue borders, besides a well used, well-loved gas stove. Her sink is always full of exactly the kind of vegetables I want to eat: lush and wild, Italian produce by the bushel spilling over the edges.
And her words are exactly the words I hope to evoke in my writing: honest and targeted, they reach into your stomach and grab you by the guts, leaving you reeling.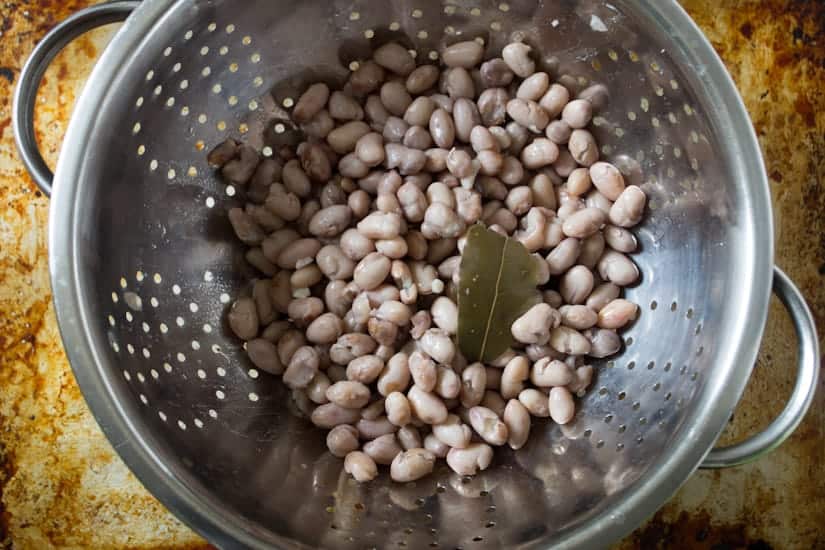 What are Borlotti Beans?
For this recipe I used fresh borlotti beans (also known as cranberry beans for their lovely colouring), though you could just as easily use dry borlotti beans, or even canned white beans in a pinch.
I used canned homemade tomato sauce I already had on hand, but you could easily whip up a tomato sauce on the spot, or use a jar of your favourite store-bought stuff.
I added scrambled eggs because I have a thing about egg texture, but you could add a poached egg, or a scrambled egg, or a fried egg. Just make this dish.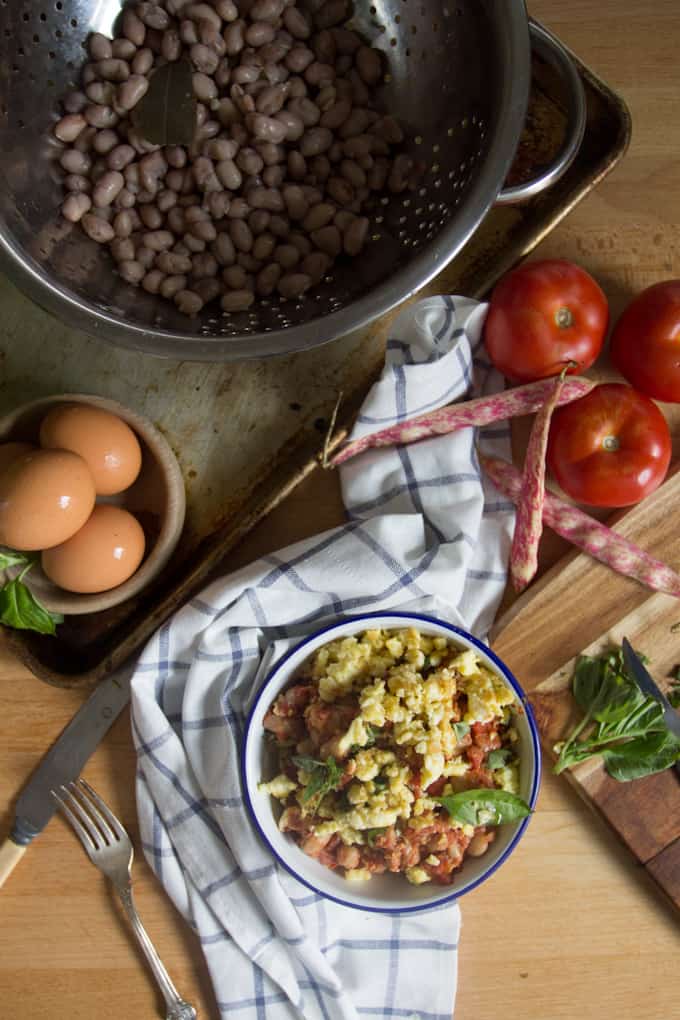 There was nothing special about these borlotti beans in tomato sauce with eggs that would justify making them four times in a week.
But somehow, when we sat on the couch on a stormy night, lapping these up with spoons and sopping up the leftovers with crusty bread, our lips smacking and tongues licking tomato sauce leftovers, none of that mattered. We helped ourselves to another bowl. And another one.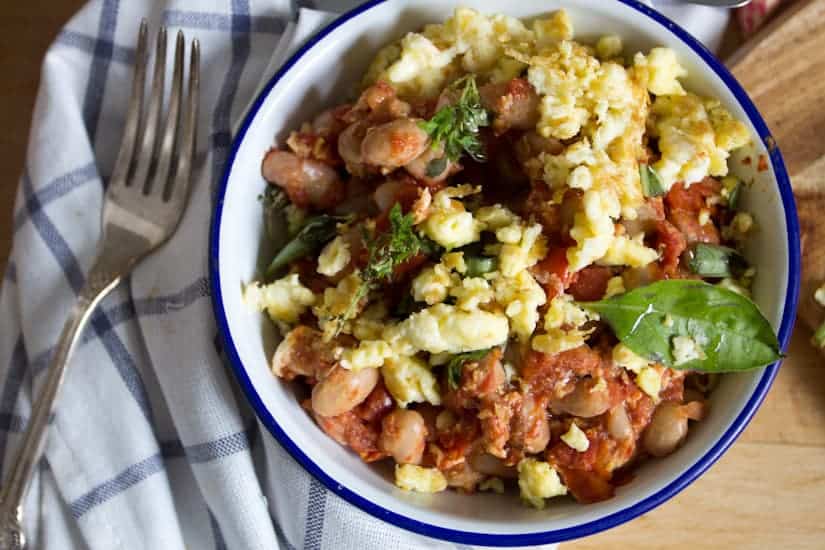 And the next day, we made them again.
And again, the following week.
And we would still be eating these borlotti beans with tomato sauce and eggs if we hadn't become obsessed with delicata squash.
If you try these borlotti beans in tomato sauce, let me know how you liked them. Just don't blame me if they become repeat meals in your home, too.
Tried and loved this recipe? Please leave a 5-star review below! Your reviews mean a lot to me, so if you've got any questions, please let me know in a comment.
Recipe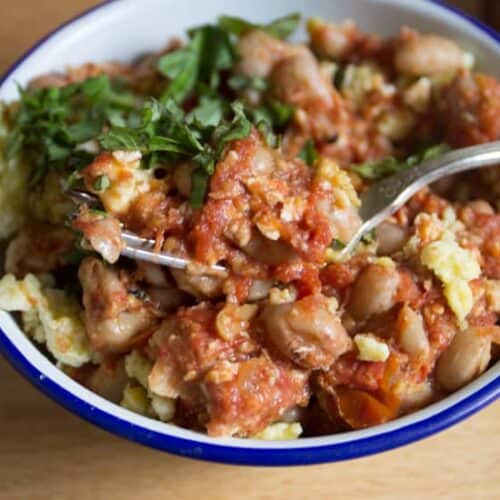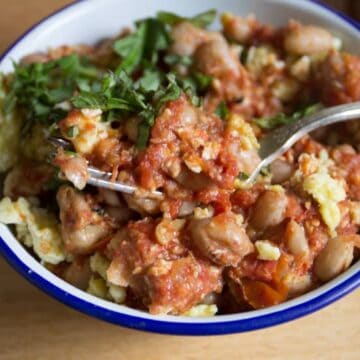 Borlotti beans in tomato sauce with eggs
Borlotti beans in tomato sauce with eggs are one of those simple, easy dishes that you can't stop eating until you finish the whole pot.
Ingredients
1

kg

of fresh borlotti in their pods or 300 g dried borlotti beans soaked overnight

1

bay leaf

3

tablespoon

olive oil

2

cups

of good quality tomato sauce

OR a small chopped onion, a small rib of celery, diced finely, and 2 cups canned or fresh plum tomatoes, chopped or crushed

A few stalks fresh parsley

½

teaspoon

chili flakes

4

eggs

salt and pepper
Instructions
If you are using dried beans, soak them in plenty of cold water for at least eight hours or overnight. Drain the soaked beans, put them back in a heavy saucepan with one bayleaf, cover by at least two inches with fresh water, bring to a boil and then reduce to a simmer. Cook the beans for one hour, add a pinch of salt, and then begin checking for doneness. Once the beans are cooked, pull them from the heat and leave in their cooking water.

If you are using fresh beans, shell them and then boil them in salted water with one bay leaf until tender, about 25 minutes.

Drain the water from the beans, but keep the broth for later.

If using ready-made tomato sauce, add 2 cups of tomato sauce to pan.

If making your own tomato sauce, heat olive oil in a deep saute pan and add the onion and celery and saute over a gentle flame until onion is soft and translucent, about 10 minutes. Add the tomatoes. Stir and season with parsley, chili, salt and pepper and leave the pan simmering for 15 minutes. Add the drained beans, stir and cook for another 10 minutes, adding a little of the bean broth if nesseary.

Create little nests in the sauce and crack the eggs, as you would do for shakshuka. Stir the eggs and the sauce gently if you prefer your eggs scrambled, or let them cook in the nests for whole eggs. Cook for 7 minutes on low-medium heat, until eggs are as set as you like them.

Check seasoning. Allow the beans to sit for 10 minutes (or for hours) or so before serving - though if you can wait, let the beans and sauce rest a day (but eat the eggs as soon as you can).
Nutrition
Calories:
453
kcal
Carbohydrates:
52
g
Protein:
24
g
Fat:
17
g
Saturated Fat:
3
g
Polyunsaturated Fat:
2
g
Monounsaturated Fat:
9
g
Trans Fat:
0.02
g
Cholesterol:
164
mg
Sodium:
306
mg
Potassium:
1265
mg
Fiber:
21
g
Sugar:
5
g
Vitamin A:
690
IU
Vitamin C:
3
mg
Calcium:
141
mg
Iron:
5
mg
Tried this recipe?
Comment + Rate Below!
Connect on Instagram!
Find us @immigrantstable