This is my perfectly balanced chunky canned Italian tomato sauce, full of morsels of soft celery and fragrant tomatoes - the best that summer has to offer, preserved for your enjoyment year-round. If making it, open a big bottle of red wine, set some music and give yourself a whole day to enjoy the slow process of preserving summer.
I stood at the kitchen counter, my back bent in unnatural angles, for what felt like eternity. Sweat dripped down my face and down the collar of my shirt, producing a trail where no hand has touched in weeks. In truth, I had only been there for two hours, my hands constantly moving, chopping, sorting, my fingers shriveling from the tomato juices splashing out on the cutting board. I listened to music, day-dreamed, and made plans, tried to be anywhere but there - on this hot summer's day in my small kitchen, the windows fogging up from the steam rising from the canning pot.
After several more hours of cooking down tomatoes, onions and celery; sterilizing jars; and measuring out perfectly acidic, commercially produced lemon juice, it was ready: my chunky canned Italian tomato sauce, the gold that was to last me through the long, lonely winter, the first winter in many years I would spend as a single woman. Sitting there on the counter, ladled perfectly into litre-sized jars, their lids gleaming in the setting sun, my creation seemed perfect, the long labour that it took to produce it forgotten.
And in the nights ahead, as the tomato sauce lasted me not months, but two years, each time I opened a jar of chunky Italian tomato sauce, sharing it first with my cat, then with friends, and eventually, with the man of my life, I remembered that day spent in my little kitchen. I thought not of the countless tears I shed, allowing them to mingle with the juice of tomatoes; or the little aches and pains I felt in my back for days following; or not even of my then-recent break-up.
Instead, I thought of the joy I felt, standing there and creating something I loved that would actually last me for years to come. I thought of the hopes and dreams I placed into each can. And I thought of my immense luck and blessing, to be able to spare a few hours at that time of emotional turmoil, and devote them to taking care of my future.
When last week, I reached into my pantry and took out the last jar of tomato sauce to put on a homemade gluten-free lasagna, I realized - I needed to do this again. But this time, I wouldn't be alone in doing it.
***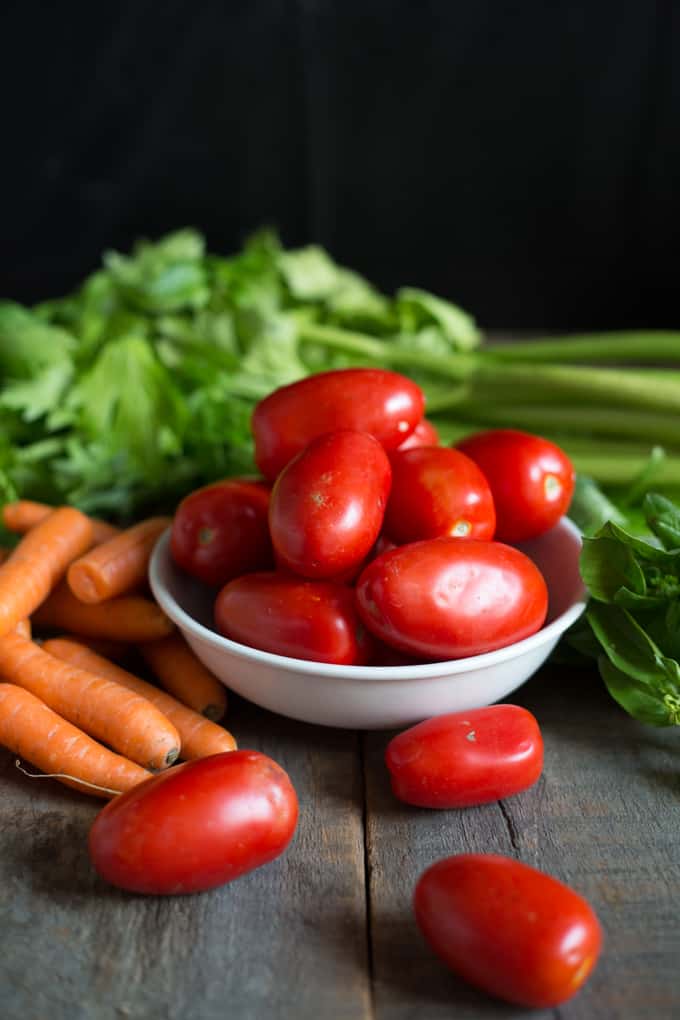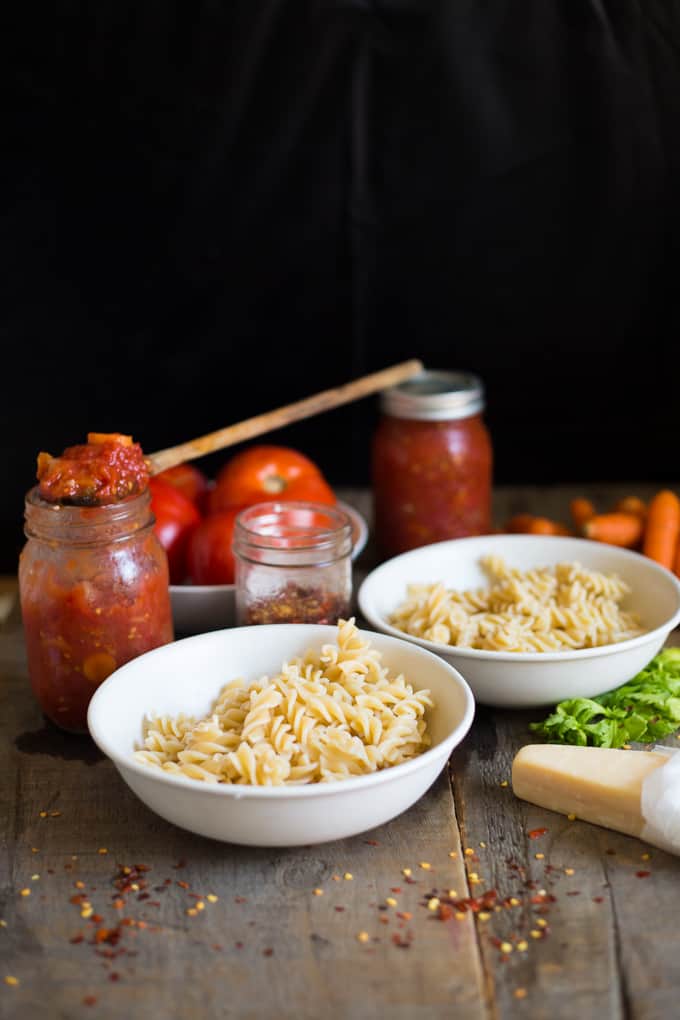 This recipe was a long time coming. It is slightly adapted from a great Bernardin home canning recipe, because when it comes to canning, I prefer to follow expert advice rather than chance poisoning myself or my loved ones. I've had the photos stored on my computer for an astounding two years, waiting for the time I would get to remake the recipe and perfect my approach. Last week, I bought 20 lbs of tomatoes and F and I proceeded to chop them all up into small, bite-sized pieces... only to leave them on the counter overnight and discover they had rotted by morning. I am not sure if we'll repeat the Herculean task or if, choosing to learn from our mistake and file this for future reference, we'll just resign to eating store-bought tomato sauce this winter. I have yet to make up my mind. But in any case, I realized that it would be unfair of me to keep you away from my family's favourite tomato sauce, the chunky canned Italian tomato sauce of my dreams, that my sister keeps begging for a jar of each time she stops for a visit.
Just do yourself a favour - when you sit down to make it, set aside a whole day - and whatever you do, don't leave the chopped tomatoes out overnight before cooking them.
You'll be rewarded by perfectly chunky, balanced, canned Italian tomato sauce, full of morsels of soft celery and fragrant tomatoes - the best that summer has to offer, preserved for your enjoyment year-round.