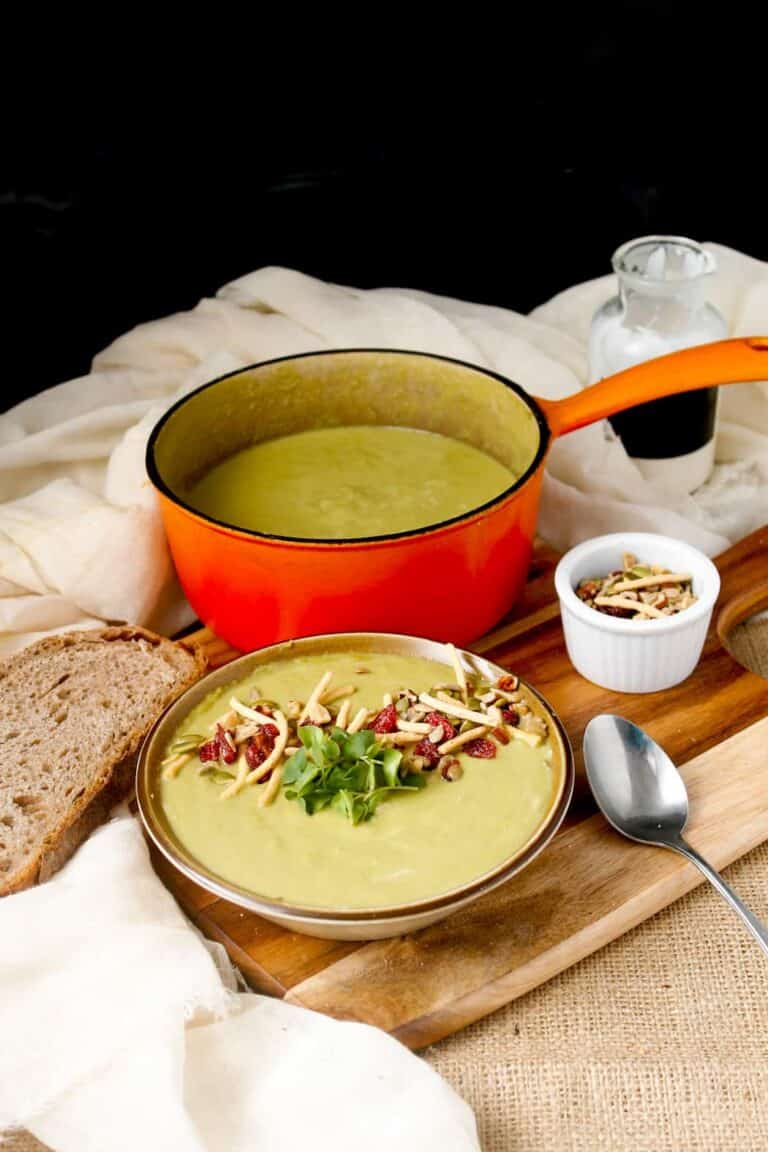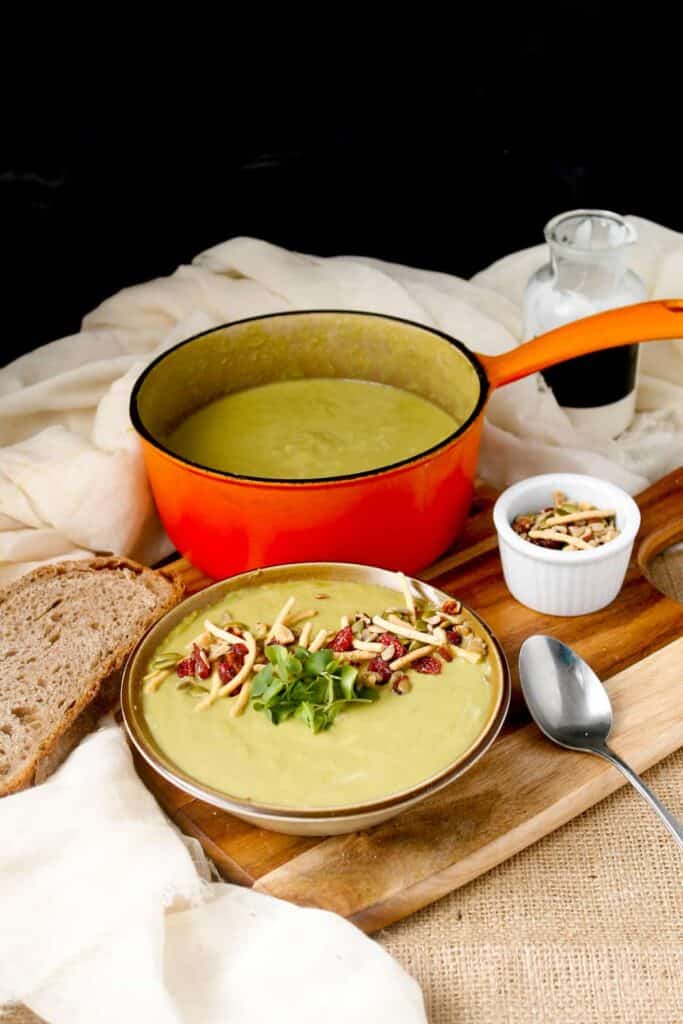 In my freezer, there are bags of corn and packets of homemade granola bars. There are frozen fruit and even store-bought pizzas. But there are also bags of garbage, full of onion skins and potato peels and broccoli stems and wet, darkening cilantro. These are the leftovers of the week's cooking, the odds and ends left behind after the carrots go into the oven, or the potatoes get mashed into a puree. Or as we know them in my house: the building blocks of soup. Today's creamy broccoli stems soup is made up of just such scraps; the only specially-bought item in this soup is the crunchy salad topping (but that final touch is necessary to elevate a simple dish). It couldn't be easier, cheaper, or quicker to make; and the best part, it has endless variations.
I used broccoli stems in this soup because that's what I had the most of in the freezer at the time, but you shouldn't be so limited. You can use any vegetable scraps and turn them into a simple, easy, quick and delicious soup that is the ultimate in comfort food. You need never throw another limp carrot or wrinkly onion peel!
Because even the lowliest vegetable scraps have a use in the hands of an imaginative cook.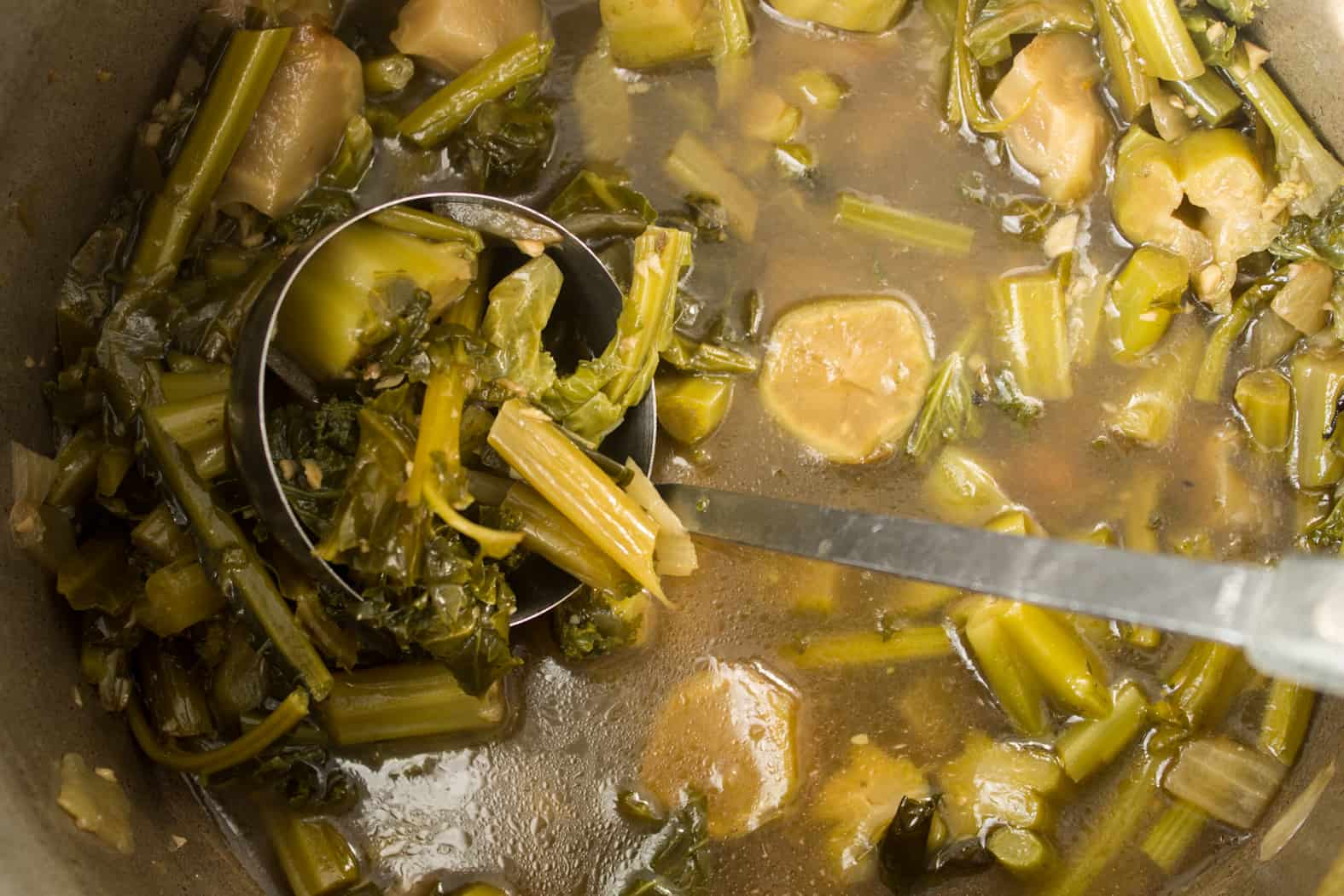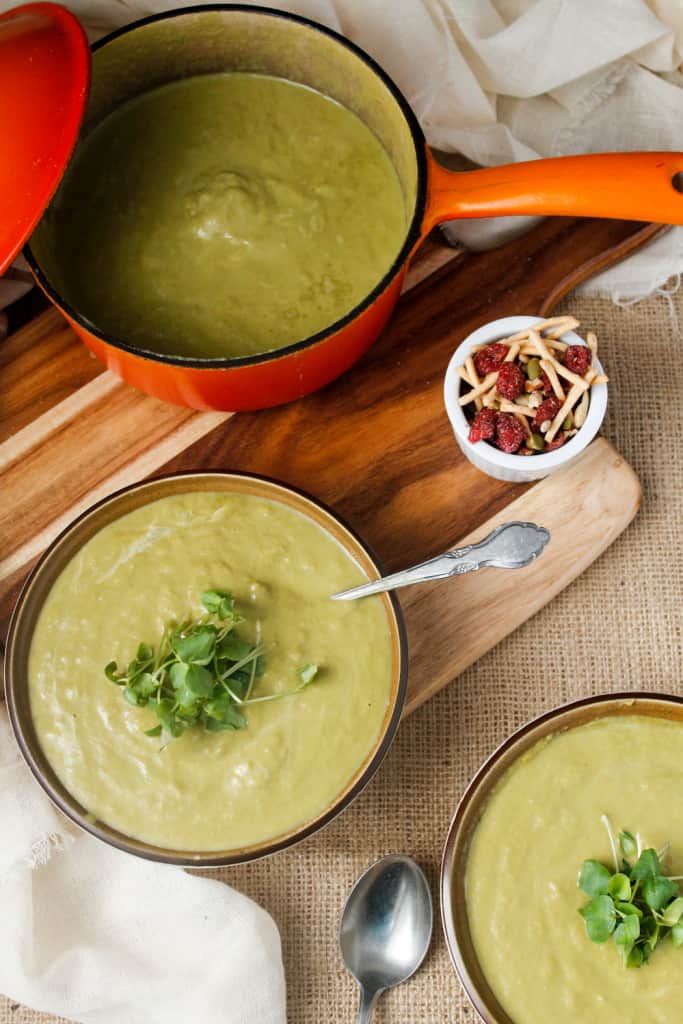 The steps to turning scraps into soup couldn't be simpler. You just need to:
Save your scraps in the freezer.
Cook your scraps (in water, if making broth, or in existing broth, if making soup). I sometimes like to add a bay leaf and chilli peppers to the cooking water.
Puree or strain the vegetable scraps, depending on the desired consistency and the scraps you're using.
Taste, season, and taste again.
Pile on the toppings! Toppings are the most crucial part of any 'vegetable scraps' soup like this broccoli stems soup. They are what provides the crunch, the texture, the interesting points that keep your soup from feeling like baby food (or am I the only one who feels that way, as I sit there eating my soup out of jar at work, my coat tied around my neck for protection while stubborn rivulets manage to find their way and drip down my chin?). In other words, they are absolutely crucial.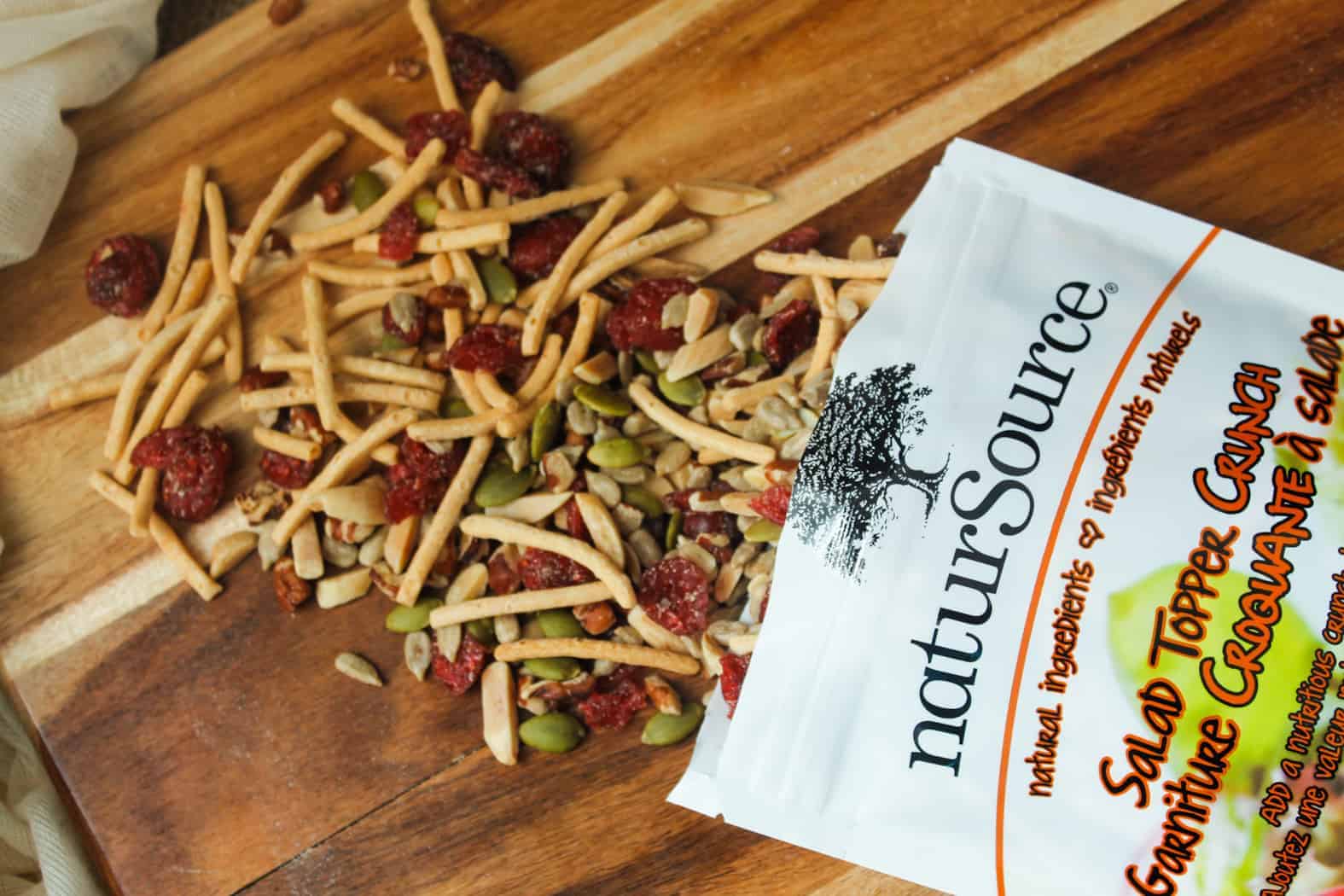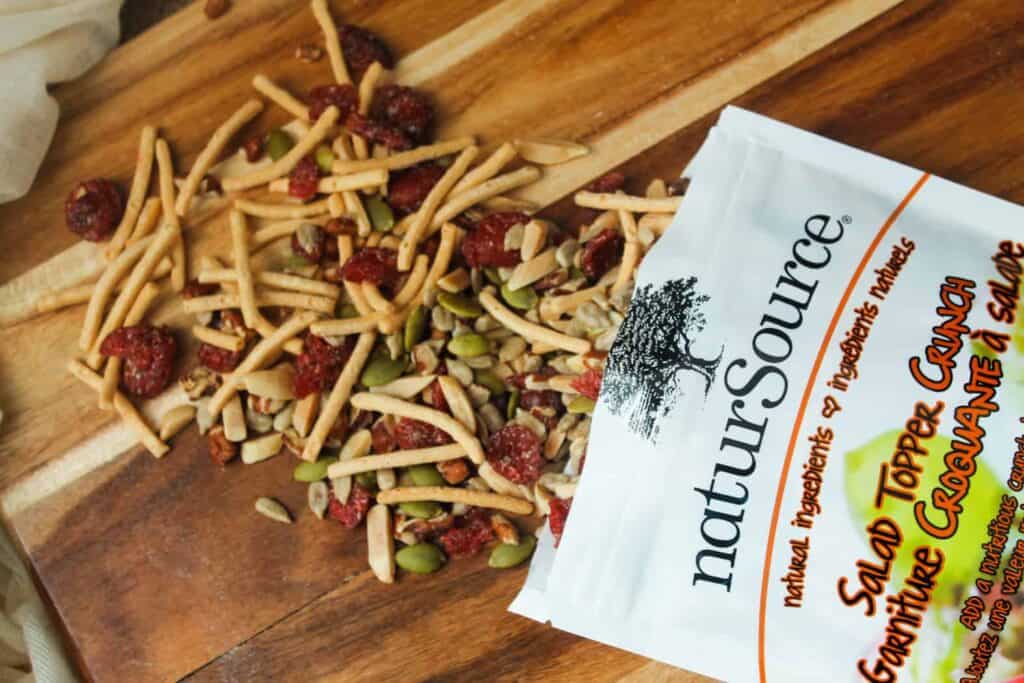 For this silky, creamy broccoli stems soup, I wanted a topping that would really counteract the luscious texture, and add a bit of spice to my soup. The new salad topper crunch from Natursource fit exactly this bill: with crunchy chow mein noodles, almonds and pecans, generous amounts of salted pepitas (pumpkin seeds) and sunflower seeds, and a surprising burst of plump dried cranberries, this salad topper brings in some Asian salty and sweet flavours to my broccoli stems soup.
As broccoli is often paired up with almonds and cranberries, the flavours of the soup and the salad topper naturally compliment each other. I upped the spice quota by adding more dry chilli flakes to each plate, and the whole dish just sang.
Other toppings I've tried with this broccoli stems soup included cubes of gently pan-fried and peppered tofu; scallions, cilantro and avocado; pomegranate seeds and caramelized onions; and even fried corn tortilla strips for a more Mexican feel.
Freezing and reusing my vegetable scraps has made me look at kitchen debris in a totally different way. I now enjoy the challenge and love experimenting in order to make something out of every piece of the vegetable. It also helps me to minimize the waste as much as possible.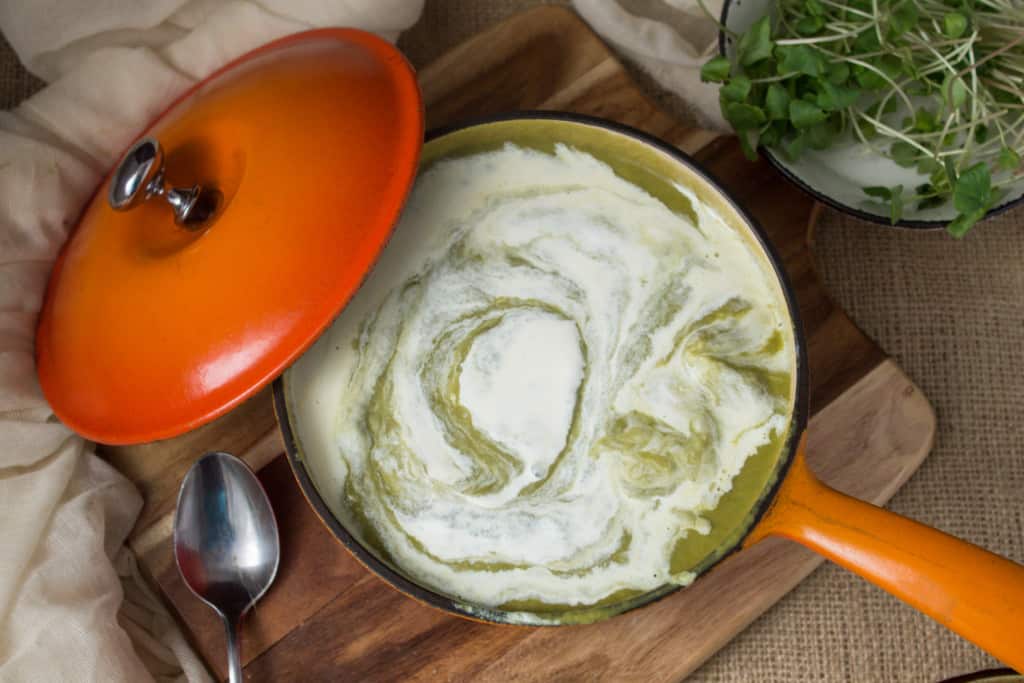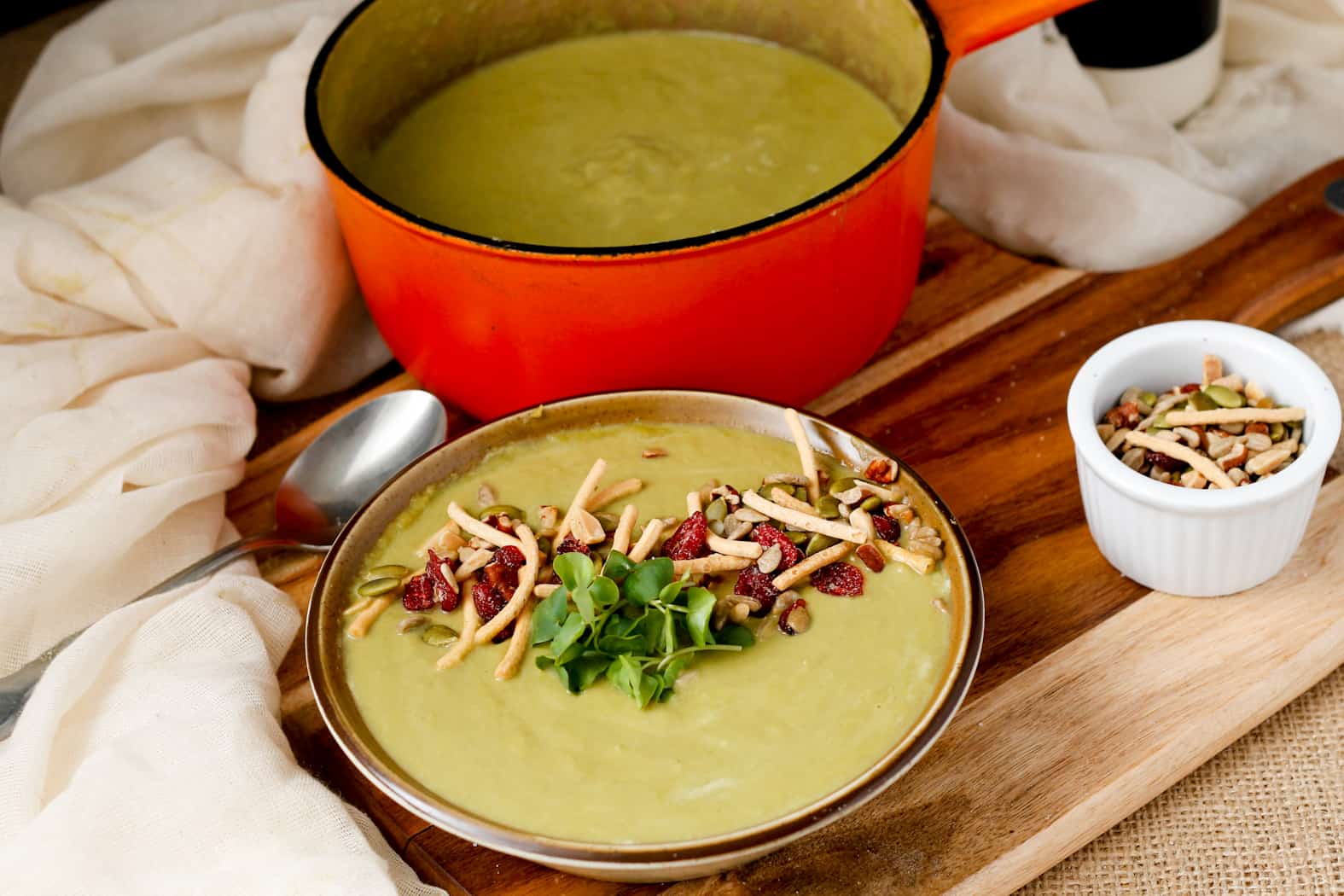 As simple as this recipe, nay, approach is, there are still some important things to remember.
Avoid using any mouldy scraps, or parts of a firm vegetable that have turned to mush.
If you're using a large amount of one main vegetable (broccoli stems, cauliflower stems, softening peppers, zucchini tops, etc), it will make a great base for a pureed soup. Follow the recipe below for broccoli stem soup as a general guideline.
Onion peels, garlic peels, carrot ends, celery ends, herb stems and mushrooms stems should be used as the basis of a broth. I like to make it in a slow cooker, where I pile all of the ingredients into my pot, add a bay leaf, a dry chilli, and just enough water to cover, and let is cook on the lowest setting for the longest amount of time available. I then strain the broth, and keep it as is in jars in the fridge, or portion out into large freezer bags for the freezer (I don't even salt it). This can be used anytime a recipe calls for vegetable broth, has no sodium, and it literally cost you nothing.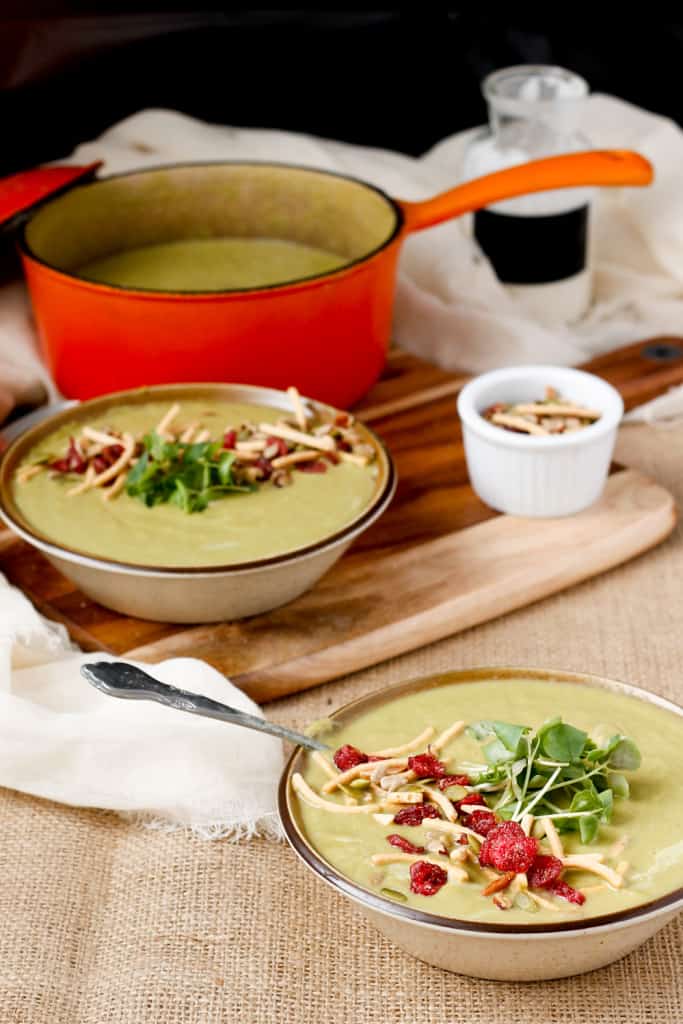 And that's the whole art behind making broccoli stems soup, or any vegetable scrap soup. The key word is just to EXPERIMENT.
If you end up turning any vegetable scraps into soup, tell me about it! Tag your creations #immigrantstable for a chance to be featured before thousands of readers - and just to make me happy!
Liked this post? Share it with your friends! For more At the Immigrant's Table, follow me on Facebook, Instagram, Pinterest, Bloglovin', or Twitter, subscribe to my mailing list, or contact me about advertising and becoming a sponsor. If you make one of my recipes, don't forget to tag it #immigrantstable @immigrantstable!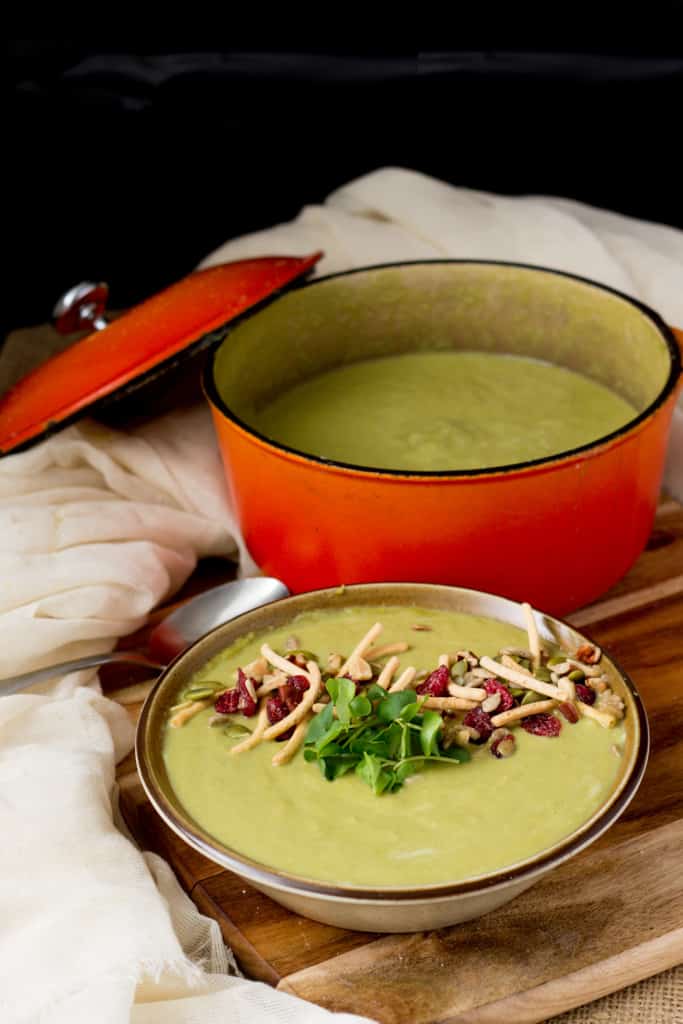 P.S. – This is a sponsored post, but all opinions expressed here are my own. I am proud to support a local, family-owned business whose product I truly appreciate, and I thank you for supporting my sponsors.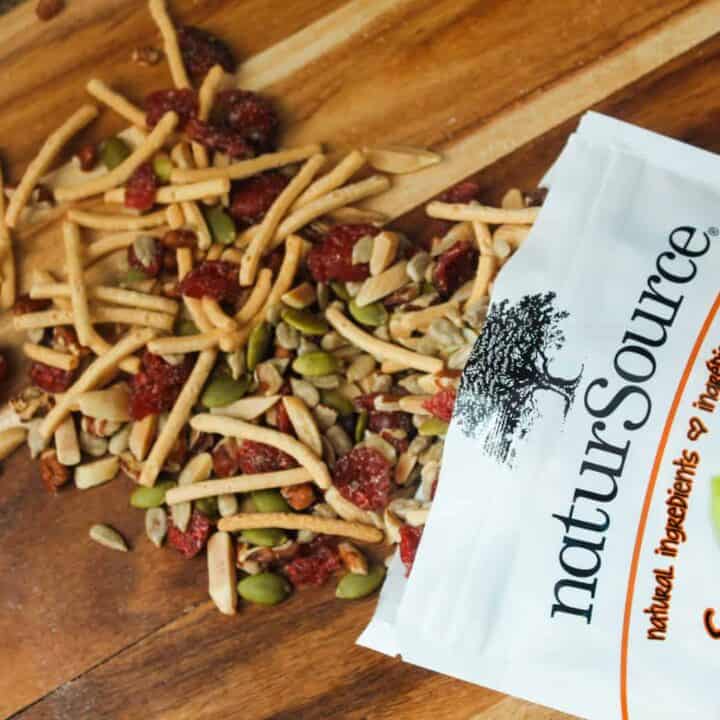 Creamy broccoli stems soup with salad topper crunch
This creamy broccoli stems soup comes together from kitchen scraps, and it couldn't be simpler. What makes the dish are the crunchy salad toppings, so don't skip 'em! If you don't have enough stems, feel free to use florets for part of the recipe. This soup can easily be made gluten-free, paleo, and vegan (I always make my vegan).
Print
Pin
Rate
Ingredients
1

onion

cubed

Stems from 4 bunches of broccoli

chopped, or about 6 cups of broccoli stems and florets, chopped

4

cups

vegetable broth

I use broth that I make from other vegetable scraps

½

cup

soy cream or regular cream

or 1 can full-fat coconut milk (coconut milk lends the soup a more tropical feel that I really like, but if I often it to feel rich and luxurious, soy cream is the way to go)

Juice of 1 lemon

1

cup

Natursource salad topper crunch or a mix of any toppings of your choice: scallions

cubed tofu, watercress, sprouts, chopped bell pepper, chopped sweet mini peppers, avocado, pomegranate seeds, caramelized onion, toasted coconut shavings, almonds, cranberries, pumpkin seeds are all great!

Chilli flakes

to taste

Salt & pepper

to taste
Instructions
Preheat a heavy-bottomed pot to medium heat. Add 2 TBs of vegetable oil or coconut oil, and add onion cubes. Cook for 10 minutes, until onions change colour. Add chopped broccoli stems and cover with broth (if 4 cups aren't enough to cover, top with water). Cover with lid, bring to a boil and let cook for 20 minutes.

Using an immersion blender or in standing blender (make sure not to overfill!), puree soup until it reaches a smooth consistency. Add soy cream, regular cream or coconut milk, taste, and add the juice of a lemon. Taste again and add salt and pepper. Correct seasonings if necessary.

Ladle into bowls. Top each bowl with a generous helping of Natursource salad topper crunch, or with a mix of your favourite toppings. The soup can be served hot or cold, though I prefer the former.