As you make your way through an Israeli supermarket, your eyes are assaulted by colourful sales signs, gigantic tubs of pickles by-the-weight, and racks of fresh, fragrant spices. The colour scheme is akin to that of IKEA - a lot of white and yellow, with splashes of strategically-placed green, red and blue. Whether due to smart government legislation, or mere chance, produce is laid out in the front of the store, though the wares are often pricier and far less fresh than those at the souk.
In further display of the country's supposed commitment to healthy eating, sodas are at the back of the store, overstocked and overpriced. Between them lie the ubiquitous aisles of coffee, pasta and other dry goods, a no-man's-land of pantry items that one must wander through in complete confusion if they hope to get to the staples of an Israeli diet: milk, yogurt, hummus.
It is this corner, in the back of the store, behind the chips and by the soda racks, that Israelis usually shell out most of their grocery money. The dairy industry in Israel is exceptionally powerful, and with a holiday centred around milk and honey, a big emphasis on dairy-based meals, and a dizzying array of fresh, local yogurt and cheese products, it is little wonder that nearly every Israeli kid demands a cup of yogurt and a piece of bread with white cheese (gvina levana) as their pre-dinner snack.
But dairy products are not the focus of this blog, nor are they the sole star of the Israeli supermarket. Like most denizens of the Middle East, Israelis also have an inordinate appreciation for hummus, tahini, and similar cold condiments. Slathered on chicken schnitzel, eaten alongside grilled meats, or shoved into a pita with falafel or shwarma, salads and condiments have a recurring guest role in most Israeli meals, whether eaten at home or on the go. Unlike in North American, where store-bought salads represent hurried meals eaten in lonely cubicles in front of a word processor, these neatly labeled and artfully branded packages are nothing to scoff at; in fact, they are often the only binding agent between the world of adults and kids, when at least everyone can agree on the necessity of hummus. What brand to buy remains another issue altogether.
As recent newcomers, it took my family time to come around to the presence of pre-packaged pails of hummus, matbucha (a kind of Middle Eastern spicy salsa) and liver-flavoured zucchini, which continued to baffle me for more years than I'd care to admit. Ever suspicious of anything that wasn't made at home, under strictly controlled conditions and with no chance of diphtheria, my parents had a strict embargo against store-bought salads during our first few years. Red cabbage in mayonnaise became our entry drug, the closest condiment to the mayo-laden salads of the Russian dinner table. Then followed hummus and Turkish pepper salad. Tahini remained banned.
But one of the last salads to break the Eastern front of the Prints family was baba ghanoush. There was just something odd about this salad's sponginess, the smokiness, and the presence of a creamy substance that wasn't actually cream. My tongue hurt each time I had too much of it, a stern reminder not to indulge in foods beyond the creamy, mayonnaise-y, inoffensive realm of bland Russian food.
But then, I grew up. I tried baba ghanoush in pitas with singed veggie dogs, burning-hot right off the grill; I slathered it on frumpy boiled potatoes, and discovered the sharp tang of this salad was just what the tuber needed; I liked it on bread with a bit of hummus and pickles, making each bite a zesty, smoky, creamy feast. But the real revelation came when I learned to make it myself, from good, fresh eggplants, and with full control over the amount of garlic (loads), lemon juice (tons), and tahini or yogurt (just a bit) that I put in. And so, this recipe was born.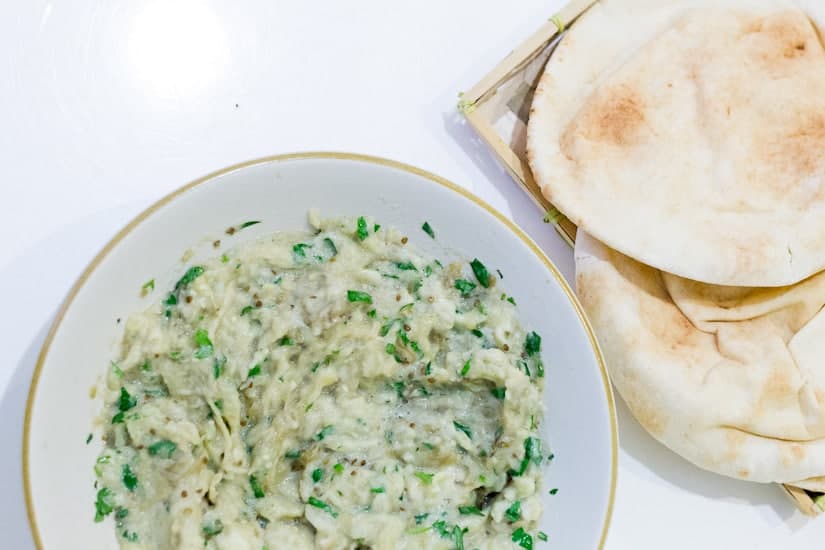 If you have been a baba ghanoush hater for most of your life, try my take on it. If you follow the traditional, vegan route, but make sure to use nice, plump and firm eggplants with green tops, you will get a mildly smoky, but tangy salad. It will be good, and you probably won't know what you're missing. But if you follow my advice and try it with yogurt, even simple vegan yogurt (just make sure it's unsweetened), what you will produce is a silky smooth, sharp and filling salad, with just the aftertaste of smoke. It will make a perfect pairing for veggie burgers, pita bread, scrambled eggs, hot dogs (if you're not keeping kosher), or just regular old potatoes.
Tangy and creamy baba ghanoush
With the addition of yogurt or tahini, eggplant is coaxed into a silky-smooth, sharp and filling dip or salad, with just the aftertaste of smoke. Make sure you use young, fresh eggplants, and preferably in season; an eggplant should have taut skin, firm flesh, and a green top (no mold!). Older eggplants have more seeds and therefore taste bitter.
Print
Pin
Rate
Ingredients
2

eggplants

medium sized

2-3

garlic cloves

juice of ½ - 1 lemon

start with half, and add up to a whole lemon, to taste

a handful of chopped parsley

about 1-2 Tbs

½ - 1

Tb

salt

start with half, and add up to taste

1

Tb

lactose-free yogurt

regular yogurt, vegan neutral yogurt, or tahini
Instructions
Preheat oven to 400F on the grill setting. If you're oven doesn't go high on the grill setting, set to 400F at bake. Prick each eggplant a few times with a fork, and wrap in tinfoil (each eggplant in its own tinfoil wrap).

Cook for 40 minutes, turning the eggplant over once after 20 minutes. Check for doneness - if a fork gets through the tinfoil and breaks the eggplant's skin easily, they're done. Remove from oven, and let cool a bit in tinfoil.

Meanwhile, chop garlic and parsley finely.

Remove tinfoil. Split the eggplant in half and begin to scoop its flesh out into a big bowl, taking care not to get any skin (if any skin gets in, just remove it). Now, this step is important, and this is what will keep your baba ghanoush from being bitter and smoky - remove the big bunches of eggplant seeds from your bowl. Toss and separate eggplant flesh with a fork, ensuring all the big strands are separated.

When eggplant flesh is ready, squeeze out the juice of half a lemon, add garlic, parsley, and salt. Reserve yogurt or tahini until later. Taste and adjust flavours; your dip should be zesty and garlicky, but not too salty. When you're happy with the flavour, add the yogurt or tahini; both will mellow out the flavour a bit, but yogurt will give it a nice tang. Taste again, and adjust flavours - I usually find I have to add a bit more salt.

Serve as a topping for boiled or baked potatoes, with veggie burgers, meat (if that's your thing), or just plain ol' pitas.