At first, it's the smell that draws me in. Rich and layered, it reminds me of chocolate and bonefires and early cool mornings when everything around you is just waking up. Then, it's the sight - black and shiny, with a perfect layer of crema on top that hints at the secrets within. The taste is the last thing that hits me, but it's what seals the deal - creamy and strong and resolute.
Good coffee is like a long-lost lover, your stomach contorting in anticipation each time you lay your eyes on him. And your first kiss - that first sip you take from a cup - is like a tall glass of water on a parching summer's day.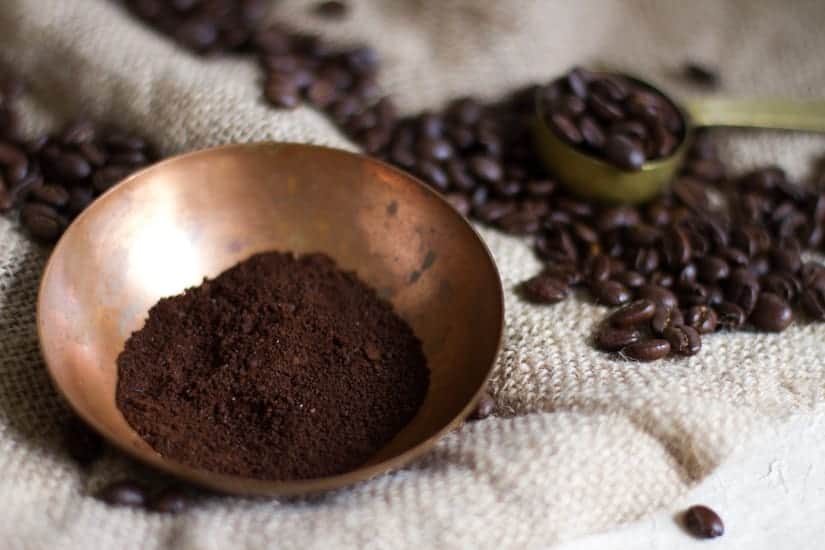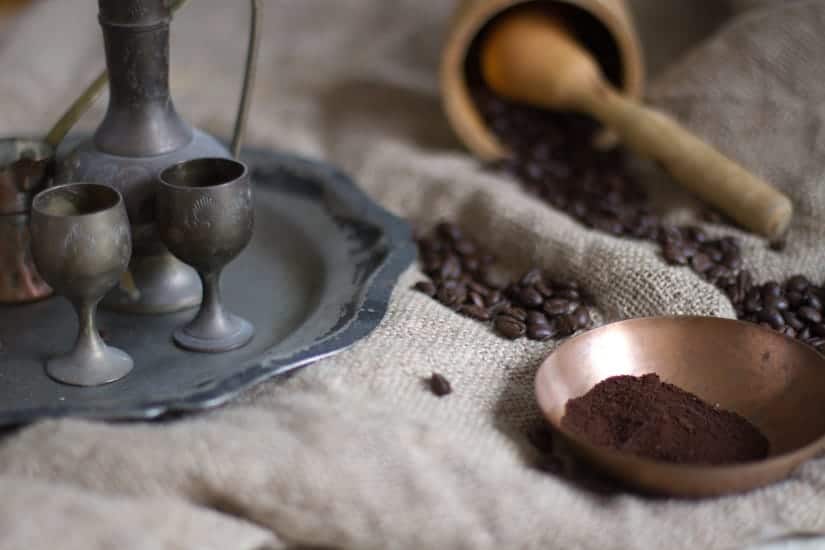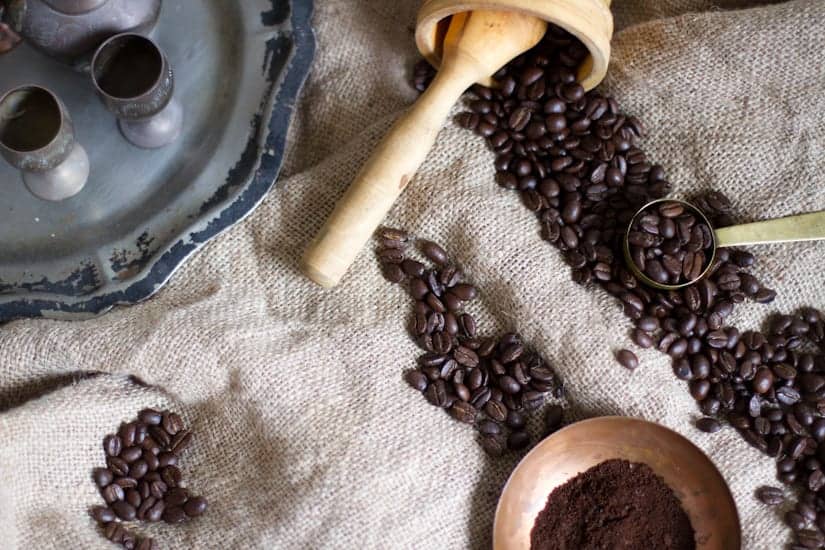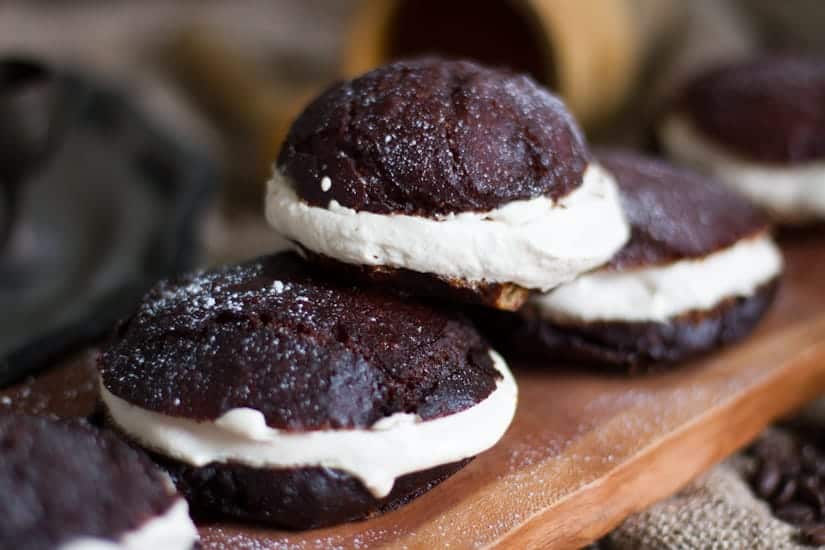 I love coffee. I try not to love it so much, because I know it's not so good for me, the oily black gold causing my stomach to clench in more ways than just anticipation. I also hate the way it makes me feel - jittery and happy and motivated at first, but then, very quickly, as exhausted and drawn out as a night-shift worker.
Yet I can't refuse its siren call. In the early morning, as I am getting ready to go to work, I make myself a cup of latte in our Nespresso machine. Then at work, I'll often get another cappuccino in the afternoon, letting its foam envelop me in a cocoon of warmth, melting away the stress of the waking hours. In coffee shops, I get a cappuccino or a cortado, letting myself splurge on the extra splash of milk. In Israel, I always ask my mom to brew me some of her famous mud coffee - with cardamom and sugar, it's the best cup of joe I could possibly imagine.
So when one of my favourite bloggers, Kimberly of The Little Plantation, asked me to participate in a very special blog party promoting Malawian coffee, I didn't have to think twice. Malawi is one of the lesser known coffee-producing regions in the world; this is despite the fact that most of the coffee that comes from Malawi is fair trade and of high calibre. In a world where so much of the products we buy are sourced in questionable ways and through questionable means, the opportunity to support such worthwhile coffee is one I wholeheartedly endorse.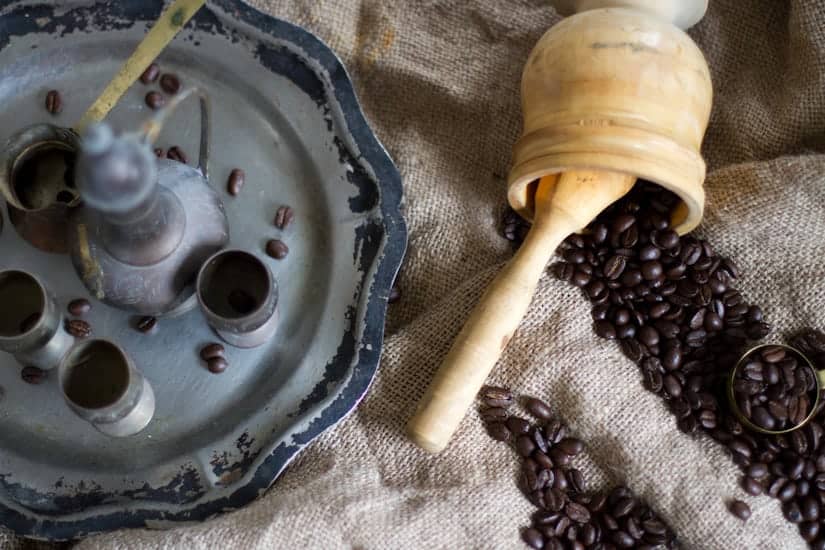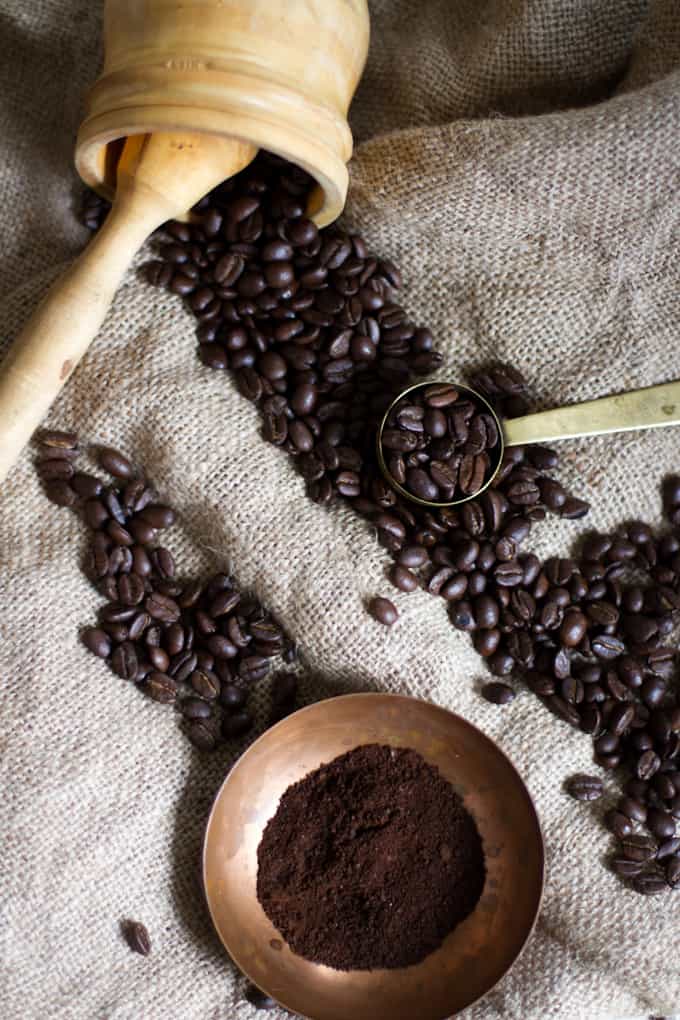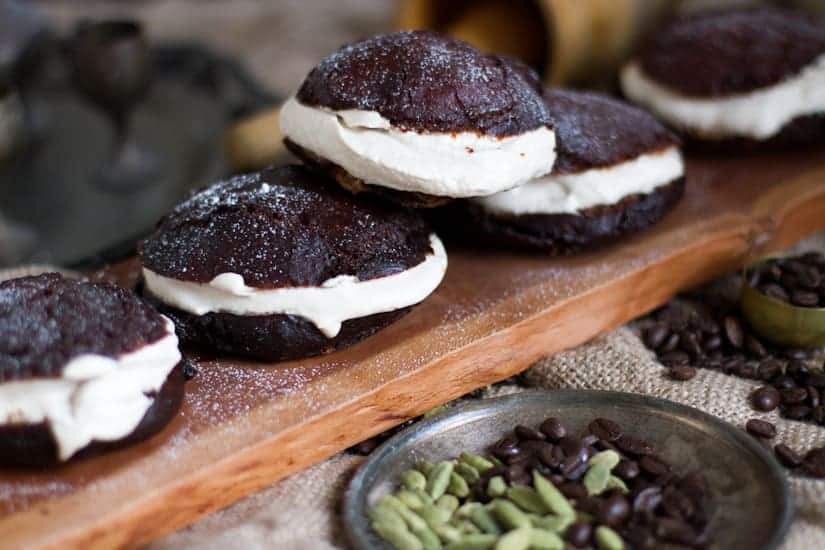 I knew right away that I wanted my recipe to bring together coffee and cardamom, two of my favourite flavours. And in honour of Chanukah, the Jewish festival of light, I decided to try my hand at preparing gluten-free sufganiyot with cardamom coffee cream. And after several tries, I am proud to present to you my dessert of choice for this Jewish holiday season (the sufganiyot recipe is adapted from this great recipe for gluten-free donuts from the Culintary Institute of America).
Coffee lends itself beautifully to desserts, its bitterness highlighting the sweet undertones of sugar and spice. In these gluten-free sufganiyot with cardamom coffee cream, the coffee is paired with gently sweetened cream and piped into freshly fried Jewish donuts. The result is a decadent affair with cream, coffee, and a gentle dusting of icing sugar.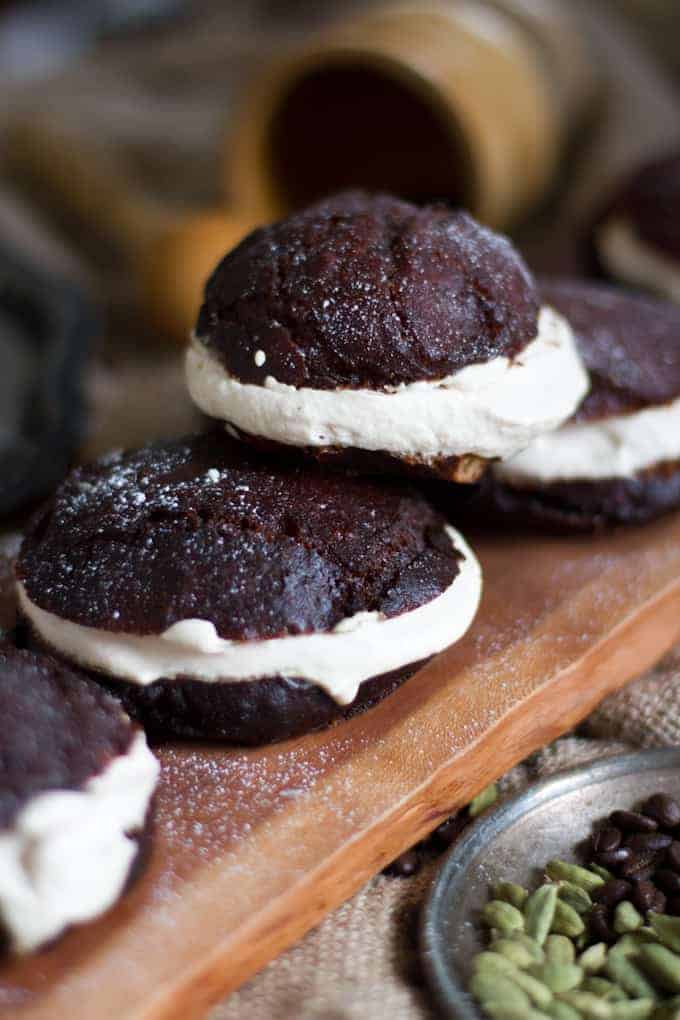 If you're looking to try some Malawian coffee yourself, I bought my single-origin Malawian beans from San Diego Coffee on Amazon. You can also source Malawian coffee from Toms and Igourmet in the U.S., or from Coffee Direct in the UK (there's even a 20 per cent discount code for readers of this post - just use #loveMalawicoffee when you purchase from this site! Valid until Dec 31).
If you are as big of coffee fans as I am, check out these other great recipes showcasing Malawian coffee.
Winter Spices Coffee Cake by Twigg Studios
Coffee Crunch Chocolate Mousse by Bettina's Kitchen
Vegan Malawi Coffee ice cream with salted caramel swirl by The Little Plantation
Christmas Coffee and Vanilla Eggnog by Marrbell
Tofu Skewers with Chocolate Coffee Sauce from Jenny Mustard
Coffee and Hazelnut Buns with Orange Icing by Mademoiselle Poirot
Cream of Celeriac with Coffee Drizzle by Plants on your plate
Zabaione al Caffé by Life Love Food
Coffee blondies with homemade nutella (vegan, gf) by The Green Life
Salted Chocolate Mocha Cupcakes from Wife Mama Foodie
Coffee Brownies (gf) by The Full Helping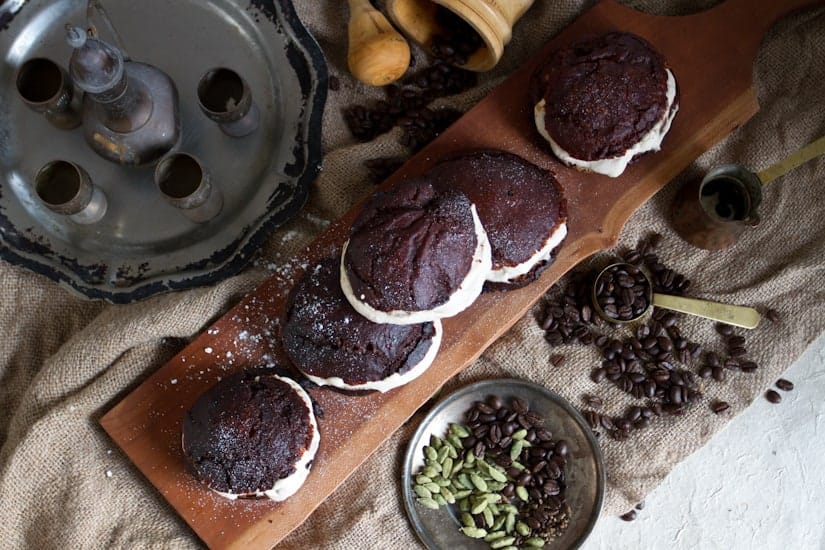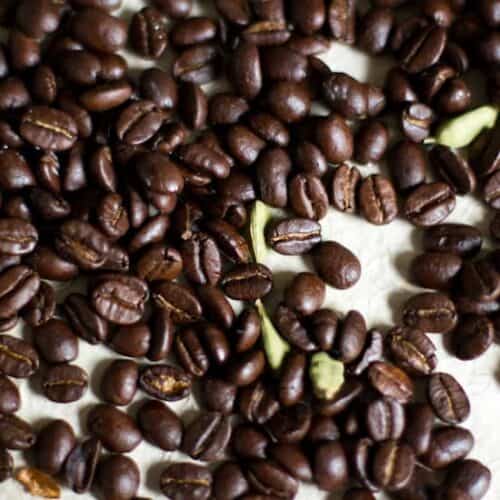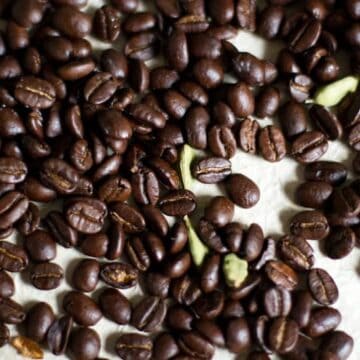 Gluten-free sufganiyot with cardamom coffee cream
In these gluten-free sufganiyot with cardamom coffee cream, the coffee is paired with gently sweetened cream and piped into freshly fried Jewish donuts. The result is a decadent affair with cream, coffee, and a gentle dusting of icing sugar.
Print
Pin
Rate
Ingredients
For sufganiyot:

1¼

cups

white rice flour

1

cup

granulated sugar

⅞

cup

potato or corn starch

½

cup

tapioca starch

½

cup

plus 1 tablespoon chickpea flour or soy flour

4

teaspoons

xanthan gum or psyllium husk

1

teaspoon

salt

1 ¾

teaspoons

baking powder

7 ½

teaspoons

instant dry yeast

1 ¼

cups

warm milk of choice or water

1 ½

sticks unsalted butter

melted

2

large eggs

lightly beaten

4

cups

vegetable oil

or more

Extra sugar

powdered sugar or cinnamon, optional

For coffee cardamom cream:

500

ml

whipping cream

⅛

cup

cold strong brewed Malawi coffee

use 2 TBs to brew this amount

½

teaspoon

cardamom

1

TB

sugar
Instructions
Place rice flour, granulated sugar, potato starch, tapioca starch, chickpea flour, xanthan gum, salt, baking powder and dry yeast in a large bowl. Beat briefly with a mixer or whisk to combine.

Add milk, melted butter and eggs to dry ingredients. Beat for 5 minutes at medium speed.

Let dough rest for 20 minutes in a warm, draft-free area.

Cut 5x5-inch squares of parchment paper, and spray them with oil spray. Arrange each square in a muffin tin (it's ok if it's not perfect). Spoon dough into each parchment square, trying to shape it like a ball. Let proof for 20 minutes in a warm, humid environment.

In a deep pot or electric fryer, heat oil over medium heat until oil reaches 350 degrees, and a bit of dough you flick into the oil immediately start to cook. Gently slide 2 donut sheets into the oil and fry 4 to 6 minutes or until golden brown. Use a slotted spoon to remove the paper and gently turn donuts. Cook another 2 to 3 minutes. Remove to a tray lined with several sheets of paper towels.

Prepare cream: beat whipping cream until it can hold stiff peaks. Slowly add sugar and cold coffee, 1 teaspoon at a time, continuing to whisk to incorporate (make sure the coffee is cold! Adding hot coffee will curdle your cream).

When sufganiyot have cooled a bit, cut them in half and spoon cardamom coffee cream. Sprinkle sufganiyot with powdered sugar.