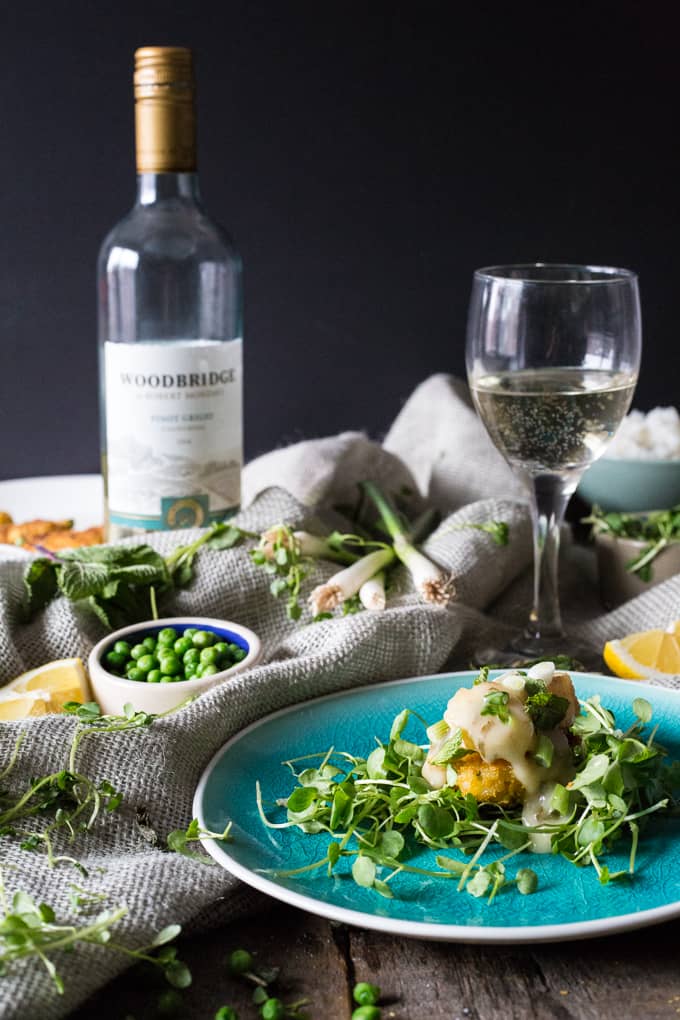 These perfectly grilled scallops with lemon-mint and Pinot Grigio sauce are a feast for the eyes and mouth, served atop crispy gluten-free pea cakes and bursting with the fresh flavours of the season. This post is sponsored by Woodbridge by Robert Mondavi Wines, and I was compensated monetarily for my work. You can always count on me to only work with companies and products I love! Please enjoy wine responsibly.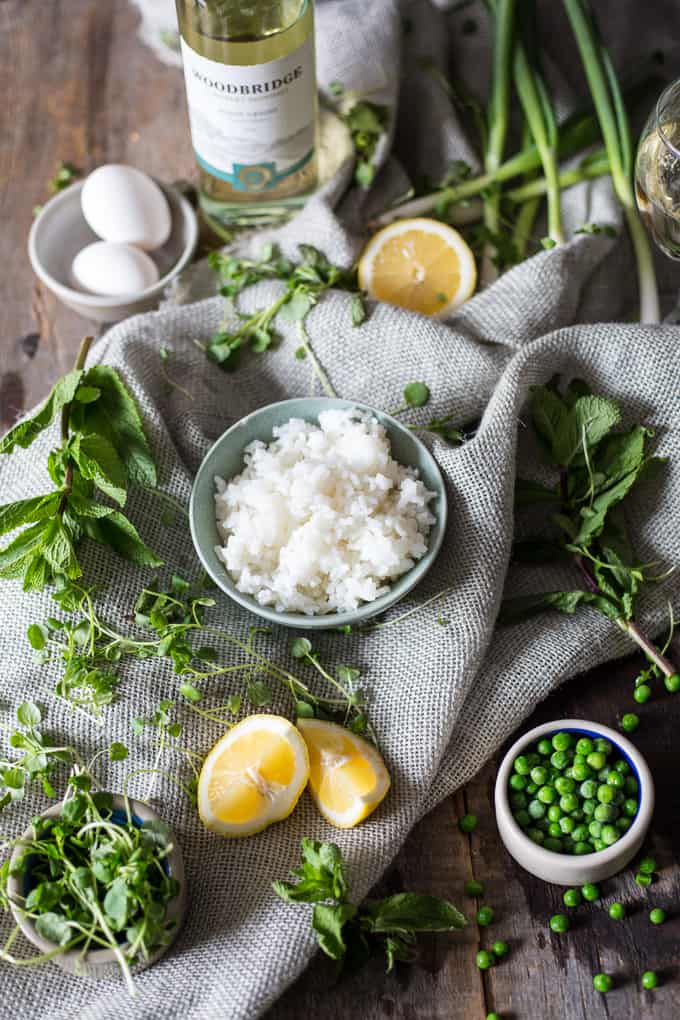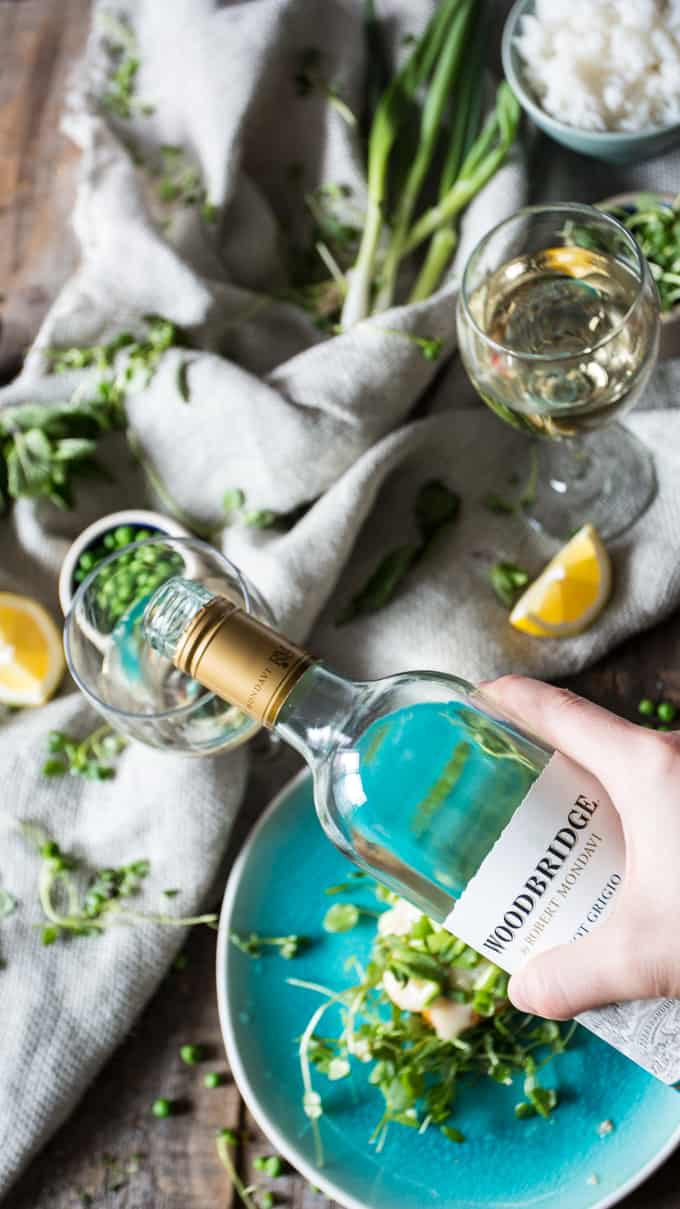 Julia Child once famously said, ""I enjoy cooking with wine, sometimes I even put it in the food."
As a Russian woman in my early 30s, I was taught to appreciate a good beverage from a young age and cooking was always made better with a libation. I remember Thursday evenings in the kitchen with my mother, preparing the week's Shabbat dinner, the radio blaring the week's Israeli Top 20 hits and tall frosty cocktail glasses were firmly nestled in our hands. As the night progressed, my dad's pours got more and more liberal, the laughter much louder, and our posture (and knifework) a lot less steady. By the time 9PM rolled around, the kitchen counters were covered in equal parts sauce and cocktail splashes, and my whole family was in good spirits.
But as my recent experience cooking with Woodbridge by Robert Mondavi Wines has taught me, the resulting dish would have been made immensely better if some of that good stuff made its way into the dish.
For it's one thing to cook with wine in hand, taking slow, lingering sips in between stirs of the pot, or a tasting of the thickening sauce. Cooking with a glass of wine makes you feel free, young and daring. The hours seem to fly by, spurred on by good mood, superb food and great music - and yet every moment also seems to last forever, like summers did when we were young.
But when the wine you carefully chose that afternoon in the liquor store makes its way into the food, it's another story altogether. Every taste feels electric, alive with the aroma and complex flavours hidden in the bottle. Woodbridge by Robert Mondavi wines are marked by bright fruit flavours and smooth finishes made to complement food, a natural complement to bold spices and ingredients at the peak of their season. The wine changes the colour and composition of your sauce, making it glossier, shinier, like a river flecked with gold. And when you finally have that first bite of the dish you created alongside a deep, generous sip on that wine - well, that feels like a whole orchestra is firing in your mouth at full volume.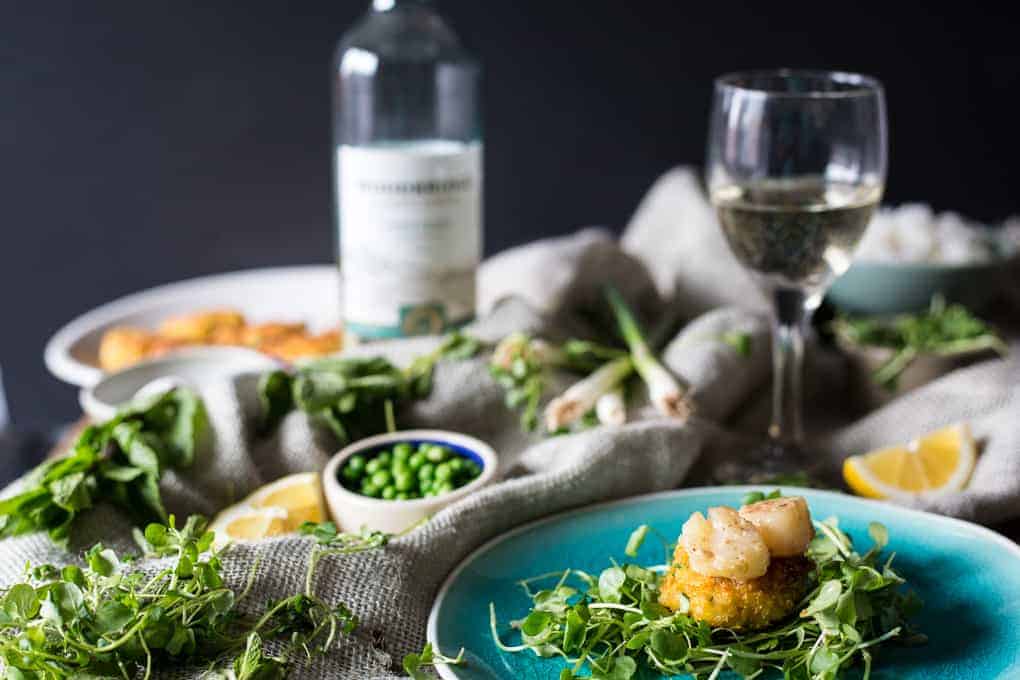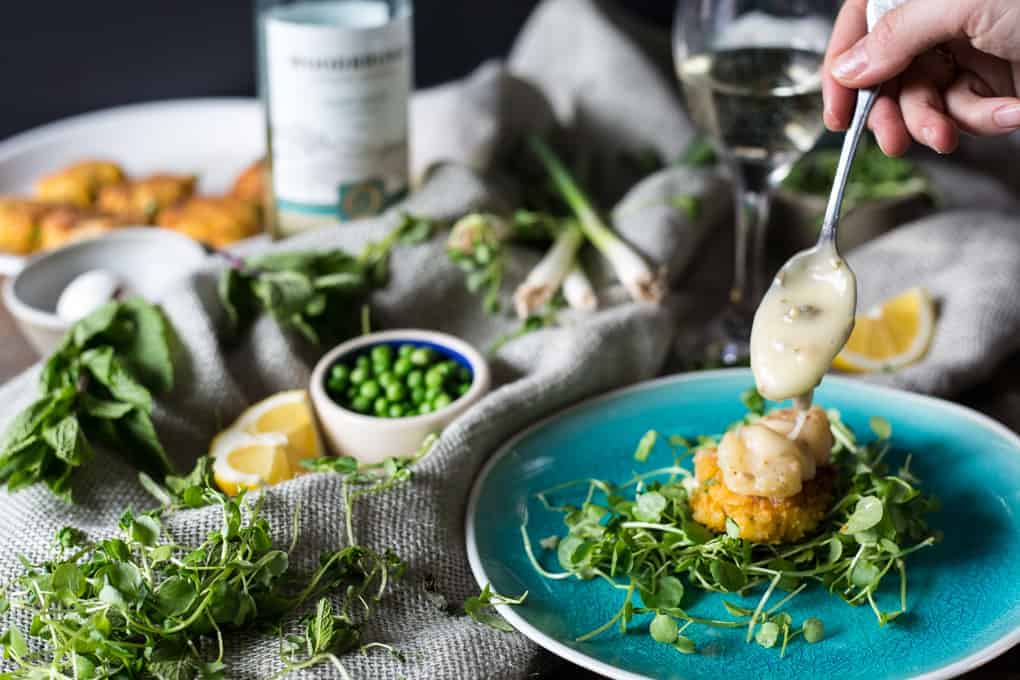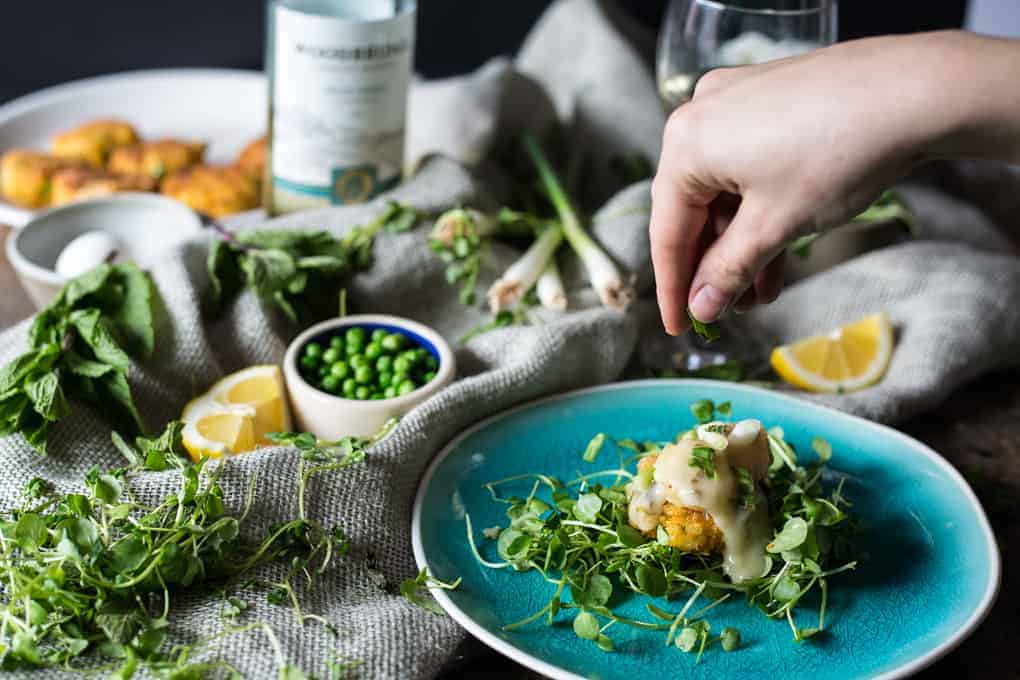 So when I started dreaming of celebrating the first warm weekend of this spring with a tall, cold glass of Pinot Grigio, I just knew I had to put a splash in the light, springtime-inspired lunch that would accompany it. That's how my perfectly grilled scallops with lemon-mint Pinot Grigio sauce were born: from a few minutes spent strolling in my local market's aisles, looking at the beautiful seafood displayed in the icebox, and dreaming of the crisp, refreshing taste of the Woodbridge by Robert Mondavi Pinot Grigio. From the natural marriage of crispy fried pea cakes with mint, lemon and that refreshing, citrusy white. From the knowledge that spring is so short, so special, that any day of it deserves to be celebrated with a special meal, a glass of wine - and a splash of that good stuff tucked into the food.
If you live in Canada or the U.S., you can easily find Pinot Grigio and other Woodbridge Wines by Robert Mondavi in the California section of your local liquor store. Check out their website for more recipes, serving tips and a brilliant wine pairing app that provides recommendations of what wine to serve with your food.
I received product and monetary compensation in exchange for this post. However, I am proud to only work with those companies whose products I truly love. And as always, all opinions expressed here are my own; you can always expect me to be honest with you guys!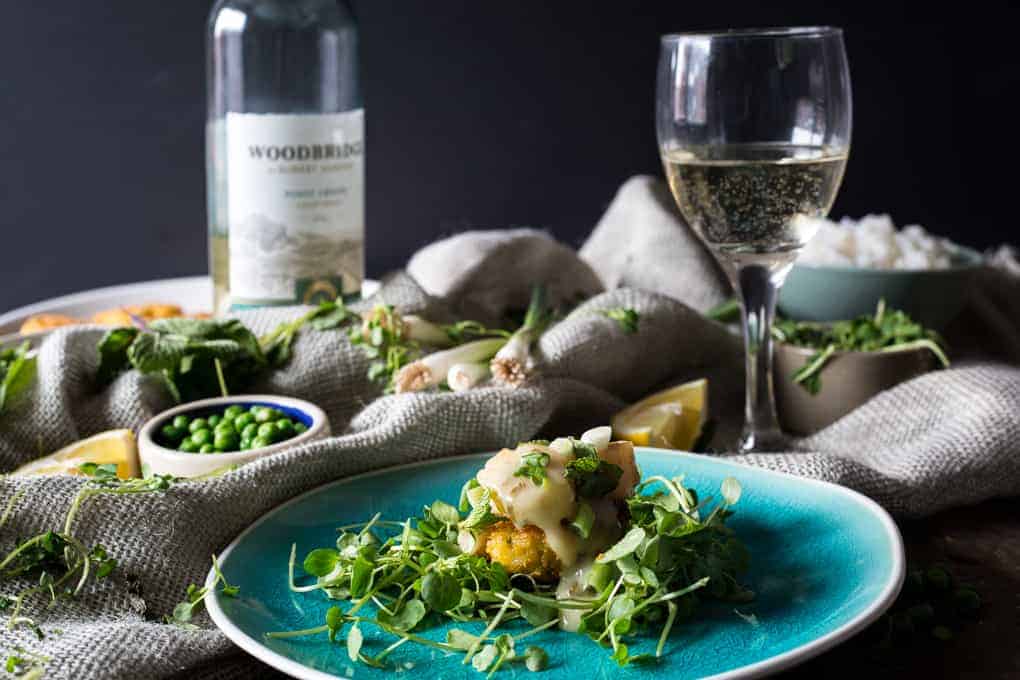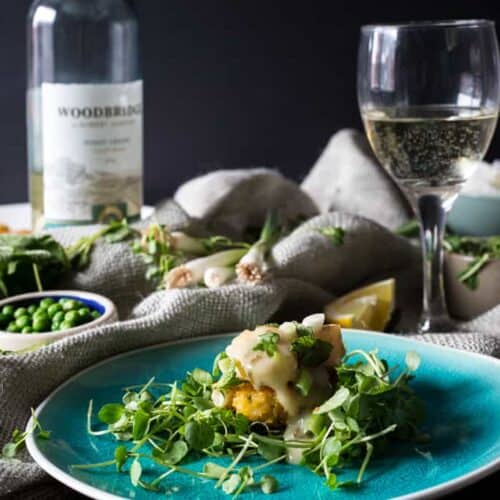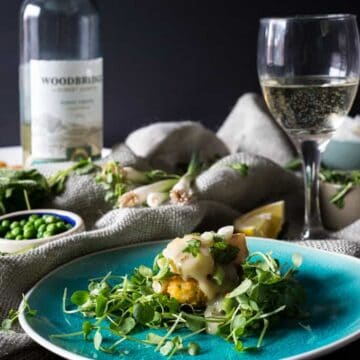 Grilled scallops with lemon-mint Pinot Grigio sauce on crispy pea cakes
These perfectly grilled scallops with lemon-mint and Pinot Grigio sauce are a feast for the eyes and mouth, served atop crispy gluten-free pea cakes and bursting with the fresh flavours of the season.
Print
Pin
Rate
Ingredients
Crispy rice and pea cakes:
3

cups

short-grain rice

cooled

1

teaspoon

kosher salt

½

teaspoon

freshly ground black pepper

2

tablespoons

fresh mint

chopped

½

cup

peas

room temperature

2

eggs at room temperature

beaten

About ½ cup basic gluten free flour blend

1

egg

beaten with 1 tablespoon lukewarm water, for dipping

Finely ground gluten free corn flake cereal

Oil

for frying
Grilled scallops:
300

grams

scallops

(If using frozen, defrost; if fresh, keep in refrigerator until ready to use)
Lemon-mint Pinot Grigio sauce:
1

whole

lemon

juiced and zested

½

cup

fresh mint

chopped

1

tablespoon

sugar

1

teaspoon

salt

1

cup

Pinot Grigio

2

teaspoons

arrowroot powder or gluten-free flour blend

1

bunch

watercress or arugula

for serving
Instructions
In a large bowl, place the cooked rice, salt, pepper, oregano, mint, peas, 2 beaten eggs and gluten-free flour, and mix to combine well. Working with wet hands, form rice and pea mixture into little balls, and flatten them slightly into the shape of small patties. Arrange on a plate or baking sheet and let set in the fridge for 15 minutes.

Place the egg wash in a shallow bowl, and and corn flake crumbs in another shallow bowl.

Remove the rice and pea cakes from the fridge. Dip each rice ball briefly in the egg wash, letting the excess drip off, and then dredge it in the corn flake crumbs until well-coated on all sides. Return to the plate or baking sheet, and return to the fridge while you heat the oil.

In a heavy-bottom pan, pour about 1-inch of frying oil. When oil has heated sufficiently, fry pea cakes in until cooked through and golden brown, about 3 minutes on each side. Transfer the rice balls to a paper towel-lined plate, and set aside.

To make the scallops, preheat a cast-iron pan to med-high heat. Pat scallops dry, and season well with salt and pepper. Brush gently with olive oil. Grill for 2-3 minutes on each side, until a nice golden hue is achieved. Remove onto a plate.

To make sauce, squeeze the juice of one whole lemon into a small saucepan set over low heat. Add chopped mint, sugar and salt, and mix well until sugar fully dissolves. Pour wine into saucepan. Once the mixture heats up, add arrowroot starch or gluten-free flour, and immediately mix well with a fork to combine and avoid lumps. Continue heating for one minute, and then immediately remove from heat.

To plate, arrange watercress greens at the bottom of a plate. Place crispy pea cake, and top it with 1-3 scallops (depends on size of your scallops - bigger scallops are better). Drizzle grilled scallops with lemon mint and Pinot Grigio sauce. Top with more watercress. Serve immediately.