This delicious strawberry white wine spritzer recipe is a light and refreshing cocktail that you can sip on all day long! Serve this wine spritzer as a perfect summer and spring cocktail for your next gathering, or brunch.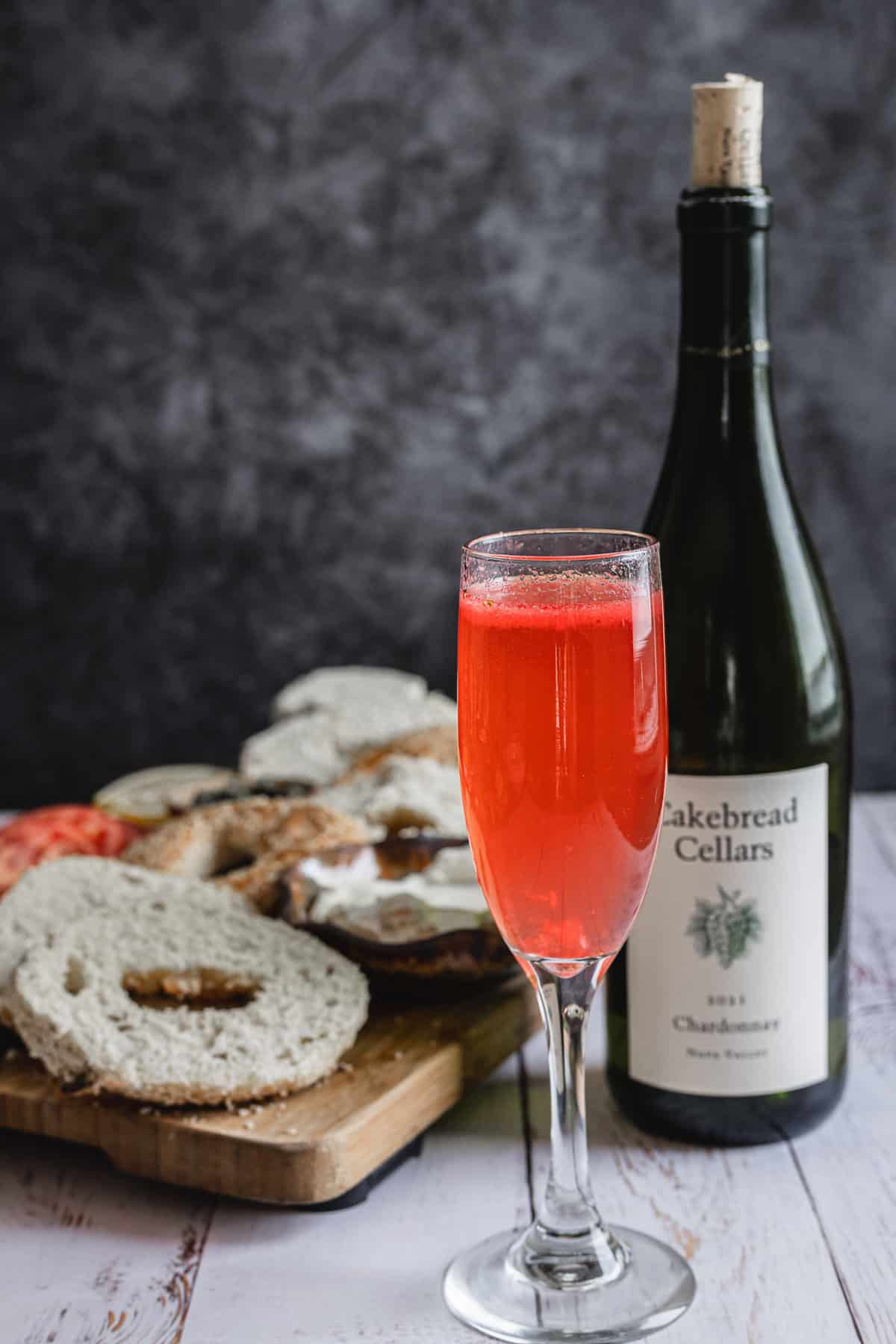 I came up with this refreshing white white cocktail when looking for something to serve along side my bagel and cream cheese board for a recent brunch party. In the spirit of hassle-free hosting, I wanted a drink that would be easy to make and require little hands on work, but that would taste crisp and not too sweet. I had perfectly ripe fresh strawberries on hand, and some local apple juice. A little splash of lime juice adds zest, and a touch of grenadine for sweetness - and when topped with a nice Chardonnay, this white wine cocktail was born! It's perfect for sipping on, and not too strong to serve for breakfast.
What is a white wine spritzer?
Your competitors also addressed the following questions:
what is a white wine spritzer | what is a white wine spritzer made of
Competitors who wrote about it:
https://www.platingsandpairings.com/strawberry-sauvignon-blanc-cocktail/
A white wine spritzer is a popular cocktail during the summer season - but not just! It is made by combining wine and soda water or juice, with garnishes like citrus or fresh fruit. I think this cocktail, with its sweeter taste, beautiful color and combination of crisp and refreshing white wine, would be right at home at any spring or summer gathering.
A common variation that adds a fruity twist to the wine spritzer is the strawberry wine spritzer. The result is a refreshing and fruity sip, perfect for sunny days.
A white wine spritzer is a lighter and more refreshing alternative to a full-bodied wine, making it a popular choice for those who want to cool down in style.
What Kind Of Wine Do You Use For Wine Spritzer?
When making a wine spritzer, the type of wine you use can greatly affect the taste. I chose to make this white wine cocktail with chardonnay - I find that its dry flavor and
White wine is typically used as the base for this cocktail, with sauvignon blanc and chardonnay being popular choices. If you prefer a sweeter wine, then riesling may be a great option for you. The key is to choose a wine that pairs well with the other ingredients in the recipe.
When to serve this white wine cocktail?
I love serving this cocktail for breakfast or brunch. But even more specifically, I recommend you serve it for Mother's Day or Easter brunch. If you ask me, nothing says Mother's Day brunch or Easter brunch quite as well as a juicy, fruity, pink and refreshing cocktail! It goes very well with my bagel board, a light quiche, or a filling salad like my smoked salmon salad or fried halloumi cheese salad.
In general, a white wine spritzer is a low-alcohol option that is perfect for a casual summer party, a midweek happy hour, or just a light and refreshing drink to enjoy on a hot day.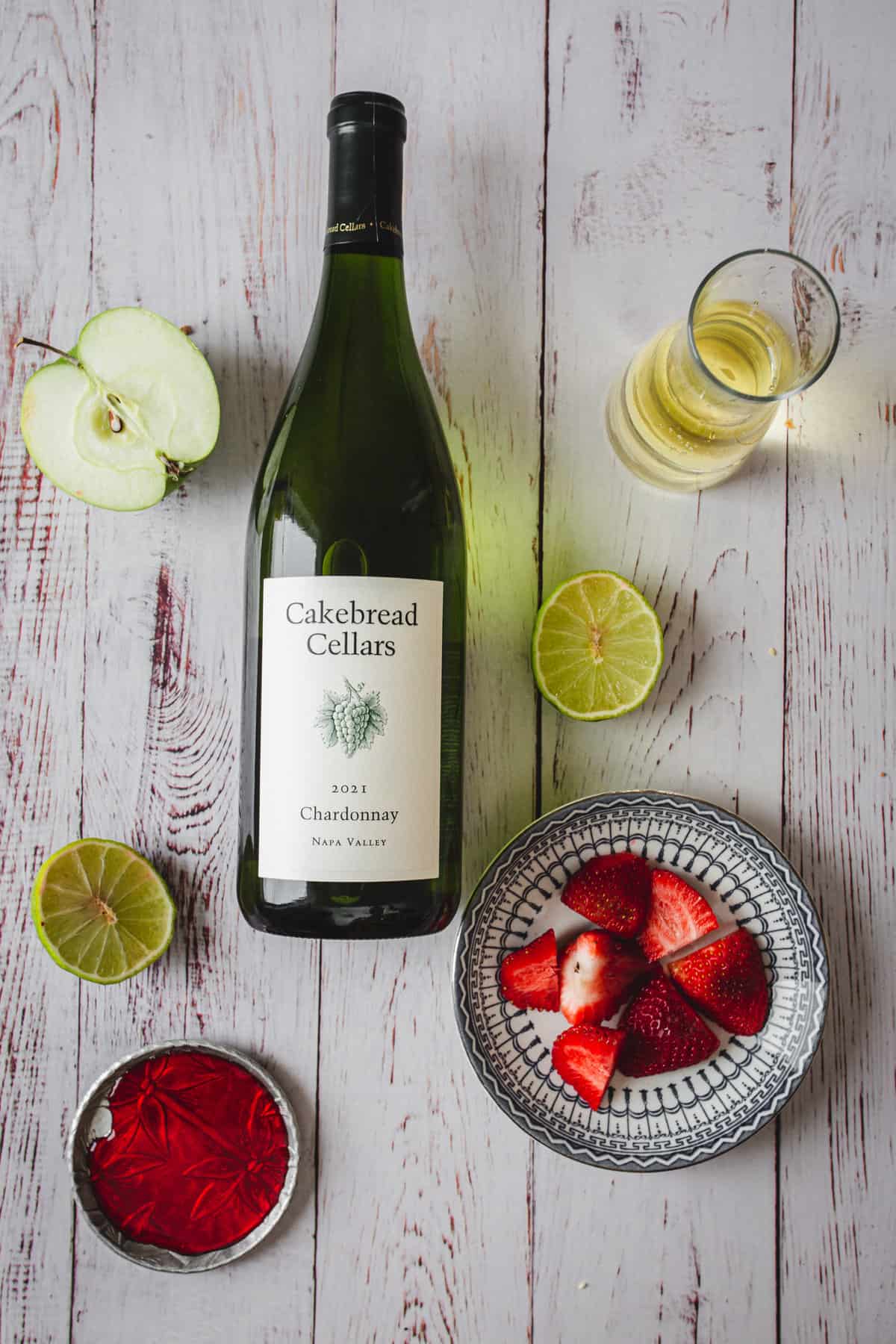 Ingredients
Apple Juice - you can use any apple juice you like. I like to use unfiltered local apple juice when I have the choice!
Strawberries - use the juiciest strawberries you can find - that's where all the flavor is! You can also use frozen strawberries.
Lime juice - lime or lemon would both work here.
Grenadine syrup - if you don't have grenadine syrup on hand, feel free to use honey or maple syrup or even date honey.
Chardonnay white wine - Chardonnay is my favorite white wine to use here (I created this recipe with Cakebread Cellars Chardonnay in mind), bit you can also use pinot grigio, sauvignon blanc or even a sweet riesling.
How To Make a Strawberry White Wine Spritzer
Making a delicious and refreshing strawberry white wine spritzer is very easy to accomplish.
Collect ingredients
To start, gather all the necessary ingredients such as your favorite white wine (preferably chardonnay), some strawberries, lime juice, grenadine syrup, and ice cubes.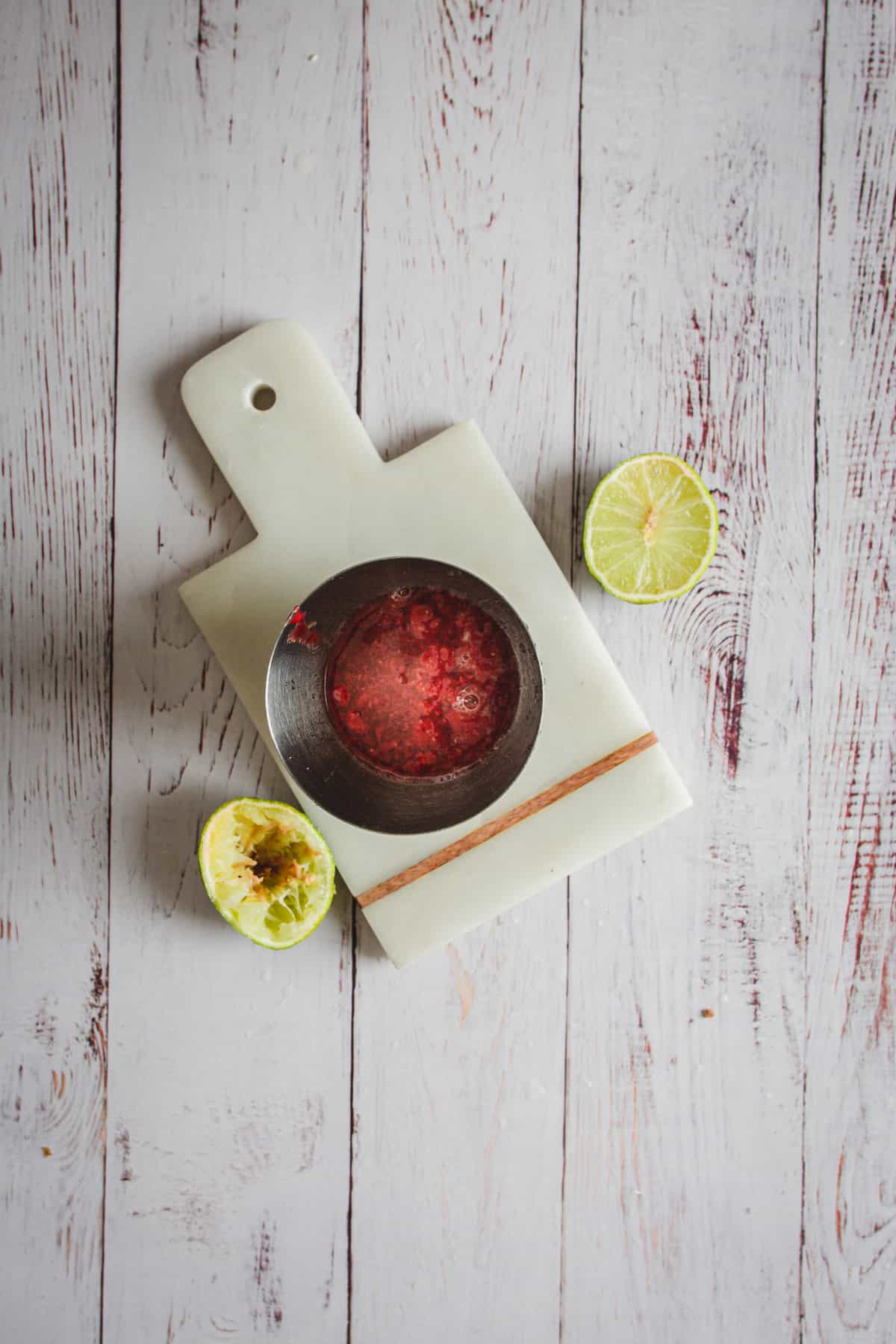 Puree strawberries
Wash and hull the strawberries. Dice them into quarters and add strawberries to a blender or magic bullet. Process the strawberries until they form a smooth puree. Taste the puree; depending on the ripeness and sweetness of your berries, you can add a little bit of sugar or honey to the puree for sweetness.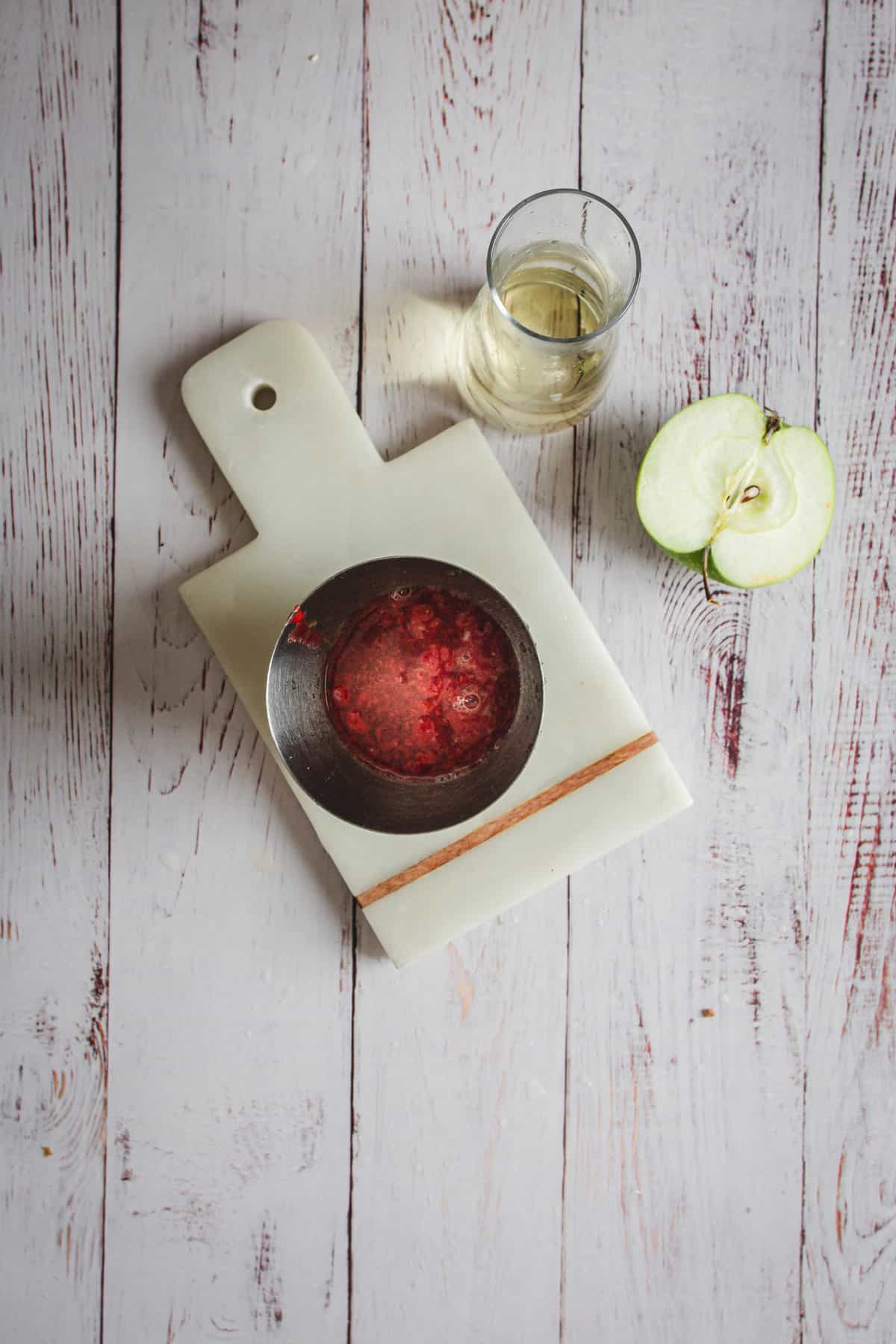 Combine strawberries and juice
Transfer strawberry puree into a cocktail shaker with ice. Add apple juice, grenadine and lime juice. Shake vigorously until well combined. Taste, and add more grenadine or lime juice, to taste.
Serve strawberry white wine spritz
Strain the fruit mixture into a wine glass, or a champagne coupe for a festive appearance. Top with chardonnay, or another white wine of your choice (the best wine to use in this cocktail is a semi-dry wine like chardonnay, pinot grigio or suavignon blanc).
Make ahead pitcher cocktail
When preparing to host people for a big brunch, I like to make my life super easy and prep this white wine spritzer as a pitcher cocktail.
To do this, simply puree the strawberries the day before. Add the lime juice and grenadine, and store in a jar or an airtight container (you can even freeze it in a ziplock bag).
Then, on the day of the party, transfer the strawberry puree to a large pitcher of your choice. Add halved fresh strawberries and mint leaves to the pitcher for a burst of fresh flavor. Let the mixture infuse in the fridge for a few hours. When it's time to serve, fill the pitcher with 2 cups of apple juice, and top the rest with Chardonnay or another white wine of your choice. Add ice cubes to keep it chilled.
The result? A delicious and refreshing cocktail that's perfect for any party or gathering. Since it's pre-made, you'll have more time to socialize and enjoy the company of your guests (and you know I'm all about effortless entertaining!).
Tried and loved this recipe? Please leave a 5-star review below! Your reviews mean a lot to me, so if you've got any questions, please let me know in a comment.
Variations
Top your drink with a mint stem for a refreshing garnish.
Substitute the strawberries for another berry, or whatever fruit you have on hand. Fresh raspberries work very well here, as to blackberries!
Make this white wine cocktail with a bubbly white wine, like moscato or champagne.
To make this into a non-alcoholic white wine spritz, substitute the chardonnay with a non-alcoholic white wine, or simply use club soda instead.
You can also use this drink and combine it with gin, like in my rhubarb and strawberry gin spritz.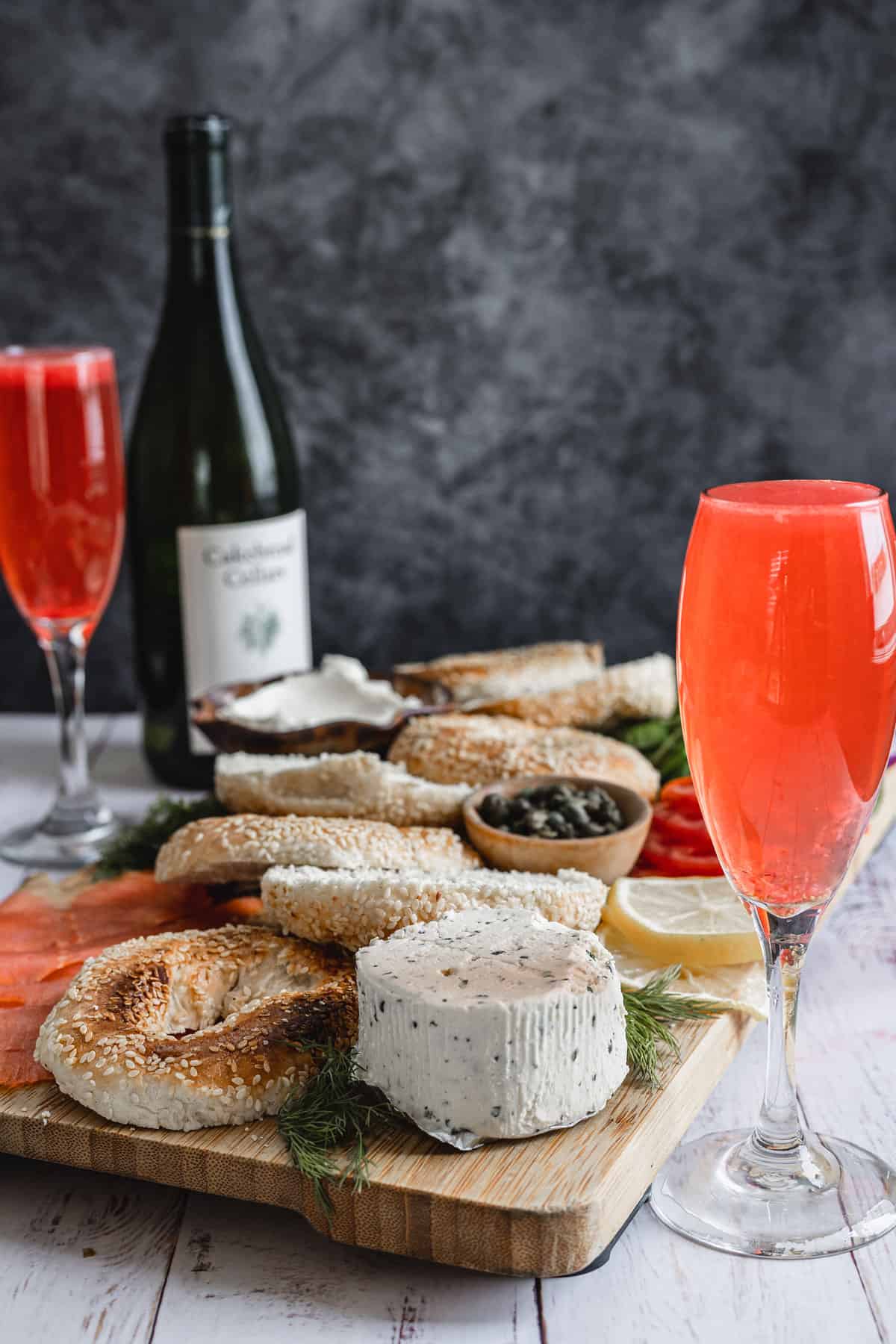 Frequently Asked Questions
What's in a white wine spritzer?
A white wine spritzer is a refreshing cocktail that combines white wine with juice, carbonated water or soda. Sometimes, fresh fruit is added as well. The type of white wine used can vary, but generally, a crisp and light-bodied white wine like a Chardonnay, Pinot Grigio or Sauvignon Blanc is preferred. The soda water or club soda adds a refreshing fizz to the drink, while the fruit adds a touch of acidity and brightness to balance out the sweetness of the wine.
How many calories in a white wine spritzer?
A white wine spritzer typically has fewer calories than a full glass of white wine. The exact number of calories in a white wine spritzer can vary somewhat depending on the type of wine and the portion sizes used. However, on average, a white wine spritzer can contain between 70 to 120 calories per 5-ounce serving (our version is below average, at 66 calories). By comparison, a standard glass of white wine can contain 120 to 160 calories. The lower calorie count in a white wine spritzer is often due to the fact that it is diluted with sparkling water or soda, which reduces the alcohol content and calorie count. Of course, the exact number of calories in a white wine spritzer will depend on the specific ingredients used and the size of the serving, but overall, it can be a good choice for those who want to enjoy a drink while keeping calories in check.
Can you use frozen strawberries in this recipe?
For the best strawberry flavor, I recommend using fresh, bright red, juicy fresh berries. If the berries you see in store are pale and lackluster, then you can definitely opt for frozen berries instead!
Can you make this white wine cocktail recipe ahead of time?
Absolutely! I love to make the strawberry puree whenever I get my hands on ripe fresh berries, and then freeze it for later use. You can also mix everything ahead of time and let it macerate overnight.
More easy cocktail recipes to sip on
Recipe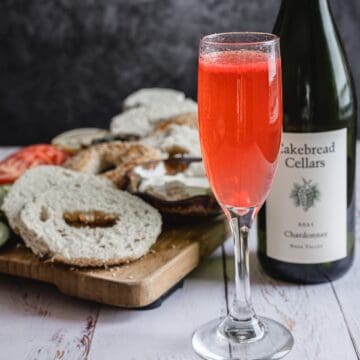 Refreshing strawberry white wine spritzer cocktail recipe
This delicious strawberry white wine spritzer recipe is a light and refreshing cocktail that you can sip on all day long! Wine spritzers make a perfect summer and spring cocktail.
Equipment
Ingredients
3

oz.

Apple Juice

4

strawberries

pureed

¼

Lime

Juice of

1

teaspoon

grenadine syrup

Chardonnay or another dry white wine

to taste
Instructions
Transfer strawberries to a blender or a magic bullet. Process until a smooth puree is attained. You can even strain the puree if looking for a super smooth and silky texture.

Combine the puree and the rest of the ingredients, except the wine, in a cocktail shaker with ice. Shake vigorously until well combine. Taste and correct sweetness, adding more or less grenadine syrup as needed.

Strain into glass.

Top with chardonnay or another white wine of your choice.
Nutrition
Calories:
66
kcal
Carbohydrates:
11
g
Protein:
0.4
g
Fat:
0.1
g
Saturated Fat:
0.01
g
Polyunsaturated Fat:
0.1
g
Monounsaturated Fat:
0.01
g
Sodium:
4
mg
Potassium:
122
mg
Fiber:
1
g
Sugar:
7
g
Vitamin A:
9
IU
Vitamin C:
21
mg
Calcium:
15
mg
Iron:
0.4
mg
Tried this recipe?
Comment + Rate Below!
Connect on Instagram!
Find us @immigrantstable