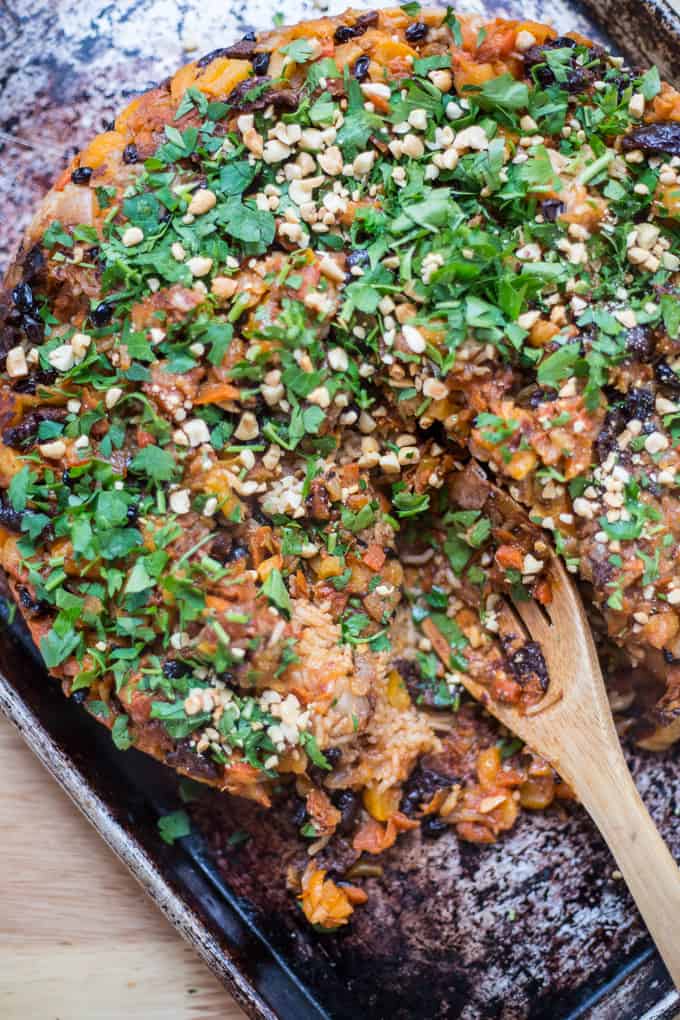 The perfect vegetarian Russian plov is a glorious mound of perfectly cooked basmati rice, jeweled dried fruit and crunchy nuts. Check out my brand-new video on how to make this amazing gluten-free and dairy-free dish!
The first taste
Years ago (isn't it amazing when your blog is old enough so you can say that?!) I published a recipe for my grandmother's perfect vegetarian Russian plov. The recipe was fairly successful. It even started what I consider a minor controversy over the provenance of plov (or pilaf, pilau, or however your cultural background calls this great dish).
Yet over the years, the recipe faded a bit in the annals of this blog. You guys moved towards greener pastures, going ga-ga over desserts and one-pan wonders. Old favourites like my eggplant shakshuka and vegetarian Argentinian empanadas continued raking up views. And my perfect vegetarian Russian plov? It faded into obscurity.
Becoming part of the ReOrdered kit
Until last year, when JDC Entwine approached me to develop a cookbook for their amazing project, the ReOrdered global Passover toolkit. Featuring recipes from four Jewish communities (Russian, Moroccan, Sarajevo and Ethiopian), this cookbook took months of research, recipe testing, and endless love. It ended up being full of recipes I am incredibly proud of - including my perfect vegetarian Russian plov and my dairy-free, gluten-free chocolate macaroon pyramids.
To accompany the cookbook and the ReOrdered global Passover toolkit, I produced a couple of recipe videos. This is my video on how to make the perfect vegetarian Russian plov - I encourage you to give it a try the next time you are looking for a dairy-free, gluten-free vegetarian main course, or for a grain accompaniment for a festive meal. I promise that you won't be disappointed!
Watch the video

It is a misconception that former USSR Jews are all Ashkenazi. As the USSR spread over an extraordinarily large and diverse territory, incorporating 15 countries and a myriad of peoples, its cuisine was also incredibly varied. The Soviet Union attempted to nationalize its food through several editions of State-sponsored cookbooks. At first, the cookbooks incorporated foods and ingredients from all over the country; but they dwindled to relying on basic, non-exotic products as the transportation systems collapsed and food shortages mounted. Throughout it all, proud Jewish traditions preserved different customs from Kiev, through the Ural Mountains and all the way south to Azerbaijan. This vegetarian Russian plov borrows from the Ukrainian roots of my grandmother, but also incorporates many traditional Sephardic ingredients from the more Southern USSR Jewish communities.
You can find the recipe for my perfect vegetarian plov here, or order your own copy of the ReOrdered global Passover toolkit.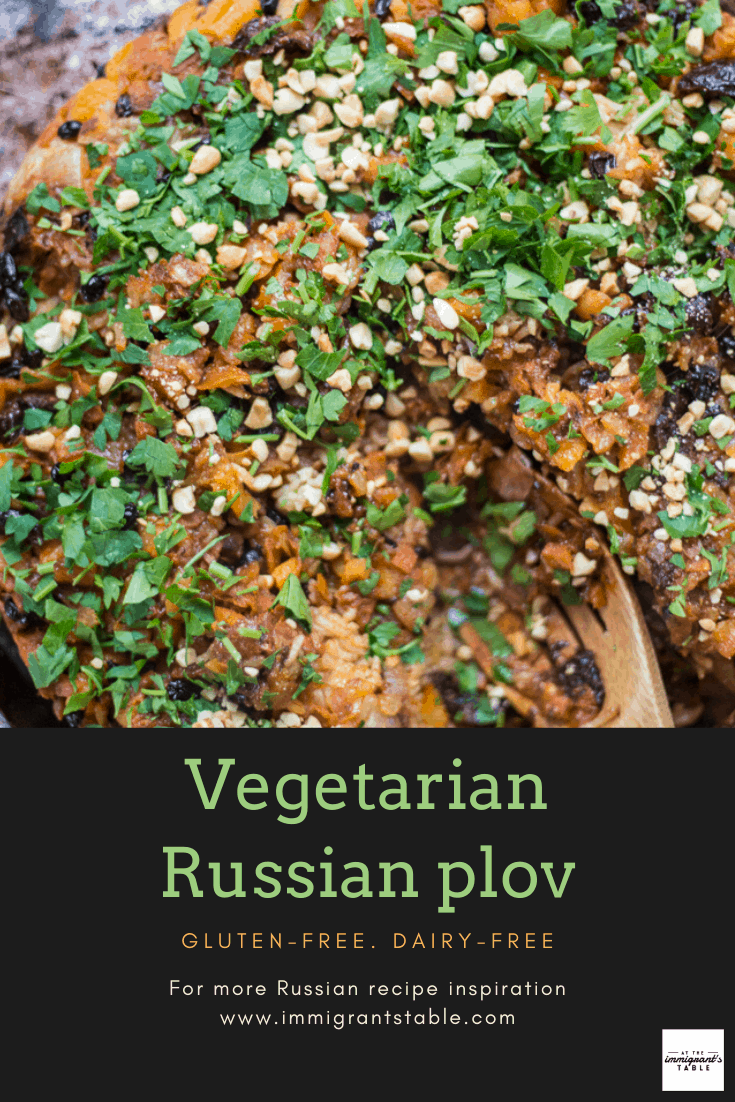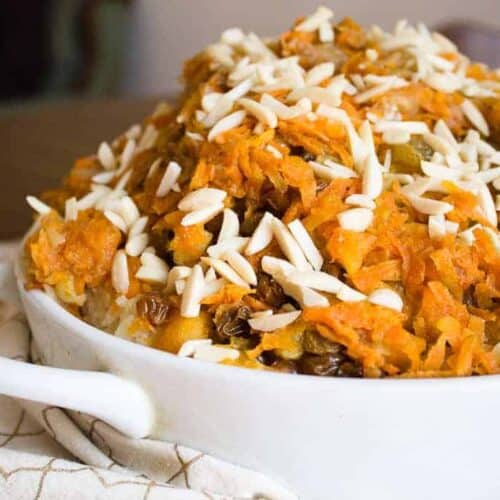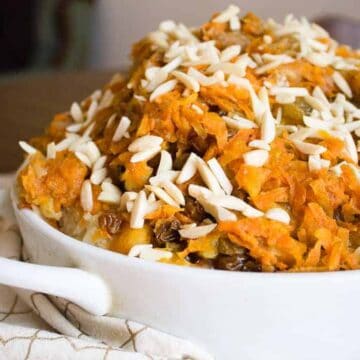 Jeweled vegetarian rice plov, or why you can't put a broken dish back together
Vegetarian plov is a festive dish that combines Eastern spices and flavours with a Russian love of dried fruits, starch and root vegetables.
Print
Pin
Rate
Ingredients
2

cups

of long-grain or basmati rice

1

large onion

2

carrots

2-

inch

piece of ginger

or 2 tsps of dry ginger

2

tsps

ground coriander

3

tsps

salt

and more, to taste

½

cup

raisins

½

cup

dried apricots

½

cup

prunes

or any other dried fruit of your choice

¼

cup

chopped almonds or pistachios

parsley or cilantro

optional
Instructions
Soak rice overnight, or at least for a couple of hours.

Heat a large heavy-bottomed pot on medium heat. Add 1 tablespoon of oil to the pot. Finely chop onion, and add to pot. Sauté onion until it turns golden, about five minutes.

Reduce heat to low-medium. If using fresh ginger, grate it, or add dry ginger, coriander and 1 teaspoon of salt to onion. Mix and sauté for another 2 minutes.

Finely grate carrots. Add them to pot and let soften for another 5 minutes.

Finely chop all of your dried fruit in equal-sized bits. Add them to pot with just enough water to cover, mix well, and let cook on low-medium heat for 10 minutes.

Drain rice, and mix in an additional 2 tsps of salt. Add rice to pot, but do not stir or mix it with any of the other ingredients! Add 1 Tb of oil, and just enough water to cover the rice, plus an additional two inches.

Using the end of a wooden spoon, poke five to six holes in rice all the way through to bottom of pot. This will help it release steam and cook evenly.

Place a clean kitchen towel over pot, cover with a tight-fitting lid, and secure the loose edges of the towel on top of lid. Cook on medium heat until pot is beginning to steam, about 5-10 minutes (no peeking!), and then reduce heat to very low. Let cook slowly, without stirring or peeking, until rice is cooked through, about 35-40 minutes. Turn off heat and let plov rest for about 15 minutes without removing lid. Check for doneness, and if need be, let cook 10 minutes longer.

When serving, pick a large platter that is bigger than the circumference of your pot. Cover the top of the rice pot with the platter, face-down, and turn the whole thing over, gently wiggling the pot and allowing the rice to pour out with the veggies on top. Russians like to turn the pot over in front of their guests, letting the rice and jeweled mixture spill onto the platter. If this is your first time making it, do this ahead of time in the kitchen to avoid embarrassing mishaps. Decorate with chopped almonds or pistachios and chopped cilantro or parsley, if desired.
Video
Liked this recipe? Show the love by sharing it and subscribing to my YouTube channel for more great recipes adapted to modern food sensitivities. Also, follow me on Facebook, Instagram, Twitter and Pinterest for regular updates on what's cooking in my kitchen!