In North America, there is this idea that doctors live like kings and queens. They drive nice cars, own beautiful villas, and while their work may be demanding and at times thankless, they can enjoy their vacations with the knowledge that they have helped save a life last week.
As the daughter of two doctors, I can attest to the fact that idea can be far from the truth. Perhaps the beautiful doctors played by the cast of Grey's Anatomy fit that description; but the often-overweight, exhausted, frustrated people who populated the halls of the Israeli Emergency Rooms and clinics I grew up with not only hated their jobs, but were also often underpaid and overworked. Some of that got a bit better with time, when they were more senior at their jobs and could determine some of their own schedule; but for the most part, medicine never quite lived up to the dream of narcissism it promised.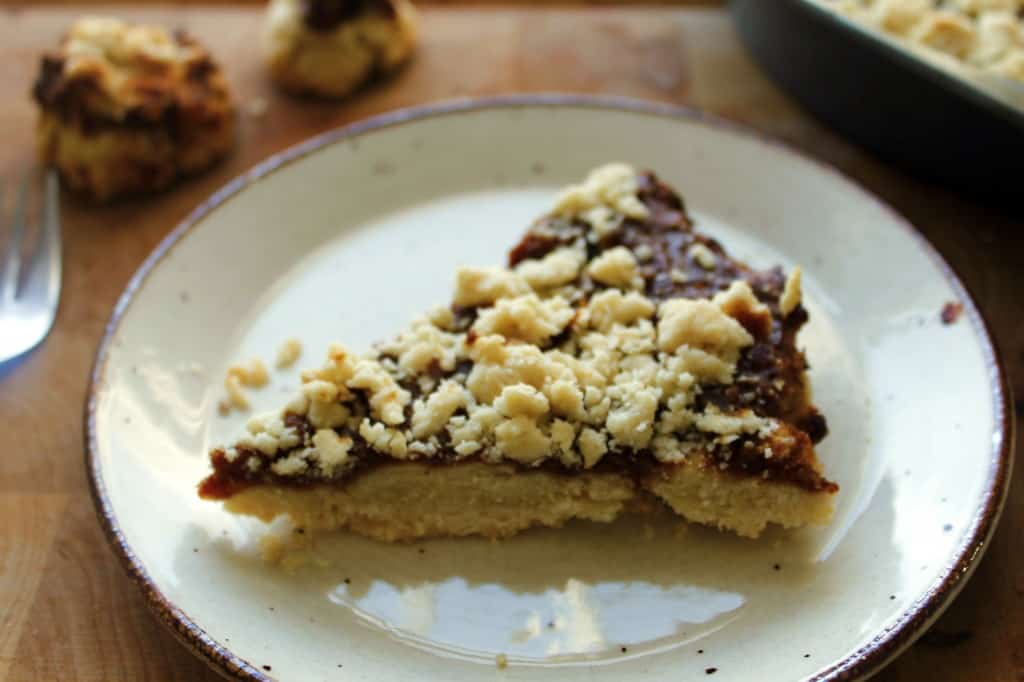 One of the few benefits of living in a family of doctors during those early days were the gifts. Some of my parents' more grateful patients chose to express their appreciation through small tokens: flowers, homemade liqueurs, and once, a very expensive, hand-woven rug bearing the image of my parents (more on that in the future). But it was the cookies that my mother's patients offered her that we liked best. These small morsels were our gateway drug into the world of Eastern spices and flavours: sweet, crumbly, sticky with honey, fragrant with exotic scents, filled with nuts and dry fruit. For two Russian girls who were only used to the taste of sweet yeasted buns and cream-laden tortes, these cookies were the best part of an unknown world.
One of my favourite treats on these cookie platters has always been the ma'amoul. A small flaky pastry, it is filled with dates or nuts, and sprinkled with a thick layer of powdered sugar. One is never enough, but five are too many, as their sweetness takes over your mouth, filling it with the satisfying heft of dates, the crunch of nuts and the cloying layer of confectioner's sugar. It is common in the kitchens of the Levant, making frequent appearances in Egyptian, Lebanese, Kurd, and Turkish cookbooks. The Jewish version of these sweets differs slightly, using all white flour instead of the mixture of all-purpose and fine semolina flour used across the Middle East.
So in anticipation of a food website's 'Hot Date' February special, I decided to recreate my memory of those ma'amouls. Equipped with frozen Mejdool dates I had stashed in the freezer upon my return from my latest visit home, I dug up a recipe by the ever-trusty Pascale Perez-Rubin, and proceeded to whir a filling of dates, sprinkled with fragrant cardamom and cinnamon. I made the vegan shortbread pastry, and it was delicious. But when I proceeded to try and shape my ma'amoul pastries, I discovered the dough was just a bit too flaky... And my shortbread treats were falling apart when I tried to fill them with stuffing.
Undaunted (read: after breaking down in tears on the floor of my messy kitchen), I proceeded to Plan B. I rolled out half my vegan shortbread pastry into a crust, spread the filling on top, and used the other half as crumbs on top of my ma'amoul pie. Thirty minutes later, I opened the oven door to a fragrant, golden date pie... And unless I shared this disheartening process with you, none would be the wiser to the failure of my original plan! But I guess it's too late to turn back time now, no?
So for your next sweet treat, make this ma'amoul pie. This flaky and delicious treat may not be shaped like the cookies I crave, but it takes substantially less work, without taking away any of the taste. And laced with the bite of cardamom and the warmth of cinnamon, dates truly bring a taste of the Levant into your kitchen.
Tried and loved this recipe? Please leave a 5-star review below! Your reviews mean a lot to me, so if you've got any questions, please let me know in a comment.
Recipe
Ma'amoul date pie
This flaky and delicious treat may not be shaped like its namesake Middle Eastern cookie, but it takes substantially less work, without taking away any of the taste. And laced with the bite of cardamom and the warmth of cinnamon, dates truly bring a taste of the Levant into your kitchen.
Ingredients
Dough:

2

cups

sifted flour

10

grams

baking powder

or one heaping teaspoon

¼

cup

warm water

100

grams

or about a cup of vegan margarine (or butter)

¼

cup

vegetable oil

¼

teaspoon

vanilla extract or a few drops of rose water

or orange water

For the filling:

250

g

dates

preferably Mejdool, about one cup and a half

2

teaspoons

almond milk

¼

teaspoon

ground cardamom

½

teaspoon

ground cinnamon

Optional: walnuts

pecans, pistachios, and grated orange or lemon zest would all make good additions to this filling.

For dusting:

½

cup

powdered sugar
Instructions
Preheat oven to 350F.

Mix flour and baking powder in a large bowl.

In a separate bowl, whisk the margarine (or butter), gradually adding the hot water until it melts and combines. Add the oil, vanilla extract and/or rose water and mix well.

Create a dip in the flour and slowly pour in the butter mixture, stirring with a wooden spoon until combined. Knead into a soft dough, but avoid over-mixing.

To prepare the filling, pit your dates (or if using pitted, ensure they are actually ALL pitted). Place the dates, ground cinnamon and cardamon in a food processor, and whirr until they are all mushy. Add the milk, and stir again until the mixture is smooth and combined.

Divide your dough in half. Lightly grease a pie pan. Gently roll out half the dough, and line the bottom of your pan with it, cutting off the extra crust. Spread the date mixture on top of your dough, smoothing it as much as possible. Tear the remaining dough into crumbs, and spread them on top of the filling.

Bake for about 25-30 minutes. Remove from oven and serve. If desired, immediately sprinkle the pie with half the powdered sugar, refrigerate for half an hour, and top with the remaining powdered sugar.
Tried this recipe?
Comment + Rate Below!
Connect on Instagram!
Find us @immigrantstable