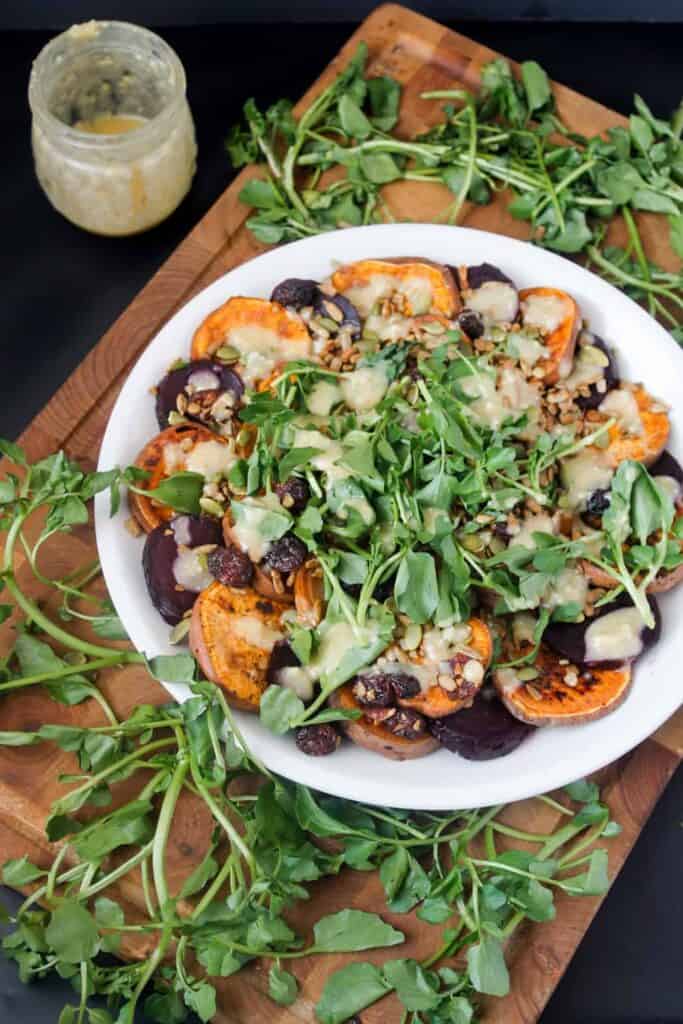 This sweet potato and beet salad with miso-maple sauce is crunchy, salty and sweet, a perfect marriage of flavours that is as delicious as it is beautiful.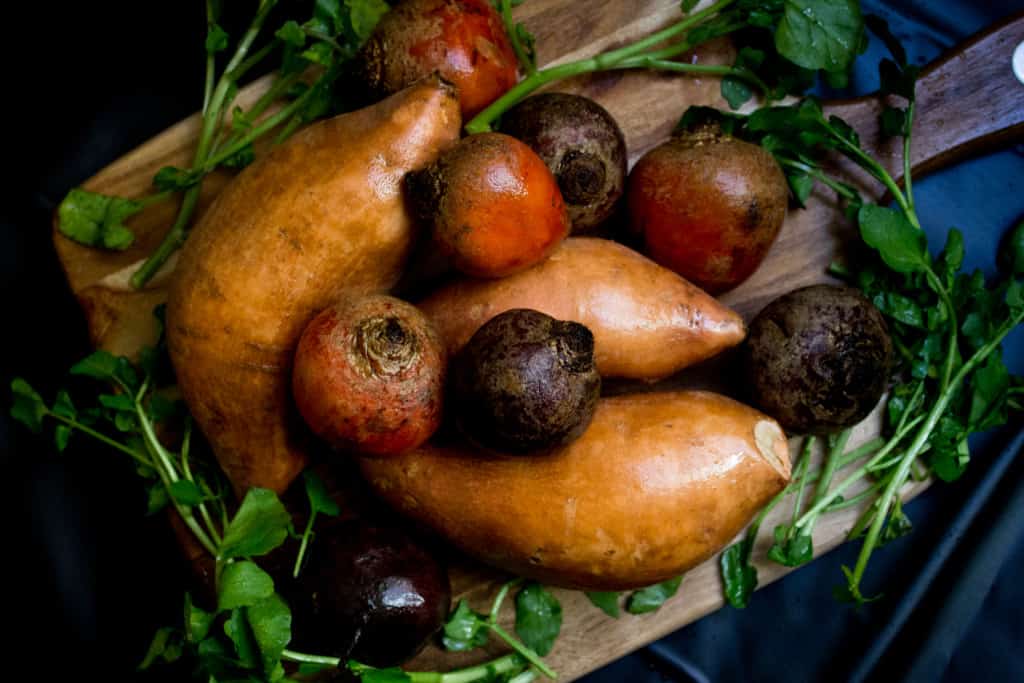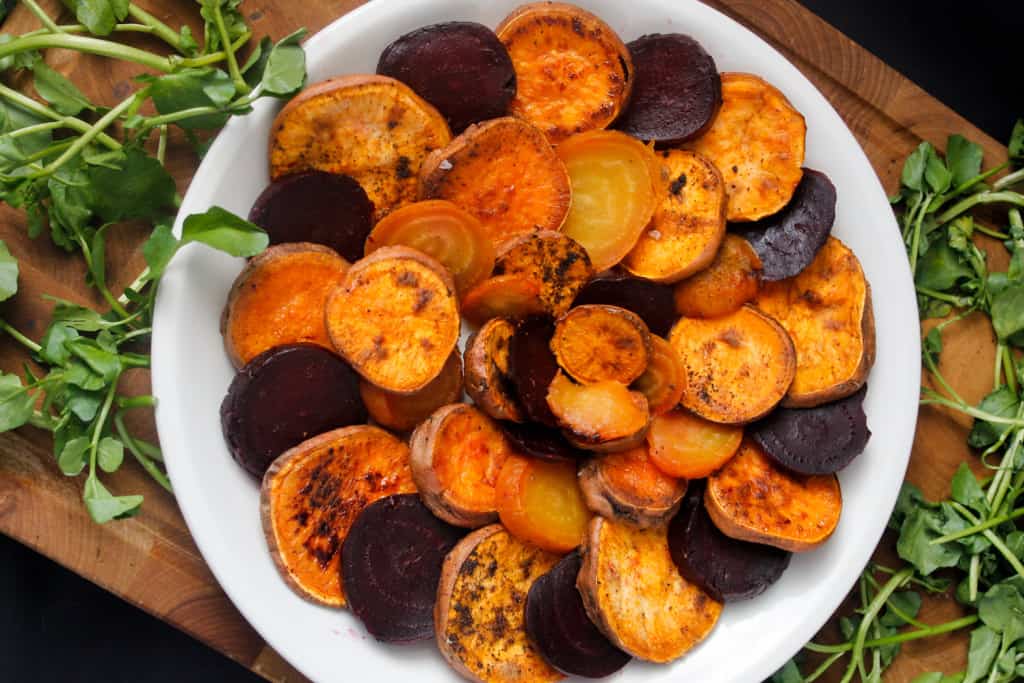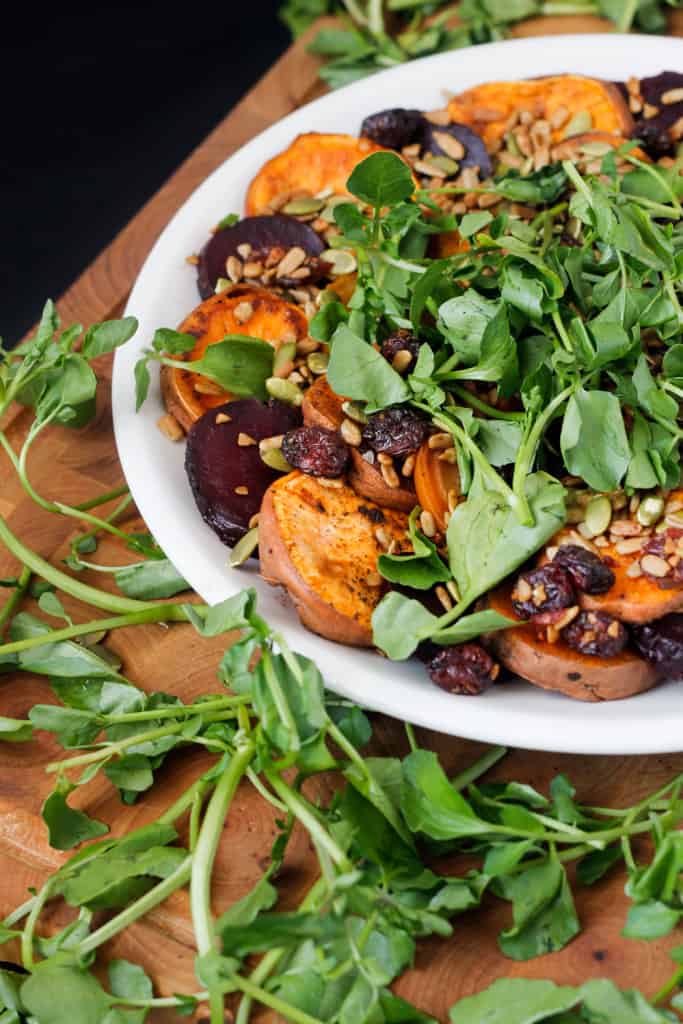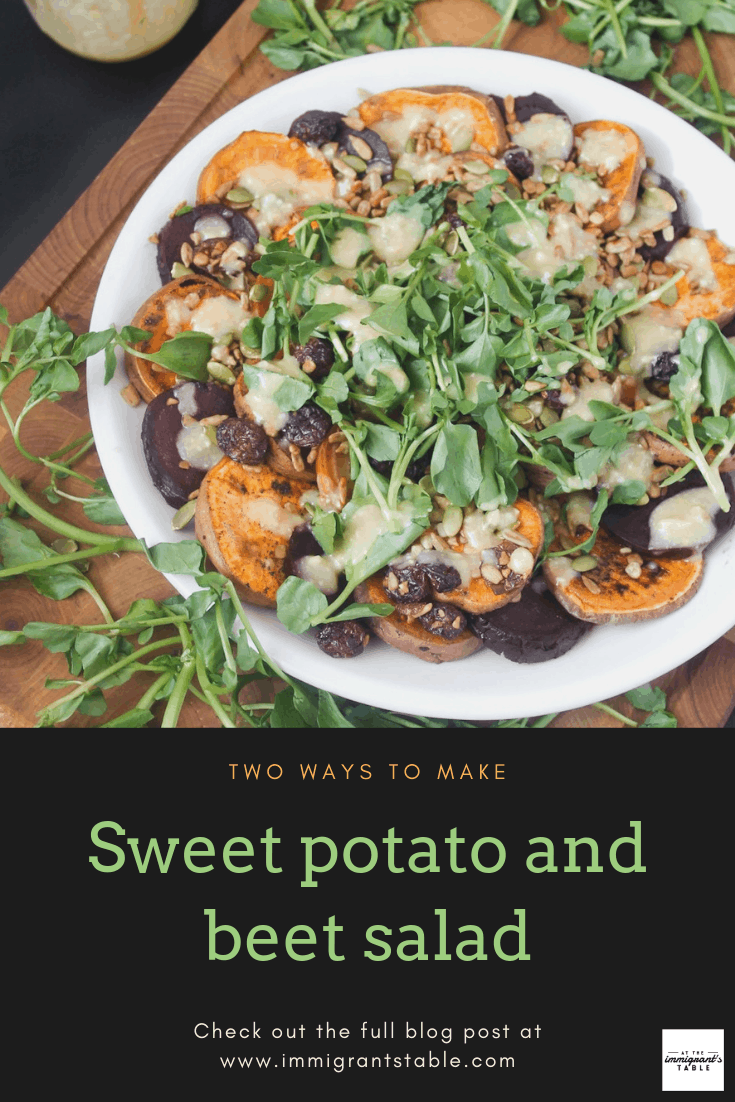 There are many ways to say, 'I love you.'
Some are sweet, and others are salty. Some are expensive, and others are cheap. Some are melodious, and others incongruous. But all of them speak to one ultimate truth: the light we see in another person.
So today, I'd like to use an unexpected miracle, a sweet potato and beet salad with miso-maple dressing and light salad topper, in order to say to three very special women: Thank You. For being awesome, for bringing a light into this world, and for being in my life.
Thank you for being you.
Mother
The first Mother's Day gift I ever gave my mother was an old notebook, cut into the shape of a heart. Barely held together by staples, this notebook was a flimsy affair that threatened to come apart each time you opened it. I covered the front and back with craft paper on which I drew, unoriginally, more hearts.
Inside the booklet was a story in Hebrew about a heart that goes in search of another heart to love. The story ended about ¾ through the notebook; I filled the rest of the space with doodles and proclamations of love, followed by exclamation points. When I gave my mom this book, I sat in her lap and sang her a song called, "Mommy Dearest" (Ima yekara li, to those of you who know your Israeli children's songs). She cried.
To this day, this remains my most cherished Mother's Day memory. Though many other gifts followed, many more shekels were spent, and many more songs were played, nothing could replace that first time I ever looked at my mom and said, "I love you simply because you gave birth to me. And I think you rock."
---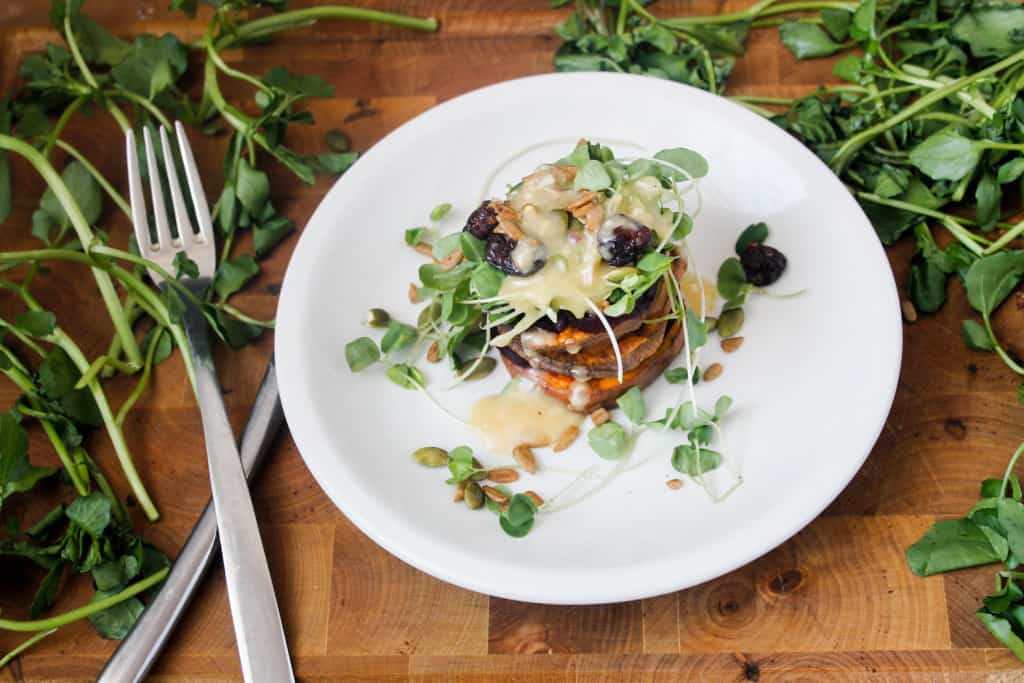 D.
The first Mother's Day gift we ever gave G's mom was a bouquet of springtime flowers. It was a bunch of colourful tulips bound together by ribbons and strings, wrapped in a cellophane package with pink polka dots on a green background. We bought them at Safeway, and they cost a lot more than I expected; but as I held them in my lap on the drive to his parents' house, I remember thinking it would be worth it just to see the look on her face.
I also baked scones, because to me they were the epitome of British food: unfussy and a little stale and not at all sweet but also entirely perfect. Studded with blueberries, these scones had lemon zest baked into them and whipped butter served on the side. After the scones, we went for Chinese food.
This was the first year G spent the night before Mother's Day away from home. She cried.
To this date, this remains my favourite Mother's Day celebration with G's family. Simple and a little strange but also just a little bit sweet, it sat somewhere on the middle between effortless and overworked. It felt like a hybrid, which suited me just fine; after all, we too were a hybrid of two cultures, two upbringings, two completely different kitchens. This was the first time I ever looked at G's mom and said, "I love you simply because you gave birth to the person I love. And I think you rock."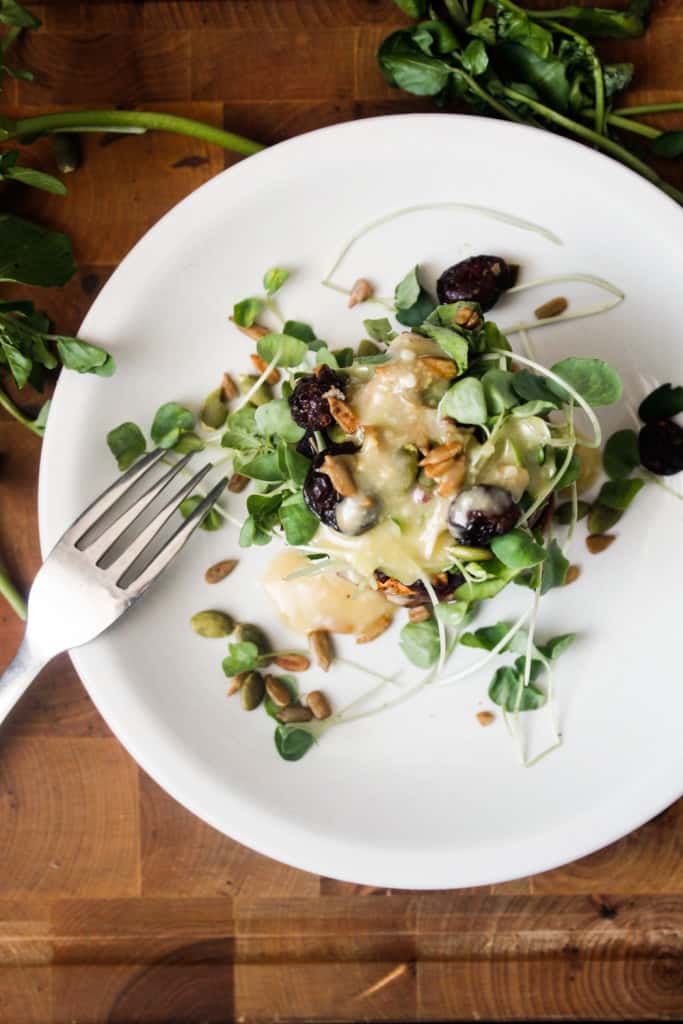 Sarah
The first gift I ever gave Sarah completely escapes my mind. I remember jars of homemade cherry jam, and jars of spiced bourbon and infused vodka. I remember exchanging gluten-free flours and buying each other shots of tequila and swapping lipsticks. But those aren't the memories that matter.
I remember the first time we got really drunk at the house of a boy she liked, and I talked about a boy I liked it, and how no one seemed to like us back (I also remember how wrong we were). I remember how we went to dance it off at the bar, bodies glistening with sweat and stupid grins plastered on our faces and the smoke of nargilah still clouding our minds. I remember all the laughter and the secrets and the tears and the dreams and the hopes, barely whispered to each other by the light of a very pregnant harvest moon.
I remember the start of a friendship, how it felt a lot like love in the pit of my stomach. How it came in the midst of the first year in my life that I felt really, truly alone in the world. I cried.
To this date, this remains one of my favourite memories of Sarah. Though I may not remember the gifts we gave to each other, what has forever been engraved into my mind is this moment: looking across the room and seeing, through the smoke of nargilah that dulled all of our senses, a kindred spirit. This was the first time I ever looked at Sarah and said, "I love you simply because you have a light. And I think you rock."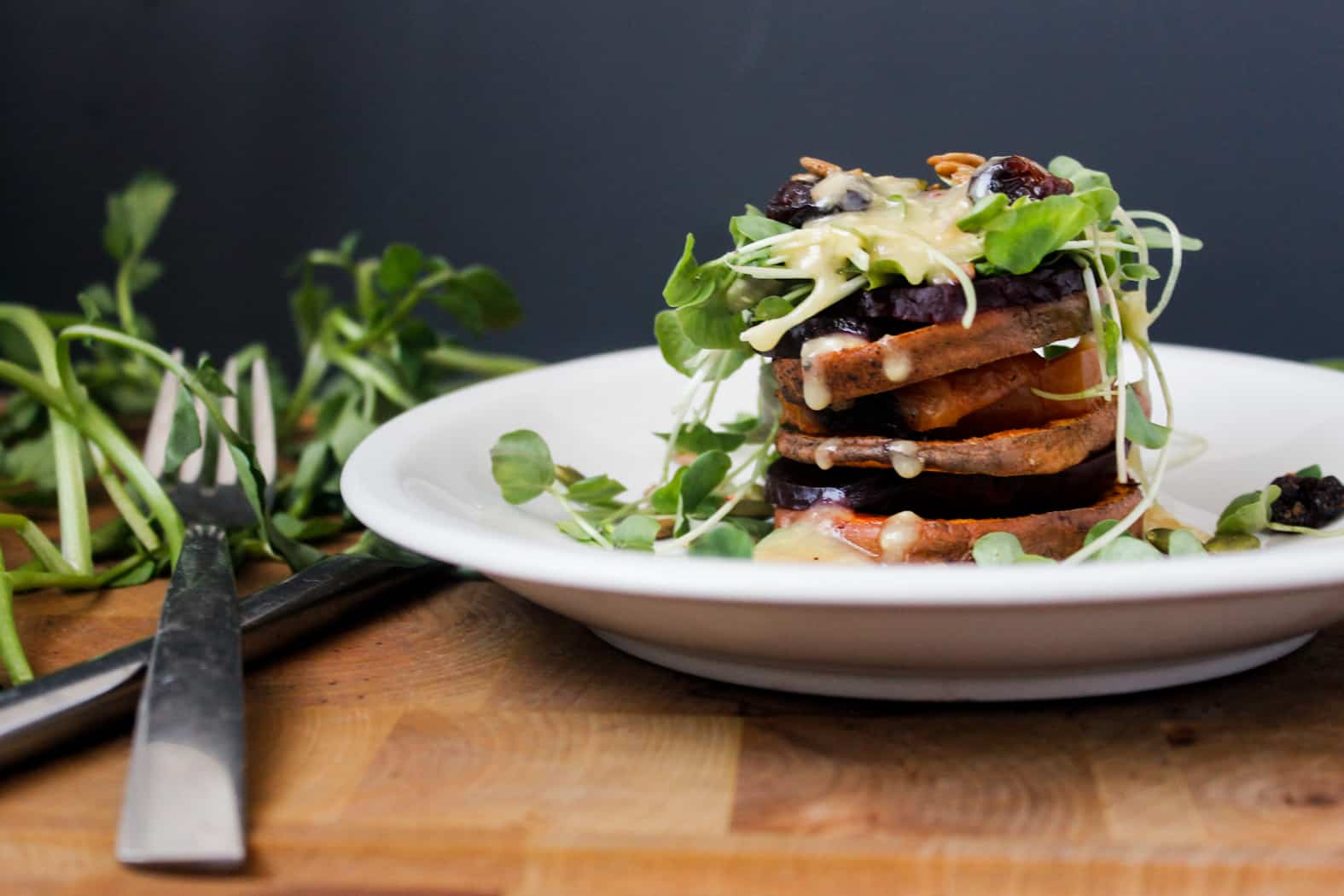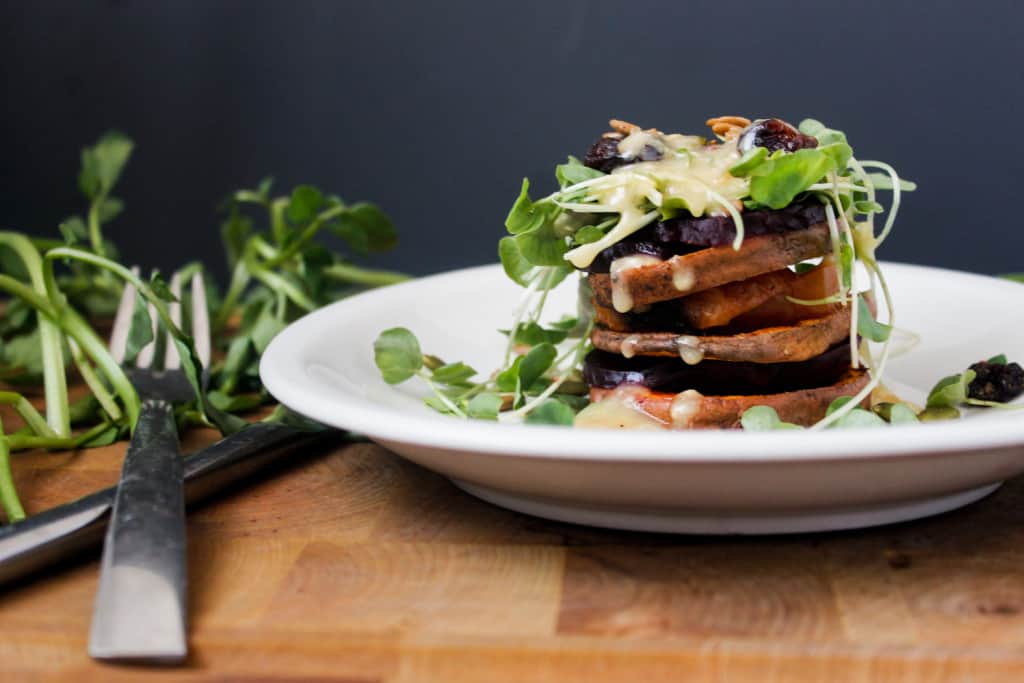 I am no good at talking on the phone. Keeping in touch, making small talk, or talking about anything that isn't intense and deep and meaningful and barrier breaking and relationship building - all that just isn't for me.
Instead of all that talking, I write. Written words are my weapons, my tools, my inspiration; they are what I melt down into syllables and then cobble together again to make phrases, stories, narratives. Without words, I have only one other way of showing what I feel: food.
Today, I tried to use all of the tools in my arsenal to express what I feel towards these three amazing women.
I roasted beets and yams until the peels glistened and came apart in my hands. The resulting discs are soft and creamy, the vegetables' natural sweetness shining through like a confident smile.
I mixed miso dressing and maple syrup in a jar, blending them together so vigorously you could hardly tell they were ever two parts instead of one whole. The result was a dressing that is both salty and sweet, bursting with umami.
I tore watercress leaves off their stems, piling them high atop the salad. It added bold freshness and texture.
And to crown the whole affair, I sprinkled gerenous amounts of NaturSource's Organic Salad Topper Lite, a crunchy mix of untreated ruby-red cranberries, crunchy pumpkin seeds and antioxidant-rich sunflower seeds.
I pulled all of my words together and wrote a post so long that most of you probably never made it to the end.
But it was all for a good cause: to say I love you.
So even though I don't call enough, or write, or even say I love you in so many words, I hope these women know that I really, truly do. I hope they know they matter.
I hope they know they are loved, even if only thanks to a very special sweet potato and beet salad with miso-honey dressing and Salad Topper Lite.
P.S. – This is a sponsored post, but all opinions expressed here are my own. I am proud to support a local, family-owned business whose product I truly appreciate, and I thank you for supporting my sponsors.
Liked this post? Share it with your friends! For more At the Immigrant's Table, follow me on Facebook, Instagram, Pinterest, Bloglovin', or Twitter, subscribe to my mailing list, or contact me about advertising and becoming a sponsor. If you make one of my recipes, don't forget to tag it #immigrantstable @immigrantstable!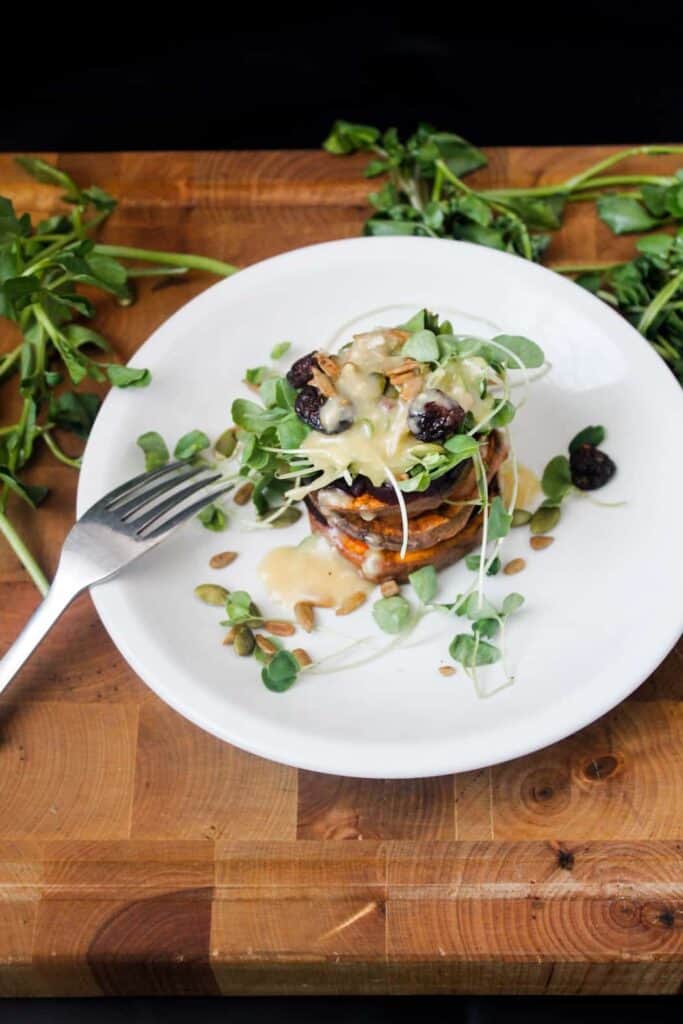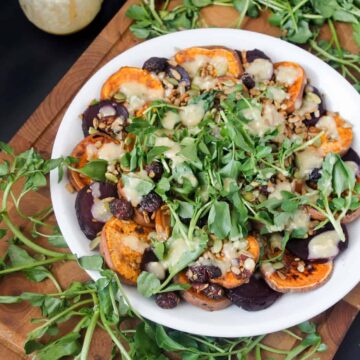 Sweet potato and beet salad with watercress, miso-maple dressing and salad topper lite
This sweet potato and beet salad with miso-maple sauce is crunchy, salty and sweet, a perfect marriage of flavours that is as delicious as it is beautiful.
Print
Pin
Rate
Ingredients
6

small beets of various colours

2

medium sized sweet potatoes

1

tablespoon

white miso

2

teaspoons

maple syrup

3

tablespoons

vegetable oil

Juice of ½ a lemon

A bunch of watercress

leaves only (save the stems for stock)

½

cup

Salad Topper Lite
Instructions
Line a baking sheet with parchment paper. Wrap beets in aluminum foil. Slice yams into ½ inch circles. Arrange yams and beets on baking sheet, beets on one side and yams on the other. Sprinkle yams with salt and pepper, and drizzle with olive oil. Bake in a 400F oven for 35 minutes, until yams have become golden and blistered in some spots. Remove yams and set aside, and continue baking beets for an additional 25-30 minutes, until beets can be easily pierced through with a fork. Let cool in aluminum foil, then peel skin off using paper towels or while wearing disposable gloves. Slice beets into ½ inch slices.

To make dressing, shake all remaining ingredients vigorously in a jar, using a fork to break up the miso, OR, for best results, blend using an immersion or standing blender.

To serve salad in individual portions, arrange yam and beet slices one on top of another in neat stacks on plates, one stack per plate. Top each stack with watercress leaves, drizzle generously with dressing, and sprinkle salad topper lite.

To serve salad family style, arrange yam and beet slices interchangeably on a large platter. Pile on the watercress leaves in the middle, sprinkle salad topper lite, and drizzle on the dressing.

Serve immediately.