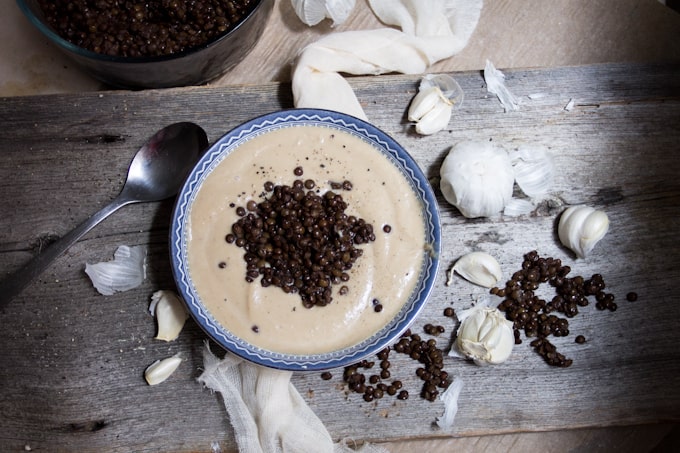 There is a special joy us foodies get from reading about famous chefs and their inspiring dishes. Sometimes, there'll be that 'spark' - hearing about a dish so unique, so beautiful and inspiring, that you become obsessed. You think of tasting it all the time, dreaming of when you'll save enough or finally get access to that trust fund and blow it all on a trip to a five-star Michelin restaurant. And in the short run, you adapt the recipe a million times, trying to capture, even fleetingly, its the magical taste.
That's how it was for me with Thomas Keller's Oysters and Pearls dish. But that's not how this celery root soup with roasted garlic and black Beluga lentils was born.
I don't even remember the first time I heard about Keller's famous dish. It must have been on Iron Chef, back at the time that I still owned a TV and had cable access. Brought up wistfully by one of the judges, the dish had a magical allure to it that started from the playful, mysterious name, and continued with its allusion to richness and splendor. I was intrigued.
But from the moment I first heard about Oysters and Pearls, it began to haunt me. Everywhere I went, I saw mentions of it: I read about it in Bourdain's memoir, Medium Raw, where it was described as the one good part in a boring, endless meal at Per Se; I saw it fleetingly mentioned on my favourite blogs, on my favourite TV shows, in my favourite food magazines and sites; I began to run into copies of the French Laundry cookbook at the library, at second-hand bookstores, on the street, its pages always magically open to a revealing photos of Oysters and Pearls.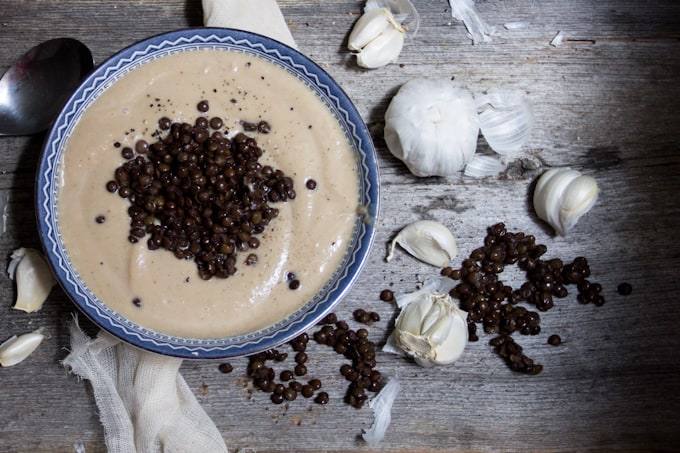 Everywhere I went, there Keller's Oysters and Pearls was.
Until one day, it was no longer.
One day, as abruptly as it began, my obsession with Keller's Oysters and Pearls seemed to stop. I no longer saw mentions of it everywhere. Its image faded in my mind, its stark white and black colours no longer as vivid as they once were.
I thought I was cured of my obsession with Thomas Keller.
Until one day, on the last weekend at our old place, in attempt to clear out the fridge and a few errant pantry drawers, I decided to cook celery root soup. I pulled out celeriac from the bottom crisper drawer, chopped it up and cooked it in broth. I roasted garlic until it was black on top and soft and squishy all over, squeezing out its flesh with my bare hands and mixing it in with the broth towards the end of its cooking. I seasoned and tasted, corrected and added. I liked what I saw.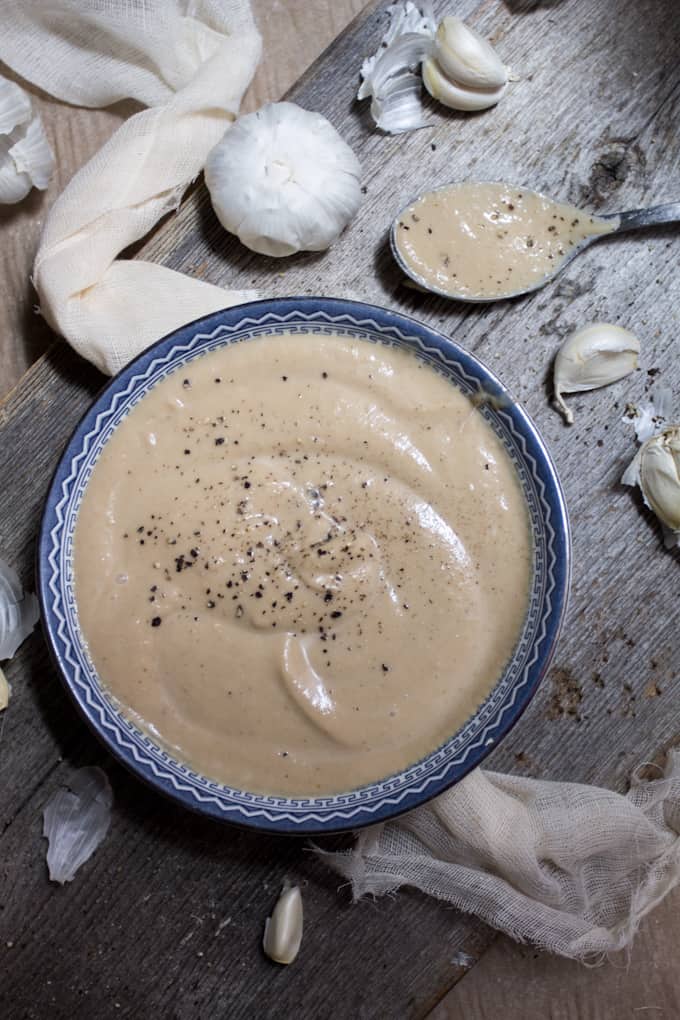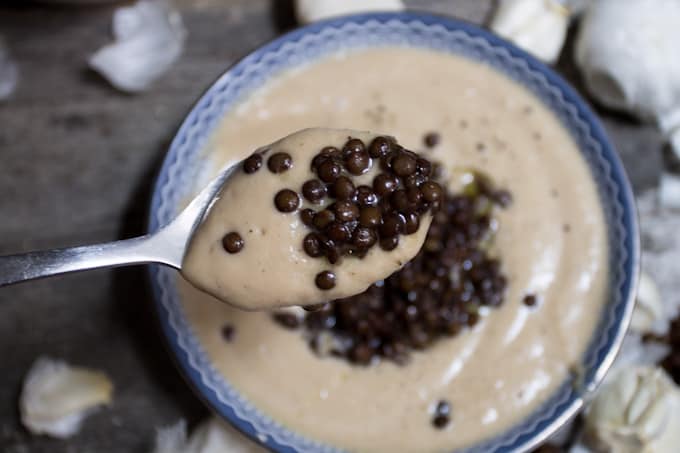 And then, when I poured myself a big bowl of celery root soup with roasted garlic, I decided to ladle in a spoonful of Beluga lentils I already had set aside. Once I saw what I did, I froze in place. My blood curdled in panic, and my hands began to shake. the only sound that escaped my gaping mouth was a quiet, hoarse scream. I looked like I had seen a ghost... Which, for all intents and purposes, I did.
For there it was: Keller's Oysters and Pearls, looking up at the me front the dinner table.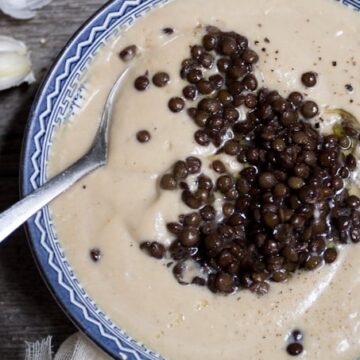 "Oysters and pearls" - celery root soup with roasted garlic and black Beluga lentils
Celery root soup with roasted garlic and lentils is a heady, earthy affair that tastes light & intriguing. It also looks a lot like Thomas Keller's Oysters and Pearls. All of the different components on the soup can be made separately a few days in advance. The soup will need to be thinned out with more water right before serving.
Print
Pin
Rate
Ingredients
1

cup

black beluga lentils

rinsed and picked through

1

head of garlic

1

large yellow onion

finely chopped

1

medium-sized celeriac/celery root

approximately 500g, peeled and chopped

½

kohlrabi root

peeled and chopped (optional - or replace with potato or more celery root)

1

sprig thyme

1

litre vegetable stock

100

ml

lactose-free cream

salt and pepper to taste
Instructions
Cook black Beluga lentils according to package instructions (I usually cover the lentils with up to 2 inches of water, add a bay leaf, bring to a boil, covered, and then cook at low heat for about 20-45 minutes, until lentils are soft enough for me).

Preheat oven to 325F. Cut off the top of the garlic head, exposing its cloves just a bit. Place the head of garlic on a piece of foil and drizzle with a little olive oil and season with salt. Wrap in foil and roast for 45 minutes, until the garlic is soft to touch. Squeeze out the flesh of the garlic and set aside (I save the skins for next time I make vegetable broth, for flavouring).

To make the soup, add oil to a pot on low-medium heat and fry the onions until soft and translucent, about 10-15 minutes. Add the celery root and kolhrabi and saute for 10 minutes. Add roasted garlic and thyme and pour in the stock.

Cover, and bring to a boil. Allow the soup to simmer gently for 30-45 minutes until the vegetables are soft.

Puree the soup, adding a little more stock if the soup is too thick. Add the cream and season with salt and pepper to taste.

Serve the soup with a large, heaping tablespoon of Beluga lentils in its centre, and drizzle with a bit of oil. Top with fresh thyme, and serve.