Inspired by Argentinian chimichurri and a great way to use up leftover greens, roasted cauliflower in green herb sauce is a quick and easy side dish for a weeknight meal.
I have long been a fan of Argentinian chimichurri sauce, with its assertive flavours and balance of herbs, vinegar and fiery chile peppers.
Therefore, when I learned the ultimate chimichurri sauce recipe at a Jewish Food Project workshop, I was overjoyed.
Of course, I couldn't wait to tweak it and make it something only mildly similar to chimichurri.
Thus, this green herb sauce is a great way to use up leftover greens and herbs. It adds flavour to any vegetables. Here, I joined with roasted cauliflower for an ultimate side dish. Yet it makes a quick and easy side dish for a weeknight meal with any vegetable of your choice.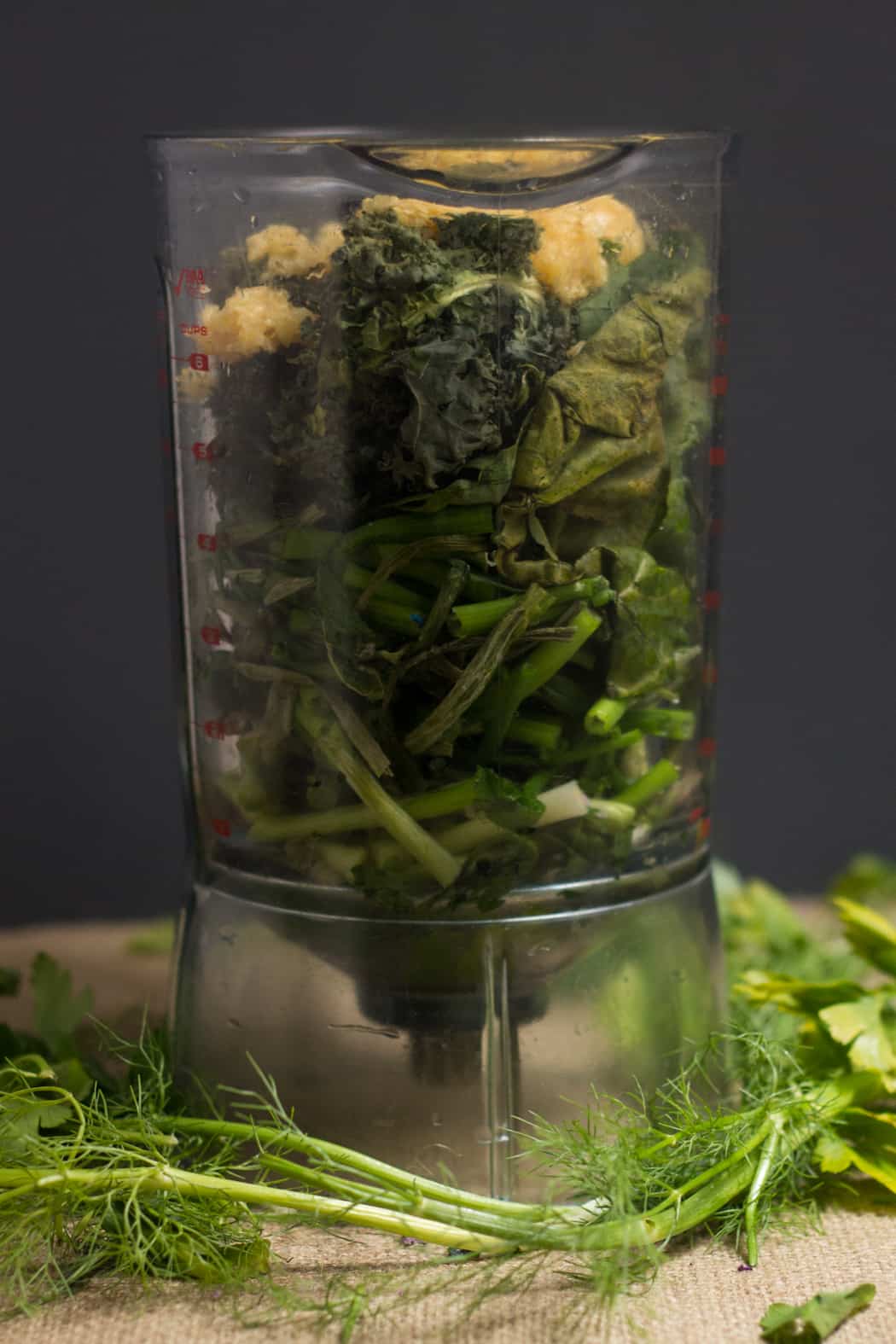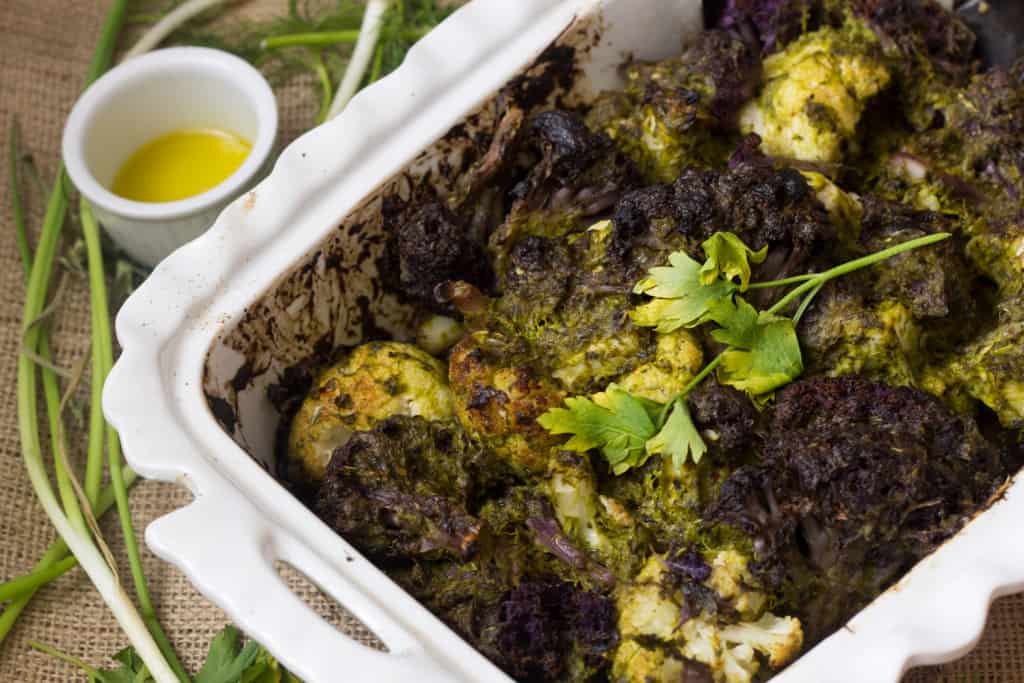 Discovering Argentinian cuisine
My first encounter with chimichurri came at the kibbutz where I worked during my national service. The kibbutz was populated by a large group of Argentinian Jewish immigrants. They brought the flavours and sounds of their homeland into their new life.
On many nights, the shaded pathways that led between the dining room and the houses would be awash with the sounds of the tango, with throaty singing and boisterous Spanish guitar.
The tall Ella trees seemed to almost sway to the sounds, lending their own lithe bodies to the beat.
But the real action took place in the communal kitchen. Many Argentinian worked there, adding zest and spice to ordinarily lackluster dishes like roasted potatoes or cauliflower sauce.
They presided over the ingredient selection, the meat buying, and the cooking itself.
Once a month, they would throw a real Argentinian barbecue dinner for all of the residents. With the malbec flowing and the asado in full preparation, the real party would start.
Though I was rarely there in the evenings and I don't eat meat, I thought at first that these Argentinian parties would have little bearing on my life. That was until I tasted the chimichurri,
A traditional accompaniment to Argentinian barbecued meat, chimichurri has a sharp, acidic taste that is only slightly tamed by its aging process.
For best results, chimichurri must be allowed to rest for at least a couple of hours, and preferably overnight.
While it's an incredible easy sauce to put together, it demands planning ahead, and that's often more than I can handle for a weeknight meal.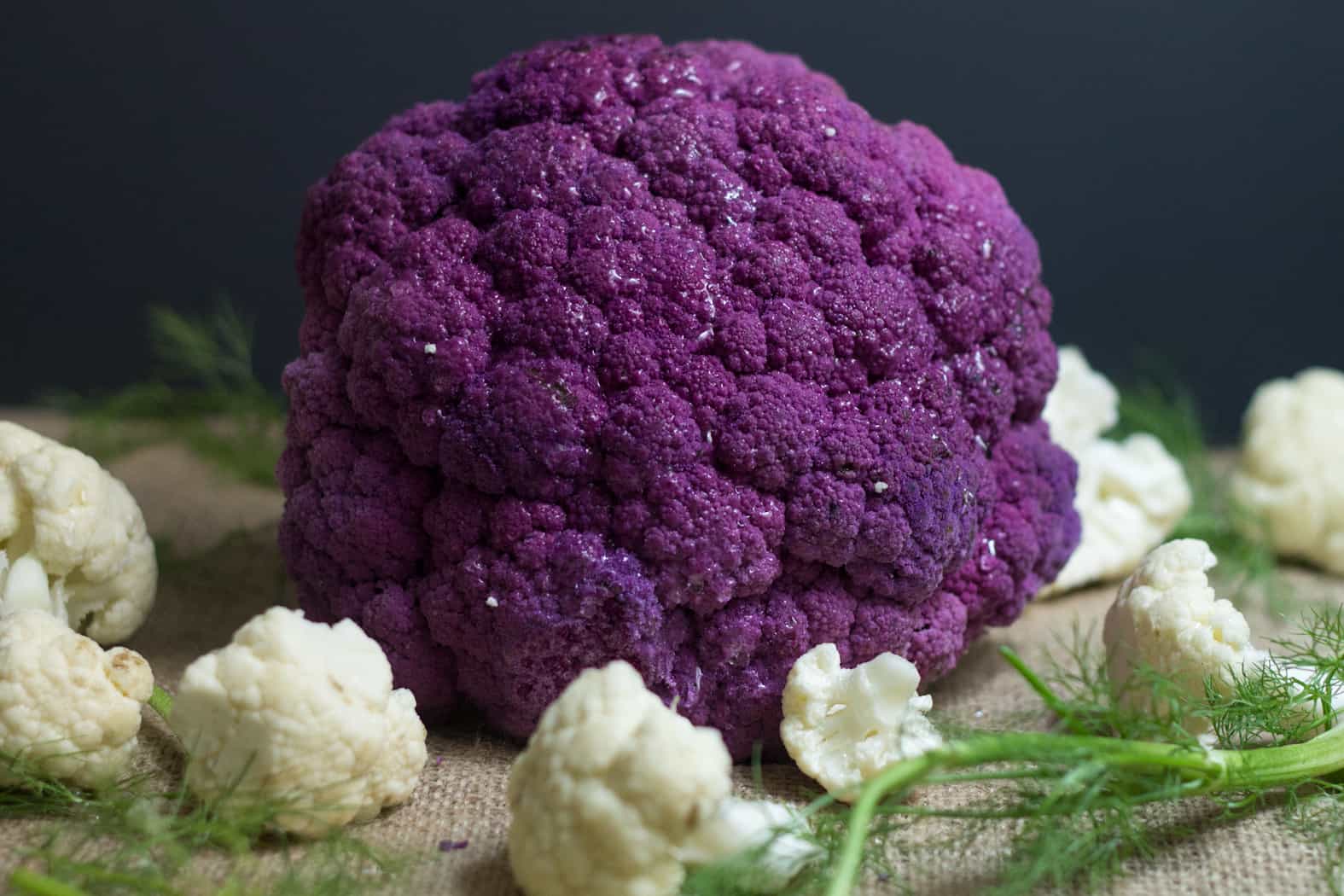 Roasted cauliflower in green herb sauce
One day, faced with a head of beautiful purple cauliflower, I thought of a way to bring the chimichurri flavours to the table, with minimal effort.
A blender made easy work of all the errant herbs and greens in my fridge (because why waster perfectly good kale if you can use it in sauce).
Roasting deepened all the flavours to the point they melted in your mouth.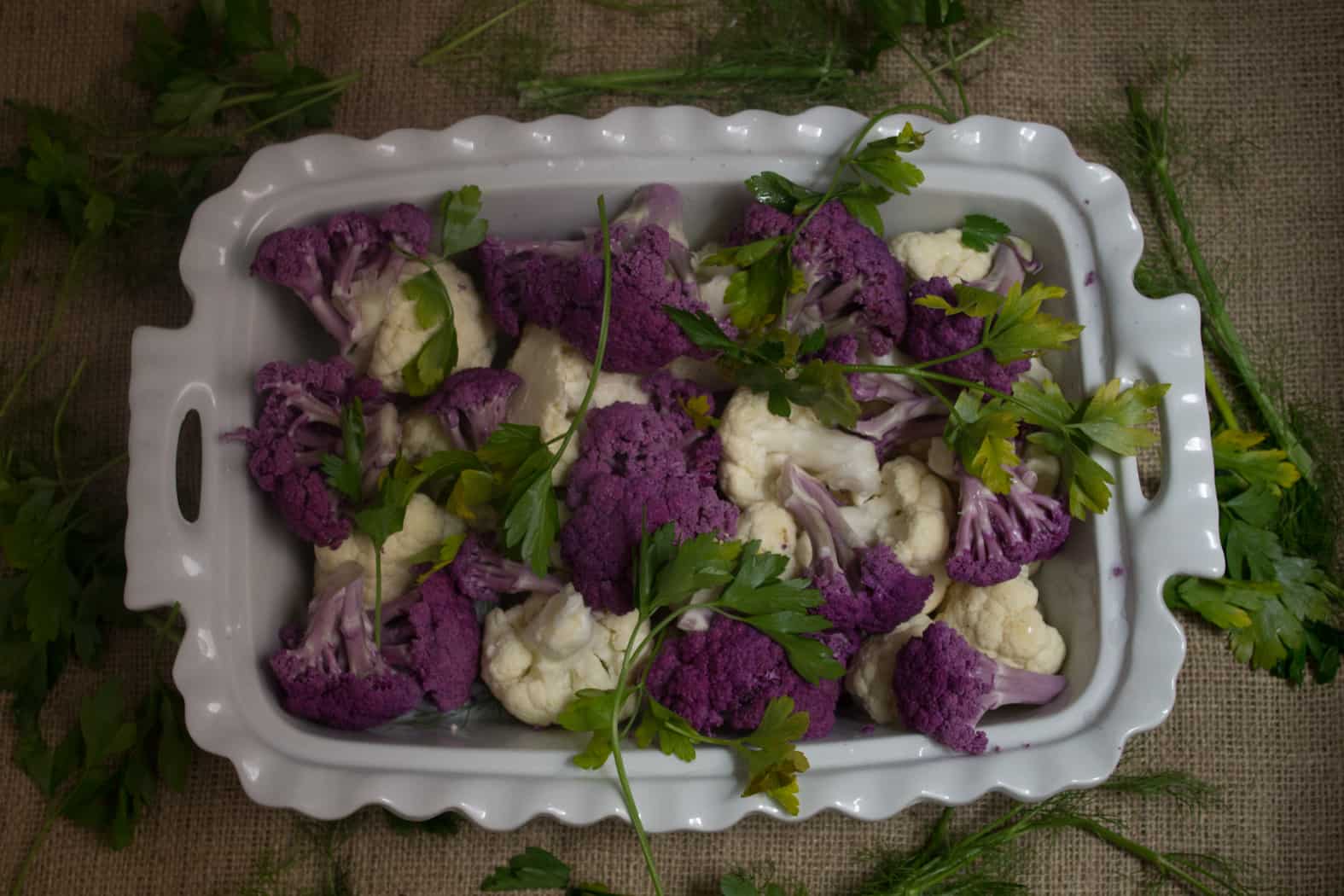 Thus, my cauliflower in green herb sauce was born. You can also serve this sauce with roasted potatoes, yams, turnips, parsnips. Either way, it'll bring a small taste of Argentina into your mouth.
You can roast the cauliflower in the sauce for maximum flavour. However, you can also roast your veggies separately and ladle the sauce on top of your dish, real chimichurri style.
In any case, this cauliflower in green herb sauce will transform any weeknight meal to an Argentinian asado party.
Liked this post? Share it with your friends! For more At the Immigrant's Table, follow me on Facebook, Instagram, Pinterest, Bloglovin', or Twitter, subscribe to my mailing list, or contact me about advertising and becoming a sponsor. If you make one of my recipes, don't forget to tag #immigrantstable @immigrantstable!
Tried and loved this recipe? Please leave a 5-star review below! Your reviews mean a lot to me, so if you've got any questions, please let me know in a comment.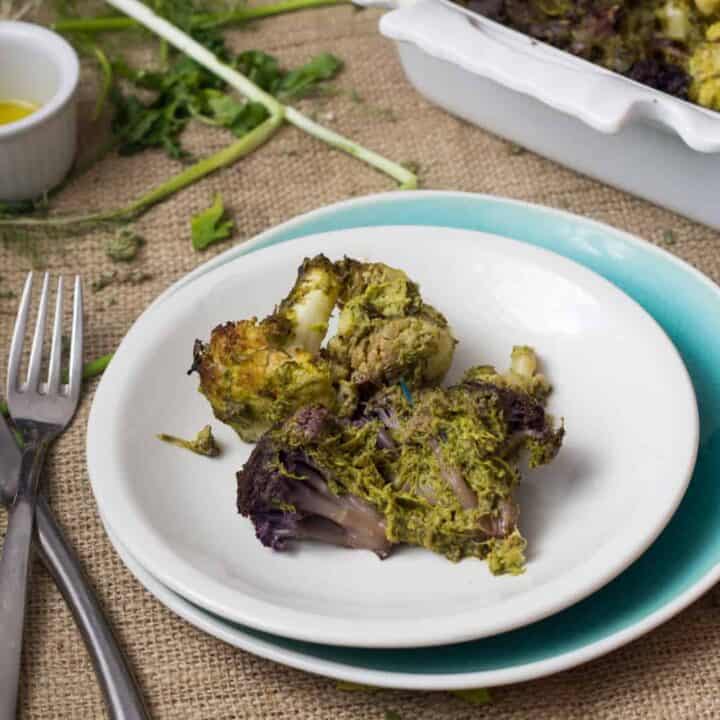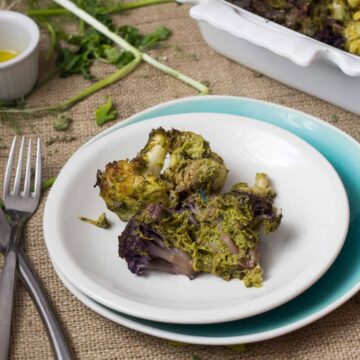 Roasted cauliflower in green herb sauce
Inspired by chimichurri and a great way to use up leftover greens, roasted cauliflower in green herb sauce is a quick and easy side dish for a weeknight meal.
Ingredients
2

heads of cauliflower

broken into florets

4

cups

of green and herbs of your choice - make sure to include some scallions

kale, spinach, cilantro, parsley and watercress are all good options.

¼

cup

water

½

cup

olive oil

¼

cup

red wine vinegar

4

cloves

garlic finely minced

1

tablespoon

dried oregano

1

tablespoon

coarse salt

1

teaspoon

ground black pepper

1

teaspoon

chilli flakes

or more, to taste
Instructions
Preheat oven to 350F. Oil a casserole dish well. Cut cauliflower into florets, and arrange in casserole dish.

Trim all of your herbs and greens - remove stems, cut off the white ends from the scallions. Chop roughly.

Add greens and herbs to the bowl of a food processor. Process until everything is chopped finely. Add the rest of the ingredients except the oil, water and vinegar, and process a few more times to combine well. Add water and vinegar, and process until everything is mixed well and makes a unified sauce with few lumps (this may take up to five minutes). Finally, add oil in a slow drizzle, helping the sauce emulsify. Taste and correct seasonings.

Pour sauce on cauliflower, cover, and bake for 45 minutes - OR, if sauce is tamer, bake cauliflower with a drizzle of olive oil and salt, and then serve with the uncooked green herb sauce. Remove cover in the last 5 and increase heat to 375F. The dish is ready when cauliflower pierces easily with a fork.
Tried this recipe?
Comment + Rate Below!
Connect on Instagram!
Find us @immigrantstable