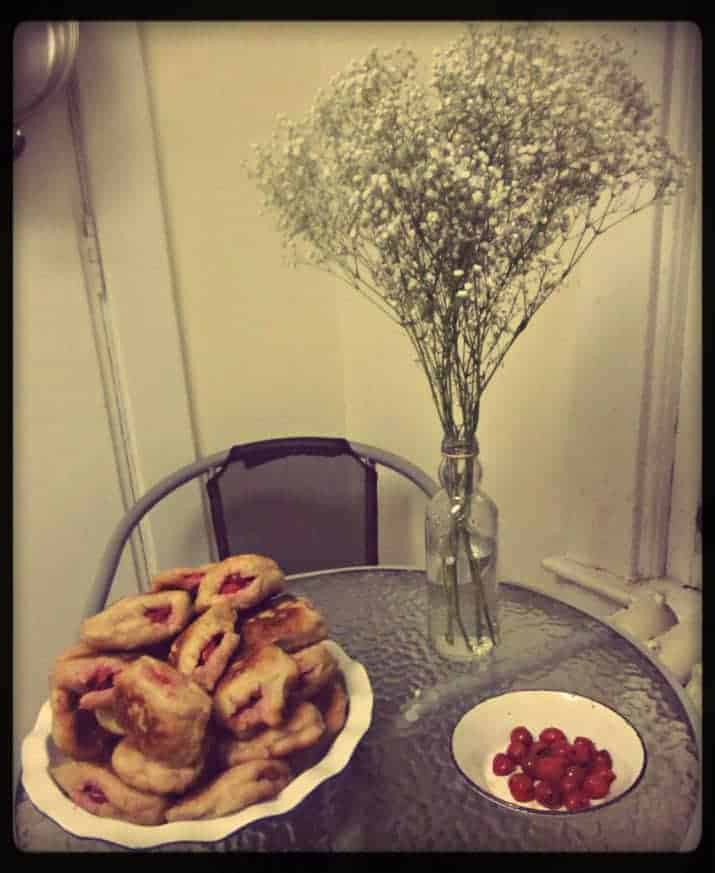 There are many things about Israel that one would fine mesmerizing – its noise, the erratic traffic, the abundance of exotic, beautiful produce at the market, the confusing politics and heated debates on every street corner, and the variety of styles and ethnicities one sees on the street. But to this small newcomer child, the most mesmerizing thing of all was the multitude of different holidays celebrated across the country.
From the non-stop vacations that follow in close succession during the first school month, to the eight days of candles and clinking coins of Hanukkah, through the costumes and candy plates of Purim, the three weeks of springtime cleaning, new clothes and extravagant meals of Passover, and the rich dairy, honey and fruit treats of Shavuot, only a few months on the Israeli calendar are not marked by some sort of celebration. It is a dizzying array of myths and rituals, and I remember entire arguments arising over the question of which holiday is best. And of course, each holiday is marked by its own set of unique, scrumptious dishes.
My favourite of them all has always been Hanukkah. Though I adore the lengthy, prayer-and-song-filled meal of Passover night, or the rich bounty of Shavuot, the celebration of harvest and plenty, I was particularly charmed by the twinkling lights and stories of bravery that Hanukkah brought. Perhaps it was endeared to me by its proximity to my mother's birthday and the Russian New Year's celebration, which have always been momentous occasions in our home. No matter – Hanukkah was my chosen champion, and I was willing to defend it to the death, while taking lead roles in holiday plays and gorging myself on fried treats.
If to be frank, it was probably the treats that began my love affair with Hanukkah. I suspect that every Jewish kid knows and loves sufganiyot. Our English-speaking compatriots known them as jelly busters, or jam filled doughnuts. My grandmother's take on this decadence was different – a little tart, smaller in size, and whole lot less indulgent. And while as a kid I longed for the large, jam-filled spheres whose coat of powdery sugar would obstruct my nostrils, as I got older I had grown to appreciate and miss my grandmother's sour cherry sufganiyot. But she had stopped making them by then. Now, celebrating Hanukah from thousands of miles away, even though my food sensitivities forbid me from indulging in these too much, I can't help but sneak a bite of these sweet and sour treats. Perhaps next year I'll learn how to make them yeast-free.
Happy Hanukkah.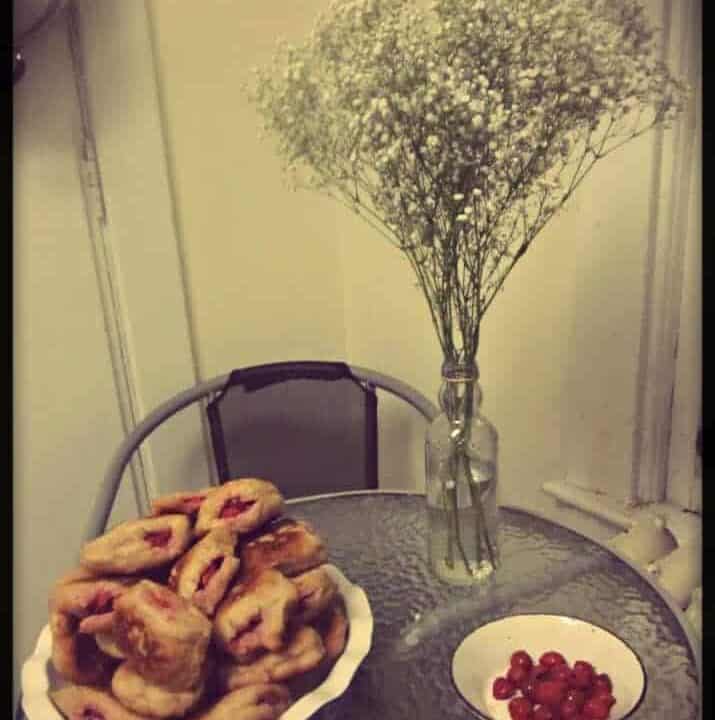 Sour cherry sufganiyot, or doughnuts
A healthy-ish take on a traditional Jewish holiday sweet. This version is nearly sugar free, except the sugar used in the preservation of the cherries. If you like your treats sweeter, feel free to add ½ cup of sugar to the dough batter. Best eaten by the light of Hanukkah candles, or just with a milky cup of earl grey tea, as my grandmother would.
Print
Pin
Rate
Ingredients
For 25 medium-sized sufganiyot

or 30-35 small ones:

6

cups

flour

I used 3 whole wheat, 3 white flour

6

Tbs

yeast

2

Tbs

sugar

2

Tbs

vanilla extract

2

eggs

2

teaspoons

salt

6

Tbs

vegetable oil

2

Tbs

brandy

1.5

cups

warm water

or warm soy milk, warm lactose-free milk, or warm regular milk

1

jar sour cherries in syrup

drained (I had home-preserved sour cherries, but feel free to use whatever brand the nearest store carries. Keep the syrup for cocktails!)
Instructions
If using instant yeast: Mix all dry ingredients (flour, yeast and salt) together, make a well in the middle and add all wet ingredients.

If using dry yeast: Mix yeast, sugar and water together in a medium-sized bowl. Let yeast activate until foamy, about 10 minutes. In a large bowl, combine flour and salt. Make a well in the centre, and add all wet ingredients.

Mix well to combine with a wooden spoon until wet dough forms.

Cover your work surface with flour, and take out your dough. Work your dough well, adding flour as necessary, four about 6 minutes.

Place in an oiled bowl, cover with towel and let rest in a warm place for one to one and a half hours, until doubled in size.

Divide dough into equal pieces (25 if you're looking for medium-sized doughnuts, 35 if you're looking for smaller ones). Cover two or three cookie sheets with parchment paper, and oil your paper slightly. Roll your dough pieces into equal-sized balls, and place them with about one or two inches apart on the sheets. Cover with towels and let rest in a warm place for an hour, until balls have doubled in sized.

Heat up one inch of oil in a pan to medium heat. Carefully and gently lay your dough balls into the hot oil, letting your sufganiyot turn golden on one side before carefully turning them over, about two to three minutes. Cover a large plate with a paper towel. Repeat, and remove fried sufganiyot onto paper towel. dabbing the top with another paper towel.

Let sufganiyot rest for 30 minutes before filing them.

To fill sufganyiot, make a deep hole in each sufganiya, and stuff with drained cherries, taking care not to overfill.

OPTIONAL: dust the sufganiyot with confectioners' sugar.