I have to admit that it's been a little while since I woke up Friday morning with a hangover. But thanks to a few generous vodka-cranberry cocktails, and a vodka tasting in which we all discovered Smirnoff wasn't actually that bad (though it sure feels worse the next day...), I am now a little less than 110 per cent ready to take on whatever the day brings. And for many of you in the U.S., the day after The Biggest Drinking Day of the Year must feel like a ton of bricks as well! But have no fear, because I have a round-up of some of the yummiest treats on the Internet and a few entertaining long reads to get you through the day.
So get another slice of that pumpkin pie and pour yourself a nice vodka-cranberry cocktail - we're not judging. Ignore the fighting family in the background, and take some time to browse some internet links. (I should mention that, if it's not clear, all images below are not my own!)
Oh yeah, and if you haven't yet, like my Facebook page - I am now at 398 followers, and I like round numbers.
Enjoy your Thanksgiving weekend!
First, to eat...
Though the recipe for this apple-rye tarte tatin also looks great, I am sharing this for the important reminder of all the good fights and environmental activism that is continuing all around us.
This is a genius idea: bake bagels in bread instead of a loaf!
Since I first taste Chia seed pudding, my breakfast routine was blown forever. But then I got tired of not remembering the perfect liquid-to-chia ratio, and after a few lackluster bricks that really cannot be called pudding, I gave up on the whole endeavour. This is restoring my faith in chia seed pudding.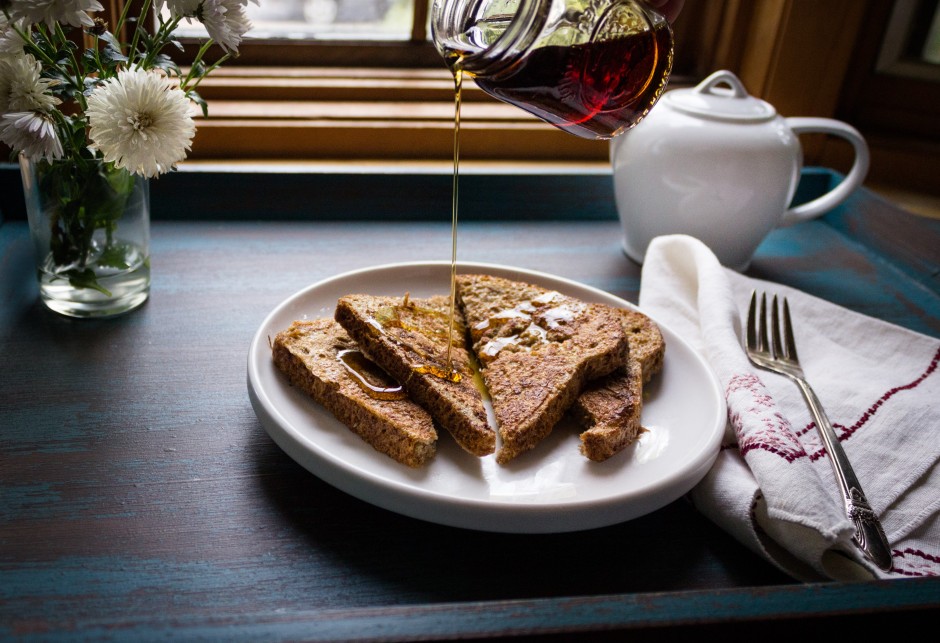 I am clearly in a fall-state-of-mind... If you're thinking what to cook for a large family for Thansgiving, this French Toast from Soul-Beet tops my list.
To remedy my clearly stated gluten bias here, and to offer something for all you Paleos, here is Little Plantation's gorgeous butternut squash quiche in cauliflower crust.
We ate this crisp, tangy fennel, pear and apple salad all of last week. You should, too. And feel free to pair it with my roasted salmon in apple sauce.
Now, to read...
Molly's ode to her departed father moved me to my core.
Though this has long made the Internet rounds, I am just getting to this harrowing tale of a self-induced carb overload now. A good reminder of where gluttony will get us - or too much gluten, really.
Another oldie-but-goodie cautionary tale - this time, of greed.
I love this woman-versus-eggplant staredown that's going on in this post. And Deb's pottery is incredible all in its own right.
If you live in Montreal, Junior is a new restaurant that makes damn fine Filipino food. It was a pleasure to write about it.
Happy Thanksgiving!
Tried and loved this recipe? Please leave a 5-star review below! Your reviews mean a lot to me, so if you've got any questions, please let me know in a comment.