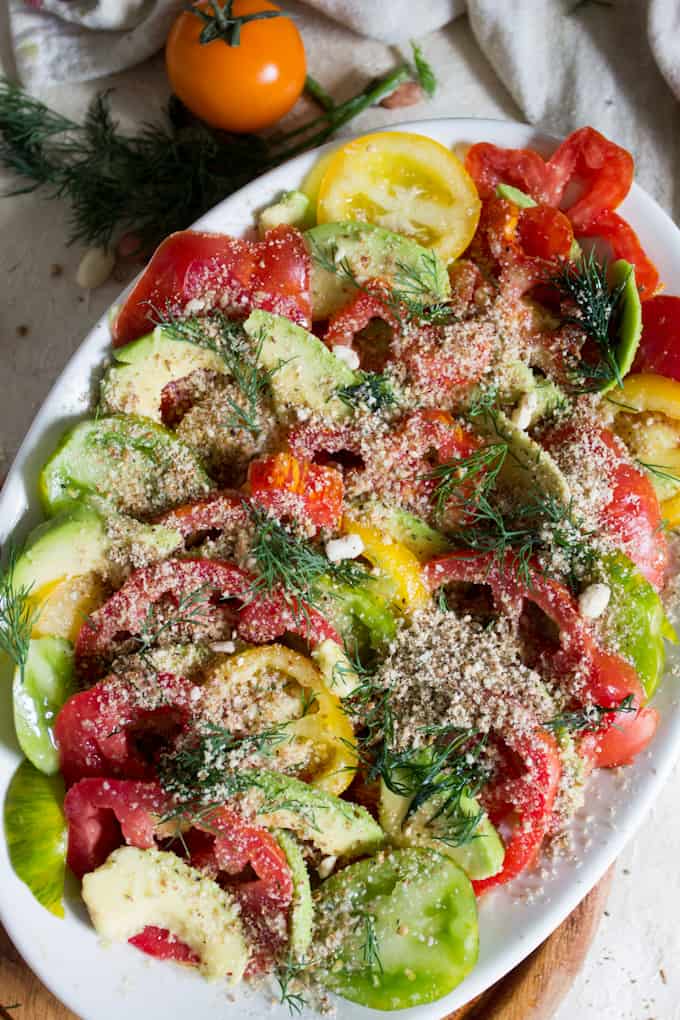 Tomato salad with avocado and dukkah seasoning is the perfect balance of savoury and fresh, and an unforgettable introduction to the world of dukkah.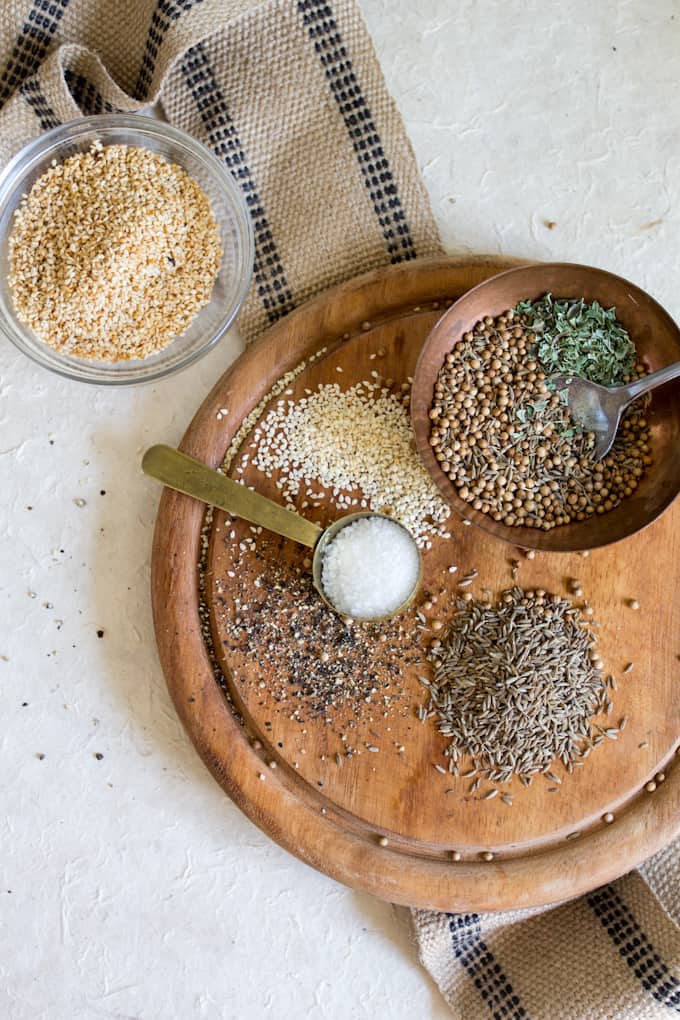 There are those flavours you taste once, only to never forget again. The perfect balance of sweet and salty, of musky and fresh; the varied textures, playing on your tongue like a impatient children caught in a game of hide-and-seek; the final 'pop' of acidity that hits you at the end, making your whole mouth sing with joy.
That's what dukkah was like for me. And that's why I couldn't wait to share it with you in this tomato avocado salad with dukkah seasoning.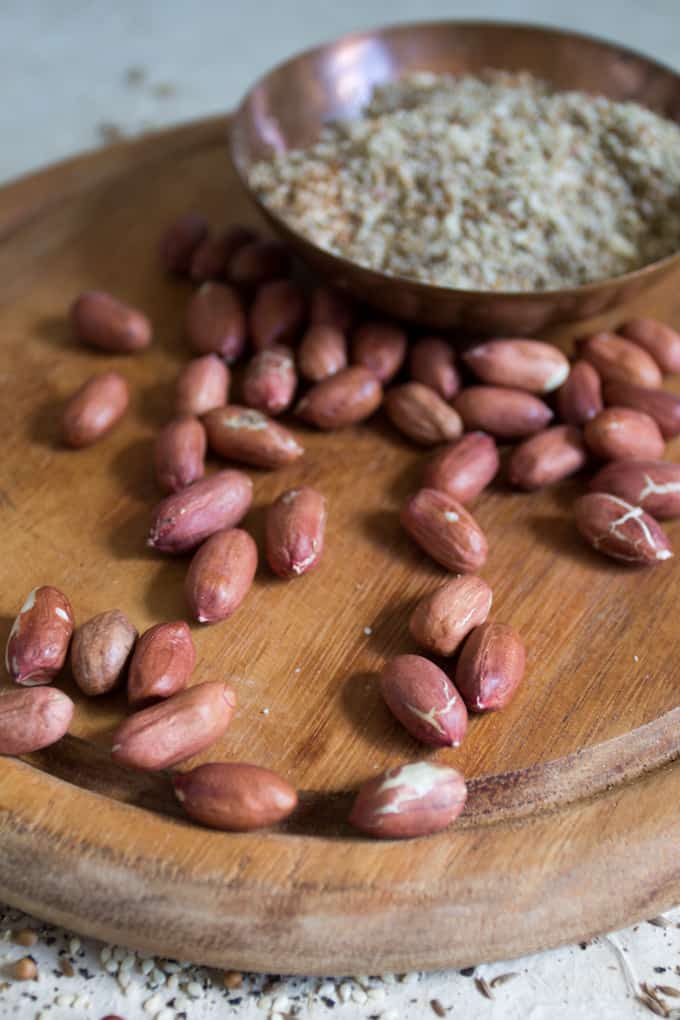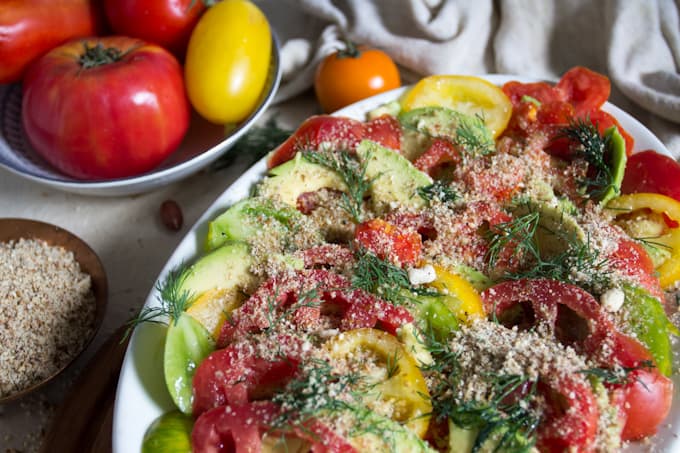 I first discovered dukkah seasoning through 101 Cookbooks. It then began to pop everywhere - from Smitten Kitchen to Lottie + Doof, everyone had their own take on this Egyptian spice mixture.
So I started digging in dipper. I scoured webpages with recipes in Hebrew and in English, discovered that the Egyptian Jews make their dukkah with peanuts instead of walnuts or hazelnuts, and that the quality of sesame is nearly as important as the balance of flavours in this dish. I became obsessed with dukkah (which, as you may remember, is not unusual for me).
And yet, I never tried making it.
I don't know what was wrong with me; I either never made the time, or just didn't have the right ingredients on hand (until recently, the only way sesame seeds made it through my door was in tahini form). Whatever the case may be, dukkah remained something I had heard of, but never tried.
And then two weekends ago, the first weekend with G away, I took myself out to brunch at a local hip cafe that I've been dying to check out. I ordered the avocado toast with dukkah, and a soy cappuccino. And from the moment I took a bite of this sandwich, my world changed.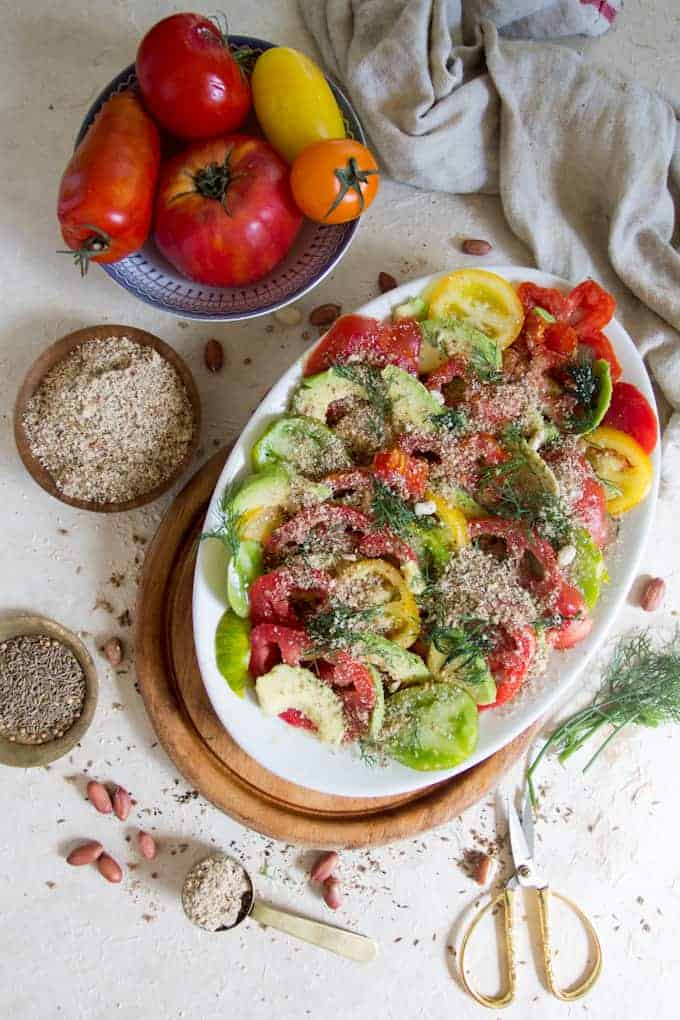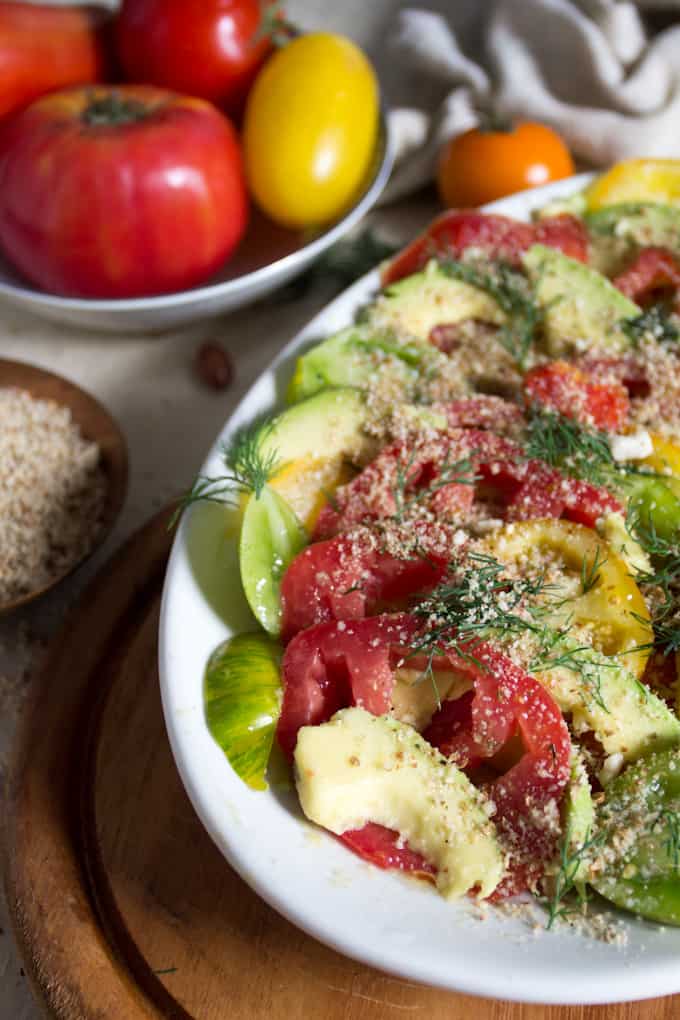 The combination of creamy avocado with the deeply seasoned, pungent & nutty dukkah was unforgettable. Tiny fronds of dill elevated the dish, bringing in a whiff of freshness to the whole arrangement. It honestly was one of the best flavour combinations I've ever had.

Immediately after this brunch, I went to the market and got all of the ingredients for this tomato avocado salad with dukkah seasoning. A plan began hatching in my mind: I knew I wanted to pair avocado with this season's best tomatoes, fleshy heirlooms that were just starting to hit their peak. I wanted dill so fresh, it would stand on its own, even without a drop of water. And most importantly, I wanted all the makings of a perfect Egyptian dukkah.
The end result, this tomato avocado salad with dukkah seasoning, is so much more than the same of its parts. My peanut dukkah is redolent with subdued heat and earthiness, the cumin mixing with the pepper and sesame. The whole dish is seasoned with just a few drops of fruity extra virgin olive oil and a squeeze of lemon, to balance out the avocado and tomatoes and let them shine.
You truly need the best ingredients for this simple salad, but it will blow you away. Because once you taste this tomato avocado salad with dukkah seasonings, you'll wonder where it's been your whole life.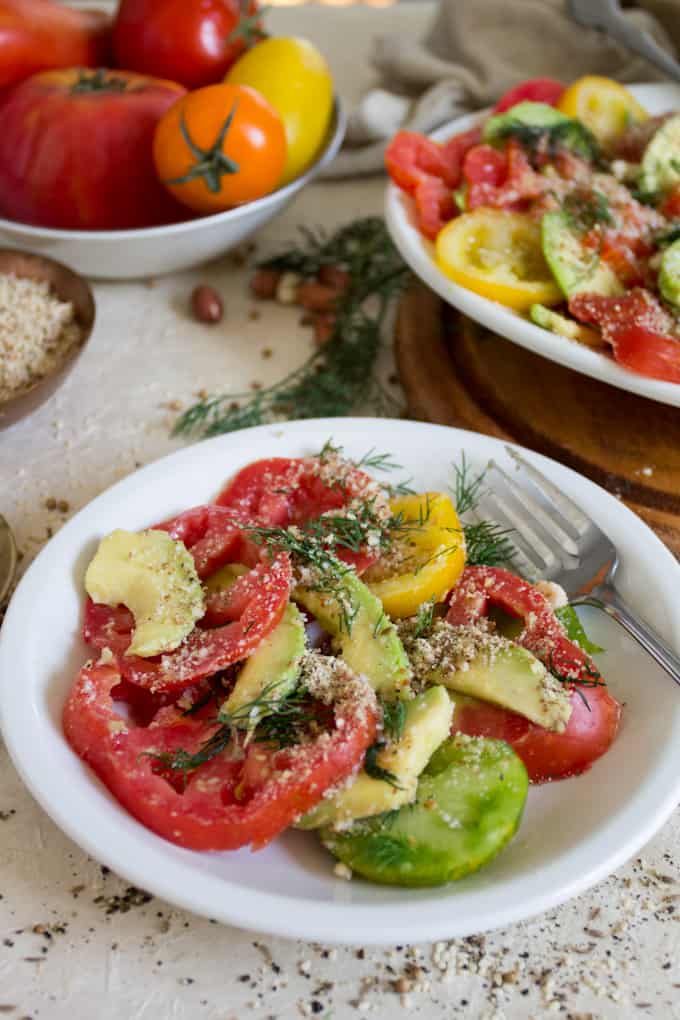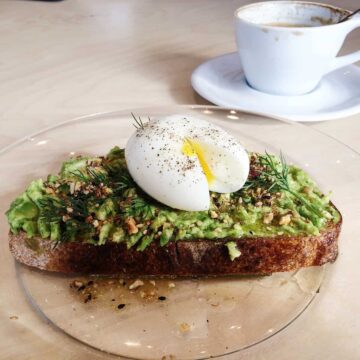 Tomato avocado salad with dukkah seasoning
Because the flavours here are so clean, you truly want only the best ingredients for this salad. Dukkah won't keep fresh as long as other, nut-free spice mixtures... But then again, it also won't stay in you cupboards as long.
Print
Pin
Rate
Ingredients
Dukkah seasoning

makes about 1 cup:

4

TBs

sesame seeds

3

TBs

coriander seeds

2

TBs

cumin seeds

1

TB

black peppercorns

½

cup

roasted peanuts

1

teaspoon

dry green mint

1

teaspoon

salt

For salad:

1

avocado

3 to

matoes

Juice of 1 lemon

Fresh dill

to taste

Salt & pepper

to taste
Instructions
Preheat a pan to medium heat. Roast sesame seeds for 1-2 minutes, until fragrant. Set aside.

Roast coriander & cumin seeds and peppercorns until fragrant. Set aside and let cool.

Once cooled, combine the seeds with the rest of the dukkah ingredients, and mill in a spice grinder or or pulse in a food processor until a coarse mixture develops (take care not to overprocess, or you'll be left with a paste). Pack in a jar.

Meanwhile, slice tomatoes and avocado, and arrange on a large platter. Sprinkle with dukkah, fresh dill, and season with olive oil, lemon, salt and pepper. Let macerate for just 2 minutes, and serve. Set the dukkah seasoning mixture at the table, so people can generously season their own plates.