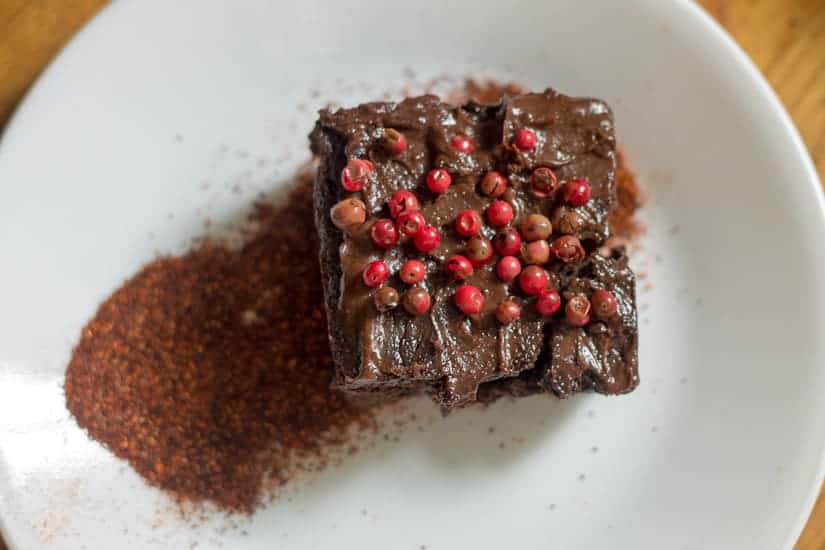 I have a confession to make: I have been holding out on you. These vegan chocolate chilli brownies have been in my arsenal for three years now. I have had the photos for three months. And yet, I am only revealing them to you now. I'm a bad, bad food blogger.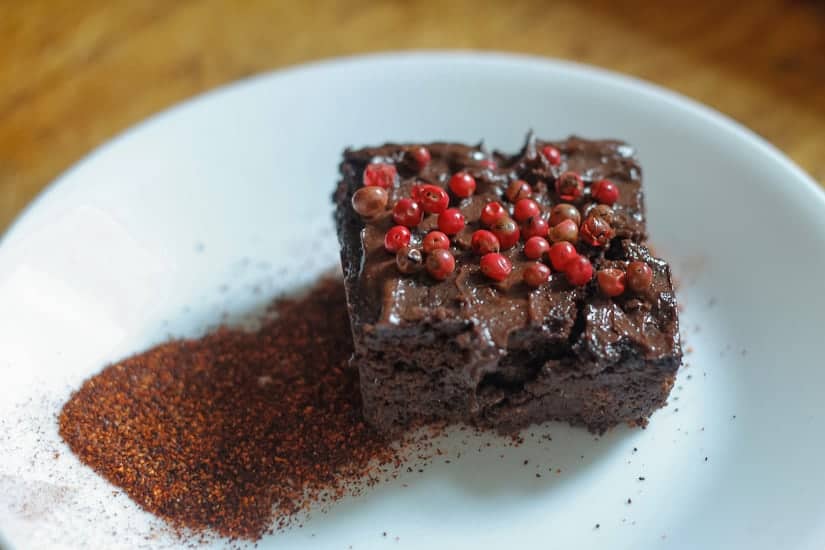 The reason for my reticence to post these vegan chocolate chilli brownies has not been that they weren't perfect. With their deep chocolate flavour, low glycemic value, and spicy undertones, these vegan chocolate chilli brownies are fantastic, and one of my favourite desserts to bring to an event. They're piquant enough to get people intrigued, but not so much as to make the most heat-sensitive of guests go running for the fire hydrant. And being vegan, they're also cruelty-free and low in fat, and therefore appropriate for a lot of people who are avoiding eggs, dairy, or even exorbitant amounts of fat. And they don't even have nuts in them! (Not that I'm opposed to nuts in brownies. But some people are. I'm not judging.)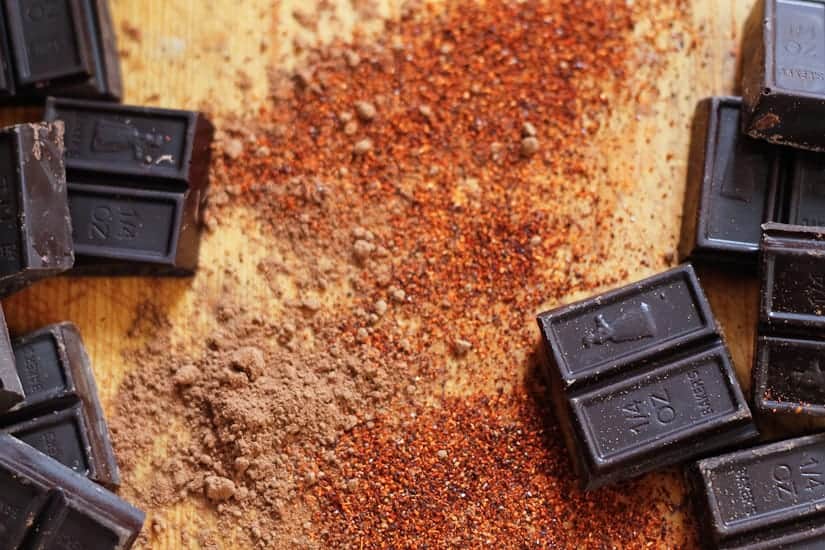 No, dear readers; the main reason I have been keeping these vegan chocolate chilli brownies to myself is because I truly hate the photos I took. I was attempting to shoot the photos at 4pm on a very sunny summer afternoon, when the kitchen was full of bright light and, consequently, harsh shadows. I had a limited time to play with angles as I was running out the door, and guests were clamouring for dessert. The counter was covered in dirty dishes that I had yet to wash, and I had nowhere to put the cake to try more fortuitous backgrounds.
And in the three months since, I have been just too lazy to try for better photos.
All this is to say, these photos will have to do. You guys will have to trust me on the texture of these vegan chocolate chilli brownies, on their layered flavour, and on their mass appeal (people just love the idea of chile and chocolate together. You can omit the vegan part if you're in a crowd of avowed meat eaters). The recipe is not my own; it came to me from G's lovely mother, she of the house of fuzzy cats and beautiful artifacts, who got it from a friend, who got it from what looks to be an unnamed magazine. If any of you recognize this recipe, do give me a shout and let me know who its creator actually is.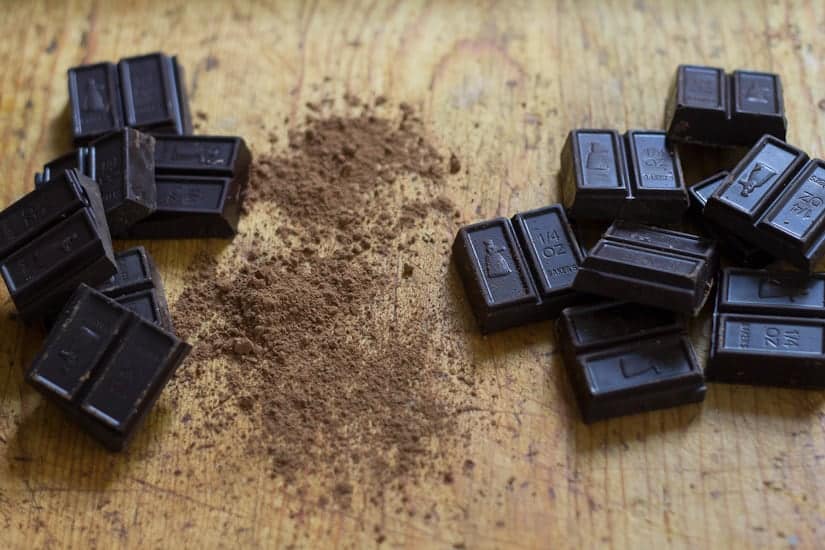 But don't let the lack of pedigree or the bad photos stop you from making these vegan chocolate chilli brownies. Your friends and tastebuds will all thank you.
Tried and loved this recipe? Please leave a 5-star review below! Your reviews mean a lot to me, so if you've got any questions, please let me know in a comment.
Recipe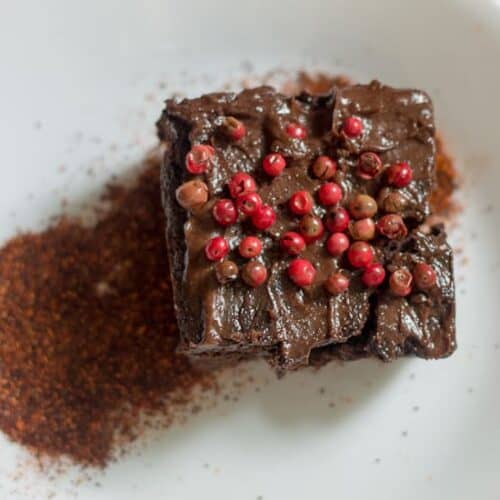 Vegan chocolate chilli brownies
These vegan chocolate-chile brownies are full of deep chocolate flavour and slight heat from the chipotles. They are delicious, layered, healthy(ish) and immensely popular.
Ingredients
⅓

cup

unprocessed cocoa powder

4

oz

semisweet vegan chocolate

chopped

3

oz

unsweetened vegan chocolate

chopped

1

cup

sugar

1

cup

silken tofu

blended

½

cup

vegetable oil

sunflower or grapeseed are my choices

2

tsps

vanilla extract

¾

cup

spelt flour

you can use regular wholewheat flour as well, but spelt makes these feel a touch more wholesome

1

teaspoon

chipotle or cayenne pepper powder

½

teaspoon

baking powder

½

teaspoon

sea salt
Instructions
Blend silken tofu in the blender. Preheat oven to 350F. Line an 8-inch baking pan with parchment paper and dust with cocoa powder.

Melt the unsweetened and semisweet chocolate together; you can do this by following the double-boiler pot method and stirring constantly for about 5 minutes, or do as I do, and nuke them in a microwave-safe dish for about 15 seconds at a time, stirring after each time, until the chocolate is fully melted. Mix in cocoa powder.

In a large bowl, combine sugar, blended tofu, oil and vanilla. Stir in the melted chocolate, flour, chipotle powder, baking powder, and salt.

Pour the batter into the pan and ensure it spreads evenly. Bake at 350F for 35 minutes, until a toothpick inserted in the middle comes out relatively clean - but not really clean, because you want to keep the chewiness. Remove from the oven and let cool for two hours before cutting into it - trust me on this one, or it will all fall apart spectacularly. Sprinkle with a bit more chile powder right before serving.
Tried this recipe?
Comment + Rate Below!
Connect on Instagram!
Find us @immigrantstable