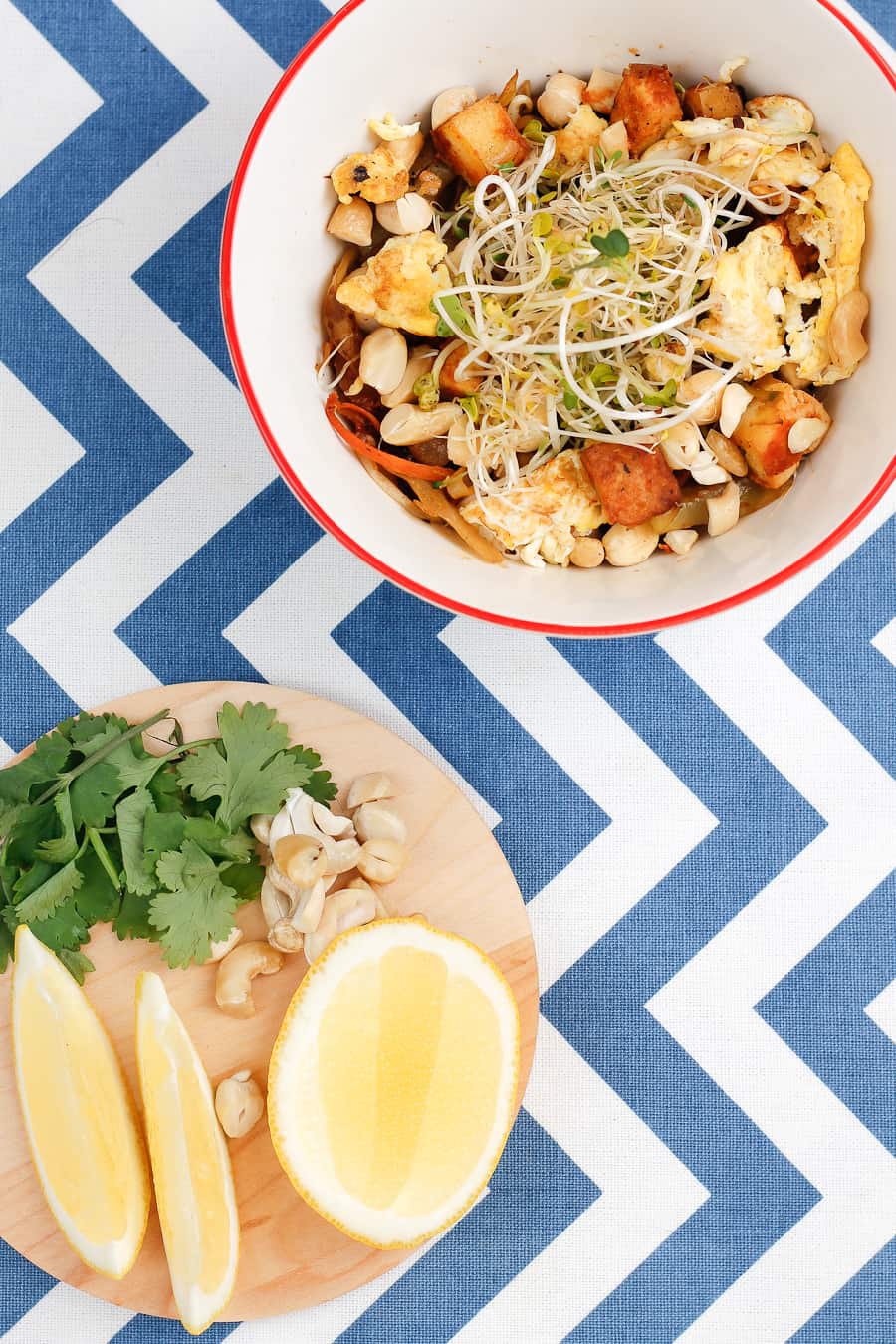 One of the unexpected side-effects of the paleo challenge has, for me, been the necessity to cook more often. But as necessity is the mother of invention, it was one of those busy weeknights that produced this incredible vegetarian paleo pad thai, a quick and easy recipe I intend to keep making long after the paleo challenge is done.
I am not sure how to explain the latest voracious turn that my appetite has taken. It could be because I now eat more frequently during the day. Maybe it's because paleo food doesn't lend itself to slow cooker action and leftovers, which used to be the staples of my weekday meal. Perhaps it's simply because I have been craving fresh vegetables more often... Whatever the case may be, I have been finding myself staring at my fridge most nights of the week, thinking about what I can make tonight that won't just be another batch of cabbage salad.
At those times, Pinterest has been an invaluable asset (as has been my Swissmar Borner mandoline
and now, Paderno spiral slicer
- more on them soon!). It's amazing how many recipes you can discover with the punch of a single keyword, or the browsing of boards built around your diet. Though I have had a few failures from Pinterest dishes that turned out much differently than how they looked, and it can never replace old-fashioned bookmarking from blogs for me, it's become an easy way to arrange my own recipe list - and to be inspired by those of others.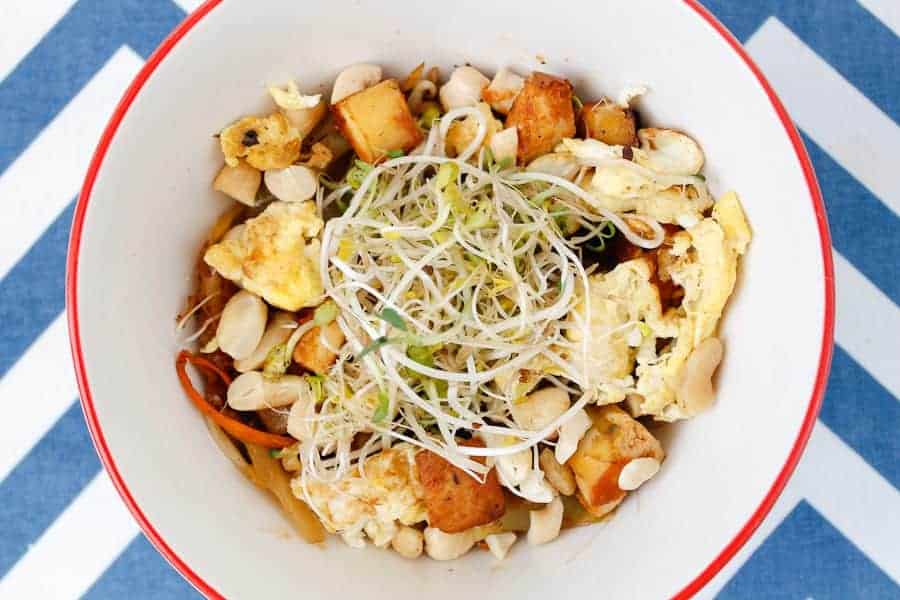 Well, one night last week, all that my fridge held was half of a head of cabbage, some carrots, sprouts, and a few eggs. My mind immediately veered towards vegetarian pad thai, a recipe that I had long wanted to make paleo. A very popular pin from Paint + Tofu soon caught my attention. Working with the restrictions of paleo, and based on what I had in the fridge, I tinkered with the original recipe to make it my own: a quick and simple vegetarian paleo pad thai.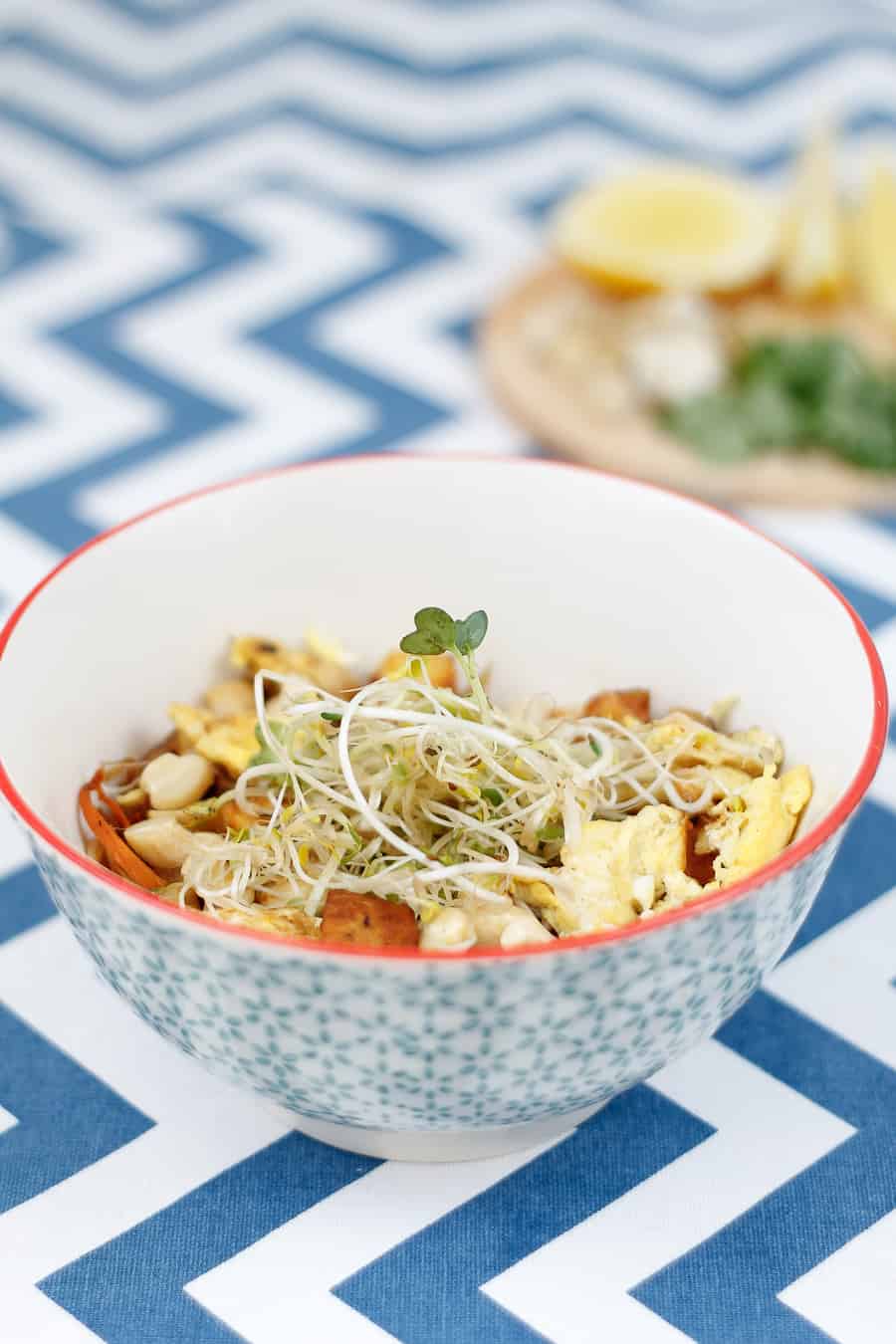 We made a small batch of it the first night, and then made a few more huge batches of vegetarian paleo pad thai in the days to come. Sometimes we threw in pan-fried tofu and fresh daikon sprouts, which would technically not make this paleo; sometimes we omitted the egg, making this vegan. In all cases, this silky mass of cabbage and carrot noodles went beautifully with a messy crown of sprouts, a generous helping of almond butter, and a few squirts of your favourite hot sauce.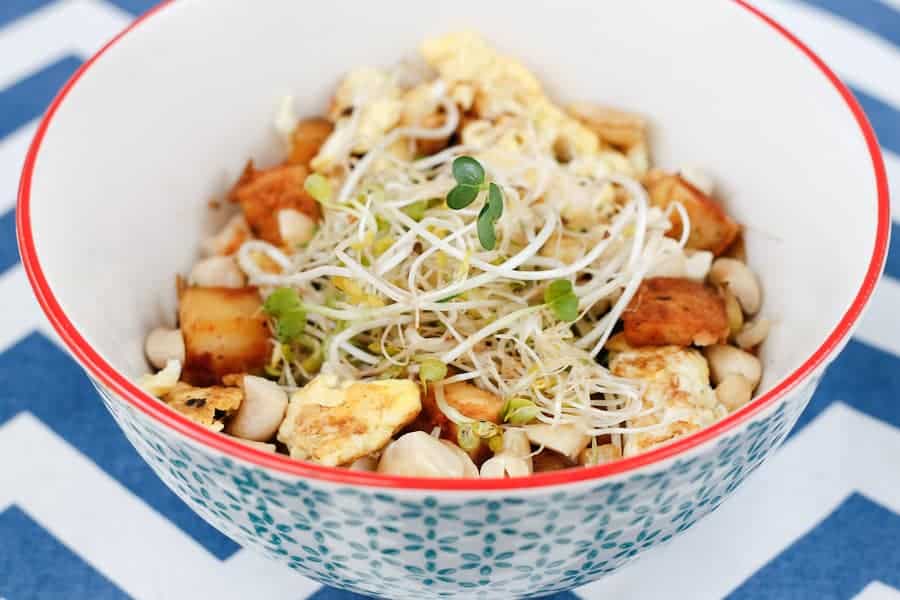 Give this vegetarian paleo pad thai a try next time you're faced with an empty fridge and less than 30 minutes to put dinner on the table. I promise you, it won't disappoint.
Liked this post? Share it with your friends! For more At the Immigrant's Table, follow me on Facebook, Instagram, Pinterest, Bloglovin', or Twitter, subscribe to my mailing list, or contact me about advertising and becoming a sponsor. If you make one of my recipes, don't forget to tag it #immigrantstable @immigrantstable!
Tried and loved this recipe? Please leave a 5-star review below! Your reviews mean a lot to me, so if you've got any questions, please let me know in a comment.
Recipe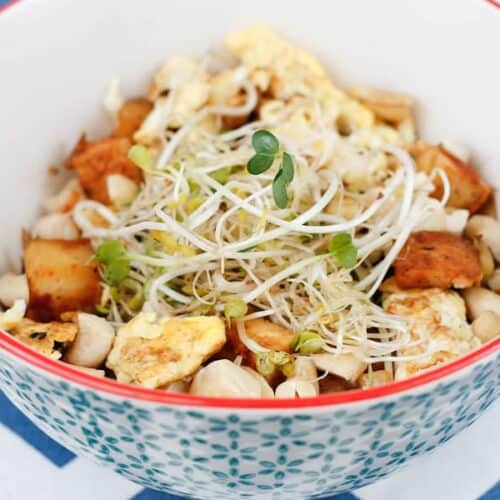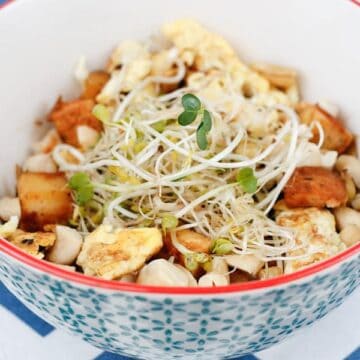 Vegetarian paleo pad thai (veg, paleo, gf, vegan option)
In this vegetarian paleo pad thai, silky ribbons of cabbage and carrot noodles are topped with a spicy-nutty sauce and a messy crown of sprouts and cashews.
Ingredients
½

head of green cabbage

1

onion

2

carrots

2

cups

of bean sprouts

1

cup

of daikon sprouts

optional

eggs

one per person (optional)

1

package of extra firm tofu

optional

Cashews

chopped, for serving

2

limes

for serving

2

TBs

coconut oil

Sauce:

5

tablespoons

tamari sauce - use 2 TBs white vinegar and 3 TBs water instead if strict paleo

3

tablespoons

of your favourite hot sauce

3

tablespoons

almond butter

2

teaspoon

freshly grated ginger

Juice of ½ a lemon
Instructions
If using tofu, pan-fry tofu with a bit of salt and pepper in a pan for 10 minutes. Give your pan a stir every two minutes, until the tofu gets a golden crust on all sides.

Finely shred cabbage with a sharp knife. Grate carrots into matchsticks on a mandoline, or into ribbons with a vegetable peeler.

Preheat a large pan or wok over medium-high heat. Add coconut oil, onions, cabbage and carrots, and cook for about 7 – 10 minutes until crisp, stirring occasionally.

While cabbage is cooking, mix all ingredients for the sauce together in a separate bowl.

Pour sauce over cabbage and cook for an additional 1-2 minutes.

If using egg, make a scrambled egg for each person eating.

Plate and garnish with sprouts, cashew, tofu and scrambled egg (if using), and slices of lime. Serve immediately. Keep the leftover vegetarian paleo pad thai mixture separate from the sprouts, cashew, tofu and scrambled eggs until serving time. It will keep in the fridge for a few days.
Tried this recipe?
Comment + Rate Below!
Connect on Instagram!
Find us @immigrantstable