As my month of vegetarian paleo eating draws to an end, I am both excited and saddened to see it go. It was a month of good eating, tasty and wholesome plates full of flavour, texture and freshness - a welcome breath of life in a cold, frozen winter. So before it ends, here are some of the recipes that have made this month worth living: the best vegetarian paleo recipes At the Immigrant's Table.
I am going to post a deeper reflection on this month's challenge very soon, but for now, I am already mourning its end. Don't get me wrong; I am looking forward to eating quinoa and farro, having the occasional glass of wine, and not refusing a bite of goat cheese. But I am also going to hold onto the big bowls of spiralized or shredded vegetables, the eggs, the zucchini noodles and the energized feeling I get from not weighing my body down with food.
But I realize that it's not like I suddenly changed my whole diet to accommodate the vegetarian paleo challenge. Going through the archives of this blog, I came across numerous paleo vegetarian recipes that are worth keeping - and revisiting.
In my humble opinion, these are the best vegetarian paleo recipes At the Immigrant's Table, the dishes I want to eat over and over again, the plates that leave me feeling full and satiated for hours. This is the stuff of life. Enjoy!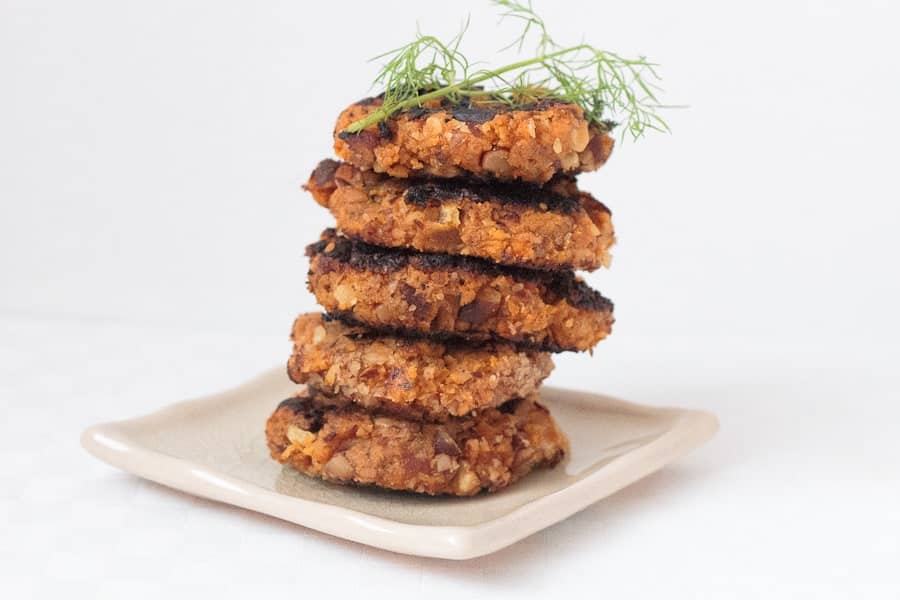 There aren't that many veggie burgers you can eat while keeping a paleo diet. These roasted garlic and yam burgers are one of them. Rejoice, veggie burger lovers!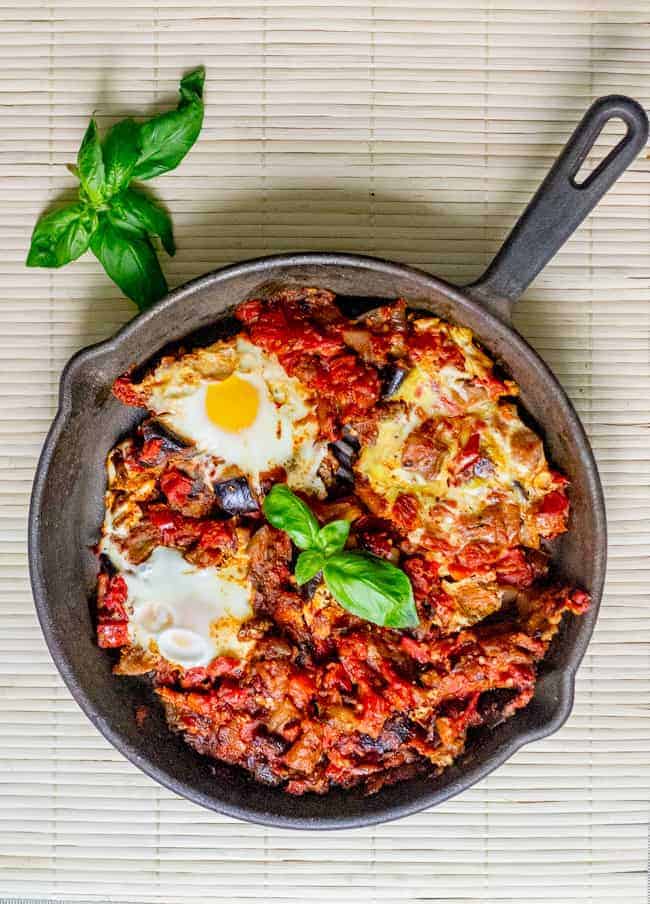 This eggplant shakshuka would make a filling, delicious and grain-free breakfast any day of the year.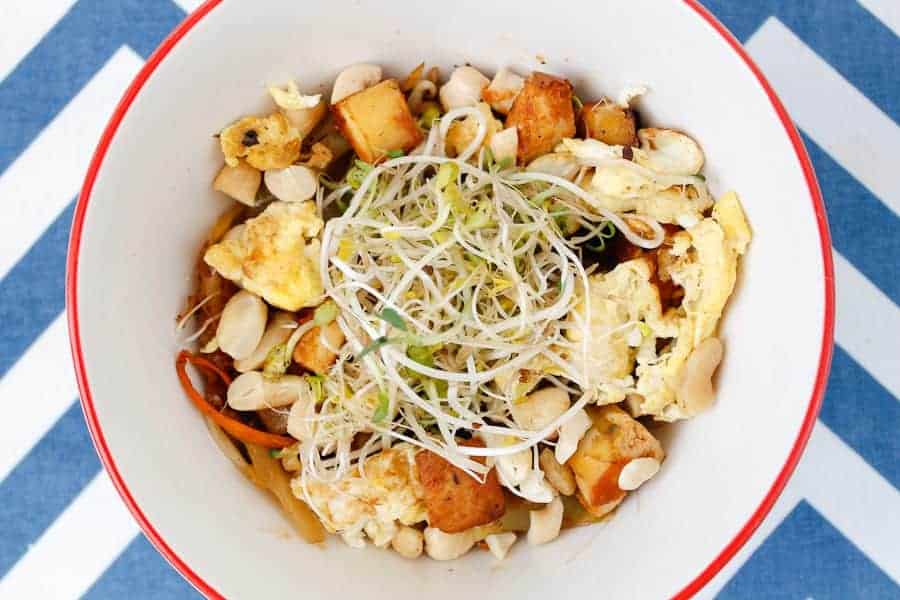 Though I just made it recently, this vegetarian paleo pad thai was seriously one of the best things ever. Closely followed by...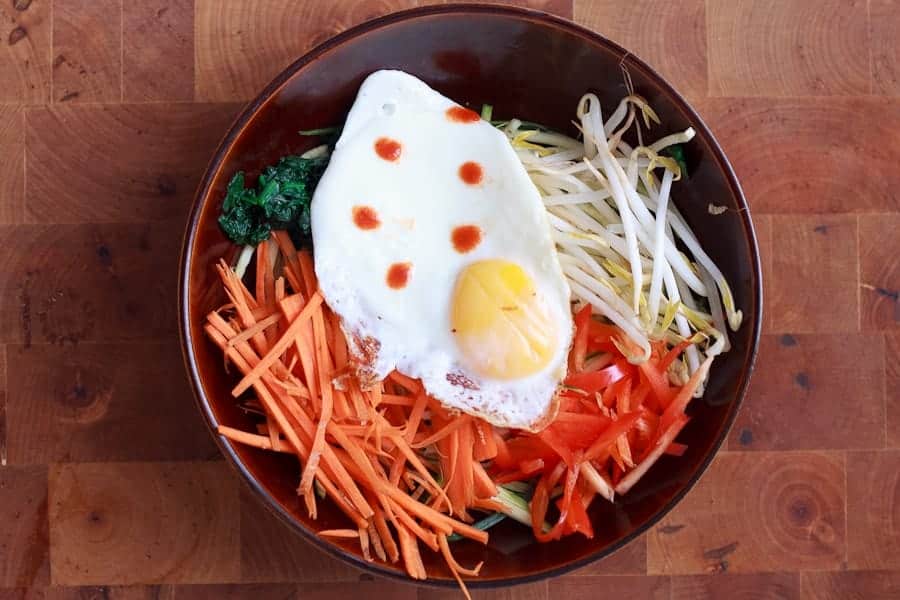 This vegetarian paleo bibimbap bowl. We ate it so many times in my first week of paleo that I thought I was going to burst. And yet, I'm craving it now that I look at the image again.
While people continue to fight over wether potatoes are paleo or not, I will go with the gluttonous side and eat these incredible gluten-free potato latkes topped with egg, almonds, and kale.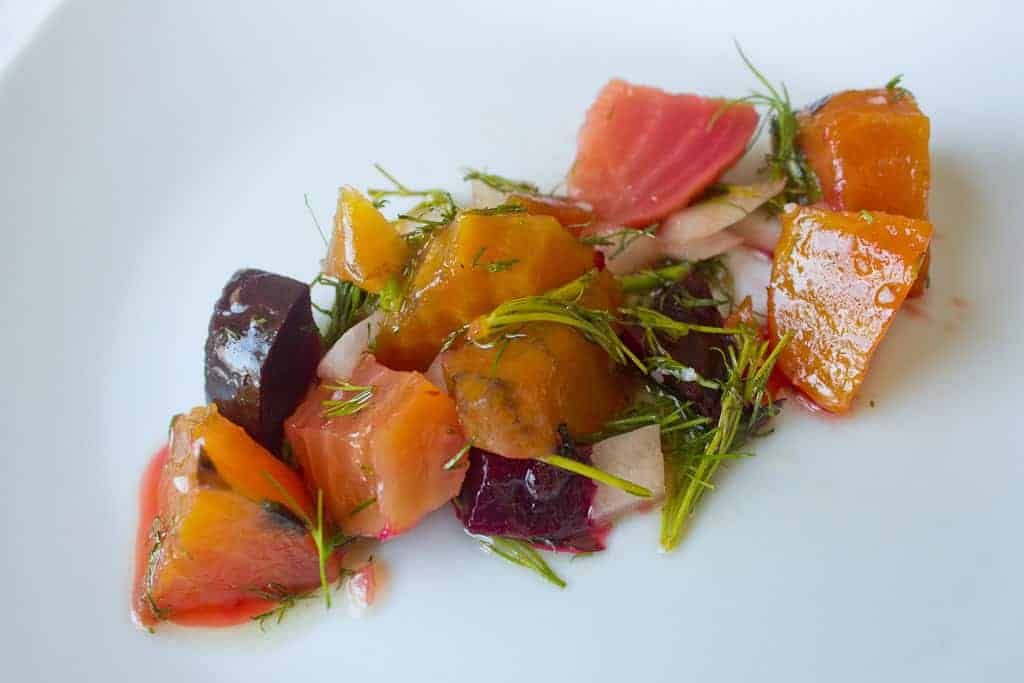 This marinated beet salad couldn't be simpler - or more delicious.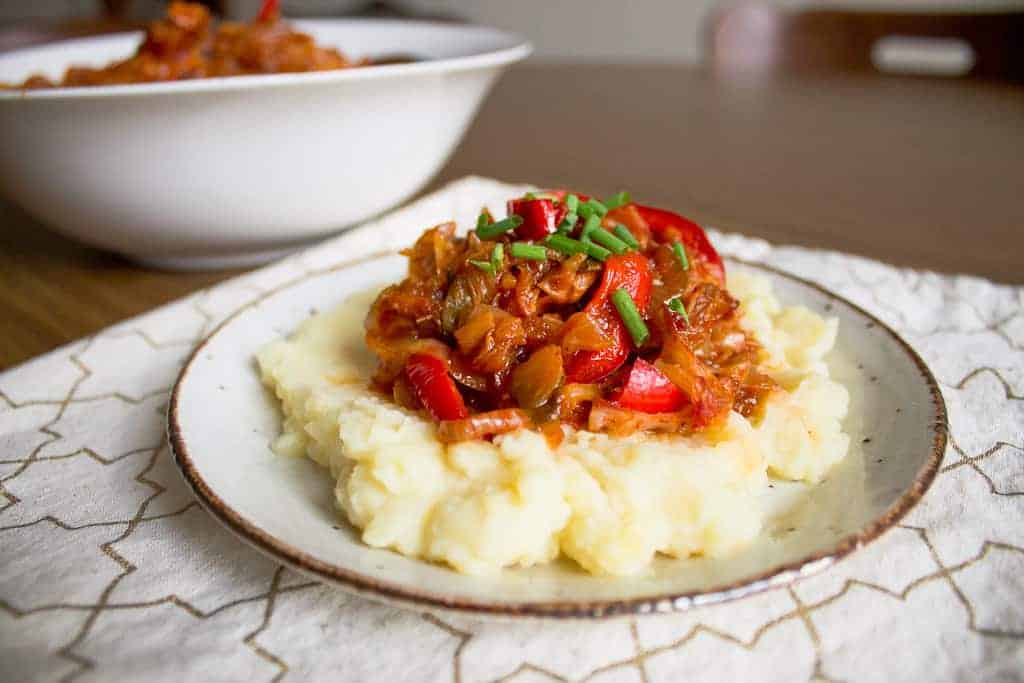 Stewed cabbage with red peppers, cuz we all know by now that I'm obsessed with cabbage.
If you can overlook the terrible photography (point-and-shoot! Bad editing! Bad styling! Dirty bowl! ARGH), this roasted squash and carrot soup is worth revisiting. It's delicious!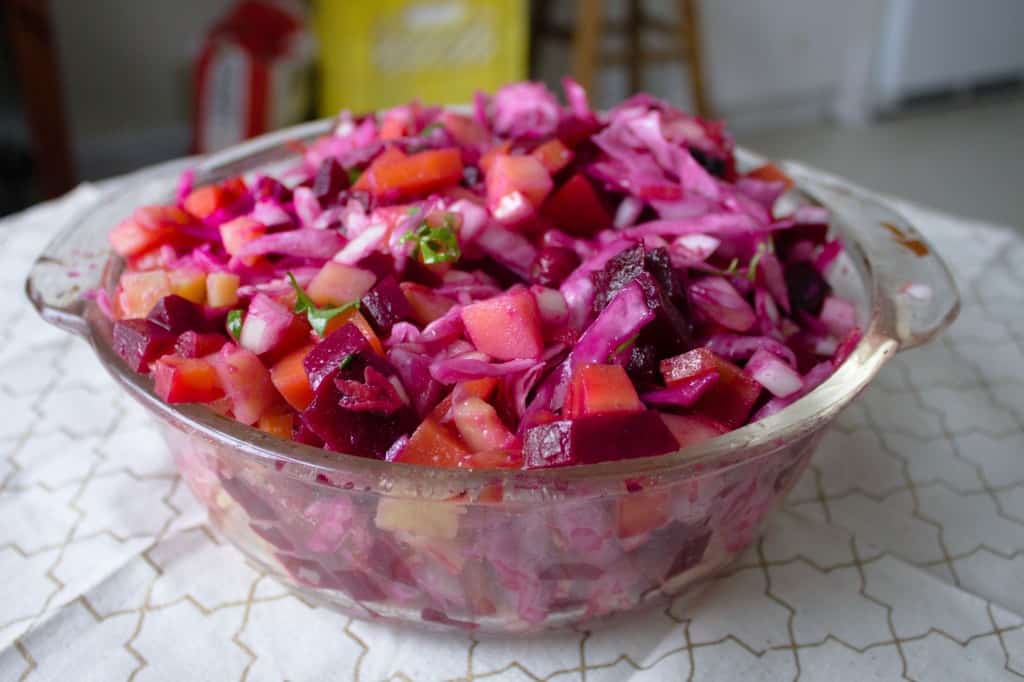 Another old family favourite, Russian root vegetable salad, is a great and filling paleo meal (you can even omit the potatoes, or use sweet potatoes instead; I won't tell).
This amazing lemon mango cheesecake is vegan, raw, paleo and unbelievably delicious. You should be making it right now.
And finally, though I chose to serve them on top of rice the first time, I have recently made this dish of charred Swiss chard and cherry tomatoes again and just had it with eggs. It would also be great on zucchini or squash noodles, or even cauliflower rice. It's quick, easy, and so much more than the sum of its parts.
Still hungry? There are many more vegetarian paleo recipes at the archives. Happy cooking!
Liked this post? Share it with your friends! For more At the Immigrant's Table, follow me on Facebook, Instagram, Pinterest, Bloglovin', or Twitter, subscribe to my mailing list, or contact me about advertising and becoming a sponsor. If you make one of my recipes, don't forget to tag it #immigrantstable @immigrantstable!
Tried and loved this recipe? Please leave a 5-star review below! Your reviews mean a lot to me, so if you've got any questions, please let me know in a comment.