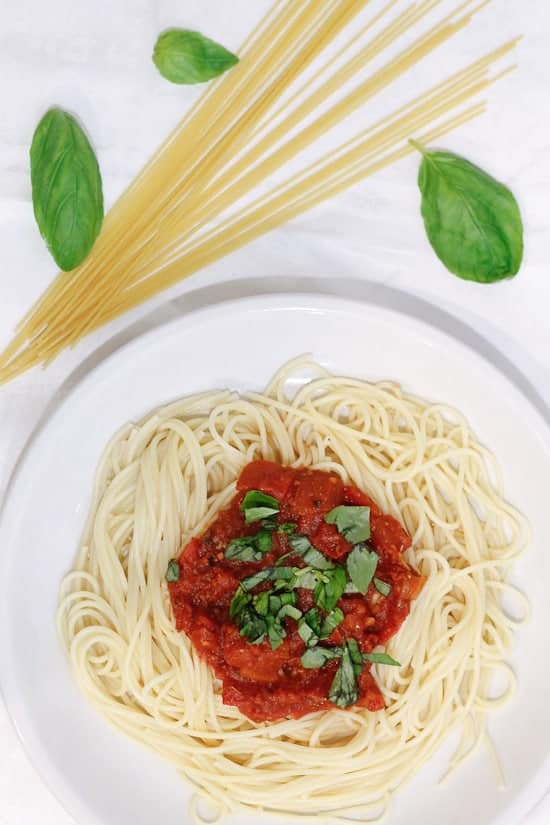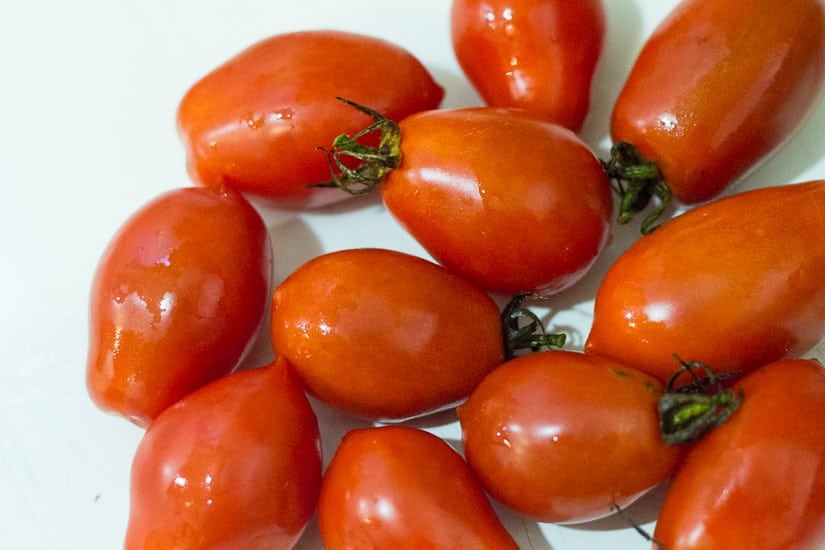 Despite its reputation as one of the easiest meals in the world, I sure had to work hard to prepare this pasta bowl with luscious, chunky tomato sauce for canning. Though if you learn from my mistakes and put in a few hours of work now, in September, while beautiful, ripe tomatoes are still gracing our vines, come winter it won't take you more than 15 minutes to put together a healthy, nutritious, and satisfying meal. And trust me, once you bite into that delicious mouthful of perfectly preserved tomatoes in January, when the wind is howling outside, you won't be sorry you went to all this trouble, either.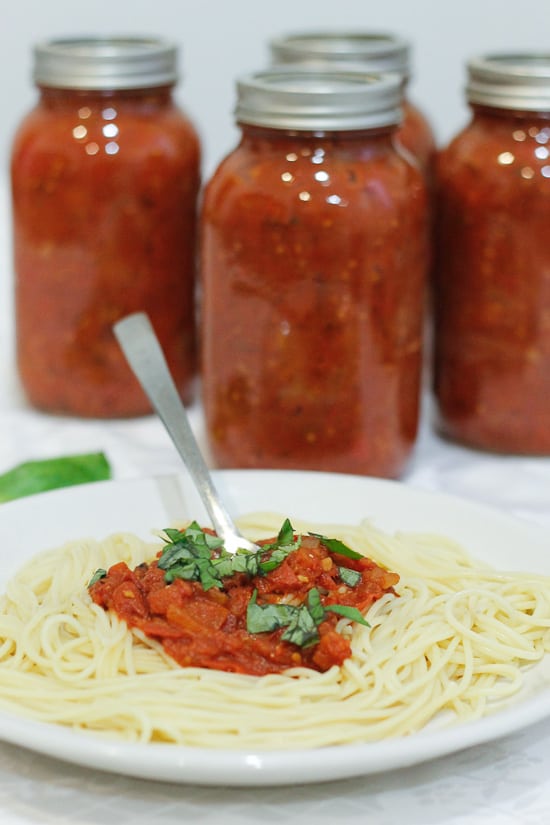 The problem was with the texture. My first attempt at making this sauce, following my usual "scoop, season and taste" approach to sauce making, yielded a juicy, chunky pasta sauce. I started with 10 pounds of local tomatoes, bought at a huge discount at the market due to a few bumps and bruises, which sweated and gave of their juice for many hours on the stove, only to be reduced to a small puddle. At four jars, I just didn't think it would be enough to last me through the winter. So I decided to give it another go.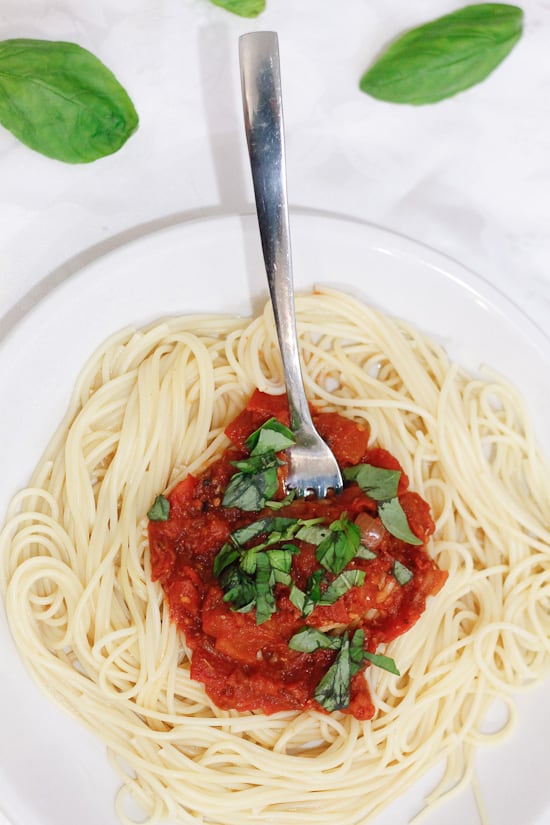 But before I could can another batch, I was due for a rude awakening. Standing at the kitchen counter at Santropol Roulant, the community organization in which I volunteer weekly, and chopping my umpteenth batch of tomatoes, I found out that my freshly made tomato sauce, my pride and joy, was most likely a teeming cesspool of bacteria.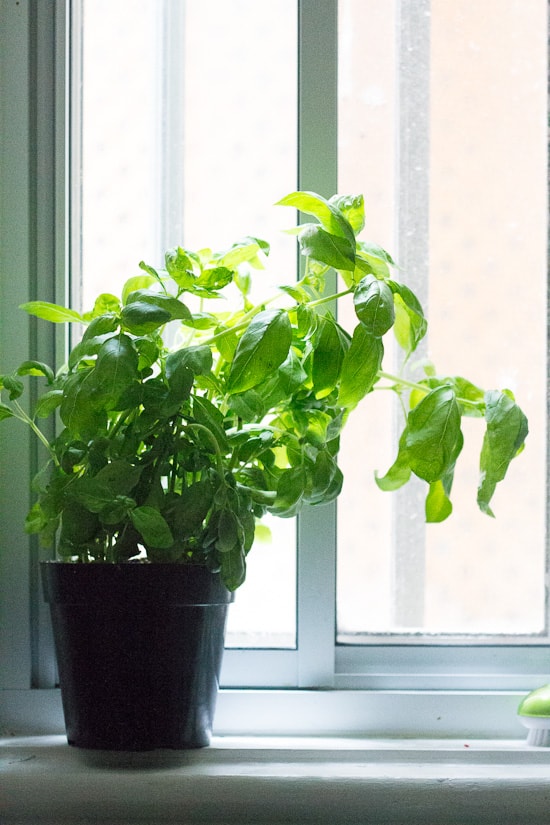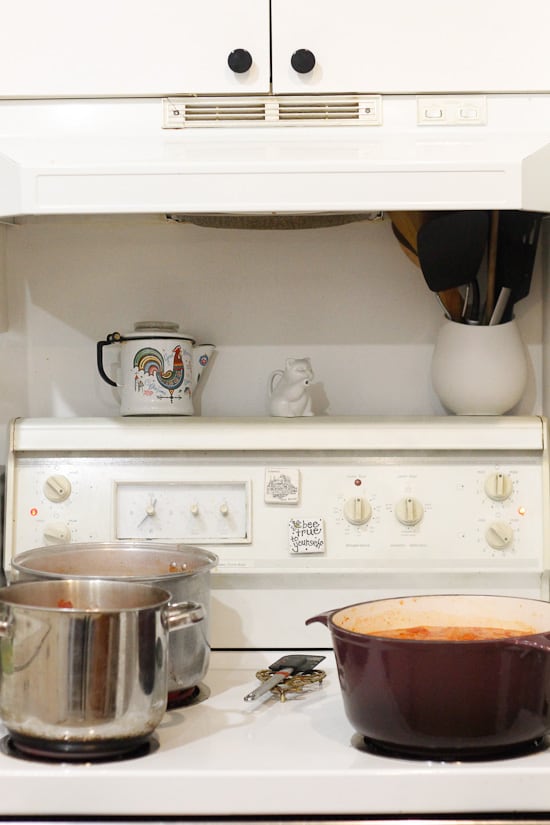 The problem was, I could not recall how accurately I had cut all of my tomatoes' bumps, bruises and black spots off. Furthermore, I certainly did not follow a recipe while making my concoction, preferring instead the free-spirited approach to cooking that I normally favour. Well, turns out that when it comes to canning, the free spirited approach is likely to get you (or worse, a loved one) into the nearest hospital. And there, you likely won't be spending much time free and untethered, what with that botulism you've contracted and all.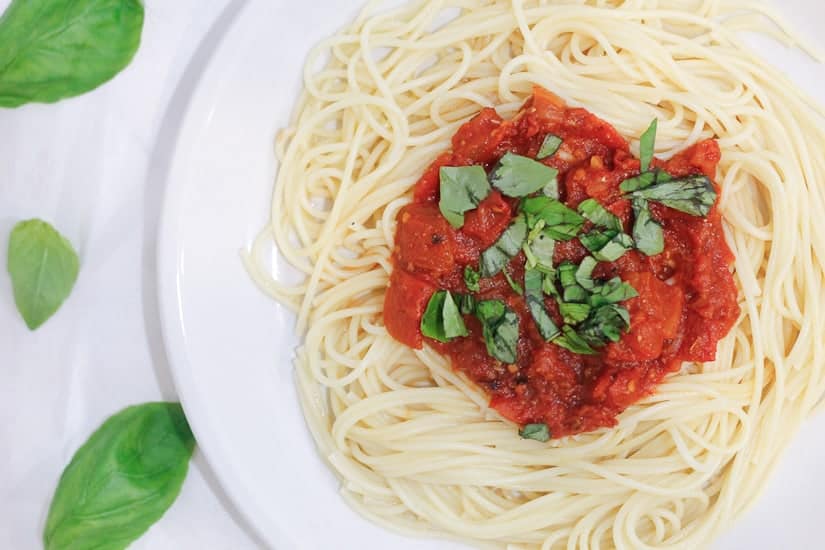 So, after hurrying home to move all of my sauce jars into the fridge, I realized that I definitely needed to give this another go. So I parted with a good portion of my savings in order to buy 20 pounds of perfectly ripe, organic, locally grown tomatoes at Santropol. I found a reliable and safe-for-canning sauce recipe from the makers of the [amazon text=Ball Blue Book of Preserving&asin=0972753702], and I set my tomato sauce to simmer on the stovetop. I pureed and I strained, sterilized jars and boiled water.... only to discover that the thin, runny, lump-free tomato sauce I produced would likely fair better as soup than pasta sauce. So six jars of soupy sauce later, and I still had no sauce to be proud of.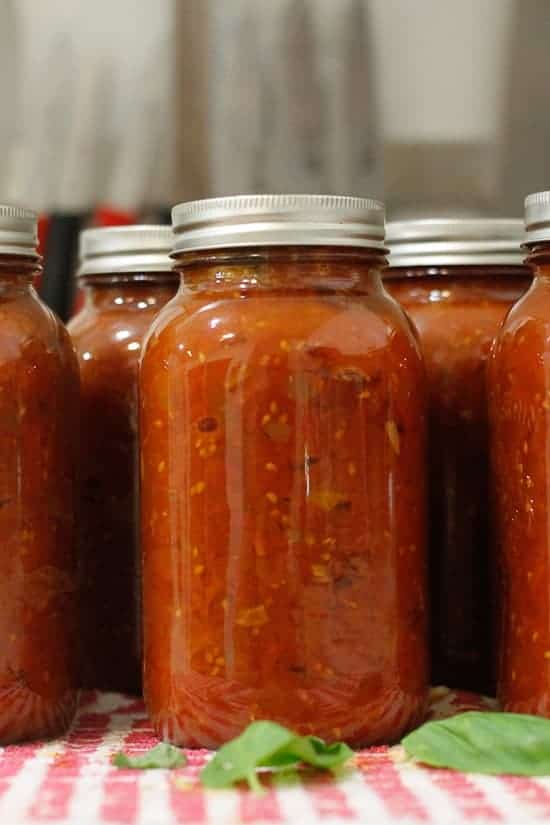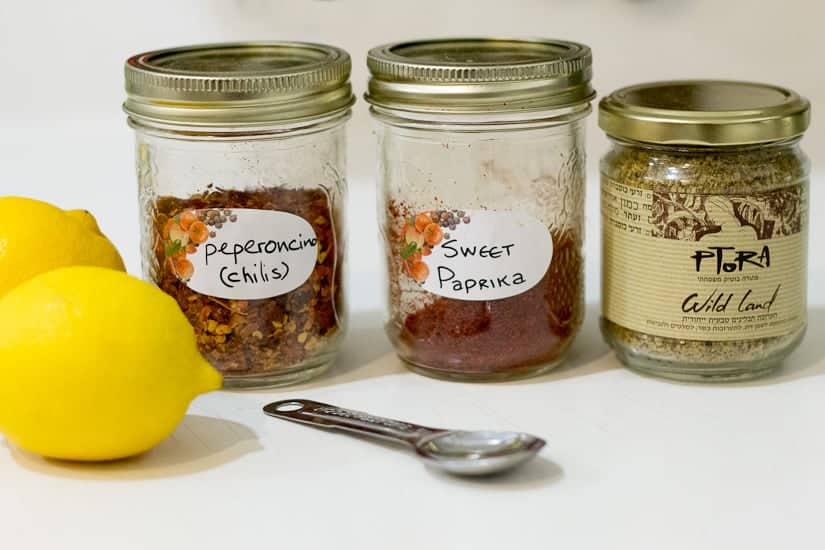 Once again, back to the market I went. This time, looking to save money once more, I lucked out with the deal of the century: fifty pounds of perfectly ripe, locally grown Roma tomatoes for a mere $17. I was beside myself with joy, so much so that I barely noticed the heaviness of my bag as I lugged it home across two subway lines and a bus (that's a lie. I definitely noticed it). I went to work on adapting the Ball recipe, seeking to ensure maximum compliance with health and safety regulations as well as with my taste buds and preference for heftier sauces. Five hours of hot water bath boiling, chopping, reducing, and filling jars later, and I was rewarded with a perfectly chunky, fragrant, and balanced tomato sauce.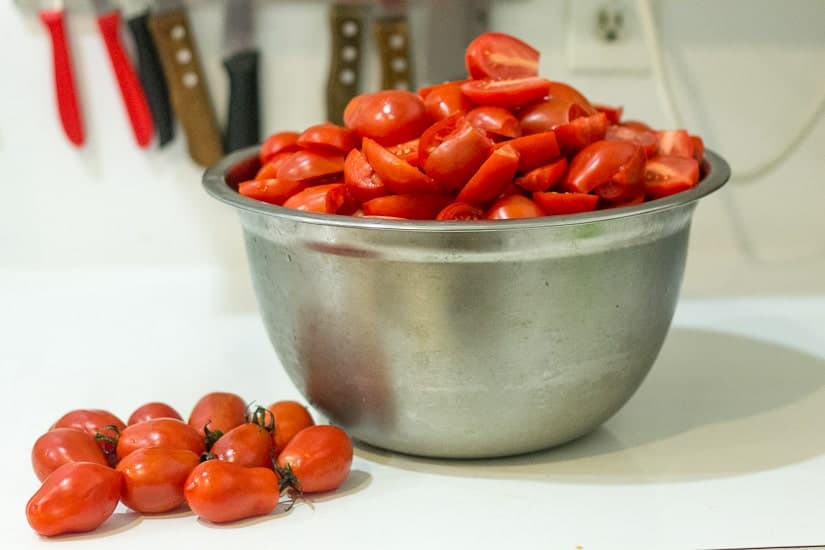 So, dear reader, today's lessons are:
Always follow a recipe when canning.
Make sure you remove all bumps, bruises and black spots from your produce when preparing for canning.
Do not be tempted to buy the best tomatoes when it comes to sauce making. They'll likely cost too much and produce a runny, watery sauce.
If you've lucked out and managed to find some nice tomatoes for an affordable price, make sure you have a strong friend (or at the very least, a car) to help you carry them home.
All in all, it was certainly a journey to get this pasta bowl onto the table and into your internet browsers. But now, after all of my combined attempts have yielded a whooping 16 jars of tomato sauces of varying textures, I can honestly say that I have found the winning canned tomato sauce recipe. Also, I will never again be more than 15 minutes away from a satisfying meal of pasta in homemade tomato sauce. And if you follow my lead, you shouldn't be either (though if hot water bath canning intimidates you, you're welcome to just use this recipe and refrigerate your tomato sauce; either way, you won't be disappointed).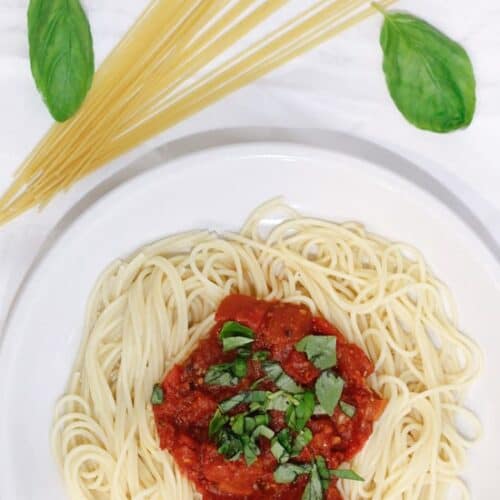 Chunky tomato sauce for canning
This recipe yields ten (and a half) jars of beautiful, chunky, fragrant tomato sauce that you will love spooning onto your pasta, pizza, potatoes, or rice year-round. If this amount seems like a lot, feel free to halve or even make just one third of it (I will include smaller amounts as well). We are happy to have the full amount; we use it in everything, and I look forward to never logging jars of sauce back from the store again. At least this year.
Print
Pin
Rate
Ingredients
For about ten 1-quart

1-litre jars:

50

lbs

fresh tomatoes

2.5

cups

chopped onion

2 large onions

16

cloves

of garlic

½

cup

minced basil

in total

in

each jar:

2

Tbs

lemon juice or apple cider vinegar

A pieces of chopped basil

¼

teaspoon

chili flakes

¼

teaspoon

sweet paprika

½

teaspoon

oregano

½

teaspoon

salt

For about five 1-quart jars:

20

lbs

tomatoes

1

cup

chopped onion

about 1 large

8

cloves

garlic

¼

cup

minced basil

+ same amounts of spice and lemon juice per jar

For three 1-quart jars:

10

lbs

tomatoes

½

cup

chopped onion

1 small, or half of an onion

4

cloves

garlic

⅛

cup

minced basil
Instructions
Wash and carefully clean tomatoes (I fill a clean, sterilized sink with water and let the tomatoes sit there while I chop). Chop tomatoes into chunks, taking care to remove both core and blossom ends, all soft or black spots, and any bruised areas. Keep chopped tomatoes in large bowls.

Chop onion finely. Mince garlic.

In a heavy-bottomed pot (or several pots, depending on the amount of tomatoes and the size of your pots), saute onion on low-medium heat for 15 mins until it starts to turn golden. Add garlic and saute for another 5. Increase heat to medium-high and add tomatoes in batches, letting each batch let water and reduce for about 5 minutes before adding the next one (this way, more of the tomatoes' surface area is exposed, and the sauce reduces more quickly). When all the tomatoes have been added and the mixture is boiling, reduce heat to medium and simmer until sauce reduces by half (about 30-60 mins, depending on the amount of tomatoes and the size of your pot, or pots).

Meanwhile, once all of the tomatoes are in the pot, prepare your clean jars and boiling water canner. Heat jars in simmering water until ready for use, at least 10 minutes at an active simmer. Set bands aside.

When sauce is ready and reduced, carefully remove your jars from the hot water canner. Take out a small saucepan, fill it with hot water from the bath canner, and add the lids (but not the bands) into it, and leave them there while canning.

Into each sterilized, hot jar, add 2 tablespoon lemon juice or apple cider vinegar. Ladle hot sauce into hot jars, leaving ½ inch of headspace. Add basil, salt and spices into each jar. Remove air bubbles. Wipe rim with a hot towel, centre hot lid on jar, apply band and adjust it until it is fingertip-tight.

Return filled and sealed jars to hot water canner, bring to a boil, and process them on a rolling boil for 35 minutes. Remove jars and cool. After 24 hours, check if all the seals have popped - lids should not flex up and down when their center is pressed. If any jars did not seal, keep those in the fridge.

In January, when it's cold outside and there isn't a fresh, juicy tomato in sight, ladle your jarred sauce onto spaghetti, sprinkle some dry basil and nutritional yeast (or parmesan), and enjoy.