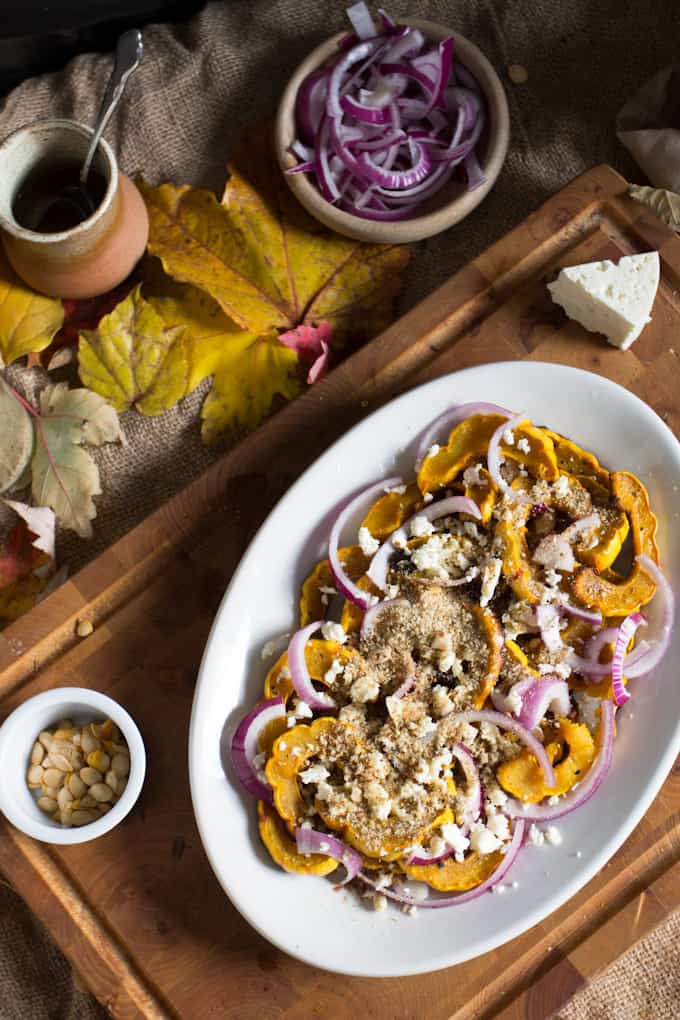 Delicata squash with feta, red onions and fragrant Middle Eastern dukkah is a perfect interplay between sweet and mellow, sharp and tangy. This surprising combination makes a wonderful side dish for the fall season.
This post is a partnership with Sabatier, but all opinions expressed here are my own. Please consider supporting the brands that make this blog possible.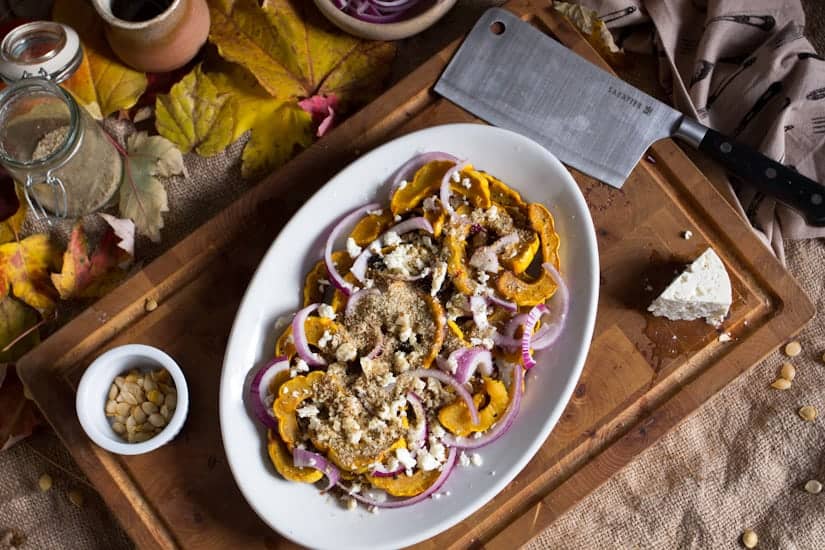 I am standing at the counter chopping onions to make delicata squash with feta, red onions and dukkah. Their peel is slippery, and I struggle to get a firm grip on the head. The cuts come out uneven, a messy affair that will not cook at the same time, and I get more and more flustered as I go along. My eyes are watering, and my bangs are getting in my eyes.
And right then, without even noticing, my knife slips and I cut at the end of my finger. Blood appears where just a second ago, there was pink skin.
Sound familiar? Any cook worth their salt has a similar story. One minute you're chopping vegetables, and the next you're on the couch, desperately trying to stop the bleeding.
But you know what is the best way to avoid this type of accident? Get yourself good knives.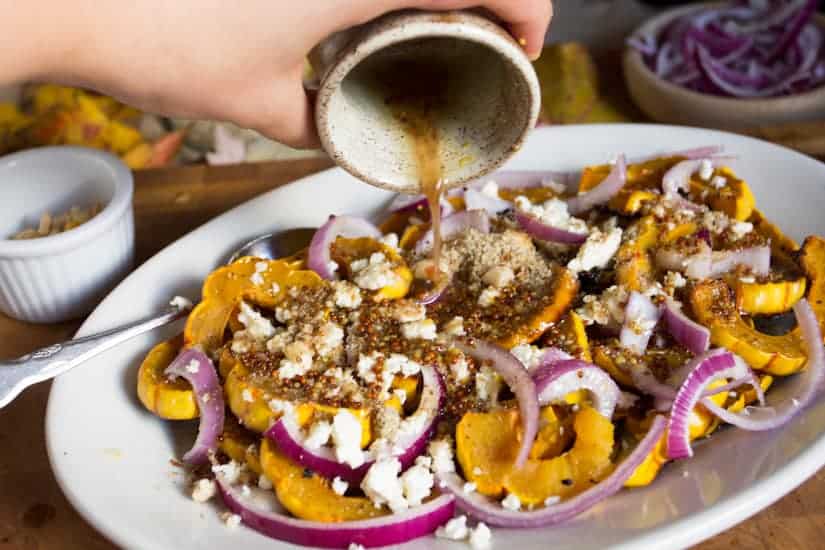 A good knife was particularly important in the preparation of this delicata squash with feta, red onions and dukkah. The squash itself is strangely shaped and firm, while the onions are slippery and tend to break apart into a million pieces. The dukkah requires the chopping of peanuts and the crushing of spices.
Though it requires a good deal of work, it all comes together into a beautiful dish. Once roasted (with the skins on!), the delicata squash is sweet and mellow, with a faint aftertaste of coconut oil. The onions, which are soaked in water to reduce their sharpness, provide a nice balance to the creamy feta. A generous sprinkling of fragrant dukkah completes the dish, turning it into a beautifully composed Middle Eastern dish that would compliment any feast.
And all it required was one good knife.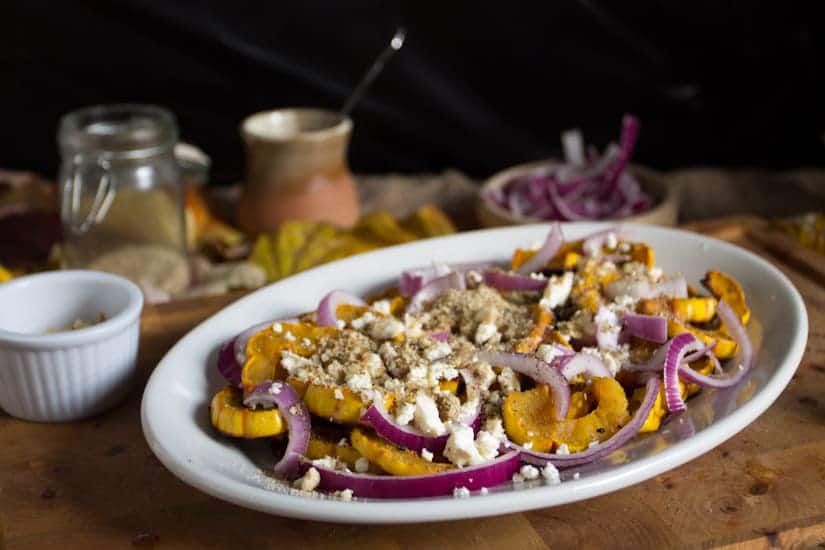 The worst accidents in my kitchen involved boiling water and oil, not knives. But you could say that's because I've always been careful about the kind of knives I keep: they're sharp, well-crafted, and well-used.
Perhaps this is why I was so exciting to test out Sabatier's new knife line. Unlike most of the knives chefs own, the Sabatier blades are affordable, widely available, and come in two useful shapes: a cleaver and a santoku knife, a Japanese chef's knife. As I already own a santoku (my trusted Global, which was anything but cheap and widely available), I immediately wanted to try the cleaver.
Over the next month, I tested the Sabatier cleaver on a variety of vegetables. It cut through yams and squash, though not as easily as I expected - you need a good amount of weight to maneuver the big blade, especially as it was perched on a relatively thin handle. The handle itself was the knife's biggest downside: it's too narrow for my hands, and feels flimsy - a scary thought when you're bringing down a sharp, 6-inch blade on a stubborn delicata squash.
I was pleasantly surprised by the knife's ability to easily cut through delicate vegetables like cucumbers, shallots and mushrooms. It was fairly light and decently balanced, especially for such a big knife. I found myself reaching for this unexpected blade for some of the most delicate jobs in my kitchen, and they were a breeze to execute.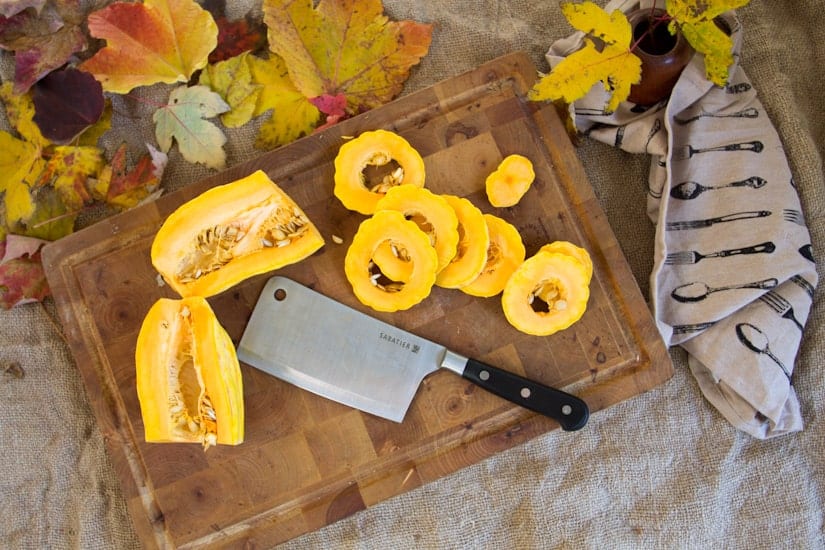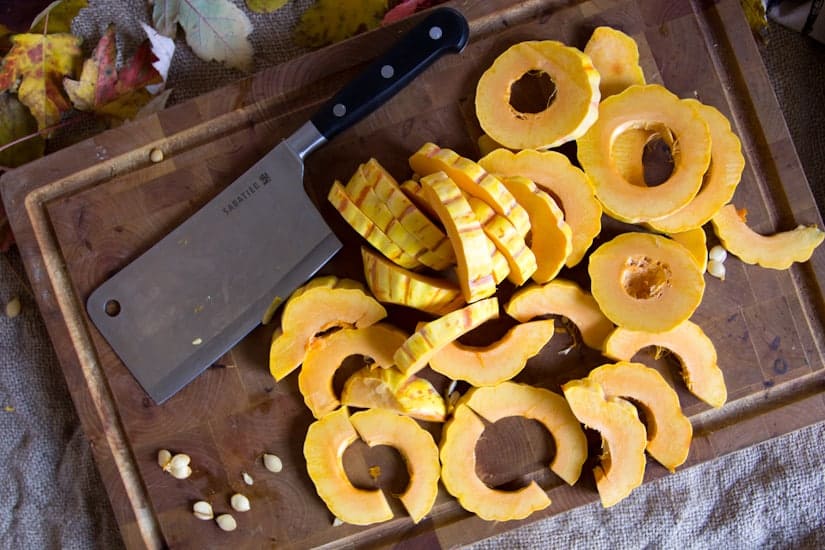 Overall, the Sabatier cleaver became another trusted resource on my knife rack. I used it alone in preparing this delicata squash with feta, red onions and dukkah, and it made easy work of the whole affair. It wouldn't be the only knife I own, but it's a great way to diversify your knife set for a sliver of what it would cost to buy a professional grade cleaver.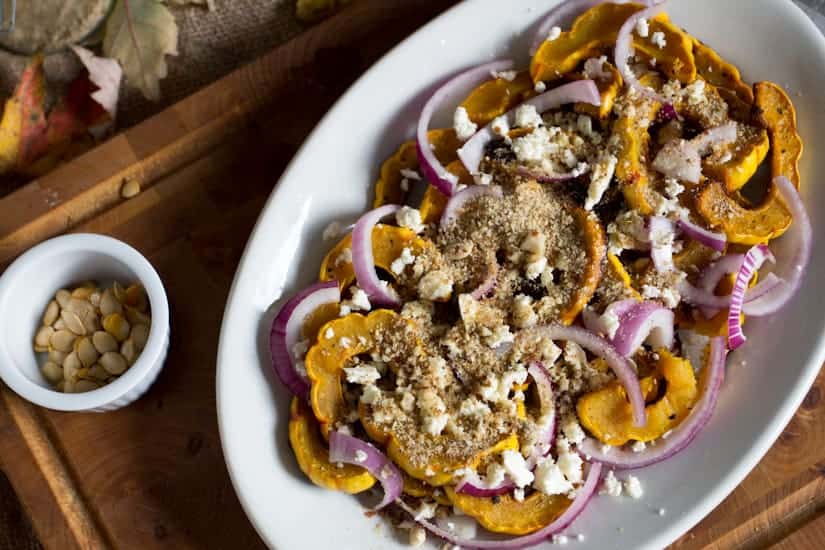 And if you'd like to test one out for yourself, just enter my giveaway below! A lucky winner will win one Sabatier 6-inch cleaver for their very own collection.
However, you'll have to make your own delicata squash with feta, red onions and dukkah. Sorry.
As you can imagine, I have received the Sabatier cleaver free-of-charge in exchange for this review. However, all opinions expressed here are my own; you can always expect me to be honest with you guys!
Tried and loved this recipe? Please leave a 5-star review below! Your reviews mean a lot to me, so if you've got any questions, please let me know in a comment.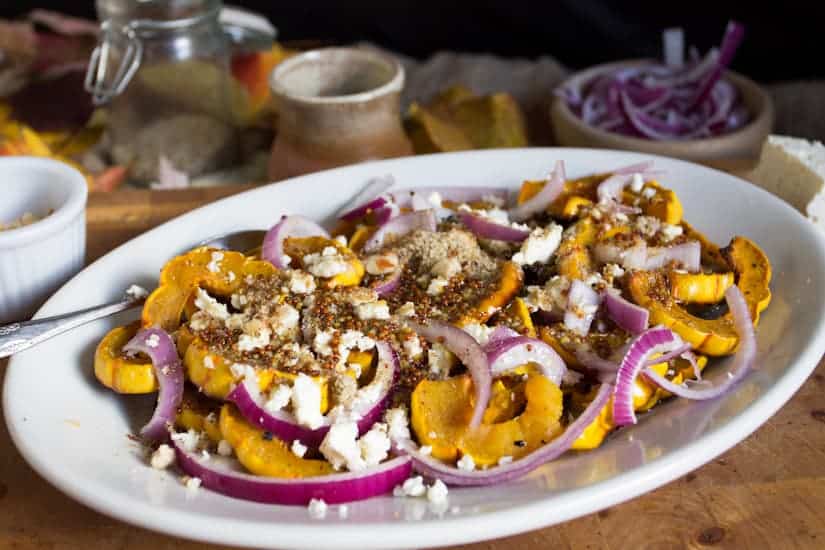 Recipe
Delicata squash with feta, red onions and dukkah (Sabatier cleaver review + GIVEAWAY)
Delicata squash with feta, red onions and dukkah is a perfect interplay between sweet and mellow, sharp and tangy. A sprinkling of Middle Eastern dukkah ties it all into a fragrant mixture.
Ingredients
1

delicata squash

¼

red onion

¼

cup

crumbled feta

1

teaspoon

grainy mustard

½

teaspoon

honey

6

teaspoon

olive oil

3

teaspoon

white wine vinegar

2

TBs

dukkah

Salt and pepper

Fresh cilantro

chopped finely (optional)

For dukkah:

4

TBs

sesame seeds

3

TBs

coriander seeds

2

TBs

cumin seeds

1

TB

black peppercorns

½

cup

roasted peanuts

1

teaspoon

dry green mint

or 1 TB fresh mint

1

teaspoon

salt
Instructions
To preapre dukkah, Preheat a pan to medium heat. Roast sesame seeds for 1-2 minutes, until fragrant. Set aside.

Roast coriander & cumin seeds and peppercorns until fragrant. Set aside and let cool.

Once cooled, combine the seeds with the rest of the dukkah ingredients, and mill in a spice grinder or or pulse in a food processor until a coarse mixture develops (take care not to overprocess, or you'll be left with a paste). Pack in a well-sealed jar; dukkah will keep for weeks.

Preheat oven to 325F.

Slice onions into crescent moon shapes. Soak in a bowl with cold water for at least 30 minutes. Drain and set aside.

Slice squash into crescent moons. Arrange squash on baking sheet, topped with 2 teaspoons of oil, salt and pepper. Bake for 30 minutes.

To prepare dressing, in a jar combine mustard, honey, olive oil, white wine vinegar, salt and pepper to taste. Close jar and shake well to emulsify.

Arrange squash on a large serving platter. Top with onions, feta and dressing. Sprinkle dukkah mixture and minced fresh cilantro on top.
Tried this recipe?
Comment + Rate Below!
Connect on Instagram!
Find us @immigrantstable