This post contains affiliate links – thank you for supporting the brands that help make this blog possible. Once you try this curry-laden, bright and herby German roasted cauliflower, you'll fall in love with New German Cooking - the perfect cookbook for the fall.
Discovering German cuisine
When you enter a German market you are immediately met with the scents of cinnamon, sizzling bratwurst, mulled wine, and yeasted dough.
These are the smells we associated with German cooking. Pungent and rich, but also undeniably earthy and familiar.
They evoke images of quaint little villages on the Rheine, abundant summer orchards and glorious Christmas festivities.
New German Cooking
In their book New German Cooking, Jeremy and Jessica Nolen manage to capture all of these flavours. They also add many others to our repertoire through modernized recipes like German Roasted Cauliflower (also known as blumenkohl).
Today, I'd like to share with you my version of Jeremy and Jessica Nolen's German roasted cauliflower with curry cashew crust. Furthermore, I'd like to give away one copy of this incredible ode to German cooking. So read on!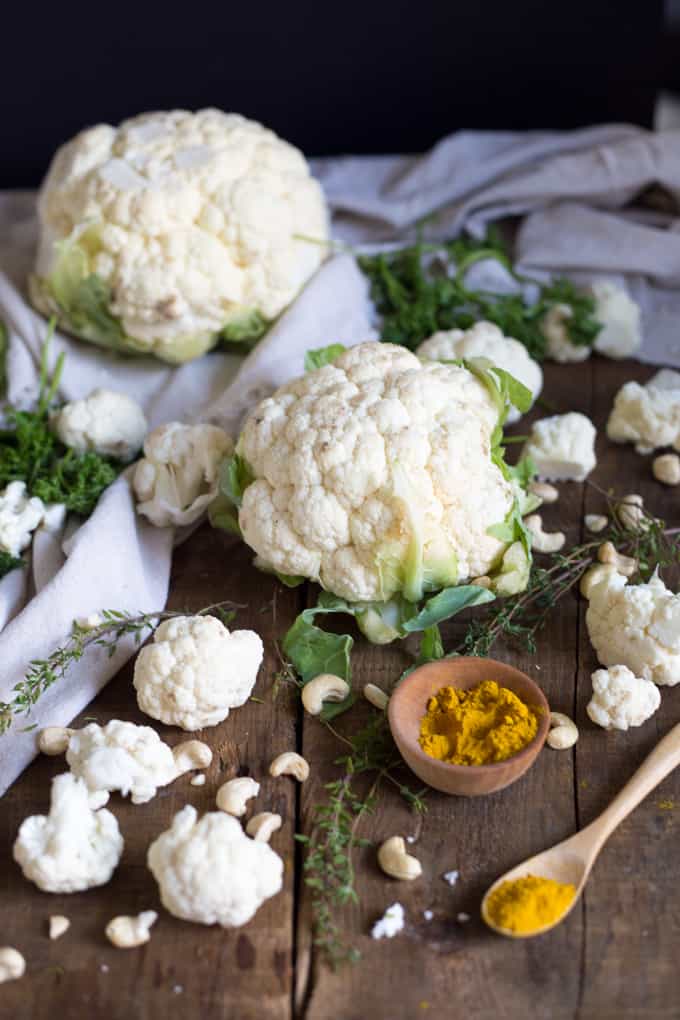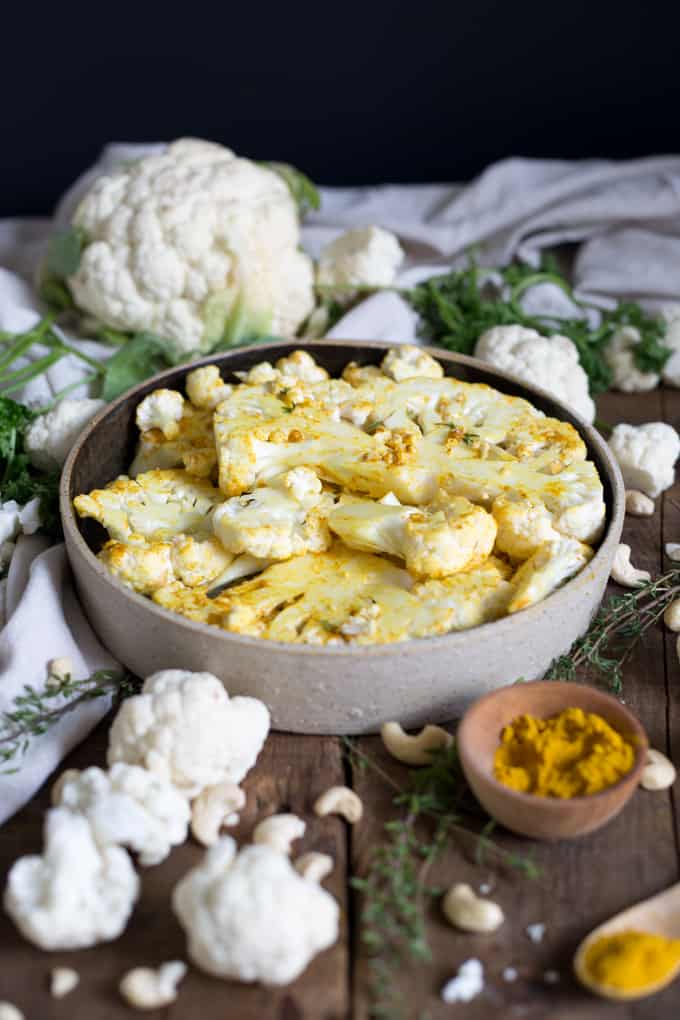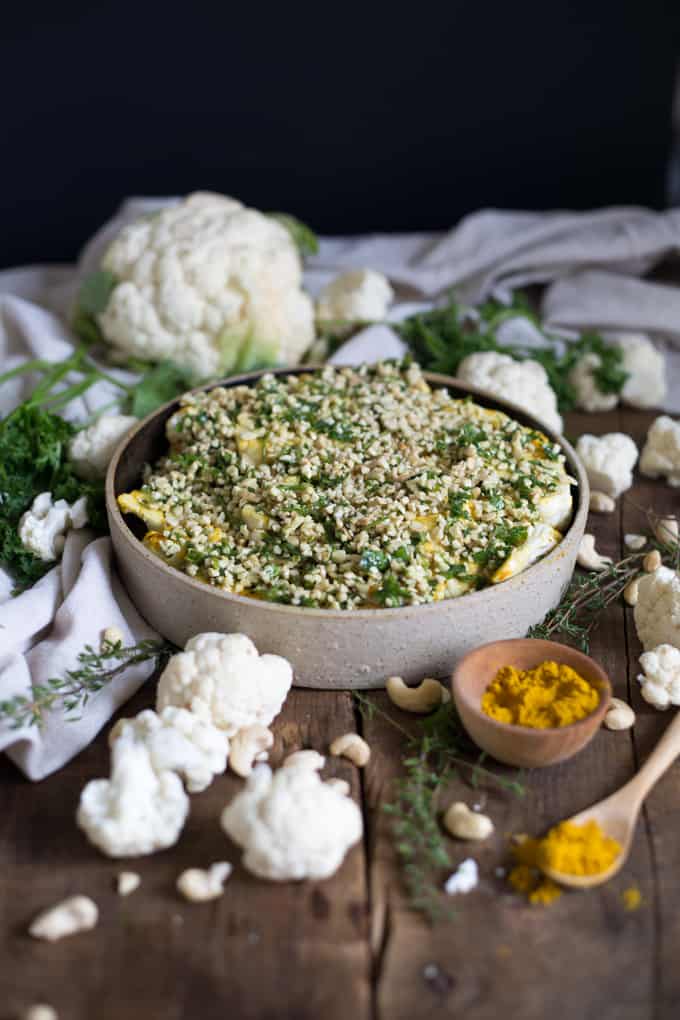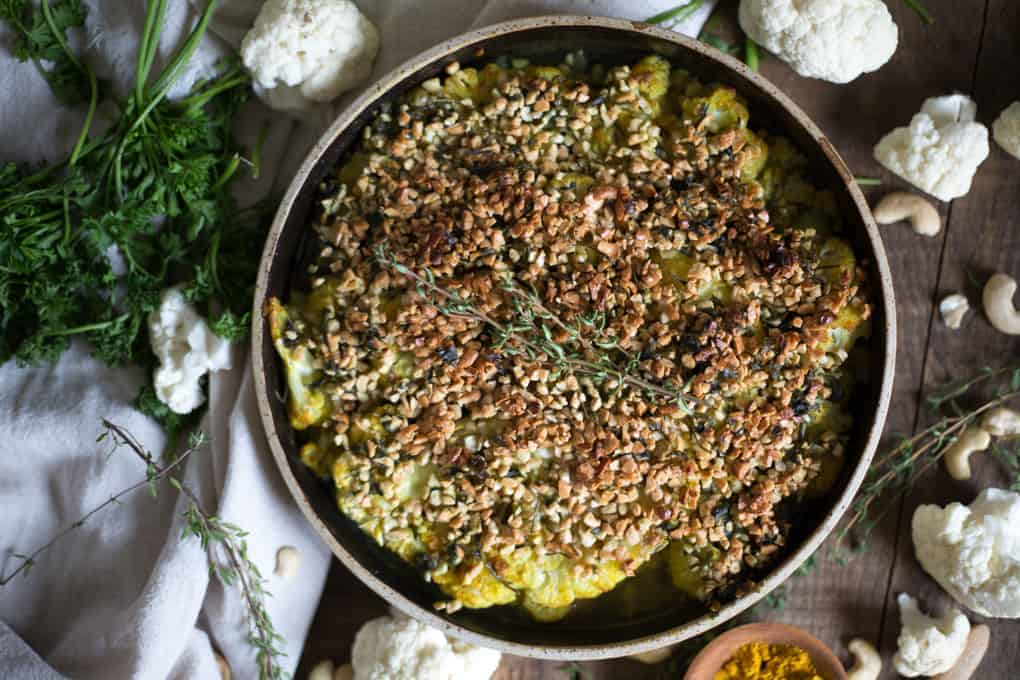 The courage to try
As a Russian, I have always had an affinity for German cuisine. The root vegetables, doughy goodness, heavy creamy sauces and overcooked cheap proteins feel like home. It tugs at my heart strings, promising a world of familiar flavours and forgotten memories.
When I went to Germany in June of last year, I immediately fell in love with spaetzle, glühwein, yeasted cinnamon buns and hot, hot, HOT mustard. In other words, I found my culinary heaven.
But I never tried cooking German food at home. Perhaps it was the erroneous perception that German cooking is all about meat and gluten. Maybe it was the sense that it's too unhealthy. Finally, there was this notion that you have to drink beer with it.
German food seemed like complicated, multi-step gluttony to me. I just wasn't ready to dive into its warm embrace.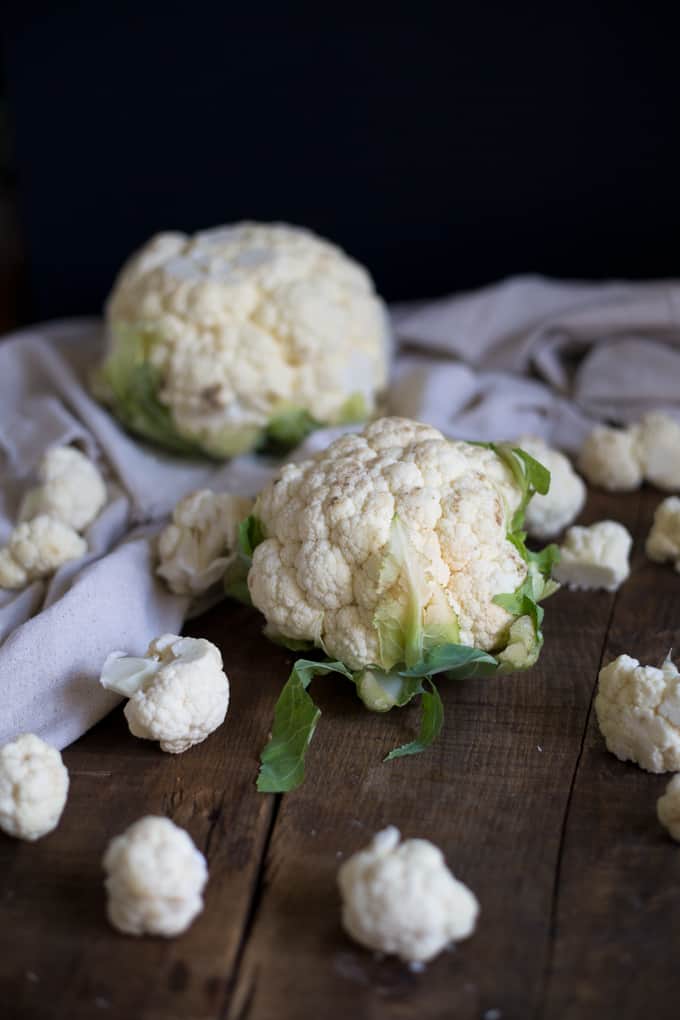 German roasted cauliflower with curry cashew sauce
Then Jeremy and Jessica Nolen's New German Cooking entered my life - and all of my perceptions about German food were shattered.
Granted, it has its fair share of yeasted breads, meat and noodles. But it also has entire chapters dedicated to hearty salads, rich vegetable side dishes, and soul-warming soups.
It has clear instructions and quick, 3-step recipes. It has recipes that called out to me the moment I saw them. Green asparagus and aged Gouda dip, seafood stew with paprika broth, and golden, perfectly crisped potato and sauerkraut gratin.
In short, New German Cooking had everything I ever wanted to eat, and a whole lot I never knew about.
The first time I made their German Roasted Cauliflower, I didn't have eggs or gluten-free breadcrumbs. I just knew I had to have this curry-laden, bright and herby dish on my plate for lunch.
So I did what home cooks all over the world do - I improvised. I substituted eggs and bread crumbs for cashews, marjoram for thyme.
From the first bite, I fell madly, deep in love with German Roasted Cauliflower.
I have proceeded to make this dish countless times in the months since. Over the summer and during Thanksgiving and Sukkot, this German Roasted Cauliflower with curry cashew crust made its way to my dinner and lunch tables.
Everyone who tastes it raves about it, and immediately asks for the recipe.
And I just sent them to get a copy of Jeremy and Jessica Nolen's New German Cooking, because I knew - once you tried modernized German cooking, you would never go back.
I am able to offer one lucky reader a copy of this beautiful book thanks to the generosity of Raincoast Books. Giveaway only open to residents of Canada and the U.S., sorry! Though the copy was provided to me for free, you can bet that all opinions expressed here are my own, and that this cookbook is really worth your time.
Liked this post? Share it with your friends! For more At the Immigrant's Table, follow me on Facebook, Instagram, Pinterest, Bloglovin', or Twitter, subscribe to my mailing list, or contact me about advertising and becoming a sponsor. If you make one of my recipes, don't forget to tag #immigrantstable @immigrantstable!
Tried and loved this recipe? Please leave a 5-star review below! Your reviews mean a lot to me, so if you've got any questions, please let me know in a comment.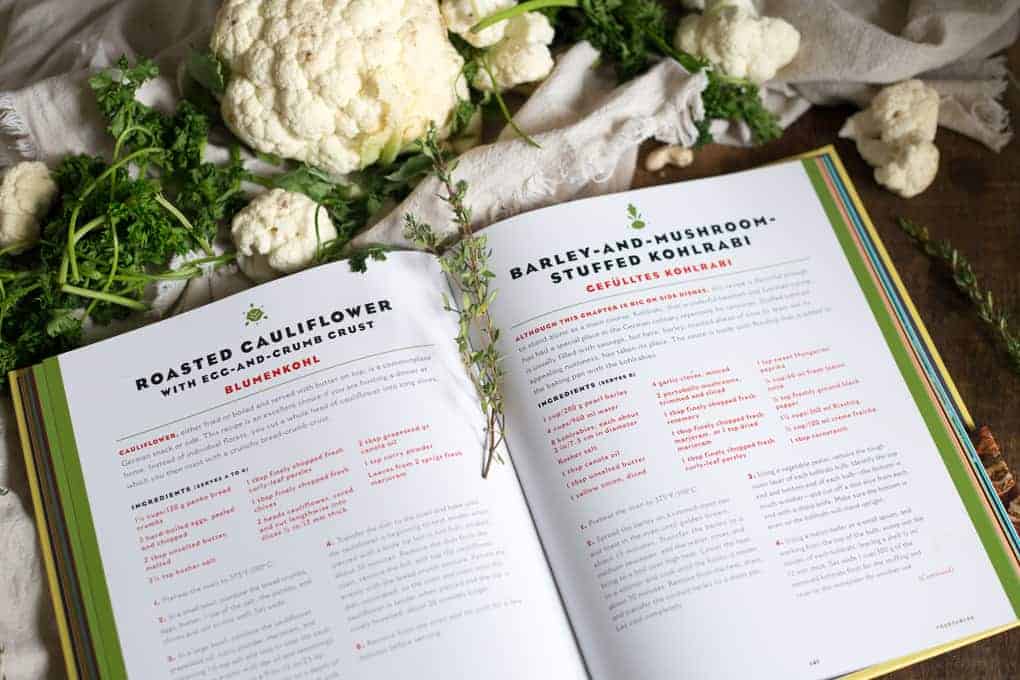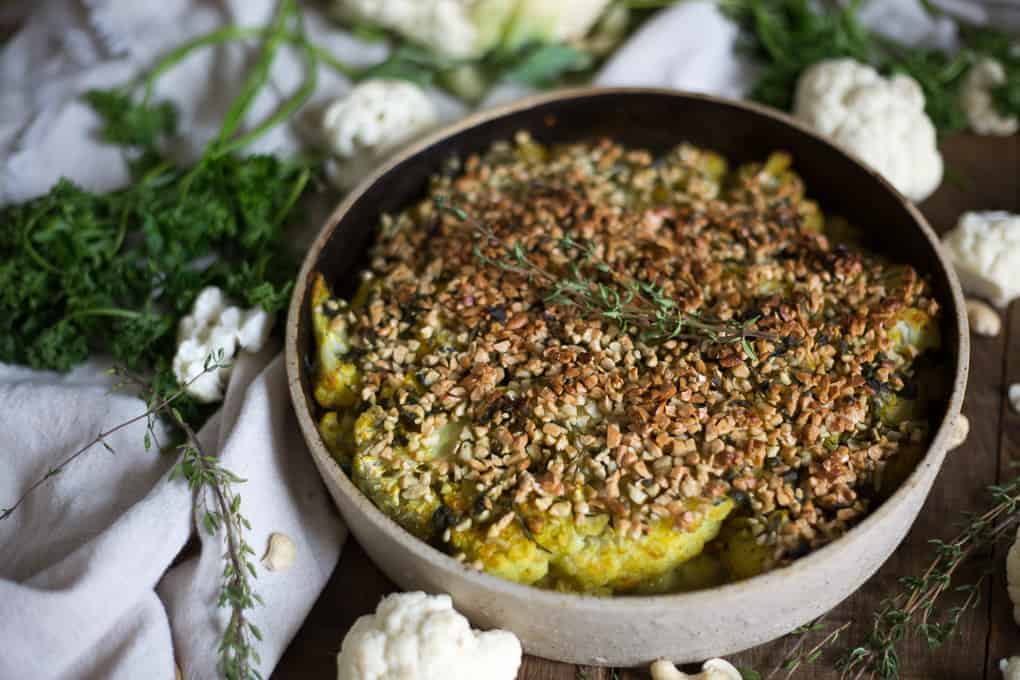 German roasted cauliflower with curry cashew crust
Once you try this curry-laden, bright and herby German roasted cauliflower, you'll fall in love with
New German Cooking
- the perfect cookbook for the fall.
Ingredients
Curry cashew crust:
1 ½

cups

cashews

chopped

2

tablespoon

coconut oil

melted

2 ½

teaspoon

kosher salt

1

tablespoon

finely chopped fresh parsley

1

tablespoon

finely chopped fresh chives
German roasted cauliflower filling:
2

heads cauliflower

cored and cut lengthwise into ½ inch-thick slices

2

tablespoon

grapeseed oil

1

teaspoon

curry powder

Leaves

rom 2 sprigs fresh marjoram or thyme
Instructions
Preheat oven to 375F/190C.

In a small bowl, combine cashews, coconut oil, 1 teaspoon salt, parsley and chives. Stir well to mix. Set aside.

In a large bowl, combine cauliflower, grapeseed oil, curry powder, marjoram/thyme and remaining 1 ½ teaspoon salt and toss gently, until cauliflower slices are coated evenly.

Transfer the dish to a baking dish. Pour water to the depth of ½ inch at the bottom of the dish, cover dish with aluminum foil and transfer into oven to bake.

Bake until cauliflower is beginning to get tender, about 30 minutes. Remove the dish from the oven, remove foil and top the cauliflower evenly with the cashew mixture. Return the dish, uncovered, to the oven and roast until cauliflower is tender when pierced and the curry cashew crumb is nicely browned, an additional 20 minutes.

Let cool for a few minutes before serving.

German roasted cauliflower will keep in the fridge, covered, for a week.
Tried this recipe?
Comment + Rate Below!
Connect on Instagram!
Find us @immigrantstable