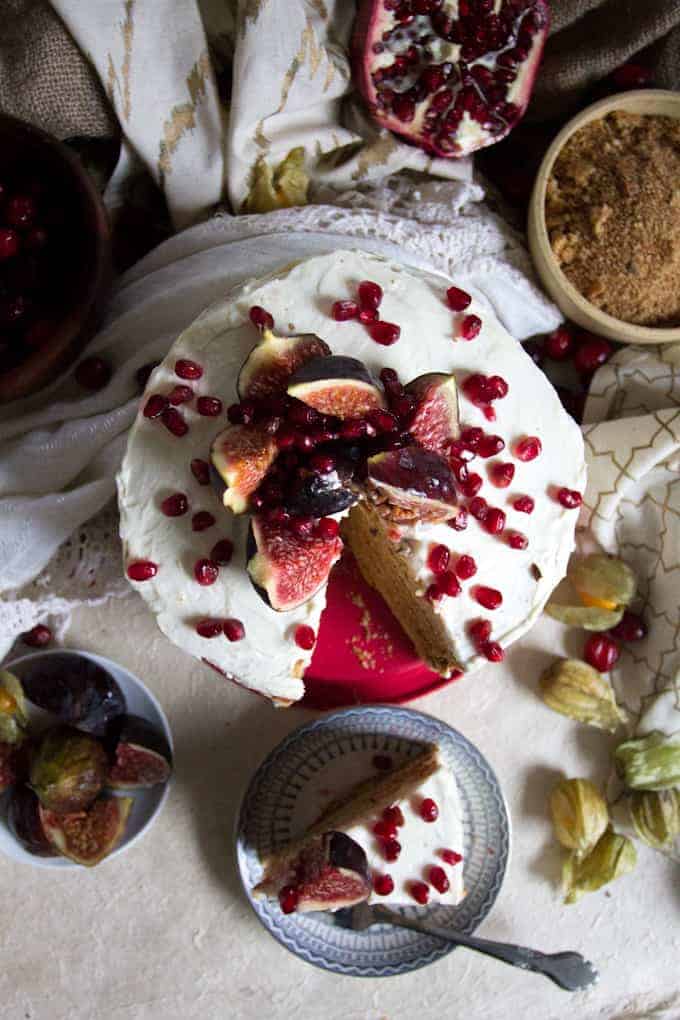 Russian cuisine is as well known for its pastries as the French - and medovik cake is its gateway drug. My gluten-free medovik is a scrumptious Russian torte with layers of crispy thin pastry, decadent mascarpone cream with honey and fresh fruit. If you've never had Russian tortes before, you're in for a treat!
This post is a partnership with Baker's Secret, but all opinions expressed here are my own. Please consider supporting the brands that make this blog possible.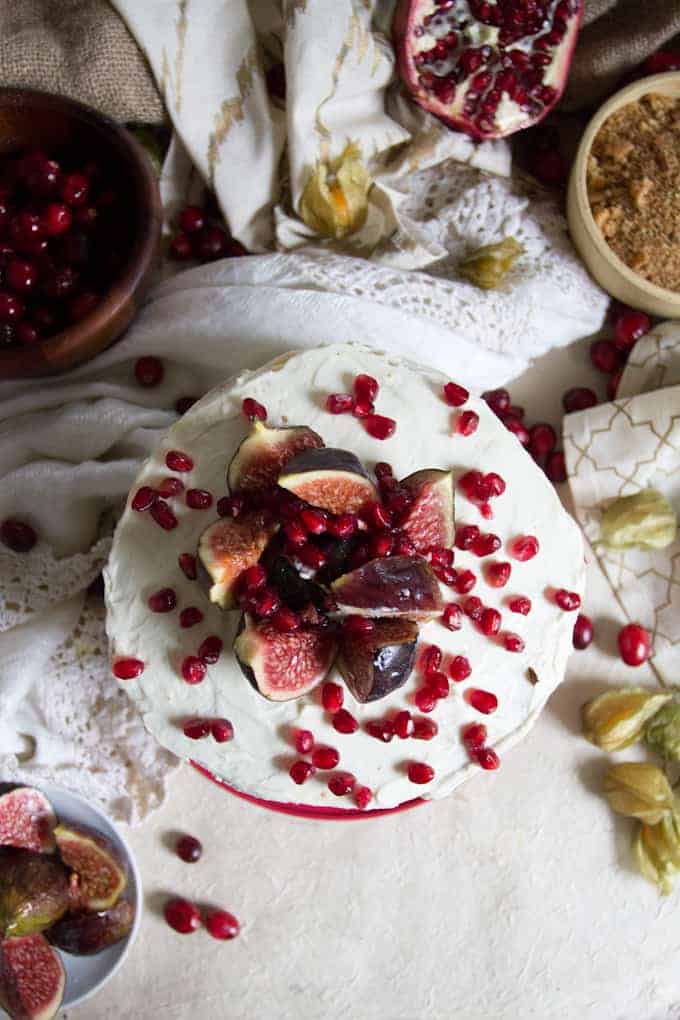 Russian tortes, a family affair
Before every holiday, my grandmother wouldn't answer her phone for a couple of days. In person, conversations with her were a distracted affair, full of silences and muffled answers, and could only be conducted in her apartment.
And the reason for that was cake.
Because you see, every holiday my grandmother would slave away for hours in order to create a magnificent Russian layer cake. She would bake the dough and whip the cream, carefully select her ingredients and marinade all of her fruits. This took hours, and usually days.
One year the result was Napoleon, a thousand-layers creatio of cream and crinkly-thin layers. Another it was be her peach and sour cream roll up. And often times, it was medovik.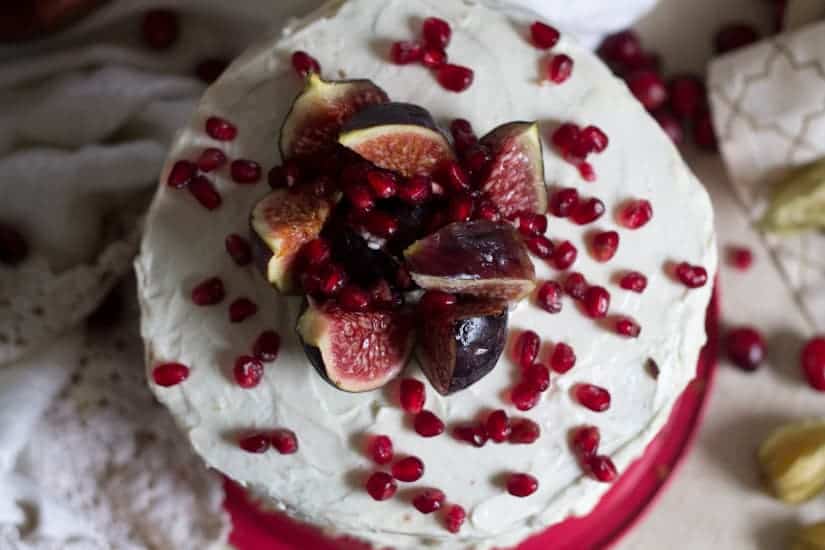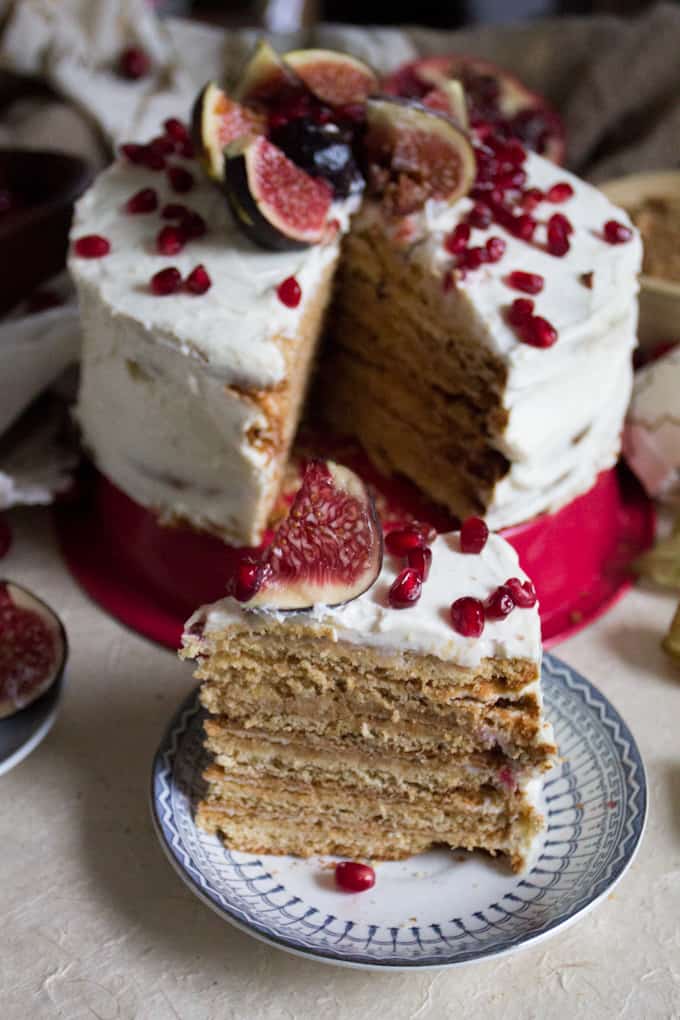 Childhood memories of my grandmother's Medovik
My grandmother's medovik is a traditional Russian layered cake. Each cake layer is baked separately to a gentle crisp, laced with honey and eggs. Then it is topped with a generous helping of heavy sour cream, mixed with sugar. The whole thing is put together and sprinkled with more crumbs, and allowed to rest for at least a day.
Medovik is an incredible, decadent affair that needs time - time to be baked, time to be assembled, time to rest - and most importantly, time to enjoy.
Today, my grandmother is 81. She no longer makes cakes for every holiday. Now, she waits for extra special occasions - my visits, Russian New Year's Eve, her birthday. When she does bake, her cakes are no longer as elaborate, though Napoleon, my favourite, still makes common appearances.
Her hands are calloused, and there are age spots on her face. Walking too long tires her out, though conversations can go on for hours. At times, these are distracted affairs that diverge on many tangents.
But her mind is as sharp as ever, honed every Sunday night on Russian trivia game shows (Chto Gde Kogda, anyone?) and through constant reading.
And her cakes are just as delicious.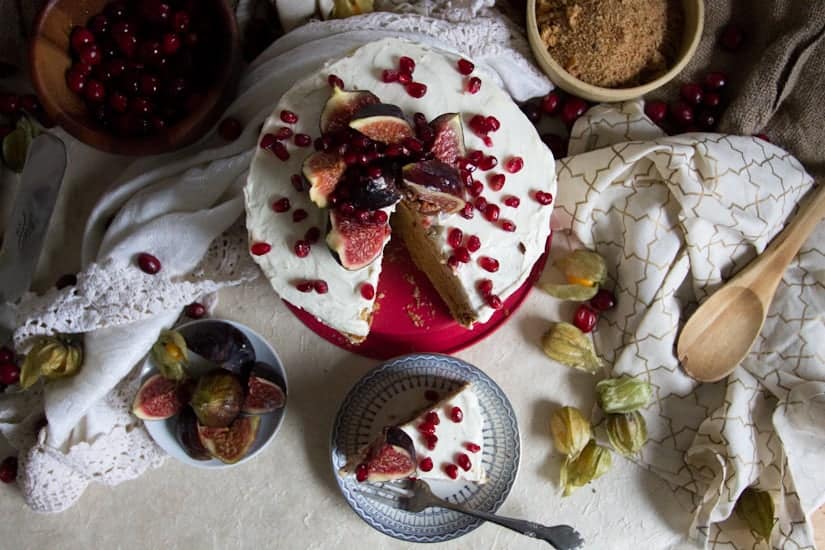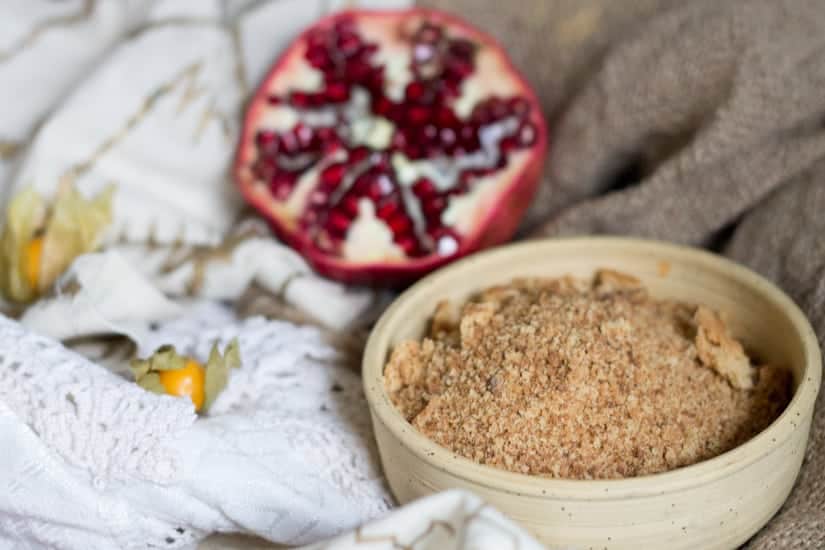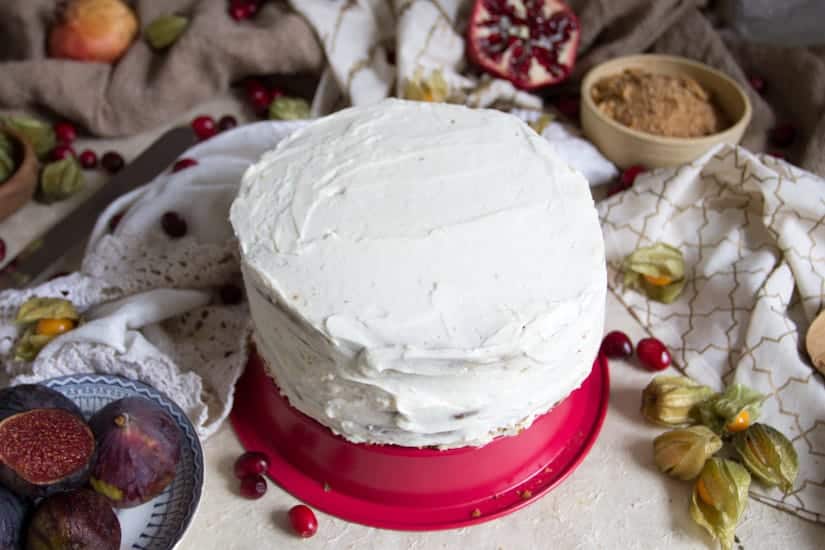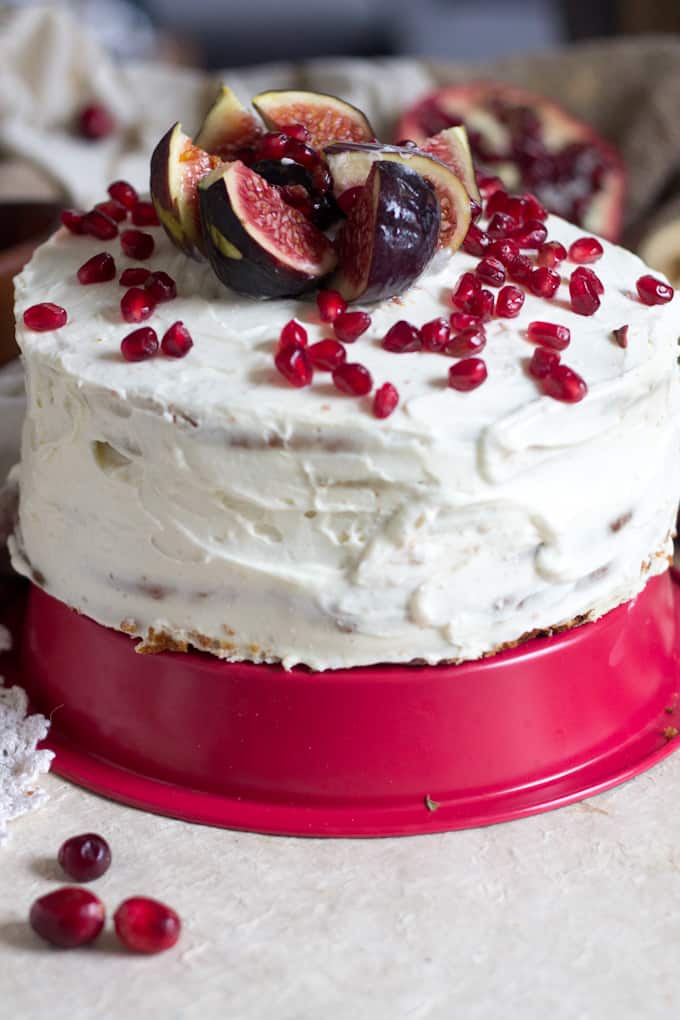 A modernized, gluten-free medovik
This is my version of my grandmother's Russian medovik - a gluten-free, scrumptious cake with layers of crispy thin pastry, decadent mascarpone cream and fresh figs and pomegranates. It's decadent, but without refined white flour, less sugar than its traditional Russian counterparts and the tanginess of mascarpone, you could feel slightly more wholesome about the whole thing.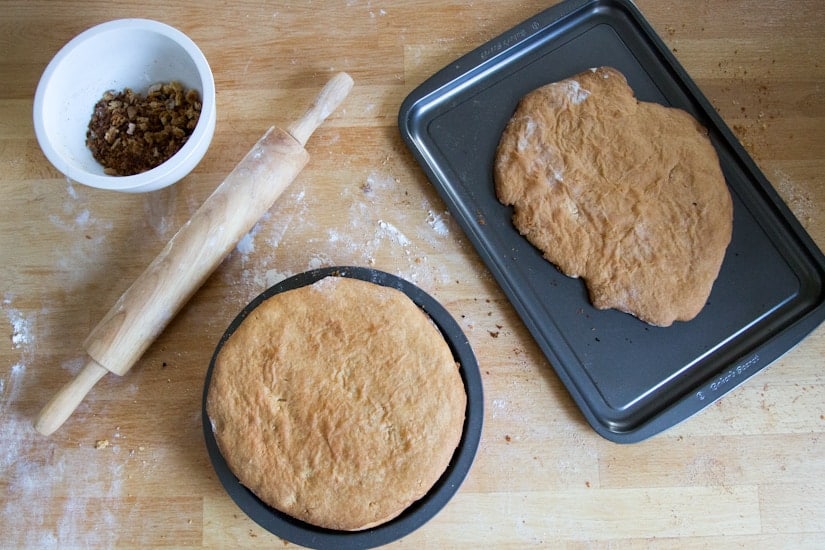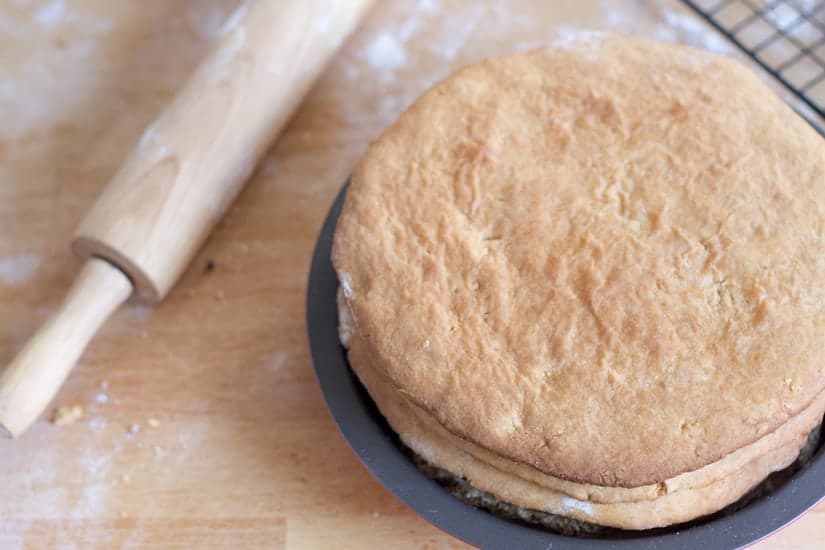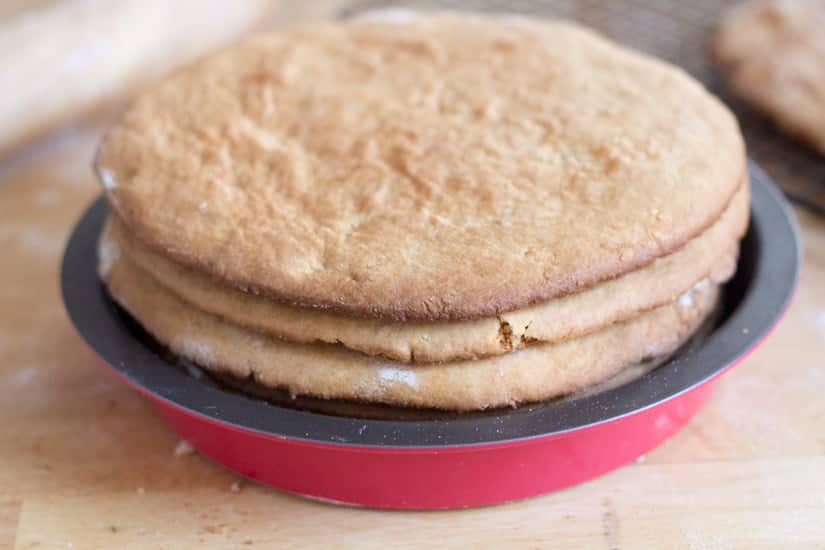 Good baking starts with good pans
And to help you bake it, I'm even hosting a giveaway! Because this cake is baked in layers, it helps to have a few pans on hand. I used my favourite Baker's Secret baking set, which includes a sheet cake pan, a loaf pan, a 9-inch square cake pan and a good ol' baking sheet. To shape my layers, I used a Baker's Secret 8-inch round cake pan, whose lovely red colour later served as a beautiful serving tray on which to present my cake.
If you'll excuse the pun, Baker's Secret held the secret to baking my layers with little fuss.
And now, you could also win an 8″ Baker's Secret Square Cake Pan, delivered directly to your doorstep just in time for all that holiday baking. Just enter below!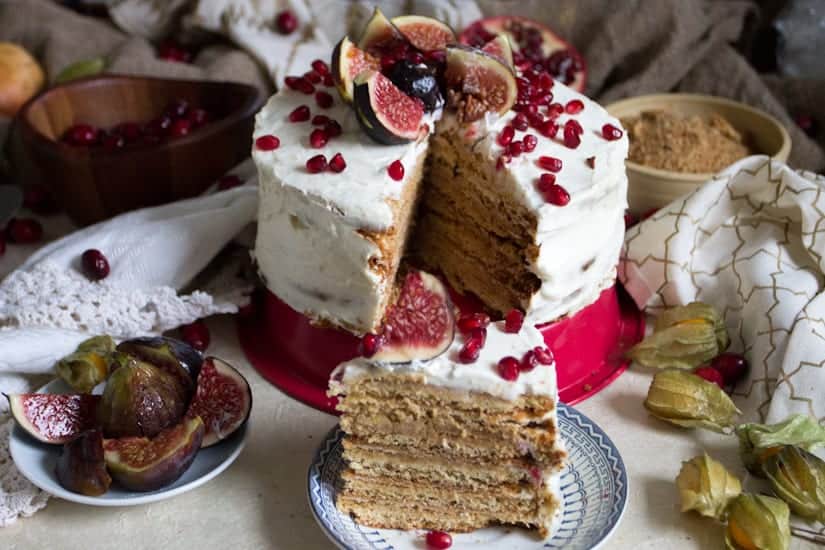 Whether you use your new Baker's Secret cake pan to bake my medovik, or to create a family favourite of your very own, I'm sure you're going to have a lovely time with it.
Tried and loved this recipe? Please leave a 5-star review below! Your reviews mean a lot to me, so if you've got any questions, please let me know in a comment.
I received product and monetary compensation in exchange for this post. However, I am proud to only work with those companies whose products I truly love. And as always, all opinions expressed here are my own; you can always expect me to be honest with you guys!
Looking for more holiday baking inspiration? Next week, on Wednesday Dec. 9, Food Bloggers of Canada will be holding a special Baker's Secret Twitter Party. And they'll definitely be sharing some holiday favourites during the party, so join us for more deliciousness!
Recipe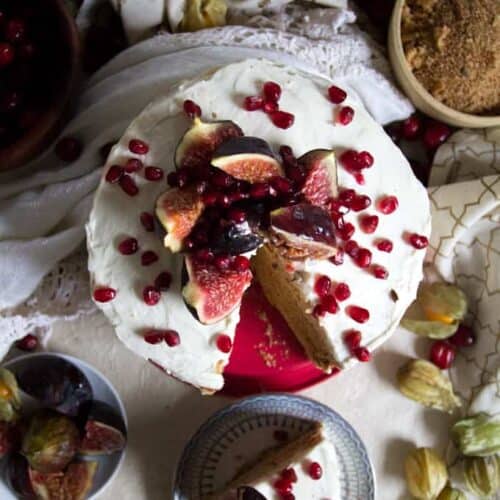 Fig and honey medovik - a gluten-free Russian layer cake (and a GIVEAWAY)
A gluten-free layered Russian fig and honey cake (medovik) - a scrumptious cake with layers of crispy thin pastry, decadent mascarpone cream and fresh fruit.
Ingredients
Instructions
Combine eggs, sugar, honey and butter in a bain marie (a mixing bowl placed over a gently boiling of water). Mix well, stirring until oil has fully dissolved. Add flour and baking powder and stir until a ball of dough forms (do not overmix).

Remove dough from bowl, and knead a few times until dough can be shaped. Wrap in plastic wrap and chill in fridge for 12 hours.

Once chilled, flour your work surface and Preheat oven to 350F (180C). Roll out dough into 5-6 circles of about ¾ inch thick (you can use a cake pan to measure out your circles). Dough will be very hard to work with at first, but it will get easier as dough warms up.

Bake each layer on a separate baking sheet for 7 minutes, and let cool on a wire rack. Stack the cakes on top of each other and even out the sides, removing all the extra cut dough so the cakes look good layered on top of each other.

Combine all ingredients for honey mascarpone cream. Whip together until mixture holds stiff peaks.

Smear about 3 tablespoons of cream between each two layers. Use half of remaining cream and do a full coating of a "crumb layer" around the cake (the first layer of frosting; doesn't need to be perfect). Let chill for a couple of hours, preferably overnight. Use the remaining cream to do a second and final layer of icing. Cake can be served immediately, or allowed to rest for a few hours for cream to set.

Decorate the top with fresh figs and pomegranate seeds. Serve to oohs and ahhs.
Tried this recipe?
Comment + Rate Below!
Connect on Instagram!
Find us @immigrantstable