This tangy-sweet pomegranate chicken recipe combines pomegranate molasses with juicy chicken for a dish inspired by Persian fesenjan. Simple enough for everyday, festive enough for a celebration like Rosh Hashana or Thanksgiving!
Pomegranate Chicken Recipe Overview
Pomegranate chicken is a unique dish that marries the vibrant tanginess of pomegranate juice, pomegranate arils and walnuts with succulent chicken. This recipe is a perfect addition to your dinner repertoire, ideal for both everyday meals and special occasions. Crafted with accessible ingredients and straightforward techniques, it's a dish you can confidently prepare in your own kitchen.
To create this flavorful pomegranate chicken, you'll need bone-in, skin-on chicken thighs and breasts, pomegranate juice, pomegranate molasses, pomegranate seeds, balsamic vinegar, garlic, lemon juice, walnuts, and fresh herbs. For an added layer of flavor, we sear the chicken in aromatic spices like turmeric and cumin.
The result is a tender, flavorful chicken with a delicate balance of sweet and tangy notes, making it an excellent companion to rice, quinoa, or roasted vegetables. For an elegant presentation, garnish with fresh pomegranate seeds and fragrant herbs.
In summary, pomegranate chicken is a versatile, palate-pleasing dish that can elevate any meal occasion. It's a wonderful way to diversify your culinary repertoire and impress your guests with its jaw-dropping flavors.
Inspiration
This dish is a beautiful fusion of flavors inspired by Persian and Armenian pomegranate and walnut chicken dishes that I have tasted during Nowruz, the Persian New Year celebration. In particular, this dish combines the flavors and techniques of Persian Pomegranate and Walnut Stew (Fesenjan) and Persian Pomegranate Chicken (Morgh-e Torsh).
The rich tapestry of cultures and traditions I've encountered on my journey is truly special. These encounters have sparked the idea of adapting the vibrant, sweet, and tangy notes of pomegranate and walnuts into a dish fit for Rosh Hashanah, our Jewish New Year. I hope you like this dish as much as we do!
Ingredients for Pomegranate Chicken: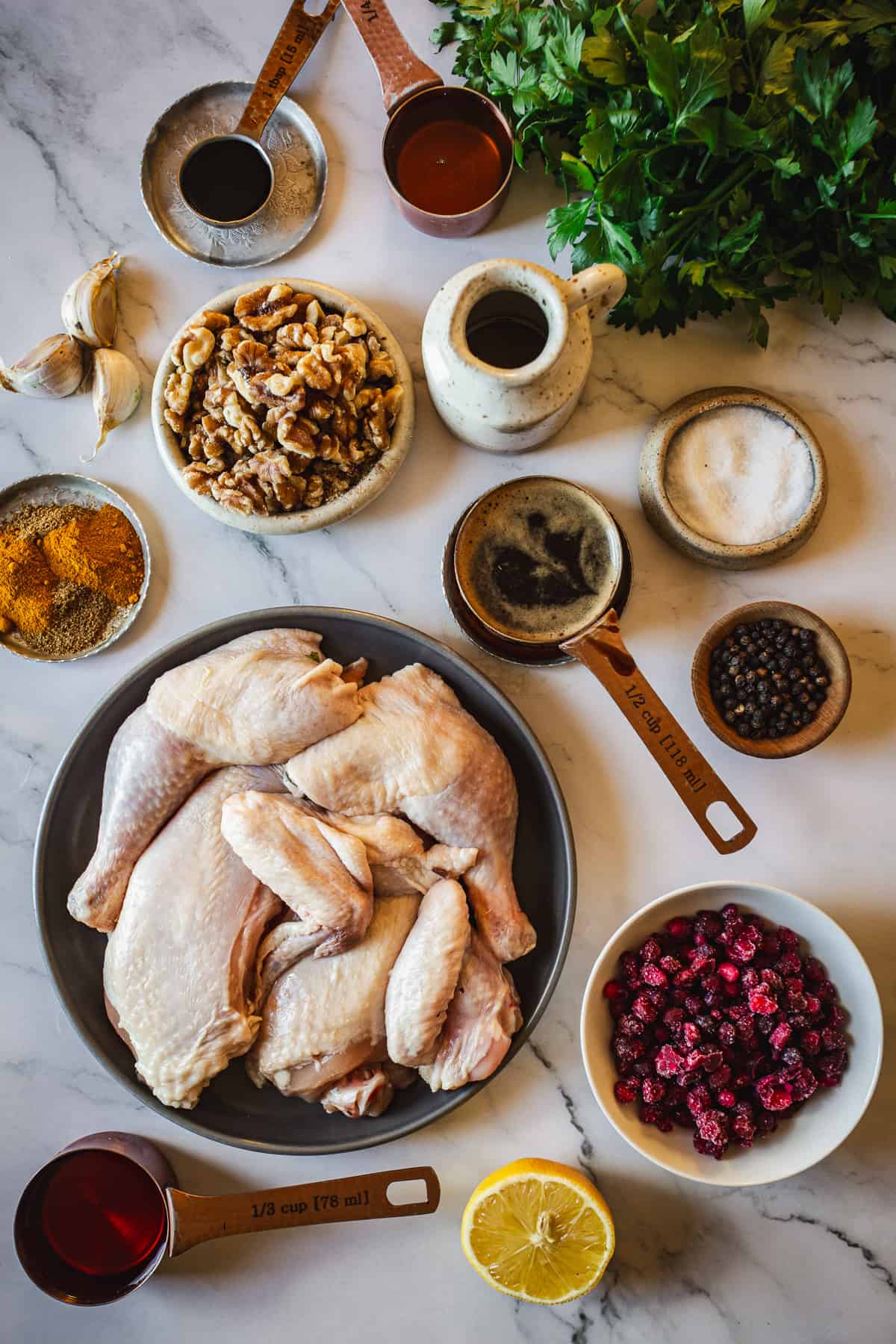 Shelled Walnut Halves and Pieces: These nuts contribute to the rich, nutty flavor of the dish. You can replace walnuts with almonds or even pecans if preferred.
Kosher Salt: Essential for seasoning and enhancing the flavors. Regular table salt can be used as a substitute.
Freshly Ground Black Pepper: Adds a touch of mild heat and depth. Pre-ground pepper works as well.
Ground Cumin: Provides earthy, warm notes. Cumin seeds, toasted and ground, are an excellent alternative.
Ground Turmeric: Lends vibrant color and subtle earthiness. Turmeric powder is widely available.
Chicken Thighs and Drumsticks: The combination of these cuts ensures succulent, flavorful meat. You can use chicken breast or a whole chicken, adjusting cooking times accordingly. I prefer bone-in, skin-on chicken, but you can use boneless and skinless chicken for an easy weekday dish with a shorter cooking time.
Balsamic Vinegar: Imparts a sweet and tangy flavor. Red wine vinegar or apple cider vinegar can be substituted.
Juice of 1 Lemon: Adds bright acidity. You can use lime juice for a slightly different citrus note.
Garlic: Grated garlic infuses the dish with aromatic depth. Garlic powder can be used as an alternative.
Pomegranate Molasses: This is the star ingredient, delivering a unique sweet-tart flavor. You can make your own by reducing pomegranate juice with sugar, but store-bought molasses is convenient.
Pomegranate Juice: Complements the molasses, adding extra fruity depth. Make sure it's 100% pure juice.
Honey: Provides sweetness and balances the tartness. Maple syrup or agave nectar can be used as substitutes.
Canola Oil: Used for cooking and sautéing. Vegetable oil or grapeseed oil are suitable replacements.
Pinch of Saffron Threads (Optional): This adds a delicate floral note and a golden hue. Saffron can be omitted if not available or replaced with a pinch of ground turmeric for color.
Feel free to adapt these ingredients to your taste and dietary preferences, and don't hesitate to experiment with substitutes based on what you have on hand. See the recipe card for exact quantities.
Step by Step Instructions
Making pomegranate chicken is simpler than you might imagine. Here's a step-by-step guide to crafting this delicious dish:
Season the Chicken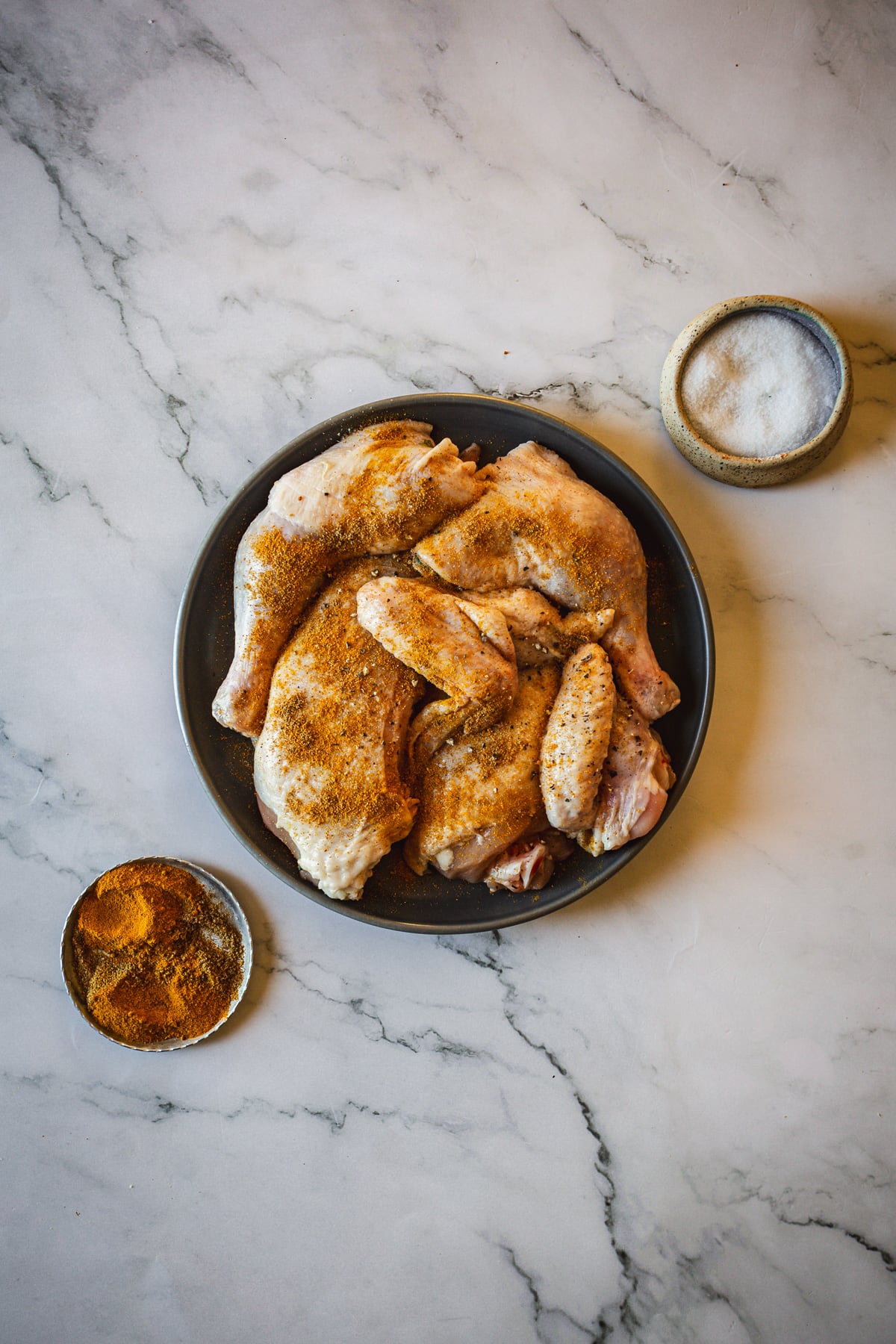 Begin by seasoning your bone-in, skin-on chicken pieces with salt and pepper. These cuts of chicken offer maximum flavor and juiciness.
Toast the walnuts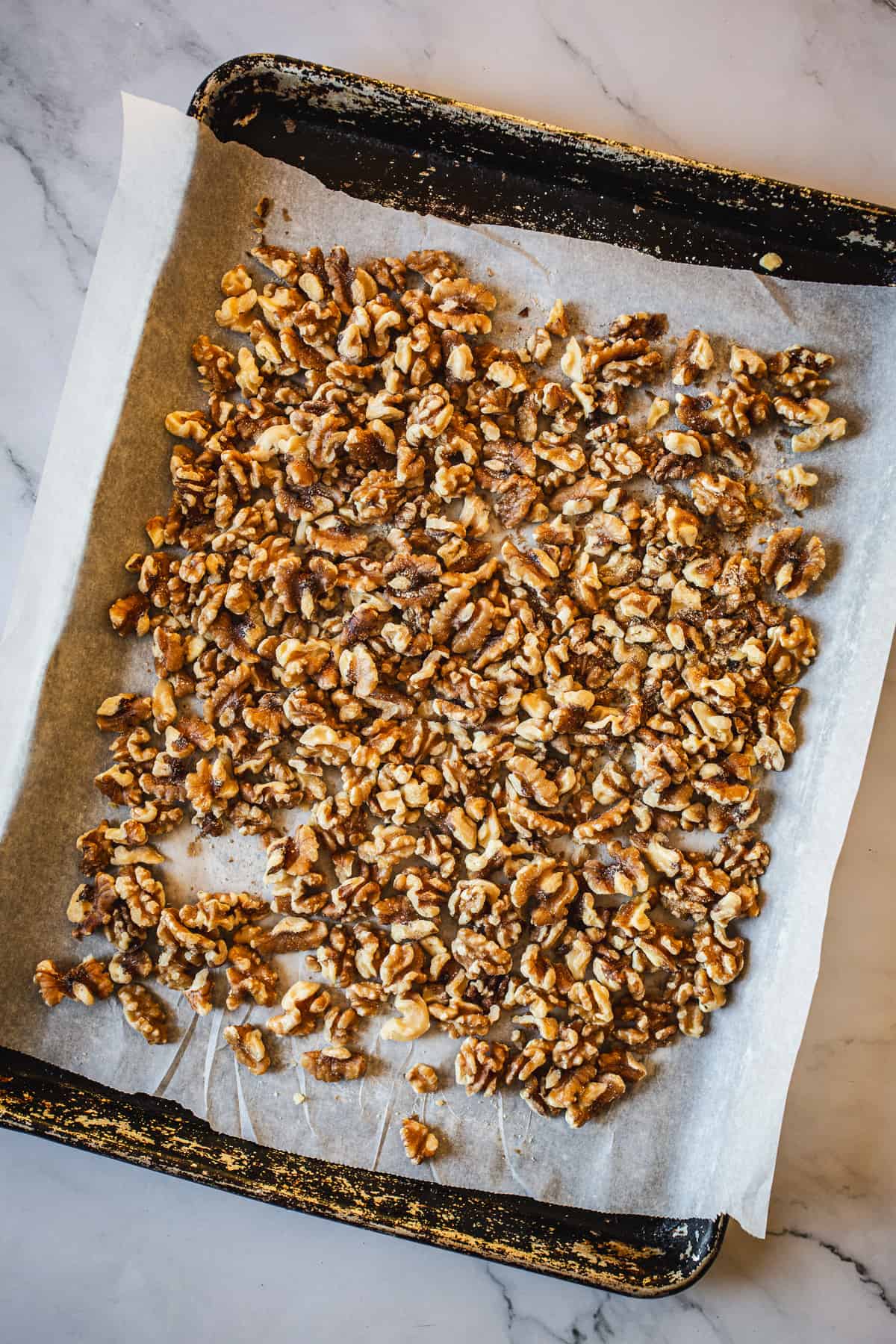 Set your oven to warm up to 350°F. Roast the walnuts on a baking tray for a duration of 8-10 minutes. Then, put them aside.
Sear the Chicken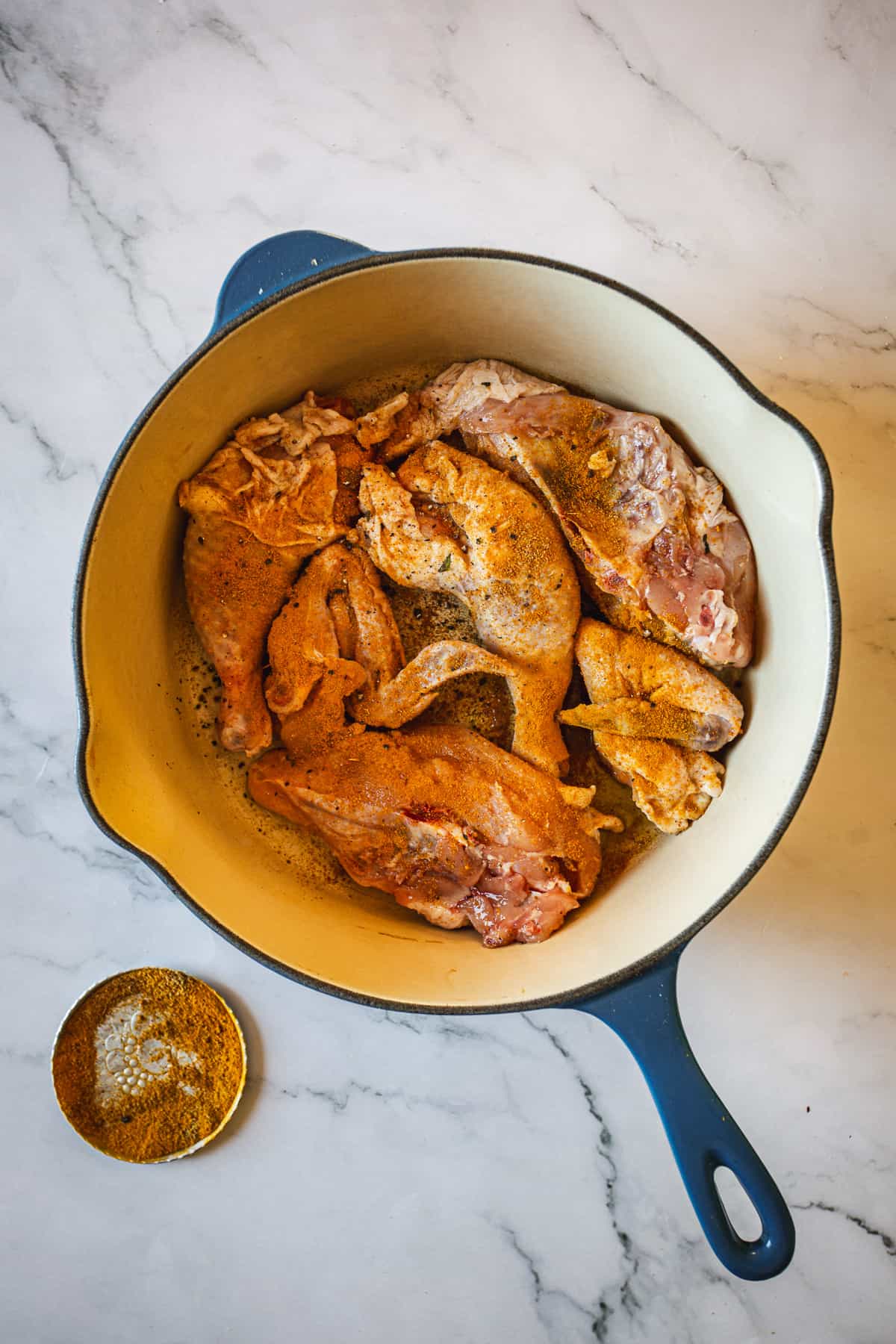 Heat a large, oven-safe Dutch oven or heavy-bottomed pot or pan over medium-high heat and add a tablespoon of olive oil. Once the oil is hot, carefully place the chicken thighs in the skillet, skin-side down. Sear for approximately 5-6 minutes until the skin becomes crispy and golden brown. Flip the chicken and sear the other side for 5-6 minutes.
Remove the seared chicken from the pan and set it aside. Wipe off any burnt seasonings.
Add the Walnuts and Sauce Ingredients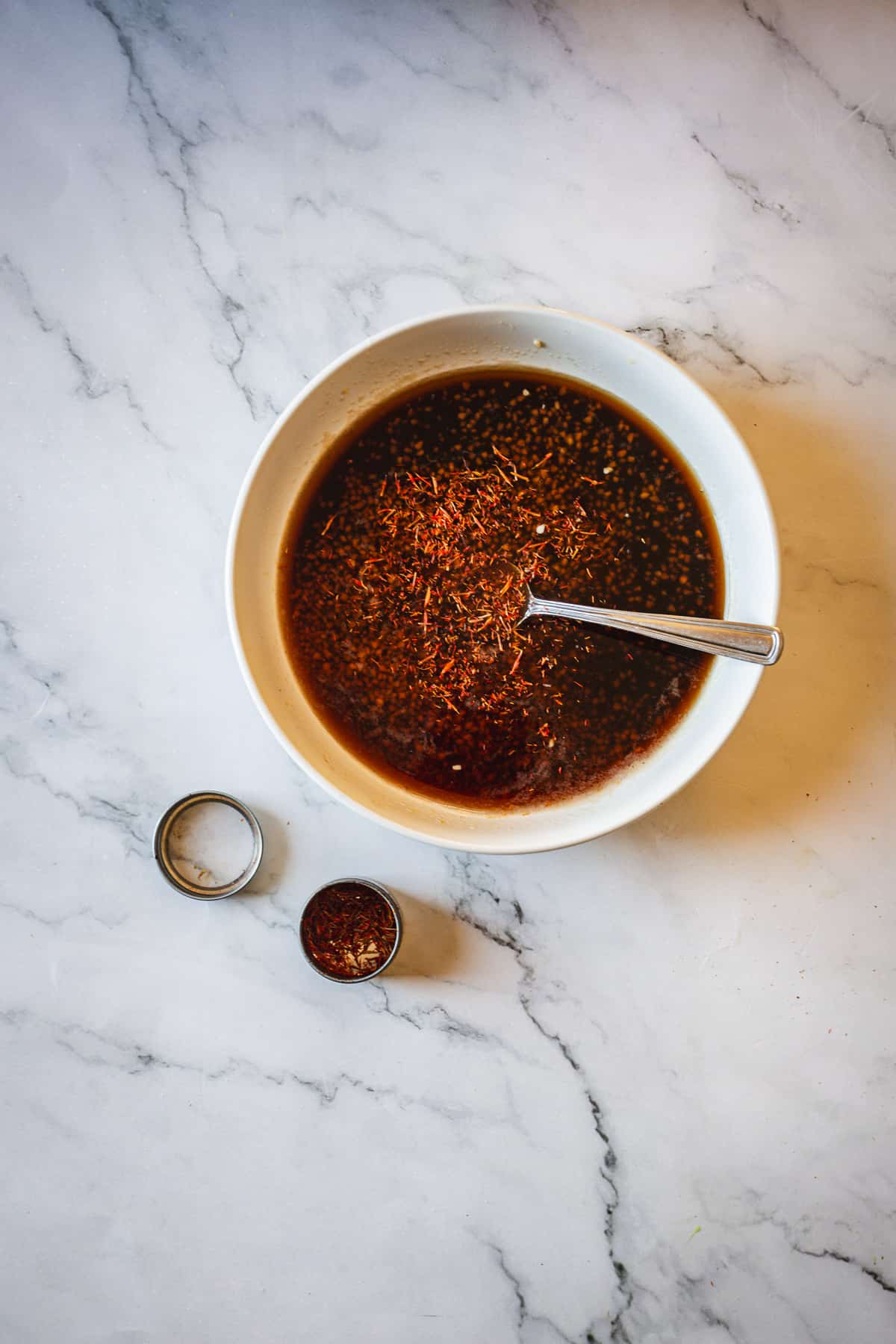 Mix olive oil, pomegranate molasses, honey, balsamic vinegar, lemon juice, and garlic together in a small bowl. If you like, you can also add saffron threads.
Return the chicken to the Dutch oven or pan with the skin side facing upwards. Then, drizzle the marinade over the chicken.
Bake the Chicken in Pomegranate Sauce
Cover the skillet with a lid and transfer to the oven, allowing the chicken to cook for approximately 20-25 minutes or until it reaches an internal temperature of 165°F (74°C). Thighs may take a bit longer to cook, closer to 40 minutes, so remove the breasts halfway through to avoid drying them out.
Top with Pomegranate Seeds and Herbs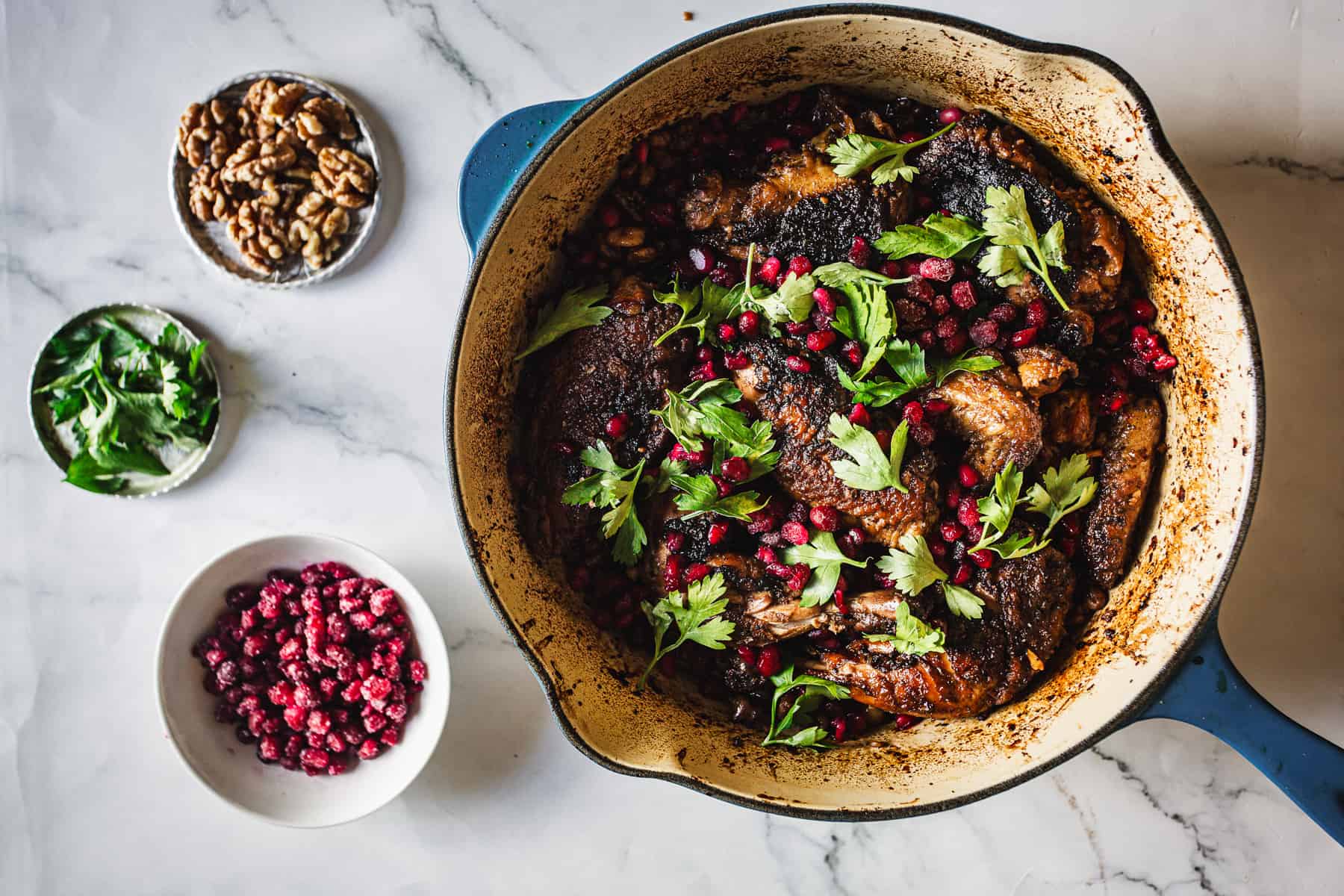 As the chicken reaches perfection, carefully transfer it to a serving dish. Drizzle the remaining pomegranate sauce over the chicken, creating a shiny glaze. Top the dish with fresh pomegranate seeds and fragrant herbs such as parsley or cilantro for a final touch of elegance. Your pomegranate chicken is now ready to serve!
Serving Suggestions
Pomegranate chicken is incredibly versatile, allowing you to pair it with various sides and accompaniments. Here are some accompanying serving suggestions:
Rice
A classic and timeless choice, plain rice provides the perfect canvas for the exquisite flavors of pomegranate chicken. Consider using fragrant basmati rice for its light and airy texture. Try our wild rice pilaf or grape rice with feta for a special Rosh Hashana or Thanksgiving rice dish.
Roasted Vegetables
Roasted vegetables accentuate the natural sweetness of the ingredients and introduce a vibrant burst of color to your plate. Experiment with a mix of roasted carrots, sweet potatoes, and Brussels sprouts, drizzled with olive oil and seasoned with salt and pepper. The sweet notes of the vegetables harmonize beautifully with the tartness of the pomegranate sauce.
Salad
A fresh, crisp salad provides a perfect counterbalance to the richness of the chicken. Try this pomegranate salad, or a simple apple and greens salad for a fall-themed pairing. Consider dressing it with a zesty lemon vinaigrette or a pomegranate dressing for a delightful flavor pairing.
Storage and Reheating Instructions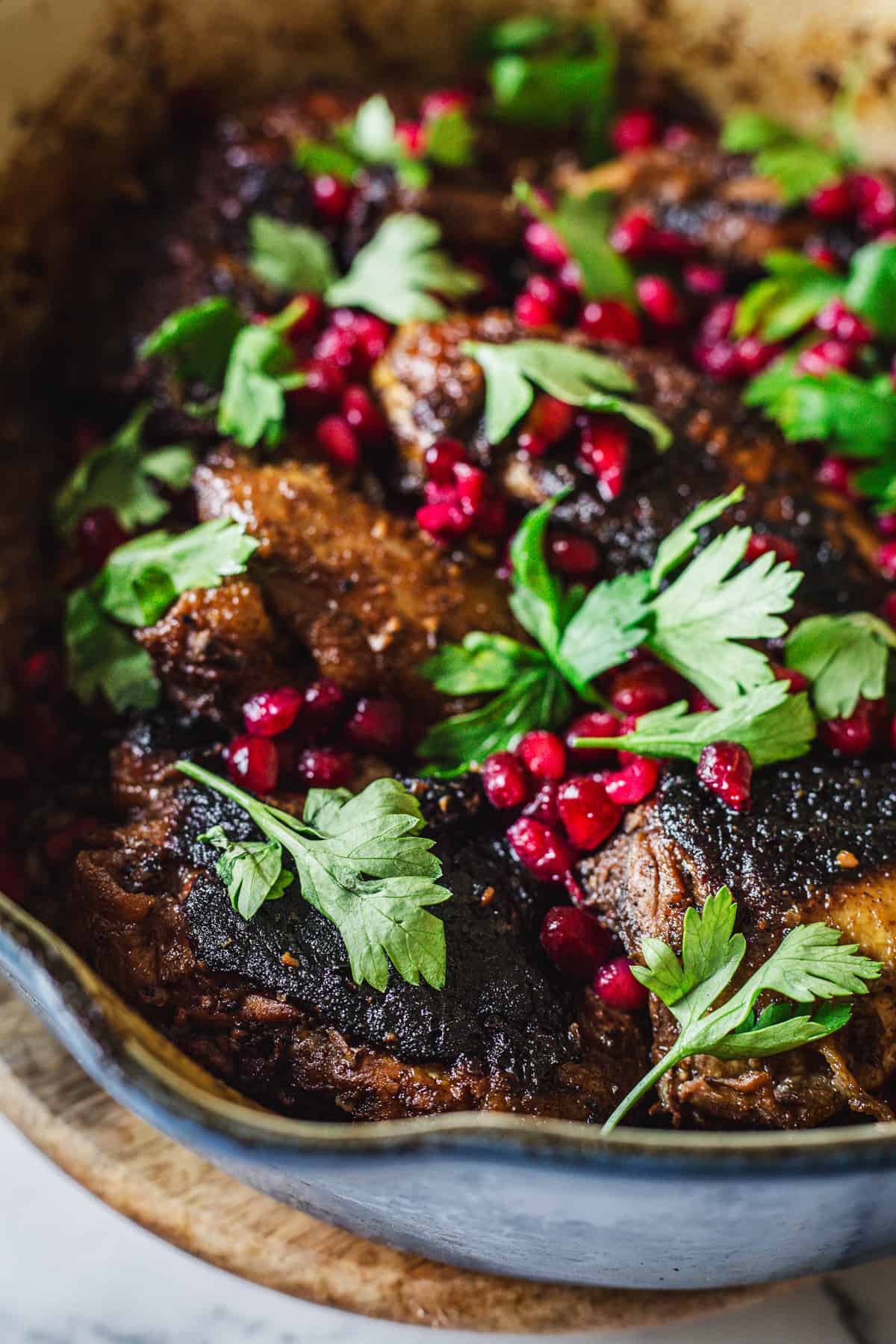 To preserve your remaining pomegranate chicken, keep it in a tightly sealed container and pop it into the fridge for up to 3-4 days.
Cooled pomegranate chicken will keep in the freezer for up to 3 months.
When you're ready to eat the refrigerated pomegranate chicken, heat it in the microwave for about 1-2 minutes or until it's properly warmed. If it's coming from the freezer, let it defrost in the fridge overnight.
For best results, warming in the oven is recommended. Set your oven to a temperature of 350°F (175°C), put the chicken in a dish suitable for the oven, shroud it with aluminum foil, and let it cook for about 15-20 minutes or until it's suffused with heat.
Keep in mind that reheating multiple times might compromise the taste and consistency of the chicken.
Variations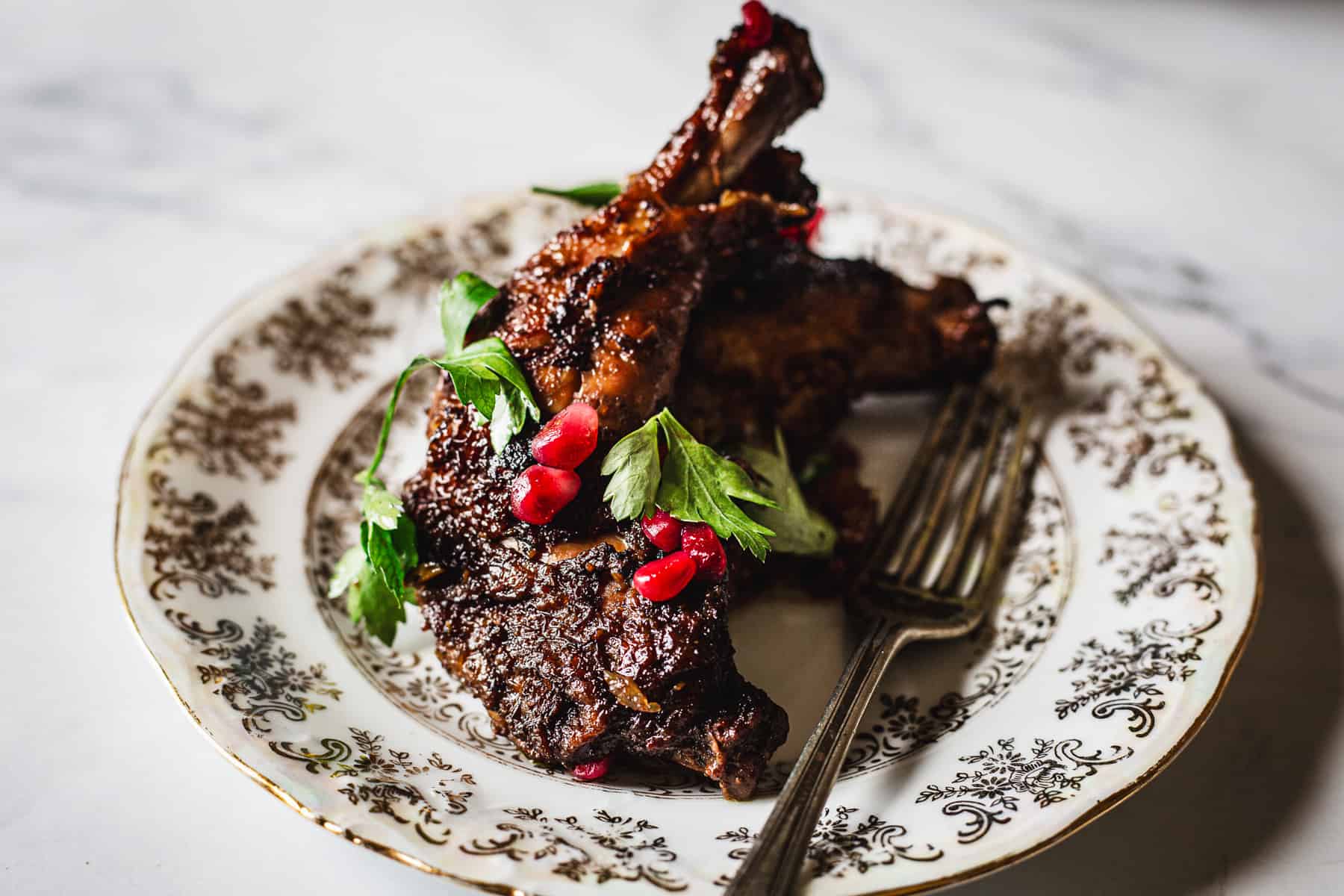 Pomegranate chicken is fantastic as it is, but if you want to adapt it to various tastes and dietary preferences, here are a few creative variations to explore:
Vegetarian Alternatives
For those who follow a vegetarian or plant-based diet, there are excellent alternatives to chicken:
Tofu: Substitute the chicken thighs with firm tofu. Press the tofu to remove excess moisture, cut it into cubes, and marinate it in the pomegranate sauce for at least 30 minutes before cooking.
Portobello Mushrooms: Marinate whole Portobello mushrooms in the pomegranate sauce for at least 30 minutes before grilling or roasting. The meaty texture of Portobello mushrooms pairs wonderfully with the sauce.
Cauliflower: Cut a head of cauliflower into florets and coat them in the pomegranate sauce. Roast the cauliflower in the oven at 400°F (200°C) for 25-30 minutes, or until tender and golden brown.
Spicy Version
If you crave a touch of heat, consider spicing up your pomegranate chicken:
Chili Flakes: Add a teaspoon of chili flakes to the pomegranate sauce before cooking for a subtle kick of spice.
Harissa: Incorporate a tablespoon of harissa paste into the pomegranate sauce before cooking for a complex and fiery flavor profile.
Cayenne Pepper: For a gentle but distinct heat, sprinkle a pinch of cayenne pepper into the pomegranate sauce before cooking.
Feel free to experiment with spice levels to discover the perfect balance of sweet and spicy that suits your palate.
Tried and loved this recipe? Please leave a 5-star review below! Your reviews mean a lot to me, so if you've got any questions, please let me know in a comment.
Frequently Asked Questions
How can I make a Persian-style pomegranate chicken recipe?
To create a Persian-style pomegranate chicken recipe, use boneless chicken thighs and simmer them in a sauce crafted from pomegranate molasses, chicken broth, and onions. Enhance the sauce with ground walnuts and a pinch of cinnamon for an extra layer of flavor. Serve the chicken over rice and garnish it with pomegranate seeds and chopped parsley for a beautiful presentation.
What are some tips for baking pomegranate chicken?
When baking pomegranate chicken, opt for bone-in chicken thighs with the skin on to maximize flavor and moisture. Marinate the chicken in pomegranate molasses and a blend of spices (such as cumin, coriander, and paprika) for at least 30 minutes before baking. Bake the chicken in a preheated oven at 375°F (190°C) for approximately 45 minutes, or until it reaches an internal temperature of 165°F (74°C). Allow the chicken to rest for 5 minutes before serving.
What are some creative ways to use pomegranate seeds in a chicken recipe?
Pomegranate seeds can serve as a delightful garnish for your pomegranate chicken, adding vibrant color and intriguing texture. Alternatively, incorporate them into a salad with mixed greens, feta cheese, and a pomegranate vinaigrette for a burst of juicy sweetness. You can also create a zesty salsa by combining pomegranate seeds with diced tomatoes, red onion, and cilantro.
What is a good marinade recipe for pomegranate chicken?
A delicious marinade for pomegranate chicken can be crafted using pomegranate molasses, olive oil, minced garlic, lemon juice, and a blend of spices like cumin, coriander, and paprika. Marinate the chicken for a minimum of 30 minutes before cooking to infuse it with vibrant flavors.
Can you serve this chicken dish for Rosh Hashana?
Absolutely! Pomegranate chicken is a fitting choice for Rosh Hashana, as pomegranates symbolize fertility and abundance in Jewish tradition. The sweet and tangy profile of pomegranate sauce pairs harmoniously with traditional Rosh Hashana ingredients like honey and apples.
What are some traditional Moroccan spices to use in a chicken dish with pomegranate molasses?
For an enticing Moroccan twist, consider incorporating traditional spices such as cumin, coriander, cinnamon, and ginger into your pomegranate chicken dish. These warm and aromatic spices complement the sweetness of the pomegranate molasses, creating a rich and inviting flavor profile.
What are some side dishes that pair well with pomegranate chicken?
Pomegranate chicken is a versatile dish that can be beautifully accompanied by a variety of sides. Some excellent choices include roasted sweet potatoes, couscous, quinoa, or a green salad with a pomegranate vinaigrette. Grilled vegetables like zucchini, eggplant, and bell peppers also make wonderful complements to this flavorful chicken dish.
Recipe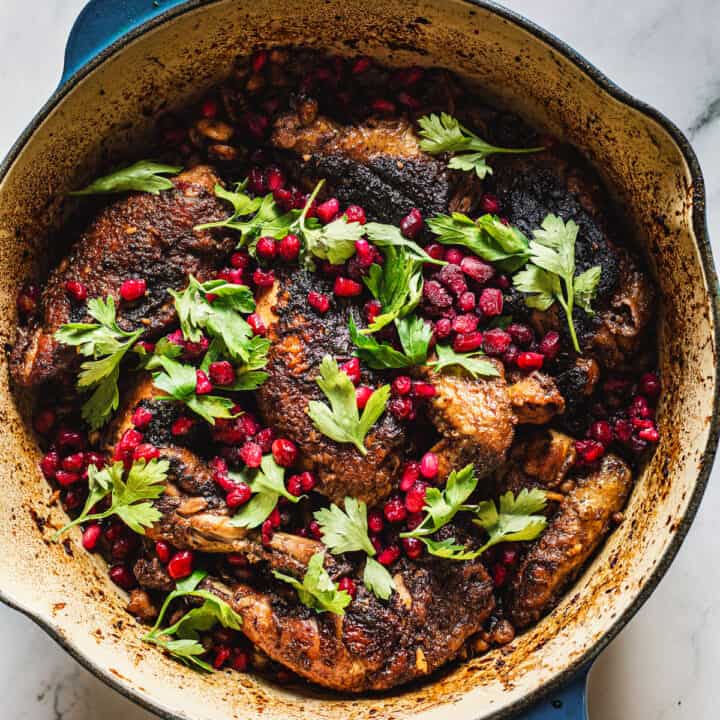 Walnut and pomegranate chicken recipe
This tangy-sweet pomegranate chicken with pomegranate molasses is simple, yet festive enough for Rosh Hashana or Thanksgiving!
Ingredients
2

cups

shelled walnut halves and pieces

1

tablespoon

+ 1 teaspoon kosher salt

2

teaspoon

freshly ground black pepper

2

teaspoon

ground cumin

2

teaspoon

ground turmeric

2

lbs

chicken thighs and drumsticks

about 8 pieces

1

tablespoon

balsamic vinegar

Juice of 1 lemon

4

cloves

garlic

finely grated

½

cup

pomegranate molasses

½

cup

pomegranate juice

¼

cup

honey

3

tablespoon

canola oil

Pinch

of saffron threads

optional
Instructions
Preheat the oven to 350°F. Toast walnuts on a baking sheet for 8-10 minutes. Set aside.

Mix salt, pepper, cumin, and turmeric in a small bowl. Season chicken with the spice mix.

Heat a large pot or Dutch oven over medium-high heat. Add oil and brown chicken in 2-3 batches, about 10 minutes per batch. Transfer to a bowl.

Remove the pot from heat and let oil cool. Wipe out burnt spices.

Place chicken and toasted walnuts back in the pot.

In a separate bowl, whisk together olive oil, pomegranate molasses, pomegranate juice, honey, balsamic vinegar, lemon juice, and garlic. Add saffron threads if desired.

Place chicken skin side up in a roasting dish. Pour the marinade over the chicken.

Bake until chicken reaches 165°F (about 25 minutes for breasts, 45 minutes for thighs). Remove breasts if using both light and dark meat.

Increase the oven to 450°F. Let the sauce reduce and the skin get crispy for about 12 minutes. Brush chicken with the pan's marinade every 3-4 minutes.

Serve warm, garnish with pomegranate seeds and parsley.

Store leftovers in the fridge for up to 3 days.
Nutrition
Serving:
1
g
Calories:
965
kcal
Carbohydrates:
46
g
Protein:
38
g
Fat:
72
g
Saturated Fat:
11
g
Polyunsaturated Fat:
36
g
Monounsaturated Fat:
22
g
Trans Fat:
0.2
g
Cholesterol:
116
mg
Sodium:
1861
mg
Potassium:
700
mg
Fiber:
5
g
Sugar:
34
g
Vitamin A:
246
IU
Vitamin C:
5
mg
Calcium:
102
mg
Iron:
4
mg
Tried this recipe?
Comment + Rate Below!
Connect on Instagram!
Find us @immigrantstable