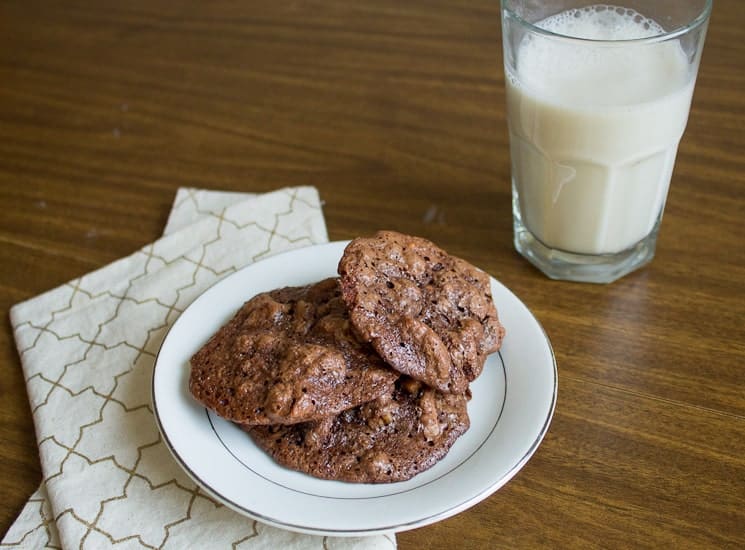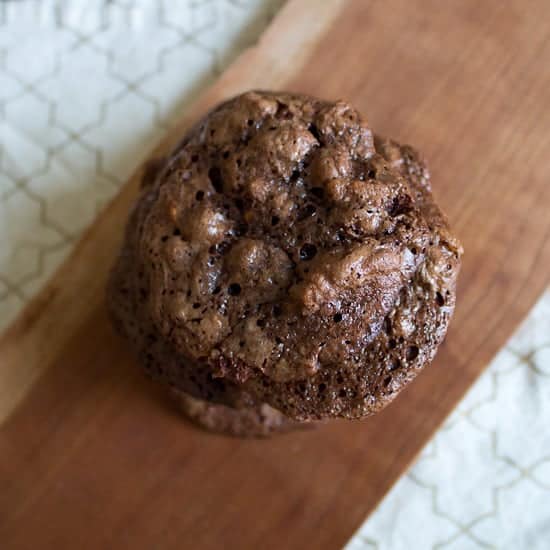 I am a firm believer in the assertion that every cook needs a sturdy and reliable array of signature dishes: foolproof custards, 5-minute pasta dishes, and everything-but-the-kitchen-sink pots of stew. My go-tos are fairly simple. In winter, I soak a pot of beans and make chilis with ever-changing ingredients. On hurried days, I put together a simple vegan eggplant lasagna with store-bought sauce. In summer, I assemble a Greek salad faster than you can say "Opa". And my ideal pasta includes a lot of garlic, caramelized onions, and sturdy greens cooked to a languid submission in under 30 minutes. But I'm ashamed to say that I haven't shared any of these recipes on the blog yet (lack of time? Too much inspiration? Or perhaps I just consider them too mundane?). I'm sorry, I truly am. But today, I intend to remedy that by revealing one of my most-prized discoveries, the flourless chocolate-walnut cookie.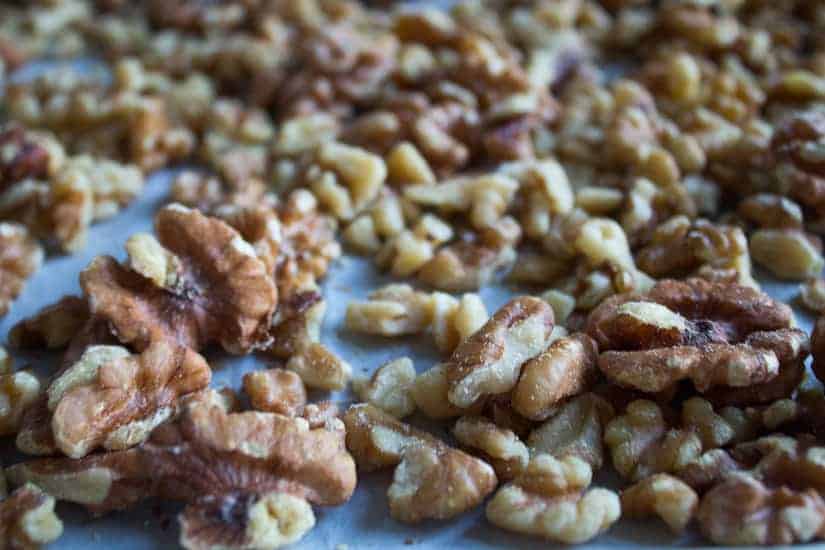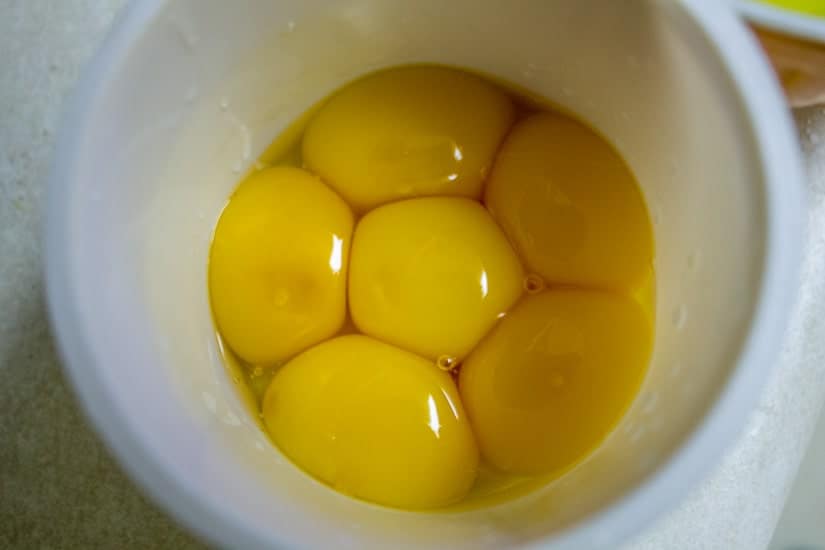 For years, I searched for a no-fail cookie recipe. I wanted something so simple and with so few ingredients, I could memorize it by heart and throw it together in one bowl. I wanted a cookie that would be chewy and airy, chocolatey but healthy(ish). And I wanted it to be gluten-free, so I could make it for Passover, for Friday get-together with Celiac-affected friends, or simply for myself when I need a special treat. And I'm happy to say I found it all in François Payard's gluten-free chocolate-walnut cookie, from the book [amazon text=Chocolate Epiphany&asin=0307393461].
Before Mr. Payard came into my life by way of the New York Times one gray Saturday morning, my cookie-baking experiments usually resembled a high school cafeteria's kitchen, gone bad. I would spend hours perusing cookbooks and the internet, looking for that one winning recipe to spark my excitement and make me want to put on an apron, albeit figuratively. Once something resembling an idea germinated in my brain, I would immediately begin baking, not bothering to properly measure ingredients, or even read the recipe through to ensure I had every tool or required chocolate chip in my arsenal (bad idea, reader!). I would substitute all-purpose flour for whole-wheat, whole-wheat for spelt, omit half the sugar, and replace the coconut flakes with oatmeal (even worse idea, reader). Within minutes, my kitchen counter would become covered in flour, my dish towels wet from mopping up spilled egg yolks, and my only measuring spoon permanently stained from beet juice. My oven would fail to calibrate to the desired temperature, and the resulting cookies would usually turn out blackened, lumpy messes that still managed to puddle together into something more resembling of a galette. Once, I accidentally switched baking soda for baking powder, ruining an otherwise perfect batch of vegan rosemary chocolate-chip cookies. And I wish my troubles ended there, but that's as far as I'm willing to share this time.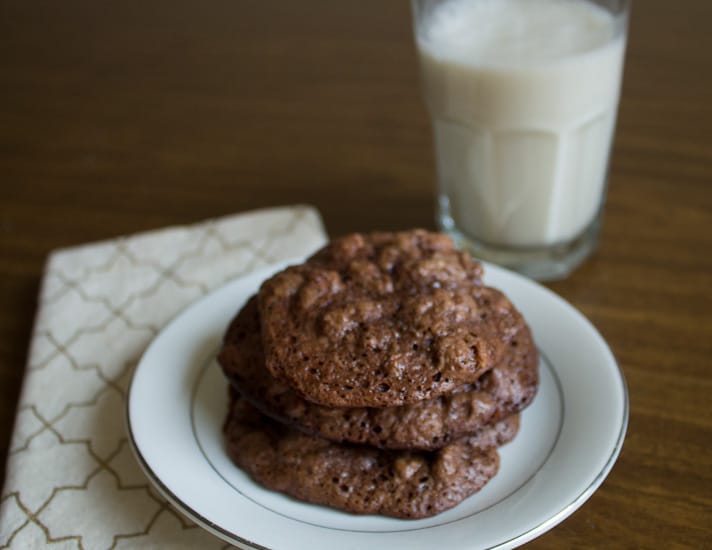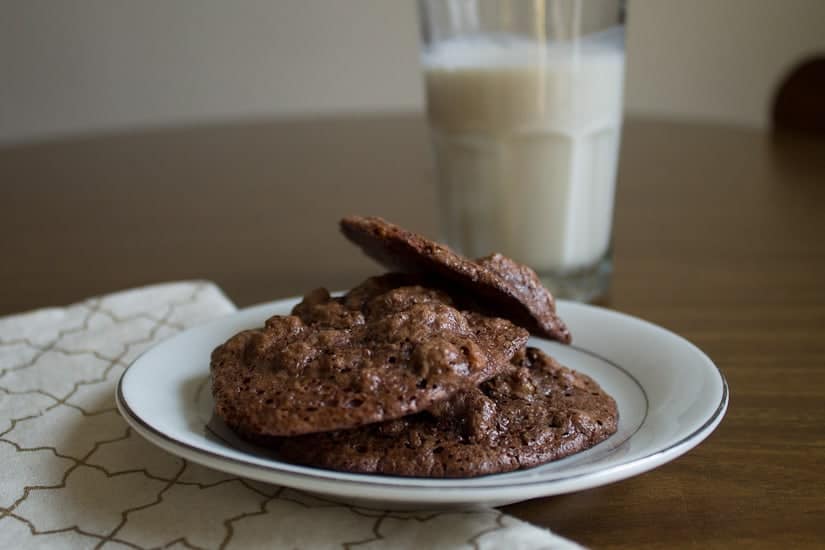 And then, I discovered these cookies. With six ingredients, only five of them really required, precise baking times, and a complex chocolate flavour, these flourless wonders gave me everything I wanted, and more. Making them was a breeze, and though the baking was a tad finicky, it wasn't anything bad. But, as with most things I baked, I still managed to burn them the first time. They were still delicious.
I take no credit for these cookies, and I'm only sharing them here because I think you, too, need a go-to cookie recipe.
Now, the only thing I'm still missing is a go-to vegan cookie. Any ideas?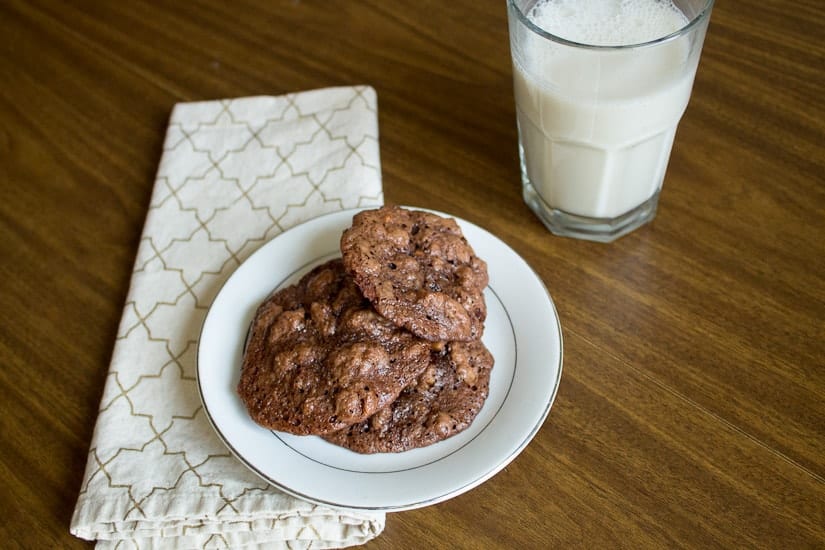 Tried and loved this recipe? Please leave a 5-star review below! Your reviews mean a lot to me, so if you've got any questions, please let me know in a comment.
Recipe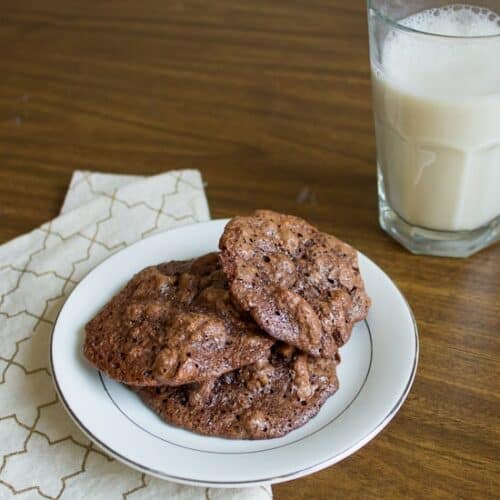 Gluten-free walnut and chocolate cookies
These gluten-free walnut and chocolate cookies are simple, chewy, airy, and full of an intensely unique chocolate flavour - my go-to cookie recipe.
Ingredients
2 ¾

cups

walnut halves

3

cups

confectioners' sugar

½

cup

plus 3 tablespoons unsweetened Dutch-process cocoa powder

¼

teaspoon

salt

4

large egg whites

at room temperature

1

tablespoon

pure vanilla extract

optional

Parchment paper

two large-rimmed baking sheets
Instructions
Preheat oven to 350 F. Separate 4 egg whites from egg yolks, and set yolks aside (you can use them in homemade aioli).

Toast walnut halves in the oven for about 9 minutes, until they are golden and fragrant. Let cool slightly, then coarsely chop them (I place mine in a bag and gently beat them with a rolling pin).

Position two racks in the upper and lower thirds of the oven and lower temperature to 320 F. Line two large-rimmed baking sheets with parchment paper.

In a large bowl, whisk (or combine in an electric mixer on low speed) the confectioners' sugar with the cocoa powder and salt. Add chopped walnuts. While whisking (or once you change the speed to medium), add the egg whites and vanilla extract and beat just until the batter is moistened (do not overbeat or it will stiffen).

Spoon the batter onto the baking sheets in evenly spaced mounds (leave space between them as the cookies expand), and bake for 14 to 16 minutes, until the tops are glossy and lightly cracked; shift the pans from front to back and top to bottom halfway through to ensure even baking (this step is important - do not skip! And do not overbake the cookies).

Once cookies are baked, slide the parchment paper (with the cookies) onto 2 wire racks. Let cookies cool completely, and store in an airtight container for up to 3 days.
Tried this recipe?
Comment + Rate Below!
Connect on Instagram!
Find us @immigrantstable