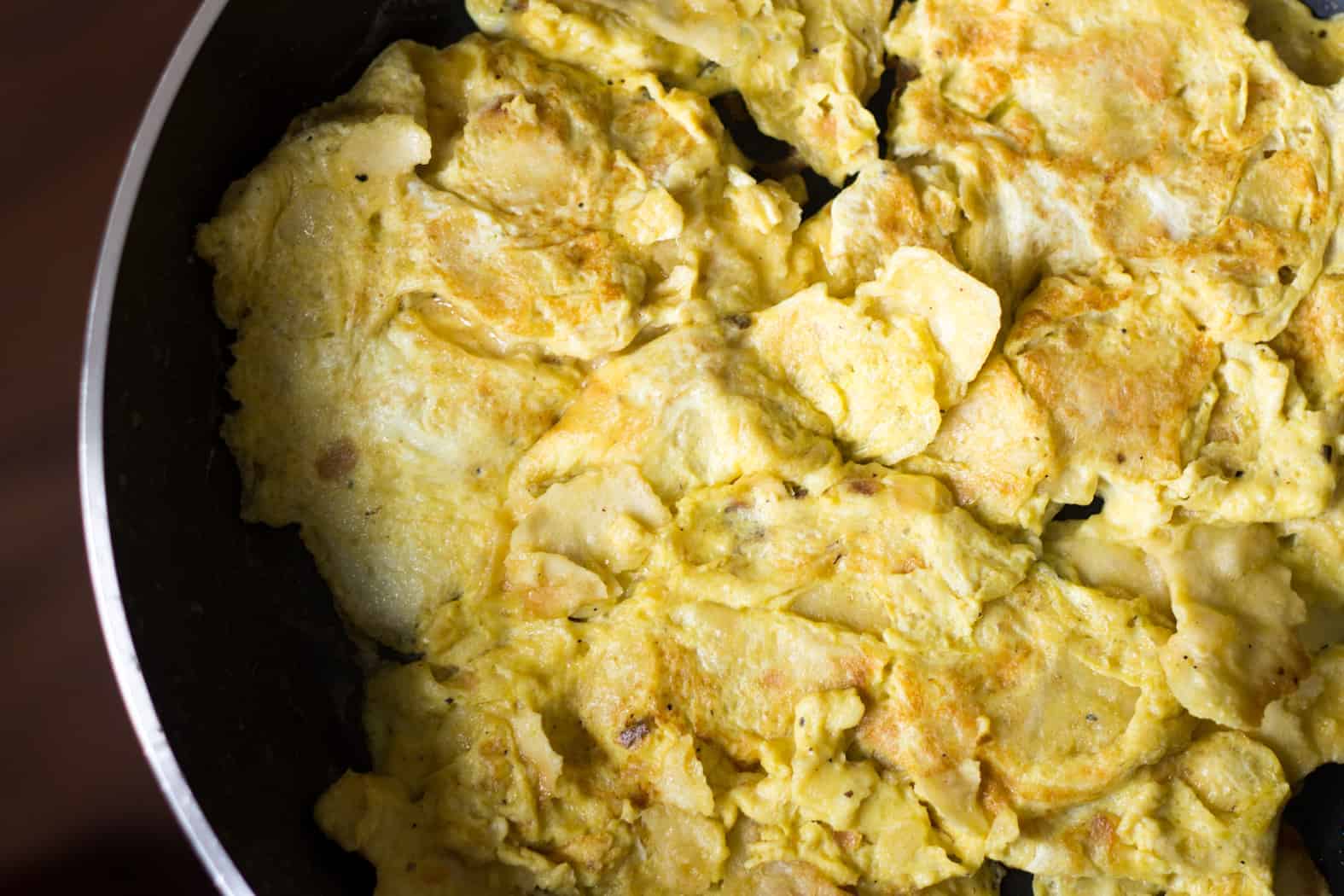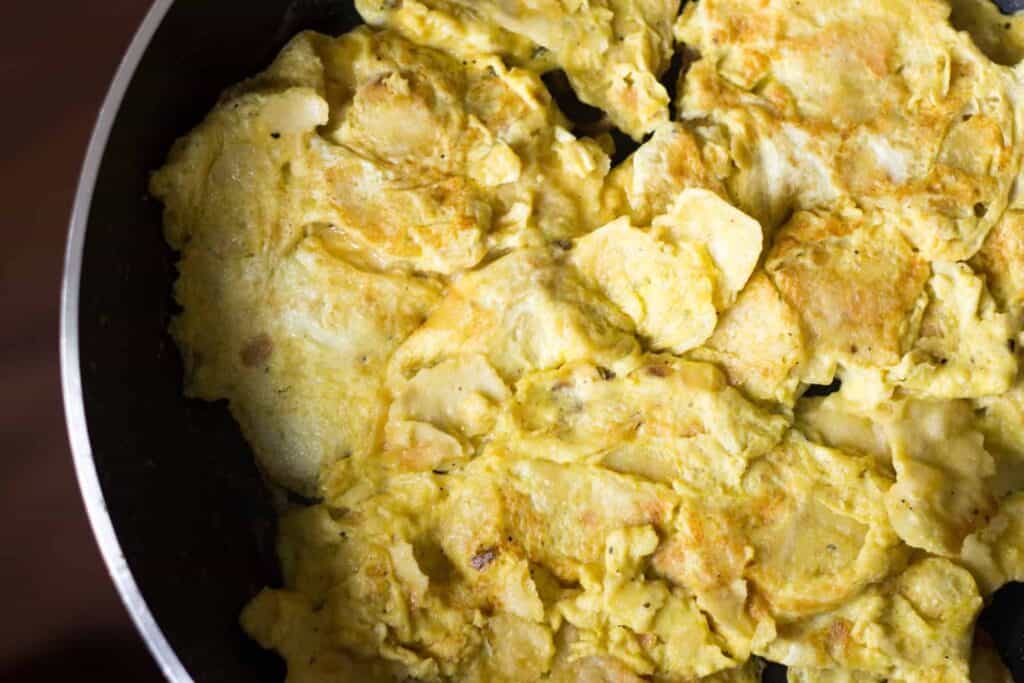 Ruth Reichl once lovingly referred to Matzo Brei as "one of life's perfect foods" (Letters from the Editor, Gourmet, April 2014). Though I would usually hesitate to refer to anything containing matzo as perfect, I believe matzo brei is the exception to the rule. There is just something special about the act of submerging that crispy, crackly, dry cracker in a bath full of eggs and (non-dairy) milk, swirling it around until all of its defences are broken, its body swells with liquid, and its heretofore tough, prickly exterior becomes soft and pillowy like the best cheese. It's the best kind of kitchen alchemy. Each year, making matzo brei is my favourite part of Passover - and the best way to use up any leftover matzos.
It is an unnervingly cold April morning in what has otherwise been an uncharacteristically mild Winnipeg winter. I have finished my first bout of university exams, and the yoke of post-secondary education has finally been lifted off my weary shoulders. I have spent far too long cooped up in my house, locked in a neighbourhood that I hate, in a city that I am slowly growing to tolerate, and I am now ready to celebrate. Furthermore, I have also spent the last week swearing off all grains, refusing to eat nachos, avoiding cereal like the plague. It has been my first Passover away from home, and I am ready to celebrate its imminent end.
I wake my partner up fairly early on a Saturday morning, first by cajoling and batting my lashes, and eventually by shaking his shoulders and telling him to just. get. up. An hour later, as we put on our coats and make our way out the door, I know that there is only one thing I want to eat this morning, and that is matzo brei.
The thing is, while Winnipeg is no Kitchener, it is also far from being the Mecca of Jewish food. No matter; focused on the search for matzo brei, we drive to the city's most well-known Middle Eastern restaurant, a mecca of fried sweet potatoes and spicy shakshuka that is presided over by a no-nonsense Israeli who, like most of our kind, is just as prone to bouts of indiscriminate shouting as he is to friendly reminiscing. We seat ourselves down in our favourite corner, and while my partner examines the menu, I fold my arms in consternation. I am decided; it's matzo brei or nothing.
As soon as the waiter makes his way down to our table, I explain my predicament and ask for matzo brei. "Matzo brei? We don't have that," he replies, staring at me in confusion, his pen freezing mid order. I attempt to explain what matzo brei is, adding that it's a kosher for Passover food, and one of the only things I can eat at this point. The waiter begins to thoughtfully chew his pencil. I hold my breath in anticipation. "Let me get the owner," he finally says, decidedly.
I stammer. If the King of the Castle is in a good mood, then I confident I will have my matzo brei faster than you can say "Ma nishtana." But if the day has started with a broken fryer, an insolent customer or a tardy waiter... At this point, I am ravenous, and am willing to take that risk.
Despite my bravado, I find myself holding my breath as he makes his way down to our table. Cold sweat trickles down my back, dripping onto the leather dinette in which we sit. "What can I get you?" he asks brusquely.
"I'd like some mm-matzo brei, please," I request, batting my eyelashes at him repeatedly, my appearance undoubtedly resembling more that of a confused puppy than a coquettish princess. "You see, it's the end of Passover, and I haven't been able to find them anywhere..."
"Matzo brei, eh?" He interrupts me, his face breaking into a fierce, wide grin. "Say no more! You want matzo brei - no problem!"
Fifteen minutes later, I am stuffing my mouth full of golden, delicious matzo brei, coated in a thick layer of ketchup and hot sauce. At this moment, I agree with Ms Reichl - there is no food more perfect than this.
In case you aren't clear on it yet, matzo brei is made up of thousands of broken shards of matzo crackers which have been quickly dunked into an eggy, milky mixture. The whole concoction is then poured into a hot oiled pan, and fried on medium-high heat until it resembles a rosti, Mexican chilaquiles, or the best omelette, ever.
Nowadays, I don't have to drive to the city's only Israeli restaurant to get my matzo brei. With a batch of homemade matzos on the kitchen counter, there was nothing easier to do this year than surprise G's family with "one of the life's most perfect foods" on Passover morning. Prepared with a pinch of Dijon mustard, a little bit of milk, and lots of help from the world's tiniest cook, this matzo brei was a huge success - and had everyone convinced that matzos are actually God's gift to the Jews (or to parents whose toddlers won't eat anything that doesn't come in a squeeze packet, apparently).
With only one day of Passover ahead of us, today is the perfect chance to dive into a plateful of matzo brei. Whether you have a Jewish grocery store around the corner, or if, like me, you were forced to make your own homemade matzos this year, finish off the holiday with a bang, and make yourself a skillet's worth of matzo brei.
Your stale matzos will thank you.
Mustardy matzo Brei
Matzo brei is truly one of life's most perfect foods: eggy, pillowy and full of delicious matzos, it's the best brunch with which to celebrate Passover.
Print
Pin
Rate
Ingredients
1

large homemade matzo

or 3 store-bought matzo crackers

3

eggs

¼

cup

milk

1

tablespoon

Dijon mustard

or 1 teaspoon paprika

Thinly slivered onions

mushrooms, or thin ribbons of fresh spinach (optional, but highly recommended)

Butter

Earth Balance, or olive oil, for frying
Instructions
Break matzos into small pieces. In a large bowl or casserole dish, beat eggs thoroughly. Add milk, salt and mustard/ paprika, and mix well to combine.

Melt butter, Earth Balance, or olive oil in a large skilled. If using onions and/or mushrooms, add to skillet and blanch for 10 minutes, until onions change colour (if using spinach, do not add it yet).

Add matzos to the bowl with the egg mixture and mix well. Immediately pour egg an matzo mixture into the pan and cook, stirring constantly, until eggs are set (if using spinach, add along with egg mixture). Salt and pepper to taste, and serve.