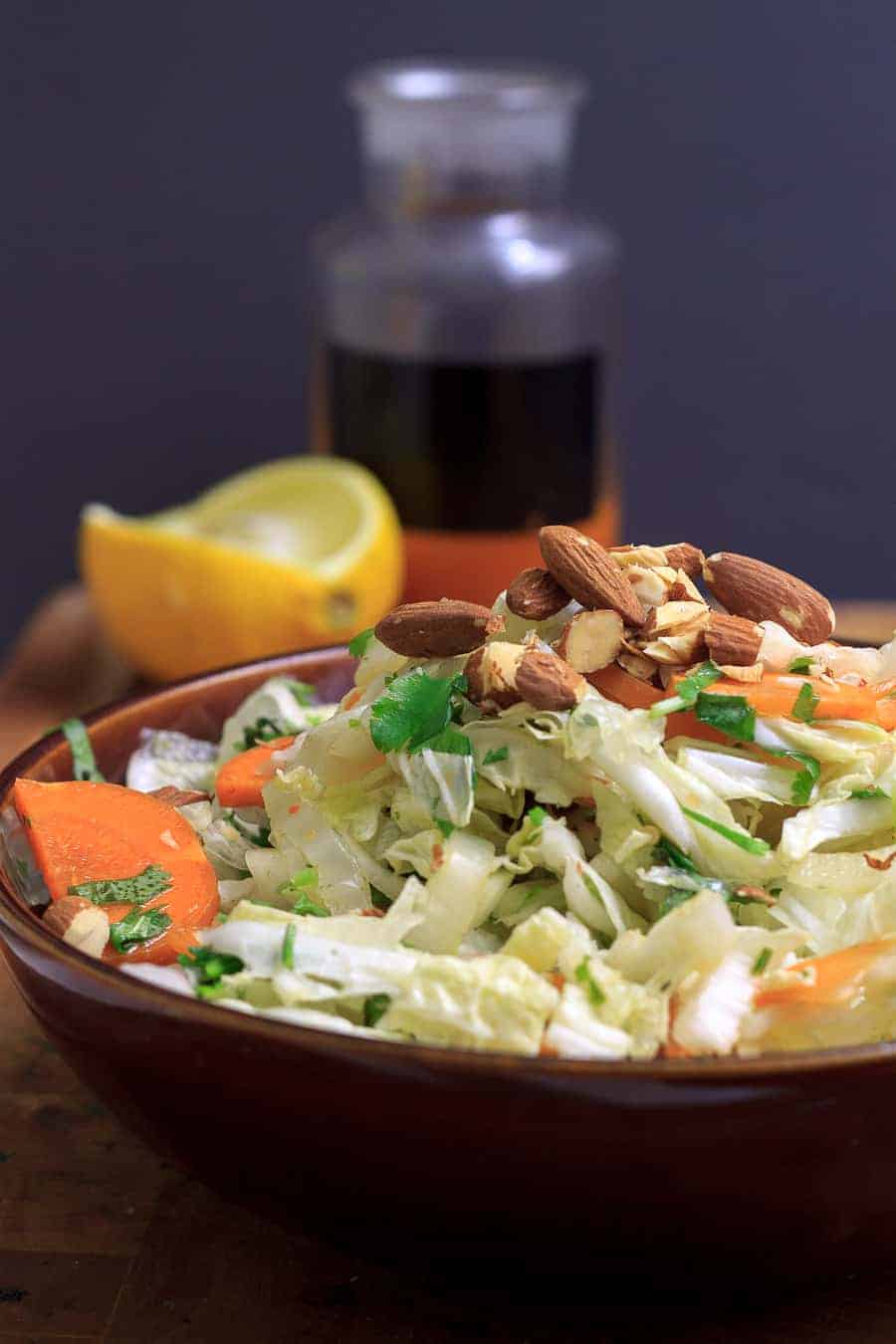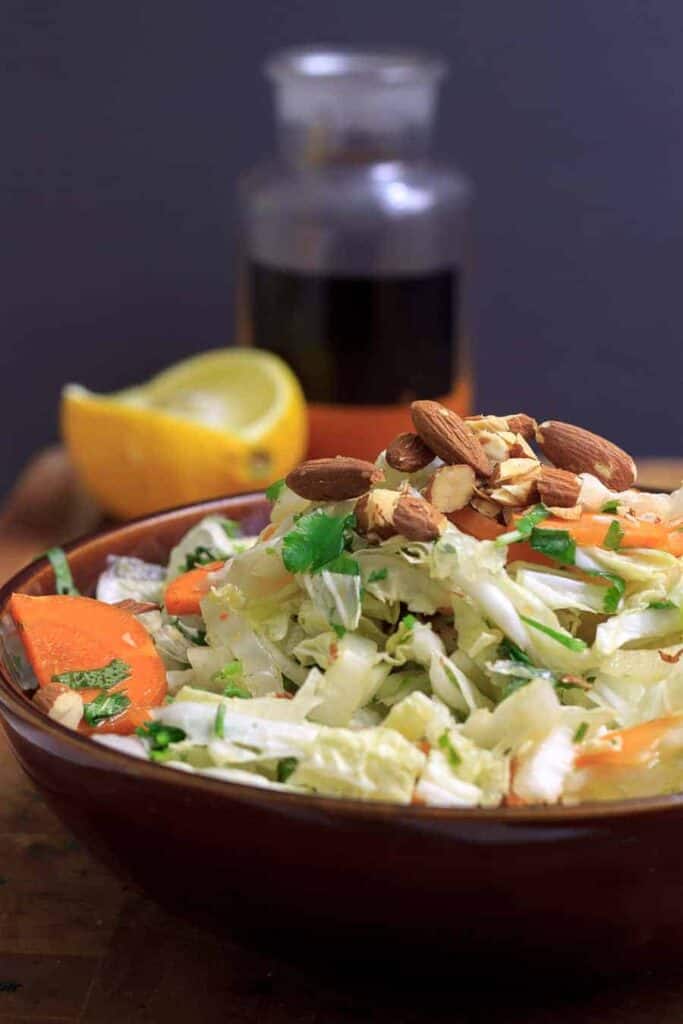 As an Eastern-European emigrant, I have long had a deep love affair with cabbage. It makes many appearances in my winter diet in the form of soups, stews, salads and stir-fries. But it wasn't until I had taken on this paleo challenge that I truly realized just how versatile this vegetable can be. Here, it serves as the base for a hot and sour shredded Napa cabbage salad, which then becomes one of the main building blocks in a week's worth of cabbage dinners.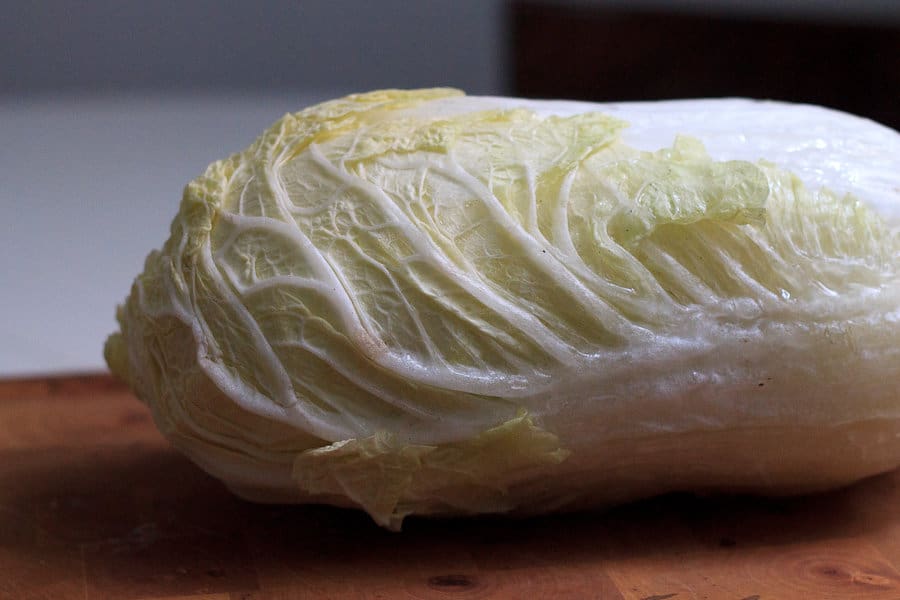 Nutritionally speaking, cabbage is very low in saturated fats and cholesterol. At the same time, it's a good source of a whole lot of vitamins and nutrients, including (but not limited to) calcium, iron, potassium, vitamin C and vitamin B6. It really is a nutritional powerhouse.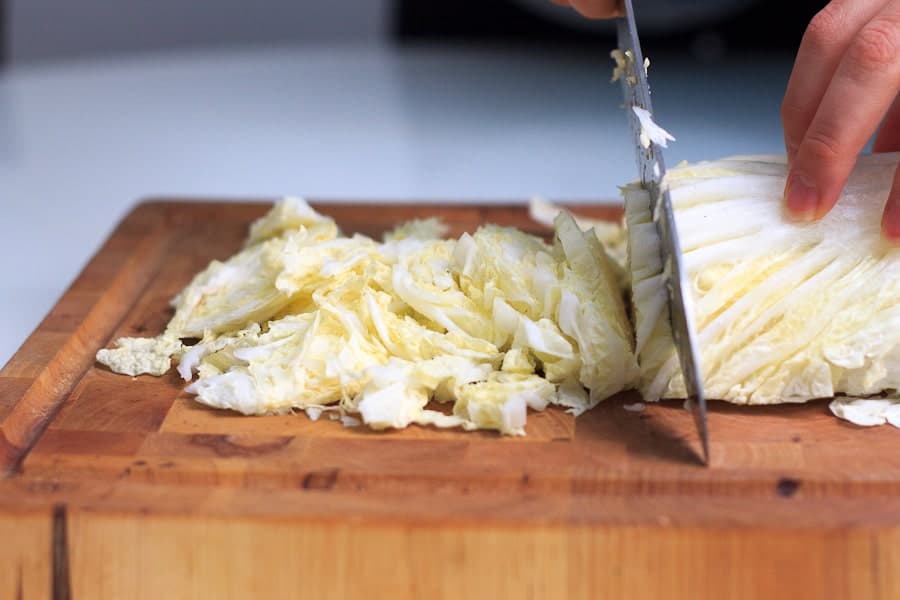 But the real reason I keep going back to cabbage during the long winter months is its taste and texture. Cabbage is bright, fresh and crunchy; it keeps its shape in the face of assertive marinades and sauces, but it can break down into beautiful, silky strands when left to cook slowly on low heat. It's a versatile vegetable that is available year-round, and I can always find something new to do with it. My love for cabbage truly runs deep.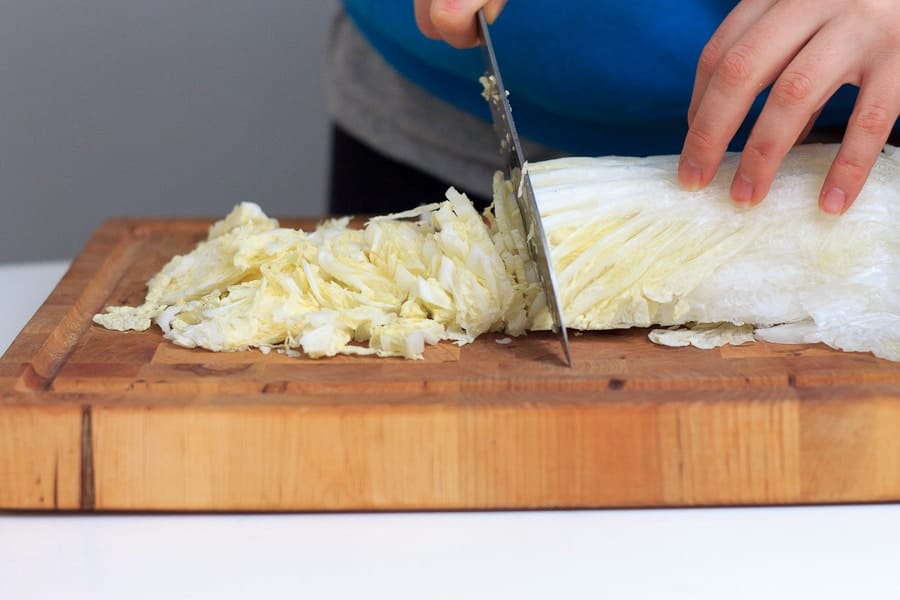 But during the last three weeks, cabbage and I have gone from the degree of a cozy, warm committed relationship to a full-blown obsession. We're talking about a 'seeing each other every day, staying in bed for hours and never feeling fully satiated' kind of thing. We have been going through one or two heads of cabbage a week, and I am constantly left wanting more.
Here's how we've been eating cabbage around here lately:
- As the base for a fast and delicious cabbage chop suey - sauteed with onions and bean sprouts and topped with two eggs, cabbage becomes a full meal in approximately 15 minutes. We've eaten this more times in the last two weeks than I care to admit publicly.
- As the base for vegetarian paleo pad thai - I have a recipe for this coming very soon, so I won't mince too many words just yet. This has also been on repeat around here.
- In this incredible hot and sour shredded Napa cabbage salad.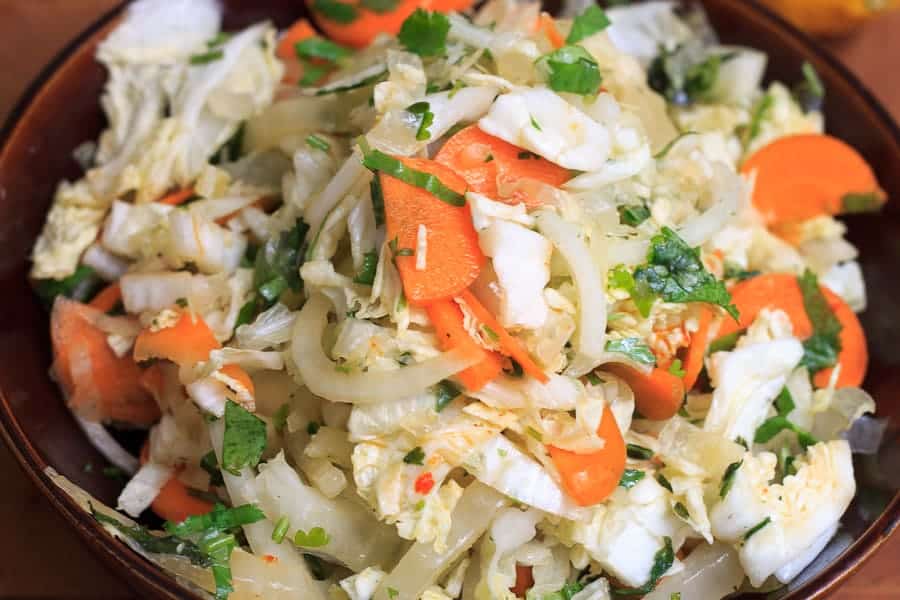 Chopped finely and thinly, crunchy Napa cabbage is the perfect base for a marinade of spicy and tangy Asian flavours. Topped with carrots and crunchy almonds, it's a satisfying meal that will excite your taste buds without sacrificing any of the health benefits. It's so good, that we've made it twice last week, filling up plate after plate with mounds of shredded vegetables. It makes a perfect light lunch all by itself.
But, as I am never one to leave well enough alone, I have also used this hot and sour shredded Napa cabbage salad in:
- salad wraps with tofurky slices and Sriracha
- portobello mushroom burgers with tomatoes and spicy mayo
- alongside grilled salmon for me and, for G, baked oat-crusted cod fillets
- in a simple salad with canned salmon and mock-crab meat (don't judge me)
- Mixed in with avocado and topped with hemp seeds for a filling work lunch
- on its own, with a side of scrambled eggs
It's been divine each and every single time.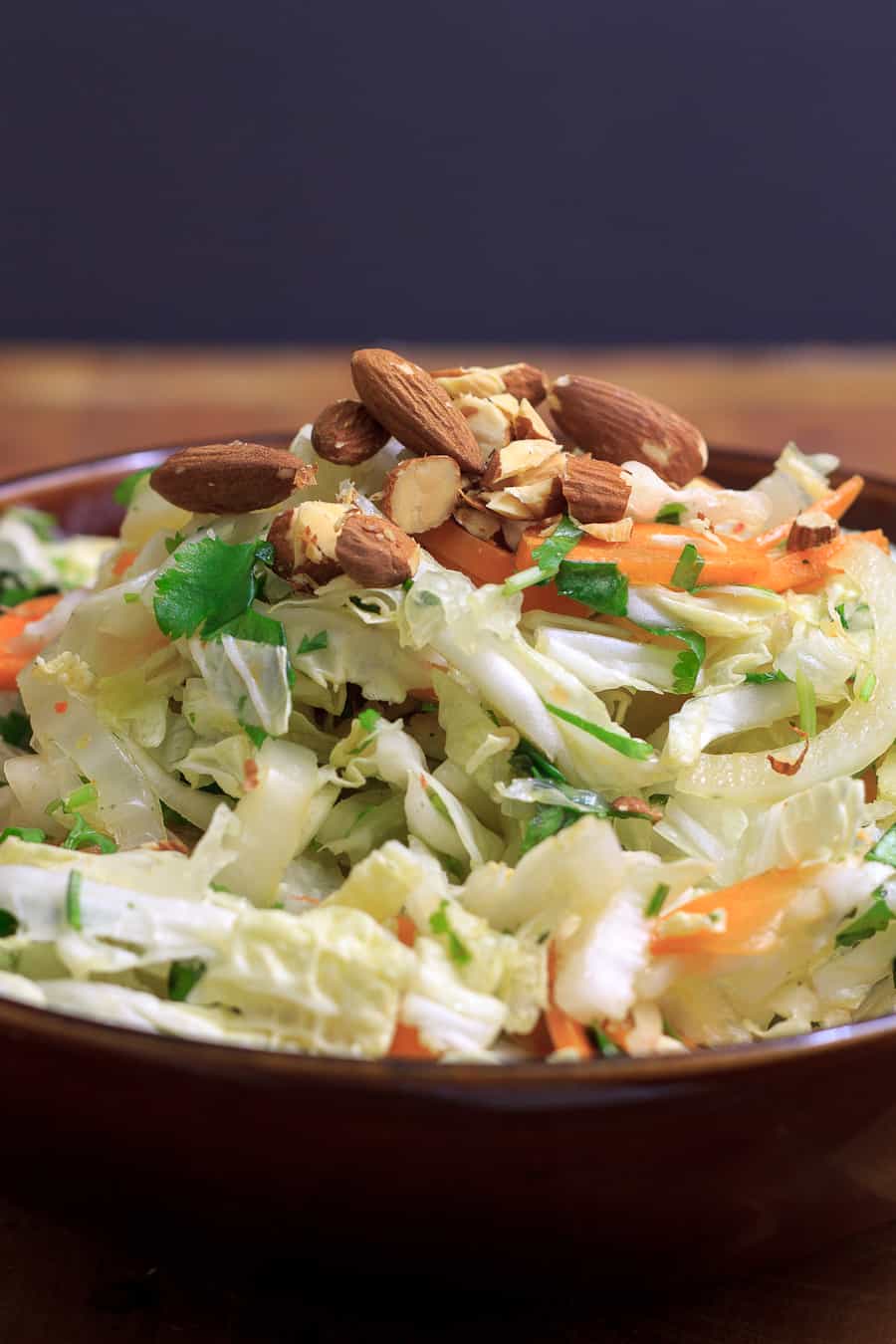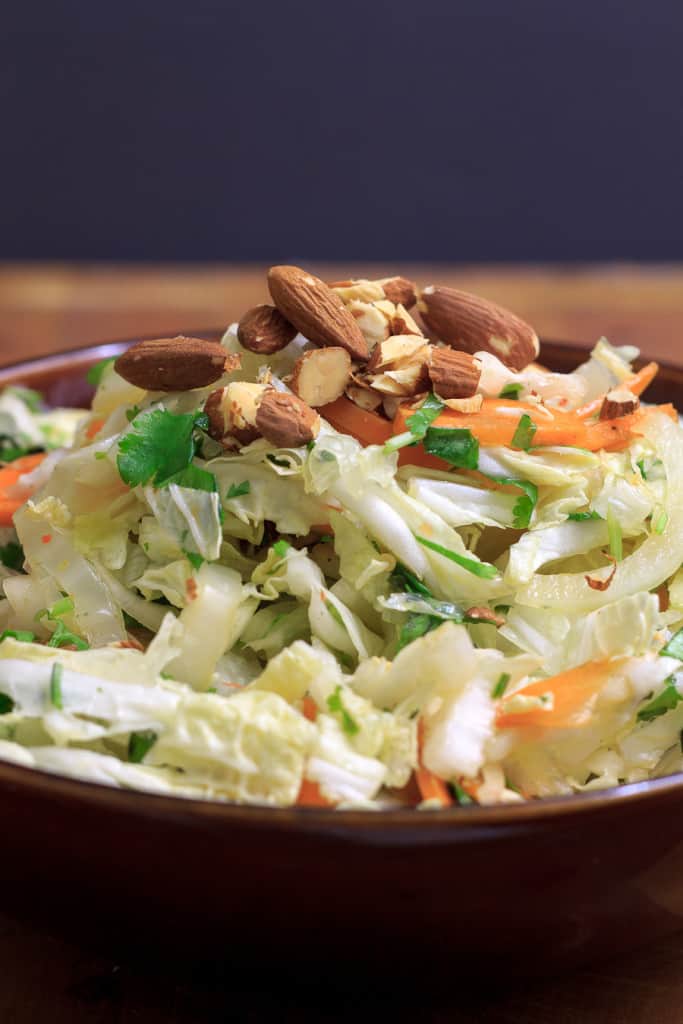 So, next time you're looking for something to perk up a dreary winter meal routine, give this hot and sour shredded Napa cabbage salad a try; I promise you won't be disappointed - and you can even use regular cabbage if that's all you have access to at the moment.
Just don't come between me and my cabbage supply, cuz then Imma cut you.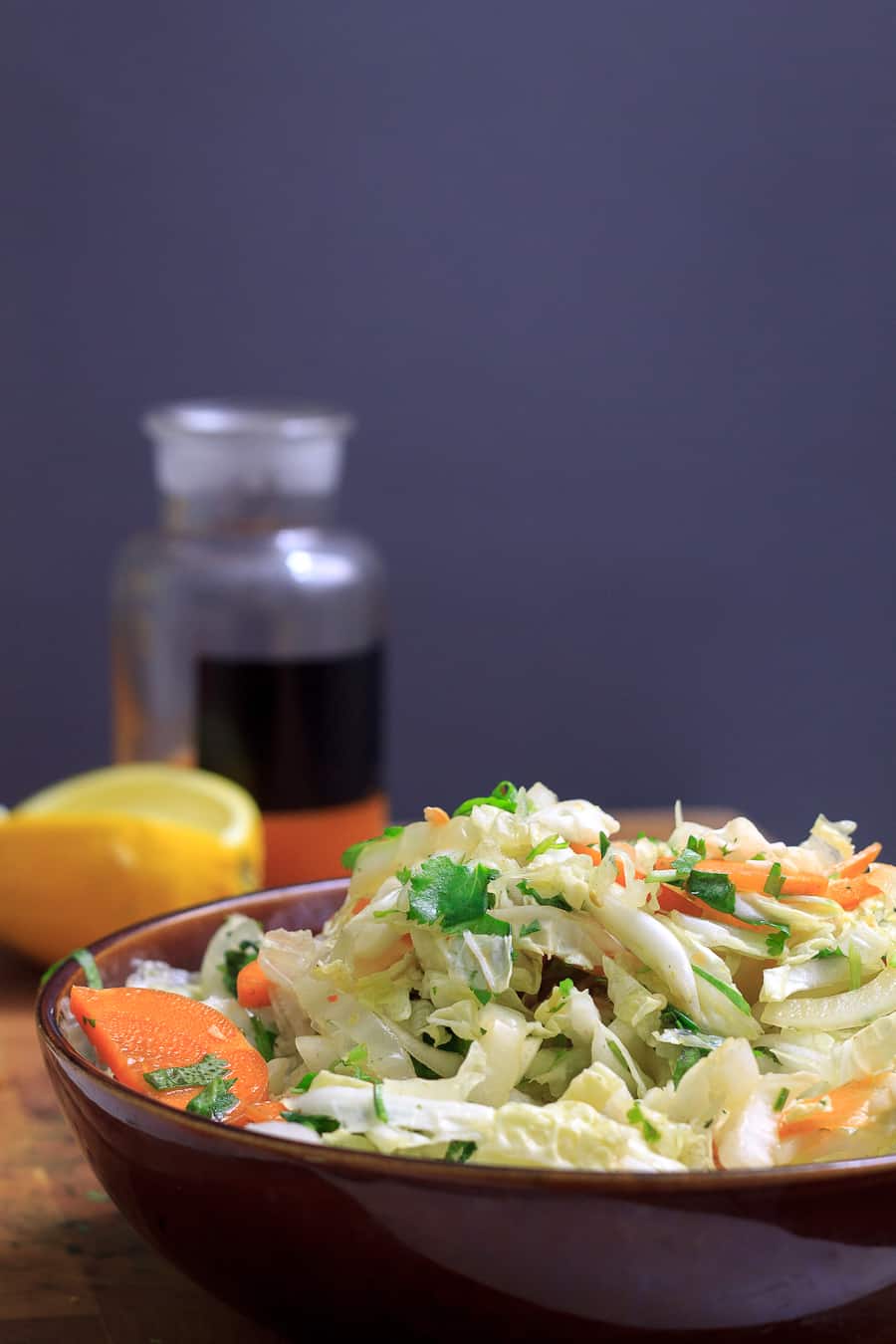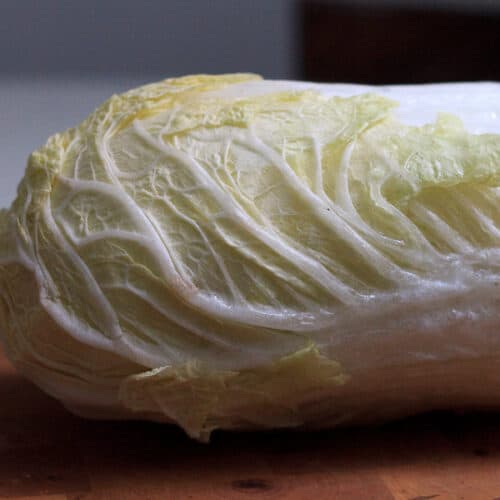 Hot and sour shredded Napa cabbage salad (v, gf, paleo)
Crunchy cabbage, carrots and almonds are doused in a marinade of spicy and tangy Asian flavours in this hot and sour shredded Napa cabbage salad.
Print
Pin
Rate
Ingredients
½

head of Napa cabbage

2

carrots

1

onion

1

bunch of cilantro

about 1 cup

½

cup

almond pieces

salad dressing:

¼

cup

white vinegar

2

tsps

hot sauce of your choice

salt
Instructions
If your almonds aren't already roasted, toast them in a hot pan or in a 375F oven for about 5 minutes, checking often to prevent burning.

Using a food processor, shredder, mandoline, or a very sharp knife and your mad skillz, shred cabbage and carrots finely. Transfer to a large bowl. Cut onion in half lengthwise, and slice it into thin half-moon crescents, and add to cabbage and carrots. Chop cilantro and set aside.

Mix dressing in a small jar.

Dress salad with marinade, and top with heaps of chopped cilantro and toasted almonds. The salad can be eaten immediately, but it only gets better the longer it sits in the fridge (though if you want the wow factor, set the cilantro and almonds aside until serving).