We've all been there: it's 8pm on a weeknight, and you've just come through the door after another 12-hour day. The shoulder-strap of your bag has burned its shape into your flesh, your feet are throbbing, your ankle is sporting a new blister from the boots you're still trying to break in. You haven't eaten a thing since the granola bar you wolfed down before your workout, and you're pretty sure that peanuts and dark chocolate do not fulfill the daily nutrition requirements. That pizza in the freezer is looking mighty tempting right about now... But you shouldn't go there. Instead, treat your body with respect and make a fresh, Israeli chopped salad in under 30 minutes, one that will actually fill your stomach as well as replenish your lost energy scores.
This salad is a riff on a staple at most Israeli falafel, shawarma, and steak restaurants. It's a ubiquitous sight as part of a large salad spread at parties, or at every Israeli family dinner. It was often the only thing I could eat on menus that were entirely meat dominated, and I even came to resent it over time. But now that summer is gone and fresh vegetables are getting few and far between, this Israeli chopped salad is a way to bring some lightness back into your lunch or dinner routine.
It's a vegan, healthy, and filling salad that can be made for one, or multiplied to feed 10. This Israeli vegetable salad really is more about the technique: all the ingredients are chopped very finely, and then drizzled with a lot of clean, punchy dressing. It gets its healthy fat and protein from nuts and tahini sauce, and its vitamins from cucumbers and tomatoes (in winter, please use cherry tomatoes - though they can't be cut as finely, they hold a lot more juice).
It really is more of a rough blueprint for whatever fresh vegetables you have on hand - if you're eating this with some protein on the side, or you're not a fan of seeds, feel free to omit the pumpkin seeds, the tahini, or the hemp hearts. You can add lettuce, and use mint instead of parsley. I recall one particularly wild day, during a stage in which I hated cucumbers and lettuce, when I reduced this salad to an entire bowl of onions and tomatoes. Do not repeat that one at home, readers.
So take 15 minutes, and treat yourself to a nice, big bowl of Israeli vegetable salad. Your body will thank you. And just to balance all that goodness out, have a big glass of white wine on the side, and browse through these links.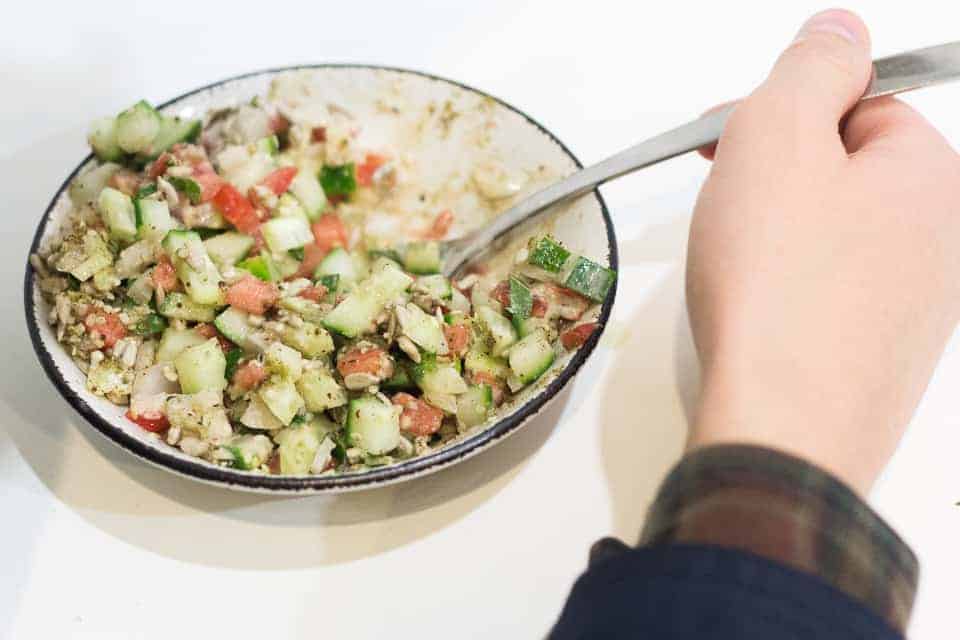 Happy Friday!
Tried and loved this recipe? Please leave a 5-star review below! Your reviews mean a lot to me, so if you've got any questions, please let me know in a comment.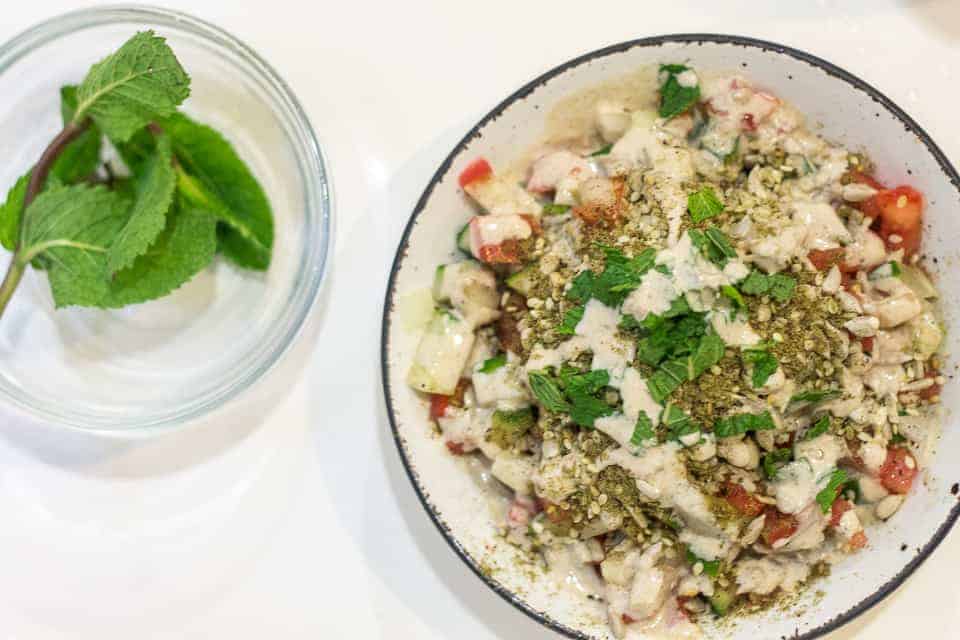 Recipe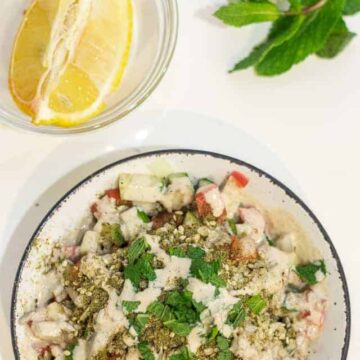 Israeli chopped salad for one
Treat yourself right and make a fresh Israeli chopped salad of finely cut veggies, seeds and tahini dressing that will fill your stomach and replenish your lost energy. It's vegan, healthy, and filling, and can be made for one, or multiplied to feed 10. Omit any ingredients you don't have, or add others, like lettuce or bell pepper - just don't make this into a production! This salad is meant to be quick and easy.
Ingredients
1

medium-sized cucumber

¼

red or white onion

1 to

mato

in winter, please use a handful of cherry tomatoes

1

tablespoon

sunflower seeds

½

tablespoon

hemp seeds

1

teaspoon

za'atar herb mixture

1

tablespoon

finely sliced parsley or mint

1

tablespoon

raw tahini

1

tablespoon

tahini oil

if your tahini isn't really separated, just scoop out two tbsps of tahini and oil

2

tablespoon

water

juice of ¼ of a lemon

½

teaspoon

salt
Instructions
Toast sunflower seeds. Set aside

Finely chop cucumbers, onion and tomatoes (ensure all of your pieces are really small and uniform; this is the magic of this salad). Ladle into a bowl, and toss to mix.

Sprinkle toasted sunflower seeds, hemp seeds, za'atar mixture and mint (or parsley) on the salad.

In a jar, mix raw tahini, tahini oil and water (you may need to use a blender, depending on how soft your tahini is). Drizzle tahini on salad.

Finely, squeeze lemon juice and sprinkle salt on salad. Toss to combine, taste, and add more salt or lemon, as needed.

Serve with some warm pita, crusty bread, or your choice of protein.
Tried this recipe?
Comment + Rate Below!
Connect on Instagram!
Find us @immigrantstable