Taken from my childhood in Israel, this is my go-to tahini sauce recipe and the best tahini sauce I've ever tried. This lemony and tangy condiment can be used as a salad dressing or drizzled over falafel, shawarma, and kofta kebabs.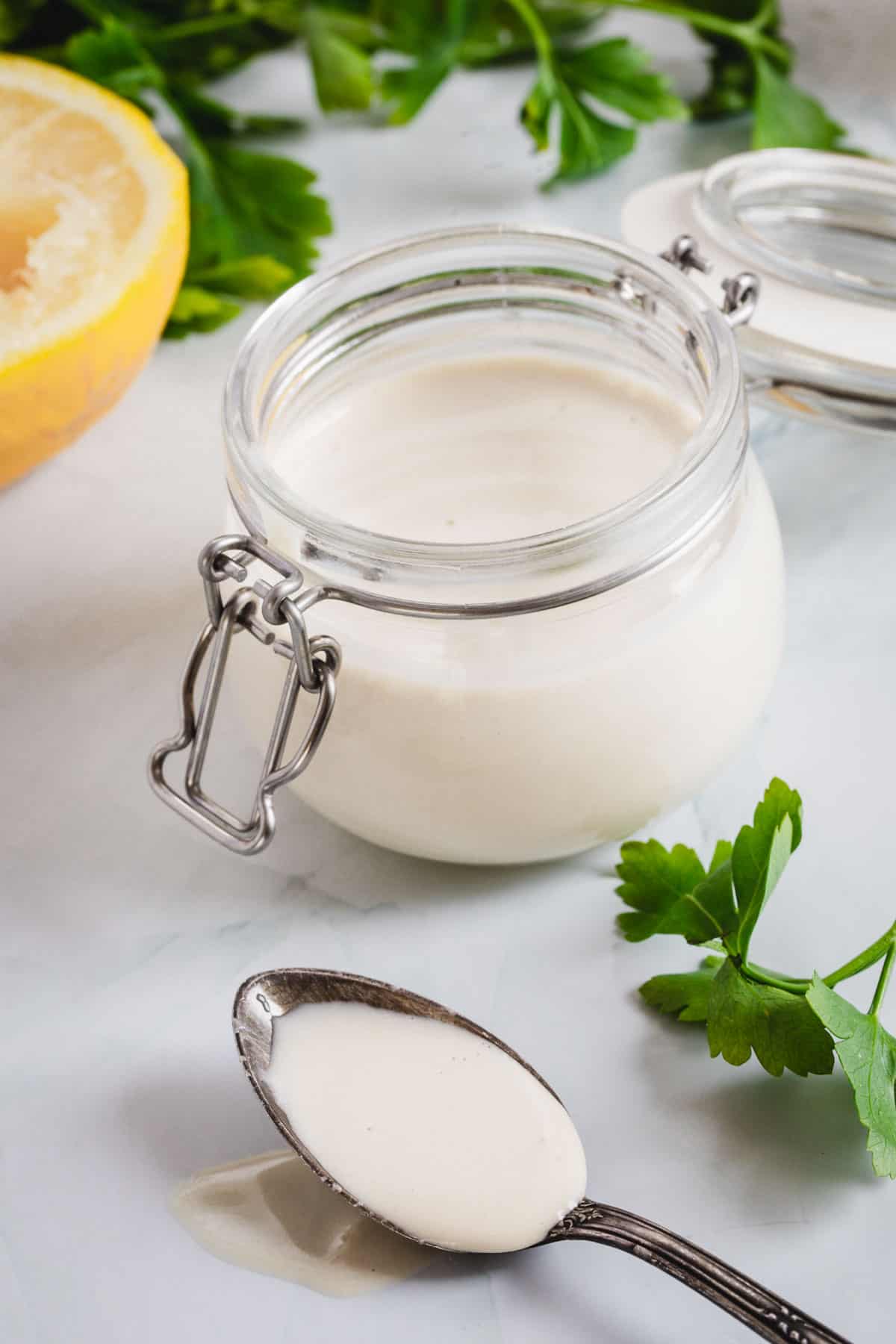 There is nothing quite like the feeling of biting into a juicy Middle Eastern falafel or shawarma in a pita, and having that tahini sauce dribbling down your chin.
Whether it stains your shirt collar or your hands, this sticky, tangy, flavorful mess is oh-so-worth-it. A good tahini sauce can elevate your salads to a level of healthy masterpiece, take your kebab sandwiches to another realm of flavor, and even make a perfect dipping sauce for fries.
Seasoned with nothing but fresh lemon juice, sea salt, and black pepper, good tahini sauce needs not much more than a good tahini paste. This is the easiest sauce you can make, and I am certain it will become your go-to! Add some parsley or cilantro to make this into green tahini.
Follow my easy tahini sauce recipe to learn how to make tahini sauce at home, with a blender or by hand.
What is tahini sauce?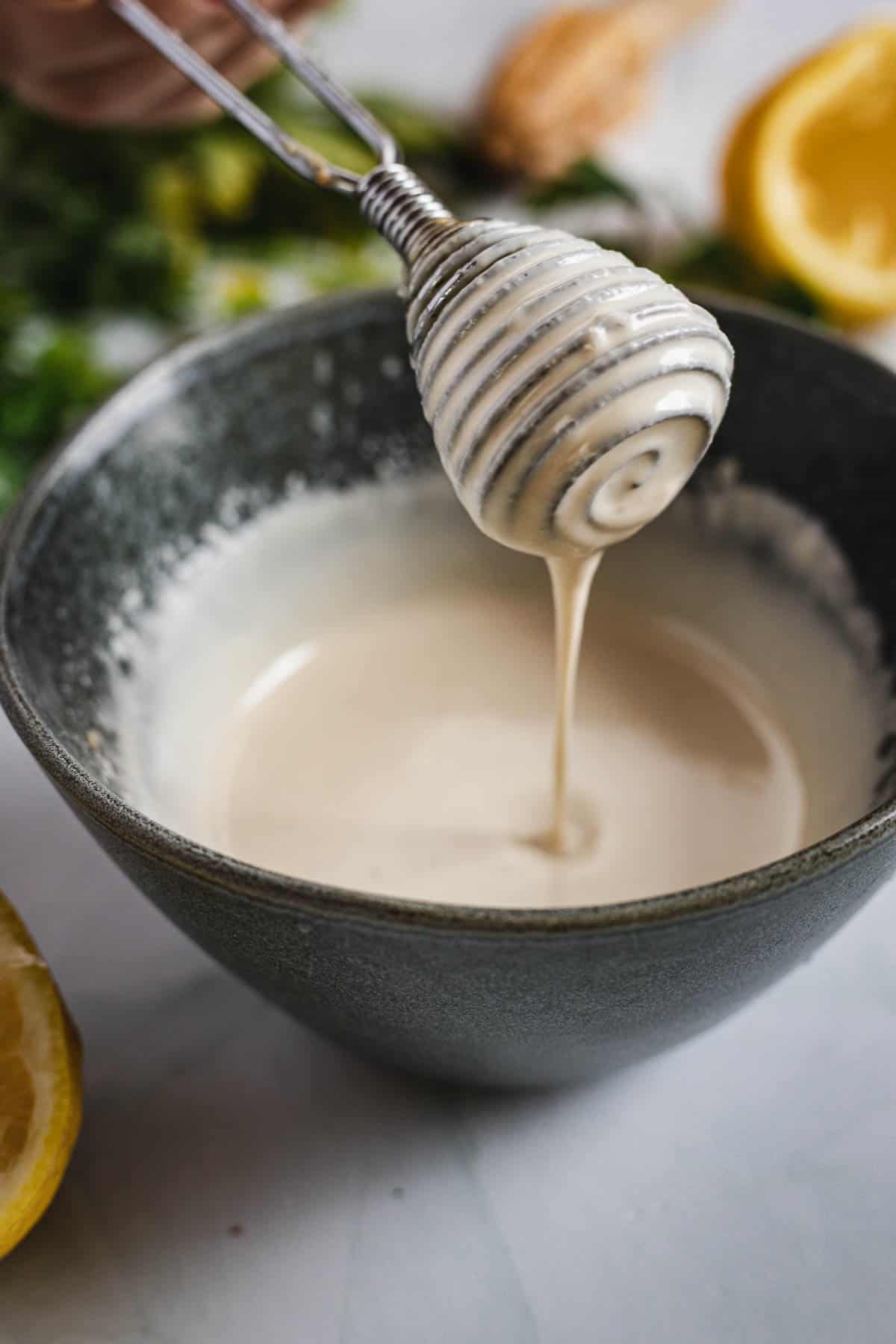 Tahini sauce has become a popular condiment in many cuisines, offering a nutty, rich, and creamy flavor profile that complements various dishes. As a versatile sauce, tahini can be used in salads, as a dip, or even drizzled over roasted vegetables and proteins. Made from ground, toasted sesame seeds, tahini has grown in popularity due to its health benefits and unique taste.
I've tried numerous recipes and found that a perfect tahini sauce combines just the right amount of lemon juice, water, and salt to create a harmonious balance of flavors. When made correctly, the final product will be smooth, emulsified, and have a consistency similar to salad dressing.
As a huge tahini fanatic, I'm constantly experimenting with different ingredients and methods, and I ultimately believe I've achieved the perfect blend of tahini sauce to share with you!
What Is Tahini Paste?
I've said this before and will stand firmly by this: good tahini sauce starts with a good tahini paste. Tahini paste is a staple ingredient in Middle Eastern cuisine, made from ground and hulled sesame seeds. The creamy, smooth texture and slightly nutty flavor make it an ideal foundation for various dishes, including the versatile tahini sauce.
When I prepare tahini paste, I always use high-quality sesame seeds to maintain a rich and robust flavor. The seeds can be raw or roasted, but I find that roasted seeds enhance the nuttiness and bring out a deep, earthy flavor. I do not recommend using tahini sauce from unhulled sesame seeds.
As a key ingredient in many recipes, tahini paste not only adds flavor, but also offers nutritional benefits to your dish. This is one of my pantry staples, and I incorporate tahini paste into dishes like hummus, bean recipes and rice bowls.
Health Benefits Of Tahini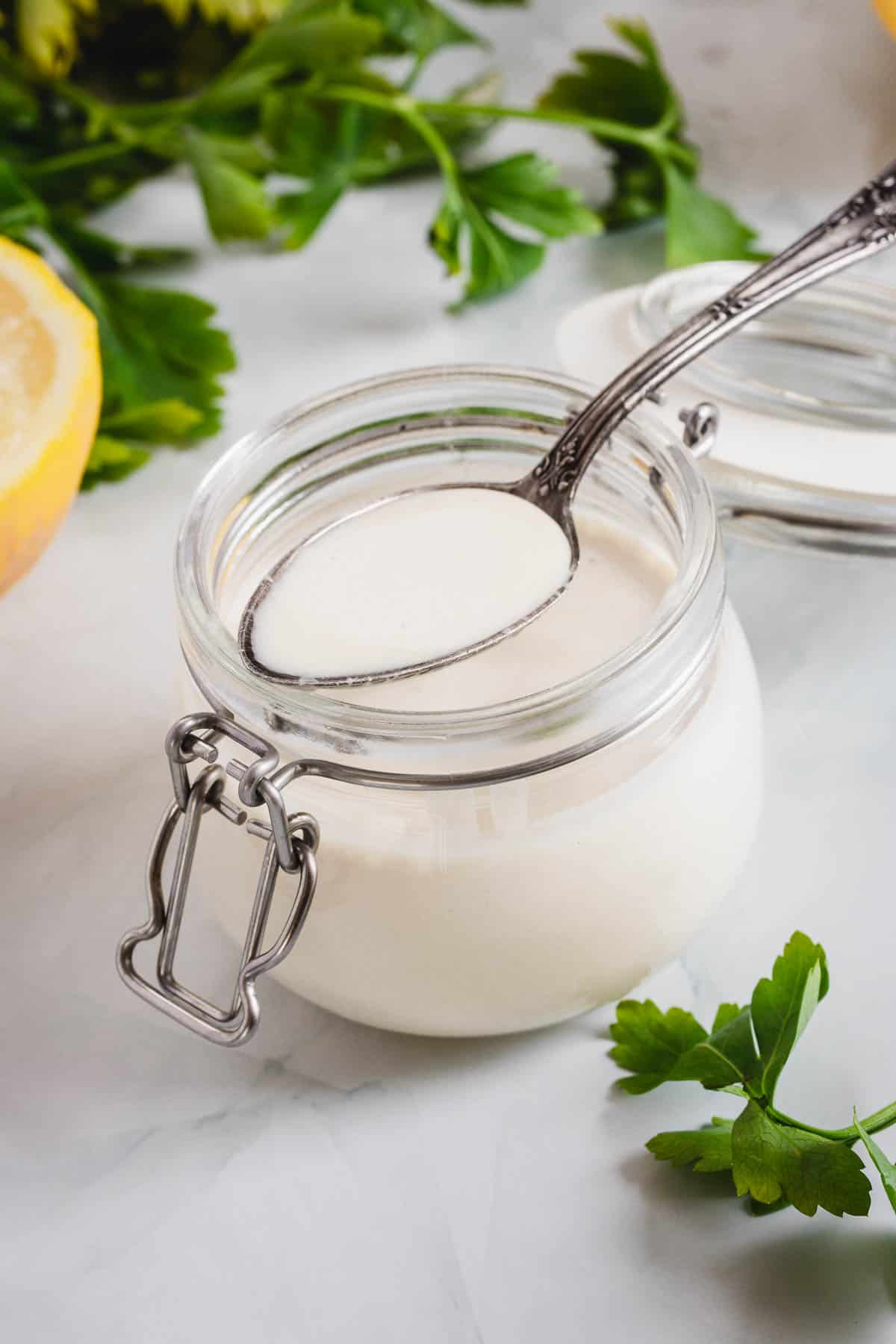 As someone who enjoys cooking with tahini, I've discovered that not only is it delicious, but it also offers a variety of health benefits. Tahini is high in healthy fats and amino acids, which are essential for our overall well-being. Sesame seeds, the main component in tahini, have one of the highest oil contents by weight, contributing to its creamy texture.
I've also learned that tahini has anticancer effects and anti-inflammatory compounds, which can be helpful for individuals managing chronic inflammation or seeking to maintain overall long-term health. It even possesses antibacterial properties, which can further contribute to the promotion of good health.
Another perk I've found with incorporating tahini into my recipes is that it can positively impact heart health. The sesamin and sesamolin found in tahini are predominantly made up of good fats that may help prevent cardiovascular disease and lower cholesterol. This is an excellent benefit for anyone seeking to support their cardiovascular system through their diet.
As a versatile ingredient, tahini helps me easily make nutritious choices to feed myself and my family!
Ingredients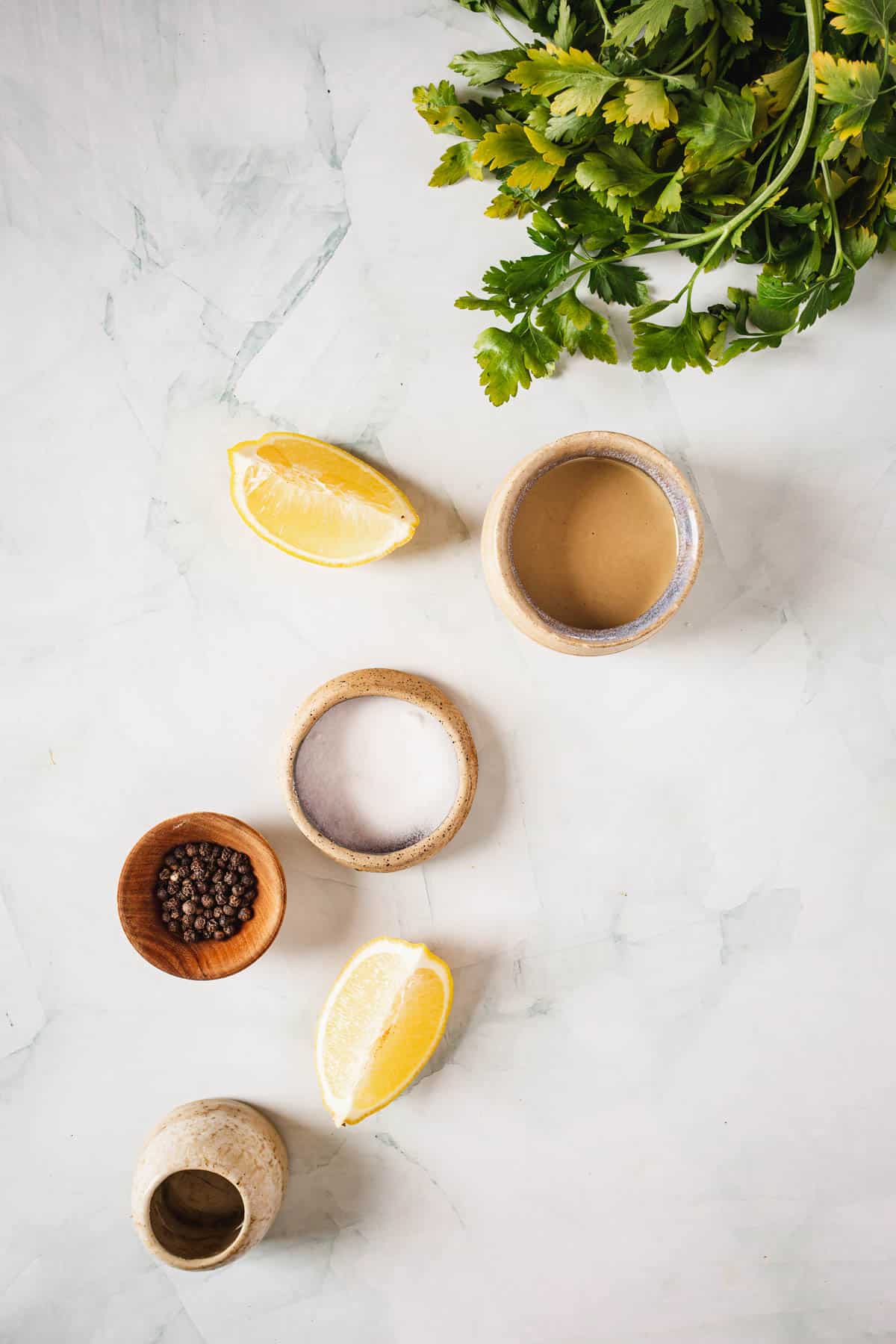 When I make tahini sauce, I start with these essential ingredients that create a flavorsome and creamy sauce:
Tahini paste: Made from ground sesame seeds, tahini paste provides a savory and nutty base. It's similar to peanut butter in texture, but with a unique flavor.
Lemon juice: The acidity of the lemon juice balances the richness of the tahini paste and mellows out the flavor of garlic.
Water: To adjust the consistency, adding a little water can make the sauce smoother and easier to drizzle or spread.
See the recipe card for exact quantities.
Optional additions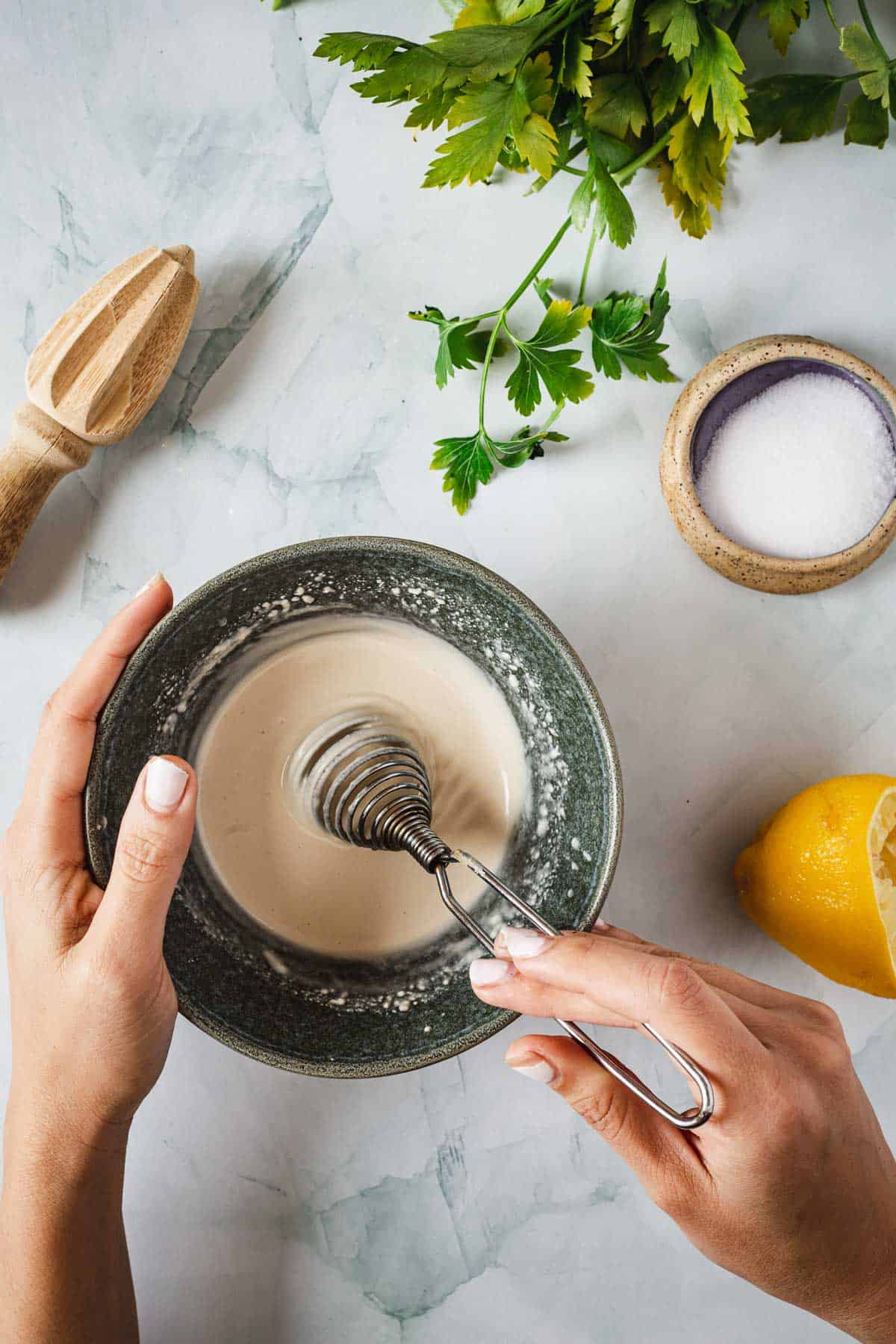 You may also consider the following additions to your homemade tahini sauce:
Garlic: Fresh garlic adds a pungent and zesty touch to the sauce. Marinating it in lemon juice for 10 minutes help bring out its mellow taste.
Cumin: A pinch of ground cumin can provide a warm and earthy depth to the sauce.
Parsley: Chopped fresh parsley adds a vibrant, refreshing note and a pop of color.
Directions How To Make This Recipe
Making tahini sauce couldn't be easier. You blend tahini paste with lemon juice, adding a little water to reach the desired consistency. You then season it to taste with salt and pepper.
Although the ingredients are simple, it's essential to use high-quality tahini and freshly squeezed lemon juice to get the best flavor.
How To Make Tahini Sauce With A Blender
I find making tahini sauce in a blender is by far the easiest method. It cuts through the tahini paste chunks easily, saving you elbow grease in the process. First, place tahini paste in the blender, along with lemon juice and salt. Blend on high until the tahini is fully puréed, adding water as needed. Start with one teaspoon of water and add more water or add more lemon, as per your liking.
How To Make Tahini Sauce Without A Blender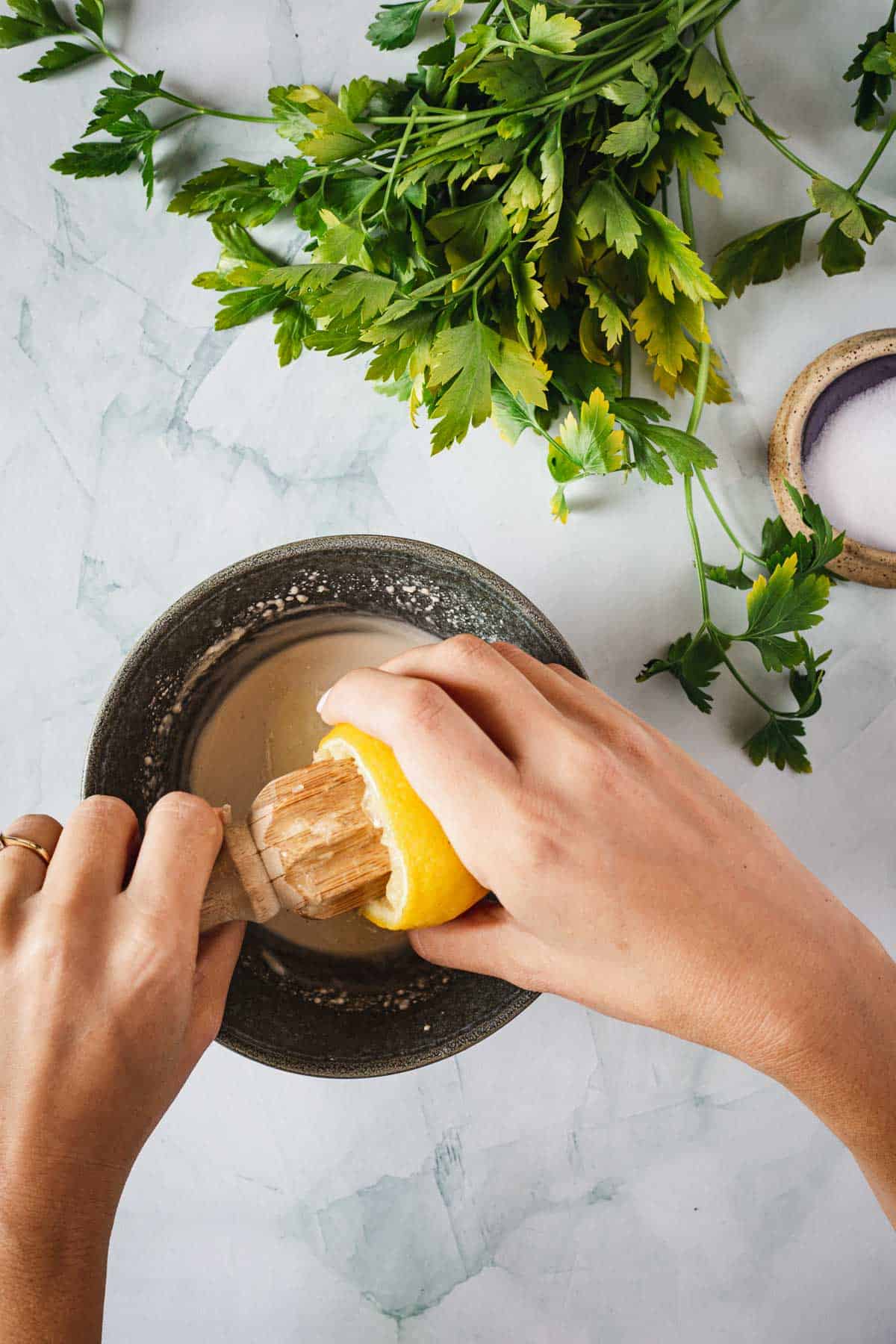 If you don't have a blender, don't worry. You can still create a delicious tahini sauce by hand. Transfer the tahini paste to a jar or a medium-sized bowl. Add in lemon juice, water, and additional salt to taste. Whisk until fully combined, or shake the jar until the sauce emulsifies.
No matter your chosen method, you'll have a versatile, zesty, and flavorful tahini sauce that complements various dishes.
Storage
To store homemade tahini dressing, transfer it into an airtight jar. Make sure the jar is clean and dry. Place the jar in the refrigerator, where it will stay fresh for up to a month. Before using, give the sauce a good stir as it may separate during storage.
Where To Use Tahini Sauce
Authentic tahini sauce is an incredibly versatile ingredient that can add depth and flavor to various dishes. One of my favorite ways to enjoy it is by incorporating it into a vegan shawarma pita made from jackfruit, seasoned to perfection with traditional Middle Eastern spices. The tahini sauce not only complements the dish, but enhances the overall taste and texture.
Another fantastic use of tahini sauce is to drizzle it over grilled chicken kofta kebab skewers. The sauce adds a delicious creamy richness to juicy and crispy grilled chicken, taking the dish's flavor profile to new heights.
Aside from these two examples, I find that tahini sauce can be used as a delicious dressing in salads, as a dipping sauce for fresh vegetables, or even as a spread on toast.
Variations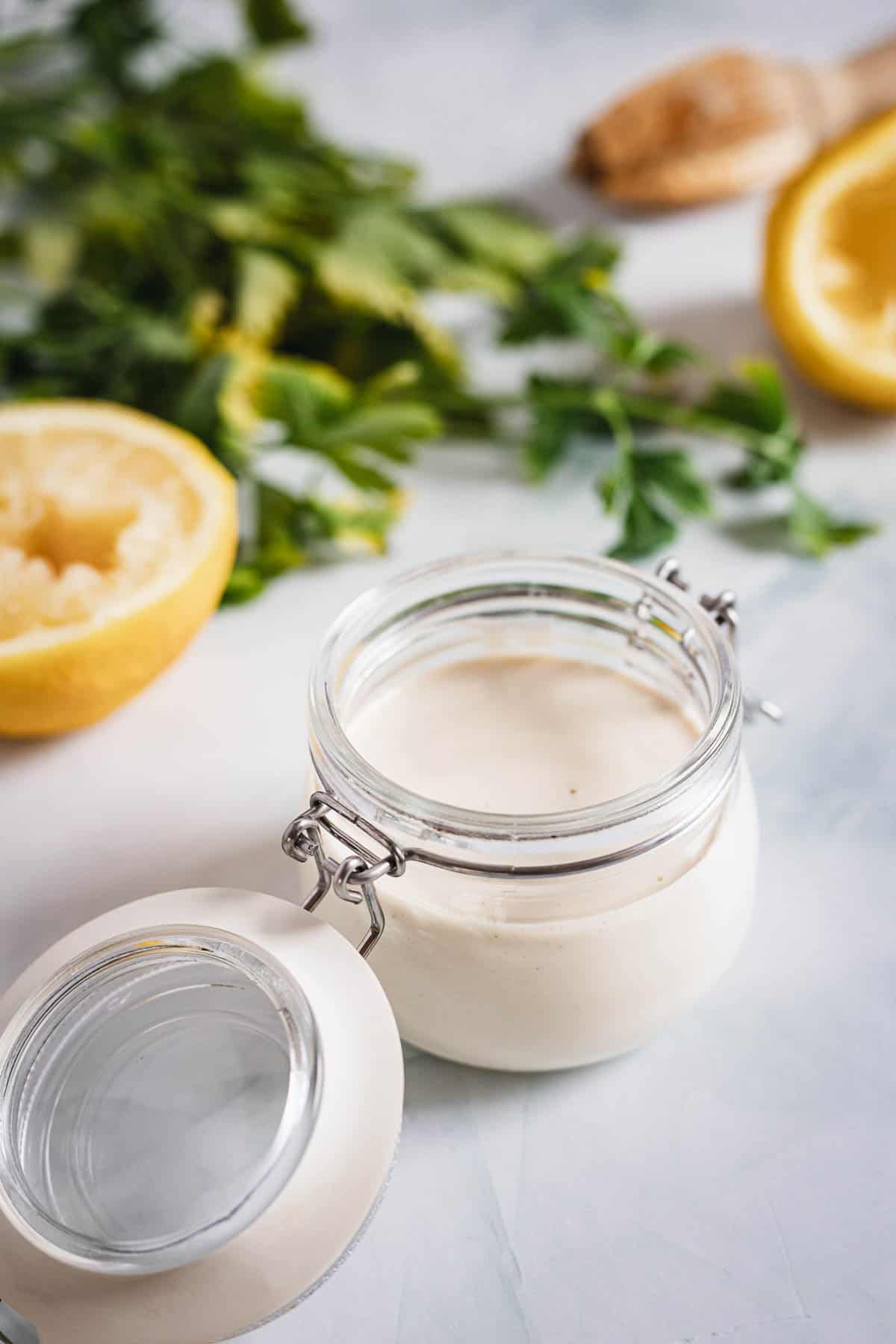 Spicy tahini - add a pinch of cayenne pepper or a little mild Aleppo pepper to your tahini sauce.
Add yogurt - The addition of yogurt makes a lemon yogurt tahini sauce that adds a rich and creamy texture while maintaining the nutty sesame flavor. It's perfect for dishes like lamb, meatballs, salads, and rice pilafs.
Garlic - Though garlic is often used in tahini, it is not as heavily used in Israel and I'm convinced it's not a vital component of a good tahini sauce. However, if you're going to add garlic, marinate the garlic cloves or minced garlic in lemon juice for 10 minutes before mixing the sauce. This method infuses the lemon juice with a delicious, mellow garlic flavor without overpowering the other ingredients.
Green tahini sauce - an excellent option for incorporating your favorite green herbs. Just add ingredients like parsley, cilantro, dill, or mint to the tahini sauce in a food processor and pulse until smooth.
Sweet tahini - If you fancy a sweeter sauce, consider adding a touch of maple syrup or honey.
Top Tips
Watch the water - When making tahini sauce, I recommend starting with a small amount of water and gradually adding more until you achieve your desired consistency.
Don't forget the garnish - A sprinkle of fresh parsley can add a pop of color and enhance the overall taste.
Accompanying Dishes
One dish I often enjoy with tahini sauce is quinoa, kabocha squash, and chickpeas dish, which can make for a fantastic vegetarian Thanksgiving option. The nutty and creamy sauce complements the flavors of the squash and chickpeas, making it an impressive addition to any meal.
Another great pairing idea is creating an easy Middle Eastern Tofu Rice Bowl, which makes for a simple and delicious work-from-home lunch. Incorporating tahini dressing into the dish enhances the overall taste and gives traditional rice bowl recipes a unique twist. The sauce adds a layer of creaminess and richness to the dish's already vibrant flavors.
Spread across different culinary contexts, tahini sauce can effortlessly elevate various recipes, and it is versatile enough to complement a wide range of ingredients.
Tried and loved this recipe? Please leave a 5-star review below! Your reviews mean a lot to me, so if you've got any questions, please let me know in a comment.
Frequently Asked Questions
What are the nutritional values of tahini sauce?
Tahini sauce is a healthy and versatile condiment, as it is rich in healthy fats, antioxidants, and several essential nutrients. It's a good source of protein, calcium, and iron, providing substantial amounts of these valuable nutrients in a small serving. When made with minimal ingredients, like garlic, lemon juice, and water, it remains a low-calorie option that can complement many dishes.
Is there a difference between tahini paste and sauce?
Yes, there is a difference between tahini paste and sauce. Tahini paste is made from ground sesame seeds and has a thick, creamy consistency. On the other hand, the sauce is a blend of the paste, combined with other ingredients such as lemon juice, garlic, and water, to create a thinner, more suitable dressing or dipping sauce.
What are some alternatives for tahini sauce?
If you're looking for a tahini sauce alternative, you have a few options. One option is to use a nut or seed butter, like almond, cashew, or sunflower seed butter, and mix it with the same ingredients you would for tahini sauce. Another possibility is to blend yogurt, garlic, and lemon juice for a similar taste and texture. These alternatives offer an equally delightful and versatile sauce to accompany a variety of dishes.
Recipe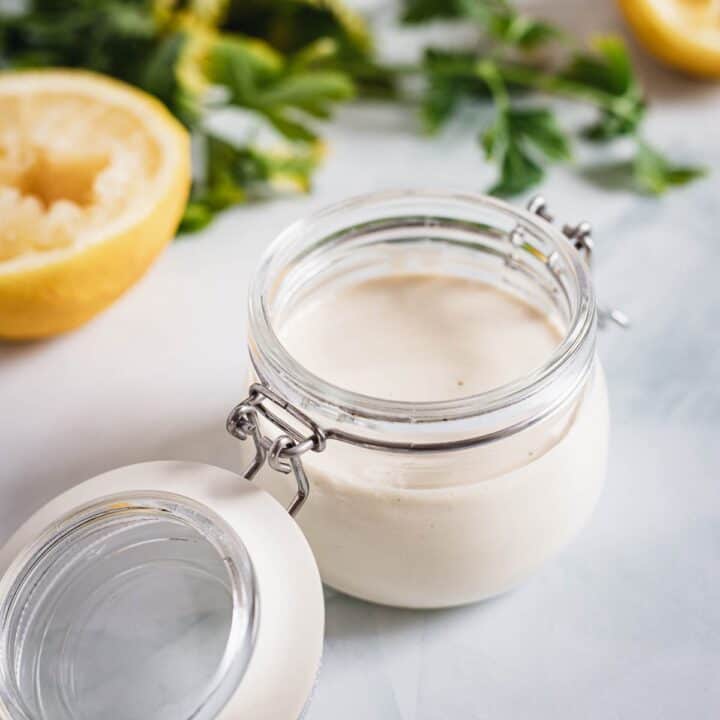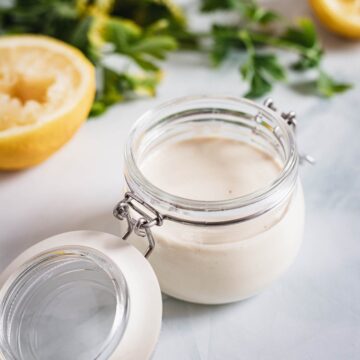 The Best Tahini Sauce Recipe
This lemony and tangy condiment can be used as a salad dressing or drizzled over falafel, shawarma, and kofta kebabs.
Ingredients
4

tablespoons

tahini paste

1

tablespoon

freshly squeezed lemon juice

¼

cup

water

or more, as needed

Salt and pepper to taste
Instructions
Method 1: Using a Blender
Add 4 tablespoons of tahini paste and 1 tablespoon of freshly squeezed lemon juice to a blender.

Start the blender on low speed and gradually pour in ¼ cup of water. Blend until the mixture is smooth and creamy.

Stop the blender and season the tahini sauce with salt and pepper to taste. Blend again briefly to incorporate the seasonings.

Transfer the sauce to a bowl or jar. Let the flavors meld for 10-15 minutes, and it's ready to serve. Use it as a dip or drizzle over dishes.
Method 2: Using a Bowl or Jar
In a bowl or jar, combine 4 tablespoons of tahini paste and 1 tablespoon of freshly squeezed lemon juice.

Gradually add ¼ cup of water while stirring vigorously with a fork or whisk. Continue until you achieve a smooth consistency.

Season the tahini sauce with salt and pepper to taste. Stir well to incorporate the seasonings.

Cover the bowl or jar and let the flavors meld for about 10-15 minutes. Your tahini sauce is now ready to enjoy. Use it as a dip or drizzle over your favorite dishes. Remember to give it a good stir before each use, as it may naturally separate over time.
Nutrition
Serving:
2
tablespoon
Calories:
45
kcal
Carbohydrates:
2
g
Protein:
1
g
Fat:
4
g
Saturated Fat:
1
g
Polyunsaturated Fat:
2
g
Monounsaturated Fat:
2
g
Sodium:
3
mg
Potassium:
36
mg
Fiber:
0.4
g
Sugar:
0.05
g
Vitamin A:
5
IU
Vitamin C:
1
mg
Calcium:
11
mg
Iron:
0.3
mg
Tried this recipe?
Comment + Rate Below!
Connect on Instagram!
Find us @immigrantstable