As I sit here typing this post, boxes pile all around me. I have made myself a corner on one of the only surfaces still available, the living room couch, where I sit with my legs splayed out on the coffee table. My whole life's content is not-so-neatly packed into various receptacles, proclaiming to all who venture henceforth: we are moving!
At times like this, this endive salad with mozzarella, pecans and pomegranate seeds has been a welcome breath of fresh air; a cheerful assurance that once we get through this messy part, sunshine and happiness is to come.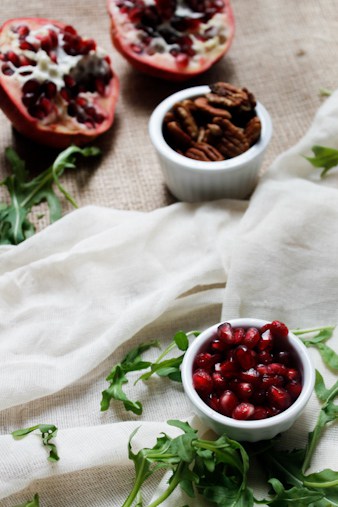 We have only been back from vacation for three days. Three days where I have been battling jet lag, wanting to sleep at odd hours, catching 2-hour long catnaps on the couch from which I wake groggy and crabby and inarticulate. Three days where we should have been resting, seeing friends, eating cheese and drinking gin-and-sodas, enjoying the spoils of our trip.
Instead, we have spent the last three days fervently emptying our closets and drawers, scrubbing bathrooms, dismantling bookcases. Packing our hopes and dreams to make way for new beginnings.
And I couldn't be happier about this, because I've had endive salad with mozzarella, pecans and pomegranate seeds to get me through it all.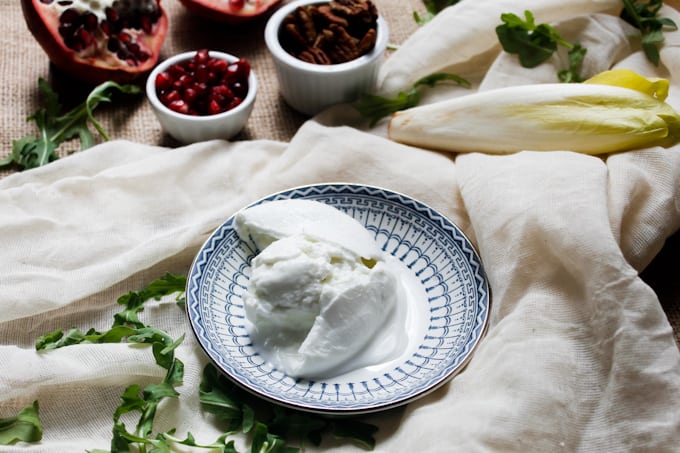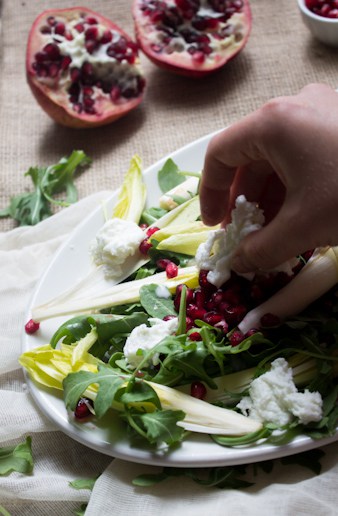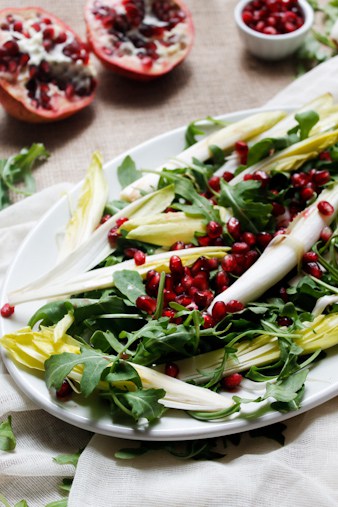 In all truth, thisendive salad resulted from a last-ditch attempt to empty our fridge and cupboards from errant, half-eaten items. Along with it, we also made glorious, buttery polenta; a spiced lentil stew; and a celeriac soup with beluga lentils that was so silky, so amazing, so visually striking, that I will have to share it with you in a future post (G actually licked his bowl clean. 'Nuff said).
But as far as fridge-cleaning efforts go, it can't get much better than this endive salad. The endives and arugula provide the peppery bite, while the milky fresh mozzarella tones it all down with its creaminess. Bright pomegranate seeds and pecans provide texture and pops of colour.
All in all, this is a beautiful summery salad that is good enough to celebrate any occasion, or just to mark a lovely afternoon. It is made up of seemingly disparate ingredients that come together in a beautiful symphony.
Resting there on a plate, thisendive saladis reminding me of what's to come: a new home, a new move, a fresh start. And I can't wait to get there.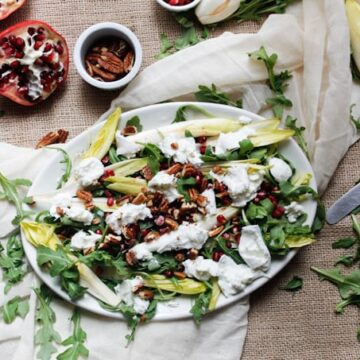 Ingredients
4

cups

arugula

4 - 6

endive spears

halved or quartered lengthwise

1

package fresh mozzarella

ripped into pieces, or or half a package fresh bocconcini balls

pomegranate seeds from 1 pomegranate

Half a cup of pecans

Dressing:

½

cup

olive oil

⅓

cup

balsamic vinegar

1

tablespoon

Dijon mustard

2

teaspoons

honey

salt and pepper

to taste
Instructions
Arrange arugula and endives on a large platter. Scatter mozzarella, pomegranate seeds and pecans on top, reserving some nuts and seeds for later.

Mix all dressing ingredients together. Pour dressing on salad. Top with additional pecans and pomegranate seeds. Serve immediately.