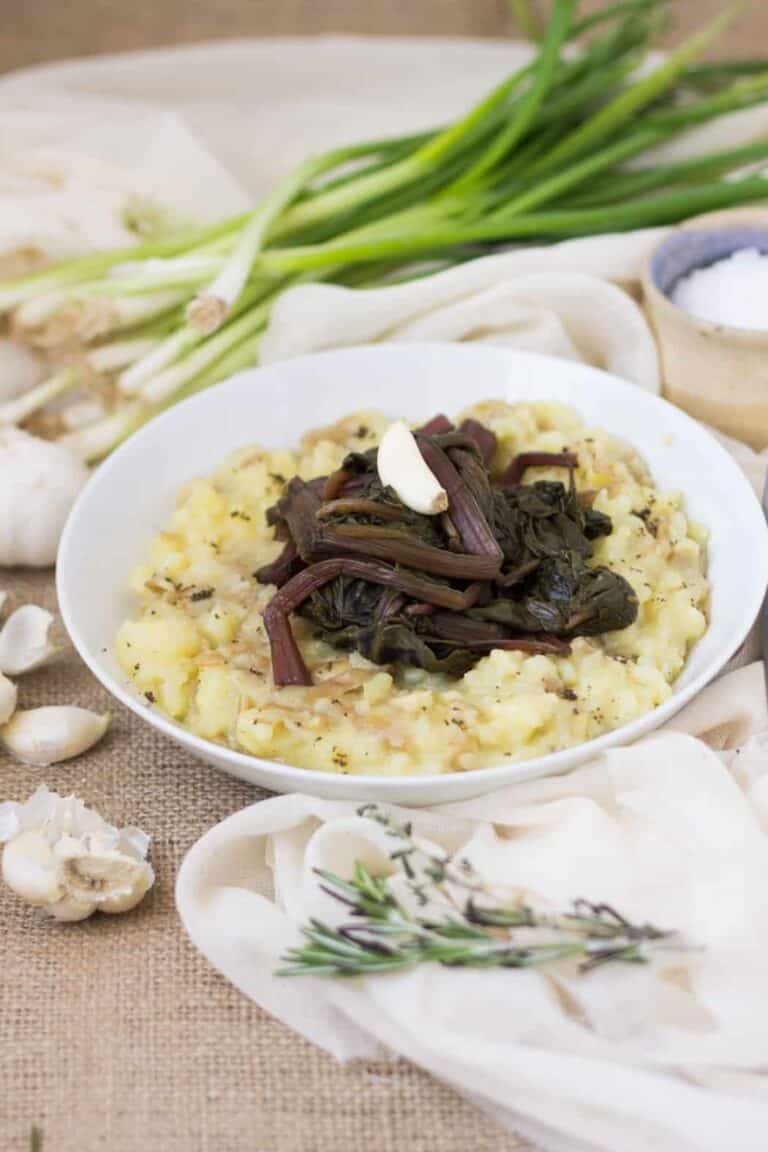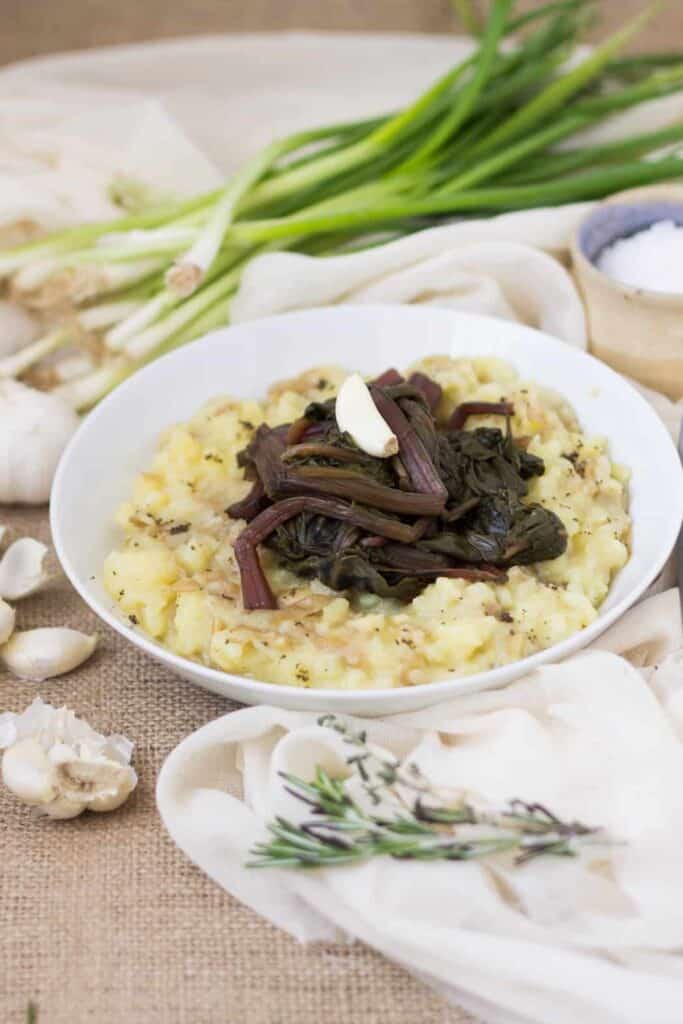 I never expected one of the first recipes I posted after the Jewish Food Project to be a Greek recipe taught to me by my non-Jewish vegetable delivery man. But then again, neither did I expect the flavour of beet greens to become so haunting once they are met with a little bit of vinegar, a little bit of boiled water, and a whole lot of garlic. But it did, and so here I am, sharing with you George's recipe for mashed potatoes with Greek garlic beet greens - and we are all the better for it.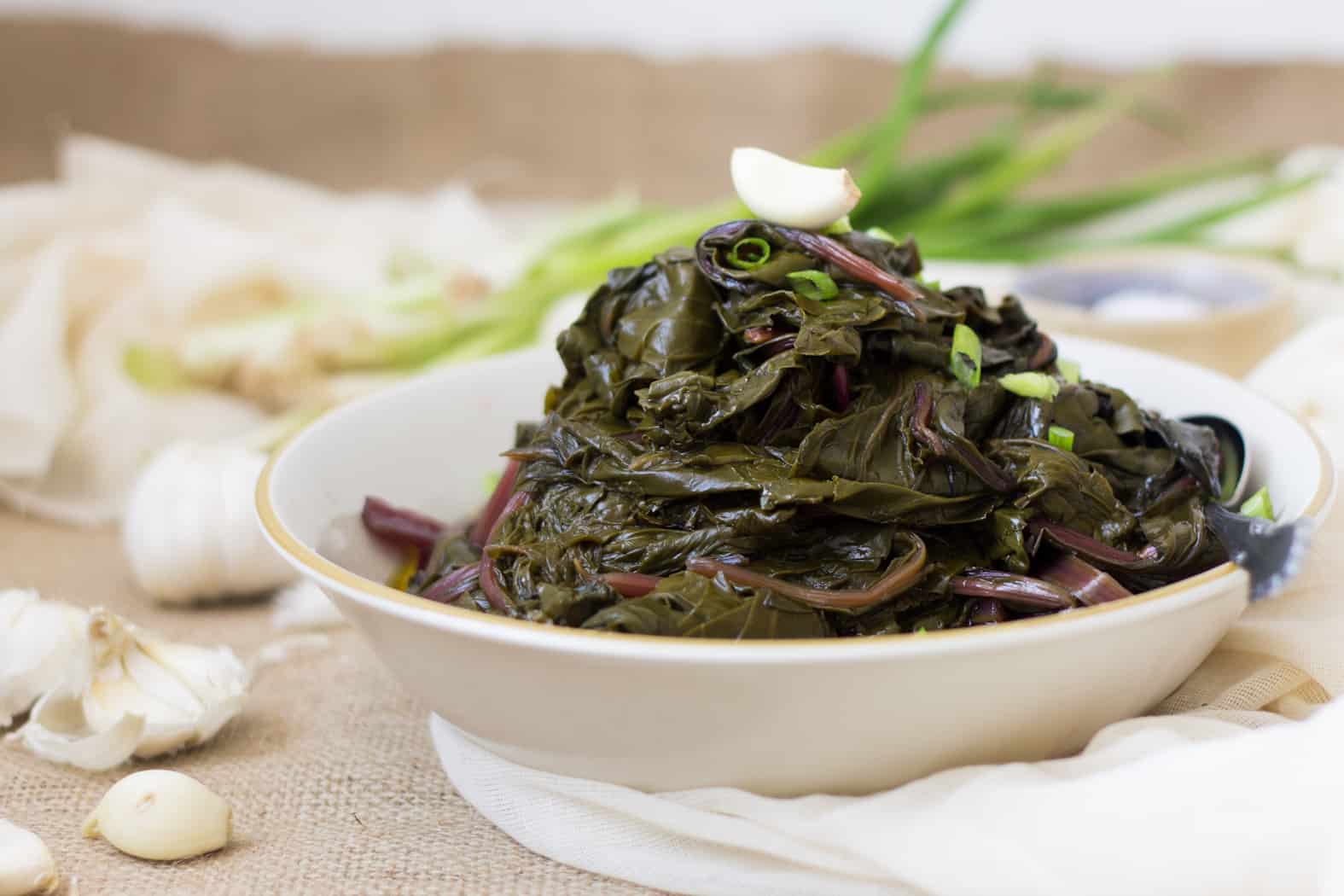 Until George came into my life a few weeks ago, beet greens were a mystery to me. They always seemed to trap so much grit, stubborn dirt that clung to their tops long after they were pulled out of the earth's warm embrace. I have tried flash frying them, adding them to smoothies, even roasting them - but no matter what, they always remained a stubborn adversary.
These were the defeated thoughts on my mind as I stood in the kitchen on the seventh day of the Jewish Food Project, removing the tops from a giant box of beets. As I looked ruefully on the growing pile of beet greens in front of me, I lamented the two options that laid ahead: either to go to battle with these greens, wash them thoroughly and then attempt to coax them into submission, or to throw them all away. Unsurprisingly, the frugal Russian in me just wouldn't allow me to go with the latter.
And so there I was, running through a list of any untried beet green techniques that still remained in my arsenal, when George walked through the doors. Heavy set and big belled, with large glasses and a shy smile plastered on his face, he introduced himself to me in broken English as my vegetable delivery guy's assistant. He began hauling boxes into the kitchen, and I stopped my mournful task to help.
"What are you doing here, miss? Running a restaurant?" George asked.
"No, it's a cooking school. A Jewish cooking school," I replied.
"Oh, a cooking school!" George's face lit up immediately, his large smile becoming impossibly brighter. His whole face was transformed by that smile - the sweat on his face dried up a little, his shoulders pulled back, he stood taller; I could see the man he was in his youth, standing in a busy kitchen in Santorini or Athens.
"I can cook! Do you want me to cook for you? Just say the word and I'll come cook for you," he began talking rapidly, each word tackling the next like runners on a rugby field. "Greek, Italian, whatever you want, I can do it all."
I must admit that I was taken aback. His readiness to offer his services to a person he has just met, to flaunt his skills so flagrantly, it all seemed a little... desperate. A little immigrant-like. I smiled and nodded, adding some agreeable cooing sounds, and got back to my work cutting off beet greens. George went outside to haul more boxes.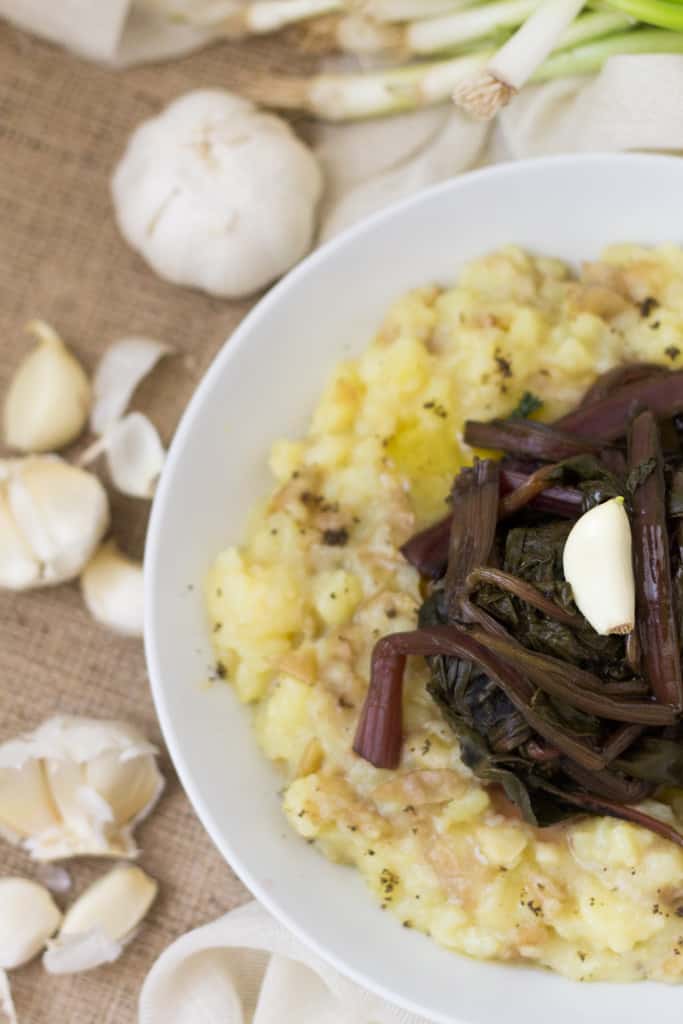 "What are you making there? Beet greens?" George asked a bit more timidly the next time he came back. "I have a great recipe for them. Greek. With lots of garlic and olive oil."
At this, my ears actually perked up. I looked up at George carefully, my curiosity piqued.
"Oh? What do you do with them? Can you teach me?"
And so, George proceeded to share with me his Greek garlicky beet greens recipe, the giant smile never wavering from his face.
---

The thought of these beet greens haunted me for days to come. On the first day I had off from the JFP, nearly at the end of our run, faced with a fridge full of leftovers in various states of edibility, I proceeded to make George's recipe for Greek mashed potatoes with garlic beet greens. And with that, my relationship with beet greens was transformed.
In this recipe, silky, soft beet greens are boiled to submission and coated with a thick layer of olive oil, enough to make the dish practically obscene. Minced garlic is added generously to the dish, and the whole mess is dropped atop creamy mashed potatoes, which are studded themselves with even more garlic.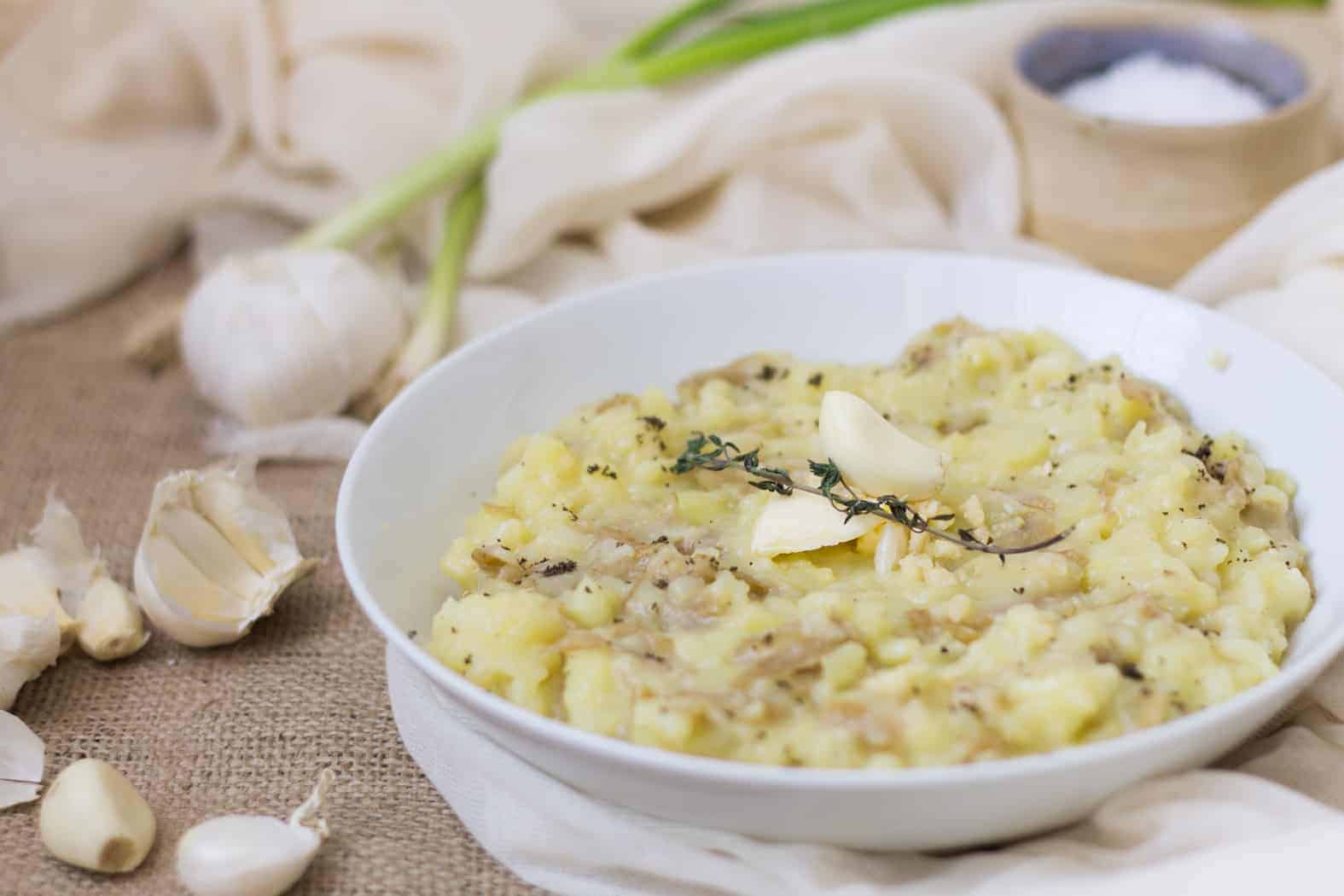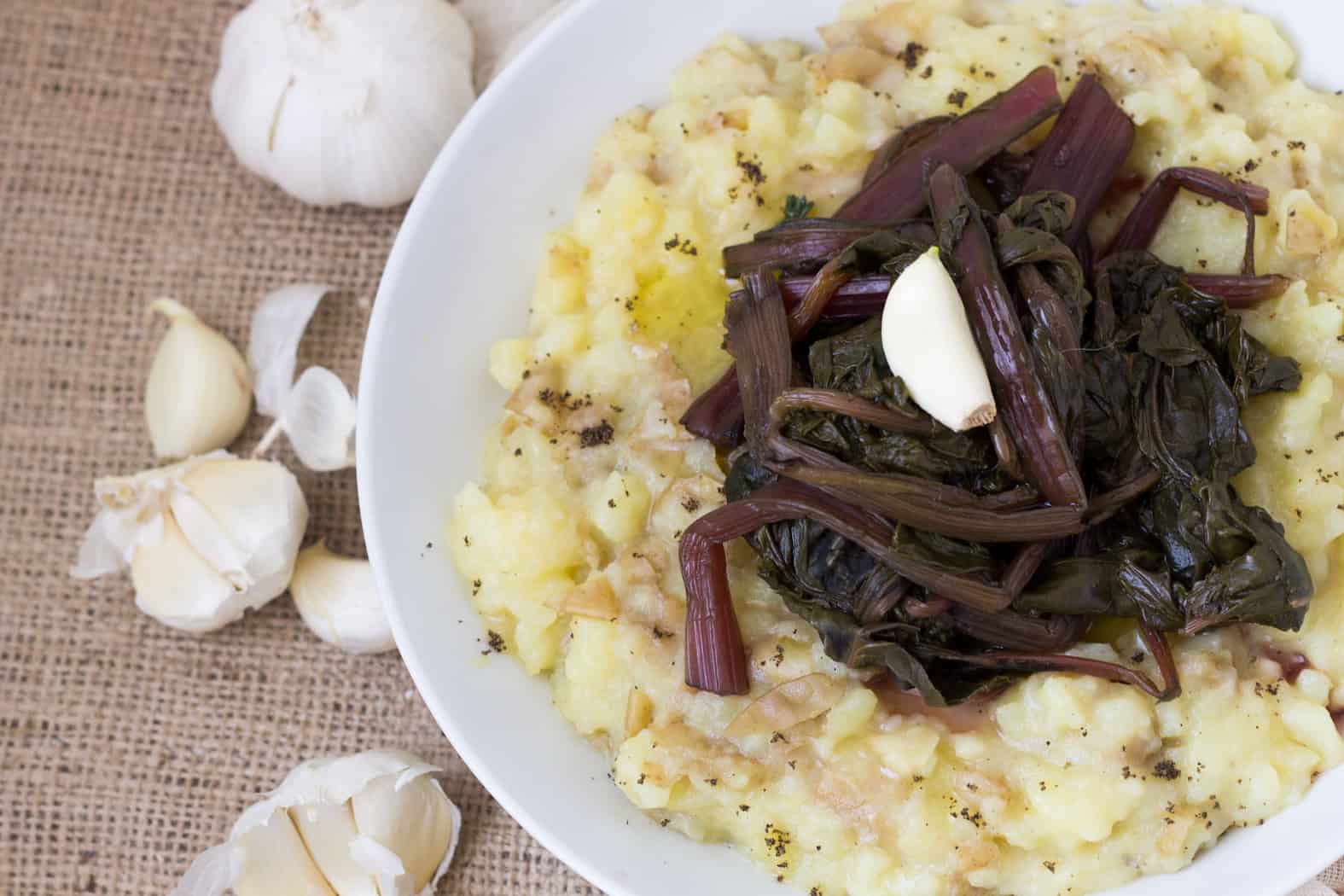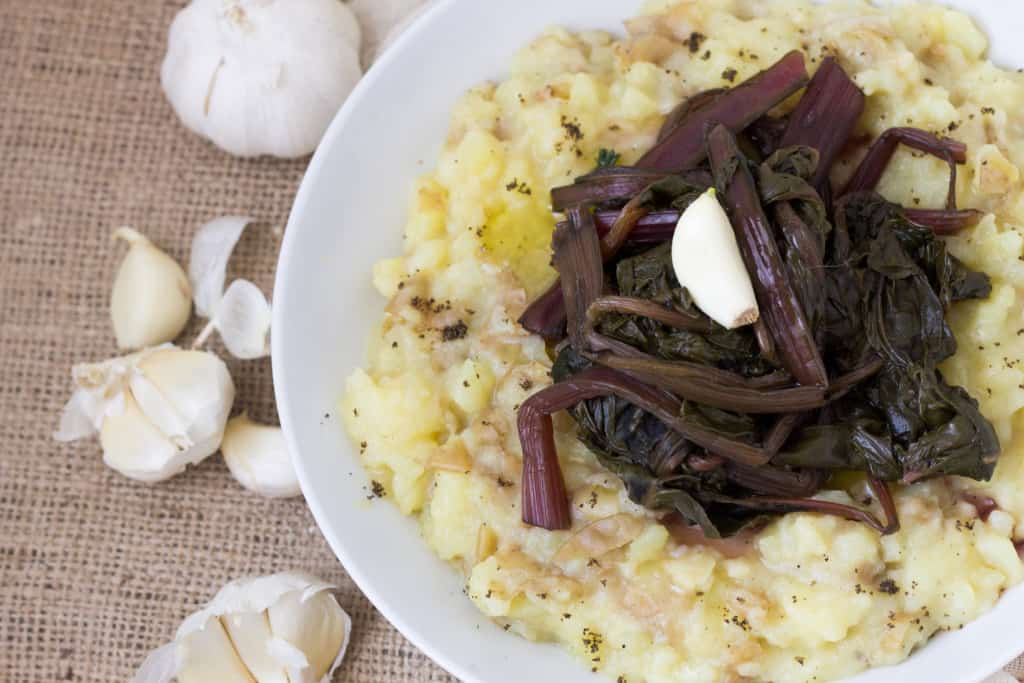 You eat the whole thing while sitting by the window, a glass of ice-cold rosé or the more traditional Assyrtiko by your side. You can look at spring popping all around you, but what you're really doing is dreaming of the blue shores of the Greek Mediterranean. You're thinking of swimsuits, dusty roads, and sand clinging to your wet feet. A piece of crusty bread would do well to mop up the garlic-scented oil that is left behind on your plate afterwards.
And with each bite you take, you thank George for his Greek mashed potatoes with garlic beet greens recipe. And maybe, if you know anyone in Montreal looking for great cooks, you send George their way (shoot me a line if you do!).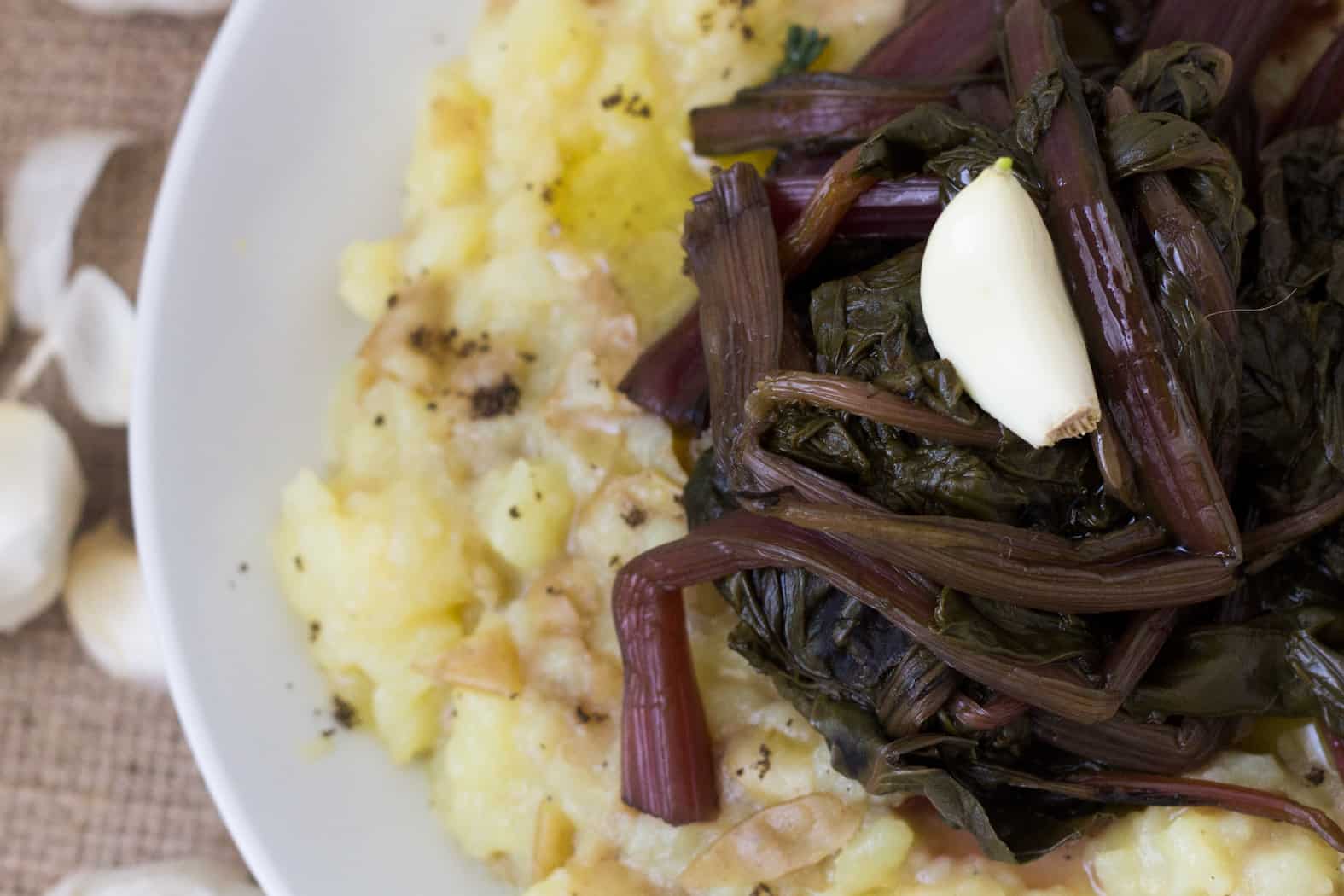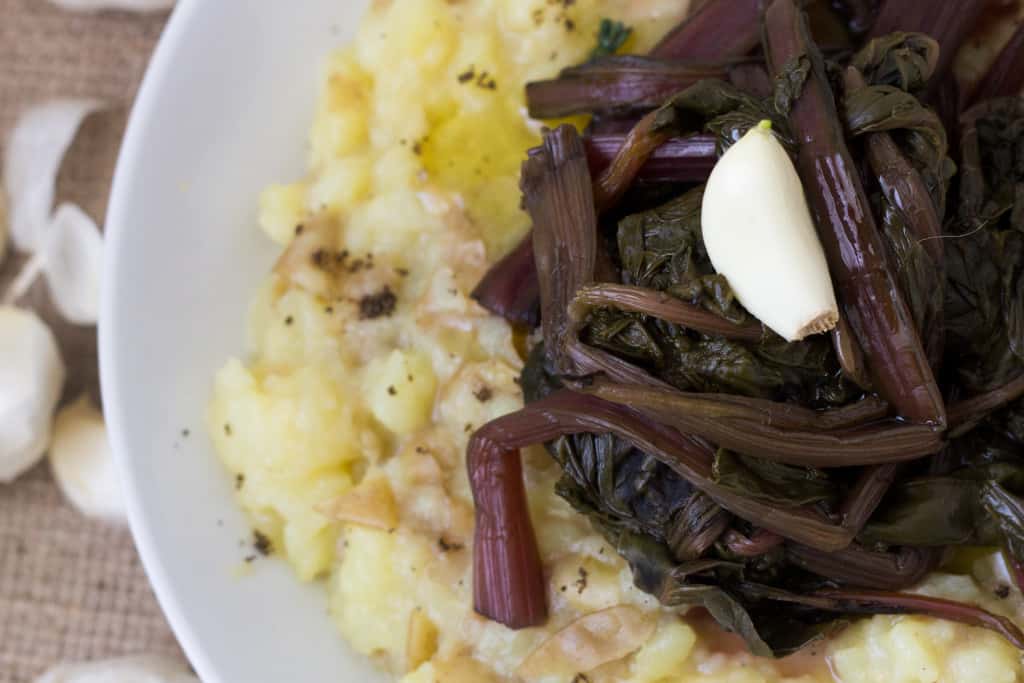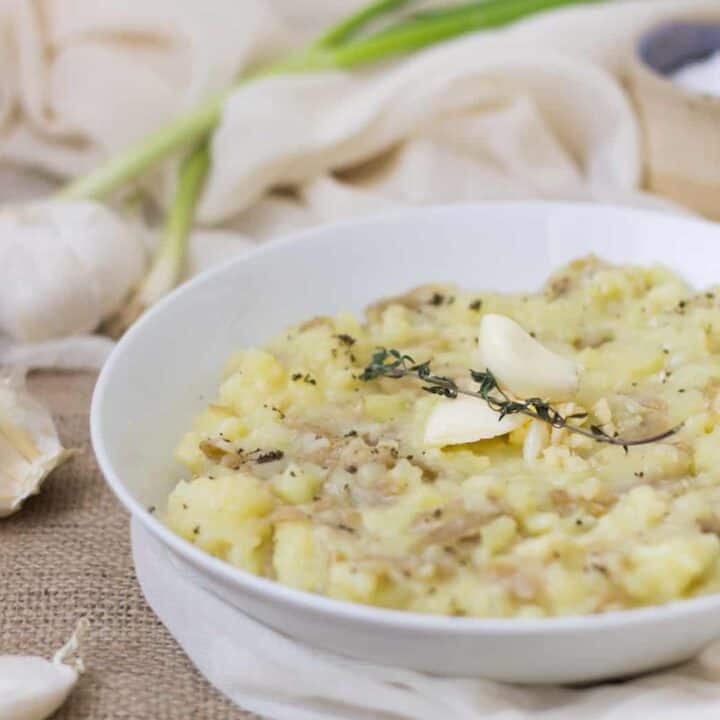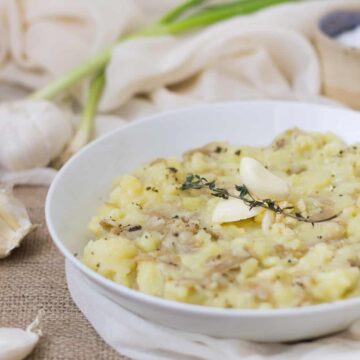 Mashed potatoes with Greek garlic beet greens, or what to do with those pesky beet greens
silky, soft beet greens are boiled to submission and coated with a thick layer of olive oil, enough to make the dish practically obscene. Minced garlic is added generously to the dish, and the whole mess is dropped atop creamy mashed potatoes, which are studded themselves with even more garlic. If you're not info potatoes, feel free to serve these greens with whole grains like buckwheat or farro.
Print
Pin
Rate
Ingredients
4

large Yukon Gold potatoes

peeled (optional) and cut into cubes; or 1 package of Baby Boomer yellow potatoes

2

tablespoons

Earth Balance or butter

8

garlic cloves

minced

¼

cup

olive oil + more for drizzling

1

bunch of beet greens

Juice of 1 lemon

Salt and pepper

to taste
Instructions
To prepare the mashed potatoes: Bring a pot of water to a boil, and add 1 teaspoon of salt. Add potatoes and bring back to a boil. Cover, reduce heat to medium and continue cooking until potatoes can be very easily pierced with a fork, about 20 minutes (you want the potatoes to be basically falling apart at the prick of a fork; it'll make mashing much easier).

Meanwhile, bring a large skillet to medium heat and add ¼ cup of olive oil. Add minced garlic and saute for 2 minutes. Remove garlic and oil, and reserve.

When the potatoes are cooked through, remove them from water into a big bowl and let cool a bit (reserve the water). Adding back ⅛ cup of the reserved cooking water and 2 tablespoons of Earth Balance of butter, mash with a potato masher until potatoes are completely creamy. Add 2 tablespoons of garlic from the oil mixture and mix well. Taste, and season with salt and pepper as needed. (Potatoes can be made up to 2 days in advance and kept in a tightly sealed container)

To prepare beet greens: Cut the stems off the beet greens, set aside. Wash greens and stems in at least 3 changes of water (I often go for 4, just to be on the safe side). Slice beet greens thinly.

Place beet stems in a pot with just enough water to cover and 1 teaspoon of salt. Bring to a boil and cook until stems are easy to chew. Add beet greens themselves, and continue cooking 10 mins, until the greens are silky.

Separate greens from water, reserving water. Place in a large bowl and add the reserved oil and garlic mixture and the juice of 1 lemon. Mix well to combine. Taste and season with salt and pepper.

Serve beet greens atop mashed potatoes. Drizzle with more olive oil right before serving.